Tributes to Robert Joosten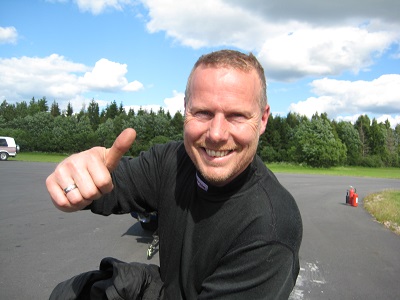 Dutch Pro Modified racer Robert Joosten died at the age of 46 on 8th October 2015, taken from us by cancer far too young and very quickly.

Robert first raced in a Street class in 1996 then moved into Super Gas in 1999 with his Bad Nova. He won his first Dutch Championship in 2000. In 2004 he campaigned an ex-Pro Stock Truck in Super Comp and Super Gas. The move to Pro Modified took place in 2006 with a 2001 C5 Corvette acquired from Jim Oddy. He quickly made his mark by finishing third in the 2007 MSA British Drag Racing Championship. His best finish in the FIA European Pro Mod Championship was runner-up in 2008. After dealing with various issues with a 1970½ Camaro Robert acquired a 1971 Cuda with which things were coming together nicely this season. He is one of fourteen five-second European Pro Mod racers with a best of 5.990 set at the 2013 Scandinavian Internationals at Tierp Arena.

A longtime Eurodragster.com supporter, Robert happily submitted to one of our Features in 2006 and you can check that out by clicking here. He was a frequent contributor to the News page and we were made very welcome in his pit where he was always cheerful and informative and a willing Simon Victim.


We have received the following tributes to Robert. To send your own tribute, please E-Mail tributes@eurodragster.com.
The most recently-received tributes are at the top of the page.



---
Robert je zal oneindig snel zijn
Steeds sneller en sneller
Niemand kan je inhalen
Nooit meer

Robert you will be fast without end
Always faster and faster
Nobody can catch you
Never more

-- Herman Jolink


---
Robert it was an honour to get the chance of meeting you, such a great guy. You will not be forgotten, rest in peace my friend.

-- Patrick Wikström


---
Such a huge loss to the drag racing family. RIP Robert.

-- Kev and Elaine Slyfield


---
Pro Dutch: Lovely car, lovely race team overseen by a lovely man. RIP Robert, the world has lost a true gentleman, thoughts and strength go to his family and friends at this horrible time.

-- All at Team Roar Willys


---
Way too early life is taken from you. Rest in peace Robert. Roel and Monique Koedam

-- Roel and Monique Koedam


---
Our deepest sympathy to Robert's family and Pro Dutch team members.
The message that Robert had health problems reached us a bit over a month ago, itís unbelievable how quick this all happened.
We are proud to have known Robert, a professional racer, he made Dutch drag racing a force to reckon with. Although ripped out of life way too quick he made his name in the world of drag racing and will never be forgotten. Robert took nothing for granted, he is an example for many of us! RIP friend.

-- Gerda and Lex Joon


---
From 2008 when I joined the ranks of Pro Mod, Robert was always an approachable genuine man, with a real passion for racing. I would always have a chat with him when he raced at Santa Pod, he will be greatly missed in the pits.
The Pro Dutch Team showed a very professional image, but always had fun and enjoyed the challenge of Pro Mod.
I will always remember his smile and charming friendly manner.
A very sad loss of someone, with so much to give.

-- Roger Moore and the Viper Race Team


---
I've had the pleasure of interviewing and getting to know a lot of racers over many years in the sport. None however have ever given such a terrific answer as Robert. I asked last year why when Robert went Pro Mod racing he chose a blower car? His answer, which was accompanied by possibly the biggest s*#t eating grin I've ever seen, was simple: "The NOISE". Godspeed buddy, you've made all of our lives better for knowing you.

-- Darryl Bradford


---
Only the good die young! RIP Robert.

-- Jack Kwei


---
I would just like to offer my condolences to Roberts family and friends. I too have just lost my brother a couple of weeks ago so this is a very sad time for us all.

-- Mick and Jenny Payne


---
So sad to lose such a loveley genuine guy. We have watched the Pro Dutch team evolve over the last fifteen or so years and Robert and team have remained professional and entertaining at all times. Only really had chance to discover what a friendly man Robert was at this years Mopars. He was everything you would expect of such a talented ambassador for Dutch Drag Racing. Robert and the team will be sadly missed in the Pro Modified sessions. Our heartfelt condolences to Robert's family and friends at this sad time.

-- Graham and Carolyne Beckwith


---
I've known Robert since I responded to his invitation on Eurodragster.com for racers heading to Drachten to meet up on the way to the track back in 2000 (I guess).
I wasn't going to be racing, but as I was working in the Netherlands, I got in touch. What was absolutely typical of Robert, was that he extended an invitation to hang out with him, and a whole host of other Dutch racers, at Piet Kaptein's shop in Ijmuiden any time I wanted to. An invitation I was quick to take up.
Consequently, I met up with Robert at Piet's shop, and got to know a Robert, Piet, Dick Koster, David Vegter and quite a lot of the racing community quite well. Robert was as friendly and helpful in person as he had been by email, going as far as to offer somewhere to park up our race rig if we ever made it over to Drachten.
I saw less of Robert after I left the Netherlands in 2002, but always tried to find the time to call by and chew the fat whenever we were racing at the same meeting. Over the years, both of our racing operations got more complex and time consuming, the opportunities to chat reduced, however Robert always remained the same friendly face.
My thoughts go out to his family at this time, as well as the whole of the Dutch racing family who have lost a real champion, in both senses of the word.

-- Martyn Jones


---
Godspeed to you Robert and God bless and help your loved ones.

-- Brian Smith


---
Everyone involved with the MSA British Drag Racing Championship will be saddened at the news of Robert Joostenís untimely death. Pro Modified became the MSA Championshipís designated class in 2007, and Robert won the very first MSA Pro Mod race, at Easter that year. His trusty Corvette, also a winner at Hockenheim in 2006, clocked a memorable 6.20/230 low qualifier in near-darkness at Easter 2009 but soon after, and even more memorably, was wrecked in a crash at the Main Event.
At 2010ís Main Event, Robert debuted his brand new, US-built í70 Camaro which would eventually carry him into the five-second zone at Tierp three years later. This yearís Main Event was intended as the debut of another fresh entry, his striking new í71 Barracuda, only for a US dock strike to delay delivery. Instead, following appearances at Tierp and Alastaro, Robert brought the ĎCuda to Santa Podís Mopar Euro Nationals in July, chiefly to accumulate some track time, and finished up as low qualifier (another 6.20) before rain cancelled eliminations. Who could have known that this would be Robertís last Santa Pod appearance?
Robertís entry to Septemberís European Finals was withdrawn abruptly within days of his racing at Tierp Ė he was said to be unwell. It was only from conversations with some of his crew colleagues at the Finals that it became apparent exactly how unwell. Such was the swiftness of his decline that for those of us less close to him, the memory that will forever abide will be of that robust, charming, youthful, seemingly carefree gentleman whom it was a pleasure and a privilege to know. For this small mercy, at least, we should be thankful.
All connected with the MSA Championship will wish to offer their condolences to Robertís family and friends. His presence at our races will be greatly missed.

-- Robin Jackson, MSA British Drag Racing Championship


---
Very sad news deepest sympathy to Robert's family and the Pro Dutch team, another one of our racing greats is taken from us. Only spoke to Robert once on Saturday at this years Mopar's. A really nice person, it was like he had known us for years. He will be a great loss to the drag racing family also.

-- Brett and Debbie, Cadman Heavy Haulage


---
Unbelievable!†Such a good fellow taken from us so suddenly and at such a young age.
I spoke to Robert on only a couple of occasions Ė however, he was such a friendly and down-to-earth nice guy.
My thoughts go out to his family.

-- Chris Orthodoxou


---
Just the nicest man who will leave a massive hole in our wonderful racing family. When it came to red lights Robert, this was the worst ever, you never should have left this early. Our thoughts go out to Robert's family and friends at this heartbreaking time. Sleep well Robert - you will be greatly missed.

-- SuZe, Phil and Pat, PBM Drag Racing


---
So sad news. Our deepest condolences to Robertīs family.

-- Anita, Tommi and the whole crew of Tommi and Anita Top Fuel Racing


---
Such sad news. My heart goes out to Roberts family & friends. Taken so quickly from our lives. God bless x

-- Kerry Jeyes


---
I hope my words can do my thoughts justice. After racing against you Robert for so many years it is almost impossible to contemplate this but there will forever be a huge gap within the Pro Mod pits where your truck should be. The pairing lanes wonít be as bright without your car sat there and each race track will be a sadder place without you being there. You will be dearly missed and remembered for your huge smile and cheerful character.
My heart, thoughts and strength go to your family and loved ones at this time.†
Rest Peacefully.

-- Stefani Robinson


---
So very sad to hear the news of Robert's untimely death. We have raced against Robert for many years and had some great laughs with Robert and his team. We always respected him as a competitor and we will all miss him greatly as a friend. Our condolences to all Robert's family and friends on their loss.

-- Andy and Kate Robinson


---
RIP Robert

-- Nixxon


---
We're very saddened to hear of the loss of Robert.
We have only known Robert for the last four years, although we followed his racing for much longer, and can sincerely say, he will be very much missed. He always made a very professional appearance and was always a welcome competitor here in the UK. We had some very memorable races with Robert, which always resulted in shared humor after the run. He was a great racer and a great guy, drag racing will truly miss him.
Our utmost condolences go to Roberts family and friends.
Godspeed to you our friend.

-- Rick, Nick, Ryan and Dan Garrett


---
RIP Robert Joosten, so sorry to hear, a great man and a great racing, feel so sorry for his family.

-- Aaron Springford


---
Sad to hear this. Was looking forward to seeing the new Pro Dutch car next year. Probably won't happen now. Unless the team decide to carry on in his honour.

-- Stephen Billings


---
We are very much saddened by the news of Robert's passing. We met him way back in 2002 I think, in Hockenheim, when he was racing in Super Gas with the yellow Nova.
We were pitted side by side and I remember the friendly attitude, the big smile and the "Can do" approach to some problems with the car. We exchanged a few chats and a few thumbs up greetings over the years, fellow members of the great drag racing family. Now he's gone and he has left a void, a very much regretted loss of a young life, a respected racer who will be remembered by many, racers and fans.
Our thoughts are with his family and close friends, we feel your pain.

-- Rick and Carla McCann


---
So sorry to hear that Robert passed away, RIP. My heart goes out to his family and crew.

-- Trevor Flemons


---
A sad sad day.

-- Chris Bates


---
Just thought I'd put in my own words what I remember of Robert from Santa Pod events. On what I think was my ninth birthday in the year of around 2007. I remember being at the track for a weekend with my dad, older brother and grandad. In the pits Robert Joosten found out through my dad that it was my birthday on that particular day. Because of this, Robert was a very kind person towards me, giving me a crew T-Shirt (that I still have) and a quite large signed poster. This was on only my second trip to Santa Pod, and I was amazed about how welcoming and kind the drivers were, you could simply walk around the pits getting in touching distance of the cars, whilst having a chat to the drivers in between their races. Nothing like the sister sport of Formula One where the drivers are very off limits.
On another meeting to the Pod, my dad and I were just about to leave when he had his crash into the barrier, we weren't in the grandstand at that point and I found myself behind the fence with the yellow Corvette hurtling towards me, I honestly thought the car was going to crash through the barrier and go into the crowd, luckily it didn't, and Robert was fine.
My final memory of him is from me being in the pits, towards the end of the day on Saturday, he'd already had his last run of the day, so everything was slightly more relaxed. I was stood at the door of his pit area with my camera, and he invited me into the pit to let me take some photos of the interior of the car. I know that many drivers at Santa Pod and other drag strips do the same thing, but still the kindness of the man still amazes me to this day.
I am writing this just after my dad informed me of the news of his passing, and all of these memories of seeing his bright yellow car hurtling down the track are filling my mind at moment.
Robert was a brilliant kind man, and I believe I will not be the only person to say the the will be truly missed by the entire drag racing community.

-- Joel Spencer


---
You were a true gentleman and one of whom I had pleasure in meeting on several occasions. You will be missed. RIP Robert.

-- Nigel and Lisa Anniwell


---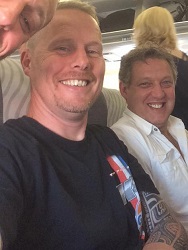 My deepest condolences to Patricia, Jerry and his family for the sad loss of our friend Robert who was an ever willing and capable supporter of our own race effort. He is sorely missed and irreplaceable. Godspeed Robert.

-- Ian King


---
It hurts to hear this, a great loss for family, friends and the drag racing community. RIP

-- Magnus Cato


---
US Racing will miss you Robert. Continue racing wherever you are.

-- Christer Uhlin


---
This news really saddens me and my family. We love to watch Pro Mod and Robert was a brilliant driver and fearless too. A great competitor and will be missed by all drag racing fans and competitors. Our thoughts are with his family.

-- Team Reeves Speed Developments


---
Features and Interviews index
Back to News page
---