Interview with Ron Hope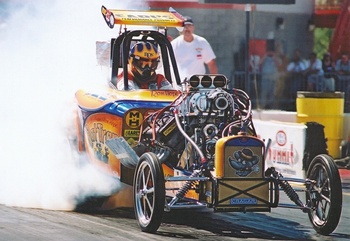 In January 2014 Eurodragster.com had the privilege of announcing that Ron Hope's Rat Trap and Rich Guasco's Pure Hell Fuel Altereds would be appearing at Dragstalgia at Santa Pod Raceway. Ron Hope, involved with Rat Trap since the 1960s, would be driving that car and his son Brian would be driving Pure Hell.
Eurodragster.com spoke to Ron shortly after breaking the news.


Eurodragster.com: What is your history in drag racing?
Ron Hope: Having grown up in Southern California during the 1950s and early 1960s, we were truly the generation depicted in American Graffiti.  My first job at age fifteen was working for a racing legend, Ak Miller, in Whittier, CA.  Ak and those at his shop, who included Jerry Kugel (owner and founder of Kugel Komponents), were Dry Lake and Bonneville racers.  I started going to the races with them, as well as to the many drag strips that existed in Southern California during that time.  I first attended the Nationals at the Bonneville Salt Flats in 1961 and have been drawn to that event ever since. In 1964, with my partner Jerry Tucker, we set a record in the class of C/Gas Roadster. 
As the years continued, I became more involved in drag racing and served as crew on the Rat Trap Fuel Altered during the late 1960s and early 1970s.  In 1994, Don Green and I agreed to rebuild the Rat Trap Fuel Altered. Since that time, I have been the owner and sole driver of the Rat Trap.  Additionally, I own several vehicles which we race at Bonneville and other land speed events.  I personally drive my B/Blown Modified Roadster.
Eurodragster.com: And the history of Rat Trap?
Ron Hope: It was the creation of Don Green during the mid 1960s in the heat of Fuel Altered match racing. The car was originally built with a different chassis configuration and paint scheme. During the autumn of 1968, Don commissioned Dennis Watson to construct a new chassis for the Rat Trap. The chassis is unique because it features independent front suspension, a feature which initially was laughed at by its competitors. The Chrysler-powered Altered derives its name from other Fuel Altereds of the day which were Chevrolet-powered. The engines in those cars, known as Rat motors, gave birth to the name of Rat Trap.
I became involved with Don Green in campaigning Rat Trap during the Fuel Altered Eastern tours of 1970. Don sold the original car in 1972 as Funny Cars were beginning to take the place of Fuel Altereds. During the Bonneville Speed Week of 1995, Don and I reconnected and decided to rebuild the Rat Trap in its 1968 configuration and to campaign it at Nostalgia events across the USA.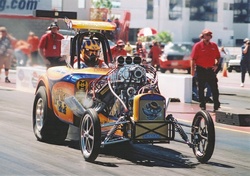 Eurodragster.com: How many Rat Trap altereds have there been?
Ron Hope: Since Dennis Watson built this generation Rat Trap in 1968 there have been two recreations.  Previous to this generation car there were two Rat Trap Fuel Altereds which were of a more conventional design and which were campaigned during the seasons of 1965-1967. 
Eurodragster.com: What are your best ET and speed in Rat Trap?
Ron Hope: 6.35 seconds and 229.99 mph.
Eurodragster.com: What was your hairiest moment driving the altered?
Ron Hope: Every time the motor starts!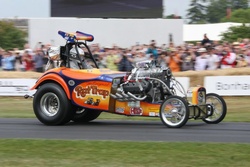 Eurodragster.com: You have appeared more than once at the Festival of Speed at Goodwood, how did you like that?
Ron Hope: The Goodwood Festival of Speed is a wonderful event, unmatched by any other venue of its type. Lord Charles March has become a dear personal friend and does an incredible job of producing and maintaining that prestigious event. 
Eurodragster.com: In which other countries have you raced?
Ron Hope: Canada and New Zealand.
Eurodragster.com: How did the Santa Pod deal come together?
Ron Hope: We understand it has been some time in the making. We have long desired to come and race at Santa Pod.  This year it appears that all of the stars have lined up, allowing us this great opportunity.  It has been many years in the making and has happened thanks to the entire staff at US Automotive, who have worked diligently to bring this about.  They also are true friends and great supporters of our drag race and land speed efforts. 
Eurodragster.com: What impression do you have of drag racing in the UK?
Ron Hope: I have attended several events in the UK and truly feel they are world class. That is another reason we are so pleased to have this opportunity at Santa Pod.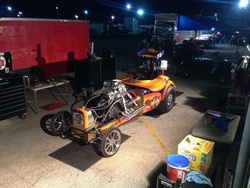 Eurodragster.com: We understand your son Brian is licencing?
Ron Hope:  Yes,  Brian has recently obtained his Alcohol Funny Car licence at Frank Hawley School in Florida.  Brian serves currently as Crew Chief on the Rat Trap, however he is slated to get a crossover licence in a Fuel Altered and at Santa Pod will be driving the Pure Hell car.  So I will be racing against my son at that event.  I'm not aware of any time in drag-race history when two Fuel Altereds have been pitted against each other with father in one and son in the other.  It's sure to be a great event for the fans. 
Eurodragster.com: What's this about fire burnouts?
Ron Hope: Fire burnouts are a very spectacular part of drag race history. They are even more spectacular with Fuel Altereds.  You just never know when one might pop up.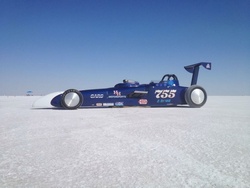 Eurodragster.com: I think I might know! Finally, tell us about your involvement in land speed racing.
Ron Hope: We have been actively involved in land speed racing for a number of years. Each year, in addition to our family, a number of close friends accompany us to this incredible event. Over the years and presently, we are favored with a number of high-profile guests. Rod Millen and his son Ryan have been licensees in our cars and also my dear friend Lord Charles March and his son Charlie have both completed their licencing processes in our cars. We look forward each year to the involvement of those who can join us at this event.  This year we have made a series of changes my modified Roadster, removing the 6-71 Blower and replacing it with two very large turbochargers. We hope that this will allow us to run in the 280 mph - 290 mph range. 
Eurodragster.com: Good luck with that but we'll take a 6.3 at 230 first. Thanks for your time Ron and we'll see you at Santa Pod Raceway.
---
Rat Trap Racing web site
US Automotive web site
Features and Interviews index
Back to News page
---