Russ Carpenter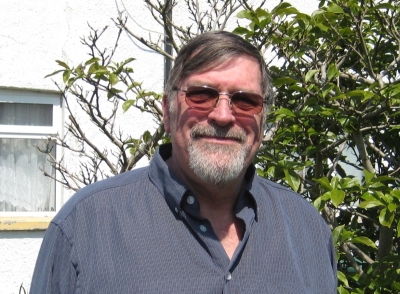 Russ Carpenter is from Guildford, Surrey. His first racing experience was helping Tony Anderson with his Ford V6-engined dragster named Trouble in 1969. But it was the Daimler Hemi engine where Russ' mechanical skills flourished.
Russ and Tony's rear-engined dragster, powered by a supercharged Daimler Hemi, made its track début in March 1972. The car had many engineering innovations over the years. Russ took over the driving in 1975 and won many Championships and events in the Senior Dragster category.
The car, named the Glacier Grenade, was the first British-engined car and the first car anywhere in the world under five litres to make a quarter mile pass in less than eight seconds, eventually running a best of 7.2 at 180 mph. Russ competed in Europe at Mantorp Park, Le Mans and Hockenheim and won the Euro Series Championship twice in the 1980s. Since retiring from regular driving in 1990 he has kept the car and has exhibited it regularly for over twenty years.
This interview was conducted by Simon Groves of Eurodragster.com in June 2014. Eurodragster.com thanks Stu Bradbury of the British Drag Racing Hall of Fame for helping to arrange the interview.
Click on any picture for a large image.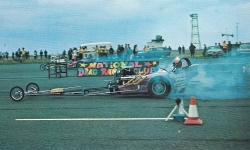 Tony Anderson in the Ford V6-powered Trouble
Eurodragster.com: What is your background in engineering and running cars?
Russ Carpenter: When I first met Tony Anderson I was working in an engineering works, fabricating and manufacturing diesel piledrivers (Bookham Engineering) and met Tony via a friend. I started helping him on his original car, a Ford V6 slingshot called Trouble and then built the first rear engine Daimler together. We decided we wanted a British engine with a hemispherical head, and the Daimler was the only British one available. We contacted British Leyland, told them that we wanted to use it and had calculated we could get about 400 hp out of it compared with 140 hp standard. They wrote back and said they had played with the engine and after 200 hp it became very unreliable and they didn't feel it was a very practical engine for racing.
Eurodragster.com: When Tony started in 1969 was it before he got into the Daimler hemi?
Russ Carpenter: He had a Ford V6 slingshot which I was helping him on and we put a supercharger on it. Tony had a great technical understanding of vehicles and we gradually learned by developing the engine how you could push things. With my help we got the Ford V6 down to 9.6 seconds but it started to eat bits. Unfortunately we were too young and inexperienced in those early days to understand about port injection, it was purely top hat injected. We felt we had come to the end of the Ford V6's capabilities.
Eurodragster.com: You'd thought of the Daimler by then?
Russ Carpenter: We decided we would go with the Daimler while we were working on the Ford V6. We very nearly abandoned it because of the letters we had from British Leyland. Fortunately I had a friend who worked for Shell Research at Egham and he took a cylinder head, crankshaft and conrod and a piece of the block to be metal tested. He found they were made out of very good materials so we decided to go ahead. We were originally going to run two cars as there was a 4.5 litre version of the Daimler Hemi. I was going to race the larger engine, but the 4.5 litre was too hard to get spares for even when it was a current engine. It had a low production run as it was used in limousines and hearses and no-one kept spares, not even the factory. It was even difficult to get head gaskets which you had to wait five to ten weeks for. So we stuck with the 2.5 litre.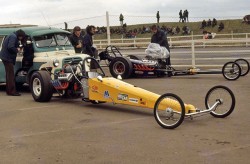 Russ' first rear-engined car More Trouble débuted in March 1972
Eurodragster.com: When did you start driving the car?
Russ Carpenter: That was in 1974. I didn't drive the Ford-engined car. We built the Daimler car to fit us both. Tony was not very tall and quite slim. After we had built the car large for me, he was like an egg in a box so we had to make a padded seat for him to drive when he wanted to and took it out and put in very thin padding when I drove.
We built the rear engine car for the Daimler in 1970 but débuted it in 1972, and there is some conjecture as to whether ours was the first one in England or not. There was a couple of weeks' difference but I can say we were one of the first English-built rear-engined dragsters. Tony continued to drive the car when I started driving in 1974. My first meeting was Silverstone and I won that meeting, it was my first trophy.
Eurodragster.com: When you ran in 1974 what changes had you made by that stage?
Russ Carpenter: We were running mid to low nines at that time but still only had top hat injection. It was when we learned more about injection on a Top Fuel car and went to port injection that was when the car got quicker getting into the eights. That was when we hit another barrier at the low eights. I had been on to Hilborn in the USA and told them the size and volume flow of the Daimler. They recommended injector nozzle sizes and a fuel pump that we bought from them and it turned out they wouldn't deliver anywhere near enough fuel. It was Dennis Priddle who helped solved the problem for me.
We were having trouble at a meeting and it looked as though it was rich but in fact the car was so lean that it wasn't doing anything. We were trying to lean it down and it wouldn't even do a proper burnout. I got to the other end of the track and back into the pits and Dennis came over to me and said "You've got troubles, it's running horrendously lean just from hearing it". I said "I have a blank pill in there, I've taken pills out, and I still can't get it to run right". He said "The pump isn't big enough to deliver the fuel. I don't believe Hilborn's advice! I've got a pump which you can try and if it works you can buy it". We put that on the car and started to run rich. We doctored the fuel system so it was running right and we continued with that same pump right up to today.
Eurodragster.com: You had a supercharger from the start and the fuel system was home made?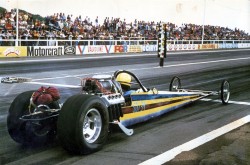 Even More Trouble - canard wings were added before a rear wing
Russ Carpenter: It was all home-made, I made my own nozzles, the barrel valve and I even made the pullies. We had very little money, and I had a lot of time. A friend had a machine shop and he very kindly let me use it in the evenings. I had all the equipment and friends that worked at British Aerospace so I would do deals by buying trade parts for their cars in exchange for lumps of aluminium like a lot of us did in those days. I was self-employed with a mortgage and spent everything I could afford to on the car. What I couldn't afford I would improvise by machining the aluminium to make parts for the dragster with the lathes and mills.
Eurodragster.com: So you had to make parts because of economics but also because the parts weren't available?
Russ Carpenter: We had a standard road clutch at the beginning but knew we had to go to a slider clutch like Top Fuel used at the time. However the smallest clutch for those cars was eleven inches which wouldn't even go between our chassis rails. By 1978 we needed a nine-inch clutch but no-one made one of that size so I found out how it was made after I saw one in a Top Fuel car. I took a couple of photographs and simply made my own. There are some articles for a magazine on how I made it. I made drawings and made a few of the slider clutches that are still out there and there are others made by people from my drawings.
Eurodragster.com: Going back to the mid 1970s, after you started driving in 1974 you had a lot of success, were you racing both at Santa Pod and on tour with NDRC?
Russ Carpenter: Originally Tony did all the Santa Pod meetings and I did the NDRC ones. Tony drove a couple of times at NDRC events but could never make the car go as quick as I could on the slicker tracks. He put it down to my additional weight rather than anything else.
Eurodragster.com: The NDRC tracks were variable?
Russ Carpenter: They were current or disused airfields that had very coarse tarmac, broken up heavily most of the time. Everyone suffered for traction. Blackbushe, Wroughton, North Luffenham, Upper Heyford, Snetterton and of course Long Marston.
The first trophy, June 1974 with Tony Anderson (left)
At Snetterton I nearly lost the car. We had had a rainstorm and there were one or two puddles up the track. They decided to start running the meeting and I said "Look it's still very damp and there are puddles up the track". They said "Well, everyone else is racing" but I was reluctant and said "Well be it on your heads" so we ran the car. I got two thirds up the track but then touched one of these puddles and the car turned sideways. Normally if you back out of the throttle it will come back and straighten up, that's why people crash sometimes because they won't let go and lose a race. I backed off and it wouldn't come back and it kept sliding. I had full lock on but still the car wouldn't come back. I began to run out of ideas so I whacked hard on the throttle and the car went up on the tyres and came back straight. They all thought it was an incredible bit of driving, but it was the scariest time I ever had. It was desperation and I was at the point of rolling.
There was one other incident around 1978 or 1979 and there are supposed to be photos but I've never seen them. Long Marston used to have a nasty bump in the left hand at the finish line. I hit it as I pulled the chute and the whole car took off! It was a long way airborne, about three feet, and thought we were going to lose the car but it came down and bent the front axle so we had to abandon the meeting and go home and repair it. Someone said about a year later "I've seen some photos of you flying the car". A guy had been stood in the corn field which used to grow up almost to the side of the track and he said "I've got the car flying over the top of the corn with the chute out". I don't know who the guy was and I've never seen it.
Tony stopped driving altogether in 1975 after he had an accident at Santa Pod. There was a dip in one of the lanes and he took off. He had a full harness on and we didn't realise that we put the harness straps around the bottom rails of the cockpit. The car left the ground and bounced down, hit the tarmac, wrenched on the straps and it damaged his vertebrae. He went to the doctors who told him it wouldn't heal and if he kept on doing that he might end up disabled. That was all he needed to hear.
Tony was a nice, quiet guy, a boffin, and you would never have thought he was a drag racer. So I bought his half of the car and continued on my own although he still helped me with things. I never had a very good education but have good engineering skills and an insight to look at things and know how they work. Tony always helped me with all the calculations so he was involved with me away from the track as a friend until the 1980s. Back then I had a large workshop in an industrial estate. It had a lot of grounds and he went into boats and he built two boats in my yard and used the workshop facilities. He moved out of the workshop before I left it and we have since lost contact. His new wife was more into Formula One but not into boats or drag racing although we got along fine.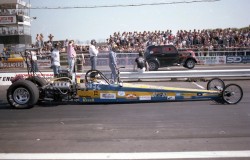 Now Trouble and Strife, with 3-71 blower, launching in a handicap race against Al O'Connor in 1978
Eurodragster.com: After you took over the driving you had success in the late 1970s?
Russ Carpenter: We won a lot in 1977 and 1978 and changed the car's name to Glacier Grenade in 1979 when we got Hepolite sponsorship. That's when Dennis Priddle made the new body for it. Previously the body was home made, quite agricultural, and we had bent all the panels around an old propshaft. Priddle did a beautiful job and I love it to this day. It's so pretty and he says it's the best body he ever made. He had ordered half-hard aluminium and they sent him three-quarter hard. It was so hard he had a hell of job to bend, shape and weld it. But it gave it resilience over the years. I've had girls draped on it, kids climbing over it and the body is still in great condition thirty five years later.
Eurodragster.com: How did the relationship with Hepolite come about?
Russ Carpenter: There were two local guys, Martin and Dick Jarman who ran the Hepolite Hustler V6 injected Ford dragster who were involved with AE Autoparts, and I was using Glacier bearings and Hepolite pistons. I approached AE asking if they would be interested in sponsoring us but on the condition that they would continue to sponsor Dick and Martin. It later transpired that that condition was what swung their decision to sponsor me.
Eurodragster.com: Have you used standard engine parts for your car?
Russ Carpenter: The car still to this day has standard engine parts in it. Over the whole period I ran stock engine parts, the pistons were standard road pistons from a Triumph TR6, they were not forged pistons. I now have a set of forged pistons from an engine that I bought a few years ago but up until now I have always run stock pistons. I was running 90% nitro to run consistent 7.2s in Europe including six consecutive 7.2s at Hockenheim.
Eurodragster.com: Did you always run nitro?
Russ Carpenter: Yes, we ran nitro back in 1969 but in the beginning it was a smaller percentage. I increased the percentage as I learned more about nitro and a lot of that knowledge came from Peter Billinton of G-Max who was very helpful. I understood what it is, it's not a fuel but an oxygen agent. It's essentially a fuel enhancer which makes methanol burn very hard but most think of it as fuel.
When you run nitro in your fuel you gain more power over a quarter of a mile however the engine will require more fuel. If for example you use a gallon of methanol over a quarter of a mile and decide to run a fifty per cent nitro fuel mixture you now only have half the amount of methanol your engine needed originally but you also introduce an enormous amount of oxygen. To compensate for the loss of methanol but extra oxygen you need to add another gallon and a half of fuel mixture to return you back to the methanol your engine needs. To compensate for the extra volume of fuel you now have you need to double the fuel flow the engine receives to bring you back to the original quantity of methanol your engine will burn.
There were fuel delivery issues with our manifold. I didn't make a custom inlet manifold and haven't done to this day so it meant we had to deal with the very inefficient original manifold to deliver fuel to the cylinders. The inefficiency has to be compensated with the port nozzles. If you increase fuel by five per cent you don't increase the port nozzle delivery by five per cent. Some of the cylinders were running super lean but because you have top hat fuel delivery as well you only need to increase the lean port nozzles by two per cent. Tuning was a juggling act all through its life which I got quite proficient at I'm very pleased to say.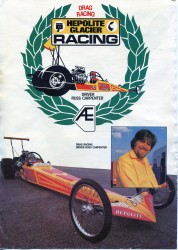 Hepolite promotional material
Eurodragster.com: How long did Hepolite support you for?
Russ Carpenter: They were with me from 1979 to 1982, it was originally going to be 1983 as well. We had been doing a lot of shows and had promoted their products well so we had already agreed a budget for the fourth year but then Hepolite had a takeover bid from GKN who had Vandervell Bearings.
I was doing development work with Hepolite at the time. They had been experimenting with new piston materials so they made me some ceramic pistons to put in the engine to test and feed back to them. They were looking at ceramic pistons for diesel engines at that time and were concerned about the heat at the speeds they were running at. We put them in the dragster and I tried to burn the crap out of them! They had said do what you can with them. At the time AE had a £63m development programme but they were only making £65 million profit so on paper they only made £2 million profit. It seems GKN had no development programme at that time and were earning £68 million profit so they tried to buy Hepolite to get the development programme.
In order for Hepolite to persuade the shareholders to say "No" to the takeover they had to cut all their advertising and sponsorship, they even cut their parts catalogues and made supplements instead. They cut expenditure to the bone and of course I was one of their victims. They took Susie and I to a most beautiful hotel in Stratford-upon-Avon and told me that although they had agreed the budget they could no longer help us financially, although they could still provide all the bits I needed. I was relying on the finance to race the car as there was nowhere near enough prize money to cover the fuel. If I got knocked out in the first round I was in profit but if I won the event I was in deficit because I used far more fuel. Hepolite's money supplemented that.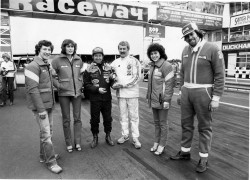 The team with Allan Herridge and Sammy Miller
Eurodragster.com: You had a new body, upgraded roll cage and lengthened the chassis by thirteen inches by 1980?
Russ Carpenter: Yes, I also got a three speed B&J transmission that Hepolite bought for me but we had issues with it. I bought it from Steve Read and I've still got that transmission today. I had to make a considerable number of internal parts including the inner casing because it exploded internally. We found out that the clutches weren't set properly when I bought it and the hydraulics that were supposed to be up to pressure weren't right so it took me up to four meetings to sort it out.
Originally I thought the clutch was slipping. At one meeting it just wouldn't pull off the line. We didn't realise that it was the clutches inside the B&J epicyclic gearbox that were slipping. It is similar to a Lenco, which is mechanically activated even with air shifts, whereas the B&J has hydraulic pistons to work the internal clutches. The Lenco is technically a slower box to activate because it is more complex. To overcome the clutch issues in our B&J box I put large hydraulic pipes into it so I got better flow and much quicker activation.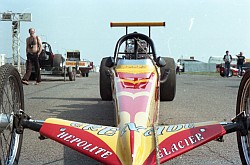 Front wing of Glacier Grenade
Eurodragster.com: When you added that transmission the times came right down?
Russ Carpenter: Yes almost instantly once I had got the box working properly and we realised what the problem was. At one meeting I knocked half a second off my personal best. That was what pushed us into the sevens. In 1980 we ran a 7.73 and became Senior Dragster Champion of both clubs and in 1982 won the RAC Championship. At the Easter International I ran a 7.64 and a 7.60 in September.
We were starting to get issues with the axle at that time and by 1982 had changed it. I had a Chrysler 8¾" when I first started but the pinion and crown wheel broke even though we reinforced it with a spool it wouldn't hold. I then had a 9" Ford. At the Drivers and Riders meeting one of the also-rans stood up and said "It isn't fair we can't win and are getting fed up and are losing heart". Instead of developing their cars they were expecting to win with what they had. All the Champions had developed and got quicker in their classes.
Eurodragster.com: There were a lot less dial-in classes in those days and the brackets were based on engine power and weight?
Russ Carpenter: These guys decided the more powerful cars needed handicapping so they came up with this power to weight ratio which increased so we had to add 160 lbs weight to the car. The Ford axle weighed 155 lb extra than the Chrysler so all we did was make extra thick strong brackets which weighed 5 lb. When we put it in it immediately ran a quarter of a second quicker. I hadn't realised the Chrysler axle had been causing tyre slip off the line.
Eurodragster.com: So their suggestion resulted in a less even playing field?
Russ Carpenter: After two or three meetings they wanted a special meeting to revert the rules back to what they were. How did they ever think that anyone would take the weight off the car and go slower? It wasn't going to happen!
Eurodragster.com: Were you starting to race more internationally then?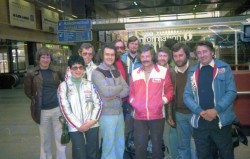 In Sweden with (from left) Steve Murty, Brian and Rani Taylor, Dennis Priddle, Jim Read, Edwin McKnight and Martin and Dick Jarman
Russ Carpenter: Firstly we went to Mantorp Park in Sweden in the late seventies. We went with Dennis Priddle, Jim Read and others. John Whitmore went out as well and we met in the final. How they worked the classes was they had an index based on the weight of the car. When I entered I put the weight of the car but didn't realise that the weight should include the driver, and that resulted in me being put in B/Dragster. I weighed almost seventeen stone and wasn't a small guy, however the Swedes had already protested my entry believing I should be placed in A/Dragster. The officials knew me and the car well and were getting irate having told the racers "You do not want to protest this", but they had paid their 100 Kroner protest fee so they reweighted the car with me in it this time. That resulted in me being put in C/Dragster which gave us a second and a half advantage! However I said "Leave me in B/Dragster, I'm happy with that."
In the final John Whitmore just pipped me as he had a better handicap than me, but if I had gone into C/Dragster I would have beaten him. It was still a terrific, incredible experience.
Eurodragster.com: Did you and John compare notes?
Russ Carpenter: I actually gave John all the information, the same that I had done with Robin Read. Robin had a lot of special parts made, but I gave them both all the settings from my car, nozzles, blower boost, advance, etc so they could get their cars running well. John was very close to me and nearly ran a seven before me. He was running 8.0s and I was running 8.1s. I said to him "Don't you dare run a seven before me, we'll do it together". We came down to race together but his car didn't run right and I ran the first seven on my own. The idea was that we would do it side by side but he had a very complicated home-made fuel injection system and it would either run nice or it wouldn't run at all.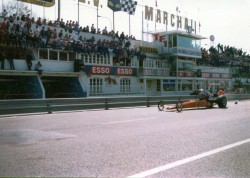 At the eighth-mile at Le Mans the stands were close to the track
I went to Le Mans in the early eighties and they put me into Top Fuel with Dennis Priddle and Tony Boden. The three Swedes also in Top Fuel protested me. The Top Fuel drivers had a meeting and the Swedes said "We don't want him to run with us, because he's not a Top Fuel car". Well it was a fuel car, but didn't have the 6.5 litre and above capacity to make it eligible for Top Fuel. Dennis Priddle said "He's here to make the numbers up and he is running good times, so he's entitled to race with us. You're not even running the numbers so get your act together and it won't matter then". The Swedes protested saying they would go home and wouldn't race if I was allowed to run. Dennis said to the promoter "If Russ doesn't race then I'm not racing, it's not right". The Swedes didn't go home and I stayed in Top Fuel. I eliminated one of the Swedes in the first round and I raced Tony in the semis.
Tony Boden and I were in the pairing lanes and I said to him "I heat up very fast, I can only do a single burnout, reverse, stage quickly and go". The Daimler generates an enormous amount of heat on idle because it's only a small engine. I said "Are you doing one or two burnouts, if it's two I will only start when you come back after the second one". He said "No it's ok I will only do one". So he did a long burnout, I then did mine and came back and was just before pre-stage when he unexpectedly did another long burnout to the eighth mile. By the time he came back my engine was really steaming and I knew it wasn't going to run properly. I didn't expect it to go bang on the line but as soon as I staged and hit the throttle it did and threw the blower belt off. Dennis was behind and said "Did he burn you down?". I told him what had happened and he said "OK!". In the final when Dennis did his burnout and they both came back and Tony started to stage, Dennis did another burnout and came back and made his crew look all around the car messing Tony's head up as he sat there. Dennis eventually went into stage and when the lights went down he just left him sitting there. Dennis didn't think what Tony did was right so I have massive respect for Dennis.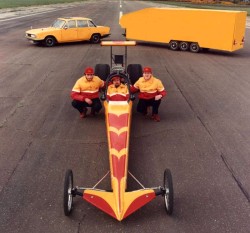 Trailer, built 1970, was weighed at 2¼ tons with fuel barrels and classed as artic. The tow car had a Daimler engine and reinforced rear suspension
Le Mans was very narrow, slippery and there was a nasty bend at the end. The crowd was really close and I absolutely loved it. I got a trophy for third place and the racers just about gave me a standing ovation. My car was good on those tracks, it had big tyres, far too big for the car but also I had a very aggressive aerofoil. As soon as you got to 40 mph it would push the car hard into the ground, as soon as you got to 180 mph it was just like a brick wall. It's never gone any faster than 179.9 mph which I did in 1977 with a GMC 4-71 blower and an 8.9 second ET. The ET was always quick, the speed didn't matter. I always had the view the quicker you went, the more difficult it would be to stop the car and the more the chances of a problem. I had got a new foil profile and was making a new aerofoil for the car to get the drag down just before I retired.
Eurodragster.com: After Le Mans you raced in Germany at Hockenheim?
Russ Carpenter: Yes and also in Austria at the Osterreichring and at Zandvoort and several airfield tracks in France. At the French Championships we were a guest car with Steve Johnson's Motor Mouse. At Aniche we raced from the town centre out into the fields on closed roads. It could only happen in France. They also named a beer after us and we got two beautiful medals and the key to the village from the mayor.
Eurodragster.com: The experience of Hockenheim, what was that like?
Russ Carpenter: The very first time there was a dark shutdown area which was slippery and that was also when Tony Boden sadly lost his life.
Despite that I liked Hockenheim. When they made the purpose-built track that was always good, it worked well for us. The left hand lane was always a bit of a problem because the track went on to the old F1 circuit just before it came into the stadium area and there was a bit of banking where the drag race track joined the circuit on the bend. So the left hand lane had an inch and a half drop at the eighth mile point. You would have freewheeling through there. At the last meeting just before I retired when I had been Euro Champion for the previous two years and almost for a third year in 1989 Robin Read had to win the event, beat my best time and beat my best speed. His crew helped him to do that, they knew how to tune the motor for him. He ran a 7.0 and I ran a 7.2 and he was 10 mph faster as well. Robin had lane choice so took the right lane leaving me with the left. During the race I hit the drop and freewheeled over-reving the motor. Unknown to me I had damaged the block and cracked the webs.
When we went to the first meeting at Santa Pod in 1990 the bottom end of the block just ripped out. I didn't know it was damaged as the oil pressure was still good. I loaded the car up with the intention of running a 7.0 or 6.9 and it just couldn't take it. I broke the crank in two pieces and took the bottom of the block out. It all stayed nicely in the sump and there was not a drop of oil on the track. I thought the gearbox had broken and came back to the pits my son Andrew said "Should that bottom pulley look like that?". It was obviously out of place and I said "That's it! We've broke the crank, don't bother to take the gearbox off."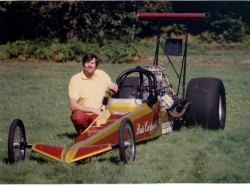 Promotional shot for the 1987 European tour
Eurodragster.com: So how long had you used that engine?
Russ Carpenter: It was four or five seasons old. It was a very good car maintenance wise in spite of it having standard parts in it. The only time I hurt anything was when it hydraulic, usually because a rocker had broken with a cylinder going out. We had a problem getting them strong enough with the overlap and the fuel we were putting in. We were running a lot of fuel, nowadays the fuel cars are massively strong to cope with it.
Eurodragster.com: You ran at Hockenheim for fou ror five years but when the engine destroyed at Santa Pod did that signal retirement?
Russ Carpenter: It wasn't actually that, I had plenty of engines I could work with although it would have cost us a bit to put right. I had enough spares but it was just a case of a bit of machining. In 1989 they outlawed small nitro cars for competition in Sportsman classes and effectively eliminated both Robin Read and us from the Euro Series. It was only England that we could run, and I couldn't afford to run just in England. In Europe we got travel money and because I was Euro Champion I got appearance money which paid for the best part of the fuel. We raced for a prize pot of £1200 and every time I ran I won it. By however then I had no sponsors! So it was Europe that allowed me to run in England where there was no prize money to speak of.
Eurodragster.com: So immediately the Euro Series finished you had to quit?
Russ Carpenter: I tried a couple of meetings in 1991 and 1992 but the trouble with these cars is if you don't stick with them you lose the touch. I had a small weather station and most tuning was from natural instinct, adjusting the fuel to compensate for the oxygen in the atmosphere. Because I was doing it all the time I got it right all the time. But when I had been out a couple of years I had lost my confidence and couldn't get it to run properly and I could only afford to do one or two meetings a year.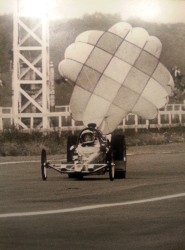 Santa Pod top end, at speed.
So after 1993 I decided I would call it a day. I have kept the car and exhibit it in shows and cacklefests up to a couple of years ago when I did a stupid thing. When we finish a race or cacklefest we have to purge the fuel system because the nitro lays in the bores on top of the pistons and rusts the bores. I did a cacklefest, brought it back and thought I would purge it tomorrow but never did. When I came to turn the engine it had rusted solid so I have had to make a complete new engine for Andrew to have a drive. We plan to do the NSRA Nostalgia Nationals at the end of June, or Dragstalgia. If they let me, I will do a demonstration just to see it is still working properly. I could feel it as I drove it and could feel if it wasn't running right even if it was only two tenths of a second off. I built it by hand and raced it by hand, I didn't need the electronic bits. Just a weather station to get the air density. It was a crude weather station, none of the complicated boxes now that they plug into computers.
If I continued I wouldn't have been competitive with those that run today. My whole engine cost less than £500.
Eurodragster.com: That's the original concept of hot rodding, getting parts and adapting them.
Russ Carpenter: When Garlits came over in 1976 he walked round the pits. I was waiting to do a run in the old car, he came past and had a look and said "That's a lovely little engine, what is it?". I said "It's a Daimler hemi of 150 cubic inches and runs 8.6s". He said "That's brilliant; that was the best time of my life when I was making bits and making it work. Don't ever change it! It would look nice on my mantlepiece."
Eurodragster.com: What engineering do you do to keep SP250s on the road?
Russ Carpenter: I rebuild engines and export them all over the world. I've sent several out to Dubai, Germany, Belgium, Sweden, Norway, USA. Even Australia and New Zealand. I'm a one-man international company.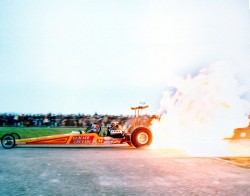 Putting on a show

I do about ten modifications to the engine for road use. Redesign the valve guides because they were notorious for smoking and using a pint of oil every six hundred miles. I've got them so they hardly use any oil. And like a Triumph motorcycle when you stopped it you got an oil slick under the car, so I've redesigned the oil seals so they don't leak any more. I've redesigned the heads to take unleaded fuel, I port the cylinder heads and manifolds so they now run much more efficiently, very close to modern performances. The engines look nice when I finish them. I absolutely adore them and never get tired of doing them.

My customers have included rock stars, royal physicians, Lords, and Chris Evans who bought a Daimler saloon for Billy Piper from a Sheikh who commissioned it as a twenty first birthday present for his son. That one had an electric convertible roof, air conditioning and it weighed about half a ton more than the original car. I tweaked the engine and did as much as I could, but there was no more left. Billy Piper complained it was gutless but the air conditioning pump was where a supercharger could have been put. I went through the same story when it had been sold on by Chris Evans.

We're in the process of building a modern ECU fuel injection system as the standard carb manifold setup is very fuel inefficient, with four rich cylinders and four lean cylinders. When Daimler built it in 1954 and tested them they kept melting the cylinders. They didn't redesign the inlet manifold, they just made the engine richer. Even Leyland didn't redesign it, they left it the same.

Eurodragster.com: Thanks for your time Russ, and best of luck in the future!


Feature ©Simon Groves and Eurodragster.com


---




A burnout in 1975, a year in which Russ won six events





The trophy collection in 1978





Russ was the 1982 RAC Drag Racing Champion





At the Brighton Drag and Custom show with back-up girl Paula





Repainted for promotion in late 1980s





Trophies for European races
---
Features and Interviews index
Back to News page
---