General
Home Page
Add a web site
Jeff Bull Swap Meet
Send a News Item
Site Search by Hauser Racing
2019 FIA/FIM Championships schedule
News, Coverage, Features
Latest News
John Woolfe Racing Event Coverage
OCS Paint Points Standings
Features, Interviews, Tributes
Racer Blogs Lex 01/03
WRE/Nimbus Webcam
LA Racing Parts Links
Racers' web sites
Associations, Clubs
Race calendars
Results, Reports, Info
Pictures, Video
Performance Parts, Merchandise
Sponsors
Tracks, Shows
Information
Timing Data
European and UK Bests
Champions' Champions
Editor's Diary archive



Santa Pod Raceway's new Medical Centre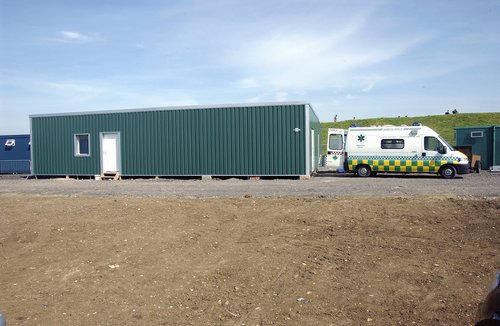 From humble beginnings in a room at the base of the control tower, time spent under canvas and latterly a Portakabin, Santa Pod Raceway's Medical Centre moved one quarter of a mile in 2008 from the start line area to the finish line and into a purpose-built building provided by Santa Pod Raceway and the Santa Pod Racers Club and equipped by Human Touch Care.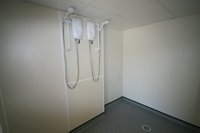 The new building houses not only a staff duty room but a waiting room, minor treatment area, major treatment area and a specialist burns shower, all to the required FIA standard. The new position will enable faster response to any on-track incident as a new road has been installed from the Medical Centre to the pad where the fire truck and the 4x4 ambulance/response vehicles sit.
Twenty-four hour, full event medical cover is provided by Human Touch Care Ltd, a Lincolnshire-based company whose staff have been at Santa Pod since 2000. Human Touch provide an all round coverage of a GP including an out of hours surgery, a mini A&E service able to cope with anything from a minor cut to cardiac arrest, and an ambulance service. £45,000 has been invested in equipment including five ambulances, a response car and a 4x4 immediate response vehicle all to full NHS specification.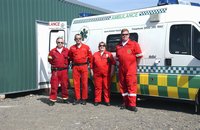 Human Touch Care is run by Roy and Anita Human, Operations Director and Clinical Director respectively and they are backed up by a twenty-plus team led by Dr. Mark Tyler and Dr. Richard Cartmel, part of the FIA & MSA medical team who are the Medical Directors, Debbie Hanson Lead Nurse, Adrian Hanson Duty Manager, Mark Cook-Abbott Lead Paramedic, Neil Hodson and Bill Davies Paramedics. The team have twenty years' experience of motorsports before becoming involved with drag racing. Extracting a driver from a drag racing vehicle is a specialist job and the team pride themselves in being able to reach an incident in under a minute in order to achieve the first ten minutes of care (Platinum) then into the definitive care (Golden Hour) by which time the patient will be in the hospital operating theatre.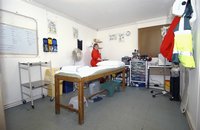 The team are "Human" (pun), enjoying a good joke, ribald remarks and making fun of each other whilst telling many a funny tale including once having to remove a corkscrew from a delicate area. Another time having to cut a racer's hair after she came off her bike and the hair adhered to the glued track surface, and amazement at having to treat several people for burns after a barbeque was lit with a nitro mixture.

Busiest times are the Bug Jam and Ultimate Street Car event with night time being a favourite for bizarre requests, anything from a glass of water to a condom at any time including at 4:00 am.

The Medical Centre is a place that no-one wants to have to visit but if it becomes necessary then it is good to know you are in the best of hands.



Feature ©Eurodragster.com. Pictures ©Roger Gorringe and ©Dave Jones


---
Features and Interviews index
Back to News page
---