Get Well messages for Stu Bradbury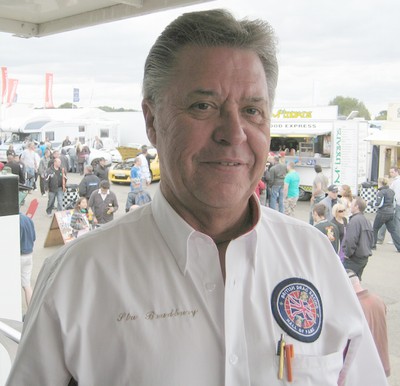 Legendary Santa Pod Raceway starter, Allard Chrysler Action Group member and British Drag Racing Hall of Fame Chair Stu Bradbury underwent a serious operation on Monday 12th November 2012.
Via ACAG Chair Brian Taylor, Stu's wife Bev said on Wednesday 14th November that the operation went well and that Stu is now starting on quite a long road to recovery. Stu will be in hospital for a while, and still has more wires and tubes attached than the Allard Chrysler dragster, but he would like to thank everyone for their good wishes.

We have received the following Get Well messages for Stu. To send your own Get Well message, E-Mail getwell@eurodragster.com.
The most recently-received messages are at the top of the page.



---
Get well soon Stu. Best wishes.

-- David, Linda and the boys


---
Glad to see things are going in the right direction. Hang in there and Be Well. Lee and I are thinking of you.

-- Bob and Lee Keith


---
Thinking of you and wishing you a speedy recovery - lots and lots of love get well soon, love to Bev and Genna.

-- Ros and Roy Phelps


---
Get well, wish you a great future, you are a great guy.

-- Hans


---
Get better soon. All our love xxx

-- John, Debbie and Laura Price


---
Wishing you a speedy recovery Stu. Hope you'll soon be on your feet again.

-- Ken


---
Get well soon Brad, we're glad the op was successful. Keep up the good progress. Very best wishes.

-- Tim and Colette Mudd


---
All the best for a complete and speedy recovery mate.

-- Paul Castle


---
Been a long road bud, hope that's the last one – get well soon!

-- Darren West


---
Best wishes for a speedy recovery Stu. Looking forward to seeing you back in circulation. Also wishing you and Bev a Merry Christmas and Happy New Year.

-- Pete and Erica Bartlett


---
Thinking of you, get well soon, sending our love to you and Bev xx

-- Rod and Anne Pallant


---
Get well soon from an old drag racer.

-- Barry Holland, Team Flying Dutchman


---
Lots of love and best wishes to you and and your family Stu, get well soon XXX

-- Roz and Gerry


---
Get well soon Stu.

-- Team Wilder at Heart


---
Looking forward to seeing you back with the Ally team next season Stu and listening to all the banter from you guys, so hurry up and get well.

-- Liz (Burn)


---
Sorry to hear about the latest saga, I thought it was all behind you. Get well soon, keep your chin up and hurry up back. Love and best wishes.

-- The Hauser Racing gang


---
Get well soon Stu, take it steady and let the nurses take care of you!

-- Steve and Jacky Young


---
Wishing you a speedy recovery! Was just thinking about you yesterday whilst watching a DVD with some flags starters on it.   They couldn't compare to you!  It was a great thrill and honour for us when you flag-started our car at the Pod in 2006, and thanks again for that!   All the best for a quick ET on your recovery and we look forward to seeing you back at the track next year!  P.S. Loved your pipe and flat cap and period acting at the Allard début!

-- Chris, Claire and the Backdraft team


---
Get well soon Stu. It's been a long battle for you over the last few years but hopefully all is sorted for you now and to a good and healthy future. Hope to see you fit and well at the Pod in 2013. All the best

-- Gareth Robinson


---
Get well soon Stu, miss you on FB.

-- Monique and Roel Koedam


---
Hope you can re-join the team soon Stu, we need our polishing supervisor to ensure a quality job gets done.

-- Bob Roberts


---
Get well soon Stu, Chris and I send you our best wishes for a speedy recovery and look forward to meeting up again soon. Best wishes to Bev as well.

-- Pete Crane


---
Hope to see you wearing the white strides and waving the flag again soon Stu. Best wishes.

-- Dave Gibbons and the Rough Diamond team


---
I have known you for many years, far too many to think about. You have always been a fighter and this is a challenge you will overcome. My screen saver is a picture of you high in the air at SPR with flags on the famous start line. Old friend, get well soon and I hope it is not too uncomfortable for you. Best wishes for a speedy recovery.

-- Mike Kason


---
Wishing you a speedy recovery Stu. All the best mate.

-- Paul and Caroline Whitehouse


---
Our thoughts are with you, hope it is a success and that you recover quickly, need you at the strip buddy. Best wishes.

-- Ian and Laura Turburville


---
Get well soon Stu.

-- Team Gridlock


---
My best wishes to you. Get well soon. Keep us informed as you progress.

-- Martin Bradley


---
You seem to be spending more time in hospital than you did on the start line. Hang in there, see you soon.

-- Dave Knight


---
All the very best and get well soon Stu. 

-- John Hunt


---
Get well soon Stu, I'll save your burgers for you. We missed you at the Ally tear down, nobody to polish off the hand prints  I haven't forgotten your picture either.

-- Syd McDonald


---
Don't spend too long in hospital chatting up the nurses Stu. You need to be back out there with a watchful eye on Brian and Syd, to keep them on the straight and narrow!. Talking of Syd, he is probably already organising burger drops to the hospital! Best wishes.

-- Keith and Anne Lee


---
My thoughts are with you Stu. Get well soon.

-- Geoff Stilwell


---
Get well soon Mr Bradbury!

-- The Carbonera team


---
It's been great seeing you at the track a lot more with the Allard Dragster, brings back a lot of memories to an old boy like me! So get well soon.

-- Rog Cooper


---
So that is two restoration projects for the ACAG now... Get well soon Stu, take care mate. All the best.

-- Colin Theobald


---
Take it easy Stu. See you at the track next year.

-- Mark Skinner


---
Get well soon Stu. Bob is saving up some bits of the Allard for you to polish when you get home.

-- Brian Taylor


---
Get well soon Stu. All the best.

-- Nigel Anniwell


---
Features and Interviews index
Back to News page
---