Team Gridlock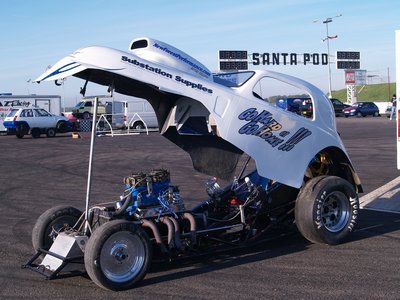 The UK's Team Gridlock are making their competitive début in the Wild Bunch in 2009 but are already no strangers to drag racing fans with a number of news items on Eurodragster.com and appearances at shows, in a music video, and in other media. We spoke to Dexter Price to find out about the UK's newest Wild Bunch team.
Click on any picture for large version
Eurodragster.com: How and when did you get in to drag racing?
Dexter Price: As spectators my wife and I have been into drag racing since our late teens. We can vividly remember the Jubilee meet at Santa Pod and how cold it was that night sleeping in the car. Drag racing and hot rodding seem to go hand in hand and we have always had an interest in rods as well. Myself, the wife and our youngest son Adam all have rods in some shape or form. Adam is going to be the main driver of the altered and although always having an interest in drag racing, this will be his first full season in the seat.
Eurodragster.com: What is the altered's previous racing history?
Dexter Price: We are currently trying to trace the history and have so far found out it was originally the Frontline altered, possibly from the early 1980s to about 1986 when we think it changed hands to the King Brothers for ten years until 1996 when the new owner was Keith Ridgley. Quite when it changed hands to Paul Martin is a bit unsure but it ran in the Wild Bunch in 2003 and was owned by Paul until we bough the car in 2008. If anyone can confirm dates or add to the little info that we have it would be greatly appreciated.
Eurodragster.com: When did you acquire the car?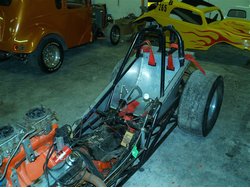 Dexter Price: We got the car late in 2008 and it needed a fair amount of work, much more than we originally thought. Although it has made the learning curve much steeper than we would have liked, it has taught us many very valuable lessons. A lot of the catastrophes and experiences have been put on the Wild Bunch forum so that other newbies can learn from some of our mistakes and benefit from the great advice that we have been given by the drag racing fraternity, particularly the Wild Bunch members. We have also put a short diary on our own web site along with some videos and pictures.
Eurodragster.com: What have you done to the car since you acquired it?
Dexter Price: We weren't really that keen on the two sort-of fins which came out from the front, especially when someone said that it would look like a lobster going down the track backwards! We weren't sure at first as we wanted to keep the altered as original as possible but at the same time put our individual stamp on the car, so out came the angle grinder.
We sanded the body down and gave it its new colour of Audi Ibis White, and blue glitter flames. We have rebuilt the engine after a small problem, the gearbox has been rebuil,t and we are currently reworking all the brake system. The engine has also been rebuilt, and the front spindles reworked.
Eurodragster.com: Show us around the engine and transmission.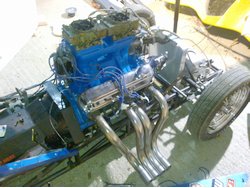 Dexter Price: The TF727 transmission packed up at the Hot Rod Drags which was our first outing. We got off the trailer, fired it up and it moved about fifteen feet - didn't even make it to scruiteneering. So the box was sent off for a rebuild as it was well outside of our ability to do. It has been uprated with reverse pattern shift, added clutch plates and new ratios. When we got the car it had loads of spares which included some really good tuning parts including a Crane Cams camshaft, Crane roller rockers, Cloyes timing gear and KB pistons, also another block and heads.
So after the catastrophic failure where a rod exited both sides of the sump (replaced by a nice Milodon one) it was a good opportunity to rebuild so it was fresh for 2009. As we had already lashed out on the box we decided that we should keep the 360 Mopar instead of going down the Chevy route that we are more familiar with. The Mopar unit has an Offenhauser Hi Rise with two four-barrel Hollies on top, and does look pretty sweet.
Eurodragster.com: How has testing gone?
Dexter Price: Somewhat fraught! The first ever run was on 11th October, no heroics, Adam did a very nice slow speed pass and the car went straight and stopped OK. The second run was going well until a big cloud of blue smoke where the rod let go and came out both sides of the sump, definitely not a Personal Best with a terminal speed of 27 mph.
After the rebuild, and the problems encountered with it, we again did a day of slow passes just to get the feel, build some confidence and sort out some minor problems, the best time being low 14s The next time out we were hoping for a low thirteen-second pass and had set the rev limiter quite low to protect against any mis-shifts or mishaps, and were were thrilled with a 12.7 on a fairly slippery track. Times got progressively better resulting in a 12.2 with no other problems.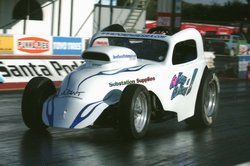 We hope to be doing some more shakedown runs the weekend before Easter, it would be a great way to celebrate Adam's birthday with some good times. As it is out first season we would like to try and get as much track time as possible. We are hoping to cut our teeth, learn the ropes from other members, and get some good track time. We hope to get progressively better times at each event and get into the tens but more importantly to have fun doing it. We have big plans already in place for 2010.
Eurodragster.com: Introduce us to the team.
Dexter Price: Adam is the driver, he also helps out a great deal. I do most of the spannering. Ken does...er, does anyone know what Ken does? Seriosly he drives the tow truck and helps out on the line. Mark takes all the excellent pictures at shows and races and finally Val and Lorraine sort the food and drink and always make sure we don't forget anything which would be quite probable without them. A big thanks to them all.
Eurodragster.com: Who are your sponsors?
Dexter Price: Our main sponsor is Substation Supplies who seem to pour endless amounts of money and we cannot thank them enough. PC Repair Essex provide us and Substation Supplies with all our computer needs, computer servicing and technical support. An old Hot Rodding friend, Robin Eve, who runs New Forest Performance provides us with a good discount on ignition, dizzy, leads etc. New sponsors RCS are giving us some very nice low friction accelerator, gear change and chute cabling, and last but I am sure not least are Auto Imagination of Great Dunmow who provided our nice new headers ready for the International Historic Motorsports Show.
Eurodragster.com: Anyone else you would like to thank?
Dexter Price: I would particularly like to thank Val - the missus and Adam's mum - for her tolerance, support and enthusiasm for this money pit, and Lorraine for putting up with freezing days supporting Adam. Let's hope it gets warmer as testing in sub zero conditions wasn't that much fun! Also Mo-Am Masters for publicising the dragster so well in the music videos and photoshoots.
Eurodragster.com: Yes indeed, tell us about your involvement in a music video?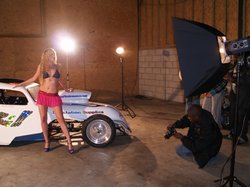 Dexter Price: Some time ago, we met a bunch of people call Mo-Am-com who asked us if I would like my Ford Pop to be featured on a Sky channel. After chatting for a while I mentioned some of our other cars, and ended up being on Sky for about four weeks running with each week featuring one of our cars.
Some time later they came back and asked us to do a photo-shoot with a new girl band called Fresh as Tommi. After a day's shooting with some cars and the altered, we were asked to do a music video with the cars and altered. The pictures are now being used by Apple Bottoms Clothing which is owned by an American pop star, and there is a massive picture in the Apple Bottoms store in Dubai. Mo-Am and Fresh as Tommi have also asked us to do another music video and a shoot for a TV show, so there is a lot more to come for the little white Altered dragster both on and off the strip.
Eurodragster.com: We look forward to seeing it all! Thank you for your time Dex and good luck for your début season.

Feature ©Eurodragster.com.


---
Team Gridlock web site
Features and Interviews index
Back to News page
---