General
Home Page
Add a web site
Jeff Bull Swap Meet
Send a News Item
Site Search by Hauser Racing
2019 FIA/FIM Championships schedule
News, Coverage, Features
Latest News
John Woolfe Racing Event Coverage
OCS Paint Points Standings
Features, Interviews, Tributes
Racer Blogs Lex 01/03
WRE/Nimbus Webcam
LA Racing Parts Links
Racers' web sites
Associations, Clubs
Race calendars
Results, Reports, Info
Pictures, Video
Performance Parts, Merchandise
Sponsors
Tracks, Shows
Information
Timing Data
European and UK Bests
Champions' Champions
Editor's Diary archive


Exclusive Feature on Team Veidec Pro Stock Bike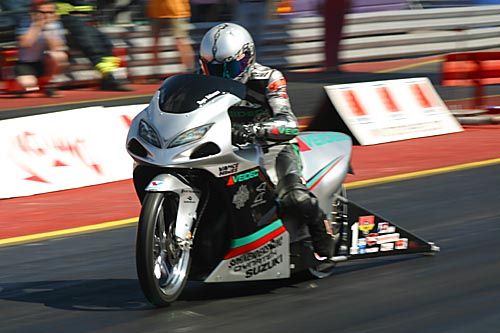 For this team feature we caught up with Team Veidec Pro Stock Bike racer Roger Pettersson, who has won a number of UEM Championships, most recently in 2001, and who was runner up in 2002. Roger came into the sport in 1987 and has worked his way up to the Pro Stock class. The team are already hard at work for next season, the aim being to return to the top spot of the championship in 2003

Thanks to Roger Pettersson for taking the time to complete the feature and to Roger Lyrén for additional information.


Eurodragster: Tell us a little about yourself away from the track?

Roger: I'm 36 years old and married to Lina. We have 5 children; Lucas, Linea, Amanda, Alma and Alice. We live in Stockholm and I work at Skanska IT-Solutions where I am responsible for "alarm and passage".


Eurodragster: When did you first go to a drag race?

Roger: My first contact with drag racing came in 1984. A club championship at Mantorp for the Huddinge MCK.


Eurodragster: When did you first take part in a drag race?

Roger: The first time I took part in an organised drag racing competition was 1987, with a 1260 cc Suzuki Katana '83 and I won!!! That's where it all began.


Eurodragster: What is your current bike?

Roger: '02 Suzuki GSXR 1000 with a Track dynamics ultra light 2002 chassis.


Eurodragster: When did you acquire your current bike?

Roger: 2002


Eurodragster: Who built the bike originally?

Roger: We bought a rolling chassis from Track Dynamics, which arrived on Midsummer Day. I prepared it with assistance from Jörgen Byström.


Eurodragster: What is the powerplant and who built it?

Roger: The engine is a Suzuki GSX 1500cc, with Vance and Hines two-valve aftermarket top end. It is build by Byron Hines and modified by Roger Lyrén.


Eurodragster: Approximate BHP?

Roger: Approximately 300 Bhp.


Eurodragster: What drivetrain does the bike employ?

Roger: Rk 530 chain, gear ratio 17/47.


Eurodragster: What is the bike's race weight?

Roger: 600lbs


Eurodragster: How the bike has developed since you first got it?

Roger: We are about to update the bike ready for 2003


Eurodragster: Best elapsed time / terminal speed?

Roger: 7.397 seconds and 180.33 mph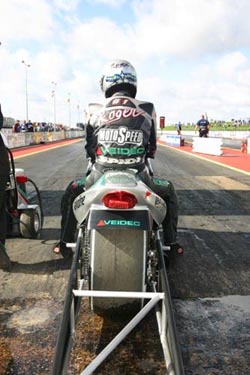 Eurodragster: Who is your current crew?

Roger: Roger Lyrén - Crew and Team Chief
Henrik Carlsson - Mechanic
Lars-Olov Ericsson - Bus driver and helps out with everything else!
Jörgen Törnstrand - Helps with the mechanics and whatever else needs doing
Lotta Ahlberg - Takes care of all VIP's and feeds all of us
All our kids, they are all ready to help out whenever a job needs doing.

For 2003 the team will be expanding and will include Öyvind Von Essen and his crew.


Eurodragster: What plans do you have for the future?

Roger: To recapture the UEM title and be the first one to run 300 kph (186.46 mph) on a Pro Stock Bike outside the United States. We also want to run 2 NHRA races (Las Vegas and Pomona) and qualify there.


Eurodragster: What is your favourite story/moment involving the bike?

Roger: The victory at Mantorp in 2002, it was my first victory on this bike.


Eurodragster: What is your favourite story from the pits?

Roger: 1996. My first victory against Veli Malin, he was an extremely target-oriented.


Eurodragster: What do like most about the sport?

Roger: The acceleration and the intensity in the sport itself, everything about being a part of a race, the social contacts, the response.


Eurodragster: If you could award a medal to someone in Drag Racing, who would it be and why?

Roger: The Crew manager Roger Lyrén, for being able to put up with me all these years and for his enormous experience.


Eurodragster: Any people you would like to thank?

Roger: My family, who have supported me during my competitions. Veidec. All the team-members. Jörgen Byström at Super twin and Thomas Klarkner at Motospeed and all other sponsors who have supported me during the 2002 season. A special mention must go to Veidec's Rickard Pålsson who is a great help to our team and also to all the team members wives that have supported us all these years.




Website coming soon, www.veidecracing.com





Feature ©Eurodragster.com
---
Feature index
Back to News page
---
Eurodragster.com aims to bring you links to all the best European Drag Racing web sites. To add your site to Eurodragster's listings, simply email links@eurodragster.com with your URL and a little information about your site and we'll do the rest. When you update your site, drop us a line at news@eurodragster.com and we'll feature your site in our "What's New" section.
Eurodragster.com is a non-profit-making organisation run by a small group of Drag Racing enthusiasts for the sole purpose of promoting European Drag Racing. If you can help us to meet the modest cost of hosting this web site by advertising here, please email webmaster@eurodragster.com. We're sure you'll find our rates extremely competitive.