Interview with Tom Compton
by Andy Willsheer for Eurodragster.com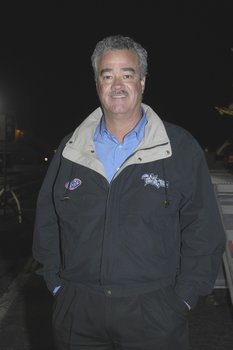 Click on any picture for large version
When Honorary Eurodragster.com Staff Member Andy Willsheer and Photo Editor Roger Gorringe were invited along to the awards presentation at the Monte Carlo Casino and Hotel in Sin City following culmination of the Get Screened America Pro Mod Challenge presented by ProCare Rx, they were taken aback to hear the announcement that the National Hot Rod Association had finally seen the light of day and embraced the longtime exhibition class as a pukka eliminator for 2010.
After nine seasons as an invitation-only exhibition series, the proclamation made by NHRA President, Tom Compton, and current company sponsor Chairman and CEO, Roger Burgess, was met with much cheering from the assembled throng, and a degree of incredulity from this scribe! I know Kenny Nowling's American Drag Racing League has achieved much success with that sanctioning body's brand of Pro Mod excitement whereby fans are offered free admission, leaving promoters to make their money primarily on souvenir sales, parking charges and food/drink stands. But the prime negative factor in my opinion is that competition is held over the eighth mile rather than a full quarter. Then again, if it's a case of an eighth or nothing, well, half distance it has to be!
I can only applaud Tom and Roger for getting their act together and putting on a programme for 2010 that ought to have ultimate doorslammer enthusiasts eagerly awaiting the Florida kickoff at Gainesville Raceway's Gatornationals meeting in March.
The ten-race NHRA Get Screened America Pro Mod Drag Racing Series will feature full sixteen-car fields, putting them on level pegging with other Professional categories competing for points, an event Wally and a championship title.
Television coverage on ESPN2 will also be an integral part of the package, something that should go a long way to making the five-second quarter-haulers as much a firm favourite of spectators as, say, the nitro classes that will, of course, always be the prime draw for a majority of drag racing fans.
In between racing action on the Saturday of the Auto Club of Southern California NHRA Finals, narrowly evading that wayward Alcohol Funny Car and endeavouring to annotate progress of the European racers on hand I got together with Tom to get the lowdown on how this historic agreement came about, as well as garner his viewpoint on a couple of other pertinent points. The following is a précis of what transpired:
Andy Willsheer: Why has it taken so long for NHRA to make the Pro Mods a proper eliminator series rather than let it carry on as an exhibition class?
Tom Compton: Well, firstly we've noticed how popular this class has become over time – not only here (in the States) but across the world - and with feedback from participants and fans it felt the right time to put matters on a proper footing. Secondly, Roger Burgess is a very passionate racer who cares about the sport, and thanks to the financial commitment from his company we felt he'd be a terrific partner (Roger campaigns a blown '67 Camaro and was in the 2009 Championship hunt right up to the series-culminating event in Las Vegas - AW). We don't take creating a new series lightly, and whenever we do so we need to ensure that it's going to work, the demand is there and it's likely to grow.
Andy Willsheer: At the Monte Carlo announcement, it was stated that this agreement came about through the two of you getting together and working out the details. This is surely unusual inasmuch as matters would generally be handled by other members of staff rather than being handled by the bosses, so to speak.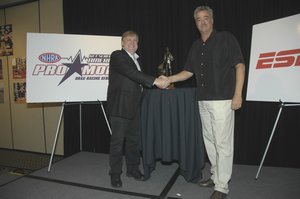 Tom Compton: Roger and I have a comfortable working relationship established over the past couple of years and we both see the merits of each other's organisation. The more I learnt about him both personally and professionally the more impressed I was with his background, and I think he liked what he saw at the NHRA and what I had to say. We kinda clicked. A deal was agreed upon and we'll see how matters go in 2010, and take it from there.
Andy Willsheer: Many people I know in the sport feel that Pro Mod is the next best thing to the nitro classes. Do you see it the same way?
Tom Compton: I personally feel they're awfully exciting - I always have - and I believe there are many NHRA fans that share the same view. We're certainly excited to have the class on board, particularly because the wild body styles and performance parameters (Five-second, 250 mph doorslammers surely have universal appeal! - AW) make them so popular to so many people.
Andy Willsheer: The week after the Las Vegas race, the lack of an NHRA booth on the main exhibition floor at SEMA was noticeable. Was this purely an economy measure?
Tom Compton: Not exactly. A decision was made at the beginning of the year to manage costs and the loss of the booth was just one of many cutbacks deemed necessary (due to the adverse economic climate). We hosted the traditional breakfast meeting that, incidentally, was extremely well-attended and the lobby display of nostalgia cars was also very popular, to the extent that the scheduled meet-the-drivers deal could have gone on for many hours. Had we not put someone in line to mark the cut-off point, the hero-card signing would never have ended. So although we had no show booth per se, our presence was anything but low-key.
Andy Willsheer: With Dover Motorsports' announced closure of Memphis Motorsports Park, this leaves a 'spare' date in the NHRA Full Throttle Drag Racing Championship Series. Do you intend to stage a national event elsewhere to fill the void, so to speak?
Tom Compton: No, not at present. We'll run a twenty three-event series in 2010, but I will say that should we decide to make up the figure to twenty four we'd be looking to put on an event in a market where we're not really represented as such. I think that somewhere in the New England area like, say, Boston would be a good pick for a Full Throttle event, but that's for the future.
Andy Willsheer: I notice looking through the published National Event calendar that there are a full third of the races unsponsored as such. Are things that tough?
Tom Compton: Not really. This is a provisional list you've seen and we don't announce anything until signed agreements are in place. It is unusual that there are a number of events unsold going in to the new season, but we're working on a number of things and I'd like to think that this situation will look a lot better in the near future. But again, it's a sign of tight times, though most should be sold (as per usual) in due course.
Andy Willsheer: What's your point of view as regards 1000-foot racing rather than a full quarter for the blown-Fuel classes?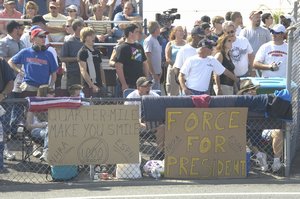 Tom Compton: As a fan of drag racing, I know the quarter-mile distance is the recognised norm. However, (in order to revert to the 1320 distance) we need to do something to address the power output of their engines.
A major breakthrough has to be the Safety Shutoff Controller (developed by Dave Leahy of Electrimotion in Delaware, Ohio) that (on the two blown-nitro classes) deploys the 'chutes and shuts off the fuel and ignition (when, for example, a blower burst panel ruptures.) In 2010 this system will be augmented by an upgrade whereby a transponder placed a certain distance after the finish line will do all of this should a driver not already have done so manually.
We're working on ways to address powering down the cars in order to prevent (ET and Top Speed) ever quicker and faster numbers becoming the norm, aside from decreasing downtime due to cars oiling the track. Test sessions have already taken place, with Funny Car competitors Tim Wilkerson and Cruz Pedregon (Running their cars outfitted with a single mag instead of the standard duo, lower-volume fuel pumps, smaller number of clutch discs, decrease in percentage overdrive on the blower, a change in third member gear ratios and nitro percentage, and even smaller-capacity engines - AW) to see if quarter-mile numbers can still be somewhere in the four-second/300 mph region, and these tests will carry on as and when time permits. Results so far have been inconclusive, but we'll continue to try to find a method whereby the stated aims can be achieved in a cost-effective manner that suits car owners and yet still offers fans close, side-by-side racing, with safety as a paramount.
Andy Willsheer: Thank you for the candid comments, Tom, and we look forward to getting along to the 50th Anniversary Winternationals at Pomona to see how proceedings pan out for what has the makings of a memorable start to the Full Throttle series.
Speaking of which, with Top Fuel stalwarts Andy Carter and Norwegian Thomas Nataas already slated to contest the season-opener - and in the King of Europe's case, a commitment to appear at the Phoenix and Gainesville races that follow on - there's bound to be some needle between the two of them, let alone other entrants in the sport's premier class. Further reason to hop a plane and - alluding to the imploring tones of the late promoter/track operator/TV host Steve Evans, when whipping up listeners through radio ads for prime races back in the Seventies - BE THERE!
Finally, my thanks to Jerry Archambeault, Vice President Public Relations and Communications, for scheduling his boss some time away from meetings, trips to the far end, staging lanes and wherever to present championship victors with their spoils. And the fact that Tom was still on hand well into the cold evening – Sportsman action concluded considerable later than anticipated - to finalise photographic formalities with winner's circle grip'n'grin shots, long after nigh-on all the other 'suits' had departed, ably demonstrated that it's not necessarily only those further down the corporate totem pole that deem it obligatory to arrive early and stay late!
Text and photographs are ©Andy Willsheer for Eurodragster.com and must not be taken, copied or used in any way without written permission. Unauthorised use may result in legal action. To enquire about purchasing photographs please see the Eurodragster.com FAQ or E-Mail photography@eurodragster.com.


---
NHRA web site
Features and Interviews index
Back to News page
---