Tributes to Tony Gransden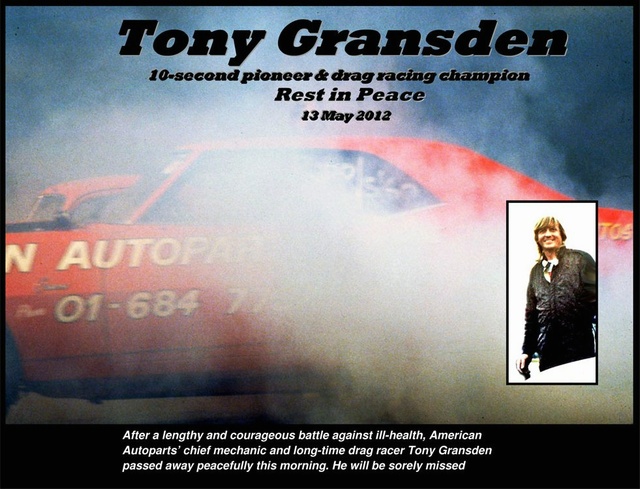 Tony Gransden died on 13th May 2012 after a long illness. Ray White writes:
Tony was a partner in American Autoparts. He raced a twin-turbo Camaro in the 1980s and also partnered Terry Gibbs in the Camaros Unlimited car. I raced against him in Super Gas. Tony partnered with Alex Nicol from the mid 1990s until well into the 2000s. Everyone knew him from our SuperGas and Super Comp days. He was a real character and paired with Alex was renowned for a sense of humour and great sportsmanship. He will be greatly missed by all who knew him. RIP.
We have received the following tributes to Tony. To send your own tribute, E-Mail tributes@eurodragster.com.
The most recently-received tributes are at the top of the page.



---
I am not interested in what you achieved as a drag racing celeb. What hurts me more is that you were such a great person and you didn't deserve to end things quickly this way. Will always see you as a superior being. Miss you like crazy.

-- Peter Hayward


---
RIP Tony, top racer, top guy, one of the old school. You will be sorely missed by all, but you have left your mark in all of our hearts.

-- Paul 'Grumpy' Watson


---
He will be missed. I remember the great times at American Autoparts, he made a joke out of everything. I loved how he passed his knowledge on to others, I learned a lot from him about American cars. He was the master.

-- Paul Yorkshire


---
I am sorry to hear the sad news. Tony was a great person, a real good guy, an inspiration to us all, the early 80s at the track were magical and Tony was part of those great days. My deepest sympathy to Tony's family and friends.

-- Dennis Boyle


---
Right from our early days of involvement with drag racing, Tony was always there as an entertainer. From the Gary's Picnic days, the Night Doorslammer events, working with Terry Gibbs and then of course, the racing partnership with Alex (Alex who the f*** is Alex) Nicol, he was always a hard competitor plus such a fun person to watch. It made our lives as commentators so very easy. Thank you so much. To Angie and the family, Alex and the legions of friends, customers and fans, we send our sincere condolences. Rest in Peace Tony.

-- Graham 'Arkwright' Beckwith and John 'Half Price' Price


---
Shocked and saddened by the news of Tony's passing and so very proud to have had the opportunity to both get to know this big character as well as be the butt of some of his track banter and race antics. The memories of the good old days in both Super Gas and Super Comp will be treasured always and our thoughts are firmly with Angie and family, as well as good buddy Alex and all of our respective race friends and colleagues. RIP Tony Gransden, we are sure you and Tel can fire up the dragways of heaven and continue the mayhem for many years to come...

-- Sharon and Jon Hogarth


---
So sad to hear of the loss of Tony, our thoughts are with Angie and the girls during this difficult time.

-- John and Rita


---
I first met Tony in the early seventies. He turned up in a gullwing Buick, and too many other very cool cars to mention up to the Z28 Camaro which went to become a full-on race car. Some of the best times of my life were spent with Tony at the workshop, him having to work on some piece of junk I had brought. Also times up at the Pod to Blackbushe and Wroughton and on all day benders in and around Bovingdon, and when we got back Angie having a go at him, he just shrugged it off and we would do the same the following weekend.  A long time passed when we lost touch but met up about three years ago. I'm so sad at the missed time together. I did not lose a friend, I lost a member of my family. RIP to my friend Tony. Now my thoughts go to Angie and the girls and his son Ian and his grandchildren. All the best.

-- Jim Lyon


---
Unlike many of those whose tributes appear here, I'd known Tony a comparatively short time - just seven years - as a customer of his business, American Autoparts. But in that time, I came to recognise him as an expert in his field, as a resourceful, enthusiastic and always helpful repairer of American cars, a habitual joker for sure and I truly looked on him as a friend. I was so sad to hear he has put down his wrench for the last time.
He will be most sadly missed; my thoughts are with his family, his friends and his colleagues and clients at American Autoparts.
If they don't have drag racing and an American car scene in the afterlife, I'm sure Tony will rectify the situation. God bless you, Tony, you were and are one of the greats. They don't make 'em like you any more.

-- Steve Clark


---
Very sad news, during the SGDRA days Tony was the one who didn't really take part in the bitching, took the piss out of everyone's point of view, and just got on with it - putting on the best show everytime. Always a laugh - always a smile. Condolences to Angie and the girls and to Alex - just remember the good times we had..

-- Lesley


---
Tony - great guy and a great drag racer. He will be sadly missed.

-- Brian Huxley


---
Like so many others before and after, I met Tony through American cars and went to his workshop to glean his experience and knowledge. However, you got so much more than that and Tony became an intricate part of everything I did with regard to racing. He never called me by my real name, I was always known as Paddy and to be honest, if he had called me by my real name I probably would not have answered him. I and my crew (the Dublin-Up Team) have some great memories of when we were racing in Super Gas with the black Chevy Nova. My wife always remembers Tony and Alex taking the mickey because she always gave me a kiss on the cheek whilst I was in the car going down to race, it had become a sort of good luck superstition. On one occasion, after numerous mickey-takings, she went up to both of them and planted smackers on both of them and that is how she remembers Tony, laughing his head off, fag and drink in hand! Tony is probably looking down on us all and wondering what all the fuss is about! Sending our best wishes and condolences to his wife and family.

-- Brendan and Claire Clancy and Paul Chandler


---
When I got the message from Ray about Tony I couldn't believe it. Even though I knew Tony was unwell the news was still a shock. I've read some of the tributes and they have reminded me exactly of Tony's personality and character. Sarcastic, wind-up merchant, piss-taker, top mechanic, knowledgeable, friendly, helpful, excellent racer, bloody nice bloke. My thoughts go to Angie and family, Alex Nicol, and all of his friends. RIP Tony, I'd like to think you're up there somewhere with Pete and Terry having a beer and still taking the piss.

-- Andy Oliver


---
Geez, haven't seen Tony for some years now, I kinda dropped out of the car scene a while back, but Tony helped me out when I was a nineteen-year-old kid with a 389 Le Mans, nearly thirty years ago. The piss-taking was relentless, I thought it was just me at the time but it soon became obvious that everyone got the same treatment. A true character, a great laugh, an inspiration. Thanks Tony, for all the help, work, coffee, loan of trailer, and yes... more piss-taking. Best Wishes to all the girls including Alex. Oops, I meant "and Alex too". RIP Tony.

-- Steve 'Mellie' Corbett


---
God bless you Tony you will be surely missed. Condolences to all the family.

-- Vic, Margaret and Dave Jones


---
Tony you were a greatest person for always helping other people with problems even other cars than Chevys. You were always know as the Big Nose F..k and you would tell me what a Big Fat F..k I was. Always had good laugh when myself and the boys would come and visit you at the workshop always welcomed with a smile and help yourself to a cuppa. You fixed all of my various cars and trucks all to the highest standard. I am so glad that all the suffering and pain is now gone. My deepest condolences go to Angie and the girls. Rest in peace Tony with your buddy Terry.

-- Steve Dowler


---
With regards to Tony Gransden the piss-taking wind-up merchant.
He was one of life's characters and for me made American car ownership that much more enjoyable, not just for picking his brains which I'd do on a regular basis for the wealth of knowledge he had on making cars go extremely fast as that was what I was intent on doing with my Camaro, but also the jokes, stories and stupid piss-taking humour that is very similar to mine that I'd expect on entering American Autoparts.
He was a toolaholic like myself and pretty much had to have the best of everything as I found out when doing some carpentry work at the premises in Redhill whilst using my big chop saw he started asking "What can that do, that looks like a good bit of kit i like to do carpentry at home as a hobby" so after a quick tutorial on how not to cut your hand off he goes and gets one which I thought was a bit OTT just for a hobby but that was Tony. As my hobby is messing about with a rusty old Camaro I felt a bit privileged that I could go up there most Saturdays, help myself to any of Tony's tools, work on my car, and get his help.
Tony and his right hand man Sebastian and the guys at American Autoparts have helped me out endless amounts of times not only fixing my car but even when busy doing other customers' vehicles dropped everything to fix my van and get me back on the road so I could get back to work, either that or just to get rid of me LOL.
It was Tony who got me hooked on drag racing watching the big events at Santa Pod and taking my car down the quarter mile, what a buzz.
Missed you for quite some time already mate, not because I've not been able to pick your brains because I've broken it again and you've not been around due to your fight with a terrible illness, but for that silly smirk on your face when entering your workshop knowing that what comes out your mouth will have me laughing.
RIP Tony Gransden.

-- Marcus Knowles


---
I didn't really know Tony, I was one of the guys "Looking in" back in the day when Super Gas was the class to be in. I bet I only spoke to Tony a couple of times over the years, but knew straight away that he was one of the good guys in the sport. Reading the tributes here proves what a character he was. God bless you Tony... very best wishes to your family.

-- Wayne, Belinda and the boys


---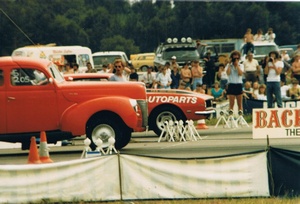 I remember watching Tony running a 10.66 in the twin-turbo Camaro in 1983 thinking that no street car was going to beat that, he was well ahead of the game at that time. I raced against him at Blackbushe, Santa Pod and Mantorp Park in the Street and Doorslammer events and later in Super Gas and Super Comp championships. He was one of the first Comp cars to run on methanol and was not scared to try new things such as a bit of nitro. He always enjoyed a wind up, especially with Terry and Alex. He raced hard and won a lot of races but would help you out if you had a problem, what can I say? You just could not fail to like him. He will be sadly missed. Love to Angie, the girls and Alex.

-- Brian and Julie Pateman


---
I am deeply shocked and very sad to read about Tony's passing. I first met him at the Wallington shop as a teenager building a V8 Pop and took plenty of his advice onboard. A few years later he appeared at the Brighton Speed Trials with his twin turbo Camaro, a real beast in its day. He always had time to chat and was very friendly to a budding young racer. Whenever you entered his workshop at Thornton Heath you were greeted with a laugh and a cuppa, like everyone else running Super Gas he always rebuilt my 'Glides and had a genuine interest in everyones race cars. What a terrible loss to the drag scene in the UK, a wonderful guy and true friend, my thoughts are with his family and Alex. You will be missed Tony.

-- Shaun Saunders


---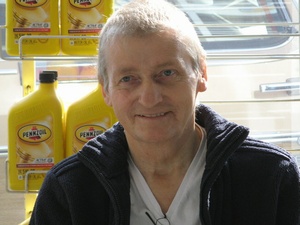 Tony was my teacher for all things mechanical since 1990. He took the piss endlessly about each vehicle I bought but would always answer my sometimes-naive questions and always help out when I got stuck on various rebuilds. He taught me how to weld, a long-held ambition, and how to listen very carefully to what he said (or sometimes mumbled) because in amongst it there'd be the sparkly gems of knowledge that I'd be seeking. Sometimes the penny wouldn't drop until days later and I'd find myself thinking "Aha, so that's what he meant". Classic.
He was generous beyond measure as all those who frequented Thornton Saturday spannering-cum-chat sessions can attest. His tool chests were always open and his experience and (sometimes unintelligible) humour were always on tap. I really enjoyed those long, exhausting, fume-filled, oily days and even though over the last few months we all knew he was dying, I can't quite believe he's actually gone. The world is poorer without such unique characters but I'm glad that his endless and undeserved suffering is now over. Godspeed Tone.

-- Captain Jonny


---
I cannot believe we've lost another of the great old timers of drag racing. Another one who helped me on my way, who taught me the ropes. He's the one who came with me to check out a red 1970 Camaro for sale in Sydenham in 1990, when I wouldn't have known an old banger from my elbow, my first V8, it became my daily driver and little by little my race car. I still race it today.
He taught me to short the starter terminals when it wouldn't start due to a hot solenoid, advised me on transmission maintenance, told me about valve bodies.
I used to hang out at American Autoparts at Thornton Heath and Rick knew I'd be there bothering Tony if I was late coming back from work, he'd show me the latest car he was working on, made fun of Rick and his Econoline van. A great sense of humour and great fun to listen to.
Goodbye Tony, wish I believed you're now exchanging banter with Tony Dickson and Terry Gibbs. RIP.

-- Carla Pittau


---
Reading through the tributes of Tony it couldn't help but bring a smile to my face.  As everyone is saying you couldn't get a more helpful person to get you to the track so you could race.
Tony used to call me The Messer for about twenty years and it was only after he had his op and Chris Meads was texting him calling him the Messer that he told me Terry Gibbs and Chris Meads were so well-organised when they went racing whereas Tony was a last-minute man but would always get there in the end, just like me. So felt a bit honoured he called me that.
And thank you Tony for all the fantastic memories, the laughter, the racing and the trips to Hockenheim, who could forget them, just like we will never forget you. To a special friend love ya Dave the Cab (The Messer but not the original lol). And my thoughts go to Ang, Clare, the girls and the rest of his family. 

-- Dave the Cab


---
Your tributes brought tears to my eyes as I realised just how much we miss Tony.  A happy memory came to mind, replacing my tears with a grin as I recalled the look on Tony's face as bwe lasted past the Federales at way more than twice the speed limit whilst driving ooop North to visit New York Raceway from AAP's South London speed emporium.  There was only a single lane of traffic and I got lucky, slipped the car into a gap in the left lane just before the the fuzz move out to see an empty highway ahead. You could almost hear one of 'em say "See I told you it was nothing" before the patrol car moved back into the lane of traffic.  Tony was laughing his head off I kicked it down and we took off again. The journey took three hours - with a one hour breakfast stop on the M'way and is one I'll never forget! And the many awesome burnouts he'd make for my camera at places like Crystal Palace and even at Land's End!  To all of us lucky enough to have been a small part of his very full life, Tony was far more than just a friend.

-- Mike Collins


---
Angie, British drag racing was a better place to be with Tony involved. We've all had a lot of laughs and a lot of races together, be proud he was a great bloke.

-- Mark Flavell


---
Firstly I'd like to say that my thoughts go out to Angie, his beloved family and those closest to Tony in recent times in what must be such a very difficult time for you all.
So after six, where the hell did they go years, I'm yet again recalling all the same life long memories I had when we lost Terry Gibbs back in 2006 and even at a time like this can't help but smile. I first met Tony and Angie via a work colleague in a pub in Kings Langley in 1975 and yep, she was giving him stick even back then, good girl. For reasons unbeknown to myself I then choose to spend next fifteen years or more sitting in a workshop, a van or at a track listening to him and Tel bitch and moan like a pair of old tarts. Those years the three of us spent racing together created memories for me that have and will last a lifetime, absolutely priceless.
By the early '90s the time to go racing or over to Thornton Heath often had to take second place to work and my young family. Despite not seeing each other week in week out we never allowed it to go too long without abusing each other over the phone, something that never changed.
Tony was as genuine as the day is long and a better friend you'd not meet but, in spite of what he'd tell you, he was also the biggest (and original) Messer too :-)  
RIP my friend.

-- Chris Mead


---
So sorry to hear Tony has passed away. Another of drag racing's true pioneers and lover of American iron has joined the ever-increasing entry in the drag race meeting of old friends out in the blue yonder. No more pain, just the roar of a Tony Gransden  well-tuned V8.   

-- Stu Bradbury


---
Tony was a larger than life character and can still hear him say "Alright girl" and would give one of those smiles of his. Terry and Tony had been buddies for years and have such memories of the early days with the two Autoparts Camaros, then Tony having the seat in Obsession, the antics we all used to get up to at the Travelodge, Angie still not sure if the guy was looking at me or you or neither of us. We had such good times, my thoughts are with Angie, the girls, the grandchildren and Tony's good friend Alex. No more pain Tony you can rest now.

-- Tina Gibbs


---
Another one gone. I remember Tony from American Autoparts and from Santa Pod during the 1970s. Really laid back person.  It seems that I am writing small tributes too often these days.

-- Brian Taylor


---
I have just read the news that Tony has passed away and my first thoughts go to all his family god bless you. I met Tony at his yard in Thornton Heath about fifteen years ago we spoke about racing and he gave advice on driving and maintaining the race car, but the best advice was to have fun. Tony always made me feel comfortable and gave me loads of advice although I was new to sport and I think this is a testament to the kind of person he was. We always stayed in touch sometimes it was months apart but when we met up at his yard he was always full of stories and we would have a real good laugh. I will miss him very much. RIP Tony.

-- Dave Gadney


---
I can't remember how long I've known Tony. He was always there when you needed him, always with a smile and a story. He will be sadly missed by myself and Jean and I think everybody who knew him. Our heart goes out to Angie and the girls, and Alex, for their sad loss.

-- Peter Lane


---
Switch on the PC at work – go to Eurodragster.com as usual to see what's been going on... and get hit with this news.  This is so sad.  Tony was a true character. We used to have such a scream with him. The merciless piss-taking and especially the Ch*vy / Mopar banter – we'd end up almost choking laughing. It didn't end there either. Whenever I called AA to order parts, he'd immediately continue the onslaught over the phone. And yet he'd be the first to offer help and the benefit of his vast expertise in the pits, regardless of having to get his hands soiled by a Dodge! Strangely I'm actually smiling, but with a tear in my eye, as I sit here writing this.  What a tragic loss. My deepest thoughts go out to his family. Thanks for all the laughs Tony – God bless you mate !

-- Chris Orthodoxou


---
Some of my earliest memories were of Saturday mornings down the workshop in Thornton Heath. I was a spotty pain in the arse kid who always got in the way and Tony and Dad were thick as thieves, from Black Magic to Obsession, Tony was always involved. It was Tony that introduced Dad to drag racing and the whole street racer scene. From being one of the first to dabble with nitrous, to pioneering the twin-turbo set-up in this country, he was always willing to try new things.
I have fond memories of Dad and Tony, having known Tony since I was about a month old, a larger than life character who simply broke the mould. You will be missed buddy, I closed my eyes this afternoon and had a vision of you and dad back on the strip racing the way only you both knew - by the seat of your arse!
With a tear in my eye and a heavy heart I say farewell buddy, my thoughts are with Angie, the girls and all of Tony's family at this sad time. We've lost a true friend, a legend, and tonight I raise a glass to you my friend.

-- Craig Gibbs


---
Drag racing has lost one of the true pioneers of the sport. I am proud to call Tony one of my greatest friends in drag racing and we enjoyed endless piss taking, competition and late night watering sessions. Tony will be remembered by all of those who raced with him, I will miss the banter we used to have. Nevertheless, Tony was always first up to lend a hand to anyone in the pits and of course renowned for his wizardry on gearboxes. Wouldn't take mine anywhere else. My heart goes out to Angie and the family, plus his long time buddy Alex Nicol. Words can't express our loss. Rest in peace now Tony, I'd love to imagine you meeting up with your other long term buddy Terry Gibbs up there. God bless ya.

-- Kevin Moore, ex-Super Gasser


---
I sit here with a tear in my eye as I write about Tony. A timeless friend no matter how long we hadn't spoken he was always happy to hear from you, always the first to get on the phone when I had been up to my usual antics for a wind up, always ready to drop everything to fix my gearbox so I could carry on racing. My heart goes out to Angie his wife and his daughters, and also to Alex his partner in crime, where there was one the other wasn't far away - a friendship most of us can only dream about. I look forward to raising a glass (or two) to celebrate the life of Mr Tony Gransden with all my old friends and racing budies. I'm sure he is up there already bench racing with Tel and Pete. And on a final note you never did get a chance for a ride in Al's van that we've all been waiting fifteen years for! Love ya Tony

-- Ragin' Ray White


---
Known Tony since the 1980s, one of the best guys in life. Such a shame but at least the suffering is over for him. Will miss him.

-- George


---
Features and Interviews index
Back to News page
---