Victor Bray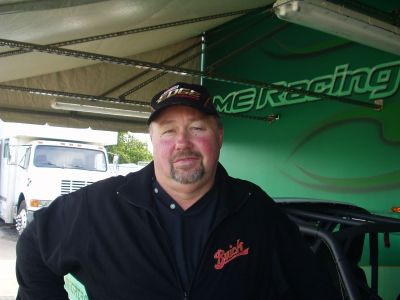 Victor Bray is a six-time Australian Top Doorslammer Champion, racing in his '57 Chevy. He has a large race team including his son, Ben, who has also been the Australian Champion in Top Doorslammer and Top Alcohol. The team is based in Queensland. Eurodragster.com caught up with Victor at the Veidec Nitro Festival at Mantorp Park in July 2007.
The pictures below are ©Team Bray Drag Racing and are used with their kind permission. Click on any picture for large version.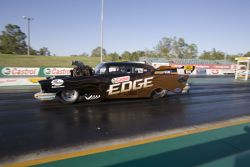 Eurodragster.com: How do you view the racing scene in Europe?
Victor Bray: This is my first time in Europe and it's great here. I met Håkan Nilsson who is an idol of mine. I followed him in Pro Mod for many years before he ever raced a Top Fuel Car year and he did some phenomenal work to win the Top Fuel Championship in his first year.

There is an international flavour of drag racing in Europe that you don't get anywhere else. In the US, you have the divisions which give it a regional touch, but in Australia the vast majority of the competitors are all Australian. I think it's something that can be capitalised on.

It's great to be recognised at this race and to meet the teams and to have an opportunity to sit and commentate on it from the announcers' booth. The teams lack nothing in equipment and having had a close look at some of the Pro Modified operations, they have parts as good as those anywhere. What is lacking is track time with the limited number of Championship meetings, and also track surfaces which are not as smooth in Europe as they are in Australia or the U.S.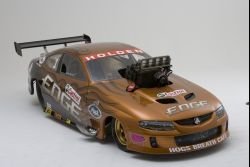 Eurodragster.com: How have the facilities improved so much in Australia?
Victor Bray: The model of Western Sydney International Dragway shows how the sport can be progressed. Previously we ran drag racing at multi-purpose facilities such as Eastern Creek. We persuaded the Government to get involved as racing would keep kids off the streets. Because of that support, we were able to invest tens of millions into the project. On the back of improved track facilities we have been able to greatly increase the numbers of competitors at meetings and at major events we are now seeing 500-600 competitors. This helps the image of the sport and the competition.

A new purpose-built track is being developed in Melbourne which should be bigger than either WSID or Perth.

The Mantorp track reminds me of the old Calder Park. I can see the expansion and improvement of tracks happening over here but it does require a lot of effort to persuade the various lobbies involved.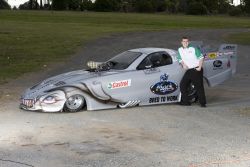 Eurodragster.com: What other developments are you seeing in Australia?
Victor Bray: The latest development has been the management group led by Shane Gore and his brother, known as WPS Racing (co-owners of Team Australia racing in major circuit series) who have come up with a proposal to be 'category managers' for Group One. This move should be in the interests of the drivers who have been left behind financially – in spite of the development of facilities, racers have not moved forward in their rewards in the last thirteen years.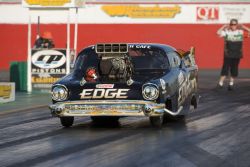 Eurodragster.com: How large is your racing operation?
Victor Bray: I run two Top Doorslammers, three Top Alcohol Funny Cars and two demonstration vehicles, which makes seven blown alcohol-burning cars. I have won six Championships in Top Doorslammer and my son Ben who is twenty three years old has won two Championships in Top Doorslammer and one in Top Methanol Funny Car. I am a true believer in the next generation getting involved as early as possible in racing which is one of the things that will help the sport move ahead.

We have a lot of data from running five cars – which is necessary in mind of the depth of the competition. John Zappia is wiping the floor with us at the moment and finished second in the Top Doorslammer Championship. But that's good for the sport and fair game when the teams spend a lot of money and have sponsors to please. We are also in awe of Gary Phillips who won twelve Top Alcohol Championships and is 2006-7 Top Doorslammer Champion.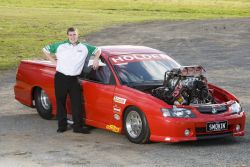 Eurodragster.com: What brought you to Europe?
Victor Bray: It wasn't the weather you've been having recently! The one reason we're over here is to look at the feasibility of us racing in Europe. What I am thinking of is a team of myself, Ben and two others placing our cars in containers to run alongside European racers. I want there to be an international Pro Modified series run to IHRA rules – the main change we Australians basically would need to make to run in Europe or North America would be to switch to Roots-style blowers. There should be international competition because the class is so strong in Europe, Australia, and North America.

A Championship could be based on regional teams of say four or five cars. To make it feasible for the sponsors and TV coverage would need eight to ten rounds. And to transport four or five cars for a world Championship would cost about the same as transporting an entire F1 team. It's not cheap, but it can be done.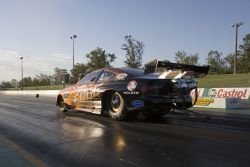 Eurodragster.com: Tell us about your major sponsorship with Castrol.
Victor Bray: I am lucky to have had a long relationship for almost twenty years with Castrol and are proud to call them my major sponsors.
Eurodragster.com: Thanks for taking the time to talk to us and we wish you success in your racing ventures in the future.


Feature ©Eurodragster.com.


---
Features and Interviews index
Back to News page
---