Eurodragster.com for the latest European drag racing news
General
Home Page
Add a web site
Jeff Bull Swap Meet
Send a News Item
Site Search by Hauser Racing
2019 FIA/FIM Championships schedule
News, Coverage, Features
Latest News
John Woolfe Racing Event Coverage
OCS Paint Points Standings
Features, Interviews, Tributes
Racer Blogs Lex 01/03
WRE/Nimbus Webcam
LA Racing Parts Links
Racers' web sites
Associations, Clubs
Race calendars
Results, Reports, Info
Pictures, Video
Performance Parts, Merchandise
Sponsors
Tracks, Shows
Information
Timing Data
European and UK Bests
Champions' Champions
Editor's Diary archive


Ford Motorsport Press Day, Silverstone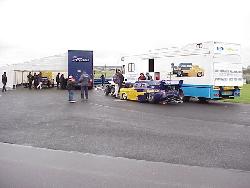 Ford Motorsport held a Press Day at Silverstone Circuit on Thursday 30th November, featuring Ford Rapid Fit-sponsored racers: drag racing's Paula Atkin and British Touring Car Championship driver Anthony Reid. Both racers were to put in demonstrations and then swap seats and drive each other's cars. Eurodragster went along to Silverstone to see how the racers fared.

Paula Atkin ran a 7.99 in testing at the Flame and Thunder Show at Santa Pod at the start of November, and we were keen to hear what the team thought of this and what their plans were for next season. "We went there to run a seven", said Paula. "I knew it was a quick run! The Nitrous was only on for 1.2 seconds and then cut out so it could have been a 7.7 - and we had the car detuned because we weren't sure what it would do."

Paula's husband and Crew Chief Stan was similarly impressed and had already started on next year's game plan. "We've got more work to do, but I was very pleased with the seven. We'd like to try Super Pro ET next year, although maybe not for the whole season.".

Paula had already been out on the circuit with Anthony Reid in a street Mondeo, taking turns to drive. "You've got to give circuit racers their due", she said, "it's hard! Anthony is going to give me some more tuition later on. He said I was braking too late, I suppose that's because I'm a drag racer!"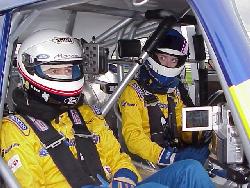 The first on-track action was to be a burnout and launch by Paula in her Super Comp 100E, with Anthony Reid in the passenger seat, and then Anthony was to try a burnout and launch. The car was taken onto Hangar Straight and Stan gave Anthony what he hesitated to call a crash course in driving a Super Comp. Anthony asked several questions and was obviously paying close attention, looking serious and thoughtful. He was particularly interested in the start; being used to balancing clutch and accelerator for a good getaway he found the transbrake method fascinating. Stan explained to Anthony that what he would consider jump-starting in BTCC is the usual method in drag racing. "When the amber lights come on, you let go of that button and go", he said. "If you see the green light, you've lost". The lesson over, Paula took her place at the wheel and Anthony was strapped into the passenger seat looking as if he didn't know quite what to expect.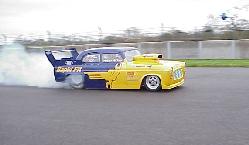 There was absolutely no chance of a serious launch on a damp and cold track, but Paula was determined to give Anthony a taster of the power and to give the media a good show. She pulled a long burnout, going way out of shape then getting off it and calmly pulling it straight before backing up. With Stan and crew Clive's help Paula lined up on her tyre tracks, then built the revs and launched. As expected there was no grip at all, the tyres immediately lit but Paula stayed on it and kept the car straight for about a hundred yards. As soon as she got off it the car lurched left and one side grounded in a shower of sparks. The car was then towed back for Anthony's turn.

Anthony got out of the car looking very serious, and walked around to the driver's side of the car pursued by an eager TV crew. He was strapped in to the car and then spoke about what he'd just been through. "It was an extraordinary experience", he said. "I've driven plenty of Fords and this one is easily the most powerful one I have ever been in. I'm looking forward to this although I feel a little apprehensive!"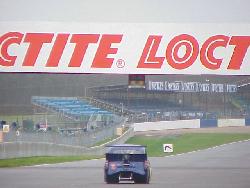 With Paula now in the passenger seat for additional instruction Anthony had a couple of goes at a burnout, getting the tyres to light on the second attempt. Then he backed up and went for the launch, building the revs up and accelerating down Hangar Straight for about one hundred and fifty yards, straight and smooth and appearing not to want to get off the throttle.

"What a feeling!", he said afterwards. "That was the most spectacular experience in my racing career, the most powerful car I've ever driven. I feel at home in the touring car; with the dragster there's a lot more to think about - you can't do anything instinctively. It's definitely not to be missed! Paula's promised to let me drive the car on a prepared track at Santa Pod next year - I'll be there!"

We managed to snatch a private word with Anthony, who was a thoroughly pleasant and media-friendly guy. We asked him whether he had had any previous contact with drag racing. "My godfather was a drag racer many years ago", he said. "I've always fancied a go". And now that he had had a go, what did he think? "It's a shame it was damp, although I could get an idea of the acceleration. You're aware of the brute power of the engine. It's the first time I've ever come across a transmission like this one, too. It's a fantastic piece of kit - on the touring car it's a lot more clutch and accelerator." So did Anthony fancy drag racing as a career? "I'll never be as good as Paula so I'll stick to what I know!", he said.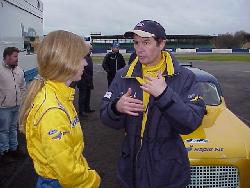 It was then Paula's turn to take a few laps in the touring car. Anthony took her for a few laps around the circuit to give Paula pointers on braking and acceleration and then gave her some last-minute tips in front of the TV cameras before she was strapped in the touring car, which thanks to some nifty work by Anthony's pit crew was now carrying the name Atkin.

Touring cars have tricky, on-off clutches and Paula stalled the car on the way out of the pits, but she got out onto the track without any drama and started to build up the speed. We asked Stan what he thought about his wife being out on a circuit in an unfamiliar high-performance vehicle. "I'm not worried", he said. "I'm proud of Paula. I'm grateful that she's had the opportunity to drive the touring car but I'm glad that Anthony is in there with her!"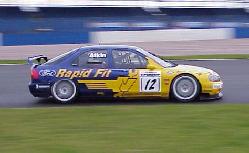 Paula put in a number of laps, noticeably quicker each time and taking the long curve by the pit very smoothly indeed on each lap. When she came into the pit you could see that she was smiling even through the visor of her crash helmet. "That was fantastic!" she said to Anthony as she was unstrapped. "You did better than I did in your car!", he replied.

We asked Paula what she thought. "It's harder than it looks", she said. "It's nerve-wracking. It's weird shifting, knowing which gear to take into each bend. You sit very low, and you have to look ahead. Anthony is a good teacher. He said I was getting better as I went round. They're very good, these circuit racers!"

Anthony was impressed with Paula's progress. "It's been a while since I taught anyone", he said. "Paula acquitted herself very well indeed. She did a lot better than I did in the dragster!"

As we did with Anthony, we asked Paula whether a career changed beckoned. "I'd do it again, but I'll stick with the dragster!", she said.

We were very grateful to hear it, although we look forward to seeing Anthony back in Paula's car for a full pass at Santa Pod next year - when it happens we'll be there.

Our thanks to Paula Atkin and Anthony Reid for the interviews, to Tom Foy at Ford Motorsport for inviting Eurodragster along to the Press Day, and to Stan Atkin for putting our names forward.

We took several more photographs at the Press Day, click here to see the complete set.


---
Eurodragster.com aims to bring you links to all the best European Drag Racing web sites. To add your site to Eurodragster's listings, simply email links@eurodragster.com with your URL and a little information about your site and we'll do the rest. When you update your site, drop us a line at news@eurodragster.com and we'll feature your site in our "What's New" section.
Eurodragster.com is a non-profit-making organisation run by a small group of Drag Racing enthusiasts for the sole purpose of promoting European Drag Racing. If you can help us to meet the modest cost of hosting this web site by advertising here, please email webmaster@eurodragster.com. We're sure you'll find our rates extremely competitive.