General
Home Page
Add a web site
Jeff Bull Swap Meet
Send a News Item
Site Search by Hauser Racing
2020 FIA/FIM Championships schedule
News, Coverage, Features
Latest News
John Woolfe Racing Event Coverage
OCS Paint Points Standings
Features, Interviews, Tributes
Racer Blogs
LA Racing Parts Links
Racers' web sites
Associations, Clubs
Race calendars
Results, Reports, Info
Pictures, Video
Performance Parts, Merchandise
Sponsors
Tracks, Shows
Information
Timing Data
European and UK Bests
Champions' Champions
Editor's Diary archive















Kenneth Söderström.
10th August: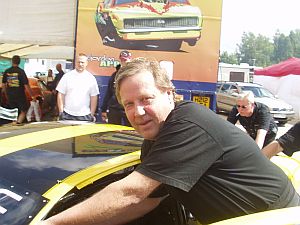 We were shocked and very sorry to hear of the death of former Pro Stock racer Kenneth Söderström. Kenneth came into Pro Stock in 1999 after a period in Competition Eliminator. He ran the FIA European Championship for 10 years taking 2005 off to build a new car after an accident at Santa Pod Raceway at the 2004 Euro Finals having previously suffered a crash at Alastaro in 2001. His best championship finish was fifth.

We remember Kenneth as a quiet racer who was honest enough to admit to the rare errors he made in his driving. He was also determined to have the car perform at its best potential and be competitive with the class leaders. After he retired from racing he ran an engine rebuilding business as well as his main leisure activity of fishing.

Michael Malmgren said on behalf of the European Pro Stock Association:

We all feel a deep sadness that Kenneth Söderström has suddenly passed away, way too early in life. Kenneth drove a family operated car, you could say, as brother Håkan handled the tuning. They didn't have the biggest budget, but always gave it all they got and was always a threat.

I remember I raced Kenneth in the first round at Santa Pod many years back and felt like this will be no problem, but wow, how wrong I was, he had a big hole shot over me and I was out, if I recall correctly he went all the way to the final.

For me Kenneth was a very cool, kind and relaxed guy, no stress, but at the starting line was always a threat. In Pro Stock we always try to keep it as family between teams and share a good laugh, and we also always try to help each other if parts are needed.

I feel I can say from all of us racing Pro Stock back then, when Kenneth was active, and also racers active today that knew Kenneth, that we feel deep grief at his passing. May he rest in peace.

Event entry update.
10th August: Thanks to Santa Pod Racers Club Secretary Ian Marshall for sending us version 6 of the official entry list for the STP Green Light Nationals. You can check out the entry list by clicking here. Entry closes on Wednesday, 12th August, after which entry, if accepted may be subject to a late entry penalty. You can find the official on-line entry form via the Entry Forms page of the Santa Pod Racers Club web site here. Ian also reminds racers of the closing dates for the events in the 2020 series. These are:
STP Green Light Nationals: 12th August
Not the Euro Finals, presented by STP: 28th August
STP National Finals: 11th September
Melbourne Raceway reopens.
10th August: After a huge effort on fundraising by Straightliners' Trevor Duckworth and his team for relaying the racing surface to 1/8 mile, Melbourne Raceway re-opened on Saturday 8th August, and looked resplendent.

Over 75 racers seized the opportunity to be among the first along the newly laid surface and the reviews were ecstatic. Many on social media expressed their happiness at the Raceway being re-opened and their thanks to Trevor and his team for the work they had done over the last months in making the opening a reality.

Jerry Collier attended and said 'Wow, what a fantastic day at Melbourne raceway. This man Trevor Duckworth and his amazing team have only gone and done it. The first day the track was open and what a day it was. Just bloody fantastic and it's only going to get better. Everything Trevor does for our sport and the racers is amazing and thank you. You've made us look forward to racing again. Well who's with me in thinking there's isn't a better candidate for a new member of the British Dragracing Hall of Fame! Once again Trevor thank you for everything you an your team do.'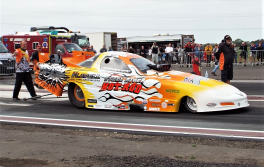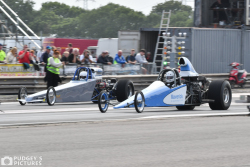 Photos and credits (clockwise): Straightliners; Mark Flavell (Gregg Havler picture); Graham Sykes; Mason Griffiths and Nik Wilson (Callum Pudge pictures)

Trevor Duckworth wrote: And just like that...a new era for Melbourne Raceway, drag racing in the north comes home to this iconic track. A venue is once more alive, an incredible turn out so far this weekend and a credit to each and every single person that has been involved, from a pound to ten thousand pounds, each and every one of you contributed. This is not one single person or a single group of people who achieved this, the whole project has been a culmination of all walks of life with a passion and love for racing who got behind Straightliners Events to help save Melbourne, and with a snip of the scissors we are open, the lights are ready for staging and we are racing!

What a wonderful day for drag racing in the Uk...a beautfiul hot day, faces old and new, the best crew in the business and the sounds of engines roaring down a brand new drag strip...living our best life!

Those who couldn't make it said they would be back at the first opportunity, and the next race after this weekend is planned for 10th-11th October. You can see a list of the racers and their best 60ft times here, and to be informed of future events at the track you can go to the Straightliners web site by clicking here.

Ford Show galleries and SPR snippets.
10th August: Many thanks to Diana and Kieran who have supplied galleries of the Ford Show Lite supported by John Woolfe Racing. To see the galleries click here or click on the John Woolfe Racing Event Coverage link on the main menu.

There were some outstanding runs and debuts at the Ford Show Lite and the preceding day's Run What Ya Brung. Elaine Hancock's Lethal Zephyr Reinvented went to both days for Elaine to get familiar and also for her to upgrade her license. She made a number of passes and her best ET was a 9.747/153.13 on only her second, which was quicker than she had been before.

Other notable runs were from Chris Todd who in his Subaru powered rear wheel drive Ford Fiesta broke into the eights for the first time to go 8.91/157. Our Kieran ran his Mk1 Fiesta to a PB of 13.6/100. Former Pro Modified racer Roger Moore brought the Yellow Metal Funny Bike to the track for the first time at the RWYB and wasted no time in becoming familiar with the machine. Roger's daughter and Pro Mod colour commentator Lucy Moore has promised an account of how her Dad made the transition from cars to bikes.

Web site updates.
10th August: Uk Drag Racing News and Nostalgia has had over 300 photos of the Nostalgia Drags uploaded to it by webmaster Jon Spoard. You can see Jon's photos by clicking here.

Photojournalist Andy Willsheer has produced a report on the Nostalgia Drags and Colin Millar's record runs for Tony Thacker's Torq Talk site. You can read his report by clicking here.

Former Eurodragster.com photo editor and photojournalist Roger Gorringe has produced a photo feature for US publication Drag Racing Edge which you can read by clicking here.

VeeDubRacing webmaster Simon Letkey has updated his Facebook page with an album of 80 photos from the VWDRC Drag Days. You can see Simon's photos by clicking here. Simon is also updating his Youtube channel with a number of videos from the two day event.

VWDRC Drag Days results.
7th August: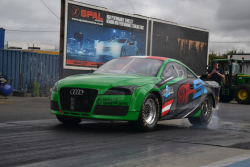 We attended the first day of the VWDRC Drag Days and found the atmosphere relaxed and the times electrifying, as some of Europe's quickest VW racers were present.

The top times recorded over the two days were:
Hubert Strengberger (Austria, HST Audi TT):7.7709/182.06
Markus Welte (Germany, TTK Performance VW Golf): 8.2515/177.81
Markus Hegna (Germany,Turbo Impression VW Golf): 8.8172/167.26
David Lee (MRC Tuning VW Golf): 9.0375/157.91
Jose San Martin (France, FRT Motorsport VW Golf): 9.1848/160.72
Julian Bayer (Germany, VW golf): 9.4302/145.21
James Forster (Plymouth Duster): 9.6386/138.18
Dan Jacobs (Audi RS3): 9.7084/142.91
Richie Webb (VW Beetle Cabriolet): 9.8028/123.84
Today Hubert Strengberger (pictured) was involved in a high speed incident which put him on his roof at the top end of the track. He is completely uninjured and reportedly said the only thing that hurts is his wallet. 'I got out of the car unharmed and would like to thank Oliver Zsakai who built the full tube frame and the Santa Pod crew and medical staff for their help', he said.

Our gallery of 75 photos from Thursday by Kirstie is at this link. With many thanks to Adam Bentley and David Anniwell of SPR's timing crew, you can now download a file of both day's run data in Excel format by clicking on this link. Coverage can be seen by clicking here.

Venom at Greenlights
7th August: Many thanks to Tony Betts for sending an update on his plans for the next big meeting:

Nostalgia Funny Car team Venom are pleased to announce, subject to meetings continuing, they will be at the STP Green Light Nationals. It has been a long year with many changes. Venom has a new fuel system and ignition setup thanks to John Wright, along with a new supercharger from Jeff Fowler in USA and adapter plate.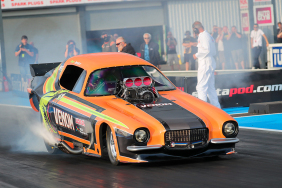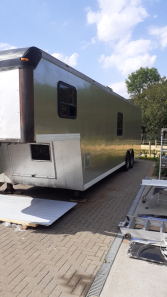 I decided to downsize the artic unit to a single goose neck trailer so that I can drive it. We also have a goose neck caravan. These will all be clad in Venom livery. The trailer has set us a few problems that have escalated into a complete re-clad of the exterior and interior, complete rewire and new electric brakes all round. We are all looking forward to getting back on track and burning some nitro.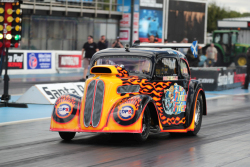 Flyin' Fyfer's thanks.
7th August: Outlaw Anglia racer Colin Millar has written with his thoughts post-Nostalgia Drags which we're sure everyone involved will agree with:

I would like to take this opportunity to thank everyone at Santa Pod Raceway for putting on such a fantastic event at the weekend, thanks to Ian Marshall and all the crew that keep us safe, I may be going very fast but i feel safe and secure and what a track they gave me to put on a show, a personal thanks to Keith Bartlett for making the event happen as I'm sure its a huge undertaking behind the scenes in these very difficult times, the Outlaw Anglia family had a ball and we hope that we entertained and allowed us all to keep our focus on happy times and fast racing, again thanks to all involved within Santa Pod Raceway.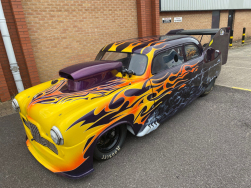 Powerflow's Lethal Zephyr reinvented.
7th August: Powerflow Exhausts chief David Smith says another car, with not a little history (previous owners included Ray White and Lee Cohen), has been added to their stable:

We've been really busy over in our Powerflow Exhausts Alcester workshops and not just carrying out modifications on our Pro Stock Pontiac. It all started 3 years ago when we met Elaine & Dave Hancock. She was racing her Civic in Sportsman ET, really enjoying herself and winning trophies. The only problem she had (if you could call it a problem), was it just didn't sound like a V8, and she couldn't do impressive burnouts!

We got to know Elaine and Dave really well over her first and second race seasons, and many conversations were had in regards to either building or buying a V8 powered drag car. Over the closed season, the Altered came up for sale, which we bought, then carried out significant amounts of work on it including paint and a sponsorship from my company Powerflow Exhausts.

The Altered has done everything that was asked from it and ran the same numbers over and over again with a personal best ET of 10.2. So you would have thought Elaine would be more than happy with her new purchase. Apparently not... Here's where it all started again! It was everything she had asked for and more, except... It didn't have doors! Really? Womens' prerogative to change their mind apparently!

So again, after many conversations it was decided that she would run the Altered for the next 2-3 seasons and we would then look out for a door car that would be suitable for her. However, that plan went straight out the window when a certain car popped up for sale on Facebook!

The conversation went like this:
David : Look what's just gone up for sale...
Elaine : Wow, that's awesome...
David : Shall I buy it?
Elaine : Do you think I'd be able to drive it?
David : Yes. How about this. I'll buy it, rebuild it etc and you can buy it off me when it's done. You could sell the Altered to part fund it?
Elaine : F*** yes! Buy it...OMG I can't believe it. I'm sooooooo excited!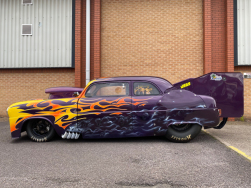 A week later it's in my workshop and I'm compiling a list of the parts needed for the build including a 2000hp rated Reid transmission ordered from Andy Frost, Steve Schmidt BBC engine, bespoke parts from Wayne Allman of Intergalactic Custom Shop, a Tony Morris Carburettors methanol fuel system, and a full custom built wiring loom built by the guys at Smithy's Speed Shop. Plus many many shipments from Summit, Jegs, JW etc which actually become an absolute nightmare when the Covid 19 pandemic hit us...

Six months or so later, (apart from a shake down, and ironing out any gremlins) we're finally done. 'Lethal Zephyr Reinvented', is now owned and driven by Elaine Hancock, and looked after by her crew chief Dave Hancock and the my technicians from Powerflow Exhausts Alcester & Alcester Auto Services. I really hope this will finally tick ALL the boxes now (fingers crossed!). It's a V8, can do big smokey burnouts, and it's a doorslammer with great history behind it!

All of us at Powerflow Exhausts Alcester, Alcester Auto Services, SSS Exhausts, SSS Remapping & Smithy's Speed Shop would like to wish Elaine and Dave all the very best with the new car.

I've had so many people phone me and turn up at my workshops nosing around to see what I've been up to. I've never felt so popular ! The garbage I've had to think up on the spot to keep this under wraps is shocking! So the news is finally out and the rumours and me talking garbage can stop. Here it is. 'Lethal Zephyr Reinvented'...

Elaine is hoping to campaign the new car in Comp Eliminator and Super Pro ET when she's got to grips with it. I'm sure she will be made very welcome. I had the bonnet repainted and pin striped (or big brush striped) by an outside company due to time restraints. I thought they could deliver the quality and design I'd asked for. Unfortunately not.....this is part of the build that hasn't gone to plan. It's awful! If anyone knows a very good, proven pin striping guy, please send them my way ASAP!

Pro Dutch Racing back on track.
5th August: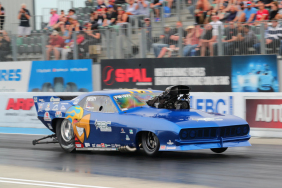 Suddenly there is plenty of work for Pro Dutch Racing again. Michel Tooren and his team will be in racing action no less than three times within a time frame of five weeks. The reopening of Santa Pod Raceway has paved the way for the Pro Dutch Racing '71 Plymouth Barracuda to be put to the test both in competition and on test days. The team's first appearance is scheduled for the weekend of August 22 and 23,followed by two weekends in September.

For a long time, it looked like 2020 would be a lost season for the European drag racing fans and teams. Due to the corona pandemic, tracks temporarily had to close and competition was cancelled. This even resulted in the FIA European Drag Racing Championship being cancelled for this year and Motorsport UK removing the Pro Modified title fight from its calendar, two championships that Pro Dutch Racing had set its sights on for 2020.

Fortunately, many countries have overcome the problems caused by COVID-19 and have got the virus better under control for weeks. Meanwhile, various circuits have opened their gates again and the first races have been held. Similarly at Santa Pod Raceway, firstly without an audience, but recently also with spectators, all this of course with strict adherence to all conditions established by government and track. The Santa Pod Raceway calendar will feature three events in the coming weeks that Pro Modified cars can take action, a possibility that Pro Dutch Racing are grasping both hands. "We have new parts on the Cuda and quite a lot of changes. We would like to test these this year and that possibility has now suddenly arisen. Assuming we can have a normal season again next year, we can test new things now, possibly make adjustments in winter and then we will be well prepared at the start of 2021", explains Michel Tooren.

The first race for Pro Dutch Racing is the STP Green Light Nationals on the weekend of August 22 and 23. On the Friday before the event there is a test day where Pro Dutch Racing hopes to make its first few runs of the season. Because the Pro Modified class is not competing, Michel Tooren will take action in the STP Greenlight Nationals in the 'exhibition class'. This opens up the opportunity to complete as many test runs as the team wishes.

The first real competition for the Pro Modified class is scheduled for 11th-13th September, the date that had been on the calendar for the FIA European Championship. The event has, with a British sense of humour, after the cancellation of the FIA European Championship, been renamed NOT The European Finals. Almost all classes that would have competed in the traditional European Finals will be there to make an appearance. In the Pro Modified class around ten European teams are expected and thus the class in which Pro Dutch Racing is active is the main feature of the extensive race programme.

Two weeks later, September 26th-27th, Pro Dutch Racing can again be seen at Santa Pod Raceway during the STP National Finals. Here too the Pro Modified class forms the fastest category and main attraction of the event.

Michel Tooren and Pro Dutch Racing have had to wait a long time, but in the end it is now time for action and the engines can be started. ""We are looking forward to it enormously. In March we were almost ready for the new season when COVID-19 put a spanner in the works. In the months that followed, we continued to work on the Cuda and all the adjustments to the chassis and engine were recalculated and reviewed many times. The preparation may never have been better. Now we can do all that final testing and testing the new parts in a competitive setting, "said Michel Tooren, who can't wait to put his helmet back on and take the green light.

In the current uncertain times, the three events continue with the reservation that the corona measures of the authorities involved will not be tightened up again.

Calendar for Pro Dutch Racing:
STP Greenlight Nationals, August 22-23, 2020
NOT The European Finals, September 11-13, 2020
STP National Finals, September 26-27, 2020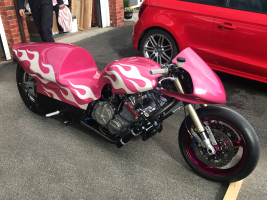 Jayne burns out.
5th August: Back in our news item on 6th April, Jayne Kay revealed her turbocharged funny bike which initially will be competing in the ET bike class. Jayne has sent a report of her progress to date:

We fired the bike up over the weekend in preparation for the STP Green Light Nationals in a few weeks' time. We then burnt out a few clutches during the week trying to get the burnout right but we got there in the end, obviously I let my Dad have a go first! Our new paint job looked pretty cool out in the sunshine too!

I just want to thank the people who helped answer questions on Facebook and Phil Crossley for coming down and giving us a hand with everything too!

You can check out the video of Jayne's bike on her YouTube channel.

Records sheet updated.
5th August: Thanks to honorary Eurodragster.com member Andy Marrs for updating the UK and European records sheet which shows Colin Millar's new Outlaw Anglia SPR Track Record of 7.114, which is also a backed-up record for the Outlaw Anglia class association. You can see the UK and European records sheet by clicking here.

Web site updates.
5th August: We spotted that Ashley Dale who has run his photography website www.adimages.co.uk for a few years has more recently recorded personal best times and speeds recorded at Santa Pod Raceway since the track was re-laid in concrete at the start of 2018. This separate site is at www.dragstats.org.uk which shows personal bests for a wide variety of classes, with index classes only including times above the class index.

The Mad Welshman has updated his Flickr gallery with pictures from the first public event of the year, Retro Show Lite. You can take a look by clicking this link.

VWDRC Drag Days coverage.
5th August: There will be live coverage from the VWDRC Drag Days taking place on 6th-7th August at Santa Pod Raceway. On both days, the technical problems of last weekend having been fixed, SPR will be broadcasting a Lite Streaming feed from the start of racing at 9:30am to 5pm. Eurodragster.com will be running a live report by Simon on 6th August with an end-day gallery courtesy Kirstie. To see the coverage go to this link which includes the final entry list.

The VWDRC says there will be two days of testing and a little competition both Bracket and Heads Up. This is behind closed doors due to COVID-19 so you will be able to see coverage on Santa Pod's feed and also via the VWDRC web site.

SPRC notices.
4th August: Santa Pod Racers Club Secretary Ian Marshall has been in touch to say 'A big big thank you from Santa Pod Raceway and Santa Pod Racers Club to all of the racers that helped us out with slicks, collected or delivered. They are currently being put to good use and have replenished our stocks a little, but if anyone has used Drag Slicks they still need to get rid of, please get in touch.

Ian also said 'the ticket allocation for the Green Light Nationals, Not The European Finals and National Finals will be as normal for your class at any given National Event; Exhibition entries will be sorted by Santa Pod, but will be as per your normal allocation'.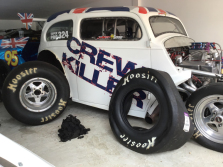 Talking of used tyres...
4th August: In remarkable timing in reference to the SPRC announcement Pro Modified and Super Pro ET racer John Tebenham has announced...he has used slicks and, at the same time, needs a tyre sponsor:

We are just getting our little white Crew Killer Pop all ready for the Green Light Nationals. I'm getting not many runs to the tyres, well burnouts really. Look up Ford Pop burnout in the rain. Paul Marston and Luke Robinson have been getting the Pop ready for some mad burnouts. I am just making plans to add a third car to our stock. I have a few options it's one of four cars available, I can't wait. The black pile in the photo was rubber from under the wheel arches after two meetings!

Racer information request.
4th August: For some years we have admired the site www.dragracing.eu which includes detailed racer information for teams competing in Scandinavia. In order to report the sport in the UK accurately, we are seeking up to date information on race vehicles competing in the UK. This brings us to the Racer Information Request form. We would be very grateful if racers could kindly provide information on this text based form, which will be handed to commentators at the track and used in Eurodragster.com reports. The benefits to racers are help in promoting their team and sponsors - and accurate reporting of your racing operation.

To complete the form, download it by clicking this link complete it on your device (it will open on phones, tablets and computers) and then e-mail it to message it to simon@eurodragster.com or attach it in a message to Simon if you use Facebook messaging.

Nostalgia Drags results.
3rd August: Congratulations to the winners at the weekend's Nostalgia Drags at Santa Pod Raceway: Supercharged Outlaws: Class awards: Gary Parkes, Andy Park, Andy Hadfield. Best time: Joel Kerr 7.0012, runner up Robbie Grabham 7.5301
Outlaw Anglia: Best time: Colin Millar 7.1148, runner up Scotty Crookston 7.5886
Wild Bunch: Callum Swinchatt +0.0375 average over dial, runner up Brian Watson +0.0564
Willys Wars: Best time: Dave Day 9.5950, runner up Phil Evans 9.9248
Uk Nostalgia Superstock: Jack Bishop (9.91) 9.9911/127.33 def. Richard Layram (12.75) 12.7998/104.55
Gasser Circus: Overall winner Nick Barnett
Nostalgia Pro Stock Bike: Claire Rule 9.4334/119.16 def. Richard Peachey 9.2469/138.67

Congratulations to Colin Millar whose 7.1148 was a new Outlaw Anglia ET record, backed up by an earlier 7.1499.

Thanks to David Anniwell for passing us the official timing data for the event which you can check out by clicking here or clicking on the Timing Data link in the main menu on any Eurodragster.com page.

You can check out our John Woolfe Racing-sponsored Nostalgia Drags reports, results and galleries by clicking here or by clicking on the John Woolfe Racing Event Coverage link on the main menu of any Eurodragster.com page. As a bonus you can see Kirstie's choice of 102 of her photos from the event at the Eurodragster.com Facebook page.

Event entry update.
3rd August: Thanks to Santa Pod Racers Club Secretary Ian Marshall for sending us version 5 of the official entry list for the STP Green Light Nationals. You can check out the entry list by clicking here. Entry closes on Wednesday, 12th August, after which entry, if accepted may be subject to a late entry penalty. You can find the official on-line entry form via the Entry Forms page of the Santa Pod Racers Club web site here.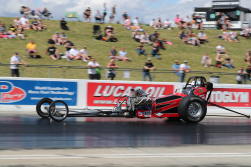 Russ's racing blog.
3rd August: Wild Bunch Racer Steve Heaven is supported by his Dad and former racer Russ Heaven. Based in Spain, Russ was unable to attend the race, but managed to update his blog which makes for an entertaining read. Enduring a number of problems, the team managed, with some borrowed parts and advice over the phone from Russ, to get their slingshot dragster down the track three times. Read much more at Russ's blog which has now reached an amazing 128 episodes since he started it in 2013.

Web site updates.
3rd August: Updating his Flickr site with photos from Saturday of the Nostalgia Drags is Paul Bryan. Paul says: There are 166 photos in total. It was great to be back after almost eleven months and along with others would like to commend everyone at the Pod for the hard work in achieving what was required for this event to run with spectators in attendance. I felt everyone involved including the teams, racers, spectators, contractors all played their part in making a great and safe event for all. Also to Colin who personally went along the spectator bank to apologise for the lack of commentary due to a piece of faulty sound equipment (top man). Of course they replaced the duff stuff, then we had Colin's dulcet tones for the reminder of the day firstly with his heartfelt words for the dear departed Stu Bradbury which received a warm round of applause from all the crowd. I can't wait till the Green Light meeting later in the month.

Also posting from the weekend was sometime Eurodragster.com photo contributor Callum Pudge who posted a Facebook album of 379 photos, a large proportion which are tagged with the name of the driver; you can enjoy these at Callum's Facebook page.

Drag racing historian Nick Pettitt attended the race and you can see his video footage at his Youtube page.

Nostalgia Drags bulletin.
31st July: Thanks to Jake Wray of Santa Pod Raceway for sending the following bulletin regarding this weekend's Nostalgia Drags:

I hope everyone is well and ready for the Nostalgia Drags. Whether you are racing, crewing or spectating, let's make the first nostalgia event of 2020 one to remember!

The gates will open to all at 5pm on Friday and close at midnight. They will then re-open at 8am on Saturday morning. Site will not open before 5pm on Friday so please DO NOT arrive at the venue earlier.

The Signing On office will be open from 8am Saturday morning to collect your wristband for the weekend if you are in a race class. RWYB racers will have to attend signing on at the beginning of each relevant day that they are booked for. Don't forget that although the signing on procedure has changed, racers and RWYB'ers will still need to produce their driving or race licence at the sign on office.

The track will be open from 9:30am until 5pm on Saturday. Sunday hours will be 9:30am until 5pm. There will be scheduled runs for each race class including RWYB. Please refer to the timetable in the programme for times. The racers' pits will be sectioned for each race class. Please pit with social distancing in mind. Ventilation is a key message and therefore awnings, if used, should remain as open as possible as often as possible, for example the roof section could be used but the side and front should be open with the exception of the side that may border on to another team's pit area. If this is not possible, social distancing and PPE should be used. Also, physical barriers should be used between each pit bay to retain distancing. Barriers could be motorhomes, trailers or even support vehicles that will remain in place for the whole weekend.

Mike Collins' tribute to Stu.
30th July: Many thanks to Mike Collins for providing an exclusive mix for Eurodragster.com readers, courtesy Street Machine, of his six page tribute to the late Stu Bradbury, which you can see by clicking on any of the images below (pdf format, 8MB):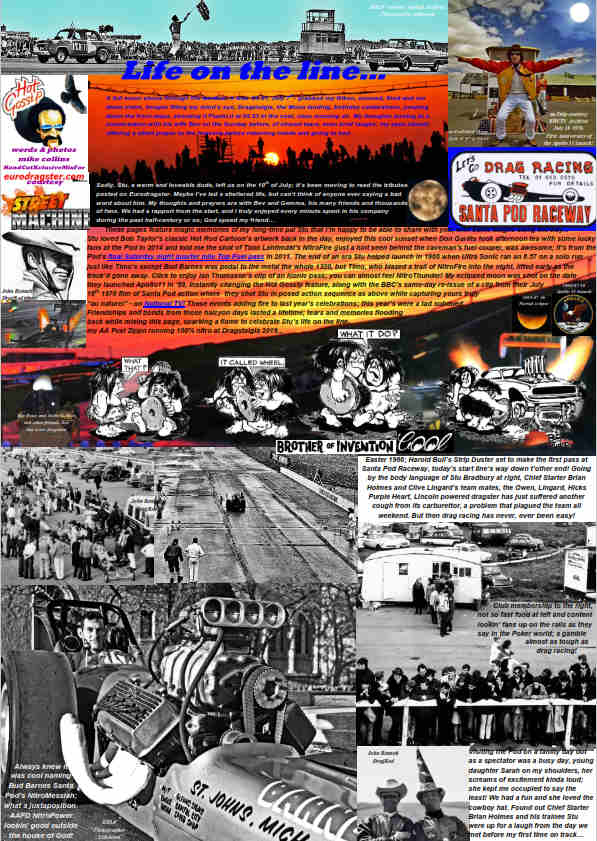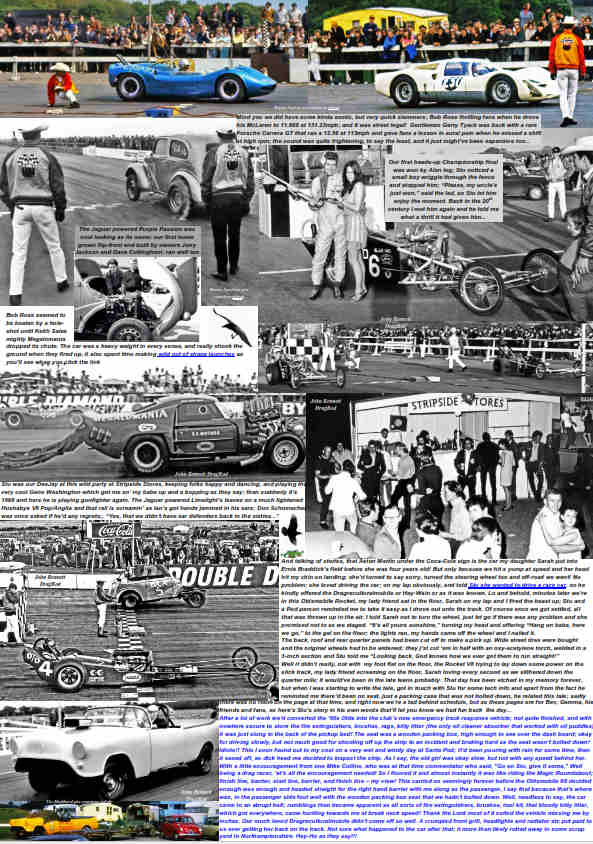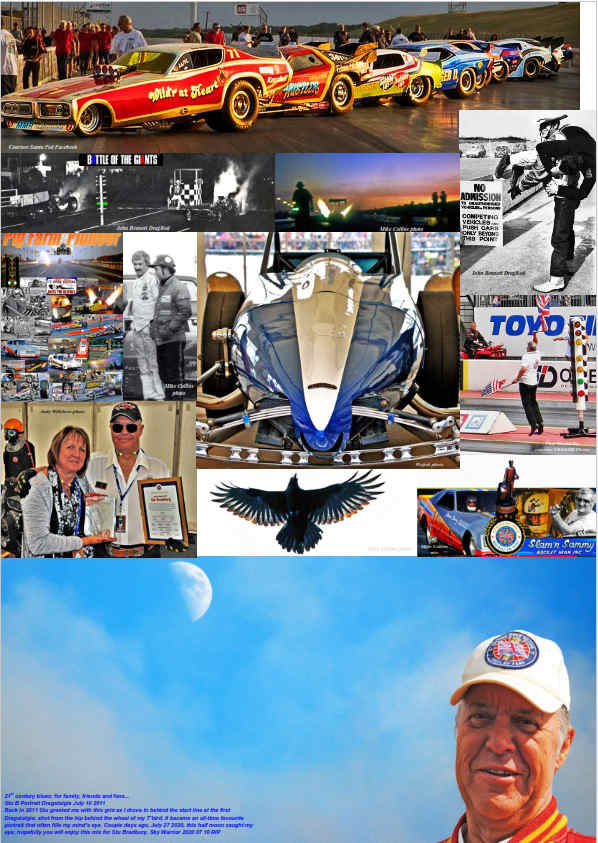 Mike says: 'Sadly, Stu, a warm and loveable dude, left us on the 10th of July; it's been moving to read the tributes posted on Eurodragster. Maybe I've led a sheltered life, but can't think of anyone ever saying a bad word about him. My thoughts and prayers are with Bev and Genna, his many friends and thousands of fans. We had a rapport from the start, and I truly enjoyed every minute spent in his company during the past half-century or so; God speed my friend'.

Outlaw Anglia preview.
30th July: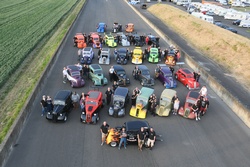 Thanks to Jemma Bromley for a preview of Outlaw Anglia at this weekend's Nostalgia Drags at Santa Pod Raceway: The Outlaw Anglias are back and it was such fantastic news when we heard the year was not a write off and found out Santa Pod Raceway was putting on the Nostalgia Drags on the 1st and 2nd of August. This was music to our ears and not only that, we were told that we were getting at least three events to run in this year with the Hot Rod Drags being one of them and the other is still to be confirmed. The fact that spectators are now being allowed in as well will make such a difference to the atmosphere of Santa Pod.

With the news only coming to us recently, it did catch some of us on the hop thinking the year was done and some major modifications being started has stopped some of the more regular OA teams from coming out to play, however as always we will make sure we put on a show for the spectators and anyone interested in the Outlaw Anglias.

At the moment we have a confirmed class of 16 cars which includes a few surprises for the forthcoming event, with a new member Ben Kennedy coming out to play with us for the first time after getting it ready to run last year then having an unfortunate accident meaning it had to go to Jedd Guy for some fixing before it was ready to finally get on track with OA! Phil 'Ginner' Middleton is making a star appearance after being missing from last year's fun, also the great news that Dave Pearce is coming out with his car which many of us have owned and loved over the years, great to see it back in his capable hands, he ran a 9.71@142 in 1991 and he's now back at it 29 years later, he's got OA in the blood!

The Flyin' squad will be in full attendance with 3 cars and a lot of new upgrades to test out and see if they all work, Spencer Tidswell will be out showing off his latest Ford Anglia (knew he couldn't stay away, but great to have him back as well).

Gary Bird is entered with Lucky Penny as well as Gary's son Shane Bird in attendance, Gary's youngest son Aaron is also making great progress in his building of another Outlaw Anglia, watch this space as its coming soon.

Garry Hill will be out with Hoppin Poppin, supported by Kelly Mobbs and although Danny Wilson isn't out this year I'm sure he won't be far from Garry to help him out.

Ted Booth who usually runs in both OA and Gasser Circus has had to make the hard decision as he can only run in one class this weekend, so we're really glad he has chosen to run with us! Mick Taylor is chasing his tail but promises me he will be there as he is presently putting a rocket up Rob Chilton's backside to make sure lol.

Peter Jones is chomping at the bit with a big engine upgrade and a dyno sheet that he's keeping to himself, so that means were going to see great improvements. Ronnie Mercer will be back out with Annie and we're sure his car hasn't sat still during the lockdown! Rob Nixon will be out looking to better the 9.98 he managed to get out of OA48 back at last years Hot Rod Drags, Phil Drewitt is gutted he can't attend due to a broken foot, get well soon Phil!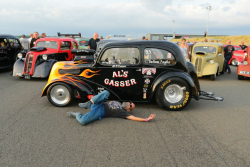 The icing on the cake, however, or certainly it is for us, as I'm sure you will all agree, is the Professor Al O'Connor is coming out to play "with a little help from our friends" and if Ginner has anything to do with it, the socially distanced banter will be in full flow.

There's not going to be an actual Outlaw Anglia Championship this year so we can all just have a laugh with no pressure but we will make sure the show goes on and we will be having a bit of fun with the class by running our own Most Consistent ET trophy calculated as a percentage over the 4 most consistent runs!

The Outlaw Anglia class wish everyone the very best during these strange times and please look after everyone around you, we will of course align ourselves with the required COVID 19 regulations and special measures that will need to be adhered to at Santa Pod Raceway and we hope you can all do the same, see you all at the track.

VP Signs with MaxG Apparel.
30th July: VP Racing Fuels, Inc., a global leader in performance fuels, lubricants, and additives, today announced the signing of MAXG Apparel to produce the brand's very popular racer-fan merchandise line in England, for distribution in the UK and across the continent.

"There has long been a demand for VP merchandise across the Atlantic," said Eric Bishop, VP's International Sales Manager. "This deal means that an ever-expanding range of VP-branded goods can be supplied and sold at good prices, with high quality and low lead times. We are grateful to MAXG Apparel for their investment of time and resources to make this happen."

From July, VP distributors, dealers, retailers, and end-users will be able to buy a range of official VP merchandise and have orders fulfilled within days. Products include eye-catching VP Mad Scientist® t-shirts, VP jackets, hoodies, shirts, caps, and drinkware, all produced to VP's high-quality standards.

"MAXG Apparel are delighted to be working with VP Racing Fuels on this exciting opportunity to bring VP branded apparel to Europe," added MAXG owner Mark Gardner. "Just like their fuels, the VP apparel will be made with the same passion and high-quality materials using the very latest technology and produced in the UK. We have a special launch offer of free postage on any order and can't wait to get started!"

To review and order from the extensive line of merchandise now available in Europe visit www.maxgapparel.com and take advantage of the free shipping offer during the special launch. Just enter the code "FREESHIP100" at checkout.

Ida sets more marks.
29th July: Super Street Bike racer Ida Zetterström, from the Åland Islands of Finland, became the first female Finn, and first European female, into the sixes riding this class when on Sunday she ran 6.985/205mph at the LSK Business Park Open at Kauhava Airport. She said 'A massive thank you to my team and our partners for making it possible, together we did it'. With that performance it is no surprise that Ida won the event, which had non-championship status with the cancellation of EDRS Pro Motorcycle Championship for 2020.

The Finnish fan favourite Ida had planned to race the FIM Championship this year but Covid-19 put paid to that. Nevertheless, running a six was one of her stated objectives for 2020 and she achieved that in her first competitive 2020 outing on her turbo Suzuki Hayabusa. In 2019 she had became the first female to win an EDRS Pro race and to become an EDRS Pro Champion.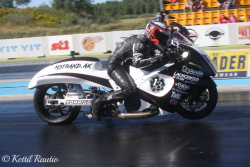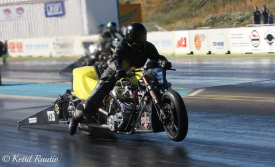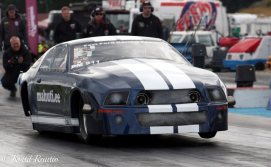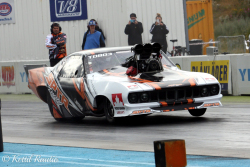 Pictured (clockwise): Ida Zetterström, Vesa Lipponen, Jaakko Lauhasmaa (Top Doorslammer), Andres Arnover. Pictures © Kettil Rautio.

There was some nitro bike action including Top Fuel Bike rider Mikko Rajaniemi on the former Sverre Dahl/Norbert Kutzera/Kai Selkamaa Puma Yamaha and Samu Kemppainen his V60 engined Super Twin. The performance star was Vesa Lipponen, riding with Jaska Salakari doing the tuning. Vesa ran a best of 5.921/217.75mph on the Saturday. Video of this run is at this link.

Also five Top Doorslammers were in attendance, winner Andres Arnover (from Estonia), Jaakko Lauhasmaa, Jarmo Nyberg, Jeri Rantaniemi and newcomer to the class Tomi Stamblewski.

You can see Kettil Rautio's extensive photo galleries by clicking on the respective links for Friday, Saturday and Sunday.

September at Santa Pod Raceway.
29th July: CEO of Santa Pod Raceway Keith Bartlett has announced further events for the month of September and plans for the traditional season end event in October.

As we made clear in our previous announcements, all events will of be held in keeping with all the current guidelines and restrictions around the COVID-19 virus. There have been changes and updates including the lifting of some restrictions since our last statement. From the middle of July, we have been able to invite spectator attendance along with camping.

Turning to the month of September the following events will be taking place:

The European Finals is to be cancelled in its current format (as there will now be no official FIA or FIM European Drag Racing Championship for 2020). We have therefore decided to replace this with our own event titled "NOT the European Finals"! This will be held on the same date (11th/12th/13th September). The event will still feature Nitro-burning Top Fuel Dragsters, Nitro Funny Cars, Nostalgia Funny Cars, Pro Modified cars from the UK and Europe plus the Jet cars and fields of all the other classes normally seen at the European Finals. The numbers of cars may be reduced from a normal European Finals but still for those of you who enjoy your fix of Nitro, Jet Cars and the awesome Pro Modified, there will be plenty of cars on show.

"NOT the European Finals" will form the middle event of the 3-race Drag Racing series for 2020 starting with the "STP Greenlight Nationals" (existing date of August 22nd/23rd) and the "STP National Finals" (existing date of Sept 26th/27th). We are delighted that we are now able to offer this series for both the racers and fans with a burst of Nitro action in 2020; and whilst it may "NOT" be the usual European Finals as such, it certainly WILL be a much missed dose of the top flight Nitro Drag Racing action that we all love, miss and deserve!

We can also confirm that the "Hot Rod Drags" event will still take place on Sept 18th/20th offering yet more exciting nostalgia drag racing action for those who had to forego our flagship "Dragstalgia" event this month.

So, with Santa Pod's recently announced "VW Breakout" weekend (Sept 4th-6th) replacing our partners' traditional "VW Action" weekend, September is looking really good and we hope you can continue to support us through the Autumn period. Your generous actions with regard to ticket credits and not refund requests has enabled us to get this far and see some light at the end of the tunnel.

As a point of note, we will be cancelling the Jap Show Finale on the 4th October as this is replaced with our Jap Show Lite on Sun August 16th. However, we are currently intending to go ahead with the 'Flame & Thunder' event at the end of October and Firework Frenzy the week after.

So, in closing, I am feeling a little more confident that Santa Pod may at last be getting back on track and can now offer events not only for our racers to compete at, but for our loyal fans and spectators to finally enjoy once again – safely.

New CEO for Speedgroup.
29th July: Speedgroup, Sweden's and Europe's largest series organizer for competitions in drag racing, has announced the appointment of a new CEO, Nils Lagerlöf. His stated goal is to make the world's fastest motorsport even more attractive to more people.

Nils said 'Our goal is for our competition series to include professional competitions with great entertainment value for the audience, as well as increased added value for competitors, event organizers and partners. We will work hard with our EDRS and EDRS PRO series and develop our collaboration with FIA'.

'Under the leadership of the former CEO, Åsa Kinnemar, Speedgroup has developed into a stable company with good values, skilled staff, and good partners. We are grateful that Åsa will continue to remain in the company. For several years, she has been an important part of Speedgroup's development and developed the concept on which the company works', said the company's chairperson Roger Lyrén.

'Speedgroup is now increasing the pace to make the sport even more attractive. The goal is to raise the level of our series even more through better marketing, increased collaboration with event organizers and partners, and thereby contribute to the development of the sport. Already today, the sport has good growth with juniors, but there is great potential to grow significantly'.

Nils, who will take over the CEO position during the summer, has a long professional experience in sales. Previous experience includes activities in the construction and real estate industry as a contractor, broker, and project manager. He has been a regular board member of Speedgroup since 2017 and is well acquainted with both the company's operations and the sport of drag racing in general.

Since the end of the 1990s, Nils competed in drag racing for motorcycles, as well as managed racing teams. He has in other words extensive experience in marketing as well as establishing and running business partnerships, something that is extremely important in motorsports.

Together with Speedgroup's board and task group, Nils has in recent years participated in the development of the company's concept.

Taking the step to be responsible for the daily operation of the company feels both challenging and exciting, says Nils, who since January 2020 has already worked part-time for Speedgroup within project management, focusing on sales and marketing.

'B Sting parked for 2020.
29th July: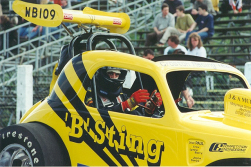 Wild Bunch altered 'B Sting team member Barry Bohannon says: 'Good luck from the 'B Sting boys and girls and stay safe, to all the 'bunchers running at the Nostalgia Drags this coming weekend, it looks like it's going to be a stellar meeting.

'Head Sting boy Paul Croston has asked me to let you all know why we're going to be parked for the rest of 2020. He had a chest infection some eight or so weeks ago and, when he went back to hospital with chest pains after his meds ran out, the doctor suspected he'd ruptured a cartilage in his chest due to the amount of coughing he'd been doing and sent him for a chest X ray. The staff spotted a mass on his lung and sent him for scans which confirmed their suspicions that he has lung cancer.

'Following a long, almost at times daily series of scans, blood tests and more scans and tests and more blood tests he was scheduled for surgery to remove the tumour, his consultant was confident about the procedure given that Paul has "the blood pressure and stamina of a man almost half his age" !! Fast forward to this past Wednesday and he was 'in the pairing lanes' waiting to go into surgery for an 09.30 start time. His surgical team removed part of his lung and a lymph gland and three hours and change later, he was back up on the ICU. Later that very day he was sat up in bed talking on the phone to his wife Lynne!

'The day after his op he was transferred to a regular surgical ward, much to the astonishment of the staff.

After six days in hospital he went home to the bungalow he and Lynne share in Rochdale yesterday and now begins the long trip back along the 'return road' to recovery. He's in good spirits and is looking forward to seeing you all on the Santa Pod TV YouTube broadcast this coming weekend from the Nostalgia Drags so he'll be with you all on every pass'.

We're sure that all readers will join us in wishing Paul a speedy recovery to full health.

Swift snippets.
29th July: In his latest instalment of his autobiographical blog, John Hunt reveals what occupied him during a break from drag racing, and how the charitable concept of Drag Racing Nuts, including figurine Norman, the Drag Racing Nut, came into being. You can read John's blog here or by clicking on Racer Blogs in the main menu.

We would like to wish a Happy Birthday to Swedish, and occasionally international, photojournalist for dragracingeurope.eu Lena Perés, we hope you've had a great day Lena.

Retro Show Lite gallery.
27th July: Our Kieran braved the somewhat variable weather to go trackside and take pictures of the varied machinery at yesterday's Retro Show Lite held at Santa Pod Raceway. You can check out Kieran's John Woolfe Racing-sponsored gallery of yesterday's action by clicking here or clicking on the John Woolfe Racing Event Coverage link on the main menu of any Eurodragster.com page.

Mantorp Drag Revival results, pictures.
27th July: Congratulations to the winners at the weekend's Mantorp Drag Revival meeting in Sweden, held 'behind closed doors' on 24th-26th July with acknowledgements to dragracing.eu for results:

Pro Xtreme (1/8 mile): Jan Ericsson 3.883/305kph def Matthias Wulcan 3.966/288.9kph
4to6 (1/8 mile): Mathias Stenström 4.042/288.8 def. Tobias Johansson 4.766/241.4
Pro Street Alexandra Wingård 7.661/272.10 def. Anna Knutes no-show
Super Pro ET Alexander Loffe Edlund 8.206/251.0 def. Lucas Karlsson 8.011/270.8 breakout
Stocksupertock Krister Fogelin 10.436/176.6 def. Åke Hedberg 10.201/204.3
Vintage A match race: Leif Andersson 8.72/227.1 def. Mats Thomasson 8.88/230.6
Vintage B match race: Ulf Axelsson 10.07/211.1 def. Robert Lund 9.96/214.8
Bracket-Hasse Nordström 12.430/163.5 def. Markus Eriksson 13.101/163.3
Junior_Dragster Emile Eriksson 9.825/108.6 def. Chris Callin 7.887/131.5
Pro Comp Bike (1/8 mile) Torbjörn Ström 5.657 def. Hans-Henrik Thomsen no-show
Super Comp Bike Peter Svensson 8.555/251.6 def. Thomas Nilsson 8.484/268.8 breakout

The meeting organised by SHRA Mantorp, attracted 147 entries. Stefan Sporre of SHRA Mantorp reported that almost all of Friday was lost to rain and yesterday it got 'a little exciting' when it started raining mid-way through eliminations. However all the finals were run.

In Pro Xtreme, there were many familiar names in the fourteen car ladder. 2019 FIA Pro Modified champion Jan Ericsson qualified no.1 with a 3.8511 from the 3.8525 of Mats Stefansson. Although Mattias Wulcan was in no.3 qualifying postion with a 3.8543, a 0.9225 60ft time (best of all) indicated he was able to launch hard. The second round of eliminations had a scary looking 180mph top end crash between the Mustangs of Mikael Lindahl and Michael Nord (see picture) from which both racers emerged a-ok.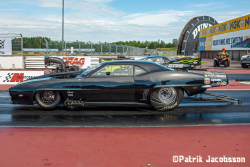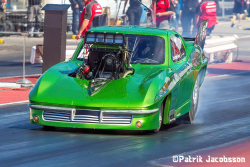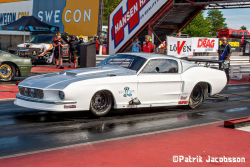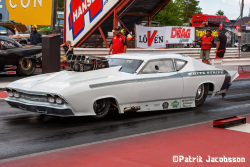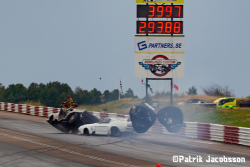 Pictured (clockwise): Jan Ericsson, Mattias Wulcan, Jonas Kant, Mikael Lindahl and Michael Nord top end crash, Johan Gustavsson, Mikael Lindahl. Pictures © Patrik Jacobsson.

Jan Ericsson got to the final by defeating the Old '51 driven by Jimmy Ålund 3.866/308.4 to 3.978/309.7 and, after a 3.911/307.3 bye in round two, he defeated Stefan Jansson in the semi-final 3.894/302.4 to 4.428/251.7. Matthias Wulcan defeated Per Magnusson (in the ex-Patrik Wikström car) in round one, 3.896/285.8 to 4.407/274.9 and then came up against Roger Johansson in round two, 3.962/258.0 to 5.688/135.4 for Roger. Mattias then had a bye run (3.958/289.7) to the final as a result of Mikael Lindahl's accident.

In a Nitro Test & Tune session, Jonny Lagg ran an eighth mile 3.6765/338.19, Torbjörn Jansson a 4.5353/232.41 and, Tony Bryntesson on his return after 25 years away from the track, unfortunately suffered a fireball.

We thank Patrik Jacobsson for permission to post a selection of his photos, which are in two galleries, one for Pro Xtreme and the other for sportsman classes.

RRC build gallery – Steve Hall's '55 Chevy.
27th July: One of the most admired new builds of the last decade was the '55 Chevy Pro Modified that Eurodragster.com sponsor Robinson Race Cars built for Steve Hall. In our latest build gallery, brought to us courtesy of new sponsor Bob Roberts, his photos show the construction of the car and the special features that were to be a part of Andy Robinson's own 'Anger Management' car a couple of years later You can see Bob's gallery in our feature in association with Lucas Oil Products here or go to our Features, Interviews, Tributes index via the main menu.

Event entry update.
27th July: Thanks to Santa Pod Racers Club Secretary Ian Marshall for sending us version 4 of the official entry list for the STP Green Light Nationals. You can check out the entry list by clicking here. Entry closes on Wednesday, 12th August, after which entry, if accepted may be subject to a late entry penalty. You can find the official on-line entry form via the Entry Forms page of the Santa Pod Racers Club web site here.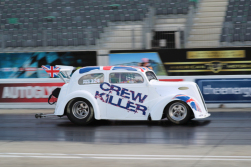 JT raises the bar.
26th July: Thanks to the inimitable John Tebenham for giving us an update on his prize fund for Pro ET: Championships need to be earned. I am going to stick to my backing of Pro ET as a sponsor with £2,000 to the winner and £1,000 to the runner-up. But as a racer you have to earn it. So these are my rules, if you don't agree, come see and, to be honest, tough, you put the money up. So, all three finals have to be run on the final day- no moving days. Any rain offs, that's it, no prize money. Earn it, win it and I will put this money forward as a tribute to my man Tim Mugridge who would always help anyone. I personally feel Pro ET is the most fun class to race in - and the toughest. Yeah, Pro Mod is fast but far too stressful. See you at the Green Light Nationals!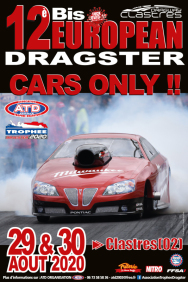 Clastres on for cars 29th-30th August.
26th July: Many thanks to Elodie Dubois of French organising club ATD (Association Trophée Dragster) for passing on details of the Clastres event to be held on 29th-30th August:

The race initially planned for the end of July has been postponed to the end of August. The race is only open to cars! Registration forms will be placed online at the end of this week in this link.

The event, traditionally known as European Dragster, is back for the 12th time in the north of France and will once again attract a big crowd after this unfortunate break due to Covid19!

This race, open to all European drivers, will welcome all car categories of the National Dragster Trophy 2020. The battle in each category will be tough and intense. It will be a real mechanical celebration of the 400 meters standing start sport, organized for 15 years by the Dragster Trophy Association!

Come and admire the teams and their 'diabolical' machines on the track as well as in the stands, open to the public.

Welcome aboard West End Racers.
26th July:

We are pleased to announce a new sponsor, West End Racers, otherwise known as our good friend Bob Roberts. As many will know, Bob has supported Eurodragster.com for some years. He has supplied galleries of photos from races and events that the Eurodragster.com team were unable to attend. During the lockdown, Bob assembled features from his photo library of fellow Eurodragster.com sponsor Robinson Race Cars' overseas races, and of some of the major car builds that RRC have carried out over a period of more than a decade.

He has since 2018 put up a cash prize for racers in Bob's Photo Finish Award, which we are delighted to announce will be available at the STP Green Light Nationals. A prize of £50 will be available to the closest race of eliminations by distance.

Now Bob has agreed to step up and support the site and the Eurodragster.com team's ongoing costs. You will see the West End Racers logo on our Home and News pages and are grateful to Bob for his support, as we are to all our sponsors.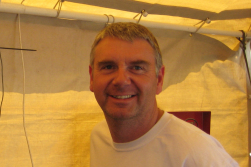 Swift snippets.
24th July: We would like to wish a very Happy Birthday to Kev Charman, twice ACU Drag Bike Champion from wife and fellow ACU Drag Bike Champion Lizz McCarthy-Charman and all at Nitrous Junkies HQ. Have a great day Kev.

Action in Europe and livestreamed today includes the Retro Show from Santa Pod Raceway (free), Mantorp Drag Revival (paid), and Finnish Hot Rod Association's Kauhava race (free). You pays your money (or not) and you takes your choice.

You can also catch up with the Hal Far Raceway action from last weekend at the Malta Drag Racing Association Night Event from last weekend.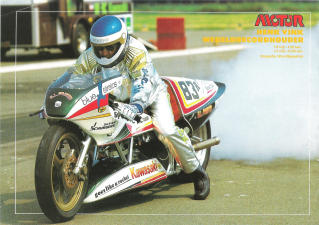 Feature: 1983 and 1984 Transatlantic Drag Bike Races.
24th July: Following the success of the 1981 Transatlantic Drag Bike Race which we reported on in a previous feature, a repeat meeting in 1982 never transpired. In 1983 an event took place and got as far as eliminations day - then the rains came. So by 1984 a great event was anticipated. National Drag Racing Club officials managed to get the quickest Top Fuel Bike rider in the world, Elmer Trett and he did not disappoint. And then there was Henk Vink's rocket bike (pictured right).

With the assistance of drag racing historian and director of the British Drag Racing Hall of Fame Jerry Cookson we have created in association with Lucas Oil Products our latest feature describing from archive sources the event with photographs and scanned programmes from both of these events.

To see any of our historic features, follow the link on the left hand side of this page to our features, interviews and tributes index page.

Swift snippets.
24th July: Many thanks to our Finnish correspondent Kai Plathan for bringing to our attention the free live stream of the Kauhava, Finland LSK Business Park Open 2020 scheduled for 25th-26th July. Other live streams are available...

We would like to wish Land Speed Racer, our sponsor for Nitro Revival and friend to the British Drag Racing Hall of Fame Geoff Stilwell a very Happy Birthday. We hope you've had a great day Geoff.

The American Hot Rod Foundation has brought out a new edition of its Rodcast and features US legend Roland Leong. 'Roland is well known to any drag racing fan. He is one of the winningest team owners in the history of drag racing and put in some time behind the wheel as well when he was starting out. Although Roland might be familiar to you we have a feeling his story will surprise you. It is worthy of a major motion picture'.

All racers: VWDRC Drag Days final places available.
23rd July: Thanks to Luke Stevenson and the VW Drag Racing Club committee for an update on their next event:

Like many the VWDRC are itching to get some track time so the plan was hatched for VWDRC Drag Days, two days of testing on the 6th-7th August for VWDRC members and an opportunity to raise some funds for Santa Pod Raceway.

We currently have 10 places left from the 100 available for the two days and are happy to open it up to racers not from the VWDRC. We are looking for people with full slicks (ideally with big tyres).

Here are the key facts:
Racer and crew tickets are available on-line only at this link;
£180 will get you two days racing and 4 crew tickets;
It will be a fully prepared track with two ambulances on site;
Camping is available for the Thursday to Friday night;
Testing for VWDRC members is on slicks and treads; and
There will be full live-streaming on www.santapod.tv so a good opportunity to get some coverage for your sponsors.
If you need any more information please contact info@vwdrc.com. If we fill the final places the donation to Santa Pod will increase!

Stuart Bradbury's funeral.
21st July: Thanks to Robin Jackson for advising us that the funeral of Stuart Bradbury will take place at 2.00pm next Wednesday, 29th July, at Wellingborough's Nene Valley Crematorium (305 Doddington Road, satnav postcode NN8 2NG). Pandemic rules allow only 30 mourners within the chapel precincts – inside and outside – so attendance will be limited to family and close friends, by invitation only.

Numbers are unrestricted, however, in outer areas such as car park and entrance road, so additional mourners will be welcome to attend there.

The funeral service will be broadcast live online at this link using Username: 41210 and Password: kkqegsea and will remain available to view for a week.

The family prefers that no flowers be sent. Instead, friends and associates who might wish to mark the occasion in Stuart's memory are invited to donate to two charitable organisations which served him in his final days, Marie Curie Cancer Care and the Cynthia Spencer Hospice at Northampton. A Just Giving page has been arranged at this link to accept contributions.

Event entry update.
21st July: Thanks to Santa Pod Racers Club Secretary Ian Marshall for sending us version 3 of the official entry list for the STP Green Light Nationals. You can check out the entry list by clicking here. Entry closes on Wednesday, 12th August, after which entry, if accepted may be subject to a late entry penalty. You can find the official on-line entry form via the Entry Forms page of the Santa Pod Racers Club web site here.

Melbourne Raceway tickets on sale.
21st July: Melbourne Raceway have announced their first event since the resurfacing of the eighth mile track: After a long year of fundraising and work, tickets are finally on sale for the first event at the new Melbourne Raceway on the 8th-9th August. Competitor day tickets are £70 or race for the weekend for £120. Spectator tickets are £12.50 and under 16's go free.

If you are joining us for the weekend, you can camp for free as long as you have tickets for both days.

It's really important that everyone reads the Covid-19 policy on the ticket form. We need everyone's help to stick to the rules which allow us to race and keep everyone safe. You can book tickets by going to this link and then clicking on the link for Race Entry or Spectator tickets for 8th or 9th August. Melbourne Raceway can be located with the satnav postcode YO42 4ST.

Torq Talk on front drive blowers and Prochargers.
21st July: The latest update by Tony Thacker in his Torq Talk blog is about the history of front driven superchargers leading up to ProCharger which won the 2018 SEMA Show's Best New Performance-Racing Product with their CrankDrive™ supercharger system that unlike most conventional belt-driven blowers is driven off the front of the crank. It's a fascinating read and you can see it by going to this link.

Hot Gossip tribute and update.
20th July: Many thanks to Mike Collins for sending us a teaser to his exclusive Hot Gossip tribute, called Start Line Stories, to the late Stuart Bradbury, with several pictures and stories including an encounter with legendary rocket funny car racer Slam'n Sammy Miller.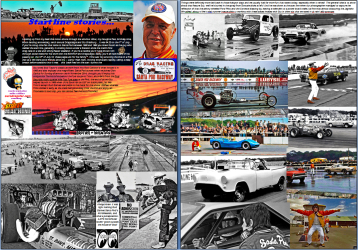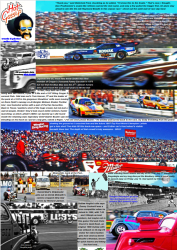 Also Mike has kindly sent his bonus material exclusively for Eurodragster.com readers which is a four page pdf read which you can check out by clicking the right-hand image above.

Nitro Bug at STP Green Light Nationals.
20th July: Nostalgia Funny Car racer Andy Raw has announced that he will be running the Nitro Bug at the STP Green Light Nationals in the Exhibition section. The team will also have Nitro Bug branded face masks and t-shirts for sale.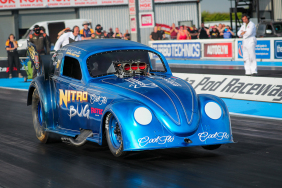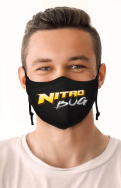 Andy said 'We dropped the Nitro Bug off with crew chief Karl Harrison just before the lockdown. He then stripped down the whole car, engine and transmission He then checked it all and completely rebuilt it again. It included setting up our ignition air retard/advance unit for the top end of the track. We then got the call to come to his workshop,to fire it up! Social distancing was strictly followed all times; I can't thank our crew ,and Karl Harrison enough for all the work he has done while we were in lockdown'. You can see footage of the fire up here.

Andy also thanks sponsors Cool Flo clothing, Fastec Racing Ltd (which made parts for NHS ventilators during the lockdown), and TSR Engine Conversions.

Happy Birthday Arthur!
20th July: Many thanks to Nigel Taylor for sending in this appreciation of Comp Altered racer from the 70s and 80s who made a happy comeback in the twenty teens:

'Happy 79th Birthday to the man who talks, walks, sleeps, drag racing, a legend in these parts, Arthur Bonner. Those of you that have met Arthur will know what a superb character he is, a very clever engineer and a superb welder in his day who taught us kids a few very important life lessons.

'Arthur purchased a 1949 Ford Prefect with no engine back in 1974 for £20 and installed a 400ci Pontiac motor as well as building a box section chassis to take the power; he called it The Detroit Spinner.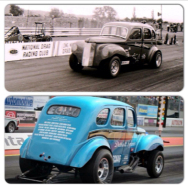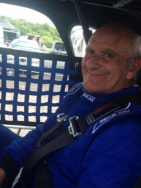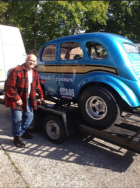 'He made his first run at Santa Pod Raceway in 1976 and competed for the first time in 1979 and met loads of good friends along the way including the Draper brothers , Stu Bradbury (RIP) , John Price, John Hobbs, Al O'Connor, Brian Huxley, Bob West, Bruno Sanderson-Brown and many more. ECA 46 was the race number the car always had, and Arthur campaigned the car for many years until a big roll over at Avon Park put his welding and safety to the test.

'Arthur came away fine, but had to rebuild the car again, tubing the rear end and back he came again . In 1994/95 Arthur stopped racing for a while but in 2014, along with a group of people and 55 sponsors, rebuilt the car and back he came again until 2018.

'As a group, we would like to thank Arthur Bonner for all his hard work, entertainment, determination, banter, enthusiasm and we all wish him a very Happy Birthday.

'The Detroit Spinner is now owned by Pep Xampro in Barcelona but will return to the Pod in 2021, where we will all do our best to get Arthur in the pits with his old car; in our eyes this man should be in the Hall of Fame'.

Photos, report from Thunder Valle EDRS event.
20th July: Thanks to Per Sønderby Pouls for posting several galleries comprising hundreds of photos from the EDRS race at Thunder Valle in Norway. You can see the full galleries at his Facebook page. Photos from Sunday will be uploaded over the next few days. Below are some highlights: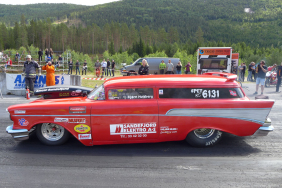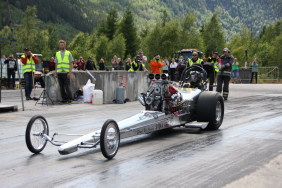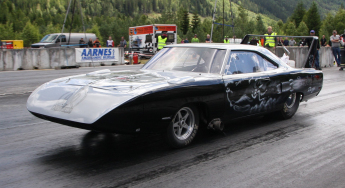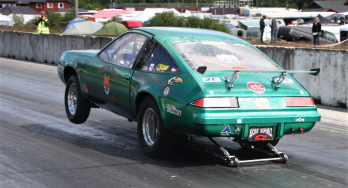 Pictured (clockwise): Bjørn Romøren-Hultberg, Fredrik Owrum, Per Eilertsen and Magnus Skår Hansen. All pictures shown with kind permission of Per Sønderby Pouls.

Our good friend Lena Peres has posted a report from the event at the Drag Racing Europe Blog.

Event entry update.
19th July: Many thanks to Santa Pod Racers Club Secretary Ian Marshall for sending us version 2 of the official entry list for the STP Green Light Nationals. You can check out the entry list by clicking here. Entry closes on Wednesday, 12th August, after which entry, if accepted may be subject to a late entry penalty. You can find the official on-line entry form via the Entry Forms page of the Santa Pod Racers Club web site here.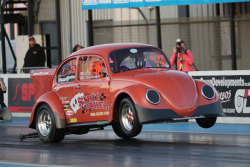 From Action to Breakout.
19th July: NAS Events, organisers of VW Action have made the following announcement in association with Santa Pod Raceway:

After much deliberation and soul-searching, we have decided that the VW Action event will not take place in 2020. This is not a decision we have taken lightly, but given the circumstances of the COVID-19 pandemic, we feel there is no way we could stage the event and do it justice. We waited as long as we could to give the show a chance of happening, but with so many restrictions still in place, there is no way we could safely include many of the attractions that help create that VW Action atmosphere.

We would prefer to return in 2021 and (hopefully) produce an event that will match or surpass previous VW Action events at Santa Pod. Despite suffering financially ourselves, we are also very, very aware that Santa Pod Raceway has been hit extremely hard financially this year and would prefer to hand over our dates/weekend to them, in the hope it may help them recoup some much-needed income in the final months of this season. To that end, Santa Pod Raceway are themselves, now staging a more laid-back/chilled (and 'socially-distancing') VW event - VW Breakout - over the weekend of 4th-6th September - please support this event if you can. It won't be 'VW Action' - but it should help give 'dubbers their 'fix' of VW Drag Racing, Show & Shine and Camping.

VW Breakout - 4th-6th September 2020 at Santa Pod - is back, offering VW fans a one-off unique event for this year; VW Breakout is a three-day relaxed weekend. With all the elements of the shows we all know and love – but scaled down! Quarter mile track action features VW Drag Racing and RWYB, alongside Show & Shine, Traders, Fun Fair and Bar meaning you can enjoy the last of those Summer evenings camping with friends!

VW Action Advance Ticket Holders - all of those who ordered VW Action advance tickets will receive an email from Santa Pod explaining how to claim your credit.

We realise many of you will be disappointed, but we hope you understand our decision and look forward to seeing you all at VW Action in 2021. Stay safe. Love to all.

Editor's note: We'll publish the link to VW Breakout tickets as soon as it is available.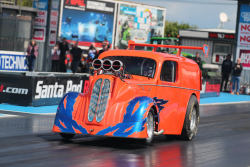 Swift snippets.
19th July: Happy birthday to Outlaw Anglia racer and the world's quickest and fastest man in a Ford Pop Simon Barlow. Have a great day Simon, love from all your crew at Orange Pop Racing.

Congratulations to Sebastian Lindau from Switzerland for correctly spotting the spy picture in our update last Wednesday was none other than Hockenheim track anouncer Benni Voss, living legend and walking drag race lexicon. Benni said 'Greetz from a slightly envious, jobless motormouth'. Readers, send photos of your own custom masks to editor@eurodragster.com and we'll publish a selection.

Drag racing historian Nick Pettitt has been busy posting new material on his Youtube site. This week's offerings are Jerry Cookson's videos of racing from Long Marston in 1983 and 1986, the latter a co-production with Steve Clifton from 1986. Also there is broadcast footage from the 1992 Springnationals from Motopark Raceway, Pieksämäki, Finland (in Finnish).

Our Kieran has posted footage from the Back On Track Street Day at Santa Pod Raceway to his Youtube site. Kieran says 'This video contains a mixture of everything that was there and shows the real variety of stuff we see on a regular at RWYB days'. There is also footage of Ian Oddie's Metro 6R4 which runs a Ford ST220 V6 putting out over 500hp.

Also posting footage of the Back On Track Street Day is the VeeDubRacing channel, also with a compilation video of the fastest cars filmed on the channel, with terminal speeds of 170mph to 190mph, and a couple of cool sleepers, David Lees's nine second RS3 powered Golf Mark 7 and Scott Anderson's 800hp Audi RS6. You can see VeeDubRacing's videos at this link.

On the photo front The Mad Welshman has posted a new Flickr gallery called 'Drag'ged Away From The Strip at this link which shows drag racing vehicles snapped away from the strip, either promoting the sport/track or enthusiastic owners just having fun.

If you're into indoor hot rod and drag racing shows, drag racing historian Jerry Cookson has set up a new page on Facebook entitled The Great Indoors British Custom Car shows. This includes photos of drag racing machinery and hot rods going back as far as 1965 with several contributors. You can see this page by clicking here.

Jim Rowat.
17th July: We were very sorry to hear of the death of former Pro Comp racer Jim Rowat from his son Jason. Jason said that his dad 'slipped through our fingers and took his own life' on 2nd June 2020; unfortunately Covid 19 was believed to be a contributing factor to his loss.

Jim Rowat and his older brother Martin successfully campaigned dragsters in the 1970s. Martin made his debut in November 1971 driving a supercharged Daimler-engined slingshot called Asterix the Gaul. Parts attrition in the form of three junked superchargers in three months with the Daimler engine in the following year forced a change of direction and inspired the name for their next car.

The new slingshot, brought out at the start of 1973, was named 'Double Or Quits' and, as the name implies, both the driving and costs were shared between Martin and Jim. The dragster utilised a rebuilt ex-Alan Wigmore small block Chevy that utilised a self-built injection system with Jim making aluminium castings and Martin machining them, and also a home-built clutch. This second car was more successful but got replaced by a more modern design after a year.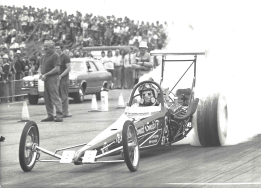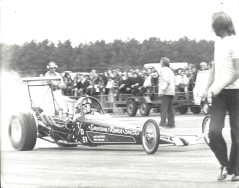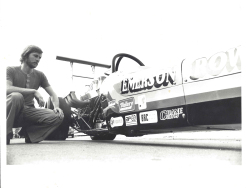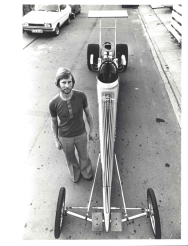 In the winter of 1973/4 Jim and Martin built a rear engine dragster for their small block Chevy which gained Donovan heads and had a two speed gearbox of the brothers' own manufacture. After running in Senior Dragster in 1974, it continued in Pro Comp which was introduced the following year. Using 85% nitro, Double Or Quits won several races with the brothers still driving in turns and running as quick as 8.03/174. Then in the summer of 1976 Martin left the team in order to further his studies at university and Jim took over the running of the team. In qualifying for the 1977 Easter Spring Nationals, a front wheel collapsed at over 100mph. The car rolled about six times and was virtually totalled.

Jason says 'My mother gave my Dad an ultimatum after that crash - 'me or the car'. Mum won. Whether Dad had regrets later on in life he couldn't express to his family, I guess we will never know, one thing I do know is that they would have gone far had they stayed in the sport. Jim, who was a successful computer programmer, only visited Santa Pod Raceway twice after the 1977 accident, once in 1998 to oversee a neighbour's Pontiac and then as a spectator with Jason in 2001.

As well as winning a Best Engineered Car award in 1974, Jim was 1973 and 1974 NDRC Senior Dragster Champion.

'Dad and Martin (who survives him) were quite modest characters despite them achieving so much during their time racing. They missed out on the Crazy Horses book as they didn't pipe up about themselves then. I'd like to showcase their history to the drag world as I'm now in possession of all of Dad's photos and memorabilia'.

STP Green Light Nationals reminder.
17th July: Thanks to Yvonne Tramm from Santa Pod Racers Club who has sent a reminder for all racers planning to run at the STP Green Light Nationals on 22nd-23rd August:

'Now that we have the opportunity to get back to racing could I please ask all those racers who intend to run at the STP Green Light Nationals, to check their membership end dates and if necessary to renew before the meeting using the online system at the SPRC website. Should you have any queries or cannot find your membership card you can email me for details at yvonnetramm235@gmail.com

SPR announce ticketing details for August events.
17th July: Santa Pod Raceway have made available spectator tickets, and racer ticketing for the 'Lite' series of events in August and Run What Ya Brungs. You may go to santapodtickets.com and complete the form and pay on-line. Due to Covid-19 restrictions, which are described in detail on the ticketing page, tickets are only available on-line and not at the gate. General regulations are at rwyb.co.uk/rules.php and on the specific site for each event.

Racers for the Nostalgia Drags to be held on 1st-2nd August (gates open 5pm on Friday 31st July) are able to register for their race class of choice by going to racers.santapodtickets.com. Again, there is only advanced booking allowed, and tickets will be posted out for all entries in before Monday 27th July. After that date, tickets will be handed out at the gate. Only racers affiliated to one of the following race classes may be allowed to apply:


Outlaw Anglia
Nostalgia Superstock
Wild Bunch
Supercharged Outlaws
Willys War On Tour
Nostalgia Pro Stock Bike
Slingshot Showdown
Gasser Circus
A current driving licence, helmet and fire suit are all compulsory at the Nostalgia Drags.

Event entry update.
15th July: Many thanks to Santa Pod Racers Club Secretary Ian Marshall for sending us version 1 of the official entry list for the STP Green Light Nationals. You can check out the entry list by clicking here. Entry closes on Wednesday, 12th August, after which entry, if accepted may be subject to a late entry penalty. You can find the official on-line entry form via the Entry Forms page of the Santa Pod Racers Club web site here.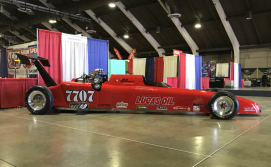 Stilwell withdraws from Bonneville.
15th July: Unfortunately, due to the continuing Covid 19 issues around the world and the fact that the travel embargo has not been lifted on Brits being allowed to enter the USA, Geoff Stilwell, Team Principal of the record setting Lucas Oil Landspeed Team and Eurodragster.com sponsor for Nitro Revival, has had to withdraw from this year's Bonneville Speedweek.

Geoff said, "This is all very frustrating in that the race car is already in the USA and ready to go. Sadly, the UK based team consisting of me, Nick Davies and Rob Loaring of ICE Automotive plus Scotty Barnes are stuck in the UK unable to travel. We are all extremely disappointed in that the Salt conditions are probably the best they have been for years. I want to thank all our Sponsors and friends who have helped the team this year namely, Lucas Oil, Simpson Safety Wear, Ron & Brian Hope of Rat Trap Racing, all the team at Mick's Paint, RCD, Vintage Hot Rods, Jesel, Schott Wheels, Circle City Hot Rods, Donny Cummins, Tony Thacker and especially the Volunteers, Marshalls and crew of the SCTA who have already put in so much work to make this incredible race week happen".

Geoff also went on to say, "if the situation changes in that the embargo is lifted and we can run later in the year we will be there". To follow this project on Facebook, just look up Geoff Stilwell.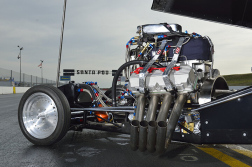 How-to: NFC Hemi engine build.
15th July: Many thanks to our good friend Tony Thacker who has posted on his Torq Talk blog a story penned by new British Drag Racing Hall of Fame inductee Nick Davies about he and Rob Loaring (a.k.a ICE Automotive) who took a Keith Black 426ci Hemi engine and built it, with a few modifications along the way, so that it was able to power Tim Garlick's Apache Funny Car to a five second run.

The story gives the reader some idea about the expertise that is necessary to put together such an engine in a way that it produces the desired performance (in this case a five second timeslip) reliably. As Nick says 'Granted, it's not the cheapest way to go racing, but there is something about an all-new cast KB hemi that reminds us of what we dreamed of as kids'. You can read Nick's article on www.torqtalk.com.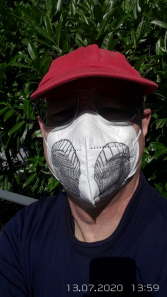 Spy picture.
15th July: We received this picture earlier today with the message 'I don´t know if anyone else had this idea already, but I turned my PPE mask into something more Drag Race looking, crude but you might get the theme'.

If you know the identity of this individual, or would like to send a photo of your own take on a drag racing-related PPE mask design, then drop us a line at editor@eurodragster.com.




STP Green Light Nationals entry page now live.
14th July: Many thanks to Santa Pod Racers Club Secretary Ian Marshall for letting us know the STP Green Light Nationals entry page is now live.

In addition, Ian has asked us to mention that posting out of racer tickets will not occur for the time being and they should be collected at the gate.

STP Green Light Nationals racer update.
14th July: Santa Pod Racers Club Secretary Ian Marshall has announced that, further to yesterday's STP Green Light Nationals event announcement, the following details can now be made clear.

The event will be held as a Non-National Championship and is organised as a Series with three rounds, the STP Green Light Nationals and two further events.

The free entry for 2019 National Championship winners will not count for these three events, but will however be carried over to the 2021 season; this means the current Champions will gain the full value of their prize next year.

Points will be awarded at all three events with a Series class winner in all of the usual sportsman categories. Some Pro classes are being contacted by Santa Pod to discuss their individual class options.

The points system will however change slightly; as there is no scrutineering, therefore no points can be allocated for this, also first round and all round points bonuses will be considered by SPRC, details of which will be passed on in due course.

The prize fund will be as per the National Championship prize fund and paid out as normal via BACS payment to your bank accounts. And, as usual, there will be trophies for the winner and runner up in each class.

There are some Riders and Drivers who have been in contact looking to either run as exhibition or on a testing basis. Those looking for an opportunity to do either must contact Darren Prentice at Santa Pod, his e-mail is darren@santapod.com"; please do not just try to enter the event in exhibition as there will be a protocol to follow in order to be accepted.

Finally all three of the events will also have a test day attached the day before racing commences, all entries for the test days must be through Santa Pod Raceway's website. Details can be found here.

Green Light Nationals racer callup.
13th July: Many thanks to Santa Pod Racers Club Secretary Ian Marshall for passing to us an announcement about classes and entry for the forthcoming STP Green Light Nationals.

Following Santa Pod Raceway's press release regarding a three Event Race Series, the first of which will be the STP Green Light Nationals on 22nd-23rd August 2020, the race classes competing at the Event will be as follows:

Car Classes
Comp Eliminator
Super Gas
Super Comp
Super Pro ET
Pro ET
Sportsman ET
Street Eliminator
VW Sportsman
VW Pro
Outlaw Flat Four (TBC)
Nostalgia Super Stock
Junior Dragster
Bike Classes
Pro Stock Bike
Funny Bike
Super Street Bike
Comp Bike
8.50 Bike
9.50 Bike
ET Bike
Super twin Top Gas
Junior Drag Bike
These Events will be run under a Non Permit sanction, and as such will not require any race licenses to be produced, the exception being that all Junior Classes must produce either a 2019 or 2020 Race License at signing on. All others will need to produce a DVLA license or 2020 Race License if you already have one.

Scrutineering will be on a self-certification basis, however Tech and Scrutineering staff will be on site to cover unforeseen circumstances.

On-line entry will be available from Thursday with a closing date of the 12th August, please note that when you complete the entry form, read the signing on declaration, as it has changed due to the current circumstances and it is important that it is read and understood.

Should there be any questions then of course call SPRC on 01933-313625 or email ir.marshall@btconnect.com. Please note that questions will not be answered through Facebook, as it is not regularly checked and not an official SPRC page.

There will be two further events, about which there will be more news shortly. We are just putting final details to some parts of the event, so please keep checking Eurodragster.com and the Santa Pod web site for updates.


Urgent request for slicks.
13th July: Santa Pod Racers Club Secretary Ian Marshall has asked us to announce that if anyone who has Race Slicks in the UK that they would like to donate to the ongoing track prep, please get in touch with him at SPRC on 01933 313625 or ir.marshall@btconnect.com. Ian says 'We will be very grateful to hear from you, we will then set up a road trip and come and collect the tyres from you at a convenient time and date, many thanks in advance.



First native six in Hungary.
13th July: Congratulations to Hungarian racer István Szentesi of the Fenster dragster team who recorded the first six second pass by a native of the country yesterday at Meidl Airport, Fertoszenmiklos, running a 6.97. You can see footage of his achievement by going to this link

We first met István when he raced in Super Pro ET at the 2019 NitrOlympX with his 396ci engined imported dragster. The Hungarian Drag Racing scene gets going in August and September with events in Hungary and Slovakia, details of which are at dragracing.hu (in English).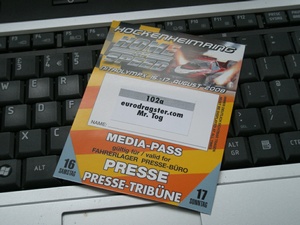 Tog's random memories.
13th July: Many thanks to our erstwhile Eurodragster.com colleague Tog who has supplied us with a hugely entertaining travelogue of sorts, entitled Random Eurodragster.com memories with Tog.

He says 'You spent more than twenty years looking at my racing photographs so I thought that I would share a random sample of mostly-unseen pictures from the other side of the laptop, camera and notebook illustrating tales of some of the fun I had'.

You can see Tog's Random Eurodragster.com memories by clicking on this link or via the Features, Interviews Tributes link in the main menu.

Swift snippets.
13th July: We would like to wish engineer, fuel tuner and Fuel Altered racer John Wright a very Happy 70th Birthday and Many Happy Returns.

We have completed our coverage of the Back On Track test days by posting a gallery of 105 photos from Saturday's Street Tyre day; thanks to Kieran for providing the photos. Quickest run of the day was David Lee's 5 cylinder Mk7 Golf which ran 9.75 at 153mph in street mode. You can see Kieran's gallery by clicking on this link. Our next live coverage will be from the Nostalgia Drags event at Santa Pod Raceway on 1st-2nd August.

Our Kieran has posted two Youtube videos in the past few days. The first is Simon Holmes' imported Datsun 280Z which has a 870hp 6.0L LS engine with a BorgWarner 80mm Billet Turbo. 'It was Simon's first time driving the car and into the 10s on it's 4th run in the UK isn't bad going at all', says Kieran. Kieran's video is at this link.

Kieran has also posted a 44 minute video of Classic Ford Show Highlights 2012–2018. He says 'Santa Pod Raceway was the venue for the Classic Ford Show for 14 years. Here's some of the 1/4 mile footage I caught between the years 2012 and it's final year in 2018'. You can see Kieran's video by clicking on this link.

Drag racing historian Nick Pettitt has been busy and you can see new uploads of drag racing at the Mantorp Park Sko Uno Festival in 1991, Long Marston Raceway from 1987 (filmed by Roy Wilding,) from the 1994 and 1995 Hot Rod Drags, also the 1994 Night of Fire at at Avon Park Raceway on Youtube.


Julian's special 2019 Dragstalgia Gallery.
12th July: We are all missing Dragstalgia which would have happened this weekend at Santa Pod Raceway. So thanks are due to our Julian for enabling us to present a gallery of his pictures from last year's event, complete with captions. You can see Julian's photos at their best, which means they are pretty special.

The 180 shots were taken over the course of the three day event last year, and we present the gallery in association with John Woolfe Racing. You can see Julian's special gallery here or via our 2019 Dragstalgia coverage page which you can access here.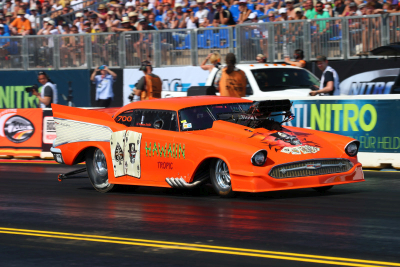 RRC build gallery: Thomas Stiefel.
30th June: The sixth of our series of features showing photographs by Bob Roberts of the builds carried out by Eurodragster.com sponsors Robinson Race Cars covers construction of Swiss Pro Modified racer Thomas Stiefel's '57 Chevy. The car was built in 2010, made its debut in 2011 and Thomas raced it until business commitments intervened, and the car now has a new owner.

You can see Bob's gallery in our feature in association with Lucas Oil Products here or go to our Features, Interviews, Tributes index via the main menu.


Stuart Bradbury.
11th July: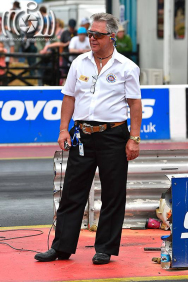 It is with profound sadness that the Directors of the British Drag Racing Hall of Fame must announce the death on Friday 10th July of our Founder and Honorary Chairman, Stuart D. Bradbury, after a long illness. A lifelong resident of Wellingborough, Stuart was able to spend his final days at home in the care of his wife, Bev, and daughter, Genna, and celebrated his recent 75th birthday with them.

Stuart had been associated with Santa Pod Raceway from its earliest days, having helped the crew labouring to prepare the track before the venue's opening in 1966. He served as Deputy Starter in 1967 then took over as Chief Starter the following year, a role he held through the 1980s. He was also involved in racing projects at Long Marston Raceway, near Stratford-upon-Avon, and Rockingham Motor Speedway near Corby, and assisted Top Fuel Dragster star Andy Carter.

Stuart spent most of his working life in the specialist motor trade, first with John Woolfe Racing, then with USAutomotive.

In 2005 Stuart convened the meeting of fellow enthusiasts that would result in the founding of the British Drag Racing Hall of Fame. He remained Honorary Chairman, and the fulcrum of its activities, for the rest of his life. In 2017, he was dumbfounded to find himself elected by general acclaim to membership in his own right, having always maintained an iron rule that no associate of the Hall of Fame's management or selection panel should be eligible. Members and supporters, however, decided secretly that it was appropriate to make a signal exception to that rule to recognise the extent of his contribution to the cause, a decision Stuart accepted with rueful good grace.

Funeral arrangements are being made, but will be subject to pandemic lockdown regulations.

Condolences and respects may be sent by E-Mail to tributes@eurodragster.com and we will include it on a Eurodragster.com tribute page established in Stuart's memory, which will be forwarded to Stuart's family.

Santa Pod Raceway announce new events.
10th July: Many thanks to Santa Pod Raceway CEO Keith Bartlett and his team for forwarding their latest announcement regarding upcoming events:

Following on from our recent statements, we are now delighted to be able to announce a forthcoming calendar of events at Santa Pod Raceway. These events will, of course, be held in keeping with all the current guidelines and restrictions around the covid-19 virus. As almost most of you will be aware over the last 7-10 days various restrictions have been lifted, which, in turn, will allow us to look at holding selected events in the coming weeks and months.

We have been busy over the past few weeks preparing both the site and the overall facility to be able to open and operate within the government guidelines and to also meet Health & Safety requirements under the Covid-19 virus.

Part of the restrictions that have been lifted is that we are now allowed to offer our camping facilities at Santa Pod for these planned events over the next 2-3 months. Additionally, we are now also allowed spectators, albeit with restriction on the total numbers on site.

Within the events planned for the next 2-3 months will be a 3-race Drag Racing Series, the first round being at the Green Light Nationals on the 22nd / 23rd August, followed by a further two rounds in September (details to be announced later next week) – so to all our racers, get your cars ready and prepared for full drag racing competition. There will be series winners in all the drag racing classes. Our Nostalgia Racers have even less notice as we have the "Nostalgia Drags" scheduled for the 1st-2nd August too. We are even proposing a title of the 'Covid Cup Series' or the like...

Below are the events that we are now planning to hold during the remainder of July and August 2020:

Saturday 25th July: RWYB
Sunday 26th July: Retro Show 'Lite' www.retroshow.co.uk
Saturday 1st/Sunday 2nd August: Nostalgia Drags (2-days)
Saturday 8th August: Saturday Night Special
Sunday 9th August: Ford Show 'Lite' www.fordshow.co.uk
Saturday 15th August: RWYB
Sunday 16th: Jap Show 'Lite' www.japshow.co.uk
Saturday 22nd/Sunday 23rd August: Green Light Nationals (2-days)

The events that are designated 'lite' because they are just that – with not so many additional attractions as the past events, such as music and stage restrictions etc. but we're at least offering an opportunity to get to a car show with your pride and joy.

In closing we are very pleased that Santa Pod is truly getting back on track and even with the current restrictions surrounding Covid-19, we are sure we can offer both our racers and fans a good weekend at the Pod. See you at the track!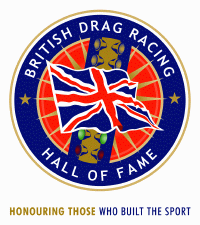 British Drag Racing Hall of Fame 2020.
10th July: The British Drag Racing Hall Of Fame continues into its fifteenth successful year and is pleased to announce the 2020 intake.

Nominees are eligible by dint of having raced, owned, designed, built, maintained, prepared, promoted, officiated, supported or taken part in British drag racing in any capacity, having been involved for at least twenty years, or having made a significant and recognisable contribution to the sport.

The 2020 inductees are: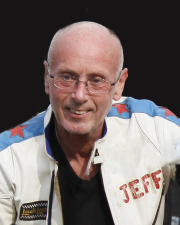 JEFF BYNE Profile by Keith Lee

Jeff Byne's drag bike career began in 1970, with a 650 Triumph. It was not long before he started modifying it; adding a supercharger helped move him up the ranks. The name Hurricane became familiar on the strips. By September 1972 he had dipped into the 9-second zone on a modest 40% nitro. In 1974 Jeff recorded the quickest time by a single-engined Triumph, 9.4sec, at the July International. It was a successful season – and also eventful. In August, Jeff clocked 9.38sec while shearing the rear-wheel spindle at over 120mph! He still came back out to win the event! A huge blowup at that season's end destroyed the motor and damaged the chassis, but plans were already afoot for a new machine which would confirm his reputation as a top competitor in this era.

In May 1976, a double-engined 1500cc Triumph was debuted. Two motors are never an easy proposition, but a 9.6sec pass first time out, while qualifying for Top Bike eliminator, showed his capabilities. By October that same year, Jeff had recorded 8.70sec on the orange machine, becoming only the fourth rider to dip below 9 seconds. He ended 1976 as the year's quickest double-engined racer.

The 1977 Jubilee meeting at Santa Pod was the first time that anyone had run eight-second passes through all three rounds of eliminations, as Jeff scored a memorable win.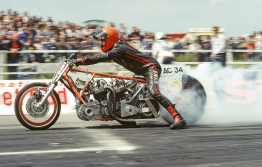 A frightening 175mph crash at Easter 1978 thankfully left Jeff virtually unscathed, but the bike was badly damaged. A new chassis was required, and the following year proved to be a classic one on two wheels. John Hobbs set the quickest-ever time by a European rider with 8.07sec in July, which was virtually matched by Jeff in August, before Jeff went on to run a new European best of 8.02sec the following month. This time would prove to be the quickest ever by a British rider in this golden era of twin-engined British bikes. To cap a successful season, Jeff won the ACU drag bike championship, also setting the fastest European terminal speed, at 181.8mph, during another elimination win in October.

Jeff was a determined rider on track, but was also ready and willing to help fellow competitors who had problems, even offering to pull the two-speed box out of his bike to help a rival at one meeting, which is no small job.

Hurricane continued racing into the early 1980s to good effect, but the era of the twins had run its course. Jeff kept his record-breaking machine and, over 30 years on, made a welcome return to the track in 2014 to take part in Dragstalgia, after so many years of not riding any type of bike. He has been a regular participant since, as he shows off one of the iconic machines of the era.

It is for his formidable contribution to motorcycle drag racing throughout the sport's formative years that Jeff Byne is hereby inducted into membership of the British Drag Racing Hall of Fame.

Pictures: Keith Lee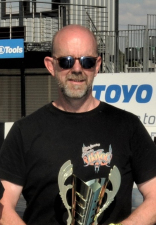 NICK DAVIES Profile by Robin Jackson

It was youthful spectator visits to the dragstrip that would spur on the engineer and businessman Nick Davies to distinguished participation and intercontinental success. Passive attendance became active involvement with a 1993 foray into Super Gas, followed by a step up to Pro Modified two years later. If his association with doorslammers has defined his engagement with drag racing, it has been Nick's ventures into more recondite regions that have fully stamped his prominence on the sport.

The foundations of Nick's success lie at a racing venue of a different kind. In 1997 he joined forces with another future Hall of Fame member, Rob Loaring, to acquire the parts company Rooster Racing Equipment, combining it with a near-bankrupt ICE Automotive Racing Engines and transferring the new business from a farm building to a 2,500 sq./ft. facility at Silverstone circuit, where it still resides.

In 1999, the partnership won its first UK National Pro Mod championship, with Nick at the wheel, and retained the title the following season. At the same time, they played a pivotal role in the development of Super Modified Eliminator, a lower-cost but highly competitive doorslammer class which would enjoy success for a decade and which forms the backbone of Competition Eliminator today.

In 2004, Nick began managing and tuning a Street Eliminator entry for Steve Nash which, four years later, would be the first turbocharged car to win the class championship. Meanwhile, 2005 began the venture beyond the doorslammer bounds into blown, open-wheel territory with the construction of Havoc, at first propelled by methanol, later by a tip of the nitro can. Over the next several years, Nick campaigned Havoc in the Nostalgia Fuel Altered Association series, setting the blown methanol speed record at 205mph in 2005, and later drove Lawrie Gatehouse's Chaos Altered, this time with nitro in the tank. In 2013 he managed the construction of Tim Garlick's Apache Funny Car, helping launch the Nostalgia Funny Car movement.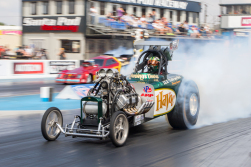 In 2015, following a famous Dragstalgia match race against Pure Hell, the legendary American Fuel Altered, Havoc switched to nitro. The upshot, two years later, was a four-race tour of America with Ron Hope's Rat Trap Racing, culminating in victory at Bakersfield's California Hot Rod Reunion, the only British blown nitro win achieved on US soil.

In 2011 Nick had managed, tuned and driven Britain's first turbocharged Pro Mod entry for car-owner Graham Ellis, earning a runner-up finish and the then-fastest speed by a UK Pro Mod, 239mph. This exercise would pave the way for ICE Automotive's own turbo Pro Mod venture. Unveiled in 2018 and still a work in progress, the Pontiac Firebird has already set a UK speed record of 249.05mph, the first British mark to top 400 kilometres per hour.

It is for his exemplary racing successes in two classes, and on two continents, and for his engineering achievements at the forefront of our sport, that Nick Davies is hereby inducted into membership of the British Drag Racing Hall of Fame.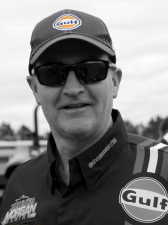 IAN KING Profile by Ian Messenger

Ian King is a record-breaking, multiple European drag racing champion. Ian has won twelve FIM European Championships – ten as rider, two as Team Principal – plus two ACU British and one MCUI Irish Championships and has broken various British and European records and an FIM World Land Speed Record. He is the eighth, and only British, member of the international MTC Engineering Top Fuel Bike 5-Second Club.

Ian built his first motorcycle at 13 and became a multi-award-winning constructor of custom bikes. He first encountered drag racing on a trip to Santa Pod with the Scouts. From 17 he raced his friends on their road bikes at `RWYB' weekends, beginning his `formal' racing career in the 1980s in the SuperBike-conceived Ultimate Streetbike series on his custom road-legal specials.

From Street classes he progressed to Funnybike in the UK's ACU series on a self-built turbo-methanol Suzuki before acquiring his first nitro project, a 2700cc nitro V8 Puma in 1997. However, before the unique project was completed, Ian received an offer he could not refuse for the unfinished machine and used the funds to acquire the Quarter Scorcher 5 Puma from Frank Brachtvogel in 1999.

Updates and improvements to the bike improved its performance over a decade into a state-of-art five-time FIM European Championship-winning machine. In 2010 Ian sold the bike and conceived an all-new, world-leading bike under the auspices of his company Puma Engineering. In 2012 the Gulf Oil-sponsored team secured the first of eight further FIM European Top Fuel Bike Championships to date.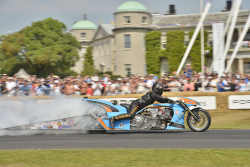 Demonstration passes took the team to unusual places across the world. In 2006 he became the first to ride a nitromethane-powered bike in the Middle East at the Bahrain F1 circuit. In 2011 he visited India to perform on behalf of Gulf Oil International. In 2013 Ian performed burnouts in front of over 100,000 people at the Goodwood Festival of Speed, earning that year's Goodwood Choice Award. Since then, the team has been invited back annually to the prestigious event.

In March 2014 Ian won the opening event of the USA Championship. In the final, his 5.878-second elapsed time conferred eighth and the coveted final place in the MTC Top Fuel Bike 5-Second Club.

In 2018, Greek rider Fil Papafilippou took over riding duties on the Gulf Oil machine for the season's FIM European Championship races. With Ian now serving as Team Principal, Fil has added two more FIM Championships to the team's tally. In 2018 and 2019 Ian raced twice more at the US Final events, making the final on both occasions.

Ian also co-owns the world-renowned Puma Engineering. The company offers parts to construct all combinations of nitromethane drag bikes. Puma engines power many championship-winning bikes and recently propelled multi-US champion Larry McBride to the quickest (5.507sec) and fastest (264.96mph/426.41km/h) Top Fuel Bike run in history.

It is for his exceptional range of two-wheeled achievements that Ian King is hereby inducted into membership of the British Drag Racing Hall of Fame.

JOHN PRICE Profile by Simon Groves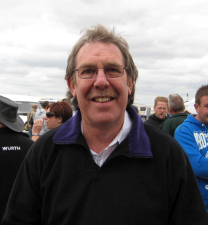 John Price first commentated at Santa Pod from 1981 to 1987. He then worked at York Raceway for five or six years but also resumed commentating at Santa Pod in 1990, continuing there, except for a year at Avon Park's Super Series events in 1997-8, until his retirement from drag racing in 2008.

John began DJ'ing aged just 21, and it was his musical activities which would bring him to drag racing's attention. He worked for Roger Squires, a mobile disco pioneer in the late 1960s/early '70s, presenting many gigs in his native London area, and then for a music management company whose clients included Alvin Stardust and the Rubettes.

At one of his gigs, John met Nick Shanley, then chairman of the National Association of Street Clubs. As a result, John was engaged to DJ at NASC Nationals events such as Knebworth and Bruntingthorpe, and at Gary's Picnic when it took place at Santa Pod Raceway. During one of these events he was introduced to Ron Clarke, promoter of custom car shows around the country.

At one of Ron's shows in Leeds (which was badly weather affected – perhaps an omen of things to come) John encountered a group from Santa Pod Raceway. Dave Prior, who organised Santa Pod's displays, asked John to host a Santa Pod show at Milton Keynes shopping centre. Santa Pod's owner, Roy Phelps, then interviewed him for the position of track commentator, recently vacated by Brian Taylor, and John started the job in March 1981.

Many followers of the sport at that time will recall John masquerading as Captain Chaos – on roller skates! – to promote Santa Pod's association with the film The Cannonball Run, the launchpad for the venue's famous series of 'Cannonball' race meetings.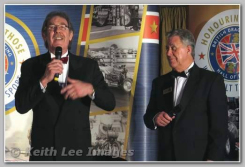 John's car show engagements continued. In 1982 he served as Show Host of the London Custom Car Show at Olympia, which entailed him working on the Radio One Roadshow stand. As a freelancer not employed by Radio One, he could not resist wearing a t-shirt inscribed with the motto 'I'm not famous', much to the Radio One producer's annoyance.

John's only venture on to the track was to drive a Radio Luxembourg-emblazoned Mustang in a grudge match against Radio One's Simon Bates – after which he promptly retired from racing.

John presented ITV Anglia's drag racing coverage in the late 1980s, along with European races for Sky. Thus by the 1990s he had become the face, and voice, of drag racing on TV. His Sky commentaries included many other motorsport disciplines too. Since retiring from the drag racing scene John has continued to inform and entertain the crowds at car shows just as he did from the commentary box at the dragstrip. It is for the quality and enthusiasm of his commentary contributions to UK drag racing, at the track and via television, media and car shows, that John Price is hereby inducted into membership of the British Drag Racing Hall of Fame.

Pictures: Simon Groves and Keith Lee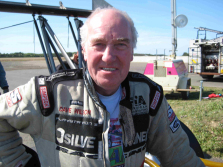 DAVE WILSON Profile by Simon Groves

Dave Wilson was involved in the Supercharged Methanol racing category throughout his career and five times became FIA European Top Methanol champion, adding several British championships and many race wins to his name.

His drag racing experience began with Rod George, whom Dave helped with his transmission. A chance to drive Rod's Creeper dragster hooked him on the sport. Creeper was replaced by the famous Stormbringer car, previously the first to run a five-second ET outside America. Renamed Krypton, the car crashed at York, injuring Dave seriously.

The team regrouped and Rod sold his share. Dave partnered with Steve Martyn and, helped by Dave Fletcher, built a new Krypton. Steve drove the car in 1981, qualified low at that year's World Finals and finished runner-up.

Dave resumed driving in 1982, racing Krypton successfully until 1986. Attending the US Nationals, he learned how to run the car much harder. Back home, the improved power produced severe breakage at his first race. It took three years to repair and update the parts needed to get the car back on track. Dave upgraded gradually and by 1997 could run as quickly as 6.009sec.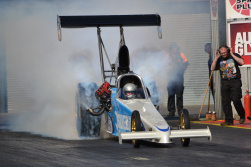 In 1999 Dave teamed up with the Redstone & Gleadow team who had imported a car named Nemesis from Finland. The team joined that season's FIA European tour and clocked fives, qualifying no.1 and winning an event. Such success attracted team sponsorship from Lucas Oil Products. In 2001 Dave bought the car from Barry Redstone and, sponsored by American Car Imports, Air Sea Logistics, Sony PlayStation and 76 Racing Fuels, formed a two-car team with Wendy Baker. Increased sponsorship from Antony Cohen (American Car Imports) enabled Dave to buy a complete Bob Meyer car in 2002. Following a US debut at Pomona, he set new ET and speed records in Europe while finishing FIA Championship runner-up. In 2003, driving a new Brad Hadman car, he became the first racer outside the USA to clock 5.50s, 5.40s, 5.30s and 5.20s and to exceed 260 and 270mph. This form delivered five consecutive FIA Championships from 2003 to 2007, a period of dominance producing 14 event wins, 49 round wins and 19 number one qualifiers. On another USA trip, Dave became the first European to win an NHRA "Wally". But did he rest on his laurels?

With Silverline Tools' backing, in 2008 Dave changed his engine combination from supercharged methanol to injected nitro, a major move in terms of engineering, parts and tuning. In only his second A/Fuel year he finished second in the FIA championship and set the European ET record twice, later achieving a career-best of 5.2605sec at Tierp in 2012. Dave's last event victory came at the 2015 Main Event.

Dave leads the all-time FIA Top Methanol table in championships (five), event wins (18), round wins (96) and low qualifiers (30). It is for his excellence in racing performance and for challenges overcome that Dave Wilson is hereby inducted into membership of the British Drag Racing Hall of Fame.

Pictures by Simon Groves and Tog

PELLE LINDELÖW and GUNNAR ELMQVIST Profile by Jerry Cookson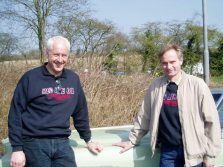 In a 25-year career, lifelong friends Pelle Lindelöw and Gunnar Elmqvist enjoyed one of the longest drag racing partnerships outside America. It began during the sport's earliest days in Scandinavia, with a chance meeting of old school friends in 1970 at Sweden's Mantorp Park. Pelle had never witnessed a drag race but was instantly hooked by the speed and power. Pelle, Gunnar and another friend, Janne Rosquist, found they shared a passion for the Renault 4CV. Having hot-rodded their little French cars with modified engines, they embarked on an inspirational road trip to England for Santa Pod's 1972 International meet.

Impressed by the smaller-capacity vehicles, Pelle and Gunnar decided to buy another 4CV and convert it into a race car with a modified R16 Arne Berg engine. Following its debut in 1974, the pair became the team to beat in the Competition Altered ranks, defeating every American machine in sight.

British fans first saw this amazing little car at Snetterton in 1975, but the pair hadn't bargained on the might of that staple of British Comp Altered teams, the trusty Jaguar, in particular the one campaigned by a certain Barry Sheavills, known as Stagecoach.

After a move to an injected 454ci A/Gas Dragster produced a nondescript couple of seasons in 1977 and '78, Lee Anders Hasselström convinced Pelle and Gunnar (P&G) to take the Top Fuel challenge.

A year later P&G were proud owners of a new Kjellin Brothers chassis powered by an ageing iron-block Chevy. After breaking into the 6-second, 200mph zone, driver Pelle rolled the car on the short Mantorp Park track. Armed with another Kjellin chassis the team were soon deep into the mid-sixes. 1983 was a significant year. The team secured its first major sponsorship from Clarion Car Stereo and began clocking regular low sixes, eventually dipping to a 5.95sec.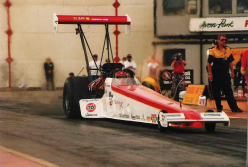 Helped by Jarmo Pulkkinen, Pelle purchased the ex-Dick LaHaie Miller Beer dragster, considered at the time the first 'real' Top Fuel Dragster in Scandinavia. With hired help from US Funny Car racer and tuner Gary Burgin, P&G Racing quickly became one of the European scene's most feared Top Fuel entries, leading the way with numerous national records and championships.

The tide turned again in 1991 with the acquisition of the ex-Kenny Bernstein Budweiser King dragster and came good in 1993 as Pelle dominated the class, winning four out of six races and the ETFA Challenge title. As reigning champions, the team was invited to Japan by the NHRA in 1994 and '95 to represent Europe against racers from America and Australia at Fuji, enjoying great success.

Over the next two years, however, further European success proved elusive and, with Pelle now suffering back problems, the pair reluctantly decided to retire the team.

It is for their achievements in rising from humble beginnings to the sport's highest international echelons, accomplished in a good-natured spirit throughout, that Pelle Lindelöw and Gunnar Elmqvist – P&G Racing – are hereby inducted into membership of the British Drag Racing Hall of Fame.

Pictures: Jerry Cookson collection

Warpspeed's engine offer.
9th July: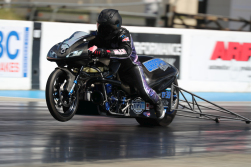 FIM Europe Top Fuel Bike racer Stuart Crane was testing a new turbo methanol engine combination from US engineer Dan Wagner at the Back on Track racer day on Sunday 5th July and kindly sent an account of the new setup and how he came to set quickest time and fatest speed of the weekend:

Warpspeed racing were testing the switch from a carburretored nitrous bike running a GSX EFE based engine to a methanol turbo set up with a 'new age' plain metal bearing engine platform, designed and manufactured by Warpspeed Racing. The complete engine was designed and manufactured and put together along with the turbo system and wiring all done in house. The injection system is also a one off set up all built in house . The bike utilises a Maxx ecu which is tuned and set up by Steve Nicols and Dan Wagner in the USA.

The bike has over gone a complete rebuild and had everything changed and to run 7.5 @ 189mph out of the trailer shows the quality of the build from the start. We later saw figures of 7.24/196mph into a major headwind on very soft set up, so we're hoping for some good results for the bike.

The complete engine packages are now for sale including turbo systems etc due to the testing going as well as it did . It was great to be back at santa pod, hopefully we will all be back to normal as soon as we can be. Many thanks goes to my sponsors MPM Oil and HEL Performance.

Davison upgrades Soper & Heck.
9th July: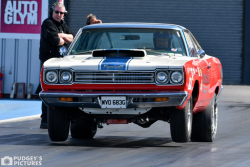 UK Nostalgia Superstock racer John Davison ran his Sox & Martin tribute-liveried Plymouth Roadrunner on Sunday at the Back on Track Racer day and it soon became clear he had upgraded the power train:

Since buying the car in 2015, I have run it in N/SS. Back then, there were only around 12-15 cars in the class, nowadays we have regular 32 car fields. Amazing...

I ran the car, until late last year, with a mild and very streetable 440. Best et with that was a 12.49, at the Hot Rod's last Sept. I'd been looking at going a little quicker (as you do...) and last winter installed a 589 mega-block wedge, new trans and a Dana 60 + Calvert suspension. The work was carried out, to a very high standard, by Dave Billadeau, although Tracey Rose painted the engine room and Tony Pearson built the cage.

Obviously, with the dreaded virus driving a coach and ten through the season, I was itching to see how the car went. On Sunday I finally got the opportunity, with the Pod's back on track weekend.

Having never driven anything faster than 12.49 in my life, I thought I'd ease myself into it. Went a couple of 11.3s, which felt quite comfy. On the third run I gave it a little more and a 10.74 was the result. Then had a bit of fun with Vic Parsons. I had Vic off the line but my old friend had me at the stripe (I went 10.64 to Vic's 10.33). Then a 10.56/125 to go home with. This, with a 40 mph headwind. Needless to say, I'm over the moon!

The car performed well, with no serious problems. I drive the car to the track (I only live in Rushden...) and run it through the mufflers.

I must say that it's all a little different from the late '60's, when I used to write the timing slips out at the ol' Pod. In those days, we used to get quite a number of USAF guys running these cars when they were brand new, albeit a little slower than today. Heaven.

Adams to return after spill.
9th July: It was good to see 8.50 Bike racer Paul Adams walk away from an unfortunate flip on Sunday at the Back on Track Racer day with his bike able to be pushed back across the startline. Paul has been in touch with his account of a weekend that didn't go quite to plan:

For the past 3 years, I've been competing in ET Bike with a PB of 8.75. This year I fancied having a crack at 8.50 bike, so fitted a nitrous kit over the Winter. Keen to try it out, I attended the Santa Pod Back on Track Days last Saturday and Sunday.

I made just one naturally aspirated run on Saturday and spent the of the day chasing niggles.

Sunday dawned and with a freshly filled bottle from the Pod Garage I headed for the line. Being a cautious sort of person, I'd lengthened the bike's wheelbase by an inch, taken a couple of teeth off the rear sprocket, added front ballast and resisted fitting the 100hp nitrous jets, instead taking 'just' the 40hp option. The light went green and the bike stood straight up, throwing me off. As I run a full slider and leave with a button, there was no chance of saving it. The bike set a new 60' PB with it's back wheel, with me following just behind. Luckily the bike was well gone by the time I landed face down on the track.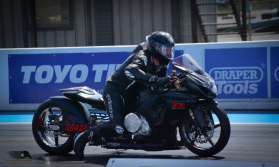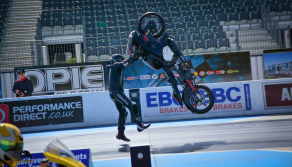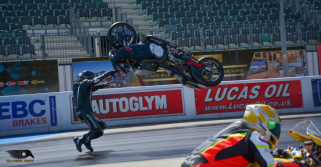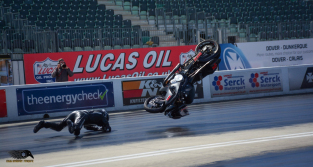 The start line crew were with me in seconds and the Medical and Rescue crews within 1 minute. After we'd established everything was still working, I stood up and walked to the Ambulance. Thanks to good leathers, I suffered just a bruised elbow and a stiff knee.

My thanks to the start line, Medical and Rescue crews for their help and everyone that sent messages. The bike suffer damage to fairings, handlebar, forks and the back wheel. I'm hoping to have it back together next month. Thanks to Mike Kraaij for capturing the superb photo sequence.

What have I learnt from the experience?
Santa Pod haven't forgotten how to prep a track
Their nitrous refills are quality;
Their track crews are even better; and
Progressive nitrous controllers are essential, not optional.
Cramo Nats live stream.
9th July: This weekend is the Cramo Nats at Malmö Raceway, Sweden's eighth mile facility. Whilst specatators are not permitted at the track, there will be a live stream of the event at srif.sewhich is also carrying footage from the No Prep Race held on 30th May 2020. Thanks to Luke Shakeshaft for bringing this stream to our notice.

Results will also be available at www.nitroz.se. Also, photos from Malmo's no-prep race are available at Nico Bremnes' Facebook page.

Norwegian update.
9th July: The picturesque Thunder Valle in Norway hosts an EDRS race on 11th-12th July organised by the Jæren Dragrace Club.

The EDRS series has now expanded to nine sportsman-only events in ten weeks, the EDRS Pro championship having been cancelled.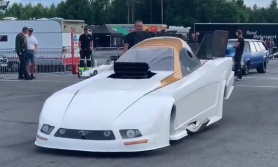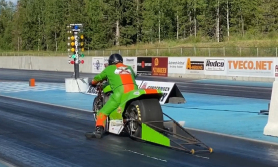 Meanwhile a test and tune session took place at Gardermoen on 4th-5th July. Celina Gran Hanssen (daughter of former FIA Top Methanol champion Fred Hanssen) ran her licensing passes in the Funny Car previously raced by Jason Phelps and Birgitte Bremnes, and now set up for Super Comp; you can see footage and photos from the weekend here. The link also contains footage of Jan Erik Norheim Klausen making licensing passes on his Super Twin bike. Thanks to Annelie Johnsen for posting footage

Swift snippets.
9th July: Our good friend Mike Kraaij was at Santa Pod Raceway shooting for Dutch Hot Rod Association and you can see his pictures on his Facebook page.

Our Kieran took some time out from crewing with Chris Todd, got on SPR's somewhat windswept bank on Saturday and took this video. He also caught some in-car footage of Chris's Subaru EJ20 powered Mk1 Fiesta. Kieran reported that 'Chris spent the day chasing problems with a misfire as well as trying to dial in the launch to get it to go straight. No new PBs this time (although close!), but still very valuable data was collected.

Friday's update due to be posted at noon will include a list of the 2020 British Drag Racing Hall of Fame inductees with full profiles. Be sure to catch up with the news of the inductees at Eurodragster.com.

JT's secret weapon unveiled.
7th July: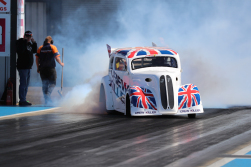 Super Pro ET racer John Tebenham, in his Crew Killer pop, says: Thanks for a great Sunday testing at the Pod. We all needed it and felt that much safer with all the Covid-19 safety measures in place. Well, as safe as you can feel in that wind in a little Pop! The track was awesome getting some of my best 60fts. Thanks to my secret weapon Paul Marston for his wealth of knowledge. We are coming after you Brian. I must say a sorry to the startline marshals as I kept on trying to run Bob over on the burnouts. If you're thinking of going this 11th July to the Back on Track Street Day I would if I was you as we had a blast.

JT adds he's after a powerful small block preferably Procharged as the current setup is not mad enough for him.

Storm Drag Bike's return to SPR.
7th July: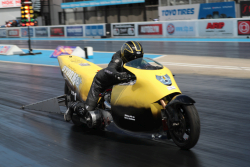 The Storm Drag bike team, headed by rider Lorcan Parnell and crew chief Mick Hand said: 'A successful day's testing for us yesterday at a very windy Santa Pod "Back on Track" day. It was good to see the team again and some of our fellow competitors, blinking in the sunlight as we gradually emerge from lockdown, and to get our first runs under our belts since October 2019.

A number of small issues were corrected during the day with the help of Mark Harrison from Horsepower Factory UK. First run was a launch and 2 seconds of power, the clutch pulled the bike through the beams for a red light and the turbo speeds were reading high. Second run the bike pulled through the beams again, left hardish with a little hesitation, 1.18 to 60' and shutoff at 2.5 seconds for a 3.05 at 330'. A hose had come off a wastegate causing a 50psi boost spike. The small turbo was saved by an rpm limiter we have installed to prevent it overspeeding. We fixed the hose and the turbo speed readings.

The third run was more controlled, another red light though, with a low (for us) 38psi launch and run shutoff at 1000' for a 7.27 @ 171mph, which was a the quickest run of the weekend at that point. Stu Crane later pipped us with 7.24/190mph on his new turbo bike being tuned remotely by someone in America, Donald Trump maybe? Who knows. Anyway, good work Stu!

We went to the startline one more time. It was completely empty but the bike would not start. Possibly a cam sensor failure or something simple but we called it a day.

Thanks to all the team that work so hard and to the Santa Pod crew for putting on the test days'.

Europeans in NHRA at Indy.
7th July: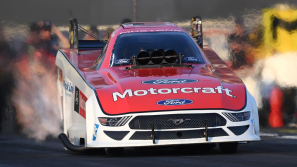 Nitro Funny Car driver Jonnie Lindberg returns to the driver's seat this week in Indianapolis behind the wheel of the Motorcraft/Quick Lane Ford Mustang Funny Car. This change follows driver and team owner Bob Tasca III's positive COVID-19 diagnosis.

Lindberg, 30, is a two-time NHRA Top Alcohol Funny Car Champion (2015-6) with six Top Alcohol Funny Car wins to his name, including at the U.S. Nationals in Indianapolis (2016). He is a regular in the nitro Funny Car ranks as well and is hungry for his first win in the elite category.

Tasca plans to return to the driver's seat after getting the go-ahead from his doctor. The NHRA Mello Yello Series continues this weekend, July 11th-12th, 2020, with the E3 Spark Plugs NHRA Nationals at Lucas Oil Raceway at Indianapolis.

Also entered for Indy is Lex Joon who will be racing his Strutmaster dragster in a field of 18 Top Fuelers, despite the non-entry for this event of John Force Racing. Based in Indianapolis, this is effectively Lex's home race. You can see a video interview with Lex here; Lex was also a guest on the WFO Radio Podcast and at Strutmasters with crew chief Lance Larsen. To see how our European heroes do at Indy go to Dragracecentral.com, or follow the race live on NHRA.tv (subscription required).

Want your own Funny Car?
7th July: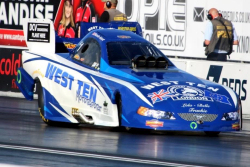 Kevin Kent's Funny Car is now on the Unusual Car Sales U.K. Facebook site for sale. Europe's quickest and fastest Funny Car is available as a roller for a bargain £20,000!

If you are interested in this superb opportunity then contact Keven Kent on 44(0)7496073855 or westten@mail.com or via the Unusual car sales U.K. page.

Also for sale as well as the usual variety of Hot rods, customs, yanks ,pick ups etc is Andy thetfords 67 Camaro ( roller -9k) ,Col laws outlaw Anglia ,Paul Watson's super comp Camaro , Mike Modurstang S Camaro and a gorgeous 41 willys coupe plus plenty more!

PBR TF Bike suffers breakage at test day.
7th July: Crew chief and engineer Phil Baimbridge explained the reason for the sudden stop and non-return of the PBR Top Fuel Bike and rider Al Smith on Sunday at the Back on Track Racer day. 'The cam belt broke at the hit (about 0.3 second after full throttle) on our first run attempt. Unfortunately we were running the original piston design with no valve cut outs, so we tickled the valves on #3 and mashed them on #2. Not repairable in the time we had available.

However everything turns and goes up and down as it should, the oil pressure was OK. The whole team travel from all over the country to run the Rocket, for which I'm very grateful - sorry for the disappointment. Thanks to Santa Pod for providing us with the opportunity to run and the track crew for making a great job of the track'.

Andy Frost record documentary.
7th July: From uTrack videos comes a 35 minute documentary on Andy Frost's record breaking runs at Bahrain last November.

Ever wondered how fast is the world's fastest street legal car and what it took to claim this record? Andy Frost, team principal at Red Victor Racing, is the man behind this world record. Five years ago, Andy decided to reclaim the record he once held. But to do that, he needed funding to achieve his dream.

With a goal in mind to break the five second barrier in the quarter mile in a street legal car and to reclaim the world record, the Red Victor 5 Second Club was created with over 500 members from all over the world. World-renowned race car tuner Shane T from USA joined the mission bringing his know-hows and experience to the table. With many failed attempts in the first couple of years, they finally managed to reach their goal in November 2019 by becoming the world's fastest street legal car in the quarter mile.

Malta back on track.
7th July: Konrad D'Anastasi of the Malta Drag Racing Association writes: Finally after the long 90 day break due to the Covid-19 pandemic situation, HAl Far Raceway has re-opened its doors. On 3rd July the third scheduled RWYB event for the MDRA 2020 calendar took place.

Konrad took videos of 102 runs and you can see a Youtube playlist of these at this link. The next action at Hal Far will be the rescheduled night race on 16th-18th July. Streaming coverage will be available on Facebook live and if all goes to plan, Luke Stevenson will be there commentating.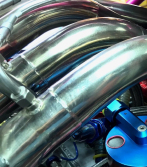 Spy picture.
7th July: This picture appeared in our e-mail box with the caption 'It's another thing for Dad but with slightly less wheels'.

If you know more, or if you would like to send your own spy picture, then drop us a line at editor@eurodragster.com.

Tower protocol at Back On Track days.
3rd July: As a result of government regulations regarding social distancing, there will be strict rules regarding who may enter the startline tower at Santa Pod Raceway at the Back On Track days to be held on 4th-5th July (Race Days) and 11th July (Street Day).

Apart from official timekeeping and safety staff, only two people will be allowed in the tower, announcer Luke Stevenson and Eurodragster.com editor Simon. Anyone wishing to talk to Luke or Simon should communicate with them electronically or arrange to meet at the foot of the tower stairs (spectator side). The track will be under scrutiny for its compliance with regulations, and breaches could affect future events.

Anyone wishing to read all the detail regarding the special rules in place to maintain everyone's health and safety at these events should review the Back on Track page.

Williams Bros locked and loaded.
3rd July: Many thanks to Williams Bros Racing and Eurodragster.com sponsor OCS Paint's promotional arm for an update on the team's representation at the Back On Track Racer Days this weekend:

Following on from our live reveal on Facebook a couple of months ago, this weekend sees the on-track debut of the latest creation from Williams Bros. Racing and OCS Paint. The final few little jobs have been completed and Keith Williams finally gets to see what his '55 Chevy can do on the 1/4 mile. From what was a field find (a barn find would have been in better condition) to the car you see here has been one heck of a journey but as all of the cars built in-house this car really does have to be seen to be believed.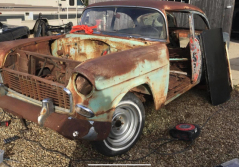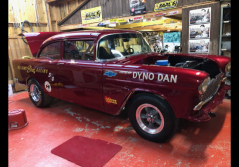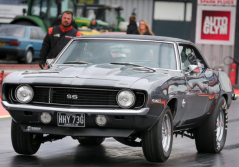 Nic will be doing the first few runs in the car then it will be Keith's turn to take to the famous Santa Pod strip. Engine is an in-house built 302 but Dan knows his stuff and has managed to get way over 500 horses out of the small block, so expect some very high revving and you never know, maybe a little wheelie or 2 but this car isn't set up to stand on its bumper. If you are at the track this weekend, please come and say hi and bring your camera...

Also back on track for the first time in three years is Colin Theobald with his 69 Camaro 'Bruce'. Another Williams Bros. Racing built and specified engine, this time a 454 built specifically for street and strip use but still punching out 615hp and 520ft/lb of torque. Bruce has had many upgrades over the years so we cannot wait to see how the car performs and can we improve on the current PB of 11.34.

We as a team are excited and extatic that we are back on track at last. It's been a long wait but we whole heartedly support Santa Pod Raceway, it's our home track and everyone there will always have our support. See you there.

Clarification.
3rd July: Following on from our story about John Tebenham's Pro Mod lightening work having been carried out over the lockdown, JT's secret weapon told us the weight loss related to JT himself rather than the car.

Whether the final result is an improvement or not can be decided by the reader looking at this image. We are thinking it looks a bit U6ly.

Crew killer back on track Sunday.
2nd July: Pro Modified and Super Pro ET racer John Tebenham has announced he will be testing on Sunday at Santa Pod Raceway's Back on Track Racer Day. JT commented "The best thing about having two cars is one is always ready to run.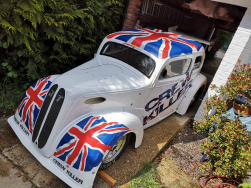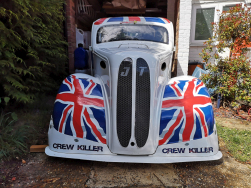 The blue Pro Mod car is having a complete engine rebuild so it's not quite ready. Luke (Robinson) said if we get weight out of it we can run 5.8s (maybe we've gone too far...) But the Pop is set for some mad burnouts. Thanks to Dan Goff and Luke Robinson for their work on the car. A massive thanks to Keith for being strong and keeping the Pod ready for us all to race again. See you all Sunday, it's been a while!

Eurodragster.com coverage for Back On Track days.
2nd July: Eurodragster.com will be covering both days of this weekend's Back On Track Racer Days on 4th-5th July. Simon will be brushing up his keyboard skills whilst Julian will be trackside and photographing for Custom Car magazine as well as for our galleries. Kieran will be present, albeit as a crew member with Chris Todd. Sadly Kirstie and Diana won't be able to be with us but we hope for a team return to the track when Covid-19 restrictions allow. In the meantime, you will be able to see our coverage which includes a live report and daily galleries by clicking here, or following the direct link on our home page.

FHRA testing, one-shot championship?
2nd July: Nitro bikes were testing at Finnish Hot Rod Association's Official Test & Tune weekend 26th-28th June at Kauhava, Finland. Covid-19 safety measures were utilised with a maximum of 100 teams allowed to take part and no more than 500 people per day at the event. Temperatures were baking hot with 31.5 degrees high temperature, 25% humidity and high barometric pressure.

Super Twin Top Fuel Bike Team Detonation with Vesa Lipponen riding and Jaska Salakari calling the tuning shots, ran 6.19 and 6.21 runs with nice 1/8 numbers at 3.94/ 194mph. Previously the team had been to Kauhava's test day on 23rd May where Vesa had a few nice runs and ended up with a stunning 6.01/216mph with half track times of 3.90/201mph.

Skull Racing's Samu Kemppainen with his V60 made five 6.7s runs in a row. Also, Mikko Rajaniemi got his Top Fuel Bike running well after a spill one month ago, with less aggressive clutch adjustment and more familiarisation being the priority.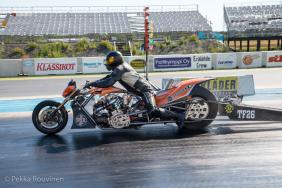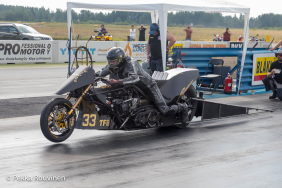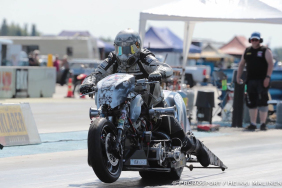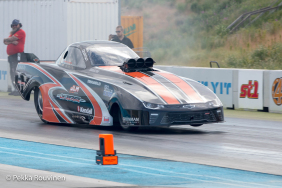 Clockwise, Vesa Lipponen, Mikko Rajaniemi, Johnny Oksa (all Pekka Rouvinen photos), Samu Kemppainen (Promosport/Heikki Malinen photo)

Also testing was the OK Racing Team Top Methanol Funny Car of Johnny Oksa with footage from our old friend Asko Määttä from Baldie's VooDoo Racing.

More video footage was posted courtesy of Power Speed Media. A number of photos were posted by Pekka Rouvinen and a 'cinematic cut' video was posted by Teemu Multisilta.

Three more races in Kauhava are planned to be held for general attendance on 24th-26th July, a FHRA Night race on 20th-21st August, and the FHRA Finals on 4th-5th September. All races are part of the EDRS series and it's hoped the Night Race will also include EDRS Pro classes as a 'one shot' championship race.

For 2021 the FHRA has consulted with its members and is considering some single day events over the eighth mile for street and nostalgia cars to reduce costs.

Refresh, renew, replace.
2nd July: During the shutdown due to Covid19 many people have taken the opportunity to refresh and renew their racing operation, ready to race again once the track opens. However, it also provided time for a rethink and complete change of direction for one racer. Martin Baldwin had his 1941 Willys ready to go this season, and had pencilled in meetings at which he hoped to get the Willys well into the 8's.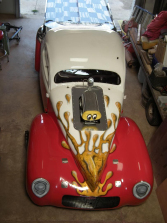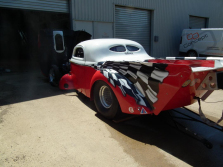 With all the spare time lockdown afforded, a cunning plan was hatched, and things set in motion to go faster and quicker than the Willys would allow. So the Willys is now up for sale, to allow for the new project to be completed in time to begin testing early next year. Details on the new project will follow soon, with a few pictures once sufficient progress has been made.

If you are interested in buying a great-looking 1941 Willys rolling shell for a very reasonable price, head to our Jeff Bull Race Engines-sponsored Swap Meet pages.

Swift snippets.
2nd July: We have a birthday on the team today. Many Happy Returns to Diana from Kirstie, Julian, Kieran and Simon, have a great day and we will see you soon!

Further to Tuesday's announcement about the cancellation of this year's British Drag Racing Hall of Fame Gala dinner, Director Robin Jackson has asked us to mention that any guests who happen to have requested room reservations could they please cancel them. As guests book rooms in their own names independently, BDRHoF is unable to cancel them on behalf of others.

Back On Track Racer Days Perfect Light Award.
30th June: £100 is up for grabs at this weekend's Back on Track Racer Days courtesy of Eurodragster.com and Bad Habit Racing.


This weekend's Eurodragster.com/Bad Habit Racing Perfect Light Award has been set to £50 per day. The money will be paid to the first racer on the day to record a Reaction Time of 0.000 seconds. Saturday and Sunday will be treated as separate events, so if no-one wins the money on Saturday, it will get rolled over to Sunday. The Perfect Light Award is available on all timed runs, but will only be awarded for the first Perfect Light of the day. The Perfect Light Award is presented in association with Cath and Tig Napier of Modurstang Pro ET team Bad Habit Racing.

Decals are not mandatory for the Perfect Light Award but we would appreciate it if Eurodragster.com decals are carried. Eurodragster.com decals are available in Signing On or from Eurodragster.com staff.

BDRHoF 2020 Gala cancelled.
30th June: Director of the British Drag Racing Hall of Fame Robin Jackson has issued the following announcement on behalf of the Board of Directors: The Directors of the British Drag Racing Hall of Fame regret to announce the cancellation of our 2020 Gala Awards Dinner, scheduled to be held on Saturday 21 November at the Oatlands Park Hotel, Weybridge, Surrey.

While UK pandemic lockdown rules are beginning to be relaxed, too much uncertainty remains for us to commit confidently to proceed with the occasion. It is not known, for instance, whether indoor, close-quarter gatherings such as ours will be permitted by November, nor whether international travel will continue to be restricted. In view of the preparation time and expense involved in staging the Gala, a decision could be delayed no longer. Therefore we see no option but to cancel for this year. It is our hope and expectation that normal service will resume in 2021.

In the meantime, nevertheless, we shall announce our 2020 membership selections as planned on Friday 10 July, when Dragstalgia weekend should have begun. Watch out for the announcements, with profiles of each new inductee, on Eurodragster.com and on our Hall of Fame website, www.britishdragracinghof.co.uk, and also in our magazine HOFtalk distributed among our members and supporters.

Editor's note: We would like to wish BDRHoF Chairman Stu Bradbury well, as he is currently poorly at home.

Flamholc wins in Atlanta.
30th June: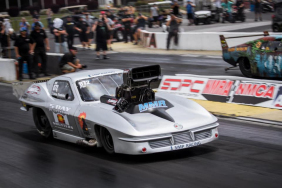 Congratulations to ex-pat Swede Adam Flamholc for winning Xtreme Pro Mod at the NMCA All-Star Nationals in Atlanta last Sunday in tricky weather conditions, with humidity and rain. Adam has been busy as he and co-driver Hank Stubbs attended the Summit Racing Midwest Pro Mod Series at St Louis on 20 June where Hank qualified no.2 with a 3.720/202.15 and then went 3.710 and 3.699 in the first two rounds.

In between events, Adam and the team worked on the car at Stubbs' Racing Shop in Morris, Alabama. Adam wrote: Our plan for the NMCA event was to head to Atlanta Wednesday, test Thursday, then qualifying Friday and Saturday. On Wednesday night it rained pretty hard overnight, and we made one squirrelly test run around noon on Thursday (3.774/202.27), but just after the run the track started bleeding up rainwater. The track crew have worked nons-top to try to get it dry, but racing was cancelled in the end.

Hank Stubbs hopped in for a few test hits, as the car's transbrake location was changed and he wanted to confirm the switch worked for him.

In qualifying on Friday, Adam took the wheel again and attained number two with a 3.79 which he improved in the early evening with 3.734/202.61 to go number one. The day wasn't perfect though, as Adam was accidentally hit by a fellow driver while he was standing in the staging lanes yesterday; fortunately he sustained no injuries and so was able to run in eliminations.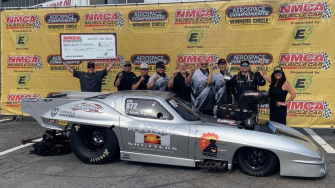 In the first round on Saturday evening, Adam had to pedal it as his '63 Corvette shook the tires hard and drifted right. He willed the car back into the groove with the front wheels in the air and was lucky enough to get the round win. Thirty seconds after the run, the sky just opened up and it poured down. On Sunday, a 3.85 bye in round two was followed by another pedalfest victory in the semi-final. As Adam headed to the finals, he changed the settings in order to try to make a cleaner run against fellow finalist Craig Sullivan. Another 3.85 was enough to defeat Sullivan's 4.05.

Adam said "It was tough conditions, but we got it done. I'm super proud of my crew, and really happy that my son Mattias Flamholc was here with us and pulled me up to the beams every run!"

Adam's next race with the 5-Day Plantation Shutters & Blinds/SMP Racing/Flamholc Racing Corvette is the ADRL Gateway Drags on July 10-11 at WWT Raceway just outside of St Louis.

RRC build gallery: Jaguar XJR-15.
30th June: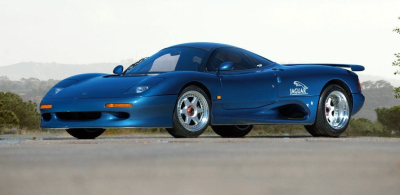 The fifth of our series of features showing photographs by Bob Roberts of the builds carried out by Eurodragster.com sponsors Robinson Race Cars covers construction of a customer's reproduction Jaguar XJR-15. The car's design was based on the Le Mans winning Jaguar and made by JaguarSport, a joint venture of Jaguar and Tom Walkinshaw Racing; and 53 originals were constructed. The build was ordered after TWR went into receivership using original body panels and cabin section with other components that were readily available.

You can see Bob's gallery in our feature in association with Lucas Oil Products here or go to our Features, Interviews, Tributes index via the main menu.

SPR suspend August events.
28th June: Santa Pod Raceway CEO Keith Bartlett has issued the following statement on https://santapod.co.uk/coronavirus.php August event suspensions: Further to the recent statements we have released regarding Santa Pod Raceway and its events calendar for 2020, we are again updating you on our current situation.

After further Government Guidelines announcements and regarding the COVID-19 pandemic we have had to make some more hard decisions regarding our events calendar for the coming month of August.

Our biggest event in the month of August is USC (Ultimate Street Car). This event contains a large amount of festival type activities with dance tents music and stages etc. As this area of our business is prohibited from taking place by current government legislation, we feel that USC would not be able to go ahead in its normal format as it has done over the last two decades. We have decided that we do not wish to attempt to put on a lower level USC event without the essential parts of the music and entertainment being involved as that forms a big part of the event for its customers.

So, we have reluctantly made the decision to postpone the 2020 USC event into next year's calendar on the same date. This decision is much the same as other event organizers and promoters where all major events and festivals have been moved to 2021. Another massive blow for us all.

We will be offering all of our advance ticket holders the opportunity to carry their tickets over onto the 2021 USC event or take a credit to the same value which can be used any time or event during the next 24 months.

We are now looking closely at the calendar of events for the whole month of August and beyond. Unfortunately, this also means that Das Auto Show, Monster Truck Nationals and the Junior Fun Day have also been suspended.

However, we believe we will be able to carry out some smaller specialized events and are working on ideas for worthwhile events for ALL of our fans, which is why we have the Greenlight Nationals event still "UNDER REVIEW". At the same time, we are considering a new event to cater for the performance and modified car scene; this would include many of the cars that run at the USC event. Further information will be announced shortly. As we have stated previously, we need every bit of support to be able to survive this crisis and to see us back in action in 2021. I would like to appeal to all of our customers with advance tickets - the best way of supporting Santa Pod and, in particular, the iconic USC event, is to roll your tickets over to next year. For that I would personally like to say a massive thank you in advance. Your support means that we can look forward to seeing you back soon.

Feature:1973 NDRC Silverstone International Drag Race.
28th June: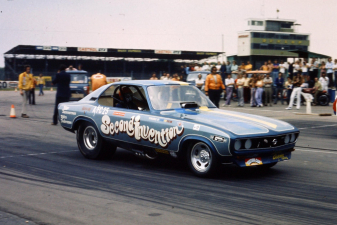 The first championship drag race at Silverstone Circuit took place in June 1973 and is the subject of our latest historic feature. The Club Straight had been resurfaced providing great traction, and cars from Sweden, Germany and a few driven by members of the US Air Force attended. Our historic feature with material kindly supplied by Jerry Cookson, Nick Pettitt, Neil Baskerville and others, includes the story of the event, why Silverstone stopped hosting championship drag races after only two years and three races and see more than 100 photos from a variety of sources.

You can see our feature, supported by Lucas Oil Products here or by clicking the features, interviews, tributes link from the main menu.

Photo of Björn Andersson in Second Invention Opel Manta FC courtesy Neil Baskerville (original photographer John Rudling)

Swift snippets.
28th June: Our trio of spy pictures in last Sunday'snews update come team DTC Racing, headed up by Thorsten Appel aka Scorpion, owner of Scorpion Motors in Wolverhampton. He says 'Way too much professional help was acquired for this build, thanks to Penn Autos namely Andy Frost , the Intergalactic Custom Shop run by none other than Wayne Allmann, and last but not least, crew chief Gary Frost, who kept me in check when my ideas were too ridiculously stupid, without your help it wouldn't be possible. We hope to fire up the car in the coming couple of weeks. And then dealing it in in a safe environment…'

FIA European Drag Racing Championship Season cancelled.
26th June: We have received an official announcement from Stuart Murray of FIA, which has been published on the FIA web site:

In light of the current COVID-19 crisis and due to its direct consequences, the 2020 edition of the FIA European Drag Racing Championship has been cancelled.

The original, five-round, calendar was due to start on the penultimate weekend of May at Santa Pod Raceway in the United Kingdom before moving onto Sweden's Tierp Arena for the event scheduled for early June.

The championship was then meant to resume with another event at Tierp in mid-August, before moving south to Germany's Hockenheim Ring two weeks later and returning to Santa Pod Raceway for the season finale in mid-September.

Following the cancellation of the first three rounds of the championships due to the ongoing pandemic, a decision to cancel this year's season was taken at the recent meeting of the FIA Drag Racing Commission.

With not enough events left to maintain the sporting integrity of the championship for this year, the commission was left with no other option than to confirm the cancellation of the 2020 FIA European Drag Racing Championship. Individual events may still be held at the discretion of their organisers, albeit as a non-championship or national competition.

Lars Pettersson, President of the FIA Drag Racing Commission, said: "We have to consider what was best for each of the championship stakeholders and make the responsible choice. Unfortunately, this championship has been hit hard by the ongoing pandemic".

"Drag racing faces challenges that other FIA disciplines do not. Given that our events cannot go ahead in wet weather conditions, proposing autumn dates would mean an increased risk of further cancellations. Similarly, holding events behind closed doors is also not an option for our venues, as they rely on the income from ticket sales".

"Last but not least, we have to be mindful of our competitors who in the vast majority are self-funded. Having consulted with the teams involved in the championship, we believe that it is in their best interest to allow them to regroup and use the resources saved this year to come back stronger next year, contributing to a healthy and competitive 2021 season."

From swamp to drag-strip, Melbourne lives!
26th June: Mark Nightingale, media contact for Straightliners Media Team writes that a major milestone in the upgrading of Melbourne Raceway was passed three days ago:

Trevor Duckworth, founder of Straightliners Events and the UKTA embarked on an almost, some would say, laughable project to save an iconic drag strip on a farm in Yorkshire. This project would attempt to not only gain ownership of running events at the farm...but raise £100,000+ to lay a new ¼ mile track, and the money had to be raised in around 8 months to make this project actually become a reality.

So on the 27th June 2019, one logo and a Facebook page later, The Save Melbourne Raceway project begun, after considerable meetings with the land owners (absolutely incredible people allowing this to continue on their land) Trevor or "The Bishop" as he is known within the racing fraternity, sealed the deal on the basis he could raise the money and prove the project had legs, especially as this had been attempted before but for many reasons unfortunately the project collapsed.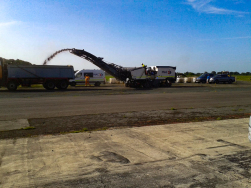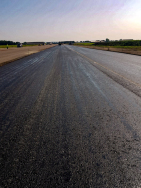 A meeting at the venue was booked for 3rd and 4th August 2019 and to be run on a very short part of the existing track to gather interest and to prove the racing community still had the desire to race at this iconic venue. The event went down a storm and what has happened over the past 12 months has been nothing less than remarkable.

A community of drag racers and motorsports enthusiasts soon caught wind of the project thanks to the wonders of social media, within literally days the Facebook page reached over 2000 followers and the racing community raised its head amidst the negative keyboard warriors and the haters something amazing was happening, the community just kept on pushing nothing but positivity and with the Straightliners Crew and media team managing the project in the early stages the project was simply put forward as a fundraiser and nothing more, no promises, no expectations other than, raise the money and we can save the track. Well, as you can imagine soon the passion, decades of memories, children now adults and loyal racers got the bug and the fundraising began.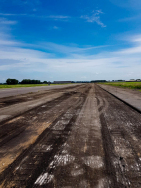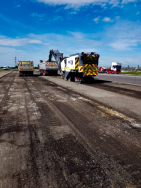 Calendars, t-shirts, raffles...the list goes on. Straightliners had a "Totaliser" put on a dedicated page ( https://melbournedrag.racing ) so the donations could be seen and targets reached. The project floundered a bit around £40k but some fresh enthusiasm from the community and another push from the community drove the target forward and closer to its goal.

Well to cut a long story short, early in 2020 before the dreaded "lockdown", the £100k was surpassed and despite the hardships the Uk was facing everyone who had pledged money stepped up, people dug deep and the next stage was to look at working at the site. On Monday 22nd June 2020 Trinity Surfacing & MAC Planing who have some extremely expensive and unique resurfacing equipment roared onto the site and began work, operating the machines literally from dawn till dusk, what they achieved is just unbelievable. By Wednesday 24th June the new ¼ mile strip had been laid and the final topping on the cake has been laid...Melbourne Raceway lives!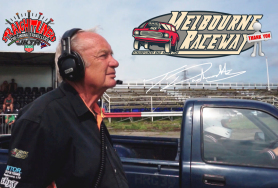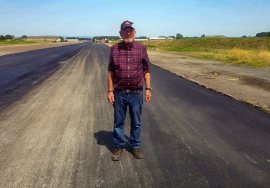 Straightliners Events / UKTA has rights to the venue for the next decade, a community like no other stepped up through adversity and hardship and proved the love for racing in the Uk while venues are being closed by noise complaints and property developers is still as strong as ever and this community was not going to allow the hands of mother nature to reclaim this strip just yet. The fresh smell of brand new tarmac still lingers and one of the most dedicated and hard working men in drag racing and landspeed records in the UK who will reach 8 decades on this floating ball in space some time soon, a man who has spent most of his life removing thee red tape so people like you and me can go racing, from all skill levels and abilities, now stands at the beginning of a runway grinning like a Cheshire cat, proving there's still life in the old goat yet. And what's more, the simply incredible community who raised this money stepped up and supported this cause, believed in the opportunity put forward, believed in Trevor and shut up each and every one of you negative nancies!

Long live Melbourne Raceway...now who wants to go racing?

Back on Track camping arrangements.
26th June: We can report that in line with the latest Government announcements on camping (published 23rd June), Santa Pod Raceway have announced if you are planning to race/crew both days over the weekend for the Racer Days on 4th-5th July, you will now be able to camp overnight on Saturday only. However strictly No camping or overnight stay is available for single day drivers/crew, or for the Street Tyre day on 11th July. Full details of the requirements are available at rwyb.co.uk

Swift snippets.
26th June: Episode 7 of the Santa PodCast has as its guests this week the man who has done it all, Funny Car, Dragster, Altered, you name it, Gary Page has done it. He's along side the Gladiator Jason Phelps. As usual. the show is presented by Colin Theobald & Luke Stevenson with SPR CEO Keith Bartlett. You can watch tonight's episode by clicking here.

In the seventh part of his autobiographical blog 'Golddigger to Drag Nuts', John Hunt describes a trip to the USA in 1989 to explore options for working in the sport. You can read John's blog by clicking here or going to the Race Blog link on the site menu.

Drag Racing historian Nick Pettitt has posted many more videos to his Youtube channel this week. UK drag fans will be interested to see Pelle Lindelöw, Gunnar Elmqvist and Janne Rosqvist race their Renault 4CV in Junior Comp Altered in England for the July Internationals in 1972 and NDRC Tor Line International at Snetterton in September 1975.

Our Kieran has also been busy with Youtube. His Mk1Kieran channel has a compilation of highlights from the Retro Show 2012-19. Kieran says 'Retro show is an event that traditionally takes place on Fathers Day at Santa Pod Raceway. This is one of my personal favourites purely for the variety of stuff that attends as it's open to anything built prior to 1995!' Also posted is highlights of the 2015 Maltese Drag Racing Association Finals at Hal Far Raceway. Kieran says 'this event always attracts big attendance numbers in both racers and spectators to close the season in style. 2015 was the last time we competed in Malta with Fraudster before it underwent major surgery at Ladmu Chassis. It was a bit of an odd one too as there was high levels of dust on the strip which was a big safety concern so the event was postponed midway through and resumed two weeks later in early December'.

NitrOlympX: 2020 cancelled, new date for 2021.
23rd June: NitrOlympX PR Christine Calwer has kindly sent us the following sad announcement about this year's event:

This year, a traditional Hockenheimring highlight that is popular with fans and participants alike will be cancelled for the first time in 34 years: the NitrOlympX (28th-30th August) have been cancelled this year due to the coronavirus crisis. As the organiser of this event, we, the Hockenheim-Ring GmbH, have been trying for a long time to find an alternative autumn date, but in light of the decision made at last week's State Conference to extend the ban on major events until at least 31st October, we must now announce the cancellation of the drag-racing-event for 2020. Whilst current regulations for Baden-Wuerttemberg with the exact details of bans on large events and the much-cited exceptions are not yet available, there is no doubt that cuts in size and quality to the NitrOlympX would be significant. Our experience over the last few weeks has shown that short-term changes to the coronavirus situation and the corresponding official requirements make concrete or even timely planning impossible for us as organisers, as well as for all teams and participants, some of whom are also affected by strict travel regulations.

From an economic point of view, audience restrictions or a complete lack of audience would mean lost revenues, which are urgently needed to make events successful and run smoothly. The high costs involved make both the Bosch Hockenheim Historic and the NitrOlympX economically unsustainable this season. This fact is all the more important in 2020, a year of crisis, that will present Hockenheim-Ring GmbH with major financial challenges.

The NitrOlympX are known for their open paddock, their unique atmosphere and the opportunity for fans to get up close to the action. Protective measures and restrictions mean the event would lose much of its special characteristics and charm. This is a situation that the teams, participants and we as organisers would not be able to adequately compensate for, which would disappoint all participants and visitors. We feel obliged to our fans and partners to acknowledge this.

We do have some good news. A new date for next season has already been found: NitrOlympX: 20th–22nd August 2021.

RRC Build gallery: Danny Pike's VW Type 3.
23rd June: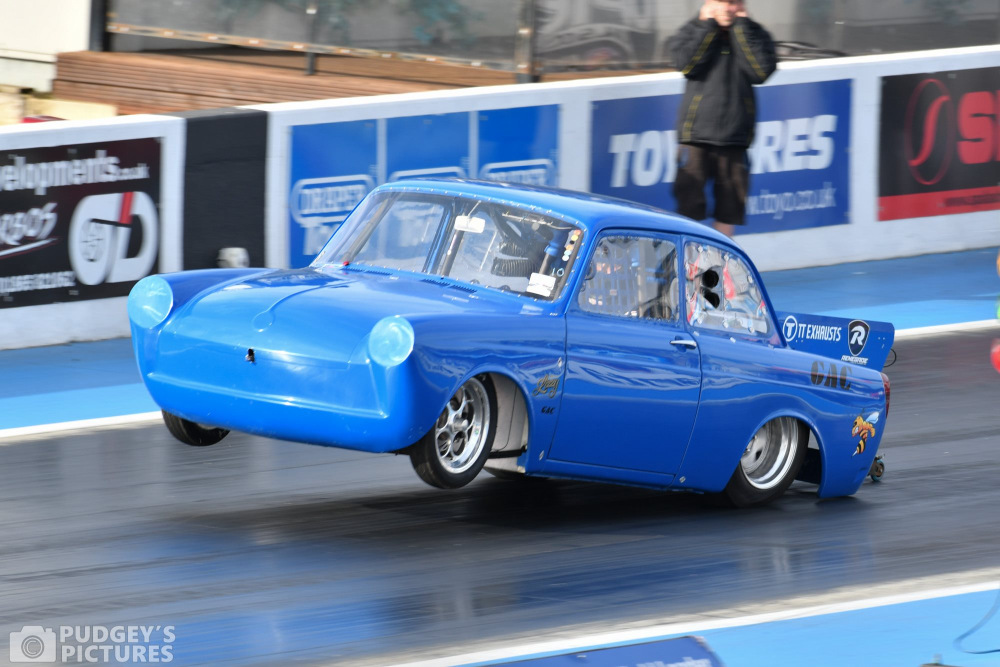 The fourth of our series of features showing photographs by Bob Roberts of the builds carried out by Eurodragster.com sponsors Robinson Race Cars covers construction of Outlaw Flat Four racer Danny Pike's VW Type 3 notchback which has a full tube chassis and turbo engine putting out around 600hp. It will return with Danny's sights firmly on the eight second bracket.

You can see Bob's gallery in our feature in association with Lucas Oil Products here or go to our Features, Interviews, Tributes index via the main menu.

Picture © Callum Pudge

Acute installation.
23rd June: Acute Angle racing team, Paul, Steve, Somer and Pam Dale, have just installed a freshly built Methanol injected supercharged small block Chevy into their little Anglia.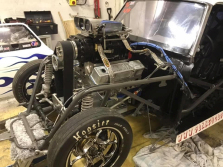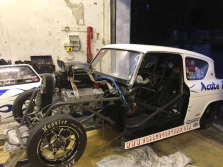 Paul would like to say a massive thanks to Aaron and Mark Windridge for not only building him a superb motor, but also for lending him the use of his workshop to get the new power plant in, up and running. Thanks also to Dave 'Ozzy' Osbourne for the lLoan of some headers so it could be run up and tested at the time.

Paul is booked in at the first test meeting at Santa Pod Raceway on 4th July to try to get to grips with the new set up, it certainly should be entertaining.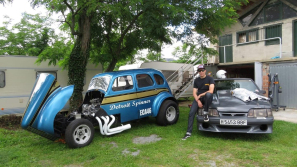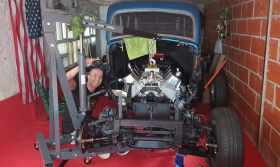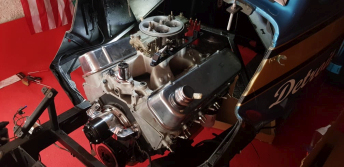 Also over in Barcelona, Pep Xampro has installed a freshly built 496 big block Chevy into the Detroit Spinner Prefect, along with treating himself to a new tow vehicle, ready to pull it back to the U.K. ASAP for some test runs.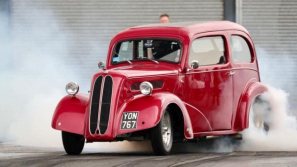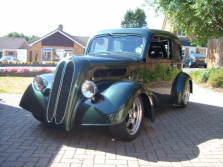 Meanwhile...Unusual Car Sales U.K. has over 300 hot rods, Yanks, custom and drag cars listed this month! Included are two street legal Outlaw Anglias, Paul Watson's Camaro , the legendary Steve Pateman Street Eliminator Calibra and much more.

Andy Willsheer's Hockenheim.
21st June: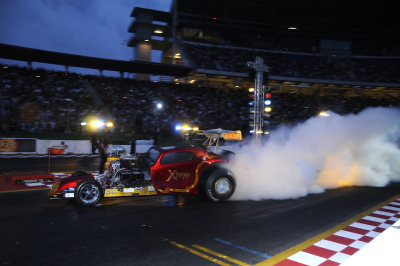 Racers and fans who have attended the NitrOlympX at Hockenheim each August for the last 34 years will have felt its unique atmosphere from the sheer size of the facility (large yet at the same time intimate) and Saturday's Night Show (hugely entertaining and 'out-there'). Records have been set, competition is cosmopolitan and fierce and at the same time there is something unique about this showcase event in the sport in Germany.

Noted photojournalist Andy Willsheer, who has attended many of the NitrOlympX events, kindly supplied a feature describing his thoughts and distilling the Hockenheim Experience. You can see Andy's feature illustrated with a gallery of over 40 photos ,and supported by Lucas Oil Products, at here or click on the Features, Interviews, Tributes link on the main menu.

Spy picture.
21st June: Today we once again have a trio of spy pictures from a single source. The intruiguing write-up says 'It's a street-legal car for use in various classes. The main goal for it is to run the Stockholm open, Street Week and door slammers. If it can fit into another class it might be given a shot'.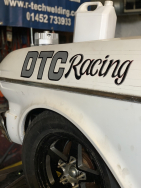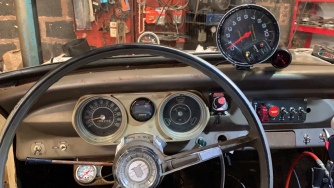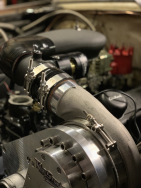 If you know more, or if you would like to send your own spy picture, then drop us a line at editor@eurodragster.com.

Swift snippets.
19th June: In the sixth episode of the Santa Podcast, stories from on and off the track are related by Nick Good from Nick Good Motorsport and Eurodragster.com sponsor Nick and Dan Williams of Williams Bros racing. Nick, Nic and Dan are hosted by Colin Theobald, Luke Stevenson and SPR CEO Keith Bartlett. You can see all episodes of the Santa Podcast on Youtube.

The Mad Welshman has updated his Flickr gallery with 378 photos from the 2009 drag season including shots from Santa Pod Raceway and Shakespeare County Raceway. You can see Mad's photos at his Flickr site.

SPR back on track.
19th June: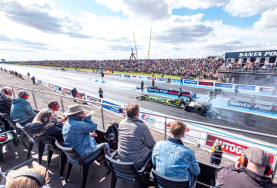 British drag racing roars back to life next month with Back On Track at Santa Pod Raceway, two individual days of track action for racers on Saturday 4th and Sunday 5th July (Racer Days) and a third day for entrants running on treaded tyres on Saturday 11th July (Street Day). All three events, naturally, will be conducted according to the government's lockdown guidance.

Each meeting will be held behind closed doors, admitting no spectators. On each Racer Day the attendance list will be limited to just 100 pre-booked entries. A paddock area accustomed to hosting 300 teams and their transporters will enable bespoke, enlarged pit bays to accommodate social-distancing requirements. The dragstrip surface will be prepared to full race standard.

A Racer Day entry fee of £150 per day will admit a driver/rider and vehicle, with the option of up to five crew members at £20 a head. Each entry and all crew members must be booked in advance in a single transaction; none will be allowed on the day. Both Racer Day events are open to cars and motorcycles using race tyres only. While vehicles may be left overnight, all personnel attending both events must vacate the premises and return next day. There will be no camping, and temperature checks will be carried out on arrival for the safety of all attendees.

Both Racer Day events will be live-streamed on Santa Pod's YouTube and Facebook channels.

Street Day arrangements will be similar, but a £50 driver/rider fee will apply, again with the option of adding five crew members at £20 a head, all booked together in advance. Only treaded street tyres will be permitted on the track.

Hygiene safety measures will be observed, with hand-sanitiser stations located throughout the venue and regular hand-washing encouraged. Limited retail and catering facilities will be equipped according to required standards.

Full event information, detailing all the Racer Day and Street Day requirements and regulations, is available at www.rwyb.co.uk/backontrack.php and tickets may be booked, first-come, first-served, at www.santapodtickets.com.

The UK drag racing season was due to begin at Easter, with racers already eager for action after a long winter's break from the track. By now, Santa Pod should have hosted three national championship events and the opening round of the FIA/FIM European Championship series, plus its regular programme of modified car shows, specialist festivals and public track days on every intervening weekend. Despite their Covid-imposed restrictions, the Back On Track Racer Day and Street Day events respectively offer racers and RWYB entrants on two and four wheels a precious opportunity to test, tune and match race for the first time this year. It has been a long time coming, but drag racing is at last heading Back On Track.

Elvington drag race is on.
19th June: Straightliners director Trevor Duckworth has announced that Straightliners have secured Elvington for a two lane drag race event on the 11th and 12th of July. As you will know Drag Race events are very rare at Elvington. This will be a pre entry event. There will be no entries on the day and if the organisers have insufficient entries to make it worthwhile as a two day event, it will be run it as a single day. Elvington noise regulations will be in place with a 105db noise limit.

There will be no public at this event, if you entered the event at Dakota on 18th July, which is cancelled, you can carry your entry over towards Elvington or get a refund.

Eurodragster.com would be grateful if any racer with a camera could supply pictures for publication. Pictures may be sent to editor@eurodragster.com.

Scandinavian update.
19th June: There was a race at Kjula Raceway, Eskilstuna, Sweden last weekend, the Mälardalen Open 2 Blacksmiths Nats 1. We've a few photos to show. The race was attended by Time-Tree and results can be seen at dragracing.eu. Although the race was unable to be run through to completion with only one round of eliminations taking place, the track recorded 784 time slips and qualifying was completed for the 122 racers taking part.

Notable performances in the Test & Tune were from Comp Eliminator race Gideon Liljegren (7,695/185.30), other seven second runners were Pro Street racer Johan Hedman (7.7689/173.63) 4 to 6 Pro racer Kristian Sjöberg (7.9716/171.75) and Super Pro ET racer Johanna Granholm. Stefan Flodell, he of the Dog Catcher '56 Gasser was also testing. Photo galleries of the event have been posted by Henrik Lindberg Photography, Micke Falk Photography, and Chrisfoto.se.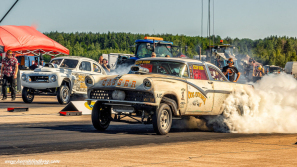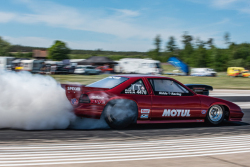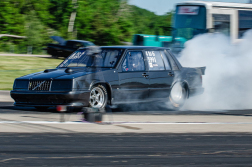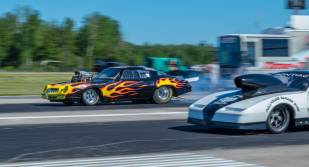 Clockwise: Stefan Flodell (Henrik Lindberg photo), Gideon Liljegren (Micke Falk photo), Micael Noren vs Johan Hedman (Chrisfoto.se photo) and Kristian Sjöberg (Micke Falk photo).

Future events occuring in Scandinavia in June and July (all subject to Covid-19 restrictions and with no spectator attendance allowed) are:
FHRA Test n´ Tune Kauhava, Finland 25th-28th June
Test & Tune at Hudik Raceway, Sweden 26th-28th June
No Prep race Malmö Raceway, Sweden 28th June
Junior Dragster/Drag Bike race, Malmö Raceway, Sweden, 4th-5th July
Cramo Nats, Malmö Raceway, Sweden, 11th-12th July
Test & Tune, Mantorp Park, Sweden, 15th July
J-Trading Junior Day, Kauhava, Finland 18th-19th July
Mantorp Drag Revival, Mantorp Park, Sweden 23rd-26th July
We will place links to results and photos for any of these events so stay tuned to Eurodragster.com for the latest news.

Firestorm build pics, in-car vid.
19th June: The Firestorm jet funny car team of Roger Goring have updated their website www.firestorm-jfc.co.uk with a 'step by step' on the build of the latest incarnation of the popular car.

And whilst we're on the subject of Firestorm the in-car footage from a run that Roger made at the Euro Finals 2019 gives you an idea of what the driver of a jet funny car needs to do, and how incredibly quick his reactions are. You can see the video by clicking here.

Swift snippets.
19th June: In the sixth part of his autobiographical blog 'Golddigger to Drag Nuts', John Hunt describes organising the 'Ace of Clubs' indoor charity Dragster and Custom Car show in Farborough in collaboration with the National Street Rod Association, and National Street Van Association. A lot of organisation was involved and video of the show has been posted to Youtube. You can read John's blog by clicking here or going to the Race Blog link on the site menu.

As an addendum to our analysis of UK racers earning NHRA Wally trophies listed in yesterday's news, we should note that ex-pat Brit Tony Morris won a Wally in Super Comp, and Mike Manners won in Top Alcohol Dragster at the 2010 NHRA Finals.

We wish our friends in Sweden Glad Midsommar. We'll race again...

UK Wally winners.
17th June: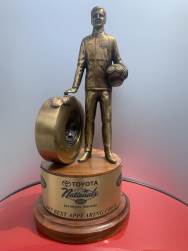 A question posed by Outlaw Anglia racer Colin Millar in last Friday's Santa PodCast was: who from the UK has been presented with an NHRA Wally trophy? A little research by Colin later revealed that in addition to Colin, Al O'Connor, Wayne Saunders and Dave Wilson and Eurodragster.com sponsor Nic Williams have all been presented with an NHRA Wally. Al O'Connor, of Al's Gasser fame, had one presented by NHRA founder Wally Parks himself in 1988.

Here is a list of UK racers to have won Wally trophies, with the event, track and category for which they won it:
Al O'Connor: 1988 Keystone Nationals, Maple Grove Raceway, Reading, Pennsylvania - Special Appreciation Award.
Wayne Saunders 1999 NHRA/IDRC Finals, Auto Club Raceway, Pomona - Pro Import winner.
Dave Wilson, 2004 NHRA Lucas Oil Drag Racing Series, Southwestern International Raceway Tucson Top Alcohol Dragster champion.
Colin Millar, 2015 Mellow Yellow Toyota Nationals, The Strip at Las Vegas Motor Speedway, Best Appearing Crew.
Nic Williams, 2018 Chevrolet Performance U.S. Nationals, Lucas Oil Raceway at Indianapolis. Edelbrock Never Rest Performer of the Race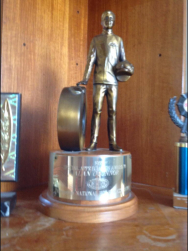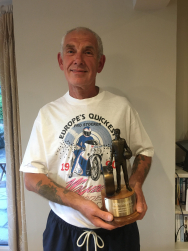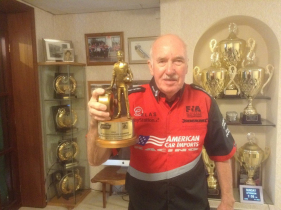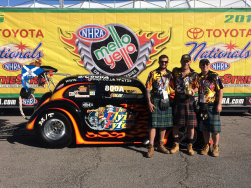 Clockwise: Al O'Connor's Wally, Wayne Saunders, Dave Wilson, Nic Williams (centre) and Colin Millar and team Flyin' Fyfer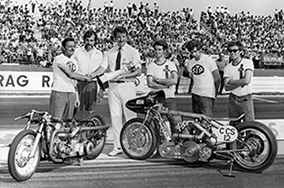 Wally trophies being won by UK teams started almost 20 years after the first UK racers made the long-distance trip to compete in the NHRA. In 1970 bike racers Dennis Norman, and team Pegasus (Derek Chinn, Mick Butler and Ian Messenger) attended the U.S. Nationals to receive a Long Distance Award (pictured left); in 1973 Dennis Priddle and Clive Skilton were at the NHRA Winternationals in Pomona, Clive going on to be runner-up in the 1977 Springnationals, and in more recent years, multiple European Champions Andy Carter and Rob Turner raced in the NHRA, but all competed at an NHRA event without earning a Wally.

Moving across to the then-rival IHRA, Al O'Connor won their Iron Man trophy for becoming IHRA Super Gas overall champion in 1992, Steve Warner earned one in 1994 and Tony Guy in 1995 for being respective IHRA UK National Champions.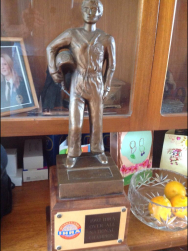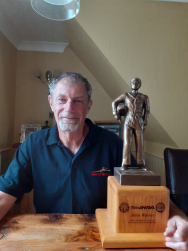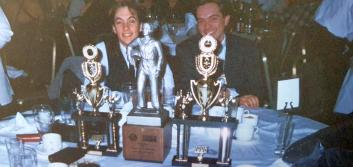 Left to right: Al O'Connor's Iron Man, Steve Warner with his Iron Man, Ray and Tony Guy

Thanks to Colin Millar for research also to the racers involved for photos with their trophies.

Nostromo jet truck allowed out.
17th June: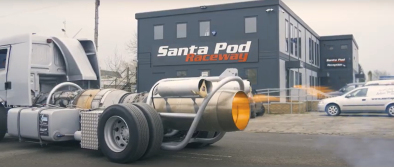 Prospective jet truck racer Sammy Tosuner from Germany, who is the former managing director at MZA Lukau raceway and has previously run a '57 Chevy jet funny car which suffered a fiery demise, has published details of his new Nostromo jet truck that he calls 'Europe's strongest racing box'.

The truck, named Nostromo was based on a circuit racing model rebuilt by former European champion Gerd Körber (Bickel-Tuning) and adapted in England for use as a jet truck dragster to run over the quarter mile.

The engine is a Rolls Royce Avon 301R from a BAC Lightning F3 intercept fighter aircraft, the same model of engine later being used in the Avro 698 Vulcan Delta wing bomber. The F3's 301R engines allowed the aircraft to reach Mach 2.0 service clearance (2,450 mph)...

Since this engine provides extreme power (which of course goes with significant fuel consumption) we have a tank capacity of 2 x 600 ltr. Jet-A1 fuel on board for max. 3-4 minutes of operation time.

The passenger cell is made out of carbon fibre / aluminium composite with a safety cell and internal fire extinguishing system. And yes, the truck is a two-seater! The tyres are Goodyear semi-profiled special racing tires for high-speed use. The braking system comprises a double brake parachute system combined with a 4-disc racing brake system.

Overall the truck weights approx. 3,750 kg race ready, and fully fueled with two people on board. The performance from a maximum power output originally of 64,000 hp limited for testing and the first year of racing with only one (instead of two) afterburner stages is approximately 50,000 hp Expected performance is a terminal speed of 250mph or more after 402 meters.

Sammy says 'Now we're all slowly becoming fidgety with three days left before testing. After we load up it's off with the jet truck to Peenemünde Airport along the Baltic Sea for the first Nostromo test. After lots of experience with Jerry Lackey and many runs of jet funny cars and dragsters and watching extensive video footage of our visits to England, we should be able to start Nostromo without any problems. However, if we spot any technical pitfalls or sudden mechanical inconsistencies in Peenemünde we know exactly to whom we owe this!

With tense nerves, two of our jet team crew (Florian Klauck and René / Neu Mi) checked everything so far visible on Nostromo today, tightened the loose tank clamp for the main fuel pipeline of the afterburner, the loose relay of the afterburner attached to the frame; mounted the two GoPros, mounted the seat, marked the control panel in the cab; repaired the air pressure braking system, and told me we are ready to load. Here we go!

Since we are not only allowed to test in Peenemünde but also in a music video, we loaded our Harley & Big Dog today to shoot this weekend so please keep your fingers crossed for us that the weather is playing along too.

From today onwards there will be announcements about the status of our test weekend on in Peenemünde and if you happen to be there, you can also watch a little Rock 'n Roll'.

Nostromo's static test from 2019 can be seen here, in a somewhat unexpected part of Santa Pod Raceway...

VWDRC Golf in Zambia.
16th June: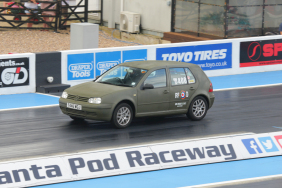 VWDRC racer Pawel Saroch has been in touch to tell the story of how his Golf has been shipped to Africa for a new life:

I started racing VW Sportsman with the VWDRC. Having always been interested in WW2, I decided to paint the car up and give it the insignia from a fighter plane flown by the RAF's Polish squadron (due to my part Polish family roots).

The car was also my daily driver for work too so when I decided to buy another VW Golf from fellow racer Simon McGee that was already caged, a fellow employee heard I was selling my Golf. Alex Chanda also has an interest in WW2 as his father (a Lance Corporal in the Northern Rhodesia Rifles) fought alongside the British throughout Africa and also into Italy. We agreed a deal for the car and a load of parts and chatted the rest of the shift about the car and about WW2.

The car made the long journey to Africa and was collected by Alex's son Christopher who is a keen mechanic and already has his plans for the car now that it's in its new home in Zambia. I don't know if they have drag racing in that particular area of the Africa, the car is retired and will be used as a daily driver.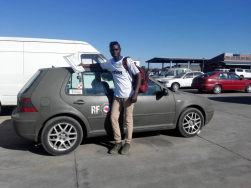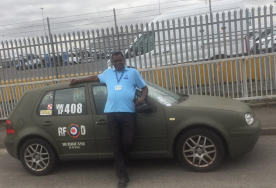 It was only a short career for her, seven events in total, but she did win the 2019 Summernationals event in VW Sportsman. But maybe if I send them some drag racing videos or links to live Santa Pod events, who knows, maybe they might find somewhere for the the car to race again.

I would like to thank Simon McGee for selling me his car, Simon Blackburn of VMS Racing Wheels and 32 Speed Shop for his help currently with getting my wheels and parts, and the whole VWDRC class as several have given me help and advice.

Get well soon Nige!
16th June: We would like to say Get Well Soon to Nigel Fitzmaurice, former Nitro FM DJ, current Phoenix 98 FM presenter/producer and ambulance driver, who is laid low and on a respirator with Covid 19.

Nigel's partner Lisa Oldershaw has been supported by members of the drag racing community and colleagues. Although Nigel has a long road to recovery, Lisa will be visiting him and messages of support via his FB account will be much welcomed.

Zerbst steps up.
16th June: Having already hosted two test and tune events during the pandemic, Zerbst Airport in Germany will be holding a German FWD Shootout on 27th-28th June, starting at 10:00 on Saturday 27th and 13:00 on Sunday 28th. The event will be supported by European FWD, European Drag Race List and organised by AMC Desau.

The following conditions are being made in order to race:
A maximum of 70 drivers per day.
A maximum of one accompanying person per driver.
Only registered persons are allowed to enter the site.
Online registration is mandatory. Tickets are available in the online shop , only while stocks last . Booking is possible until 8 p.m. the previous day.
Signing on takes place at the entrance to the site. All necessary forms must be submitted / filled in there.
A minimum distance of 1.5m must be observed.
Parking the vehicles in the paddock should be at a distance of 3m from the next racer.
No catering is provided, and self-catering is expected.
All persons must have their main residence in Europe.
For the time being, admission is not possible for viewers.
Registration is available until June 21, 2020 at Facebook or e-mail blacksheepracing@web.de.

Swift snippets.
16th June: A big Happy Birthday to fuel altered pilot and land speed racer Ron Hope, who would have been racing in Rat Trap at Dragstalgia if it were not for the disruption and suspension of racing in the UK. Drag racers are known for their patience, Ron, so we look forward to seeing you next year! For a short celebration of Ron's achievements, click here.

Kieran's latest Youtube videos cover two popular classes. The first is Jets. Kieran says 'Jet Cars are often seen at big Santa Pod Raceway events to entertain the grandstands that are packed full of spectators. At last years Easter event 'Festival of Power' where we were treated to Fire Force running a team of 4 jets, Roger Goring's Firestorm, Split Second, Reign of Fire Mini Jet Car and The Oklahoma Willy Jet Bus for good measure. There were a few match races over the 1000ft as well as single full 1/4 mile runs. Here's a few clips I've filmed over the years of all things jet powered including a shopping trolley!' Kieran's jet compilation is here.

The second of Kieran's compilations is a European Gasser Drag Racing Compilation. Kieran says 'The Gasser Circus which formed in 2003 is a nostalgic race series that celebrates the cars of the legendary 'Gasser Wars' in the 1960s. The Gasser Circus clan attend around 4-5 events per year at Santa Pod Raceway most notably 'Dragstalgia' where you'll see 20+ in attendance including entries from other countries. I personally love this class for the variety that it brings, the paint jobs and the overall nostalgia that provides entertaining passes. You can see the Gasser compilation video here.

RRC build gallery – Kev Slyfield's '56 Thunderbird.
15th June: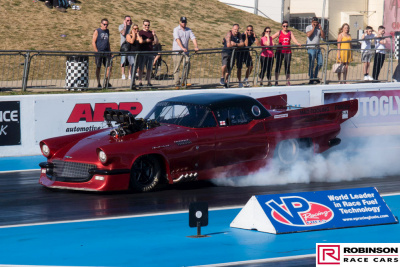 The third of our series of features showing photographs by Bob Roberts of the builds carried out by Eurodragster.com sponsors Robinson Race Cars covers a well known car which has been part of the Motorsport UK Drag Racing Championship for five years – Kev Slyfield's '56 Thunderbird.

Bob says 'This car had a long gestation period starting in 2010 for one customer and ending in 2014 with another customer – Kev Slyfield. Kev has of course had significant success in the car including MSA Pro Modified Championship in 2015 and running a five in 2019'.

Included are links to video of Kev in action and Kev and the RRC Camaro in a customer vs builder grudge race. Who wins? You'll have to see the feature to find out.

You can see Bob's gallery in our feature in association with Lucas Oil Products here or go to our Features, Interviews, Tributes index via the main menu.

Rip Rap Racers Club wraps, Joe champ.
15th June: Spencer Tramm, organiser of the Rip Rap Racers Club online drag racing series says 'Congratulations to George Oliver for winning the RRRC Finals.

Thank you to everyone who has taken part over the last 11 weeks (all 140 of you!) as well as those that have followed here online. Special thanks to eurodragster.com for the coverage (Ed-you're welcome), Colin Theobald and Kieran Jenkins for posting prizes. There will be more races, likely over winter and maybe the odd one now and again if we feel like it!'

We're sure all racers and others involved in the Rip Rap Racers Club would like to extend a big Thank You to Spencer for organising racing on a weekly basis over the last eleven weeks, a considerable task with the numbers of interested racers and tight timings involved as well as a busy day job.

In the final race, George Oliver defeated Callum Swinchatt who in the series points was runner up to Champion Joe Kellett. In their respective semi finals George defeated Jake Handy and Callum won against James Bennett.

The top 10 points scorers are as follows:

1 Joe Kellett 6100
2 Callum Swinchatt 5500
=3 Will Clark 4700
=3 Billy Everitt 4700
5 Spencer Tramm 4600
6 Matt Seamarks 4200
7 Craig Wright 4100
8 George Oliver 4000
=9 Simon Fulton 3700
=9 Callum Ellswood 3700
=9 Jon Crawford 3700
=9 Colin Theobald 3700

The full series points will be published to our OCS Paints-sponsored points pages when they are received.

Swift snippets.
15th June: In the fifth episode of the Santa Podcast, you can see the entertaining pairing of Eurodragster.com Perfect ET Award sponsor Andy 'Fadster' Hadfield, aided and abetted by daughter and Junior Dragster racer Purdie, with Outlaw Anglia star Colin Millar. Included in the discussion is a certain race pairing which hasn't happened so far but will be near the top of many fans' wish list. Fadster and Colin are hosted by Colin Theobald, Luke Stevenson and SPR CEO Keith Bartlett. You can see all episodes of the Santa Podcast on Youtube.

We were delighted to see a number of Facebook Live postings of live fire-up videos over the weekend, including UK race teams preparing for a return to the track. The team of Paul Harris, Herb Andrews and Mick Sharpe recorded their Nostalgia Funny Car fire-up here, whilst Tony Betts' posting followed a couple of hours later. Tony commented "Great effort by the team today. Car sounds awesome with the new John Wright fuel system. One more change to make then good to go." If you have a fire-up video you would like promoted to Eurodragster.com reader base, drop a line to editor@eurodragster.com and we'll mention it.

Our good friend, the unfired Markus Münch has been reporting on a test n' tune held at Zerbst Airport in Germany on 5th-7th June. Three days of testing were permitted, and you can see Markus's albums on the Dragmag web site or Dragmag.de FB page.

Feature: The first Cannonball.
11th June: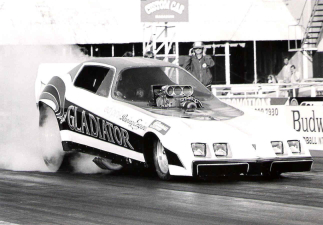 The first Cannonball Run drag race took place on 4th to 5th July 1981 at Santa Pod Raceway. The event drew on the popularity of Funny Cars and was also a promotional event for the film of the same name.

Our latest historical feature, supported by Lucas Oil Products, describes the event in detail and includes 50 photographs from it as well as a full scan of the event programme and a contemporaneous race report.

We are grateful to drag racing historians Jerry Cookson and Nick Pettit for supplying archive material. You can see our feature here or by clicking the features, interviews, tributes link from the main menu.

Photo of Allan Herridge in Gladiator © Dick Parnham

Santa Pod Raceway suspend July events, but testing may return.
11th June: We print below the whole of the statement made by Santa Pod Raceway CEO Keith Bartlett, published yesterday:

Further to the previous statements I have released regarding Santa Pod Raceway and its 2020 calendar, I would like to update you on our current situation. Since the government legislation announced in mid-March, Santa Pod has been unable to hold any type of event at all from that point.

As a result of this, the impact on Santa Pod has been nothing short of a disaster. Our ability to trade and earn income is non-existent. We have invested hundreds of thousands of pounds in setting up our 2020 schedule and have not earned one penny of event income since the lockdown. Despite working hard on survival plans for 2020 onwards, the losses have hit us hard and increase every day that we can't turn a wheel.

We are now forced to make the difficult decisions around the major events due to be held in July. It is clear that the Government is not going to relax lockdown, social distancing and large gatherings sufficiently to allow these to proceed. It is therefore with deep regret that we must now officially suspend these too.

Of course, July includes the Bug Jam VW Festival. This event particularly has a strong following and I am devastated it will not happen this year – another killer blow for both Santa Pod, our fans and our finances.

It will come as no surprise that without the continued support from our loyal fans and spectators, Santa Pod would not have survived this crisis and once again, I plead with our advance ticket holders to give us the time and space to work through this tough time and to most importantly, take the credit value for our drag racing events and in the case of Bug Jam to please, please roll your tickets over to 2021. These particular events will now go into our 2021 calendar on or around the same dates.

After further Government Guidelines and the current lockdown rules, we are pushing forward to see what lower level events can we can host over the coming months. We are now at least planning to open our doors in July to some "behind closed doors" track days and racer test days with no spectators and within the current rules for social distancing and to meet health & safety regulations under the COVID-19 requirements. In this ever-changing landscape, we may be able to scale up from there but as of now, it's still an unknown. It's a start, at least, on our precarious road to recovery.

We need all your support to be able to get through this and to see us back in action in 2021 (I must also thank those of you who have purchased merchandise to date – every little really helps.) We have extended our credit redemption period from our normal 12 months to 24 months to widen the scope for your return visit.

Your actions on this issue of advance tickets may well be the difference between success and failure. Together – we will race again.

Swift snippets.
11th June: In the fifth part of his autobiographical blog 'Golddigger to Drag Nuts', John Hunt describes an epic trip to the US in 1984 in which he took in three races including the 30th US Nationals and an IHRA National Event at Thunder Valley, Bristol, along with some problems on the way... You can read John's blog by clicking here or going to the Race Blog link on the site menu.

In his latest upload to his Youtube channel, drag racing historian has posted footage of York Raceway's 1993 August meeting with Top Alcohol cars of Smax Smith, Andy Hill, Norm Wheeldon, Pete Barnett and Doug Bond. You can see Nick's upload by clicking here.

Tierp Arena sale puts Summit Internationals in doubt.
8th June: Further to our swift snippet last week, many thanks to Pär Pippi Willen for providing a translation of the recent newspaper article about the Tierp Arena sale under the headline "Tierp Arena is for sale: Discussing with several [interested parties]":

The owner of Tierp Arena, Sånna Förvaltning AB (Sånna Management), have announced it is for sale. Sånna Management hope for a quick sale during the summer.

"We have decided that we want to have other priorities in our business. Therefore, we will sell to someone who wants to take the business forward and run it in a good way", says Christopher Hamilton, CEO of Sånna Management.

According to Hamilton, work is under way to produce a sales prospectus, both in Swedish and English, for Tierp Arena together with real estate agents. "The prospectus will be sent out at the end of the week, but discussions are already underway with several different stakeholders, both Swedish and foreign", says Hamilton.

He explains that the decision to sell has been brewing for a while. "We are working with our companies in hotels and events as well as motorsport with Sturup Raceway and Tierp Arena. The coronavirus pandemic has affected our group hard, and was an important factor that came into play when we made this decision".

In 2014, the then bankrupt Tierp Arena was bought by Sånna Management for SEK 20 million [a little over 2 million Euro]. The book value was then set at SEK 37 million by the bankruptcy trustee.

"You could say that we bought a drag racing track with stands. We have since developed the arena to an event facility with motorsport in various forms with hotels, conference, camping areas and a trade fair area", says Hamilton. Since the acquisition in 2014, the capacity of the stands has been expanded and today it holds 30,000 spectators. The area has also been expanded with a rally cross track where there have been championship races.

What is the selling price set at? "That is nothing I can comment on at present, but based on what we have paid and what investments have been made, you can speculate a bit".

Hamilton explains that the ambition is to sell the plant relatively quickly. "An important factor when it comes to the buyer is that it operates the plant in the same direction and continues to be an important player when it comes to arranging good quality motorsport competitions". Until a new owner takes over, the facility will be kept open for certain activities. At most, nine people have worked in the arena. Today, one person is employed at the arena.

"We will not have any further events in the arena. This means that we will not be hosting the European Championship drag racing event in August, even if the situation in the country allows it", explains Christopher Hamilton. However, he emphasizes that a new owner may have the opportunity to organize the European Championship event. "That decision is entirely up to them," he says.

Joe's fourth.
8th June: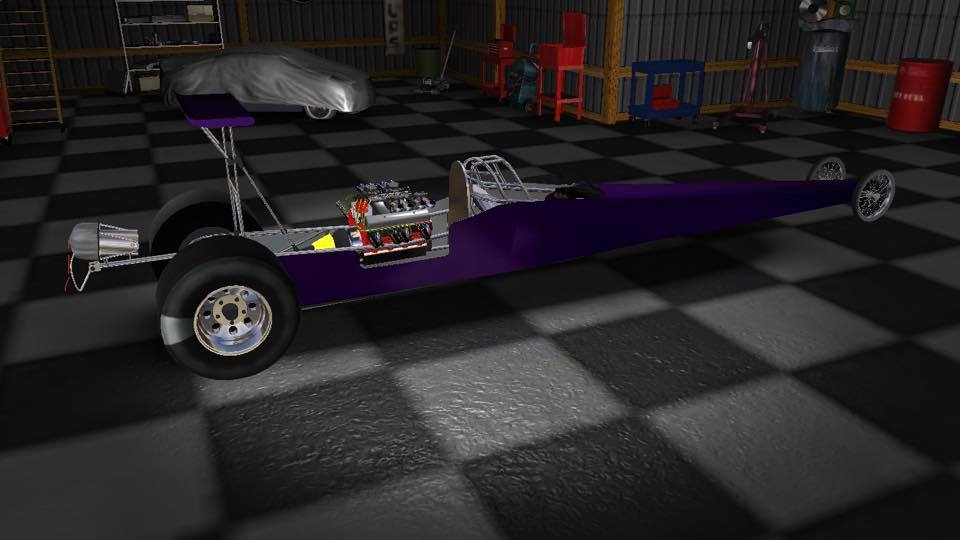 Congratulations to Joe Kellett for his win at last night's Rip Rap Racing Corona Nationals. Joe defeated series organiser Spencer Tramm in an extremely tight race with a win margin of 0.0067 seconds. Previously Joe had defeated Craig Wright in his semi-final, and Spencer had defeated Paul Evans with a perfect light of 0.0000.

We have posted the points to our OCS-sponsored points pages. Joe has opened up a lead over Callum Swinchatt; Billy Everitt, Spencer and Will Clark occupy the remaining positions in the top five.

Trailer for sale.
8th June: The Speedghost Motorsport team have announced that their Wilson race trailer is for sale.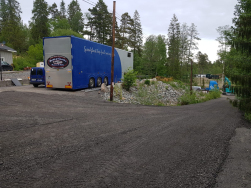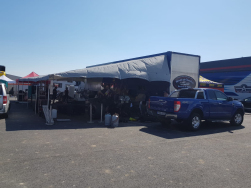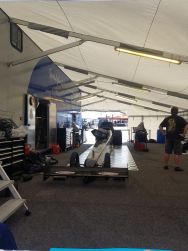 Mark 'Animal' Bodimeade said 'It is a 2002 trailer and comes complete as seen. There is a full awning 6 metres wide complete with sides. There are eight beds upstairs and the trailer will take any short wheelbase car up top, or any dragster down stairs. There is a double side opening door. The neck is a living room with a sofa that converts to a double bed. Also there is a brand new tail gate with brand new rams but needs finishing'.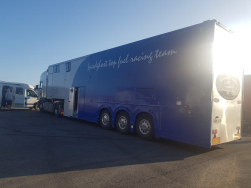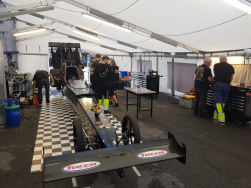 Any enquiries on the trailer should go to Mark on +44 7909 528355 or Patrik Pers on +46 70 6961385.

Robinsons video interview.
7th June: The Fastr Facebook page has posted a well-produced video interview with Andy and Luke Robinson of Eurodragster.com sponsors Robinson Race Cars. The video shows Andy's racing career and shows us how Luke got involved in the car building business and how the team operate.

You can see the interview, which runs to 25 minutes with extensive video action clips at this link.

Robinson Race Cars build gallery – Shelby Cobra Daytona.
7th June: The second of our series of features showing photographs by Bob Roberts of the builds carried out by Eurodragster.com sponsors Robinson Race Cars covers a replica of a historic circuit racing car (Ed: don't tell Tog).

Bob writes: There comes a time in the life of a race car when it has been so hard used, so crashed and repaired, so potentially fragile that it needs a major rebuild. The alternative is to have a copy made and that was the brief to RRC from the owner of this Daytona – build me a copy chassis. To make life easy the original was in the workshop for the majority of the build.

You can see Bob's gallery in our feature in association with Lucas Oil Products here or go to our Features, Interviews, Tributes index via the main menu.

Swift snippets.
7th June: Kieran has posted two videos to his Youtube channel. The first is a Honda Civic Drag Racing Compilation. Kieran says 'The Honda Civic makes up for the majority of the European FWD Leaderboard and the power some of them produce is just mind boggling! This compilation contains a mixture of power plants, N/A and forced induction including K-Series, B-Series and even D-Series!'. You can see this video of clips from Santa Pod Raceway and a few at Hal Far Raceway in Malta here.

Kieran's second video is of one of the most-seen cars at Ford, lifestyle and RWYB events - Darren Scannell's YB Mk1 Escort Street Sleeper. Kieran says 'Darren's mental Cosworth Mk1 Escort is a regular at Santa Pod Raceways RWYB events partaking in the Old Skool Ford Drag Challenge and outings with the Taz Racing clan. Since first appearing in 2011 running high 10s the car has since propelled into the mid 9s on a h-pattern gearbox and maintaining it's stock appearance with all steel panels. Darren's had a lot of success with the car in RWYB Competitions. In 2014 he made it into Santa Pod's 'Quick Shift Challenge' Final, Semi-Finalist at Doorslammers 2018, OSFDC Champion 2018 and Runner-up in the four cylinder class at Doorslammers 2019. You can see Kieran's video of Darren's Escort here.

Tonight: Santa PodCast Ep 4.
5th June: At 7pm tonight, tune into Episode 4 of the brand new Santa PodCast at this link.

Each week presenters Colin Theobald & Luke Stevenson chat to guests from the world of Drag Racing and Santa Pod Raceway. The guests this week with stories from on and off the track are adrenaline junkie & Funny Bike rider Dale Leeks and the man with the Lambo, Pro Stock Bike Rider, The Bish, Martin Bishop. The PodCast also features two bright stars in the Junior Dragster Ranks with Archie Wray and Frankie Fordham as they chat about their future in drag racing.

If you missed any of the previous episodes of the Santa PodCast, they are a great way of keeping in touch with what's going on. You can find them at Santa Pod's Youtube channel.

Swift snippets.
5th June: In the fourth part of his autobiographical blog 'Golddigger to Drag Nuts', John Hunt describes how he got into organising social events and volunteer work for the National Drag Racing Club and Surrey Street Rodders, including a dragster display at Wheels Day in 1984. You can read John's blog by clicking here or going to the Race Blog link on the site menu.

Many thanks to drag racing historian and director of the British Drag Racing Hall of Fame Jerry Cookson for supplying a scan of the first edition (earlier than the others we have posted) of the 1990 edition of the Euro Drag Racing List for car classes originally published by Tommy Nilsson. As well as the pro classes, bests are included for Competition Altered, Factory Experimental Europe, Dragster, Pro Modified, Pro Street, Street Altered, Street Rover, Econo Gas, Modified Stock, Super Stock GT, Super Stock and Stock under Euroseries, German and Swedish rules as appropriate. There are many names to nudge memories in the Euro Drag Racing List which can be downloaded from this link. Later editions are available from 1992 and 1995.

Feature: 1970s Mantorp gallery.
4th June: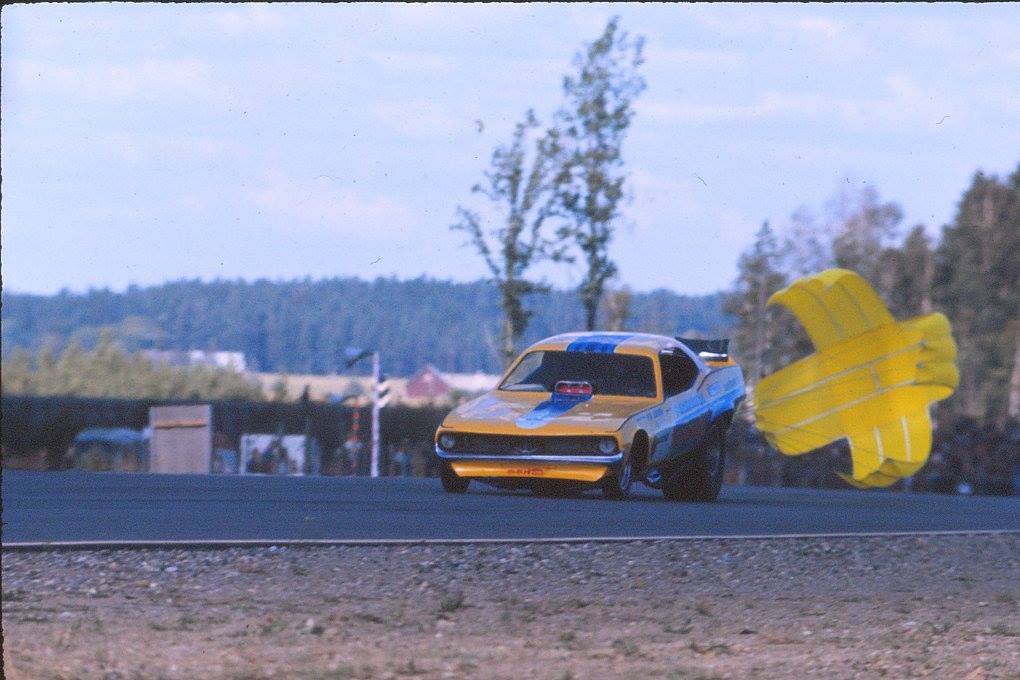 Our latest historic feature focuses on an iconic location for drag racing in Europe, Mantorp Park. By the end of the 1970s it was, alongside Santa Pod Raceway a key track for racing and provided great entertainment for fans.

A collection of photos came to our attention when looking at the excellent Svensk Street & Dragracing 1968–1979 Facebook Group. The owner of the pictures, Lars-Petter Kolkind had originally bought the collection from the estate of the original photographer Allan Iversen from Oslo and scanned them to a gallery. We are grateful to Lars-Petter for supplying permission to place many of them into a gallery, with our captions.

It has been a lot of fun trying to identify cars with the help of programmes from the era. There are also several surprises for those interested in the sport in Europe, and you can see pictures of some early race cars of those that would later go to the top of the sport.

You can see our gallery of Mantorp photos in association with Lucas Oil Products at here or go to our Features, Interviews, Tributes index page via the main menu.

Street Machine shaved.
4th June: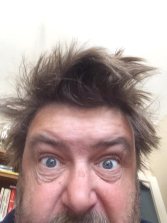 Editor of Street Machine magazine Dave Smith writes: "I'm doing a Facebook Live thing every Thursday evening on the Street Machine Facebook page.

"As I haven't been barbered since well before lockdown, I've been getting a bit of a Milton Jones look about me, and last Thursday I said that if the readers would pledge £100, to be split evenly between the Santa Pod fund and the Melbourne Raceway fund, I'd get my head shaved #3.

I then, rather foolishly, said that if people pledged £200, I'd shave it #1. Well, people have pledged £350 so far, bless 'em (the b*st*rds). So, this Thursday, June 4th, at 7.30pm I should be getting tennis-balled, live on Facebook… Would any Eurodragster fans care to chip into the fund?

"All pledges will be tallied, and I'll be chasing for payment via PayPal after the mowing. All money will be split 50/50 between Santa Pod and Melbourne Raceway.

Feature: Robinson Race Cars build gallery – Marc Meihuizen.
1st June: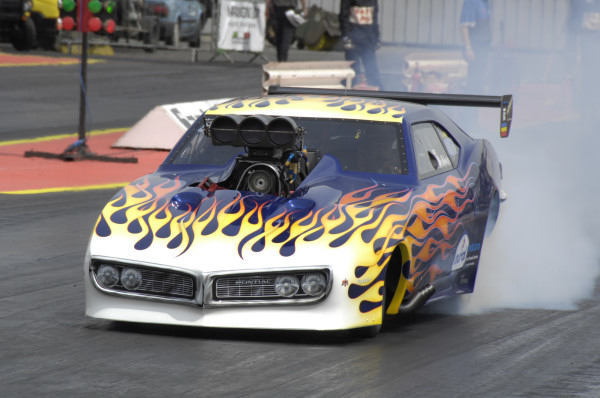 Today we start a new series of features which look behind the scenes at race car builders and Eurodragster.com sponsors Robinson Race Cars. Bob Roberts has kindly supplied a gallery of pictures taken by him and Luke Robinson whilst the build of Marc Meihuizen's car took place.

Bob says 'There are lots of pictures of the finished car because it really is my favourite of all of Andy's builds'. We look at the performance of the car over the years and the consistency and outright speed are amazing.

In future Bob plans to send galleries on three more ground up Pro Mods, one VW, one ProMod rebuild and a couple of non drag cars for good measure. You can see Bob's gallery in our feature in association with Lucas Oil Products at here or go to our Features, Interviews, Tributes index page via the main menu.

Callum at the double.
1st June: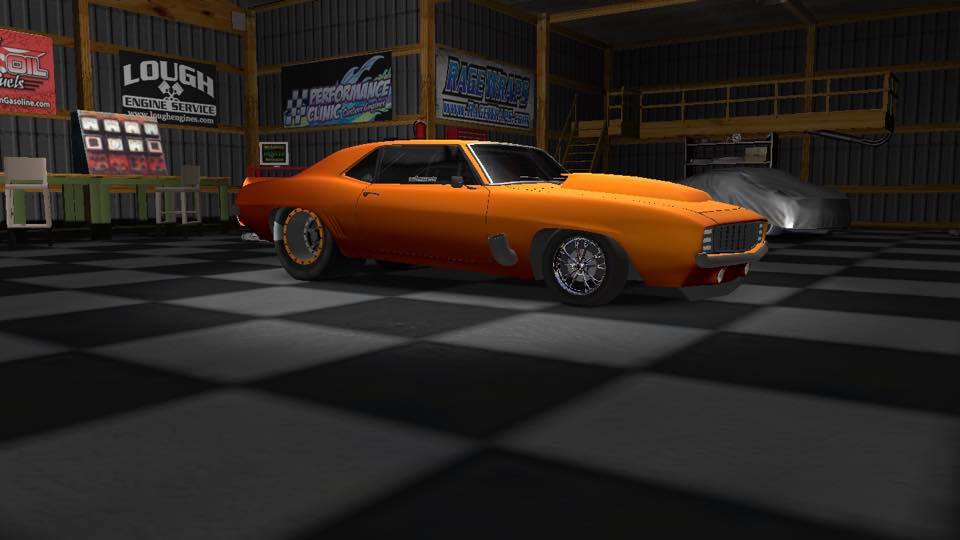 After the on-line RRRC Excitement Nationals held yesterday evening, congratulations go to Callum Swinchatt for his win, his second of the series. Callum defeated Lloyd Perkins in the final after a win over Paul Evans in the semi-final. Lloyd had defeated points leader Joe Kellett in his semi-final.

In the points Joe Kellett leads with Callum now in second place having overtaken Billy Everitt who is a short way behind in third. Will Clark is fourth and Matt Seamarks and Spencer Tramm round out the top five.

We will post the points in due course to our OCS Paint-sponsored points pages.

Swift snippets.
1st June: A big Happy Birthday for tomorrow (Tuesday) to Eurodragster.com Team Nutritionist Syd McDonald. Have a great day Syd and we hope you'll be feeding us again soon.

Kieran has posted his latest compilation video to his Youtube channel. The subject of the upload is a UK Outlaw Anglia Drag Racing Compilation. Kieran summarises: "Outlaw Anglia is one of the most exciting heads up classes in UK Drag Racing with just a few simple rules... The body must be based on a 'Sit-up & beg' style Ford Anglia, Popular, Fordson or Prefect. The wheelbase can be no more than 101", the driver must be seated to one side, no flip-up funny car style bodies and no alterations to the front windscreen angle. Other than that, it's anything goes! Current ET Record Holder is Colin Millar with a 7.24 and Speed Record Holder is Simon Barlow who trapped 193.7mph". You can see Kieran's video here.

If you have seen any 'Tierp Arena is up for sale' comments on Facebook over the weekend, you could be forgiven for thinking you are having flashbacks. But as we don't comment on rumours, we will look for an official announcement and report it here.

Feature: Modified 100e.
28th May: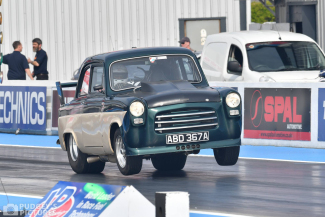 The Ford Modified 100e Challenge had its first year in 2019. It proved to be a great success with five events, a large number of entries and a spirit of banter and mutual help that typifies the best of our sport.

Kieran has gathered information and images of this growth category and our feature highlights the exciting number of new entrants into the class as well as 2019 success stories. Thanks to Kieran and Callum Pudge for the images, also to category founder Scott Collin for his help in bringing together racers that love this classic Ford of the late 1950s.

You can see our feature on Modified 100e, supported by Lucas Oil Products, by clicking here, or following the link on the left hand side of this page to our features, interviews and tributes index page.

Swift snippets.
28th May: In the third part of his autobiographical blog 'Golddigger to Drag Nuts', John Hunt describes his three years of racing his Golddigger dragster, the teams which gave John help at the track, and how his racing years came to an end.

You can read John's blog by clicking here or going to the Race Blog link on the site menu.

Episode 3 of the Santa Podcast premieres on Friday evening 29th May at 7pm on Youtube. In this week's edition, presented by Colin Theobald & Luke Stevenson, the guests with stories from the track are Top Fuel racers Liam Jones and European record holder Maja Udtian with current European Funny Car record holder Kevin Kent and his partner, previous Top Fuel pilot and future funny car driver, Shelley Pearson.

Kieran's latest compilation video is of a long time drag racing staple, the Ford Capri, which first appeared on a UK drag strip in 1971. Kieran says 'you'll see a mixture of V8s, turbocharged 4-pots and even a Nostalgic Funny Car!' You can see Kieran's new video by going to YouTube.

Feature: 1981 Transatlantic Drag Race at Long Marston Raceway.
25th May: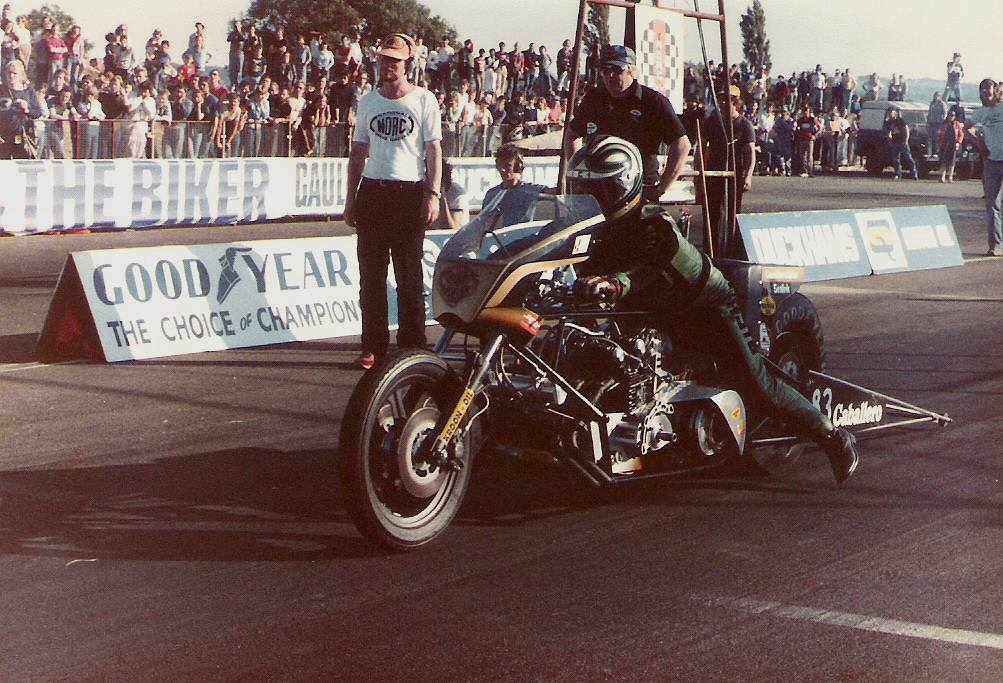 The first big event at the then recently updated Long Marston Raceway held in July 1981 was the Transatlantic Drag Bike Race. There was a huge field of drag bikes and also Top Fuel cars who were racing in their own championship. A US star, Bo O'Brochta from Florida who had the quickest drag bike in the world had been brought over at the National Drag Racing Club's expense, and he proved a prize draw. The eventual winner of the Super Bike category was Henk Vink from Holland (pictured).

With the considerable assistance of drag racing historian and Director of the British Drag Racing Hall of Fame Jerry Cookson, we have set out the archive materials and photographs from the event into our latest historic feature, in association with Lucas Oil Products, which can be seen at this link.

There is a gallery of over 40 photos and you will be able to see those who have become legends since as well as the stars back in those times. To see any of our historic features, follow the link on the left hand side of this page to our features, interviews and tributes index page.

Editor's note: If any readers have requests for historic meetings that merit a future feature please drop an e-mail to editor@eurodragster.com.

Joe achieves hat trick.
25th May: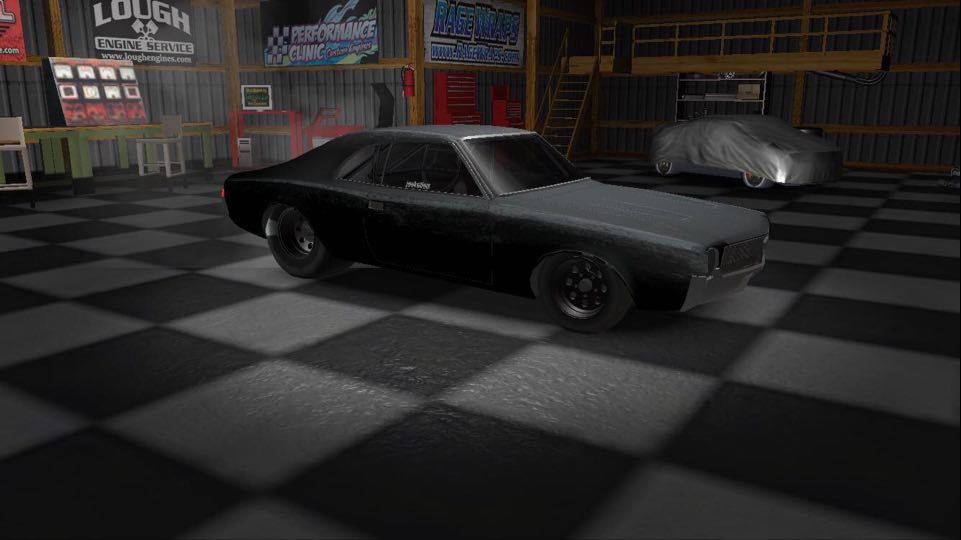 Congratulations to Joe Kellett for his second win in a row, his 3rd of the series in this weeks on-line RRRC Summerspeed Nationals. Joe defeated Matt Seamarks in the final after he overcame Colin Theobald in the semi-final. Matt, who was gifted the winner's Bruce t-shirt by Joe, in turn had defeated Simon Fulton in his semi-final.

In the points, Joe now has a lead over Billy Everitt. Callum Swinchatt is in third place and Will Clark and Matt Seamarks round out the top five.

We have posted the championship points to our OCS Paint-sponsored points pages.

Swift snippets.
25th May: Many thanks to Nitro Revival sponsor Geoff Stilwell for letting us know that Drag Racing announcer and car scene vlogger Bob Beck will be interviewing four time FIA Top Fuel champion Anita Mäkelä on the Gentlemen Driving Club Facebook page this evening. Look in the video section of the group where the interview should be carried in due course.

Julian's special 2019 Main Event gallery.
23rd May:
It won't have escaped your attention that this weekend would have been the first race of the 2020 FIA season, the Main Event at Santa Pod Raceway. So thanks are due to our Julian for enabling us to present a gallery of his pictures from last year's event, complete with captions. You can see Julian's photos at their best, which means they are pretty special.

The 180 shots were taken over the course of the four day event last year, and we present the gallery in association with John Woolfe Racing. You can see Julian's special gallery here or via our 2019 FIA Main Event coverage page which you can access here.


Swift snippets.
23rd May: In the second part of his autobiographical blog 'Golddigger to Drag Nuts', John Hunt describes how the Golddigger dragster came about, and you can find out who helped John get the car to the track.

You can read John's blog by clicking here or going to the Race Blog link on the site menu.

Santa Pod Raceway broadcast the second episode of its new Santa Podcast last night and it included a very entertaining discussion with Eurodragster.com sponsor Andy Robinson, and six second Street Eliminator racer Andy Bond, as well as an interview with resident Podzilla driver Garry Anderson. Not only was there banter about whether Andy B might move up to Pro Mod, but Andy R revealed the 'Anger Management 2.0' build has been progressing during the lockdown, and the car will be another '69 Camaro; every aspect of the car has been looked at to see where improvements can be made. To see the full Santa Podcast, go to Youtube.

We would like to say a very Happy Birthday to Funny Car legend 'Hawaiian' Roland Leong, whose birthday falls today. Roland visited the UK for the 2017 British Drag Racing Hall of Fame Gala and was adviser to Tony Betts at Dragstalgia in 2019. Have a great day Roland!

In video channel updates, our Kieran has posted two videos to Youtube. The first is a series of clips of Chris Todd's Subaru Powered Mk1 Fiesta from 2012 to last year. Kieran says 'The car now runs into the 9.4s and has no signs of stopping there with the new addition of a fancy Mendeola transmission'. The scond video is a compilation of Toyota Starlet drag racing moments, many of which were filmed at Hal Far Raceway in Malta.

Robinson Race Cars on tour – part 6.
21st May: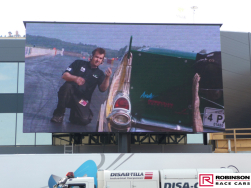 In the sixth feature in our series on Eurodragster.com sponsor Robinson Racecars' trips to overseas races, our good friend Bob Roberts describes the team's trip nine years ago to Tierp Arena, then less than a year old and host to what is still the tightest field in FIA Pro Modified history (0.2298s between no.1 and no.16).

As Tierp had not hosted international drag racing before, there were a number of challenges to overcome with local law enforcement which you can read in Bob's account.

You can read Bob's account, in association with Lucas Oil Products, which includes a gallery of 21 photos, by going to this link or via the features index. Despite being the final feature 'on tour', Bob will return...

Hot Gossip: burning nitro on 30th.
21st May: If you're wondering why the latest issue of Street Machine has not arrived as usual, editor Dave Smith has announced that "thanks to the April issue running way late and the subsequent COVID-19 crisis, it looks like the May issue will be rolled into a subsequent issue". You can still catch up with Dave on his live chat on Street Machine's Facebook page, the latest episode going out live tonight at 7:30pm UK time.

Thanks to Street Machine drag racing contributor Mike Collins for sending us exclusive Hot Gossip including a look back at Anita Makela v Thomas Nataas at the Main Event 2014 and news of an exciting event coming up on 30th May and organised by Famoso Raceway in Bakersfield, California. You can check it out by clicking on the image below: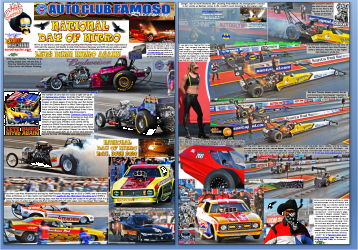 The National Day of Nitro is a world wide opportunity for cars caught by lockdown rules to burn some nitro again. All fireups will be shown on Famoso Raceway's Facebook page starting at noon Eastern Time (5pm UK/6pm CET). Fourteen teams have signed up, and if teams are interested they can participate by clicking on the 'Nitro Team Signup' on www.famosoraceway.com and then emailing the track at nitro@famosoraceway.com. All participating teams will be entered into a drawing where one lucky team will receive $1,000.00 credit towards entry or ticket purchases for the 2021 Good Vibrations March Meet, presented by Lucas Oil. Stith Printing, Inc. is also offering a $1,000.00 credit to be applied towards new artwork.

Feature: 1994 Santa Pod Raceway Main Event.
19th May: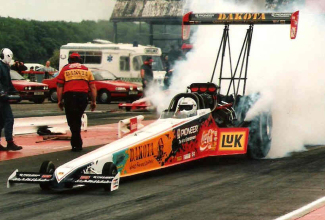 'The one where the track broke up' is the penny-in-the-slot summary of the 1994 Main Event. Yet there is much more to this event than that, as our latest feature in association with Lucas Oil Products highlights.

First, there was a technical advance in Top Fuel which would in later years help advance the class down into the four second zone. Then there was the first appearance of Rocket legend Sammy Miller at the track for eight years (not counting a snowed-off Easter). Also there were some interesting developments in the sportsman classes with one of the biggest ever fields in Super Gas, by then in its eleventh season. From the perspective of 26 years later, it fascinates to see the sheer number of racers then who are still active in the sport.

We are very grateful to drag racing historian and British Drag Racing Hall of Fame director Jerry Cookson for supplying archive material including over thirty photos, a scan of the complete event programme; there is also a link to broadcast footage from the time posted by Nick Pettitt.

You can see our feature on the 1994 Santa Pod Raceway Main Event here or by clicking on the Features, Interviews, Tributes link in the main menu.

Joe doubles up.
19th May: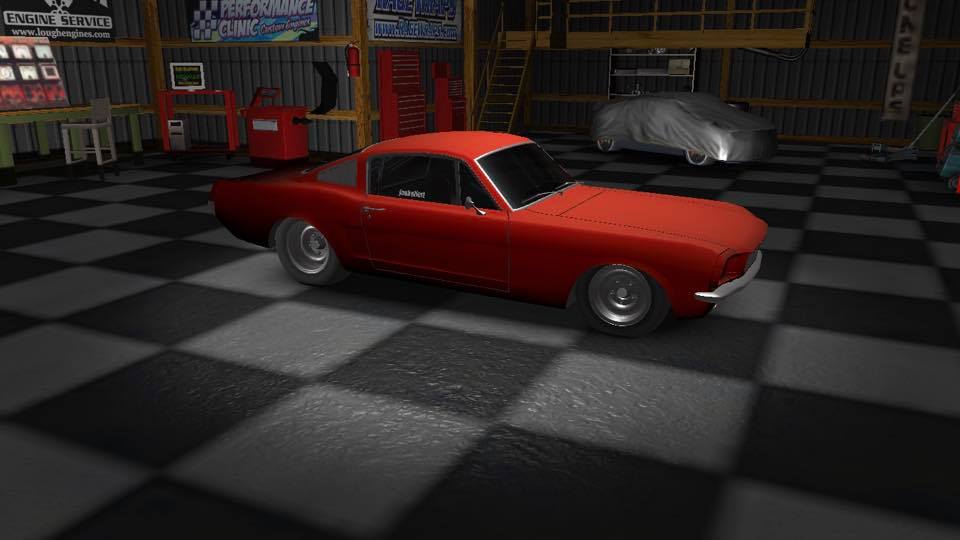 Congratulations to Joe Kellett on winning Sunday's RRRC Lockdown Nationals, his second win of the series. Like all previous winners Joe will receive a Bruce T-shirt from Santa Pod announcer Colin Theobald. In the final Joe defeated Jordan Wilson, having been victorious over Cal Ellswood in his semi final. The other semi final saw Jordan defeat Matt Seamarks.

In the points, Billy Everitt is leader just ahead of Joe, with Will Clark, Callum Swinchatt and Spencer Tramm rounding out the top five. The points posted in association with in association with OCS Paint, can be seen here, or by following the link in the menu.

There will be a further race in the Rip Rap Racers series next Sunday and an entry thread will be posted Wednesday lunchtime. If you're up for it, make sure you have the latest version of Doorslammers 2 installed and go to the Rip Rap Racers Club Facebook page.

Custom Car celebrates 50th Anniversary.
19th May: Custom Car magazine, which your editor has read ever since it was first published in 1970, celebrates its 50th Anniversary with the current Summer 2020 issue, and it's a must-buy.

In it, you will be able to see a 21 page retrospective of covers and feature cars over the years. There is a ten page article, including a centre page poster, on Al's Gasser, looking fantastic after the latest rebuild by Phil 'Ginner' Middleton, Dave Eady and others. Owner Al O'Connor was so delighted with the rebuild that when it appeared at Dragstalgia last year he felt compelled to race it once again. There's also a seven page article on Eurodragster.com sponsor Jon Webster's Fast Company Mustang, Andy Willsheer's report from the 2020 March Meet, and a feature on the history of the Plymouth Duster and its role in drag racing, and much more. This collector's issue is well worth its cover price of £5.99.

Inside Custom Car you will see a very special short term subscription offer for three issues for just £9.99, with no ongoing commitment if you click on this link.

Unusual car sales.
19th May: Nigel Taylor established the Facebook group Unusual Car Sales U.K. in August 2019 and it already has 11,500 members. The group is well worth joining as it specialises in drag racing and U.S. vehicles for sale in the UK. Nigel says "As we return slowly back to reality, there are a few nice cars coming up on the group that would get you back into drag racing in a quicker manner than building a new car from scratch.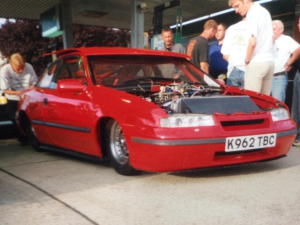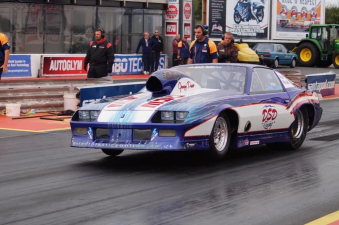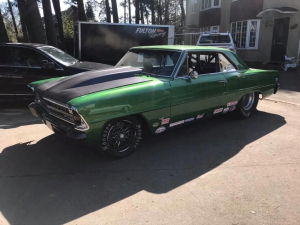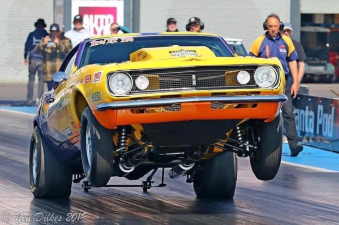 "Street eliminator, Outlaw Anglia , altereds, Super Comp , Modified 100e ,dragsters and much more have come on recently. In the photos above you can see Steve Pateman's legendary Street Eliminator Calibra, Paul Watson's Super Comp Camaro, Dave Fulton's Nova and Mike Lacey's Camaro.

"Take a look at the site on Facebook and support your local drag strip as soon as we get the chance."

Swift snippets.
19th May: In recent Youtube posts, Simon Letkey has been busy on two series for his VeeDubRacing channel. The first is a series of videos on single racers, entitled Legends. Simon says "These are cars that I have filmed, that either do not run anymore, or I have not seen at the track in the last few years. They are cars that either produced outstanding times, or left a big impression on me". As you might expect there is a VW emphasis to his choice of cars, however one Outlaw Anglia has found its way into the collection.

The second group of videos is called 'Throwback' in it Simon looks back through the archives at some of the shows he has been to and presents some highlights. You can see Simon's videos at this link.

Our Kieran has been hard at work with three more compilation videos. First is a compilation of runs showing the evolution of Dad Kev Jenkin's Fraudster Mk1 Escort. Then there is a Ford Anglia 105e drag racing compilation and finally we have Kieran's Top 10 Doorslammer moments. You can check out Kieran's videos by going to this link.

Julian's special 2019 Doorslammers gallery.
17th May:
On the day that, if all had gone to plan, the 2020 edition of the Doorslammers would have taken place, we are pleased to present a special gallery of pictures from last year's event, all taken by our photographer Julian. Julian said "At the event we post images without any adjustment to the raw image, so it is a great opportunity to present them at their best".

Many thanks to Julian for his collection of 180 shots over the course of the three day event last year, which we present with captions identifying the race cars in association with John Woolfe racing. You can see Julian's special gallery here or via our 2019 Doorslammers coverage page which you can access here.


Robinson Race Cars on tour – part 5.
15th May: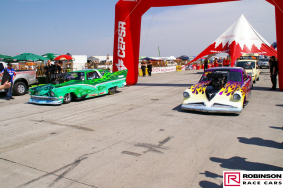 In the fifth feature in our series on Eurodragster.com sponsor Robinson Racecars' trips to overseas races, our good friend Bob Roberts describes the team's trip ten years ago to Hungary. The main purpose of the event was to promote drag racing beyond the bike and street car scene previously established. Eight cars from the FIA series went including four Pro Modifieds.

You can read Bob's account, in association with Lucas Oil Products, which includes a gallery of 50 photos, by going to this link or via the features index.


Golddigger to Drag Race Nuts blog.
15th May: We start a new autobiographical blog series today with Part 1 of a behind-the-scenes series by John Hunt. Among John's roles in British drag racing, he raced an injected rear-engined Daimler powered dragster called Golddigger. He later founded Drag Racing Nuts which he ran with Maureen McRae-McIntyre as a trading unit at the tracks. Organisational hospitality roles followed with Obsession Motorsports and Mark and Jackie Hawkins' Funny Car team. You can read John's blog here or by going to our blog index which contains previous exclusive racer blogs.

If any racers, team members or officials are interested in submitting a blog for publication, please contact us at editor@eurodragster.com.

Swift snippets.
15th May: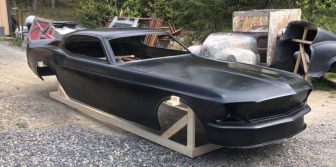 If you have access to Youtube at 7pm tonight, don't miss the Santa Podcast. Featuring a number of European drag racing personalities and presented by track announcers Colin Theobald and Luke Stevenson, this production is a chance for the racing community to come together and talk about the here and now of the sport. The link to go to is via Youtube here.

In Santa Pod Raceway's #RacingThroughTime series, this week's presentation comprises the 2014 Main Event. You can click on the link to see a 26 minute long highlights programme.

Drag racing historian Nick Pettitt has uploaded to Youtube Ken Robbins' video from the 1994 Hot Rod Drags at Avon Park Raceway. You can see the footage here.

The subject of our latest spy picture came courtesy of Carl Sim with the additional information that the order was made in triplicate and the Mustang body shown is on route to the UK, destination European NFC with more news to follow in due course.

If you know more, or would like to send your own spy picture, then drop us a line at editor@eurodragster.com.

Feature: Grand National Roadster Show.
14th May:
Land speed racer and sponsor for Nitro Revival Geoff Stilwell (pictured with Roland Leong) displayed his nitro-fuelled 7707 roadster at the Grand National Roadster Show at the Fairplex, Pomona, California in January. We are grateful to him for sending us an account of this incredible event with forty photos. The Grand National Roadster Show is in its 72nd year, having started life as the Oakland Roadster Show and displayed over 500 show vehicles competing for awards. Geoff's feature, sponsored by Lucas Oil Products, describes the challenges of displaying a vehicle at the show, and the attraction the show has for stars of the sport and entertainment.

Geoff said that despite the challenges presented by the coronavirus outbreak, which resulted in a test session at El Mirage dry lake scheduled for this weekend being cancelled, he still plans to run his roadster at the Bonneville Speed Week. Geoff said "Bonneville Speed Week is still scheduled for 8th-14th August this year and I plan to make an attempt on setting a speed record in excess of 300mph and the challenge is still on with Ron Hope of Rat Trap Racing to see which one of us can be first to 300mph. We would be delighted to see anyone who can get there if the current restrictions are lifted".

Geoff also reminded us of Nitro Revival which will be taking place at Irwindale Drag Strip on Saturday 7th November, a weekend between two NHRA national events at Las Vegas and Pomona.

You can see Geoff's feature on the Grand National Roadster Show here or via our Features, Interviews and Tributes page.

Crew Killer Pop revealed.
14th May: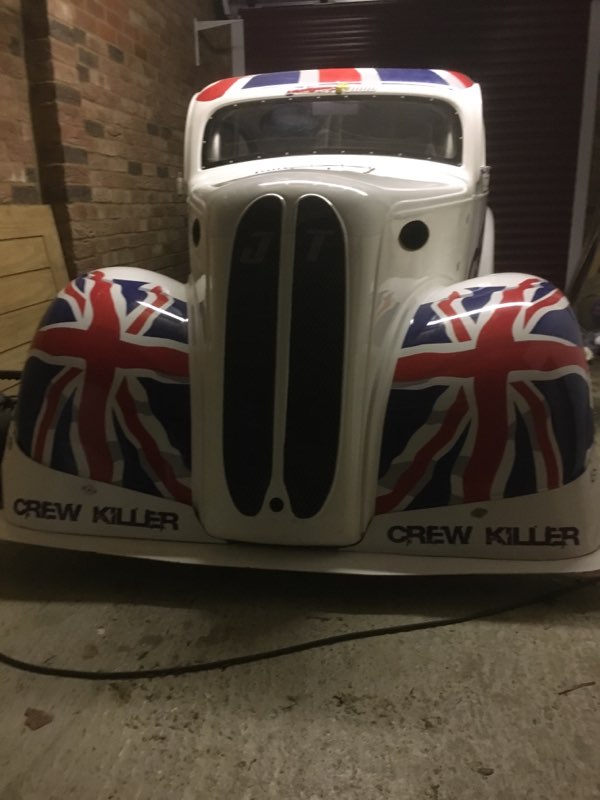 If you saw our news update of 2nd May you may have recognised the white Pop with distinctive signeage as that of Pro Modified and Super Pro ET racer John Tebenham. The car has been refreshed for the 2020 season, whenever it commences.

Crewman Dan Goff said on behalf of the normally-ebullient JT: "Luke, Ricky, Nigel, Frank and the rest of JT racing are all ready to go with the Pop getting a face-lift as well!.

We are looking forward to getting Lightning McQueen and the new Crew Killer out ASAP. A massive thank you to Andy Robinson Race Cars, without them it would not be possible. Stay safe!



Santa Pod Raceway extend suspension.
12th May: Further to our news item on 7th April, Santa Pod Raceway have announced that due to the Covid-19 virus outbreak they will be extending their suspension of events until 30th June:

We would like to thank all of our loyal customers for their patience and understanding during these unprecedented times.

Unfortunately due to Coronavirus and in line with Government Guidelines we have been forced to suspend all scheduled events at Santa Pod Raceway up until the end of June 2020. Therefore ticket holders will receive a full credit to your Santa Pod Ticket Shop account equal to exactly what you've already paid, which can be redeemed against any Santa Pod Raceway event within the next 24 months. This will be added to your account and contrary to our standard terms and conditions, this credit will be available for 24 months instead of the standard 12 AND include any booking and postage fees that you've paid.

We are operating with a reduced workforce like so many other businesses causing a significant delay in our normal administration processes but we will be in touch with all our visitors as soon as we have more information to share. We are also trying hard to instigate a few more bells and whistles on our ticketing platform to make some of the admin quicker and more efficient for us all. Bear with us, while we work through all the communications, enquiries and requests from our customers – we're dealing with everything as quickly as possible but it's not easy. Rest assured that we will get around to you!

In the meantime, we will keep you updated via our website, newsletters and social media. Once again, thank you for your understanding during these very challenging circumstances.

Drag Race Union cancel 2020 Challenge.
12th May: Markus Münch has sent the following announcement from Drag Race Union (English translation by Pat Weidman below German original):

Hallo Fahrer, Teams, Sponsoren, Fans,

"das Jahr 2020 übt immer noch ein gutes zu werden". Zitat eines Freundes.

Was bedeutet das für das Dragracing, die DRU und die Challenges:

Zuerst einmal wünschen wir euch, euren Familien und Freunden alles erdenklich Gute in Punkto Gesundheit und Gelderwerb. Die ganze Covid-19 Situation trifft jeden, ohne Ausnahme.

Vorneweg, es wird dieses Jahr keine DRU Challenges geben.

Was unser geliebtes Hobby, Dragracing, und vor allem die Challenges angeht sehen wir vom DRU Vorstand uns gezwungen zu handeln. Es ist Anfang Mai, viele Teams hätten schon ihr erstes Rennen hinter sich, oder ständen kurz davor. Nicht so in diesem Jahr 2020. Was in diesem Jahr noch alles passieren wird, steht mit dem heutigen Datum noch in den Sternen. Was das "normale" leben und unseren Sport anbetrifft können wir nur gespannt sein, wie sich das Jahr noch entwickelt. Ungarn hat für Mitte Mai ein Rennen angesetzt und genehmigt bekommen. Aber dürfen wir anreisen? Wollen wir anreisen, oder erst einmal noch im Heimathafen bleiben? Italien / AMP / Rivanazzano hat die komplette Saison abgesagt, Frankreich / Clastres, das erste von drei Rennen. Wird da überhaupt noch gefahren? Hockenheim sucht nach einem Ersatztermin für die NOX, Zerbst wartet auf das GO der Behörden, um loslegen zu können, genauso wie Santa Pod, und Jade wurde ja bereits im Winter auf politischer Bühne gestoppt.

Wir von der DRU sehen dieses Jahr keinen geordneten Rennkalender auf uns zukommen. Wenn überhaupt etwas geht, dann wird das alles geballt im September / Oktober stattfinden. Das wäre fein, um etwas an Sprit und Gummi zu verbrennen. Das reicht uns aber nicht aus, um eine ordentliche Challenge in Pro ET und Supro ET auszurichten. Deswegen werden wir die Challenges für dieses Jahr streichen.

Diese Entscheidung ist wohlüberlegt getroffen worden, der Prozess dauerte mindestens seit dem Wochenende des 15 März an. Für uns ist so eine Challenge ein Wettbewerb, der über das Jahr hinweg auf den verschiedenen Rennstrecken seine Wertungsläufe hat. Rivanazzano, Clastres, Hockenheim, Zerbst, Drachten und Santapod, Jade, sind dabei seit Jahren das Rückgrat der Challenges. Ein dahingehuddeltes Rennjahr in 2 Monaten, oder in der Art, das ist nicht die Art von Challenge die wir euch bieten wollen.

Wir freuen uns, wenn es dieses Jahr noch etwas zu fahren gibt und unterstützen die Veranstaltungen dann in anderer Art und Weise, so dass die dortigen Teilnehmer ein geiles Rennen erleben können.

Wir hoffen auf euer Verständnis, wollen darüber auch gar nicht in Diskussion gehen. Euer Feedback ist uns aber wie immer sehr willkommen.

Alleine schon wegen eurer Entscheidung, ob ihr bereits beglichene Teilnahme / Sponsoren Gelder zurück wollt, oder diese für 2021 stehen lassen wollt, müsstet ihr euch kurz bei uns melden. Diese Entscheidung ist selbstredend eure, denn es ist euer Geld.

Zum Thema Trackprep Sammlung für Zerbst. Das Geld ist ebenso sicher bei uns, wird dann Zweckgebunden in die Aktion einfließen, dann wenn sie stattfindet. 2020, oder 2021. Das muss man sehen. Auch hier steht es jedem frei, sein Geld zurückzubekommen. Schreibt uns diesbezüglich einfach eine Nachricht.

Das ist einer der unangenehmsten Newsletter, die ich als Schriftführer der DRU und überhaupt als Reporter des Dragster Sports verfassen musste. Es fühlt sich nicht nur an als ob jemand gestorben wäre, irgendwie ist etwas gestorben. Hoffen wir alle auf ein versöhnliches Restjahr, Spätjahr, mit zumindest ein paar Events, bei denen wir uns alle wieder wohlbehalten sehen. Aktuell gibt es leider wichtigere Dinge zu bewältigen.

Wir sehen uns, wir halten euch auf dem Laufenden…und das alles in dem Jahr, in dem beide Challenges so top aufgestellt sind, Fahrer/Sponsoren… Die XO im DMSB Reglement sind, und richtig durchstarten wollen… Zerbst als Veranstalter voll motiviert in den Startlöchern steht…

Eure DRU, Markus, Jonny, Oliver.



English version:

Hello to all Drivers, Teams, Sponsors & Fans, "It is possible that 2020 could still be a good one" (Quote from a friend).

What does this mean for the DRU and the Challenges?

First thing, we would like to wish you, your family and friends all the best health. The whole Covid-19 situation affects everyone, without exception. There will be no DRU Pro ET & Super Pro ET Challenges in 2020.

As far as our beloved hobby, drag racing and what all the challenges are concerned, we at the DRU board were forced to act. It is the beginning of May, most teams would have already run their first race or would be about to do so, not this year. As of now, only the stars know what will happen this year on and off the track.

Hungary has scheduled a race for the middle of May, it has been approved. Will we be allowed to travel? Do we want to travel or stay safe at home? The AMP has cancelled the entire season in Italy / Rivanazzano. The ATD has canceled the first of three races at Clastres Dragway. We don´t know how it looks for the other two. We will have to wait and see, but we are sure they will do their best to get those weekends in if possible. Hockenheimring is looking for a replacement date for Test & Tune and the NitrOlympx. Santa Pod and Zerbst are waiting for the GO so they can get started. Jade Race got stopped already in the winter by political decision.

We at the DRU do not see a proper racing calendar coming up this year. The way it is looking, all the racing would be in September & October, if anything does take place. That would be fine to burn some fuel and rubber, but that is not enough for us to host a proper Challenge in Pro ET and Super Pro ET. That is why we cancelled both Challenges for 2020.

Our decision was not an easy one for us, as we see a challenge as a competition that has races on the various racetracks (Rivanazzano, Clastres, Hockenheim, Zerbst, Drachten and Santa Pod) throughout Europe during the year. A whole racing season put into 2 months, or not at all, that is not the kind of challenge we want to offer you.

It would be great if there would be some races in 2020. We will support those races that do take place the best we can, so that all the participants will experience a great weekend of racing. We hope you all understand our decision. Your feedback is very welcome, as always.

Concerning the already paid participation / sponsorship money for the 2020 DRU Challenge, would you like it back or do you want to leave it for 2021? Please contact us with your decision. Now to the track preparation support for Zerbst: The money that we have collected so far will be used for that purpose when they are allowed to start back up, either in 2020 or 2021 or can be returned. Anyone who has donated and wants their money returned should get in touch with us. This was one of the most unpleasant newsletters that I have had to write as DRU secretary and as a Drag Racing sports reporter. It does not just feel like someone died, somehow something did die. Let us all hope for a healthy rest of the year with at least a few events where we all can see each other again. Unfortunately, there are more important things going on right now.

We will keep you up to date…And all of this in the year in which both challenges are set up so well for drivers and sponsors. ... The Extreme Outlaws are in the DMSB regulations and are also already to go. … The organizer from Zerbst is fully motivated to get things going!

Walters wins.
12th May: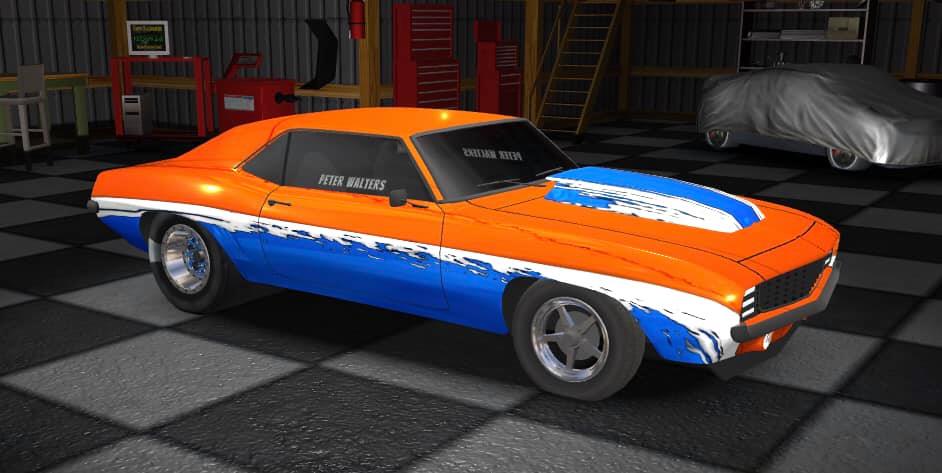 Congratulations to Eurodragster.com sponsor Peter Walters for winning Sunday's RRRC Allstar Nationals. Peter defeated Jon Crawford in the final having previously been the victor against series organiser and honorary Eurodragster.com member Spencer Tramm in the semi final. Jon came out on top against Matt Seamarks in his semi final. In the points, posted in association with in association with OCS Paint, Billy Everitt has now taken a 300 point lead over previous leader Callum Swinchatt. Will Clark is third with Joe Kellett and Spencer Tramm joint fourth place.

For those wishing to compete at next Sunday's event there will, as usual, be an entry thread Wednesday lunchtime. If you're up for it, make sure you have the latest version installed and go to Rip Rap Racers Club Facebook page.

Euro Drag Racing List - 1992.
12th May: Many thanks to drag racing historian and director of the British Drag Racing Hall of Fame Jerry Cookson for supplying more historic information in the form of a scan of the 1992-93 edition of the Euro Drag Racing List for car classes originally published by Tommy Nilsson as mentioned in our news update of 10th May.

As well as the pro classes, bests are included for Competition classes, Modified Stock, Pro Street, Super Stock GT, Street Altered, Modified Stock and Stock under Euroseries, German and Swedish rules as appropriate. There are many names to nudge memories in the Euro Drag Racing List which can be downloaded here.

Motorsport UK Consultation – deadline today.
10th May:.

Motorsport UK has embarked on a consultation across Clubs, Competitors and Volunteers to help us better understand, direct from the community, their views on key issues that need addressing to create a sustainable future for our sport.

Even prior to the onset of COVID-19, motorsport in this country has faced some fundamental challenges in recent years, presenting significant risks to the future of the sport. It is important that these concerns are addressed head-on to safeguard and sustain the sport we all enjoy. Motorsport UK been working on a delivery plan to tackle many of the challenges we face, and grow our sport through greater collaboration with clubs, members and volunteers.

Already more than 6,000 perspectives from our community have been recorded to ensure that the delivery plan reflects opinions across the sport. Tailored surveys have been created and distributed to Clubs, Volunteers, Competitors and Entrants to gather the views of each respective group. The club survey has now concluded but the deadline for submission of responses to the other surveys has been extended until midnight on Sunday 10 May and if you have not yet contributed, now is the time to ensure your voice is heard. All respondents will also be entered into a draw for £100 of Amazon vouchers!

There are three specific surveys, and some members will have relevance to more than one, Competitor Survey, Entrants Survey and Volunteer Survey. Drag racing is allocated a dedicated category so it will be beneficial if as many racers, teams and volunteers can respond to the survey.

Please share your views by clicking the relevant button on this page and contribute to the creation of a sustainable future for our sport.

If you have any queries about this consultation process, please contact: sportdevelopment@motorsportuk.org. Ensure your voice is heard!

Getting motorsport back on track.
10th May:. Motorsport UK, like other sports governing bodies, has been planning how it will be possible to restart our sport in the not too distant future – whilst working within the prevailing government guidelines. As official government communications begin to indicate a gradual release of the lockdown, we need to plan how to best resume our activities as quickly as we can.

Currently motorsport is suspended throughout the UK until 30th June 2020 in order to protect the NHS and save lives. This is in line with practically every sport in the country.

This planning is being undertaken in consultation with a wide selection of stakeholders including the specialist committees of each sport discipline. The organisation is actively modelling how each of the sport's eleven different competition categories could potentially begin to restart motorsport when it is safe and practical to do so.

Motorsport UK CEO, Hugh Chambers commented, "I thank all of the motorsport community for supporting the need to suspend our activities; we appreciate just how difficult this has been for many individuals and organisations. Our goal is to get the sport running again as fast as practically possible. We are working with the government (DCMS) and have led the development of a detailed plan that can be used by clubs, officials, venues and competitors to manage events safely and successfully.

"We are fortunate that our sport takes place in large outdoor environments, so that with practical measures in place, much of motorsport should be able to resume. We will all need to modify the way we have worked in the past and accept these changes in a collaborative and constructive way. I am sure that the ingenuity and passion of the motorsport community will allow us to navigate the essential requirements to keep everyone safe, but at the same time allow our sport to get going again."

Editor's note: we will announce any resumption of activities as soon as it is published.

European Drag Racing List unearthed.
10th May:. In the 1990s, even before the existence of Eurodrag.com or Drdb.eu, Tommy Nilsson who was based in Copenhagen and was PR man for Jens Nybo's Top Fuel Dragster team, published a list of European best times and speeds as The European Drag Racing List. We are grateful to drag racing historian and director of the British Drag Racing Hall of Fame Jerry Cookson for providing us with a scanned copy of this now very rare document dating from the start of 1995.

Jerry says: "This publication was produced as an A4 booklet but others I recall were printed in paper form as A5 booklets, and were based on Bill Pratt's Drag Racing List. At the time Fire Up/European Dragster magazines were regular contributors". Jerry also has some earlier editions dating from 1992 and 1993 which we look forward to seeing in due course.

You can see a pdf scan of the 1995 European Drag Racing List here and the download is 6Mb in size, from our new, quicker, server.

Feature: 1994 Santa Pod World Finals.
7th May: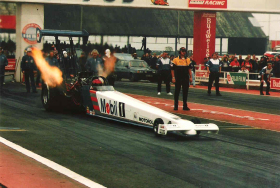 In our latest feature presented in association with Lucas Oil Products, we look back on another race that took place prior to Eurodragster.com's existence. This time we are looking at the 1994 Santa Pod Raceway World Finals, an event with many classic races, personal bests and not a little drama. In Top Fuel, Peter Lantz secured the European Top Fuel Association (ETFA) championship, whilst Risto Poutiainen (pictured) won the event after qualifying fifth of six cars entered. Tommi Haapanen qualified number one, although Tony Bryntesson got low ET of the event at 5.222.

In the pre-FIA era, the class structure was very different from today, there was no Pro Stock, and Pro Modified at this race was confined to Alan Packman making three demo passes of 6.8-6.9s. The Super Twins also had yet to race at SPR events. Top Alcohol and Outlaw Anglia provided lots of excitement as Barry Sheavills ran the first methanol-fuelled five second pass at SPR and Anita Mäkelä won the European Top Alcohol championship. Andy Carter in Outlaw Anglia ran a new class best of 7.578 that stood for many years.

The drama was provided by Funny Car legend Gary Page suffering an engine fire on a half pass, the car rolling over in the field (no barrier on the right hand side of the shut down area in those days). Fellow Funny Car racer Harlan Thompson had problems too, a supercharger exploding on the start line. And Sammy Miller, driving his new jet dragster, reset the track jet record and gave an unforgettable fireball and thunder show.

We are grateful to drag racing historian and British Drag Racing Hall of Fame director Jerry Cookson for providing a complete scan of the event programme, 43 photos taken by Dick Parnham and Eric Sawyer, a Street Machine report courtesy of Dave and Alli Gibbons, and we have linked to Nick Pettitt's YouTube upload of the broadcast coverage of the event.

You can see our feature on the 1994 Santa Pod World Finals here or via our Features, Interviews and Tributes page.

Pro Dutch: red light through Covid-19.
7th May: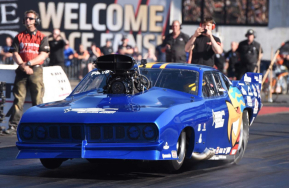 Many thanks to Bianca Booij from Pro Dutch Racing for sending us a copy of the team's newsletter for May 2020 which, through the magic of Google Translate, we have translated into English:

Pro Dutch Racing was ready. All preparations were on schedule and both the team and the Cuda were ready to kick off the 2020 season. And then suddenly there was COVID - 19. The corona crisis threw a spanner in the works. All the team are healthy and of course we hope the same for you all. With the restrictions in place, the start of the season has been postponed for a while, but for Pro Dutch Racing there is no reason to sit still. As we said in our January newsletter, the team members of Pro Dutch Racing last winter again spent many hours in the workshop at the Pro Dutch Racing '71 Plymouth Barracuda to prepare it optimally for the new season. The car was refreshed, various parts replaced and the fuel system and blower were sent to America for checking and updates. Work continued unabated for the past few weeks and substantial investments have been made in order not to be surprised when the season starts soon.

For example, an extra set of cylinder heads are welcome, a newly manufactured inlet manifold will be installed and the team got a new injector unit from America. The existing injector needed at least to be refurbished and modified, after which Pro Dutch Racing, in consultation with the American supplier, decided that it would be better for a new unit to be sent to Rotterdam.

It is always an exciting moment, the first time in the new season when, after all preparatory work the engine is started. Is everything in the right place, is everything properly secured and has nothing been forgotten? Just over a week ago, it was that magical moment again. In the workshop the starter motor was put on the V8 and the start button pressed. And yes, without a hitch the 3,500 hp engine started and ran like a charm. The perfect proof of the careful work done by the team.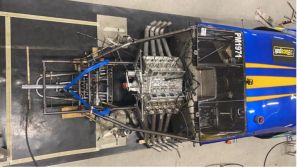 With participation in the FIA European Pro Modified Championship and the Motorsport UK Pro Modified Championship and therefore no fewer than nine events on the calendar, 2020 could have been the busiest season ever for Pro Dutch Racing. COVID-19, however, had other plans, requiring events to be canceled or moved to another date moved. With that, the plans of Pro Dutch Racing have been turned upside down.

The Easter weekend Festival of Power (Motorsport UK Championship) at Santa Pod Raceway quickly fell victim to the corona restrictions, followed by the Main Event (FIA European Championship and Motorsport UK Championship). Unfortunately we recently lost the second round of the FIA European Championship, the early June trip to the Tierp Internationals at the Tierp Arena in Sweden.

In principle, the STP Summer Nationals at Santa Pod Raceay on July 18-19 will be the first race in the Motorsport UK Championship and the opening race of the season for Pro Dutch Racing. Whether we can bring the car to run depends on the current corona guidelines. Similarly, if Santa Pod Raceway decides to have a test weekend in the coming weeks then Pro Dutch Racing makes every effort to be present.

In Germany, the ban on events has been extended until August 31, resulting in the FIA European Championship counting NitrOlympX at Hockenheim not being able to be run on the original date. The German circuit is eagerly looking for a date later in the year. Given the financial importance of this event for the Hockenheim Ring this event is sure not yet to be considered lost.

Our race calendar as it currently looks is:

FIA European Drag Racing Championship
13-16 August, Summit Racing Equipment Internationals, Tierp Arena, Sweden
10-13 September, European Finals, Santa Pod Raceway
NitrOlympX, HockenheimRing, Germany (to be rescheduled)

Motorsport UK Championship
18-19 July, STP Summer Nationals,Santa Pod Raceway
31 July - 2 August, MOPAR Euro Nationals,Santa Pod Raceway
10-13 September, European Finals, Santa Pod Raceway
26-27 September, STP National Finals, Santa Pod Raceway

You can see all of Pro Dutch racing's many sponsors on their website.

RRRC Allstar Nationals update.
7th May: Honorary Eurodragster.com member Spencer Tramm has confirmed that the 96 slots for this Sunday's on-line race, the Allstar Nationals, are now allocated and there are seven alternates listed on the Rip Rap Racing Club's Facebook page. He adds "The first 32 listed are qualified for round 2 and will start at 7pm The next 64 will race in round 1 starting at 6pm. If they haven't already done so, racers should still list their name on the FB post to show they want to be involved.

Swift snippets.
7th May: Our good friend Bob Roberts has posted something of more technical interest to anyone running, or contemplating running a blown methanol fuelled V8 engine. In the video, filmed in 2015, Eurodragster.com sponsor Andy Robinson explains the fuel system on his engine. The video will be of interest to many racers and fans and can be seen here.

Kieran has updated his Youtube channel with two more compilation videos. The first is an Audi drag racing compilation, which contains some of the fastest and quickest Audis in the world boasting huge horsepower figures and running from 7 seconds to 10 seconds over the 1/4 mile. You can see the action here. The second compilation is a Mk2 Escort Drag Racing Compilation. Kieran says "The Mk2 Escort is a well loved Classic Ford from all around the globe so it only made sense to dig through the archives and put together this video of some of the fastest and coolest Mk2 Escorts to grace the 1/4 mile in the UK & Malta. These clips were all filmed by me from 2012-2019 and include a real variety of combinations including normally aspirated screamers, Pinto & X-Flow turbos and of course big power Cosworth YBs! You can see Kieran's Escort Mk2 video here.

Kieran has also posted photos to his Mk1Kieran Facebook albums. The latest posts, over the last couple of days, include 222 photos taken at Shakespeare County Raceway and 73 shots from the 2007 Retro Show.

Back-to-back for Billy.
4th May: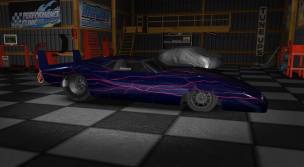 Congratulations to Billy Everitt for winning last night's RRRC Powernationals, his second event win in a row. Billy defeated Martin Britton in the final having previously been the victor against Simon Fulton in the semi final. Martin came out on top against points leader Callum Swinchatt. The exciting situation in the points is that Billy and Callum are equal in the points. Joe Kellett and Will Clark are equal third.

Organiser Spencer Tramm said the entry filled up in record time (48 minutes!) "Sorry to those that haven't made it in this time, we tried all kinds of permutations to try and make it work but we'd end up starting earlier and earlier and, trust me, 96 is a bunch of work already!"

We are pleased to be able to host the championship points in association with OCS Paint. You can access the points by clicking here or going to the points link in the main menu.

For those wishing to compete at next Sunday's event there will, as usual, be an entry thread Wednesday lunchtime. If you're up for it, make sure you have the latest version installed and go to Rip Rap Racers Club Facebook page.

Dutch demo - 1973.
4th May: Today's historic feature looks back to a major event in the history of the sport in the Netherlands, a demo on a public road by two cars and seven bikes from the UK that took place in September 1973. If this sounds quite mundane, the vehicles were far from it – the fueler Firefly and the Stardust Cuda Funny Car, and several bikes, all capable of 130mph terminal speeds in 10s or less.

For the full story and photos of this important but now mainly-forgotten event in the development of drag racing in the Netherlands, presented in association with Lucas Oils, click here or or via our Features, Interviews and Tributes page.

John Hobbs book under way.
4th May: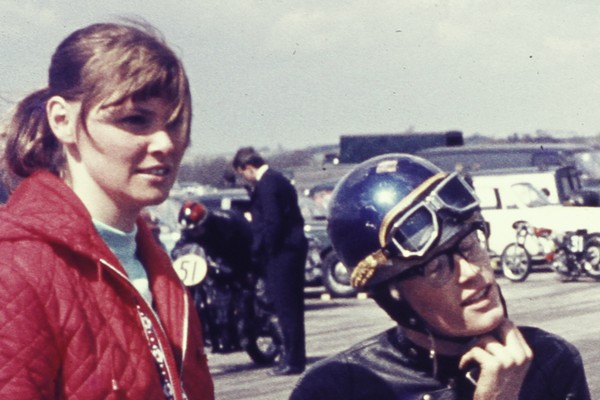 Good news for drag bike enthusiasts is that Eurodragster.com is able to exclusively announce that Keith Lee is busy working on his new project, which will be the story of drag bike legend John Hobbs. This follow-up to his highly regarded book on Mister Six himself, Dennis Priddle, will focus on the two-wheeled side of drag racing, as it evolved out of the world of sprinting. From raw newcomer to world record holder, the Hobbs name was rapidly established in the late sixties, and he went on to lead the way during the golden years of the sport in the 1970s.

Keith commented; "It took some time to decide whether I was up for the task of writing another comprehensive book, but one thing I did know was that there was only one person in my sights if it was going to happen. John is someone I have known for 50 years now - and even followed him up the track in the other lane on a couple of occasions in the early seventies! I have reported and commentated on his racing career so many times, and focused my lens on him in action equally often. If I was going to undertake another book of the breadth of Mister Six - John Hobbs just had to be the subject. He has been a tremendous ambassador for the sport, and the names of his bikes, Olympus and Hobbit, have been etched into the record books many times. Dragstalgia in particular has given younger drag race enthusiasts a chance to see this standout racer from an earlier era show that he has lost none of his competitive drive and speed - despite now being in his early seventies.

John and Cheryl, who has supported him throughout his racing career, celebrated their Golden Wedding anniversary this past weekend, and it is true to say that without her backing it would have been a much shorter story! The attached picture shows John and Cheryl at Santa Pod a year or two prior to that 1970 wedding date!

I first broached the subject of a book with John in the latter part of last year, and was pleased that he was happy to be grilled extensively as part of the process. We now have many hours of conversations logged, with plenty more to come, both from John and Cheryl, along with other competitors and relevant people along the way. If you enjoyed the Mister Six book, then this will be in a similar format, but with a North London accent instead of a Somerset dialect."

Eurodragster.com will be bringing you blog updates as the book progresses. Keith himself is establishing a Facebook page - John Hobbs Book - to keep everyone up to date, and exchange views. The plan is to publish the book next year, most probably in the second half of 2021. More details on that in future updates. Keith himself can be contacted via Facebook, at Keith Lee Images, or email: info@keithleeimages.co.uk.

Swift snippets.
4th May: In his latest uploads to Youtube, drag racing historian Nick Pettitt has posted coverage of the whole episode of Tomorrow's World where Dennis Priddle gave presenter Maggie Philbin the opportunity to drive his Top Fuel Dragster with scientifically revised aerodynamics - and no rear wing. Nick has also posted video coverage of the 1994 Cannonball . The legendary Sammy Miller was at this event, although problems with the fuel mix hampered the performance of Vanishing Point.

Santa Pod Raceway have also been updating their online videos by posting the Euro Finals from 2012, a race run in great weather conditions.

Robinson Race Cars on tour – part 4.
2nd May: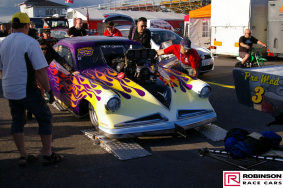 Many thanks once again to our good friend Bob Roberts for part 4 in our series documenting the story of some of Eurodragster.com sponsor Robinson Race Cars' overseas racing trips.

In 2009 Andy once again attended all rounds in the FIA Pro Modified championship and round number two at the start of July was Alastaro in Finland. In both qualifying and eliminations, Andy started well but then experienced traction issues. There was a field of 18 cars and the event suffered much rain and downtime.

Bob's account tells the team's behind the scenes story of the event with a gallery of 36 photos and a link to his video record of the event. You can read Part 4 of Robinson Race Cars on tour here or via our Features, Interviews and Tributes page.

Spy picture.
2nd May: Today we have a trio of spy pictures from a single source. The inscription on the side of the Pop is a bit of a giveaway if you have been reading our updates recently. There is also a touching dedication to Santa Pod Raceway announcer Darryl Bradford.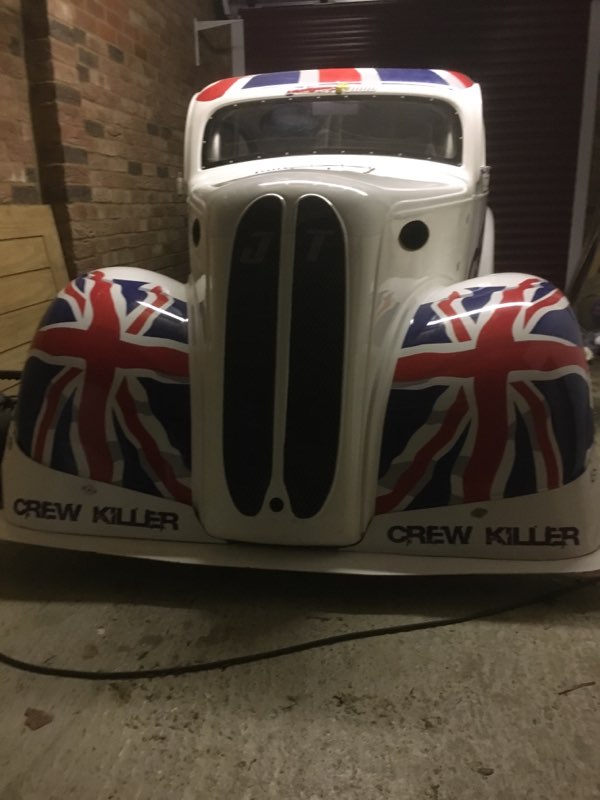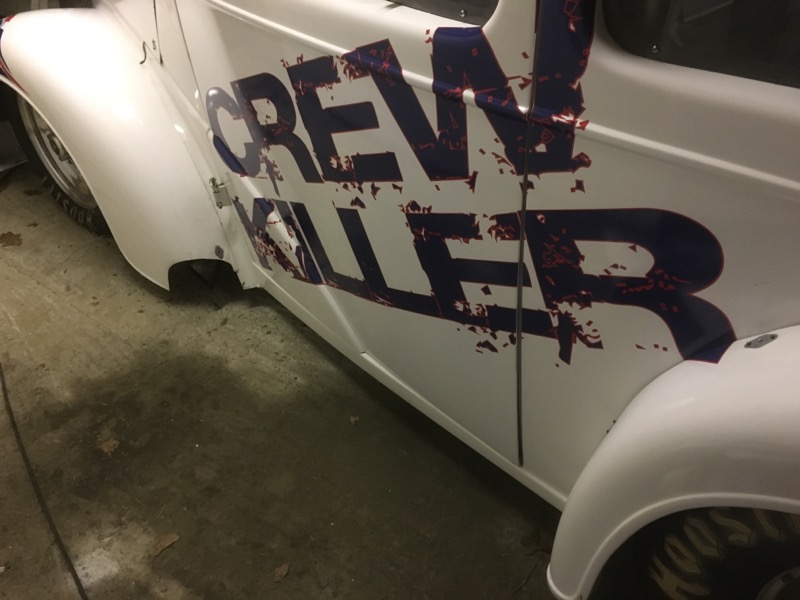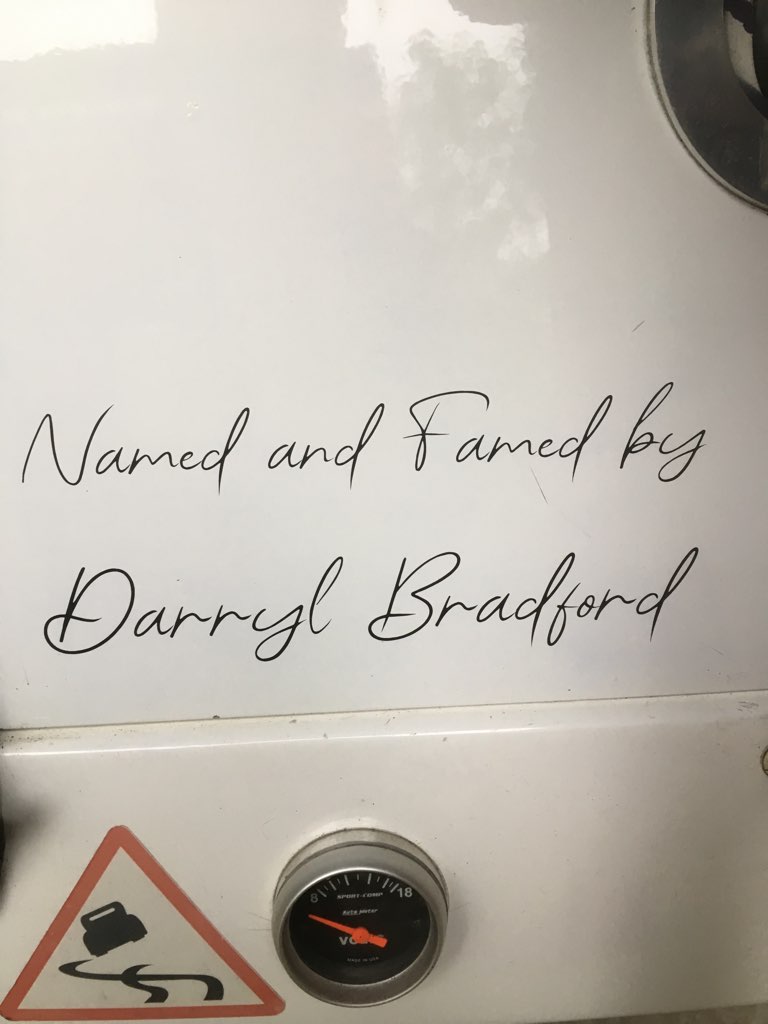 If you know more, or if you would like to send your own spy picture, then drop us a line at editor@eurodragster.com.

Feature: Eurodrag files.
2nd May: As a follow up to our piece on 30th April prompted by Chris Hobson sending us some long-lost championship standings in the European Top Fuel Challenge 1991 and 1995, we searched our hard disk and the web, and found more material from the long-since defunct site Eurodrag.com.

A message to former web master Erwin Raets resulted in confirmation that he was happy for us to republish his work. So we have assembled a feature which covers many of the pre-FIA championships in the 1990s. We also found detailed results from FIA races held in Sweden and Finland between 1996 and 1999, before Eurodragster.com reported at these events, kindly supplied by honorary Eurodragster.com member Andy Marrs. For good measure, we have linked the results to high quality videos of the events.

You can see our feature on the Eurodrag files here or via our Features, Interviews and Tributes page.

Thacker launches blog.
2nd May: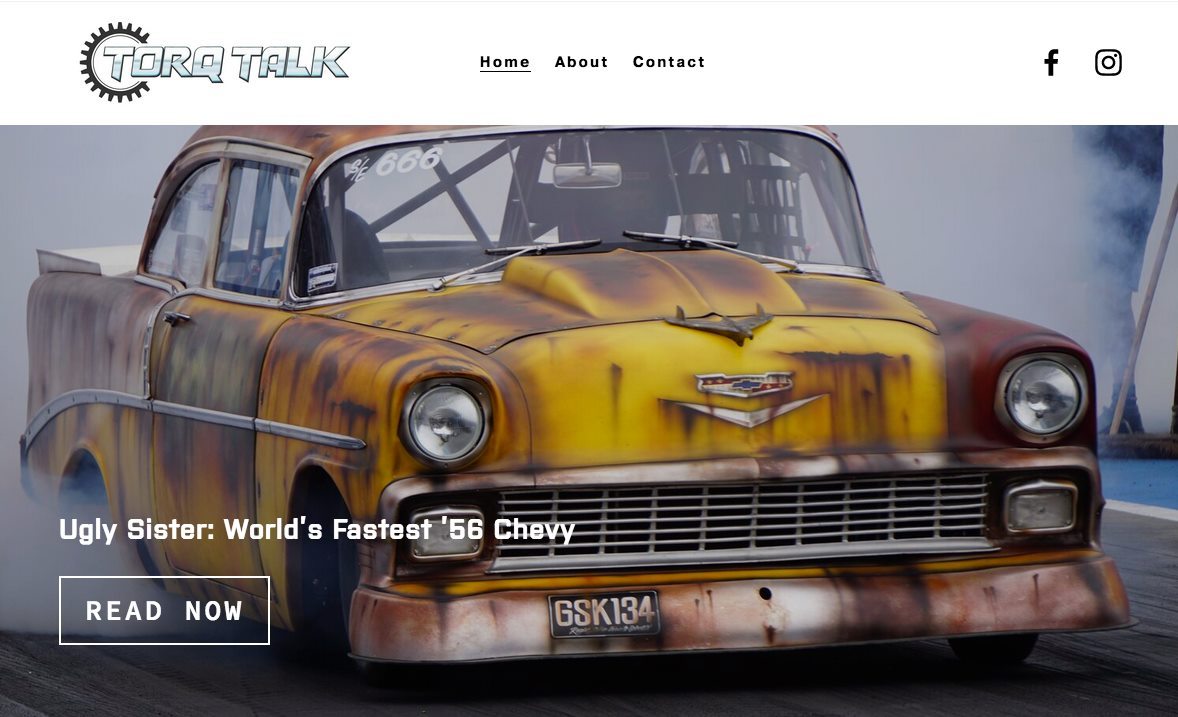 Photo journalist Tony Thacker lives and breathes car culture as those who have met him will attest. Among his achievements are editorship of Custom Car, director of the NHRA Museum in Pomona, California, founder of the World of Speed museum in Oregon and compere of the British Drag Racing Hall of Fame Gala for the last three years.

Tony has now launched his personal blog with his take on the many automotive things that fascinate him and us. Torqtalk covers both the UK and US speed and custom scene and pieces posted recently include a Dragstalgia review, the Ugly Sister world's fastest '56 Chevy, Geoff Stilwell's 300mph Bonneville LSR roadster and Williams Bros racing.

Thanks go to designer Kailay Yu and sponsors: Geoff Stilwell & BUA Motorsports, HandHFlatheads.com, MicksPaint.com, RatTrapRacing.com and USAutomotive.co.uk.

Webster interviewed.
2nd May: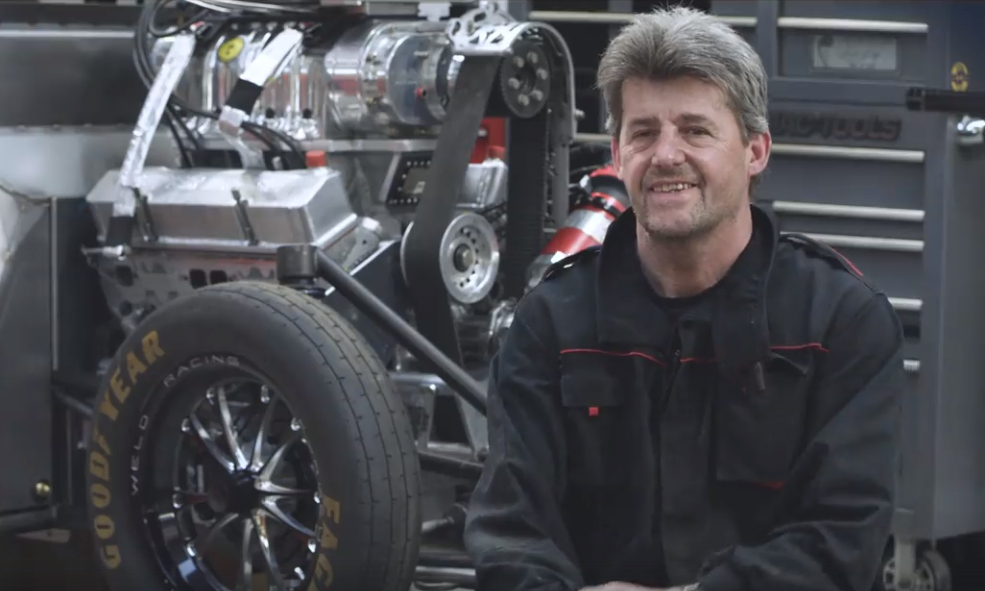 BeFastR is a company providing motorsport media services, and motorsport inspired clothing and merchandise. In their latest video post to Facebook they interviewed Eurodragster.com sponsor Jon Webster and found how he got "from humble beginnings, serious graft and plenty of ups and downs to becoming one of the most highly regarded drag car builders in the industry".

By watching this highly recommended video, you can follow Jon's fascinating story of the hard work and dedication it takes to become a true master craftsman, and learn just how critical and precise one has to be when building cars for what is without a doubt the loudest and fastest motorsport on the planet! You can see the video on Facebook by clicking here.

NitrOlympX postponed.
30th April: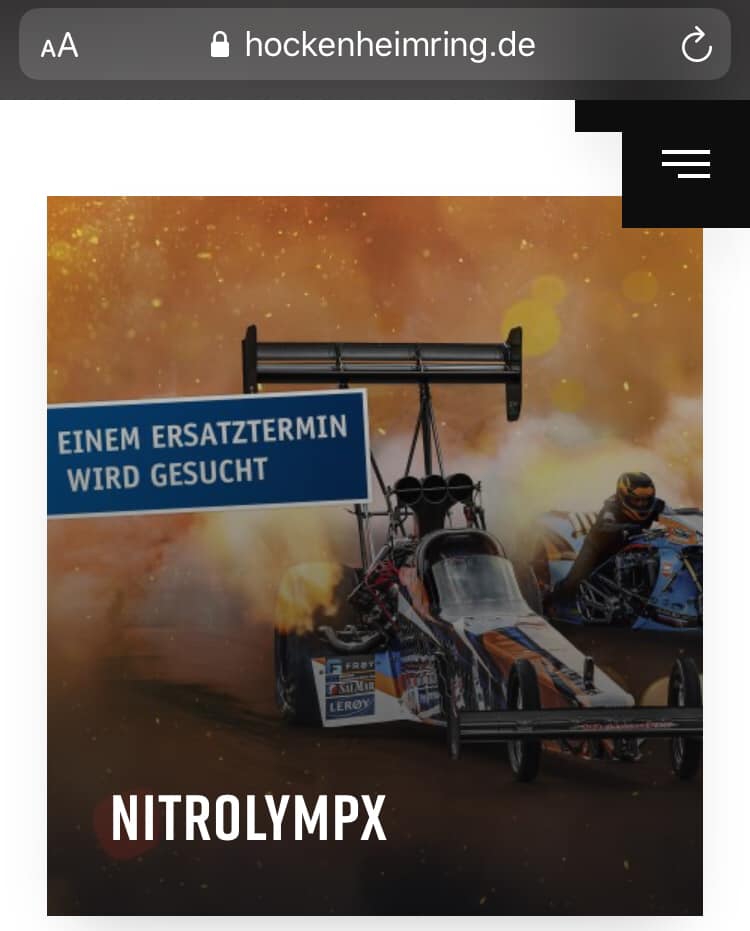 Displayed on the web site of Hockenheimring today are the following words: Einem eratztermin wird gesucht (A replacement date is sought). So Hockenheim is looking to find a new date for the NitrOlympX 2020. The web site of the track and the event, previously scheduled for 28th-30th August, states:

The Federal Government's decision published on 15th April states that no major events may be held in Germany until at least August 31, 2020. The respective federal states are responsible for the design of such a regulation. As soon as we have the ordinance of the state of Baden-Württemberg with all information and details, we will be able to get an exact picture of which events planned at the Hockenheimring are affected and must be canceled or rescheduled. This is a complex process that requires a high level of coordination with everyone involved. We will continue to go full throttle in order to be able to offer you as many racing events as possible in 2020 within a responsible framework. The health of every individual has top priority!

Stay tuned for further developments.

Rip Rap Racers Club announces Powernationals.
30th April: Many thanks to Honorary Eurodragster.com member Spencer Tramm for confirming the on-line RRRC Powernationals will take place on Sunday 3rd May from 6pm:

Entry is now open and limited to 96, those that made round 3 are seeded into round 2 (starting at 7pm) however you must still list your name to show you want to be involved. Those that made the last 32 have been reserved spots but racers must post in the thread to enter, from today (Thursday) onwards any unreserved spots will be free for anyone to take. For full information go to Rip Rap Racers Club Facebook page, or our points page to see the current standings.

Spy picture.
30th April: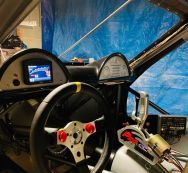 The latest spy picture to arrive at the offices of Eurodragster.com came without any caption but was located to the FB page of a multi championship winning team.

If you know more, or if you would like to send your own spy picture, then drop us a line at editor@eurodragster.com.




BDRHoF US representatives active in the media.
30th April: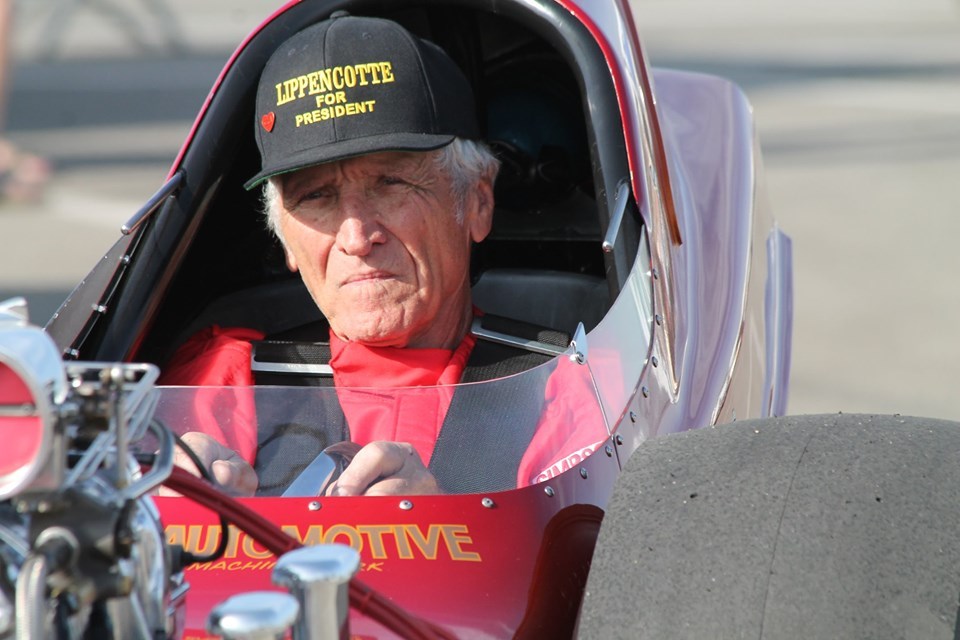 Many thanks to Eurodragster.com sponsor Geoff Stilwell supporting Nitro Revival for drawing our attention to a detailed and well researched article about the background to Bob Muravez's racing life. Bob, an international ambassador of the British Drag Racing Hall of Fame, famously raced under the alias of Floyd Lippencotte Jr in the 1960s when he was a feared competitor in Top Gas Dragster. John P Glionna, writing for the SB Nation web site, documents Bob's childhood and the difficult relationship with his father which led to Bob to adopt his nom-de-guerre, and what happened when this was uncovered. It is not an easy read emotionally, but it is an outstanding story.

On a different note but sometimes tinged with sadness is a series of presentations by BDRHoF 2017 Lucas Oil Global Achievement Award recipient Steve Gibbs filmed by daughter Cindy and posted on the Nitro Revival Group Facebook page. Steve is a great raconteur as those who met him at the BDRHoF Galas will remember. These videos are like a one-man bench race, coming as they do from someone with huge experience of running the sport in the NHRA.

European Top Fuel Challenge results located.
30th April: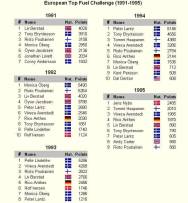 Thanks to long time fan Chris Hobson for locating this table of pre FIA era points standings for Top Fuel (click for larger, legible version). They come from the European Top Fuel Challenge 1991 and 1995 which was promoted by Santa Pod owner Keith Bartlett. Chris says 'These are not my calculations but from an older page that I can no longer find on-line'.

In the table, you can see the Scandinavian dominance of the category during this period, and the legendary names who competed in the.

A look through our own records confirmed that the page in question is Eurodrag.com which was live until 2009 and listed personal bests and pictures of European racers and was run by computer programmer and racing fan Erwin Raets. The site disappeared when Erwin passed the database to the successor site the European Drag Racing Database at www.drdb.eu, which happily is still fully active and a superb source of information. But we shouldn't forget Erwin's role in establishing such a database in the early days of the internet over 20 years ago.

Billy wins, Callum leads.
28th April: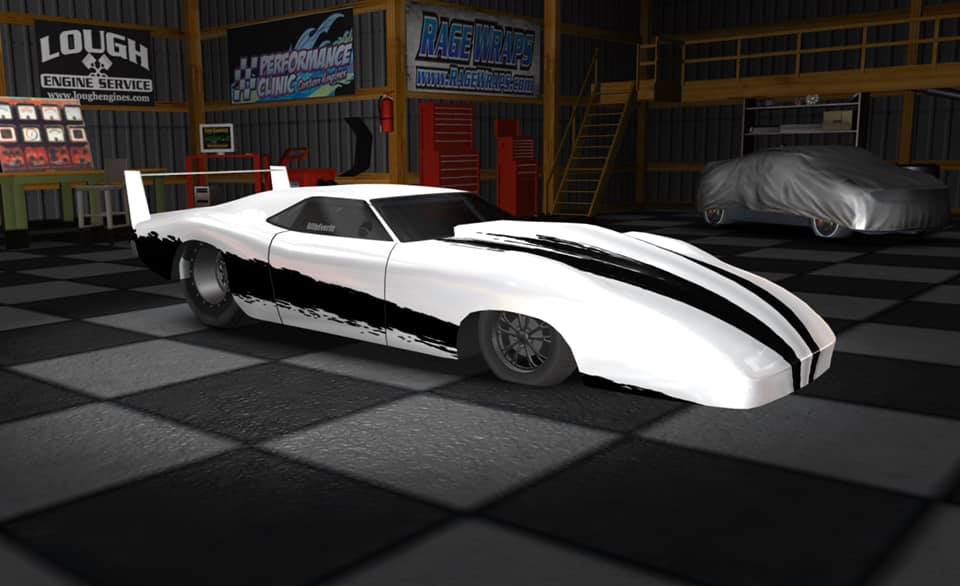 Congratulations to Billy Everitt on winning the Sports Nationals, the latest round in the RRRC6 online racing series held on Sunday night. Billy was up against a field of 96 racers and defeated Santa Pod Raceway announcer Colin Theobald in the final, having previously defeated Robbie Grabham in his semi-final and Colin having defeated Craig Wright in his semi-final. Billy's car was a Plymouth Superbird, pictured to the left.

We are pleased to be able to host the championship points in association with OCS Paint. You can access the points by clicking here or going to the points link in the main menu. Callum Swinchatt remains as points leader over Joe Kellett, followed by Will Clark and Craig Wright.

For those wishing to compete at the following Sunday's event there will be an entry thread Wednesday lunchtime. If you're up for it, make sure you have the latest version installed and go to Rip Rap Racers Club Facebook page.

Markus Ek 2008 Veidec gallery.
28th April: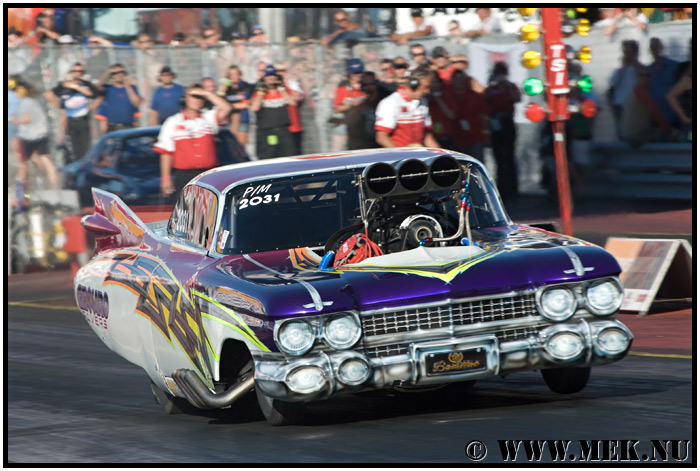 Many thanks to Markus Ek for kindly giving permission for us to post 140 of his photos taken at the 2008 Veidec Festival held at Mantorp Park in Sweden. This was a memorable event in many ways, Markus coming on board to help out Eurodragster.com and being part of the team working into the small hours to get the coverage completed.

The whole event was an absolute blast with a huge field and many track records set in the process. For more explanations, see our feature which as ever is supported by Lucas Oil Products. Our gallery of Markus's photos is here or via our Features, Interviews and Tributes page. (Pictured is Jan Gunnarson's Badillac Pro Modified which made its race debut at this event.


Swift snippets.
28th April: Kieran has posted another in his series of drag racing compilation videos to Youtube. Ford's model 100E has had a surge of popularity over the last couple of years with the formation of the Modified 100E group, and his latest shows many examples of the breed. Kieran says "LS Swapped & turbocharged 4-cylinder motors... this compilation dedicated to Ford's little 100e has it all! These are just some of the examples I've filmed over the last 8 years with all different levels of performance".You can see Kieran's video at his Youtube channel.

Retired Editor and Race Reporter has asked us to wish former junior drag racer and friend Thaliah Gibb a very Happy Birthday for tomorrow (29th April). Have a lovely day Thaliah.


West Ten Motorsport - off track but online.
25th April: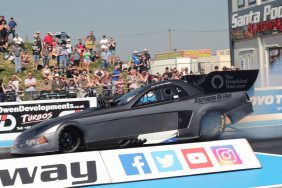 Many thanks to Dan Welberry of West Ten Motorsport, with a two car line-up for this year and Kevin Kent and Shelley Pearson driving, who has been in touch about the team's preparation for racing later this year.

As we're sure was the case for many race fans, Easter was a very frustrating weekend for West Ten Motorsport. For starters, there was the cancellation of the Festival of Power, the season opener for our class - the European Funny Car Series. And the weather was also a little frustrating in that it was amazing! We all know that this is often not the case for this particular weekend. Who can remember snow and snowmen on the start-line a few years back? Despite these unprecedented times, West Ten is not sitting still and doing our best to keep things moving on all fronts. Both Kevin and Shelley's cars are ready to run hard when the racing does get underway and Kevin is continuing with routine maintenance on the team machinery as much as he can during this lockdown period.

And it's not just in the workshop that progress has been made. We're also delighted to announce the release of our new West Ten Motorsport website - www.westtenmotorsport.com. This visually striking site brings you all the latest news from the West Ten camp, as well as driver profiles, video clips from the 2019 season and a brief history of the Funny Car. You can also get in touch with the team here and download our latest partner brochure to find out more about becoming a partner with Europe's only two-car Funny Car team.

Why not take a look and let us know what you think? We'd love to hear your feedback.

We'll do our best to keep you posted on any further developments with the team as they happen but until we can get back to the track, stay safe and we can't wait to go racing as soon as is safe to do so.

Robinson Race Cars on tour – part 3.
25th April: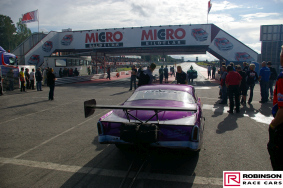 Many thanks to our good friend Bob Roberts for part 3 in this series documenting the story of some of Eurodragster.com sponsor Robinson Race Cars' overseas racing trips.

This time on the team's visit to Mantorp Park in Sweden for the 2007 Veidec Festival, Andy was top qualifier of 22 cars, setting a new track record in the process – thereby winning Tog a 50 Krona note. A close final saw Andy become runner-up to Micke Gullqvist.

Bob's account tells the team's behind the scenes story of the event with a gallery of 23 photos. You can read Part 3 of Robinson Race Cars on tour here or via our Features, Interviews and Tributes page.

Swift snippets.
25th April: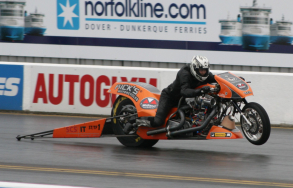 The Mad Welshman has updated his Flickr gallery with two large albums of 425 pictures covering a variety of events from 2008 at Santa Pod Raceway and Shakespeare County Raceway. You can check out Mad's shots at flickr.com.

Kieran has posted another in his series of drag racing compilation videos to Youtube. This time it is the turn of the Ford Cortina, with clips are filmed by Kieran from the past eight years at Santa Pod Raceway in the UK and Hal Far Raceway in Malta. Kieran says 'The video includes runs from full-blown drag cars to modified street cars'. First up is the legendary John Woolfe Racing/Ampar Cortina of Steve Green. You can see Kieran's video at his Youtube channel.

The latest video in Santa Pod Raceway's #RacingThroughTime series is the 1989 World Finals. Liv Berstad failed to qualify but later ran the fastest time outside of North America, a 5.37/260. There was plenty of nitro action in Top Fuel, Funny Car, Top Alcohol, Pro Stock (the Nordic series at SPR for the very first time) and Pro Mod, so catch the action here.

A big Happy Birthday to our good friend and former supplier of our webcast streaming service Doyousee.me, Maikel Gloudemans, whose birthday it is today. Have a great day Maikel.

Feature: 1997 FIA European Finals.
23rd April:

In a new series of features presented in association with Lucas Oil Products, we look back on results of some of the races that took place prior to Eurodragster.com carrying live reports. The first race we are presenting comprehensive results for is the 1997 FIA European Finals. We are grateful to Andy Marrs of TSI Timers for sending us data, retired News Editor and Race Reporter Tog for supplying over 30 photos of the event, and to Santa Pod Raceway (then in the guise of Power Race Comminications) for allowing us to carry a scan of many pages of the event programme.

A few weeks earlier to this event, Kent Persson had become the first Top Fuel racer in Europe to record a four second time at the Hockenheim NitrOlympX. But it was Rico Anthes who took the second ever FIA TF Championship with a semi-final finish. In Top Alcohol (dragsters and funny cars combined but ,running heads-up). Peter Beck became champion by a margin of three points but the headlines were taken by Jarmo Roivas' ET record and Leif Andreasson's five second pass, the first by a methanol-fulled FC in Europe. In Pro Stock, Tomi Laine took the no.1 qualifier, the event, the record and the championship. The bike classes were yet to run as a FIM Championship series, however Brian Johnson won Top Fuel Bike.

You can read our feature on the 1997 FIA European Finalshere or via our Features, Interviews and Tributes page.

If you would like a particular event covered that is not already in our event coverage, we have data going back to mid-1995. If you've official data before this, we would also be very pleased to hear from you. Please send your suggestions to news@eurodragster.com and keep the news coming.

Swift snippets.
23rd April: Advance birthday greetings to honorary Eurodragster.com member Colin Roaf who celebrates his special day tomorrow (Friday). Have a great day Colin and see you at the track before too long.

Joe wins RRRC Supernationals.
21st April: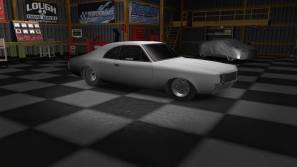 Congratulations to Joe Kellett for winning the RRRC Supernationals held on Sunday night. Joe achieved his win in a field of 96 racers by defeating Will Clark in the final and Jack Gooding in the semi final. In turn, Will had defeated series organiser Spencer Tramm in his semi-final. Joe's car was a first generation AMC Javelin, pictured to the left.

Callum Swinchatt remains as points leader over Joe Kellett, followed by Will Clark and Craig Wright. For those wishing to compete at the following Sunday's event there will be an entry thread Wednesday lunchtime. If you're up for it, make sure you have the latest version installed and go to Rip Rap Racers Club Facebook page.

We are pleased to be able to host the championship points in association with OCS Paint. You can access the points by clicking here or going to the points link in the main menu.

Expat review – Lex Joon Racing.
21st April: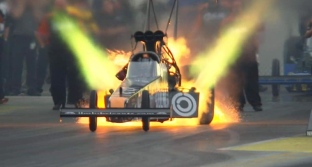 Top Fuel Dragster racer Lex Joon started his racing career in the Netherlands in 1993 with a Top Methanol Funny Car, moved to the Kings of the Sport in 2004 and won the FIA championship in the following year. He raced in Europe until 2011 and then made the momentous decision to move permanently to the US and obtain citizenship. Planning the move took some time and it was not until October 2013 that he, wife Gerda and Cha Cha, the family 'dogster' shipped their possessions and Lex's Top Fuel Dragster so they could settle again in Indianapolis.

Having found employment, Lex and Gerda rented a small race shop opposite Don Schumacher's headquarters in Indianapolis. The car needed a new front half to be NHRA legal and the team's parts inventory was built up. Then in 2018 Lex ran three races so he could re-licence, and so runs at the Texas Motorplex and Lucas Oil Raceway in Indianapolis helped in that process. The team then went to St. Louis (Gateway Motorsports Park) and Charlotte zMax Dragway. He didn't qualify, but the team got used to tuning and running a TF car.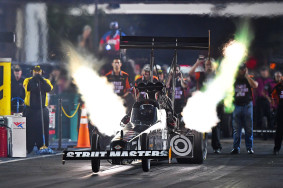 In 2019, Lex and the team had an expanded programme of eleven races which enabled Lex to finish 18th in the points and pick up an important round win against Leah Pritchett of Don Schumacher Racing at Bristol. By this stage Lex had signed sponsor deals enabling the expanded tour schedule. The initial deals were with Strutmasters.com (suspension parts manufacturer) and JLM Lubricants.

In December, Strutmasters.com extended the sponsorship to enable Lex to run multiple races during the 2020 NHRA Mello Yello Drag Racing Series. Lex commented "With a total of four Top Fuel dragsters running under the Strutmasters banner we can expect a race within a race when it comes to bragging rights for the best performing car in 2020".

In 2020, Lex and Gerda have added more sponsors to their increasing roster. In January, they announced CP-Carillo, manufacturer of pistons, rods and piston rings. Lex says "With the support of CP-Carrillo, along with our other amazing sponsors, we know that we will be a stronger contender for the upcoming NHRA season".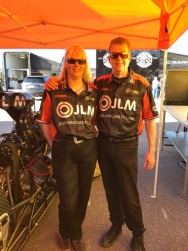 The team has also been joined as supporters by Gates Poly Chain® belt, and Better Diesel™ FBC as its newest associate partners for the season. Lex Joon Racing will be adding Better Diesel™ FBC fuel borne catalyst treatment to the diesel tanks of their new Kenworth race hauler.

The latest additions to the sponsor roster for LJR are Red Line Synthetic Oil and Best of Texas Barbecue Sauce. Lex commented on Red Line Synthetic Oil: "It is critical we utilize superior oils and lubricants that can endure the extreme temperatures we see regularly as our cars produce 11,000 horsepower. Red Line products give us the confidence that our drivers will be able to perform at their full potential".

Best of Texas Barbecue Sauce is owned by Funny Car racer John Hale. Lex says: "John's enthusiasm for drag racing, his understanding of the sport, and his Best of Texas Barbecue Sauce are a perfectly balanced addition to our line-up of top notch sponsors".

With such an array of sponsors, we look forward to seeing Lex in events in the East and Mid-West in the shortened NHRA season and will keep readers updated with his racing activities. It's well worth visiting his web site at www.lexjoonracing.com which is full of images and is a model for attracting sponsor and fan interest.

Williams Bros reveal.
21st April: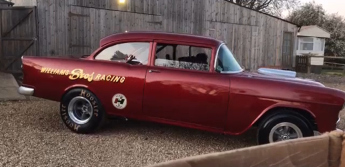 Last night saw the reveal of the latest Williams Bros Racing creation live on Facebook. The superb candy apple red '55 Chevy, which was worked on as a part time project by dad Keith Williams with Eurodragster.com sponsor (through OCS Paint) Nic and brother Dan with their team, was shown on the William Bros Racing page and can be seen driving out of the garage.

Santa Pod Raceway commentator Colin Theobald presented the reveal to viewers with interviews with Nic, Dan and the car's driver Keith Williams. The car has a 302ci small block Chevy engine with a FST carburettor and a dynoed power output of 540hp, designed to run in the 10-11s range. Thanks go to Jon Webster for the roll cage and Neil Melliard for the hand brushed lettering.

Tony Morris Carburetors launches.
21st April: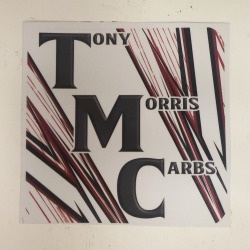 Tony Morris has long been known in the UK and Europe as a drag racer and racing carburetor specialist. Now, after years of working for and alongside the best carburetor suppliers in the USA, he has decided it's time to branch out on his own.

The ex-pat Florida resident has been involved in motorsport since he was a toddler and has been actively drag racing for 41 years in the UK, Germany and the USA. Tony has gained immense knowledge and experience with leading companies like chassis builder Undercover Race Cars, noted carburetor supplier BLP, and by way of his thousands of hours logged in a variety of sportsman race cars.

Tony Morris Carburetors - TMC - can build and supply bespoke, fully adjustable, Holley style racing carburetors for all fuel types and for all classes of race car, offering the consistency and adjustability required of today's bracket racer. Upgrades, conversions, and refurbishment to your existing carburettor is offered as well, along with premium spare parts and components. Conversions are a cost effective alternative to brand new 'out of the box' carbs, and are calibrated to your vehicle's specific requirements rather than set up with a 'catch all' tune.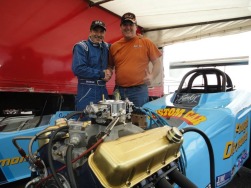 The good news for the UK and European racer, is that Tony has negotiated a UK based agent in the form of Dave Gibbons at Rough Diamond Racing. Tony and Dave have been close friends and worked with each other for over forty years. Dave has a lengthy reputation in drag racing and other UK motorsport disciplines as well.

Once fully established, TMC will offer an identical service inthe UK (and European) racer as they would get if they were located in the United States. Dave will assemble, convert and refurbish carburetors to Tony's exact specifications, and supply support and parts to keep them running the way they should, offering a more convenient Tony Morris Carburetorservice without the added cost, duties, shipping, and delay in timescale involved on orders direct from TMC in the USA.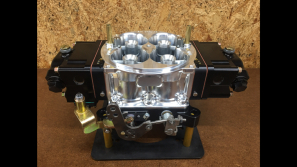 Tony explained, "Dave has a reputation for meticulous preparation and attention to detail. I trust him to provide the same quality of work I would supply myself". Dave responded, "This collaboration makes perfect sense. Tony is at the top of the game when it comes to carbs, and there's a demand for his services in the UK and Europe. I have the capacity to carry out the work and supply that service 'remotely' with the technical experience coming directly from Tony". This means that customers can be assured that each quality carburetor will be assembled with the time and care as should be expected - not put together by an employee on minimum wage in a hurry to get on his lunch break!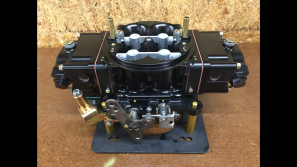 Tony concluded, "The agreement for a UK base was made before the coronavirus crisis struck, which has clearly put a delay on the UK launch". However Tony and Dave appreciate that this might be a good time for racers to carry out maintenance, so have decided to offer a UK service (while shipping and courier services remain available) to carry out carb refresh and refurbishment with immediate effect. Conversions and upgrades will be available in the near future. So if you're in the UK and you have a carburetor in need of a refresh, prices start at £215.00 including top quality US manufactured parts. Please contact Dave at TMC@roughdiamondracing.com who will be happy to oblige.

Tony Morris Carburetors LLC is up and running in the USA now, and are currently able to offer their full range of services. Tony can be contacted via email at anthonyrmorris@yahoo.com or the Tony Morris Carburetors Facebook page.

Swift snippets.
21st April: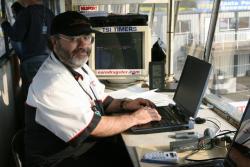 If you can get a subscription or visit a newsagent during the lockdown, you need to buy the June/July edition of Custom Car magazine. Our good friend Keith Lee has an article on our now-retired Editor and Race Reporter Tog. In the article you can see pictures of Tog with his favourite cars, and find out about how Eurodragster.com started and how the advances in technology in the last 23 years have helped the web site expand.

In his latest update on Youtube, Kieran has posted a compilation of videos of the Taz Racing Fiat 126's, some of drag racing's shortest wheelbase creations that are likely to do a wheelstand by merely looking at them. Kieran's other recent upload is dedicated to VW Golfs traversing the quarter mile with a variety of wheel driving configurations and power plants.

Aidan to Top Fuel.
18th April: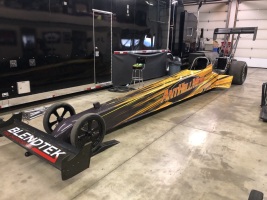 Thanks to Ant Hill Mob Dragracing Team's Aidan Heatley-Smith, former Top Alcohol Funny Car racer and son of Smax Smith, who has been in touch about his new ride:

After a long delay since the latest spy pic (Ed: posted on 3rd February in Swift snippets) we can finally unveil the news.

What do you do during a world wide pandemic? Buy a Top Fuel dragster!

Smax has purchased the ex Patrik Pers Top Fuel dragster from Sweden, after selling the Top Alcohol Funny Car to a guy in France. Our plan is to have Aidan license as soon as the tracks open again, and have a father vs son match race later in the year, but all plans are on hold right now due to the Covid-19! We are currently getting the car race ready so we can go testing the second the track opens, and hope everyone is staying safe and healthy. Tune into our Facebook page for more updates!

Robinson Race Cars on tour – part 2.
18th April: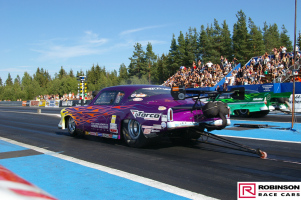 Many thanks to our good friend Bob Roberts for part 2 in this series documenting the story of some of Eurodragster.com sponsor Robinson Race Cars' overseas racing trips.

This time we focus on the team's visit to Gardermoen for the 2006 Summer Nationals. There were 20 cars competing in Pro Modified and Andy qualified number one with a 6.266 in a field spread by 0.493 seconds. In the final, Andy was runner-up to Micke Gullqvist.

Bob's account tells the team's behind the scenes story of the event with a gallery of 39 photos. You can read Part 2 of Robinson Race Cars on tour here or via our Features, Interviews and Tributes page.


Twister's Perfect new sponsor.
18th April: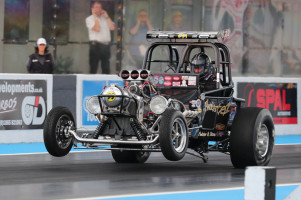 Many thanks to Andy 'Fadster' Hadfield, sponsor of Eurodragster.com's Perfect ET award in 2019 through Team Twister, for providing details of a new sponsor for his Supercharged Outlaws street-legal seven second altered:

Team Twister and Twister's Sister are delighted to announce a new sponsor. What a boost for us during these sad and strange times.

Trackstuff Racing Fuels and Tyres and #renegaderacingfuels have very kindly agreed to sponsor both teams with all their products.

This is a massive deal for me personally. As a privateer, my racing budget has always been challenging and anytime I get the opportunity to get a great deal at discounted prices, I jump at it.

Thank you to Jeff Ludgate of Trackstuff for his support and faith in Team Twister.

Editor's note: We will have news on the Perfect ET award when the racing season gets under way, so stay tuned to Eurodragster.com for further details.

Tierp Internationals cancelled.
16th April: Urban Axelsson, of Tierp Arena and NDRS Motor Club, has made the following announcement:

It is with heavy hearts we have to inform you that we have made the decision to cancel the 2020 Tierp Internationals at Tierp Arena on June 4-7 which would have included rounds of the FIA European Drag Racing Championship, EDRS Pro MC series and Summit Racing EDRS Series, as a result of restrictions in place because of the Covid-19 virus.

We have closely followed the development of the situation around us and even if we hope the world will be in a better state in the beginning of June, we see no possible way of holding the event due to the restrictions currently in place and the uncertainty of international travel and border crossing. The safeguarding of our spectators, racing teams, staff and volunteers and their families must come first. The decision process has been made in dialogue with FIA, DRE, SBF, SVEMO and Speedgroup.

We are now turning our main focus towards the 2020 Summit Racing Equipment Internationals on August 13-16 with the aim to make it a great event.

Refund for the 2020 Tierp Internationals will be made for advance tickets and entry fees.

We hope for your understanding and support in the future.

See you at the Summit Racing Equipment Internationals August 13-16.

Swift snippets.
16th April: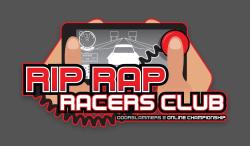 Many thanks to honorary Eurodragster.com member Spencer Tramm for letting us know the Rip Rap Racers Club are racing again on Sunday with the RRRC Supernationals starting at 6pm. Spencer says "numbers are limited to 96, although we are filling up fast!" Spencer also thanks Eurodragster.com sponsor Peter Walters at Peter Walters Race Design for designing the club logo.

European coverage in the crowded U.S. drag racing media is always notable, and our former photo editor Roger Gorringe has supplied an article to Drag Racing Edge magazine describing European drag racing's reactions to the lockdown and its effects on racing activity. Eurodragster.com provided its viewpoint and you can read the article online here.

If you're wanting to join the community of drag racers acknowledging the fantastic work being done by key workers in these uncertain times, posting a picture of your car or bike at Drag Racers Saying Thank You is a way of making your gratitude known. You can also post a link to a charity which is helping those in need; two such charities are the amazing Tom's Walk For the NHS and the Imperial Health Charity.

FHRA update.
14th April: Many thanks to Rami Vaan who has supplied an English translation of an announcement by the Finnish Hot Rod Association about their season. Rami says the announcement from FHRA Management Team (decided on 31st March 2020) concerns the 2020 Finnish drag racing season.

The FHRA announced that all races until end of June 2020 are cancelled. This means that the 2020 Nitro Nationals, planned to take place on 25th-28th June, and which is not a part of the FIA and FIM-E drag racing championships, has also been cancelled.

The fate of the rest of the racing season will be reviewed on 17th June 2020 by the FHRA management team, and there will be separate announcement about further decisions after 17th June.

The FHRA have also produced the first two episodes of a series about the sport in Finland which goes under the title FHRA Power & Speed. Episode 1 looks at Stock/Super Stock and focuses on the Grönman Motorsport Factory Stock Mustang. Episode 2 looks at Pro Street and in particular Ossi Oikarinen's '37 Chevrolet from the 7.60 indexed class. Although both programmes are in Finnish, they are well produced and we are hopeful of English subtitles being included in the future.

Robinson Race Cars on tour.
14th April: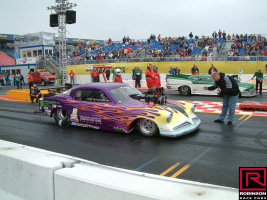 Many thanks to our good friend Bob Roberts who has supplied photos and the story of Eurodragster.com sponsor Robinson Race Cars and their trip to Hockenheim for the 2005 NitrOlympX. In that year the competition in the Pro Modified division, as with Top Fuel Dragster, Top Methanol Funny Car and Super Modified, was on a Cannonball basis. The Sunday racing was completely rained off, however promoter Rico Anthes persuaded the Pro Mods to come out and do some burnouts and launches to entertain the fans that had come in the hope of some action. Andy and the team finished first in the event, running a 6.429/223.8mph in the process.

Bob's account tells the behind the scenes story of the team's weekend with a generous gallery of 40 photos. You can read Part 1 of Robinson Race Cars on tour in association with Lucas Oil Products here or via our Features, Interviews and Tributes page.

Swift snippets.
14th April: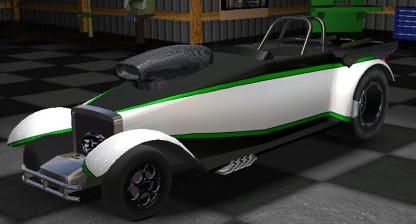 Congratulations to Craig Wright for winning over a field of 95 other virtual drivers at the Rip Rap Racers Club Springnationals for the prize of a Bruce t-shirt courtesy of SPR announcer Colin Theobald. In the semi final, Craig (his roadster pictured) won against current points leader Callum Swinchatt. In the final Craig beat Joe Holland-Villa, who had in turn defeated Darrell Bennett in the other semi-final. Thanks are due to organiser and honorary Eurodragster.com member Spencer Tramm who says that there will be another event next Sunday. Potential entrants should head towards the RRRC Facebook page.

Drag racing historian Nick Pettitt has been uploading to Youtube more off-air recordings of now-historic drag racing events. His most recent batch comprises twelve events from 1994 to 1998 covering the European Top Fuel Association (1994-5) and FIA Championship (1996-8) at venues across Europe.

Swedes in Florida.
11th April: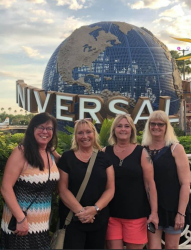 Photojournalist and PR for the EDRS Lena Perés has been in touch with an account of her eventful trip to Florida with Swedish racing colleagues to see the foreshortened Gatornationals, one of the key NHRA races for attracting racers and fans from Europe:

In these troublesome times, we need to try to look for and appreciate some of the positive things, and here is a report from the other side of the Atlantic before everything started going on a lock-down.

It wasn't what we had planned for and it turned into an odd and remarkable experience. We, Helene Rapp, Eva-Karin Brinell, Anette Heleander and Lena Perés travelled to Gainesville, Florida, for attending and working at the third NHRA drag race of the season, the Amalie Motor Oil Gatornationals. Everyone was fired up for this race, teams as well as track crews together with a big audience from around the world. Though with only a few hours notice, the event was called for a postponement on Thursday, the first day of sportsman racing.

Everything was set for a fantastic race weekend with all the professional and sportsman teams on site when the news of the postponement was made public on Thursday morning. Many visitors from Europe were present and the people in our group were set up to work at the event.

"We got the message when we were on the way to the track on Thursday morning", says Annette Heleander who would have worked with the NHRA Safety Safari all weekend, "it felt like the wind got knocked out of us. We were of course very charged up for this weekend and had planned this trip for a long time".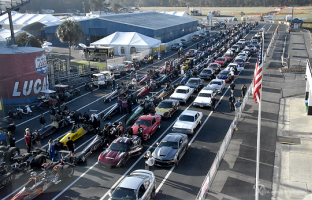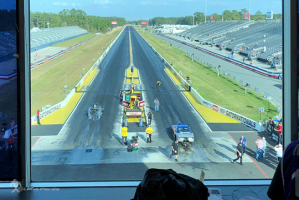 On the Wednesday, all trailers were in place and the teams all set and ready to race, but on arriving Thursday morning, most professional category drivers had left the pits. Some teams remained and were noticeably dissatisfied with the situation. They would have liked to run event race in front of empty bleachers since they were already on site. Racers are a problem-solving species though and pretty soon many had found alternate activities such as going off on an air boat excursion or making for a family weekend with other pleasantries.

Good enough, we ran into a well-known Swede and two-time NHRA TAFC champion Jonnie Lindberg (pictured below) who had flown into Gainesville for the day to build a seat for nitro Funny Car ace Tim Wilkerson.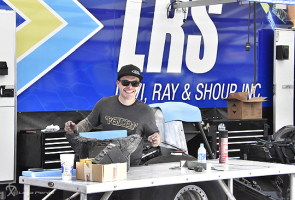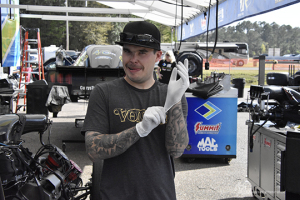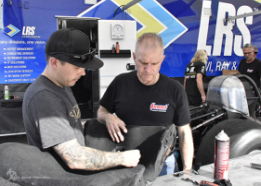 "A great job", said Jonnie, "too bad I don't have time to stay and hang out, I have far too much to do in the shop and have to travel home already tonight".

That's a nice situation to be in, having the talent and the network in the racing business and we're happy for Jonnie in his success in his US venture.

Other well-known racers for Swedes are Bo Butner and his partner Randi Lyn Shipp (pictured below) who were also on site. Randi of course competing in Stock Eliminator and Pro Stock driver Bo who did a season in Europe a couple of years ago and did like it very much. We hope to see them both back in Europe in the future.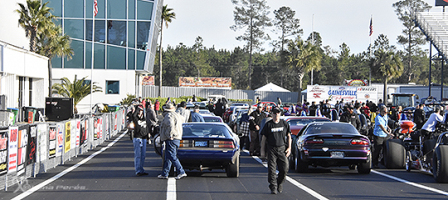 Though the postponement of parts of the event, there was racing on Thursday and Friday with the sportsman classes running in front of empty bleachers. We met up with Stig "StigO" Olsson (pictured below) from Sweden who's competing in a number of NHRA races with his front-engined dragster in Competition Eliminator. Unfortunately, Stig went out in the first elimination round against Randy Daniels at this event.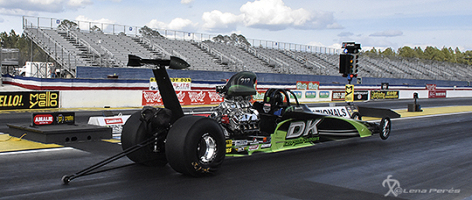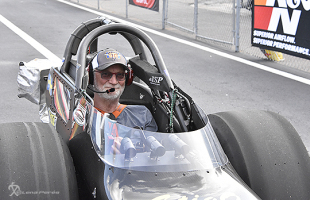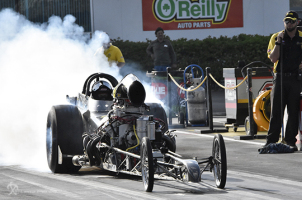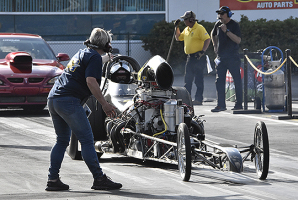 "So far, things haven't been going well at all," Stig says, "three events and not a single solid run so far. We have lost the settings window and have no good ideas as how to get back in there. Now we're packing up and are looking for flights back home to Sweden, which can be tricky as most departures to Europe are cancelled".

Stig and Bente made it home OK and can now plan for a season here in Sweden which we hope will not be too limited in its scope.

On the weekend before Gainesville, there was the now famous and inaugural Drag Illustrated World Doorslammer Nationals, a huge big dollar shoot-out race for Pro Stock and Pro Mod cars. It was contested at Orlando Speed World Dragway just a few miles east of Orlando. It made for very good racing and in retrospect it really made up big time for the disappointment of the loss of this years Gatornationals.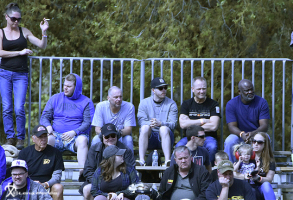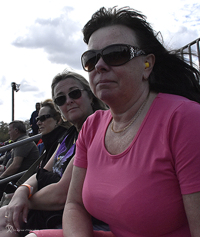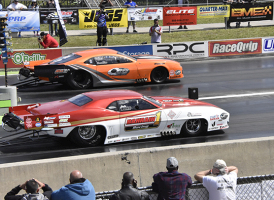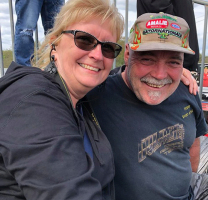 The idea of running a race like this was the brainchild of Drag Illustrated founder and editor Wes Buck together with Richard Freeman of Elite Motorsports and Orlando Speed World Dragway owner Ozzy Moya. After some fine tuning of the logistics and planning there was a great number of the world's quickest and fastest NHRA doorslammers in attendance. All of 18 Pro Stock and 33 Pro Modified teams were in place to shoot it out for $75,000 and $50,000, respectively. The track conditions were outstanding, resulting in the fastest NHRA-legal Pro Modified field in history. Justin Bond ran the quickest Pro Mod time ever with 5.623 seconds in qualifying. It made for a 16-car ladder with ETs between 5.623 for #1 Bond and 5.739(!) for Steve Matusek in the #16 spot.

With that event under our belts, our travel group got to experience a positive and historical drag race. Though in all this trip of course did not turn out as planned, we all got back home safe and sound. But we expect to come back sooner than later. Now, be safe out there! See you on a track somewhere soon!

Text and photos © Lena Perés.

Paul Castle.
11th April: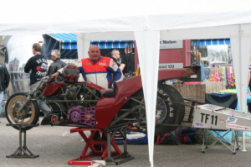 We were very sorry to hear of the death of former UK Supertwin racer Paul Castle. Born in Henley on Thames, Paul was a member of the Infantry Junior Leaders Battalion of the Grenadier Guards, and in later life lived in Eindhoven, Netherlands where he was an engine builder.

Paul was a supporter of drag racing and Eurodragster.com, setting up a web site and photo gallery in the early days of the internet and sending reports to us of his exploits. He took his Supertwin Fuel bike Grandpa's Toy to various events in Holland, and even following the end of his racing career, could be seen firing it up at Drachten to make some noise for the fans.


Swift snippets.
11th April: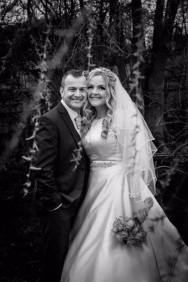 Belated congratulations to Santa Pod Raceway announcer Darryl Bradford and Kelly Juanita Bradford on their wedding to which took place just before the lockdown. Darryl's announcing colleague Colin Theobald took the role of toastmaster - with aid of an inflatable mic. Best wishes to Darryl and Kelly for a long and happy marriage.

Santa Pod Raceway is running a series of video premieres on Youtube over the holiday weekend. The 2010 FIA Main Event premiered on Friday and the 2010 FIA Euro Finals will be divided between Saturday and Sunday. Each episode is over 50 minutes long and we have already seen pictures of TV sets outdoors with barbecues in an attempt to recreate the SPR strip atmosphere.

For those who fancy a leisurely read over the Easter weekend, we can recommend two series of articles posted to Facebook. Our good friends Nick Davies and Rob Loaring of Havoc AA/FA Fuel Altered Racing have posted a series entitled 'Havoc – the History'.

Top Fuel Bike racer, constructor and engineer Phil Baimbridge has posted to the PBR Top Fuel Bike Facebook page a series of posts about the rationale and process associated with building the triple "The Rocket", which Al Smith races.

Tierp Internationals update.
10th April: Drag Racing Europe (DRE) Chairman Keith Bartlett has issued the following statement:

The management of Tierp Arena have informed DRE that they are going to further hold on from making a final decision on the cancelling of the Tierp Internationals at Tierp Arena (Sweden) on the 4th-7th June. This final decision will be made within the next 10-14 days.

We will keep you updated on this event plus any new developments within the FIA European Drag Racing Championship.

On behalf of the board of DRE shareholders.

Online Springnationals Sunday.
10th April: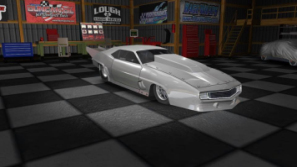 Many thanks to honorary Eurodragster.com member Spencer Tramm for providing an update on the latest online event for the Rip Rap Racers Club, using the Doorslammers 2 game on-line:

Following our first race and subsequent news item we had a lot of interest from people who had downloaded the game and wanted to know if they could get in on the action so we decided to suspend our usual race setup and hold a big bracket race, our usual 16 suspects hoped we might get an additional 16 to race against, however it was clear that only an hour after Eurodragster.com's news item we had 64 people entered. We decided to limit the field to 64 and then started taking names for alternates in case people didn't show, and currently have 78 names down. Apologies to those that didn't make it in this time but we are happy to announce it is our intention to hold the RRRC Springnationals on Sunday at 7pm, you can register your interest by going to our Facebook page and adding your Doorslammers 2 game username to our entry thread.

As for our first race, the RRRC Winternationals, we started with 64 people including drivers, riders, marshals, press and fans. The last two standing were ET Bike racer Jordan Kenway and Wild Bunch champion Callum Swinchatt (picture attached). A 0.038 reaction and two hundredths off the dial in 10.38 beat Jordan's 0.083 light and six thousandths breakout. Thanks to all those that entered, showed interest and were watching the results being uploaded. A special mention must go to Colin Theobald who sponsored the race providing a Bruce t-shirt to the winner.

Santa Pod apparel.
10th April: You may be missing the track action but you can still look the part in the comfort of your own home.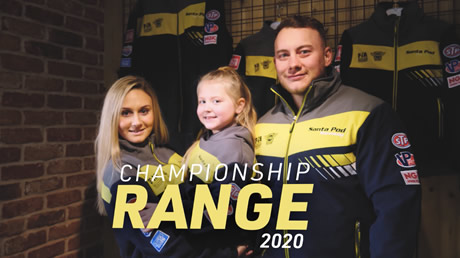 Santa Pod Raceway's online Merchandise Shop is open as normal so head on over to www.SantaPodShop.com to get the lastest 2020 Championship range. All orders will be despatched on a weekly basis (no facility for collection) so this may take a little longer than usual but is well worth the wait!

Looking for a faster service for an Easter gift? Then why not send a loved one a Santa Pod eGift Card, that way they can spend it on what they love either on our Merchandise Shop or the Ticket Shop when Santa Pod can safely open again to the public. Gift cards do not have a expiration date so this is a perfect gift!

Just received the latest Santa Pod merchandise but cant go outsite to show it off? Then take a photo of yourself or someone you know in Santa Pod apparel (old or new) and post it on Santa Pod Raceway's Facebook page. The photo with the most likes will be picked at the end of the month and they will receive a £10 eGift Card.

The range includes jackets, hoodies, fleeces, polo shirts, t-shirts and caps.

Swift Snippets.
10th April: We have two birthdays today (10th April). Nitro Junkie Lizz McCarthy-Charman is hopefully taking time off, albeit not at the race track. Lizz tells us the traditional birthday muffins are on hold until racing starts again, but we join her in wishing Santa Pod commentator and very part-time racer Colin Theobald a very happy if rather more relaxed and quiet birthday than originally planned. Have a great day Lizz and Colin.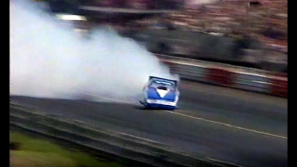 Drag racing historian Nick Pettitt has been working like a Trojan to upload more material for us all to enjoy. Latest uploads to Nick's Youtube channel comprise the 1991 and 1995 NitrOlympX, racing from Zandvoort in 1992, the 1994 Main Event (pictured) and 1994 World Finals from Santa Pod Raceway, a 1994 event from Dieppe in France and the 1995 Sko Uno drag festival from Mantorp Park.

There's plenty for VW Beetle racing fans too, as Kieran has posted a VW Beetle compilation on his Mk1 Kieran Youtube channel. There is also a new compilation of Beetles on Simon Letkey's VeeDubracing channel.

Easter story: It's all about the dye.
10th April: We are indebted to author and former executive with VP Racing Fuels Jim 'JK' Kelly who has supplied an exclusive extract from his entertaining autobiographical book Fuelin' Around: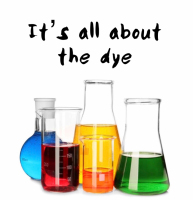 Dealing with customers, especially the rare one who felt he might have bought bad fuel was always interesting. I have mentioned before though, I always found humor was a good way to deflect tension and get people breathing again. One time this racer said he had some green C12 that didn't make it through tech. We were closing up for the day and his sample was way on the other side of the track. I asked him if he would bring it by in the morning and we'd run a few tests on it.

That night, in addition to picking up more beer and munchies at a local grocery store, I picked up one of those little boxes of food dyes. The next morning I put some water in a new white plastic jug cap and dropped a bit of green food dye in to make it resemble green C12. Eventually the customer came by and I invited him into the nose of the trailer where I had set up my hydrometer kit, dielectric meter and a few other gizmos to make things look like we knew what we were doing. Actually, we did know how to check fuel in the field and would, once we had some fun with this guy.

With everything going on I managed to pour his sample into another new white jug cap and then pulled a switch. As an aside, jug caps used to be white plastic until someone at VP realized ultraviolet rays could get to the fuel and damage it so eventually even through that small lid opening and made the change to black. White jugs are the easiest to see through to check fuel levels but just like you can see through it so can the ultraviolet rays. Left out in the sunlight, the lead or other chemicals in race fuels can be knocked out of suspension by the rays and render the gas useless. I picked up the green water I had made and smelled it for a few seconds as if I was checking a ne wine. As the customer and my truck driver watched intently I then took a big swig of it. His face might not have changed expression and neither did mine but the driver turned away and went back to work so his laughter wouldn't give it all away. I swished it around and down it went. "Yep, that's C12." I offered him a sip and he looked at me like I was crazy. Then I showed him the food dye, offered him a donut, and went about testing the sample he had brought me. It was off. We determined that one of his crew guys had used the same fuel jug to get pump gas for their generator and once good clean race fuel was pumped into the jug the good fuel became tainted with gasoline residue. Case closed. By the way, food dye can be fun for the whole family, just ask my kids. They grew up on my Saturday morning breakfasts of green French toast, blue scrambled eggs, red milk, and so on.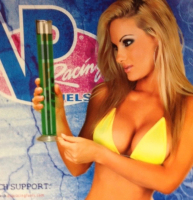 Working at VP wasn't all fun and games though, there were annual calendar posters to produce and back then I was responsible for most of them. Typically, professionals know how to pose and pose and pose but one of the two best posters I did were a hit thanks to some props. For the 2010 calendar I filled a graduated cylinder with water and some green food dye and then the model held it up and gazed at it. Some thought it was a bit phallic while others saw it for what it was, just a really hot bikini-clad VP technician giving the fuel sample a visual examination.

Fuel companies use dyes to identify their products and this often helps at fuel check. Hmmm. I wonder if anyone's ever played with dyes to get around technical scrutiny. Read more in Fuelin' Around.

Angus MacPhail.
8th April: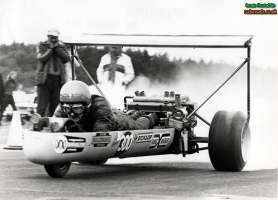 We were very sorry to hear of the death of motorcycle engineer and drag racer Angus MacPhail. Angus or 'Ag' formed the McCoy Dynamics team in the 1970s with Mick Hand and Keith Parnell. Together the team set world records at Elvington and produced some of the most innovative machines ever seen in the drag bike ranks.

Keith Lee wrote in the citation for the McCoy Dynamics team's induction into the British Drag Racing Hall of Fame: he was someone who is definitely able to think laterally. After a spell riding a miniature Ariel two-stroke, he built his version of a three wheeler, which featured the Triumph engine and gearbox positioned between the rider and passenger. He next built a novel Ford powered three wheeler, which featured the rider prone, in front of the engine. When three wheelers were banned from competition - due in no small part to the performance of Ag, he remodelled the bike as a two wheeler, with wide slick, to mutterings that it would never work. It did!

The McCoy machine was effectively a test bed for the unforgettable Jade Warrior, boasting a monocoque chassis, one-off 2 litre supercharged motor, torque converter transmission - and a very effective exhaust-driven ground effects system. Helped by Mick, this most unusual machine eventually broke into the seven second zone in 1985, running on straight methanol, which was a brilliant achievement.

In his eighties but still an 'out of the box' thinker, Angus made his own notable contribution to the Storm drag project - especially with the fairing design.

Team member Mick Hand wrote on Facebook in tribute:

With great sadness, I must inform you that Angus MacPhail passed away last night as a result of diabetes and coronavirus. Our sincere condolences go to his wife, Carol, his family and friends.

Angus, I am sure, will be remembered by many people for many things. For me, growing up around 1970s drag racing, Angus was the softly spoken boffin with the Scottish name but the London accent. The mad professor who didn't know what day it was, who would turn up at a race meeting at 4pm on the Sunday, hoping to get some runs in with "just a bit of nut and bolt work to do".

I remember the McCoy 3-wheeler (that got banned for being too fast). Jade Warrior, of course, possibly his zenith in motorsport, and one that now appears on any number of websites under the tagline "Look at this crazy Brit!", or something similar.

I remember him introducing exhaust-driven ground effect into drag racing, conceived with his brother Nick, and tried first on my father's bike, where it proceeded to pebble dash any unfortunate marshals standing behind with grit from the track surface. But, most of all, I will remember listening intently to Angus rambling about the comparative strengths and attributes of various materials, for which he had an infectious and unending enthusiasm.

We will miss you, Angus. Like your bikes, you were one of a kind.

The picture is of the 'Wild Thing' three wheeler which was built to break the three wheel Land Speed Record – originally named McPhail's Nail. Angus made many of the engine internal parts and made virtually all of the gearbox. Details and pic courtesy Jon Spoard.

Update from Santa Pod Raceway.
7th April: Trakbak Racing and Santa Pod Raceway CEO, Keith Bartlett, has issued the following statement: Although many of you may have seen this statement on the Santa Pod web site I feel we also need to reach out to as many racers and fans as possible and have therefore also posted it below.

As a result of the Covid-19 virus and its impact upon the whole of the UK, outside events and sporting activities, it is with deep, deep regret that we are having to suspend all events at Santa Pod now until the end of May.

Motorsports UK (formerly MSA) alongside the FIA has already cancelled our FIA permit to hold the first round for the FIA European Drag Racing Championship on May the 22nd-25th but of course, we will be monitoring government regulations closely to see if they remain in force or if the lifting of restrictions comes into force before then. If event restrictions were to be lifted (which is most unlikely as we sit today) we would look to put on as big an event as we possibly can on the Main Event weekend (with Nitro cars) plus any other events sooner if at all possible!

All of the staff at Trakbak Racing and Santa Pod Raceway are devastated to cancel ONE event, let alone numerous consecutive events as far as May 31st.

On a more personal note, most people both racers and fans alike, know that I am a total Drag Racing junkie and the sport of Drag Racing is my life. It's also my hobby, my passion and my sole business. Santa Pod today is a very successful business and one that I have built up to where it is today and of which I am very proud of. We employ many full time and seasonal staff all of whom I have had to lay off for a period of at least 6-8 weeks – that hurts me on a personal level greatly.

In the 24 years that I have owned Santa Pod, we have never cancelled any major event, or even medium sized event – yes, we may have had to postpone a couple of events to another date due extreme weather, but that is the exception not the norm.

I need not go into the huge losses that Santa Pod is incurring month on month currently. I also very much appreciate that all our racers, suppliers, spectators and fans are also going through exactly the same suffering – yes, we are in it together, but I know the that the drag racing fraternity is one big family and that in times of crisis always 'steps up to the plate'. I hope that we count on all your support in these very difficult weeks and possibly months – and will see you all, racers and spectators alike returning to Santa Pod Raceway in force once we open our doors to the wonderful world of Drag Racing.

Santa Pod will come through this and will be fully operational at some date in the future and I sincerely hope that will be in the near future! Our drag racing family can then be back together where we all belong – at the race track!

For sure, some of our planned future improvements and development will now be delayed since those funds will be eaten up in surviving this crisis.

On a more positive and possibly interesting note, I am toying with the idea of some winter events in the period of 2020/2021. How does 'Fuel & Fire' sound? Or the 'Winter Nationals'? All I will say right now is think about keeping 'New Year's Day' free!

The Dark Side of the SPRC lyrics competition.
7th April: Further to our announcement on 1st April, Santa Pod Racers Club Secretary Ian Marshall has confirmed the third judge for the lyric competition, none other than Nick Mason, all round petrol head and of course drummer with Pink Floyd. Nick who will be helping judge the best versions of the chosen songs. Nick joins fellow judges Ian Hart (pictured with Empire) and Joe Kellett.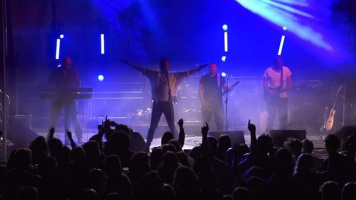 A reminder of the competition rules: we have chosen four songs and what we would like you to do is come up with a set of lyrics, but in a Drag Race style, cars, bikes, engines, fuels, races and who knows what can be used, but please keep it for a family audience, so no sweary stuff.

The songs are as follows:

Cars Drive
Eminem Lose Yourself (radio edit - there is a swear word in the original)
Snow Patrol Chasing Cars
Queen Bohemian Rhapsody

When you have the lyrics please email them to ir.marshall@btconnect.com by 14th April 2020, we will then compile a short list with the judges and post the list here on Eurodragster.com the final versions, for whom you will get the opportunity to vote for what you consider the best for each title.

Swift snippets.
7th April: In our regular update of online video and photography there is no let-up in material being posted. Drag racing historian Nick Pettitt has placed links of his uploads to his Youtube channel at his excellent web site timetraveldvds.blogspot.com. Material is ordered by decade including uploads of the first eleven Time Travel DVDs. Recent uploads include the BBC report on Santa Pod in 1970 (which includes a great interview with Mike Collins), and footage from the 1977 September Internationals, 1992 NitrOlympX, 1993 Austrian action, 1994 Thunderball, 1994 and 1995 Summer Nationals, and the 1995 Cannonball (plus the NHRA Today footage of the first two CHRRs). These are all off-air recordings in excellent quality.

Kieran has posted three compilation videos in the last week on diesel drag racing, European FWD and Ford Fiesta. Kieran's Youtube channel can be found here.

There are plenty of photos posted to Facebook Groups such as UK & European drag racing photos, Memories of a Warwickshire Drag Strip and UK Drag & Sprint Strips That Time Forgot!, and there are also photo sites like Flikr to which many are contributing.

JT's secret weapon.
6th April: Pro Modified, Super Pro ET and Pro ET racer John Tebenham has been in touch with an announcement which will be of particular interest to the latter of these classes:

We raced in three classes last year, and for sure the nicest, friendliest racers were Pro ET. It was great, nobody ever thought we were too big, and people like Dave, Gino, the Huxleys etc just thought we added to it, so in return we have decided to add to a prize fund. Not that the other classes aren't, it just becomes more serious.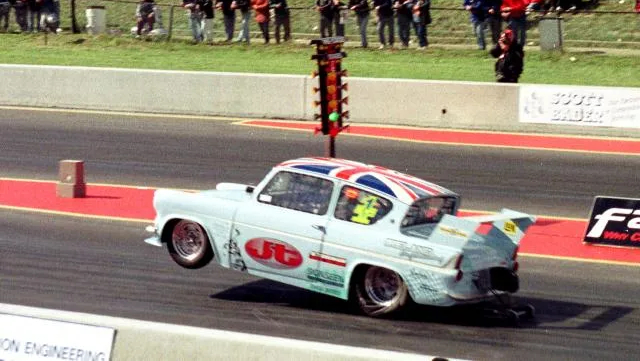 That's why I've decided after talking to my secret weapon, I am going to put in £3,000 to the championship in memory of Tim Mugridge, £2,000 to the winner and £1,000 to the runner up we think is the right split. There will need to be at least three championship rounds to give everyone a fair chance. It's a fantastic class and tough, man these guys and girls are good. I raced here about twenty years ago with a road going 105e, that's where we started, and now I am the third British five second Pro Mod.

Watch this Ford Pop burnout in the rain to see how much fun you can have in a Pro ET car!

Pro ET and Super Pro ET Challenge is on.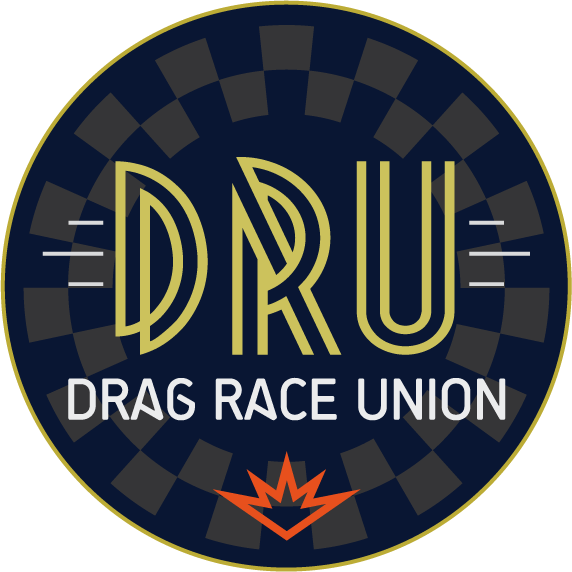 6th April: Race organiser and unfired photojournalist from Germany Markus Münch has been in touch about the Drag Race Union 2020 Pro ET and Super Pro ET Challenge (In English below):

Die Nennung für die 2020er Challenge ist seit dem 1.4.2020 geschlossen.

Pro ET Challenge 2020, 30 Teilnehmer und Teilnehmerinnen aus 5 Nationen (BRD, Österreich, Italien, Frankreich, England) haben genannt und wollen den Titel erringen.

Supro ET Challenge 2020, 23 hochkarätige Teams aus 6 Nationen (BRD, Österreich, England, Frankreich, Italien und der Schweiz) sind am Start.

Wir sind bereit, die Saison kann beginnen…. Wir sind der Aktuellen Lage (Covid 19) gewahr und es gibt aktuell bestimmt wichtigere Dinge als Dragracing. Wir sind ersteinmal auf Standby. Bleibt bitte gesund, alles Gute für eure Arbeitsplätze... auf dass wir uns bald wieder gesund im Fahrerlager treffen können. Wenn klar ist, ob es 2020 einen Rennkalender gibt und wie dieser aussieht, werden wir schauen was mit den Challenges in diesem Jahr geschieht.

English:

The entry for the 2020 DRU Challenges is closed.

In Pro ET we have 30 entries from 5 countries (Germany, Austria, Italy, England and France). In Super Pro ET there are 23 entries from 6 countries (Switzerland, England, Germany, France, Austria and Italy).

We are set with strong fields and we are excited to run thouse 2020 challenges. We are also aware oft he current Covid 19 situation. There are more important things right now than Dragracing. So we are on a hold, we are on standby. Please stay save, we wish you the best of luck for your Jobs and hope to be with you on the racetracks again soon.

As and when it is clear if and what races are on in 2020, we will decide then what to do with the Challenges. Stay tuned.

Of course it was going to be pink!
6th April: If you saw the spy picture on 15th February, the mystery can now be marked 'solved' as Jayne Kay has revealed her new machine, a turbocharged funny bike which will initially be competing in the ET Bike class:

Since we won't be making our first official appearance next weekend we wanted to show you all the new look for the bike. It was painted in-house by my Dad! After a few hours spent on YouTube he mixed the perfect candy pink. Thanks to Steve Taylor at GB Refinishers for supplying the paint. We wanted a design similar to the original Pink Lady funny car with those Hot Wheels style flames, and I think we achieved the perfect look! The pink has a slight gold pearl that comes out in the sun, you'll be able to see in person when we get out. We're really chuffed with the look.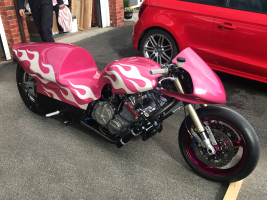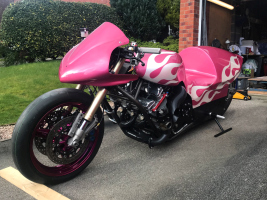 The bike is all ready to go, and we wouldn't have got there without the help of a few people so shoutout to: Dave Branch for the engine machining, Dave Dunlop for the Turbo builds and Phil Crossley for machining parts. Another thanks to Jake Mechaell, Nick Shaggy Daniels, Kev Charman and Steve French for the advice and answered silly questions over the last few years! We will be sharing some more pictures and updates on our Facebook page, so give us a follow if you're not already!

UK Tech meeting cancelled.
3rd April: Ian Marshall has asked us to advise that the UK Tech Committee meeting, originally scheduled for Sunday 5th April at the Hilton Hotel, Northampton is cancelled as a result of the lockdown currently in place. Details of a revised date will be announced in due course.

Statement on FIM-E championship.
3rd April: Promoter of the FIM European Drag Bike Championship Keith Bartlett has issued the following statement:

Firstly let me start by saying we all here at Santa Pod Raceway hope that you and your families are safe and well, I know that some areas of Europe are in a far worse state than others but we are all in this together and we are thinking of you all.

I am sorry for the delay in getting in touch with you all, but these past 2-3 weeks have been an extremely stressful and busy time for myself along with some of my key staff to ensure that Santa Pod Raceway comes out the other end of this terrible situation. I have already had to lay of more than 40 full time staff for the next 8 to 12 weeks, along with the majority of our part-time staff - a decision not taken lightly but very necessary, given the serious situation with the Covid-19 virus in the UK.

I have personally along with my key staff, had to make some very difficult decisions and we have many more to make in the coming weeks or even possibly months ahead.

Many of you I am sure will have seen some of my statements that have already been posted on the Santa Pod web site and Eurodragster.com

With an extremely busy Santa Pod calendar it has meant we have already lost all our events until at least the end of May as a result of government restrictions and legislation on all outside sporting events. My personal feeling is these restrictions put upon outside events, especially in the UK will probably be going on well into June.

To date we have had to cancel all our events at Santa Pod from the 15th March through to the end of May. This has included the first rounds of the FIA European Drag Racing Championship and the FIM European Drag Bike Championship, both to be held at Santa Pod Raceway at the 'Main Event' on the 22nd -25th May (2020).

So, at present the first round of the FIM European Drag Bike Championship will be at the Nitro Olympics at Hockenheim (Germany) followed by Round 2 at Santa Pod Raceway on the 10th- 13th September.

I am extremely disappointed to have to cancel the Main Event and the FIA & FIM Championship rounds but the whole situation is totally out of my control. At Santa Pod I am already planning to put on bigger events in the months of October and November (2020) than we currently already have scheduled for those months. We will keep all the FIM-E racers and ACU bike riders informed of what events may be available for them to run their bikes down the ¼ mile Santa Pod track during those months.

We will keep the FIM -E racers and teams updated as the situation with the Covid-19 virus as it develops or more hopefully contracts. Best Regards to you all – see you at the track!

Online drag racing event on Sunday.
3rd April: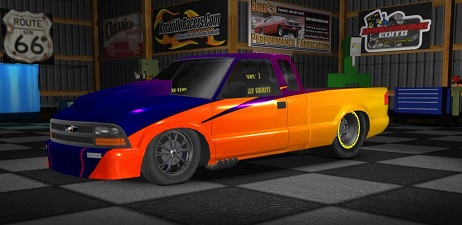 Honorary Eurodragster.com member Spencer Trammhas been in touch about a new event and Facebook group for Rip Rap Racers Club:

Thanks to the power of Eurodragster.com we have had a lot of people since our last news item contact us about playing on Doorslammers 2, therefore on Sunday 5th April at 7pm we are holding the RRRC Winternationals, an open bracket race, to show your interest please visit our new Facebook page and post your username on the game by 5pm on Sunday so we have time to draw the pairings.

Isky inducted into SEMA Hall of Fame.
3rd April: Carl Winn of SEMA writes: When he was a young man racing his own cars, Ed Iskenderian — or as he was later nicknamed, "Camfather"—had trouble buying racing-grind camshafts. He didn't like to wait for them. So, he said to himself, "I can make those…." And that was the start of Iskenderian Racing Cams, popularly known as "Isky Cams," one of the largest specialty cam grinders in America. Here's the Camfather talking about when he first fell in love with hot rodding.

Isky Cams developed the first high-density, chilled-iron lifters for Top Fuel dragsters, and was also responsible for the first anti-cam-walk kit for Chevy V8s and the first offset cam keys and bushings for adjusting cam timing. Iskenderian was part of the small group that created SEMA, and was its first president. One of the first official events they backed was the International Dragster Challenge organised by Sydney Allard in the UK during the same year of 1963. He also pioneered corporate sponsorship in motor sport in the 1950s. Isky was memorably a special guest at the 2016 British Drag Racing Hall of Fame gala where he received a special trophy for his achievements and took part in the Beech Underwriting Bench Racing Session to the delight of all present.

Swift snippets.
3rd April: Santa Pod Raceway will be running a livestream of Pro Mod racing from the 2009 Main Event and Euro Finals starting at 5pm tonight. To see these videos, tune into their Facebook page or Youtube channel.

Also posting to Youtube is Kieranwho has created a European FWD Drag Racing Compilation. Kieran says "The European FWD Drag Racing scene continues to grow year after year with the cars getting quicker and quicker. I've been lucky enough to witness the last 3 times the European FWD record was reset and I've also seen some mega FWD cars that travel to Santa Pod from mainland Europe as well as on my travels to Malta".

Drag racing historian Nick Pettitt has uploaded to Youtube videos of the 1992 Main Event and Cannonball, with camera work by Ken Robbins, together with SPR marshal Tim Mudd's footage of the track in 1969.

Not strictly European, but nevertheless highly recommended is The Dork-O-Motive Podcast available on many podcast providers. Presented by NHRA announcer Brian Lohnes, this covers many legendary and crazy stories from the sport, including Captain Jack McClure's rocket-powered go-kart, Broadway Freddy DaName's Funny Car and mob career, the insane speed parts company Turbonique, and the last front engined Top Fueler to win an NHRA Wally.

Drag racing lyrics competition.
1st April: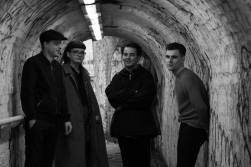 Santa Pod Racers Club Secretary Ian Marshall has come up with a competition that all can enter:

During the current situation keeping the spirits of our racers, crew members and spectators, is key. Whilst there are some fantastic videos from Santa Pod and the great looking Doorslammer game featured on these very pages, we at the SPRC have been considering a further set of brain teasers. The first is song lyrics. When we are all allowed back to the track, there is going to be one hell of a party atmosphere, when that will be we don't know yet but hopefully soon, and as is the norm there will be bands playing at various venues around the track.

Let's cut to the chase, we have chosen four songs and what we would like you to do is come up with a set of lyrics, but in a Drag Race style, cars, bikes, engines, fuels, races and who knows what can be used, but please keep it for a family audience, so no sweary stuff.

The songs are as follows:

Cars Drive
Eminem Lose Yourself (radio edit - there is a swear word in the original)
Snow Patrol Chasing Cars
Queen Bohemian Rhapsody

Both Ian Hart (Empire) and Joe Kellett (Electric Screams, pictured above) have both put some ideas forward to give you just a taster, please bear in mind they had two days to come up with these, in their words they are okay, but I'm impressed at such short notice, their lyrics are below.

We will have three judges to adjudicate the winners, and there may well be more than one winner, the judges are Ian Hart (Empire), Nitro FM and one other who we are waiting on confirmation.

So see what you can come up with, as there are quite a few existing bands in the drag racing community and several budding bands that we know of, but you don't need to be in a band or in any way connected to have a go. We are also looking into the possibility that one or more of the new songs are played by bands at the track, more news on that later.

When you have the lyrics please email them to ir.marshall@btconnect.com by the 14th April 2020, we will then compile a short list with the judges and post the list here on Eurodragster.com the final versions, for whom you will get the opportunity to vote for what you consider the best for each title.



Joe Kellett: The Cars - Drive

Who's gonna enter first
Into full stage?
Who's gonna make a move
Before it's to late?

You must hold on
Knowing, the race is on
Who's got the winning light
Today?

Who's got the need for speed?
We'll soon see...
The stands are on their feet!
It's showtime...
Who's gonna get the win?
It's so tense...
The crowd is going wild!
It's a PB...

You must hold on
Knowing, the race is on
Who's got the winning light
Today?

As we close out the day
It's come to this...
So Who's got the goods to give For the finale?
You must hold on Knowing, the race is on
Who's got the winning light
Today?
Oh, you must hold on
Knowing, the race is on
So who's got the winning light
Today?



Ian Hart's two sample sets of lyrics are :-



Snow Patrol Chasing Cars

We race it all
Everything
Side by side

We don't need
Lots of laps
To prove who won

If I race here
If I drag race here
Would you race with me and just forget the world

Bring your car
Or your bike
To the strip

Take the lights
A quarter mile
You'll get the bug

Would you race here
Would you drag race here
I'll come race with you we'll just forget the world

Forget about stress
Just enjoy happiness
Racing at Santa Pod there's no time to be glum

Let's waste time
Racing cars
Along the strip

You'll make great friends
And have great times
I promise you

Would you race here
Would you drag race here
I'll come race with you we'll just forget the world

Forget about stress
Just enjoy happiness
Racing at Santa Pod there's no time to be glum

All of the world
In all its variety
Is there with one aim in mind, to enjoy themselves

Doesn't matter what car
What truck or what bike you race
Just know that the rules are that the quickest wins

Would you race here
Would you drag race here
I'll come race with you we'll just forget the world

Queen - Bohemian Rhapsody - Santa Podian Rhapsody:

Shall I build a flat head Ford?
Or maybe an SBC?
Built with some trick parts
To provide max velocity

Nothing comes cheap
The bills make you weep you'll see
Now I'm a poor boy, But I need no sympathy
Because its really quick, really low
Very loud, never slow
Aiming for the win light, Nothing else can matter to me, To me.

Mama – just built a car
With lots of shiny things
H forged rods and beefed up springs
Mama – I had piles of cash
But now I've gone and thrown it all away.

Mama – Ooooh
I'm hugely overdrawn
If I don't make some cash before tomorrow
Get a loan, get a loan, Because racing's all that matters

Too late, I've spent it all
Its beans on toast for tea
No more decent meals for me
Hello everybody at Santa Pod
Gotta make it to the line and take the lights

Mama – ooooh
I don't want to die
The scrutineers are checking each bolt and weld

I see a little topolino and a van
And a Pop and a rail and of course there's a Camaro
Great big hemi Blower's
Children powered by mowers, see
Do the burn out (do the burn out)
Do the burn out (do the burn out)
Do the burn out then we go
Magnifico-o-o-o-o

I've got a trans brake This should be easy
He's got a trans brake but he lacks ability
This should be fun, bet he stalls on the line!

Here I come, creeping in, very very slow
Get in to STAGE and watch the tree lights glow (Into stage)
Get in and watch the tree lights glow (Into stage)
Get in and watch the tree lights glow (Into stage)
Watch the tree lights glow (Into stage)
Watch the tree lights glow (Into stage)

Am-ber Am-ber Am-ber Green
Oh mama mia mama mia mama mia this thing goes
I've scared myself there's a massive lot of horsepower here, in here, in here

So you think its just straight lines and holding the wheel
So you think this whole drag racing thing lacks appeal
Oh baby, can't explain this thing sanely
Just gotta get out, just gotta get out on the strip

Racing's all that matters
Anyone can see
Racing's all that matters
Racing's all that matters to me

Any time the rain goes




No Fox given.
1st April: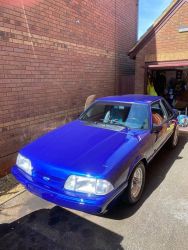 2019 UK Sportsman ET Champion Daniel Holloway has written in about his new Fox body Mustang which he has acquired in order to be at the quicker end of the class:

Before I ended up buying the Fox body, I never had a particular want or desire to own one; I knew they existed of course and I knew they were a cracking platform for a drag car.

Having been involved in drag racing all my life, thanks to ex-Super Pro racer Dave Ward and my Dad Adrian who crewed for him, it was only a matter of time that once I passed my driving test I built up some funds to find a car of my own. September 2016, 21 years old, I'd just finished my apprenticeship and also became employed with what was then the Force India F1 Team (Aston Martin F1 from next year!) and I felt I was in a position to start drag racing myself. I was scrolling through eBay looking at cars I couldn't afford, and this Fox body mustang was for sale, well within budget, running and driving and already came with a Procharger on it.

So I went and had a look at it over in Wisbech, previous owner Kris is a great chap, very honest with what he felt it needed. Before he bought it he'd drive past it every day on the way to work where it was sat under a willow tree degrading by the day. He managed to pry it from the previous reluctant owner, who had bought the Procharger kit for it but hadn't fitted it yet. Kris then set about having any rust professionally repaired, of which there was little of, and repainted the complete underside and engine bay before putting back in the motor, gearbox etc.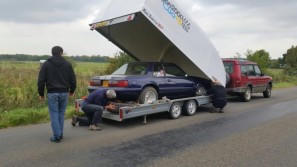 It had a rebuilt stock 302ci engine along with Edelbrock Performer heads and 1.7 roller rockers, Edelbrock intake, bigger throttle body, bigger injectors, bigger Walbro In-Tank pump, equal length shorties, custom Magnaflow exhaust with axle dumps and...oh yeah...the Paxton Novi 2000 Procharger. It was running a completely stock C6 transmission with an off the shelf TCI street converter and a completely standard factory 8.8" rear. The car ran and drove, but had absolutely no engine management beyond the stock computer and an FMU to control what was a big increase in air from the Procharger, so was forever hunting at idle trying to keep rpm constant and massively overfuelling. It would also have been a quick way to blow the motor up with no control over the timing. Kris admitted to being out of his depth with the EFI and had lost motivation with the car. So I figured I'd be the one to get the project finished, onto the road and of course the drag strip as per my plan, so a deal was done and I collected the car a few weeks later.

Happy days I thought, it needs a small amount doing to it over winter and I'll be out next year (2017). Yeaaaa...no. As me and my Dad began going over the car and looking up online of various parts I'd need to ensure the car ran safely and reliably, it soon became apparent that it needed a lot of work and money thrown at it before it saw a drag strip. I wasn't going to be racing it the next year as planned. A few months went by, throughout which I had been in constant contact with Steve Hulett at Drag Radial Performance in Florida who lets say knows a thing or two, especially about these stock Ford computers my Fox body was running. In a nutshell he gave me a list of parts that I'd need if I was going to be running the car in an optimal state.

My Fox had 30lb injectors, I needed 60lb. The FMU? Put it in the bin. If I'm keeping the stock computer and harness, purchase a reputable piggyback of some description to plug into the stock ecu, buy a blow through MAF (Mass Air Flow) instead of the old draw through, and a blow off valve. Oh and you'll need to add an intercooler too 'cause that Novi 2000 procharger is going to be producing a chunk of hot air and you don't want to be pumping it straight into the intake. Once you've done all that I can write you a base tune to get you up and running before taking it to the dyno. Blimey I thought! This was quite the step up to what I had in mind before I purchased the car.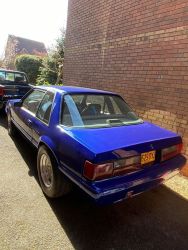 I was in two minds for a while on whether to take Steve's advice or not, after all I didn't really know him, but he was recommended by a friend in the community so in the end I bit the bullet and set about buying all the parts he had recommended. I look back on this decision as I type this and think what a good choice I made. He talked me through step by step, all via email using descriptions and diagrams, in his freetime, to the point where when I wrote his base tune to the piggyback the car fired up on the key first time. There was no idle hunting, it wasn't overfuelling anymore, and the sound the blow off valve made was gnarly!

But of course all of these changes I had to make took time and more crucially funds to do, which ended up adding another year onto the build. This was mainly because I was doing some part time work on the side of my full time job involving Jaguar F-Type GT4 cars in British GT which meant my weekends where I'd be free to do all this work on the Fox was suddenly taken up. I did however manage to find time to get the factory 8.8 rear over to Hauser where it had fitted an Eaton Truetrac LSD, Ford Racing 3.73 gears and Moser 31 spline shafts along with the tubes welded to the main housing. A pretty billet Ford Racing diff cover and a lick of black paint completed the look.

Going back to Kris, who I bought the Mustang from, he also owned a wicked little black Chevy S10 SS pickup truck, you may know it. My Dad took a liking to the truck when we collected the Mustang but wasn't in a position to offer to buy it, should it be for sale. So roughly about a year on from getting the Fox I phoned Kris, asked if he still had the truck and whether he'd be interested in parting with it. Reluctantly he said he would but that it would cost me, so he named his price to which I said yes I'll have it! So with the Fox needing the work it did, and two events in 2018 not clashing with my British GT work, I entered Sportsman ET at both the Summer Nationals and National Finals with the truck.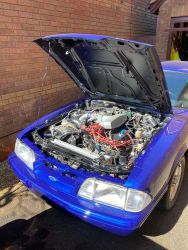 It turns out all the years of crewing with Dave Ward in Pro ET and Super Pro ET had taught me something about the art of bracket racing, where I'd lose to eventual winner Ricky Hale in the semi finals at my first meeting in the summer, and go on to win the National Finals against a red-lighting Andy Dibley in the final (sorry Dibs!). My mind was made clear from that point, I'd continue adding the needed parts to the Fox, but I needed to enter the full season in 2019 with the truck. This meant sidelining my part time work, but it was something I was willing to do. The rest as they say is history!

September 2019, it'd just ticked over owning the Mustang for three years and it went to John Sleath for a dyno tune. It wasn't all smooth sailing, an unknown wiring fault meant all this time of ownership there was actually no TPS signal to the ECU, but fortunately John was able to sort it out. A few days went by and I hadn't heard anything, so assumed it was either going ok, it was sidelined and he'd had enough or worse! But low and behold a video comes through WhatsApp of the Fox doing a dyno pull, and what a great feeling that was for me and my Dad! It meant everything we'd added to the car over the last few years was working how it should have been. It sounded mega! John ended up having to turn it right down as it was making more boost than anticipated; those who know are aware of what these stock 5.0 blocks can be like! It's losing a wad of power through the big C6 box, but seeing as it's built for bracket racing it's irrelevant. It's still over 500hp which is enough for the engine and to be at the quick end of Sportsman ET; my initial goal when I first bought the car.

Lastly it was time to do something about the bodywork. It was 50 different shades of blue and had silver stripes. I'm the kind of person where sometimes less is more so I wanted to ditch the stripes and just go with a nice colour on its own so the car was at least presentable. It was the 2nd March 2020, Easter was just over a month away and I needed someone to paint the car in that time frame. Whilst nowhere near the closest to me, I made a phone call to Rich Walters and I just about managed to persuade him to agree to painting it, despite his busy schedule, but it needed to be delivered as soon as. I was set on Kona Blue for a long time, which is a darker modern Mustang colour, but I became wary of it being a bit too dark. So in the end I went with a known stunner of a colour, Ford Sonic Blue Pearl, and I'm so glad I changed at the last minute as it came out awesome. Rich also turned the car around in less than two weeks from when I dropped it off to when I picked it up which is some good going. It was a bit disappointing but not unexpected when the Festival of Power was called off given the graft to get the car done in time!

Of course, it's now April 2020, three and a half years on from first getting the Fox and it's finally ready to race but it can't go anywhere due to a certain virus. Do want to say a big thank you to my Dad however, without whom it'd be another 3 years before the car was finished! Stay safe everyone and hope to see you all again at the Pod sooner rather than later!

Swift snippets.
1st April: We have a special birthday greeting today to Steve Gibbs, organiser of Nitro Revival and former Board Member and Vice President – Competitions of the NHRA who reaches 80 today. Have a great day Steve.

Summit discounts.
1st April: Remco Scheelings of Drag Racing Europe Blog writes: Summit Racing Equipment are one of the most loyal and dedicated supporters of European drag racing. The American company offer discount for all EDRS and FIA racers and their fans.

Summit Racing Equipment started their involvement in European drag racing with the support of multiple FIA European champion Jimmy Ålund. The next step was the contingency partnership with EDRS, followed by the series sponsorship of the Summit Racing EDRS Series. The world's largest mail order automotive performance equipment company are also the title sponsor of the Summit Racing Equipment Internationals at Tierp Arena.

Summit Racing Equipment offer discount* for all EDRS and FIA racers and their fans.
The promo code is: EDRS
Offer: $ 25 off $ 250 or $ 50 off $ 500 – code will activate either tier
Valid until April 30th, 2020
* some exclusion apply, see website for details
Link to the discount: here.


Earlier news