General
Home Page
Add a web site
Jeff Bull Swap Meet
Send a News Item
Site Search by Hauser Racing
2020 FIA/FIM Championships schedule
News, Coverage, Features
Latest News
John Woolfe Racing Event Coverage
OCS Paint Points Standings
Features, Interviews, Tributes
Racer Blogs Lex 01/03
WRE/Nimbus Webcam
LA Racing Parts Links
Racers' web sites
Associations, Clubs
Race calendars
Results, Reports, Info
Pictures, Video
Performance Parts, Merchandise
Sponsors
Tracks, Shows
Information
Timing Data
European and UK Bests
Champions' Champions
Editor's Diary archive








See where I'm going? Why?
28th February: Steve Wells has been in touch to let us know what he and wife Jayne have been doing to their fan-favourite Team Orange Pop pick-up over the winter.
©Eurodragster.com
"At the end of last year we returned from our trip to the States with our suitcases bulging", says Steve. "The parts purchased included an Enderle mechanical injection sytem, which as you can see is now sitting on top of the little old Rover V8 (right). I would like to thank Ian at Cam Autos for his support for all the succesful experiments with cryo2 which he sells on one of his internet sites at www.exhaustwrapshop.com. He also supplied the Goodridge hosing from www.racehoseshop.com.

"We have a few more jobs to complete, but hope to be at the Peak Performance Day on 31st March, where Jayne will be joined by our new crew the Motler family."

Swift snippets.
28th February: UK Super Pro ET racer Wayne Nicholson has been in touch after reading Ray White's Driving Force-inspired comments on yesterday's news update. "Mr White should think himself very fortunate", says Wayne. "Up in the grim north we still have black and white TV, no Sky channels, the M1 still has cobblestones, and we only have jam and bread! Oh how the other half live". Racers living in a shoebox in middle o't'road need not get in touch.
©Eurodragster.com
For sale: the first JDs.

28th February: If you have been going racing in the UK since the 1990s then you will remember the Batmobile, Junior Dragster and other vehicles fielded by the Kindred Race Team for children's charity. Brian Eyre tells us that the Batmobile, JD and other vehicles are for sale to fund further charitable programmes. We'll let Brian take up the story:

Twenty one years ago, two grandsons were born, Stephen and Daniel. Stephen, the elder by three months, was after two years of medical problems, found to be suffering from Hirschsprungs Disease, a very rare but very major bowel complaint, which required a number of major operations and more than five years of treatment at Boothall Childrens hospital in Manchester by a wonderful lady named Miss Doig, Stephen's special friend and one to whom he owes his life.

Between the ages of two and four, Stephen spent long periods in hospital. During these periods we sought all manner of things to occupy his attention, such as games, books, magazines etc, but very soon he became attracted to American hot rods and motor racing. I promised that when he was well again, Grandad would build him an all American Bathtub hot rod, with a V8 engine and big chrome wheels at the back. This vehicle was duly built, complete with an imitation electronic V8 engine, deep buttoned leather interior, carpets, four-speed automatic transmission with stick shift override, fully working electronic dashboard with speedometer, a stereophonic sound system. The V8 engine could be started and revved up, all electronically of course, but all very real for a four year old, so real in fact that Auto Express featured it as a centrefold. We called it Kindred Spirit.

I contacted Santa Pod about the possibility of opening up the raceway for Stephen to make a very special run in his new car. They were wonderful, Victoria Garrett and Carlo Gandolfi laid everything on. Stephen and Daniel raced their cars at just four years of age. Stephen set his first world record of 22.7 mph for, this was officially recorded by the Guinness Book of Records and in the process he raised over £1000 for the research department of Booth Hall Childrens Hospital.

Santa Pod then suggested that if both Stephen and Daniel were to have a hot rod, then they could provide entertainment for the children in the crowd. My family and I said we would undertake such a project, providing we could make it work for a very special childrens' charity. Today's race team programme was born, along with the concept of Junior Drag Racing. I suppose one could quite accurately state that, as this was some five years prior to the sport starting in the USA, Santa Pod was the place where the sport of Junior Drag Racing was conceived.

Supported in that first season by very small input from sponsors plus raffles etc. the boys ran two American hot rods. A year later we built two Suzuki Sky Cycles, whilst in 1993 the Batmobile was born, a vehicle in which at just seven years of age Stephen set an under 10s world quarter mile record of 34 seconds. The 1994-5 programme a new car called Burning Desire was introduced, a vehicle based upon Tom Cruise's Nascar from the film Days of Thunder. This provided a whole new profile to the project. In the next year we were looking to join forces with BEN and introduce yet another very special Grandad creation, Stephen's rail named Ultimate Experience.
©Eurodragster.com
In that year another car was being built: Blaze of Colour, a Nascar, but one like no other. Big engine, independent suspension, adjustable everything, on board computers, pit to car radio etc. and to cap all this, a very special £15k paint finish by Indy Car sponsors PPG.

The Kindred Race Team is now entering its eighteenth year. Since the very beginning, the team has built upon its success, presenting a true Kindred Spirit of amalgamated commercial and other interests, whilst also forming an excellent PA vehicle for charitable bodies and events. The then nine-year-old Stephen's race car Ultimate Experience set no less than three new world records on its first outing and thereby took the whole of the front page of The Times newspaper in full colour. Earlier in that year we had promised World Record breaking potential from the new car and straight out of the box, it delivered. Stephen and the team have always worked hard in their sponsors best interests, providing excellent returns via a very spectacular and professional show, inside of which, there lies any number of potential avenues for the furtherance of single party interests such as advertising, publicity, fund raising etc, whilst at the same time, the team becomes a catalyst for inter-company associations and charitable activities, thus the overall structure works in everyone's best interest, commercial or otherwise. Hence the name Kindred Race Team and our first race car being called Kindred Spirit.

In years to come the team will be seeking new projects, events and programmes, new ideas such as our all new Beverly Hillbilly Truck which is of course street-legal. New TV programme ideas designed to expand the type of family love and technical understanding we all share, with others in the world at large. We all feel that the bonds we enjoy could and would be enjoyed by others, for there's no greater feeling for parents, than to see their children having fun with something they have created as a family. It is felt such a TV based programme could involve schools and colleges within a special project theme, with the possibility of support from the teams existing sponsors, thus providing a very special and unique educational facet to the future of interactive digital TV. It is to this end, that the cars we have outlined and discussed are to be offered for sale. It is planned that the income capitalised from the sale of these vehicles will be utilised to fund the creation of a whole world of new educational/charitable motorsport programmes.

If you are interested in acquiring any of the Kindred Race Team vehicles then you can find details by following the Private Treaty sales link at www.classic-auctions.co.uk.

SSBs to the fore at Fastfest.
27th February: Bike performance supplier Big CC Racing has announced a sixteen-bike Super Street Bike Challenge to be held at the new Fastfest event at Santa Pod Raceway on 30th June-1st July. £1000 prize money and trophies are on offer to the invited field.

Sean Mills of Big CC Racing told Eurodragster.com that Grant Norris of Future Publishing Ltd, who publish Fast Bikes, Fast Car, Fast Ford and Total Vauxhall amongst other titles got in touch to ask him to put together a demonstration field of quick bikes and that Super Street Bike was the natural choice. The diverse field is made up of the biggest hitters from ACU UK Drag Bike and Straightliners Championships and, to keep things going off the track, some of the finest wind-up merchants within drag racing.

"We have invited the sixteen quickest bikes we can find", said Sean. "Entry is free of charge but everyone puts up £100. We will also be presenting trophies and Big CC Racing will be putting up a beer fund for the Saturday evening."
©Eurodragster.com
The first qualifying sessions will be held during Saturday's Run What You Brung, which precedes the Fastfest. More qualifying and the first round of eliminations are planned after Fastfest opens at 5:00 pm on Saturday, with the remaining eight bikes racing down to one on the Sunday.

For more details about the Bigg CC Drag Racing Challenge, including the list of contestants check out the Big CC Drag Racing Challenge thread on the 200mph forum or contact Sean Mills at sales@bigccracing.com. For more details about the event, check out the Fastfest page on Santa Pod Raceway's web site at www.santapod.co.uk/e_fastfest.php.

Eurodragster.com will be covering the Big CC Drag Racing Challenge live in association with American Car Imports.

That Championship suits you!

27th February: Eurodragster.com Home and News sponsor Andy Robinson Race Cars and Stroud Safety Equipment have announced their UK contingency sponsorship scheme for 2007:

Pride of place goes to a different kind of contingency deal for racers in Sportsman ET and Super Street who will have the chance to win a complete set of clothing to SFI3.2A-5 including race suit, helmet, boots and gloves. These will be awarded to the UK National Champions at the end of the season. Runners-up will win a race suit. As with all contingency deals racers must display both ARRC and Stroud stickers, available from Andy Robinson's pit, at the Easter Thunderball at Santa Pod Raceway.
©Eurodragster.com
Details of the items to be won can be found on the Stroud web site at www.stroudsafety.com, in particular:
801 Suit (one- or two-piece) red, blue or black in a standard size
9501 Helmet
1200 Driving shoes
1110 Gloves
"Don't forget that we can still supply suits in time for Easter", says Bob Roberts. "If you're a standard size and you're happy with a standard colour then usually the only delay is shipping and that's a question of cost. You can see what's on offer by visiting the Stroud site."

In addition Andy Robinson Race Cars will be supporting Super Modified, Super Pro ET and the NFAA with vouchers for winners and runners-up at selected race events. Finally Stroud will be supporting Super Modified, Super Pro ET, Pro ET, Super Comp, Super Gas, Street Eliminator and the NFAA with a voucher scheme.

Full details can be found in the Sponsorship section at www.robinson-race-cars.co.uk.

Swift snippets.
27th February: Shakespeare County Raceway would be pleased to hear from any racer with old slicks which could be used on the track's sled. "We have a couple of slicks at the moment but any type of worn out drag slick would be appreciated in our preparations for the second round of the UK National Championship in May", says Jerry Cookson. If you can help the team at SCR then please get in touch with the track office on 01789 720180 or E-Mail enquiries@shakespearecountyraceway.co.uk.
©Eurodragster.com

The Pennine Drag Racing Club held its Dinner Dance and Trophy Presentation in Wakefield last weekend. Des Brown tells us that the evening was ably MC'd by John Price with help from wife Deborah and daughter Laura, although Laura was at one point confused to be confronted with eleven John Prices (right, click on picture for large version, courtesy and ©Richard Smith). You can see more at richardsmith.fotopic.net.

As if we don't already have enough aggravation with E-Mail servers, we have now found that in addition to Blue Yonder, we are now experiencing problems receiving E-Mail from AOL addresses. If you would like to get in touch from an AOL or Blue Yonder address, or if you have sent us a news item and it has not been published, then please get in touch with us at eurodragster.com@btinternet.com or click on the Send a news item link on the left-hand side of any Eurodragster.com page.

You'll never get rich...
27th February: From UK Pro Mod racer Ray White comes this real-life story which we shall present without comment:

Tonight we sat down and watched Driving Force on the Biography Channel. As John Force and his family checked into a twelve-star hotel in Las Vegas they had a twenty-bedroom, twelve-bathroom suite. John looked at his family and said "You have drag racing to thank for all of this".
©Eurodragster.com
At that point I looked over to Jacky, looked around and said "Jack, you have drag racing to thank for all this" as we sat in the garden shed and she passed me beans on toast.

Web site updates.
27th February: Mike Fordham of Blazing Wheels photographic renown has been in touch to let us know that he has a new web site at www.michael-fordham.photos.cn.com. "This new web site will be updated every Monday morning with images which we have captured the previous week, whether it be motorsport or another event we have attended", says Mike.
©Eurodragster.com
Ålund's new ride.

26th February: Lars Rodeblad has been in touch to give us a look at the 2007 ride of multiple FIA European Pro Stock Champion Jimmy Ålund (right click on picture for large version).

"Jimmy's 2007 car will be a Jerry Haas-built Pontiac GTO", says Lars. "Jimmy and crew are getting ready to fly to the States to test and to race in order to be well-prepared for the 2007 European Pro Stock Championship. The first stop will be at the Eastern Spring Test Nationals in Georgia on 8th-12th March where the crew will set up the chassis for the engine/transmission combination used in Jimmy's winning Trans Am last year. The next stop will be the AC Delco Gatornationals in Gainesville the weekend after. At this event Jimmy will get the chance to take on the very best in the sport and at the same time gain valuable data for the future.
©Eurodragster.com
"Backing the team for 2007 are main sponsor Klintberg and Way Partner, northern Europe's largest supplier of parts for US vehicles, and associate sponsors Nordea Finans, Fragus Warranty Group, Exclusive Cars, Cooper Tires and Amalie Oil. Further sponsor deals are pending and will be announced as soon as possible.

"We are all looking forward for a very competitive year in Pro Stock racing. See you at the track!"

2007 SFI Tour reminder.
26th February: Lars Pettersson has been in touch to ask us to remind racers of the dates of this year's SFI re-certification tour, and to let us know that the inspection times have changed at the Swedish stop of the Tour at Persåker's Speed Shop (changes in red below):

Thursday 1st March Certifications between 09:00 and 13:00 at:

Kart Centrum Silverstone
Weerenweg 21/23
1161 AE Zwanenburg
The Netherlands

Friday 2nd March Certifications between 09:00 and 13:00 at:

Finnish Hot Rod Association
Tiilenvalajantie 6
02330 Espoo
Finland

Phone: 09- 2515 250
©Eurodragster.com
Saturday 3rd-Sunday 4th March Certifications between 11:00 and 16:00 Saturday, and between 10:00 and 12:00 on Sunday, at:

Persåkers Speed Shop
Solbergavägen 28
640 60 Åkers Styckebruk
Sweden

Phone: 0159 - 133 70

Parts cannot be picked up from Persåker Speed Shop after 14:00 on Sunday.

Monday 5th March Certifications between 09:00 and 14:00 at:

Santa Pod Raceway
Airfield Road
Podington
Northamptonshire
NN29 7XA
England

Phone: 01234 782828

Items to be certified are:

Clutches
Bellhousings
Auto Trans Shields (4.1 rigid)
Flexplates
Flexplate Shields
Wheels (15.1, 15.2, 15.3)

UK JDBs add rounds.
26th February: The organisers of UK Junior Drag Bike are pleased to announce that in addition to the two already-scheduled Championship meetings at Shakespeare County Raceway, the Junior Drag Bike class will be running extra Championship rounds within three Run What You Brung events at the Warwickshire track in 2007. This is a joint initiative between the ACU and Avon Park International Racing Association and the extra rounds are intended to make up for JDB not running at Santa Pod Raceway.

Sharron Collier tells us that on these particular weekends Junior Drag Bike class will run full Championship rounds with qualifying, eliminations and points. The 2007 Junior Drag Bike Championship will now run at the following rounds:
©Eurodragster.com
5th-7th May: Speedfest '07
19th-20th May: Super Street Car Shootout
15th-16th July: British Mini Showdown
25th-27th August: Open Sports Nationals
13th-14th October: Straightliners End of Season Bash

Pre-entry will be necessary in the usual manner, further details regarding entry fees and closing dates will be posted in due course.

In the meantime if anyone requires any information about the series or any other matter relating to Junior Drag Bike then either contact Jerry or Sharron Collier on 01246 570304 or 07878 190844. "We particularly want to hear from anyone who is busy building a new bike for the 2007 season", says Sharron. "We are trying to create a database of all Junior Drag Bike riders which will hopefully generate some new information on the Class web site at www.juniordragbike.co.uk which is expertly done for us by Carl Wadkin-Snaith, thanks Carl. We want to get this class growing and we need any input available. Thank you!"

The eyes have it!

26th February: UK Super Gas and Junior Dragster team Panther Racing UK have have teamed up with Teng Tools and Teamvise Ltd in the UK for what promises to be a very exciting 2007 season.Teamvise, based in Flitwick, Bedfordshire is the UK's exclusive distributor for Teng Tools.

"Panther Racing UK were a clear choice for us to team up with", said Daniel King, Marketing Manager for Teamvise. "Extremely professional and pro-active in their approach, a great crew to work with. It's an exciting time for us with the Panther deal and the imminent release of our 2007 catalogue.
©Eurodragster.com
"As a founding member of Toolstars, the European Tool Group, we have access to what is probably Europe's largest range of hand tools with stocks throughout Europe. Plans are already in hand to launch new ranges to complement the existing brands; plans which will make Toolstars UK the number one choice for professional quality, branded hand tools. Panther Racing UK will be in the forefront of helping us to achieve this."


"We're really pleased with this partnership", said Panther Racing Team Manager Trevor Graves. "People will be able to see a selection of the Teng Tools range being used by the team in the pits at all of our scheduled events. Teng Tools offer excellent quality and value for money, and a range from individual hex keys up to thousand-piece tool kits - every workshop should have some!"

Swift snippets.

26th February: UK Street Eliminator racer Ron Haslett sent this picture of a new piece of nitrous kit under test for his wild Cortina. "The new system will be capable of flowing five times what we were testing with last year", says Ron. "I'm looking forward to being able to run the car and see what it will do. I am going to concentrate on running consistent nines. I've done the calculations and I know what it should do, but one step at a time."
©Eurodragster.com
Three birthdays on today's news update. The first is actually a Happy Birthday for yesterday to Manor Racing patriarch Ian Warren; Angie, David and Stephen sent their best wishes. On to today and a very Happy Birthday to our very good friend and Santa Pod Racers Club Race Director Darren Prentice. Hope that you had and have a great day guys. Finally, for trivia buffs, today is the ninth birthday of Eurodragster.com. Thanks to the racers for giving us something to write about, to all of you for continuing to tune in, and to our sponsors for giving us the means to do it.

Swift snippets.

24th February: Jan Phersson of Eurodragsternorth.com sponsor Simpson tells us that Swedish car enthusiasts' magazine Gasoline magazine has become the class sponsor of Stock/Superstock in 2007. "The legendary Stock/Superstock class has become one of the most crowd pleasing classes in the Nordic region", says Editor Mattias Hammarstedt. "So our decision to be a partner and sponsor was natural, and when you know that our readers love American muscle cars this is the way to go."
©Eurodragster.com
Darren Prentice has been in touch to let us know that Santa Pod Raceway have acquired a number of 20' x 9' steel containers, which he says are ideal for Junior Dragster storage, as well as 21' x 9' anti-vandal offices and 32' x 10' wooden jack legs. Delivery can be arranged; if you are interested in any of these then please contact Darren by E-Mail at darren@santapod.com.

Web site updates.
24th February: If, like one third of the Eurodragster.com staff, you are a mechanical ignoramus and tend to stand there with a Homer Simpson look on your face when a tuner tells you "We'll change the timing next round" or "We'll put in/take out fuel" then we can highly recommend a visit to this week's entry in our exclusive Racer Blog in which Dutch Top Fuel Dragster racer Lex Joon goes into quite some detail about the tuning calls which have to be made before venturing out onto the track in the MPM Oil Top Fuel Dragster, and what is actually done to put those calls into action, sometimes at the last minute. You can read Lex's Blog by clicking here or by clicking on the Racer Blog link on the left-hand side of any Eurodragster.com page.
©Eurodragster.com
Shed those cookies!

23rd February: Swiss Top Fuel Dragster racer Urs Erbacher's team have sent him to winter camp to get fit for the 2007 season. Team member Andrea Wucher tells us that the Top Fuel ET and speed record holder has to shed the Christmas cookies.

"Urs is at high altitude and is following a tough fitness regime consisting of getting up early, going up to 3800 metres above sea level, warming up, skiing downhill as fast as you can, going up again, and so on", says Andrea. "He is doing well. But if you are chased by Cinzia on the skis you can be Top Fuel record holder and still not be fast enough.
©Eurodragster.com
"Because of the thin air above 3000 metres the training is restricted to a maximum of three hours in one go. After that Urs has a break with healthy food and isotonic beverages to get him ready for the afternoon session. The high altitude training is finished at about five o'clock, and back down in Zermatt Urs goes for some relaxed walking or jogging, and after a huge portion of carbohydrates the mental training starts: focus, reaction, self-confidence, the uncompromising will to win. The typical training day ends at about ten o''clock in the evening so that Urs gets enough sleep to be ready for the next day.

"It seems that Urs likes it, and we will see how his physical training improves the performance on th elights at on the track. Urs wants to say hello to all Eurodragster.com readers and drag racers out there...take care and get ready."

Spark and Coil.

23rd February: UK Super Pro ET racer Mark Flavell is pleased to announce that NGK will continue to put the spark into Mark Flavell Racing's six-second 475 ci blown-alcohol dragster. Mark adds that he will again be handing over the keys to Crew Chief Craig Owen for the first race of the season.

"NGK through agent Craig Colintine are continuing their support and we very much appreciate their involvement", says Mark. "I think I have said it before but we would use NGK regardless as in our opinion they are simply the best at what they do. Dave at Performance Unlimited with the Total Seal connection is keeping those ignited pressures in the cylinders and we hope to hit our six-second form straight out of the box.
©Eurodragster.com
"Craig 'Coil' Owen will be handling the driving at the Easter Thunderball supported by Steve, Mally, Sam and Andy. I turn 21 (base what arithmetic? - Ed) a few days prior and so will miss the event as I'll be partying in Havana. But I'm sure that Craig will be well-received by the Super Pro racers whose hospitality and ability to party are well-known.

"But make no mistake come the first round they'll all take no prisoners. Craig has rebuilt the dragster from every nut and bolt this winter and is keen to give it a run out, improve his PBs, earn some points for MFR, and get our 2007 campaign off to a good start."

Swift snippets.
23rd February: For our two-wheeled readers Eurodragster.com Home and News sponsor Dynospeed Developments is holding a Dyno and Open Day at its Chigwell premises. This offers the chance to have your bike dyno'd courtesy of mine host Paul 'Grumpy' Watson weho together with other experts will also be on hand to offer advice, and members of the 200mph Club will be there should you need advice about drag racing, sprinting, flyers or wind-ups. Food and drink will be available. Doors open at 9:30 am at Unit 11, Taylor's Farm, Gravel Lane, Chigwell, Essex IG7 6DQ (map).
©Eurodragster.com
ARCC stocking up.
23rd February: Bob Roberts tells us that Eurodragster.com Home and News sponsor Andy Robinson Race Cars has a new stock of items to help racers get ready for the new season:

Firstly from BSCI is some top-quality roll cage padding to both FIA and SFI standards. This stuff is not just renamed pipe lagging but thoroughly tested to meet stringent safety specs. It won't keep your water hot but it might well save you from injury if the worst comes to the worst.

Secondly, from Aerospace Components, a battery tray with clamp and a set of alloy spanners (sorry, that should be "aloominum wrenches"). The battery tray is machined from billet and is designed to fit Optima batteries. The wrenches are in sizes from 9/16" to 1¼" designed for -4 to - 12 fittings, just the job to avoid marking or galling those expensive hose ends.
©Eurodragster.com
Finally, from Flaming River, a master cutoff switch and steering UJs. Once again the cut-off switch is heavy duty, good for 250 amps continuous service and 2500 amps for five-second surges. The UJs are from the Mil-spec range with ¾" id and 7/8" od.

All these things are available from the ARRC E-Bay shop at stores.ebay.co.uk/Andy-Robinson-Race-Cars or on our web site at www.robinson-race-cars.co.uk.

Magazine update.
23rd February: Jerry Cookson writes that the latest edition of Drag Racing Action magazine includes a feature on Doug Kalitta's almost-Championship season, together with reports on the 25th Annual Moroso 5 Day Bracket Race, What's New for 2007, a look at 2006 Super Gas Champion Iggie Boicesco's Obsession Corvette, part two of troubleshooting the sport, a look at the Compton family dragster and more. DRA is available for £4.95 from American Auto Mags at www.americanautomags.com or call 01606 558252.
©Eurodragster.com
Viper gets its fangs back.
22nd February: UK Super Pro ET racer Chris Orthodoxou writes from his Surrey mansion to tell us that his beautiful Dodge Viper has been reunited with its Keith Black hemi.

"I had to fit a new sleeve in one bore as a bit of grit had found its way in and embedded itself in the side of a piston, causing a lovely score in the sleeve", says Chris. "The blue smoke you may have noticed when we ran last year was caused by the bore walls having a coating of rust from where the engine had stood for so long after being dyno'd. This was causing poor ring seal, loss of compression and subsequent oil burning. It's all cleaned up nicely and everything else in the engine was spotless. New rings, shells and a valve job completed the rebuild.
©Eurodragster.com
"So with those small bits done, I'm hoping to regain the power losses I was obviously suffering. I haven't leant on the motor yet, but we now know that everything is good after last year's trial period, and we've discovered all the things that were slowing us down, so we can set it on kill and begin the quest for improvement.

"The collapsed wheel bearing on the front strut has also been fixed. Sir Geof Hauser kindly hand-carried the whole strut unit out to the States and took it to Strange - thanks very much, Geof. The spindle was mangled beyond repair so Strange rebuilt the unit with a brand new case.

"We're now looking forward to my first whole season of competition since 1997. Even with the engine problems I still ran a best of 7.87 last October so hopefully we should be able to improve on that."

Interior decoration by Stefan.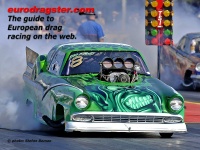 22nd February: If your current wallpaper is starting to look a bit jaded then we have just the thing for you courtesy of Swedish photo-journalist Stefan Boman. Stefan has kindly provided us with no fewer than twenty 1280x960 wallpaper files to brighten up that gloomy monitor. The wallpaper files offer something for everyone covering a number of classes both Pro and Sportsman and both on and off-track. If you have Windows XP and your screen resolution is less than 1280x960 (for example 1024x768) then the wallpaper will be resized automatically.
©Eurodragster.com
"We would like to take the opportunity to thank all of the track officials for their co-operation when taking these pictures", says Stefan. "We often receive special requests and our way of showing appreciation for this is by providing special pictures as well". We would like to thank Stefan for his offer and for what was visibly a lot of hard work putting the files together.

You can check out the wallpaper files by clicking here or by clicking on the Features, Interviews, Tributes link on the left-hand side of any Eurodragster.com page.

Swift snippets.
22nd February: Santa Pod Raceway are holding their next Run What You Brung this Sunday (25th). Darren Prentice of SPR says that there will no longer be a lunch break at RWYBs to allow even more runs. Entry to Santa Pod is £10 and £20 and the production of a valid DVLC licence buys you unlimited runs on the track. You can find out more including advance ticket details on the RWYB web site at www.rwyb.com.
©Eurodragster.com
Congratulations to UK Super Mod racer Craig Gibbs and his partner Louise on the birth of their daughter Layla who arrived on Tuesday morning. "There weren't too many complications apart from Layla deciding to come out the wrong way round!", says Craig. "She did come eventually and weighed in at a healthy 8 lb exactly. Both Louise and Layla are doing great."

King presides.
22nd February: Murray Griffin says that UK Top Fuel Bike racer Ian King has agreed to take time out of his busy race preparation schedule to be Guest of Honour at the Torque Motorsports annual prize presentation in early March.

"We race motorcyles of all ages and descriptions on military airfields all over East Anglia", says Murray. "Our competitiors are between sixteen and ninety years old. We attract famous names past and present including Dave Bickers, John Hobbs and several Super Street guys, and we organise the very popular meetings at London City Airport.
©Eurodragster.com
"We think that the time and money required to contest a complete European Championship is about the same as the entire budget for all our regular competitors combined for a whole season! So we are absolutely honoured that Ian can find the time to attend. The presentation is open to anyone who wants to come and is on 3rd March at the Maurice Rowson Hall in Church Road, Gosfield, Essex. There is a bar and a live band."

Web site updates.
22nd February: As if fatherhood wasn't keeping him busy enough, Craig Gibbs has launched a web site for the Gibbs family's Obsession Racing Super Mod team. The very professional-looking web site tells you everything you need to know about the seven-second Camaro and includes race schedule, photo gallery, merchandise, links, a tribute to Terry Gibbs and more. "The site is my own work, and some of the pictures and the Obsession logo were provided by Darren West at Power Race Graphics", says Craig. You can check out the Obsession Racing web site at www.obsessionracing.mfbiz.com. Craig adds that there are more pages to be added to the site between nappy changes and feeds.
©Eurodragster.com
Luke Bennett has updated the Bennett Racing web site with a large number of photographs of his now-sold '23 T as well as some pictures of the family's Phantasm Pop courtesy of Brian Nixon. A news/Blog page has also been added for the latest updates from the team. Check it out at www.bennettracing.co.uk.

Come in TF8...
21st February: UK Top Fuel Dragster racer Andy Carter is proud to announce that following a meeting at Autosport International Autotel Race Radio have joined forces to provide pit and trackside communications to the Lucas Oil/Carter Motorsport/Andersen Motorsport Top Fuel operation. Autotel Race Radio specialise in pit-to-car radio and high noise environment communications systems which are used extensively in circuit racing, rallying and powerboating offering excellent noise cancelling for pit crew and drivers.

"Top Fuel is the most demanding environment for any product and we're delighted Autotel are joining us to provide crew communications", said Andy Carter. "The race radio system will allow the Crew Chief to talk directly to me in the car on track, making sure we get the best from every run."
©Eurodragster.com
"Autotel specialise in providing communication equipment for extreme environments", added Richard Palmer, Partner of Autotel Race Radio. "When Andy approached us we knew this was one area of motorsport where we were not involved but where our products would work extremely well. We are confident to go into a marketing agreement with Andy's professional operation and are excited about being involved with the FIA Drag Racing Championships."

The team will be installing the Autotel system ready for the shakedown runs prior to the first FIA European Championship round at the FIA Main Event at Santa Pod in May.

For further information on Autotel products visit www.extremeactioncameras.com or call 01508 528837 (outside the UK +44 1508 528837).

Malmgren adds sponsors.
21st February: Swedish Pro Stock racer Michael Malmgren has announced two new sponsorship deals which were arranged at the PRI Show.

"We are very happy to have Precision Products Performance centre on board", says Michael. "They will supply special wristpins to be used in all of our engines coated by one of our other sponsors œrlikon Balzers. PPP are specialists in all valve train components except valve springs. They also stock many different Wiseco pistons (Wiseco being another sponsor of Malmgren Racing) and are very big on Pro lifters for Nextel Cup etc.
©Eurodragster.com
"We have also signed a deal with PSI valve springs and we are happy to inform everyone that we will stock most popular springs from 1248 to 1262ML in our trailer at all FIA races. The prices will be the same that you pay in the US (racers net) - our idea is that we are going to have such a good price that even if you buy in the US and bring it home in suitcase we can compete with that.

"We are still in discussion with some more associate sponsors and some major deals will also be announced soon."

The Best place to sit.

21st February: Jon Best has been in touch to let is know that his Fuel slingshot is coming along well and that, no thanks to his eminently-unreliable Peugeot, he recently made it to Felstead Race Cars for a fitting.

"At Felstead Race Cars we found a huddle of cars, people, and an oversize hot wheels toy (right) sat outside", says Jon. "Bill Felstead and I finalised the location of the steering components, along with the brake lever. It sounds simple, but in the confines of the car component placement has become critical. In terms of other bits, the engine still requires some internals and all the usual things which get forgotten until the very last minute. One last big push should see the car ready by mid-season, finances allowing. Bill also wanted me to mention that you have to be a man to wear pink (ask Jet Dragster pilot Ian Caseley - Ed), as per the latest FRC addition - a rather fetching pink mug.
©Eurodragster.com
"I'd commissioned Neal Reed to produce some photos of the car, and when I got home at just gone 10:00 pm I got a text from him saying that the photos had already been sorted. The results speak for themselves, capturing the day's goings-on really well. You can find Neal's photographs at www.retrophoto.co.uk."

A legend on-line.
21st February: Peter Crane, the first racer into the fives outside America, has launched an official web site at www.petecrane.info.

The web site features three main sections: Bike Years, about all of Peter's motorcycles including the famous Yellow Peril; Car Years, the story of Peter's career in the Eazy Ridin' Pro Stock; and Nitro Years, three pages about Peter's very succesful Stormbringer Pro Fuel Dragster which he piloted to a record of 5.97 at the 1976 Easter Internationals. Nitro Years also includes the story of the Hustler Funny Car. The extensive photo galleries will shortly be supplemented by a collection of pictures from Peter's trip to America.
©Eurodragster.com
"In my eyes, Peter Crane was one of the legends in drag racing, and it's a surprise that he is not in the Hall of Fame (Patience - Ed)", says web site designer Peter Walters. "This web site shows his drag racing life in detail and is a great way to bring back nostalgic memories of five-second Top Fuel cars and ten-second Pro Stock cars.

"The process of the site from the first E-Mail to 'clicking finish', took about two months. We at Peter Walters Race Design think it has turned out very well and I am proud to say that I built it. We hope Pete Crane is truly happy with it as well. If you are a old time or current racer and want an awesome-looking web site to promote your team or business then contact PWRD through our web site at www.pwrd.co.uk."

VP Racing Fuels press release.

21st February: Eurodragster.com Home and News sponsor VP Racing Fuels Inc announced some bad news for powersports enthusiasts yesterday - it's discontinuing U4, its most popular racing fuel in the powersports market. The good news? VP came up with something even better - U4.1.

"U4.1 is an updated version of VP's U4 racing fuel, with improvements in several significant areas," said Steve Burns, VP's President and CEO. "Compared to U4, U4.1 offers up to two per cent more power - translating to as much as eight per cent more power than premium pump gas - as well as no sticky residue and a less pungent aroma - all for a lower cost. This is a major technological step, considering that since its introduction in early 2004, U4 had become perhaps the most successful racing fuel in the powersports market and VP's fourth best selling fuel overall.

"For its time, U4 was the most technologically advanced fuel on the market for its targ eted applications, but there are always improvements that can be made. At the time of U4's introduction, the engineering trade-off was a significant gain in horsepower while accepting its propensity to accumulate a gummy residue during storage, requiring fuel tanks to be drained between uses. For competitors, this was a small inconvenience in return for six per cent more power than premium pump gas at an economical price.

"The development of U4.1 - a fuel with all the upsides of U4 and none of its downsides - is a real breakthrough and just the latest example of VP's technological leadership. Although not a high octane fuel, U4.1 runs in engines with 10:1 to 12:1 compression with excellent resistance to detonation. Technologically speaking, this is the best fuel we have ever produced."

Like U4, U4.1 is designed for all four-stroke applications as well as stock two-strokes. "There's virtually no powersports application that couldn't benefit from this fuel," said Burns. Oxygenated with ethanol, U4.1 is legal for off-road use throughout the U.S. Although U4.1 is illegal for AMA Pro Racing due to its oxygen content, it's still legal for AMA amateur, CCS, WERA, AFM and club level racing. It will retail for $9-11 per gallon, depending on the size of container ordered.

U4.1 will yield faster and more responsive engines without harming carburetors, O-rings or gaskets as some other race fuels. According to Burns, its power gains compare to VP's best AMA Pro level race fuels for less than half the cost - a comparatively easy, inexpensive way to generate additional power. For example, a new exhaust system wouldn't generate as big a power increase and the increase would be on a smaller slice of the RPM range, while U4.1 produces power gains at all RPM levels.

Over its thirty two-year history, VP Racing has fuelled champions in virtually every racing category and class - from drag racing, road racing and circle track to motocross, off-road and off-shore. VP has earned a reputation for producing high quality racing fuels with superior power and consistency - as illustrated by its sweep of all AMA Pro Racing Championships in Superbike, Supercross, Motocross and Supermoto in 2006. VP is also the official, spec fuel and/or contingency sponsor of AMA Supercross, AMA Motocross, Prostar AMA, NHRA, SKUSA, Stars of Karting, Rmax Challenge and numerous other sanctioning bodies. In addition to fuels, VP's product line includes performance chemicals, speciality lubricants, traction compounds and racing-related accessories each designed to produce the most power and best performance in their respective racing applications.
©Eurodragster.com
Read takes the Golden Tree.
20th February: Many congratulations to ex-pat UK racer Steve Read who won Top Fuel Dragster at the 2007 NRMA Motoring and Services Summernationals at Western Sydney International Dragway at the weekend. Team member Heather Bond got in touch to let us know how well the Red Line Oil-sponsored team's event went:

On Thursday Steve drove the transporter down to Sydney and I drove a fabulous Mercedes Vito crew van supplied by Daimler Chrysler. It took us the best part of twelve hours and the weather was a little stormy in patches but we were optimistic. When we got to the track on Friday morning we had a fantastic welcome from the track, media and spectators.

Our first qualifier was a 4.8 with Steve off it at nine hundred feet which gave us the #1 spot until the next round. We didn't go out for the other sessions as we wanted to take time to make sure that all was OK with the car. It also meant we got to the hotel in time for a good night's rest for the big day as we were now further down the field.

For the first round of eliminations at 5:00 pm the temperature was about thirty two degrees and it was quite humid. Phil Lamattina had lane choice. The lights went green and the next thing I saw was the flashing win light in our lane. This meant that in the next round we had Allan Dobson who drives for Rapisarda Racing. The guys turned the car around and we were back out there. The temperature and humidity had settled down by then and the track was coming round. Just after half track Allan's ride lit up and Steve lifted to take another win. This meant a final with Phil Read.
©Eurodragster.com
The crew got stuck in back in the pits and the car was ready to go again. As I was directing Steve back to the start line after the burnout it felt like a dream, especially when I looked to the stands and the spectators were clapping and cheering for the team to win. The race started and next thing I saw was the flashing lights on our side again. There are no words to explain the euphoria on the start line. I can't remember much of what I said to the TV but I know we went to the meeting as the underdog and came away with a gold Christmas Tree trophy.

The car has still not done a full pass under power. The blower belts stayed in place and our damage was limited to two burst panels. I should like to introduce the crew. Tim Adams is our Crew Chief, he has worked extensively on Graeme Cowin's Top Fuel car and also done a stint on a Fuel car in the States; Trev and Col are the cylinder head guys, Richie and Dan on the clutch, Steve and Scott on the bottom end, Dan on the fuel, Andy oversees and his wife Alison takes care of feeding the guys. We are extremely fortunate to be sponsored by Red Line Oil which really is the only lubricant to use in these motors as it is designed for it.

You can find full results at www.dragster.com.au.

Haslett's late start.
20th February: Real Steel Street Eliminator UK racer Ron Haslett says that after long chats with crew member and very good friend Nick, followed by a team meeting on Friday night, he has decided not to contest the first couple of rounds this season.
©Eurodragster.com
"We have had a few things against us in the closed season, the two main issues being my health and the loss of our main sponsor", says Ron. "As most of you know I had an op for cancer in October and I have not healed as I thought. Don't panic, I still have the all clear, but putting on a crash helmet is a bit difficult at the moment. We have a new sponsor, the PMCC Auto Fabrications, but as a team we don't think we will have enough time to get everything ready for the first couple of rounds.

"So we have thought about doing a few Run What You Brungs and Test Days, and we are also going to carry on with the fundraising for Macmillan as well as look for more sponsors to help next season."

Swift snippets.
20th February: The National Street Car Challenge holds its AGM and prizegiving at Hackett's York House Hotel on the promenade in Blackpool this Saturday (24th). Hot Rod Gazette Editor Shaun Wilson tells us that under discussion will be the revised rule book and a number of new and exciting events which have been added to the calendar including a hillclimb and eighth-mile drags on Southport promenade, and that the guest speaker will be Jerry Cookson of Shakespeare County Raceway. "The event has a very fun and friendly atmosphere and all rodders and racers are welcomed", says Shaun. "There is a private bar which will be well-utilised throughout the evening. Rooms in the hotel start at just £25. For more details check out www.hotrodgazette.com."
©Eurodragster.com
Racers in suits, but don't worry.

20th February: Seeing racers in suits is always an unsettling experience as your first reaction is to ask who has died, but Nostalgia Fuel Altered Association Co-ordinator Lawrie Gatehouse tells us that in fact the gladrags were out for last Saturday's first NFAA Awards Evening at the Stourport Manor Hotel in Worcerstershire, which was attended by 110 sponsors, guests and teams:

Sponsors and guests included Les and Maureen Downey from Lucas Oil UK, John and Debbie Price from Flint Insurance, Phil, Bev and Rebecca Evans from the MSA, Andy and Kate Robinson from Robinson Race Cars, Nick, Rob and Nigel from ICE Automotive, Darren Prentice from Santa Pod and Bruno Sanderson-Brown on behalf of Shakespeare County Raceway. The NFAA received a letter of appreciation from Keith Bartlett, CEO of Santa Pod who had prior commitments, ably and wittily read by the loquacious John Price.

Trophies for achievement were awarded to Jim Usher for The Mob's first six, to Joe Bond for Most Promising Newcomer and to Tony Betts for the lowest ET run by an NFAA Member in 2006. Jim Usher was re-presented with two other trophies, the first for Best Newcomer, ably presented by Darren on behalf of Santa Pod Racers Club and the second for Outstanding Achievement presented by Bruno on behalf of Shakespeare County Raceway.
©Eurodragster.com
The season-long NFAA Points Championship was won by Clayton Round (Rebel 'T'), for the second year running, gaining a glass trophy and a cheque for £3000. The runner-up trophy and a cheque for £2000 was awarded to Frank Bennett (Bennett Racing), who kept Clayton honest all season long. The third piece of glassware and a cheque for £1000.00 went to Bob Glassup (Xtreme Racing), the second year he had picked up a trophy.

A toast was raised to honour the ladies, who do so much to help all the racers have their few seconds of glory.

The evening was enjoyed by all with convivial company, plenty of bench racing, superb food and entertainment in the form of a close magic prestidigitator who circulated amongst the throng, and the evening finished with a DJ and Disco. The bar did a roaring trade until well after 2:00 am, yet many used the pool and gym facilities on Sunday morning before appearing remarkably bright-eyed and bushy tailed for breakfast!

The event was judged to be a great success and bodes well for the teams in the chase for this season's Championship.

The surprise of the evening was to see The Mob team in dinner jackets (right), the dress code having been smart casual...maybe they thought that it was possible to garner Best Appearing Crew points to start the 2007 Season?

New award for NFAA.
20th February: Also on the subject of the Nostalgia Fuel Altered Association, UK Event Safety have announced that they are to put up a trophy and prize money for the class for the 2007 season.

"Altereds have inspired us for many years now and the NFAA has harnessed this inspiration into a spectacular class that still very much has a community spirit", says Glenn Ramsden of UK Event Safety. "Whilst our £100 prize will not buy anyone a new motor or chassis, the idea is for the team that show the best spirit through next season will pick up the award and might just be able to buy their crew a beer or two.
©Eurodragster.com
"The award is not for the best appearing crew or best-looking race car, but is for the team which shows the Best Spirit of 2007, those who enter fully into the spirit of the NFAA and keep the community spirit flying high. Before the start of the NFAA season, we will find a willing independent volunteer to make the judgement for the full racing series.

"May we take the opportunity to thank everyone involved in the series for putting on such a great show, and wish them a very safe but successful 2007."

Web site updates.

20th February: Our Reserve Photographer Peter Donaldson has updated his personal web site with photographs from Sunday's Run What You Brung at Santa Pod Raceway including pictures of Graham Balchin trying out Steve Venables' Super Street Bike for size (right) and Joe Kellett first-footing in Junior Modified Dragster. You can find Peter's pictures at peterdonaldson5305.fotopic.net.
©Eurodragster.com
The official web site of Santa Pod Raceway's Stunt Night, which took place last Friday evening, has been updated with a report and photographs from the event. Check it out at www.stuntnight.co.uk.

Sprung on us by Panther Racing...

19th February: Coinciding with the launch of their very tidy new web site, UK Super Gas and Junior Dragster team Panther Racing UK have announced the extension of one of their sponsorship deals.

"Phil Butler, Managing Director of MotorOn Services in Yate, Bristol, specialists in on-board generating systems, racking and van conversions has confirmed his company's continued support for Panther Racing UK over the next three years, taking the sponsorship deal through to the beginning of 2010", says the team's Marketing and Media Manager Wayne Corbitt.

"Both Phil and his thirteen-year-old daughter Laura have been involved with the team for the last three seasons", says Conrad Stanley who pilots the Super Gas Firebird. "This clear demonstration of sponsorship at work and their continued support is testament to the team's excellent relationship with MotorOn and its associated businesses. Long may it continue."
©Eurodragster.com
You can find more information about MotorOn Services on the company's web site at www.motoronservices.co.uk or by following the Sponsors Page link on the new Panther Racing UK web site at www.pantherracinguk.com, which is one of the projects which Team Manager Trevor Graves and Conrad Stanley have been hard at work recently.


The Panther Racing UK web site features some excellent photographs, a little history for those who are so inclined, some thoughts from the team members, what the team hope will be some great event reviews and results in 2007 and beyond, and a page dedicated to their sponsors and brand partners. Anna Stanley, the team's twelve-year-old Junior Modified Dragster driver also has her own page so be sure to check it out and hopefully she will have plenty to shout about in 2007.

"The web site is effectively the team's shop window", says Wayne Corbitt. "Our sponsors, supporters, and anyone else that takes the time to visit us here will have a much better understanding of what Panther Racing UK is about for this season and beyond, more so than ever before. It's an excellent medium for us to show off and we've got some great things to tell you about in the run-up to the start of the season. So watch this space..."

2007 Wild Bunch schedule.
19th February: The UK's Wild Bunch held their AGM yesterday and race co-ordinator Claire Meaddows has been in touch with details of their Series Dates for 2007. The Wild Bunch will be running a ten-round Series for their main contingency sponsor, Real Steel, with six of these rounds to be run as the Wild Bunch Series. The Wild Bunch also run a four-round series sponsored by Roy Wilding Nostalgia Race Cars.
©Eurodragster.com
6th-9th April: Easter Thunderball, Santa Pod Raceway (RWNRC 1)
21st-22nd April: Spring Test and Tune, Shakespeare County Raceway (WB 1)
5th-7th May: Spring Speed Festival, Shakespeare County Raceway
2nd-3rd June: Yanks American Weekend, Shakespeare County Raceway (WB 2)
16th-17th June: SPRC Summernationals, Santa Pod Raceway (RWNRC 2)
30th June-1st July: NSRA Nostalgia Nationals, Shakespeare County Raceway (WB 3)
14th-1th July: Mini Weekend, Shakespeare County Raceway (WB 4)
4th-5th August: UK Northern Nationals, York Raceway (WB 5/RWNRC 3)
25th-27th August: Open Sports Nationals, Shakespeare County Raceway (RWNRC 4)
29th-30th September: UK National Finals, Santa Pod Raceway (WB 6)

"The Wild Bunch are really looking forward to the forthcoming racing season, and would like to thank all the marshals, officials and track crew in advance for all their hard work", says Claire. "We wish every racer all the best for a quick and safe season!"

Feature: NHRA Winternationals.

19th February: The latest in our occasional series of features is Roger's report and photographs from the Auto Club NHRA Winternationals which took place at Pomona Raceway last weekend. If you watched the TV coverage then you could be forgiven for thinking that only John and Ashley Force participated in this event, but if you want to know what else happened then you can find the balance redressed in Roger's report which contains both Pro and Sportsman results.
©Eurodragster.com
You can check out Roger's report and pictures by clicking here or by clicking on the Features, Interviews, Tributes link on the left-hand side of any Eurodragster.com page.

Swift snippets.

19th February: Our good friend Elias Vathias tells us that the Cyprus Drag Racing Association was represented by Antonis Antoniou at a parliament hearing about the construction of a drag strip on land rumoured to have been acquired by a British/Cypriot company keen to start work very quickly. "This has made headlines in the local newspapers and news stations and it is considered to be a positive step towards the construction of the race track", says Elias. You can find out more about the Cyprus Drag Racing Association at www.cydra.net.
©Eurodragster.com
Calling Pro ET racers (again).
19th February: UK Pro ET racer Marius Blackburn has been in touch to remind his fellow racers that he is seeking contributions for the Pro ET notes in the event programme for the Easter Thunderball at Santa Pod Raceway.
©Eurodragster.com
"After two requests, the feedback has been pretty poor!", says Marius. "It's not really got any better, so if you don't like what goes to print or you realised you missed an ideal opportunity to tell the public about what you've been doing/running then you've only yourselves to blame! Many thanks to those guys who have been in touch - see you in print!"

Marius says that he doesn't do telepathy but he does do E-Mail at mariusb@fsmail.net.

Keddell & Bommen back Rolfstad.

18th February: Norwegian Supertwin racer Svein Olav Rolfstad has reached a sponsorship agreement with Keddell & Bommen AS, the Norwegian importer of Sunoco lubricants and race fuels. Keddell & Bommen AS is Norway's largest supplier of fuel for racing purposes and carries a comprehensive range of petrol, methanol and nitromethane together with lubricants which stand the extreme stress and loads experienced in racing.

"The agreement includes supply of lubricants, nitromethane and methanol for the 2007 season, but between the lines, it's possible to read a beginning of a longtime relationship", says Svein Olav. "Keddell & Bommen AS is convinced that this agreement will enlarge the Sunoco brand name and gives good publicity inside and outside the racing community, since the extreme stress in drag racing prove the quality of the lubricants and fuels", adds Managing Director Peter Emil Petersen.
©Eurodragster.com
As previously reported Svein Olav will be racing in the USA in 2007 and his AHDRA schedule is as follows:

2nd-4th March: Gainesville
7th-8th August: Sturgis
11th-12th August: Bristol
13th-14th October: Rockingham
9th-10th November: Pomona
16th-18th November: Las Vegas

Svein Olav is keeping a Blog which you can find at www.vgb.no/20180.

Back home with a sticker.

18th February: Derek Flynn of Eurodragster.com News sponsor Gold RV is now officially the proud owner of a Top Methanol Dragster after the new Gold RV Racing dragster returned from upgrade work sporting a chassis sticker.

"Thanks to Andy Robinson and his excellent team, and thanks also to Mark Norton who inspected the car", says Derek. "In the words of my Crew Chief Gary Jenkins, after he inspected the work undertaken, "It appears to be a professional job", something to do with the SPRC Awards. Gary asked me to thank all those who voted for him, and whilst he did not win the James Edgar Memorial Trophy he was still very proud that his and the team's efforts were recognised and was elated just to be nominated.
©Eurodragster.com
"We are also pleased to announce the old car has now been sold, and whilst it was a shame to split it up we would like to thank Nick Good who purchased the engine and gearbox. We wish him luck with his new project and we are sure it will go quicker than it has ever gone before with the new engine! We would also like to thank Nigel Turner and wish him good luck with the chassis.

"Now all we have to do is rewire, re-plumb, rebuild the engine and gearbox of our new car and we shall be ready for Easter...hopefully. On that note I would like to thank my team for all the extra effort they are putting in at the moment to get things ready, and would also like to welcome Andrew May as the latest Gold RV crew member."

Swift snippets.
18th February: Official entry forms for the UK National Championship events taking place at Shakespeare County Raceway in May and August are now available in both Word and PDF format on the Avon Park International Racing Association web site at www.apira.org.uk.

A very Happy Birthday to UK Pro Mod racer and Eurodragster.com Home and News sponsor Andy Robinson. Hope that you have a great day Gus.

If you were tuned in last week then you will recall that we suspected another problem with E-Mail. On further investigation it turns out that E-Mails from blueyonder.co.uk addresses cannot get through to the Eurodragster.com mail server. According to our ISP this is Blueyonder's fault because of the amount of spam sent from their domain. If you are a Blueyonder user and would like to get in touch with us then please use eurodragster.com@btinternet.com.

Another good cause.
18th February: Drag racers and charity have always gone together like bread and butter, fish and chips, and Morecambe and Wise. So we were very pleased, but not surprised, to hear from UK Pro ET racer Vic Amato that he is the latest racer to help to raise funds for a good cause.

"Just before Christmas I was approached by a group of businessmen running black tie events to raise money for various charitable organisations", said Vic. "They auction off various events but have been struggling to find something new. They asked if I would put up a passenger ride in my Mustang, which I was happy to do providing that the money raised went to a childrens' charity - I have three but never managed to eat a whole one.
©Eurodragster.com
"The ride apparently went down very well and raised, to everyone's surprise, £1250 from a Manchester gentleman named Andrew Whitfield. The passenger ride will take place at the Fast Show at Santa Pod Raceway in March and I would like to thank Darren Prentice for allowing us to make the run at that event."

Dam, it's Mr Spokehead.

18th February: Team Turboville's Supertwin Mr Spokehead won Santa Pod Racers Club's coveted Best Appearing Bike award, the award of which included a vote by Eurodragster.com readers. Turbo says that he very much appreciates the award as he put lot of thought into the bike's appearance, and adds that his seven-second mount will look even better this season with the addition of new bodywork which you too could have.

"I am an artist by trade with a BA Hons. in Fine Art and I always approach my bike builds with a strong bias to functional aesthetics rather than just mechanical engineering", says Turbo. "The style of the bike is of course 'Harley on steroids' as befitting a nitro Supertwin and the look is largely down to the carbon fibre bodywork, nicely complimented by Martin Curbishley's paint work.
©Eurodragster.com
"The huge rear fender is straight from Weekend Frame in Texas and cost around £500 shipped, but the rest of the bodywork is ours and, with the help of Nick 'Shaggy' Daniels, we have not only upgraded our molds for the tank and nose fairing but added a beautiful lower air dam (right) which is re-inforced in critical mounting areas.

"All three of these items are available from www.turboville.com now at very reasonable prices and the finish is fantastic. Mr Spokehead is being fitted with his 'goatee' right now and it has radically improved his looks and air-flow! Contact us for prices and delivery or see me at the track."

Magazine update.
18th February: The March edition of the UK's Custom Car magazine sees the new British Drag Racing Hall of Fame member in 2006 reflection mode.

There is a review of the 2006 UK and European scene by Mark Gredzinski with pictures of Champions Håkan Nilsson (FIA Top Fuel), Clayton Round (NFAA), Ulf Leanders (FIA Top Methanol FC), Ian Hook (Real Steel Street Eliminator) and many others. Andy Willsheer provides a report on the 2006 Nitrolympx at Hockenheim with photos of some of the large number of UK competitors including The Rev Sir Neville Mottershead ODE, Ian Marshall in the Highlander Camaro, John Spuffard lighting the hides, and a crossed up burnout from Chris Orthodoxou. Also included are a full page preview of the 2007 Trip To America, a review of "Best drag racing documentary film produced so far", and several drag racing snippets.
©Eurodragster.com
A peek in the classified ads reveals some awesome vehicles for sale including Colin Aldred's Classy Chassis slingshot together with two former CC cover cars, Adam Sayer's blown nostalgia slingshot and Miles Sherlock's Jumpin' Jalapeno '61 Falcon. Custom Car can be purchased from all good newsagents for £3.50.

Stunt Night coverage.
17th February: We have now posted a small photo report of last night's Stunt Night at Santa Pod Raceway. SPR's intensive local publicity campaign paid off with the best part of five thousand spectators in attendance giving a rousing reception to the drag racing demonstrations.

You can see our American Car Imports-sponsored Stunt Night photo report by clicking here or by clicking on the Event Coverage link on the left-hand side of any Eurodragster.com page.
©Eurodragster.com

The Stunt Night was the first assignment for Eurodragster.com Reserve Photographer Peter Donaldson who has kindly agreed to provide photographs of events which neither Roger nor Tog can cover. This will increase Eurodragster.com's Event Coverage in 2007 and we are very grateful to Peter for his help.

You can find Peter's own photography site, which includes his full collection of pictures from the Stunt Night, at peterdonaldson5305.fotopic.net.

SPR pit power arrangements.

16th February: Darren Prentice of Santa Pod Raceway has as promised been in touch with the practical details of power supply in the pits, which was voted in at the Riders' and Drivers' Meeting last Sunday.

"There will be multi generator sets all around the site with a lot of the wiring now in underground ducting", says Darren. "On arrival in the pits set up as normal and then inform ELP that you are ready to receive power, if they haven't already been to see you. They will be based at the side of the Pod Shop and will be easily found.

"If your caravan, motorhome or trailer do not have the right hook up you will need to get yourself a CE form male plug (three pin blue) for the single phase or a CE form male plug (five pin red) for the three phase (right) and have a normal three-point socket attached at the other end. If you are not electrically-minded then this should be done by a qualified electrician.

"I know that there will be a few people who do not see why the power is mandatory, but if you ask anyone who has taken up the power before then they will tell you what a great service ELP supplied. Any rider or driver who double-enters the same car or bike does not need to pay for the power twice, and anyone who needs a second supply can buy it on the day at the same rate."
©Eurodragster.com
"We have been working with Santa Pod Raceway on a couple of different projects for two years now", ELP Managing Director Ronan Willson told Eurodragster.com. "We were approached by David Lloyd Jones and Darren Prentice about supplying power in the paddock area. It is something we tried in 2006 and we were made very welcome by the racers we came to know. The take-up of power was good at the two international events but not so good at national rounds with only forty racers taking it. We needed to take a second look at what we could do and Darren mentioned an idea from a racer to supply power to everyone at a cheap rate and add the cost to the entry fee. I am glad to hear that this motion was passed by the racers.

"I have seen with my own eyes the high level of commitment which the racers have to the sport and I expect nothing less from my staff. Supplying over three hundred hook-ups to racers with a twenty four hour on-site service is no mean feat but my staff have a high level of professionalism and this is something we deal with on a regular basis."

Night becomes day.
16th February: After what seemed like forever trying to find a venue in the south west of England, Lee Child of Street Night promotions is proud to announce that his first Run What You Brung is to take place on Sunday 10th June.

"It all takes place at Dakota Drag Strip on Smeatharpe Airfield in Devon" says Lee, who jointly sponsors Eurodragster.com's Links pages through LA Racing Parts. "A deal has been done to hire the whole airfield and we hope that this will lead to a series of events at the venue.

"The eighth-mile track is all-concrete, seventy feet wide, with a good thousand feet of shutdown area. This leads into a forty foot wide return road which goes straight back to the pits.The pit area is all hard standing and feeds the cars and bikes into a four-lane staging area so that we can keep things moving. The traders area, Show'n'Shine, club stands and public car park are all on concrete.

"We are allowing riders and drivers to use slicks but because this is a street-legal event you must have mufflers or an exhaust system.
©Eurodragster.com
"Gates open for the Sunday Street Wars event at 9:00 am on 10th June. Admission to Dakota Drag Strip is £5 per person and then £20 for unlimited runs on the track. The track itself opens at 11:00 for Run What You Brung with trophies being awarded in different categories.

"Andy Frost will be making monster burnouts and demo passes in his Vauxhall, the quickest street-legal pump gas car in the world, and Keith Cowie will also be making passes in his Nissan Skyline which is one of the quickest Japanese cars in Europe.

"My business partner Kevin King and Paul Garland have updated our web site at www.streetnights.com with all the information on the event. For advertising, sponsorship and trader enquiries please E-Mail me at lee@streetnights.com.

"A big Thank You to the people who helped to get this started, 9.50 Bike racer Fred Furlong and David Maffam of the National Sprint Association."

A brother to...

16th February: Luke Bennett tells us that his blown-alcohol altered arrived from the USA yesterday.

"We had a nice journey to Southampton", says Luke. "We checked the paperwork, took the car out of the warehouse where it was stored, and loaded it up.
©Eurodragster.com
"I will be rebuilding the car top to bottom as I did with my last car, to get it how I want it. I will be keeping the Bantam body but will be changing the colour. The engine will be a blown-alky Big Block Chevy. The car probably won't hit the track until 2008. I will be starting the rebuild in a few weeks, and our web site at www.bennettracing.co.uk will be updated regularly with photographs and information.

"An engine rebuild is underway on the Topolino. The blowers are away at Littlefields being refurbished. We will also be using a new fuel tank from our sponsor Forge Motorsport which they have custom-made to our specifications. I will send a photo once it is complete.

"Pur two blown cars will as ever give good exposure to our sponsors, some of whom have been with us for thirteen years and will hopefully continue a lot longer."

Grumpy's regret.
16th February: Paul Watson of Eurodragster.com Home and News sponsor DynoSpeed Developments says that he was very sad to hear that 9.50 Bike has been removed from the FIA Main Event and FIA European Finals at Santa Pod Raceway. Paul adds that the decision has led him to withdraw his contingency sponsorship of the UK National Championships but that he also has ideas to develop the bike classes.

"After the demise of 10.50 Bike there seems to be less for bikers to choose from", says Grumpy. "Why though just drop 9.50 Bike? After all it is a very good class with close racing, quick turnaround time, no oil downs etc. Why were there no car classes dropped, a strange decision indeed, maybe a little biased towards the cars. So we have decided not to sponsor the 9.50 Bike class this year, perhaps 2008 will be different.

"Instead of cutting the bike classes down I feel there is a need to add a class. With the progression of Super Street Bike running mid sevens there is now a gap between 9.50 Bike and SSB. An 8.90 class or a Street Bike class running in the eights would be a great stepping stone for people wishing to advance through the ranks just like the cars. If anyone is interested then please E-Mail me at paul@dynospeed.co.uk."
©Eurodragster.com
Swift snippets.
16th February: Not-unconnected with the above subject, Dave Beck has been in touch to confirm that Dave Beck Racing will be continuing their contingency sponsorship of the 2007 UK National 9.50 Bike Championship.
©Eurodragster.com
Gittli Koller of Peter Schöfer Racing has been in touch to ask us to wish a big Happy Birthday to Regula Stucki. No sooner said than done, have a lovely day Regula.

Web site updates.
16th February: UK Street Eliminator racer Colin Lazenby has been in touch to let us know that there is a video clip on YouTube of his Chevy kicking the butt of an RAF Tornado in a race at an air base last year. You can find the very entertaining clip at www.youtube.com/watch?v=TdwXS8gPNJU.
©Eurodragster.com
Another Warrior.

15th February: Our good friend Elias Vathias of the Greek Dragster web site tells us that Filippos Papafilippou and the Drag Warriors team have acquired a new beautiful Chevrolet Corvette Y2K C5 (right, picture courtesy and ©Filippos Papafilippou).
©Eurodragster.com
"The Corvette was built in America in 2004 and has already won two world titles", Filippos told Elias. "It won the 2004 and 2005 NSCA Top Street classes, with six-second and 350 km/h runs. It also holds the world record in the Top Street class and the absolute sixty foot record for cars with an automatic gearbox of 1.00 seconds. It is certified and approved by the NHRA and the IHRA for six-second runs and is built with a double rail chromoly Pro Mod type chassis.

"The car has been prepared for the last two weeks and now we are going to make some test runs in order to fine-tune it. The problem, as always in Greece, is that these test runs are going to happen on public roads, because of the lack of infrastructure of the Greek government and the inability and indifference of the sport's management."

You can see more pictures of the car in Fil's workshop by clicking here and three videos are also available: In appreciation of the track crew.

15th February: Darren Prentice of Santa Pod Raceway has been in touch to thank the Wild Bunch for their special award to Santa Pod Raceway's track crew.

"I was unable to attend the Wild Bunch trophy presentation night due to other commitments", says Darren, "but I was pleased as punch to hear that the Santa Pod crew had been awarded a beautiful silver plate for exceptional track preparation.
©Eurodragster.com
"We finally managed to accept the award from Claire and Chris at the APIRA/SPRC Dinner Dance and the great Sharkman was on hand to take the photos (right, picture courtesy and ©Sharkman).

"The crew were over the moon when they heard and the silver plate now takes pride of place in the signing-on office for everyone to see and for Carole to keep polished. It takes a lot of hard work to get the track up to speed, not just before an event but during the event too, and it's great that that is recognised."

Veidec Festival Sportsman DVD review.
15th February: Summer On Wheels has a fine range of DVDs for sale to racers and fans including some of Sweden's biggest races at Mantorp Park, Tullinge and Sundsvall Raceways. The Mantorp Park DVD covers the Sportsman action at the 2006 Veidec Festival and producer and site owner Tommy Ledberg kindly sent Eurodragster.com a copy for review.

There is no denying the quality of the racing across all classes at the Veidec Festival. It is the most prestigious race in Scandinavia for both professional and Sportsman classes. The 2006 was particularly memorable for the closeness of the fields. For instance the top twenty five Junior Dragsters were covered by only a tenth of a second in reaction times. In Super Comp and Super Gas, sixteen and fifteen cars respectively were less than a tenth over their index. And in Competition and Stock/Super Stock, fourteen and twelve cars respectively were more than a half second under their class index. These are some of the most competitive Sportsman fields ever in European drag racing.

The well-produced DVD, with commentary and interviews in Swedish, covers the Sportsman eliminations including highlights from Saturday and all the Sunday racing at the event. There are some good burnout shots and the racing is covered by a single camera mounted on the roof of the press office at the start line. This means that while all the race is clearly shown, some of the drama at the top end is sadly missing. On the positive side though, elimination ladders from quarter finals onwards and times and speeds are shown.
©Eurodragster.com
English fans will recognise some familiar cars in an unusual setting as Tim Adam, Malcolm Francis and Nev Mottershead try to overcome the opposition as their predecessors have done over the last three decades. Malcolm, of Eurodragster.com Home and News sponsor Air Sea Logistics, was the most successful Brit in Sportsman racing, reaching the final of Super Comp where he was runner up to Mikael Nilsson.

The DVD also includes bike action with Super Gas Bike and Street Bike. In Super Gas Bike, Mats Wuolo was triumphant while Torsten Arestol was the winner in the 10.40-indexed Street Bike. Other winners are Jennifer Gustavsson in her final year in Junior Dragster before moving up to Super Street, Håkan Mattsson in Super Gas, Yrjo Wallius in Stock/Super Stock and multi-sports champion Janne Ahonen in Competition.

The DVD of Veidec Festival Sportsman Racing can be purchased for 179 SEK or £17 including shipping and can be ordered on-line from the Summer On Wheels web site at www.summeronwheels.com . Not only is it a superb memento of the event for those who attended, but also a great introduction to the intense competition that exists in Scandinavian drag racing at all levels.

Other drag racing products on the web site for Swedish fans include DVDs and photo CDs of Swedish events, Swedish and US hot rodding DVDs and US Street Car Shootout featuring NSCA action from Orlando. A generous offering of video clips and photo galleries help whet the appetite.

A word for our sponsors.
15th February: We have now sent out all of our sponsorship renewals for our sponsorship year 2007-8. If you sponsor Eurodragster.com and your renewal E-Mail has not arrived, and it is not in your Spam mailbox, then please drop us a line at eurodragster.com@btinternet.com and we will be back in touch.
©Eurodragster.com
If you are interested in sponsoring Eurodragster.com then please send an E-Mail to the above address and we will forward details.

Triple thanks.
14th February: Carbon By Design Top Fuel Dragster team owner Knut Söderquist has a number of Thank Yous from last week's Top Fuel Match race in the United Arab Emirates.

"First a big Thank You to HH Sheik Mohammed Bin Zayed Al Al Nahyan and HE Sheikh Marwan Bin Al-Mualla for inviting Andy Carter, Harlan Thompson, the team and I to your fantastic purpose-built drag strip", says Knut. "I won't list all the people who work for you but the treatment and warmth we got from everyone was fantastic and we would love to come back. On Friday evening your track proved that a four-second run is just around the corner. And thank you again for the outing to the garage on Thursday evening, we really appreciated the tour.
©Eurodragster.com
"A big well done and thank you to Andy Carter for a very professional driving job on Thursday night when the track whas a bit oversprayed and sandy after the sandstorm the day before. Andy's pedalling job was perfect, no damage at all, and he did the same on Friday night when he was on a real good run until he hit tyre shake. He pedalled once but got shake again and had to shut off.

"As expected Harlan Thompson did a great job of driving. He experienced the same problems as Andy. He too was on a real good pass on Friday night but the track conditions surprised us a little which made it difficult for Alan Jackson to tune the cars. At this race we also had the problem that I forgot to load the computer, which didn't make things any easier for Alan.

"Anyway we got the cars down the track and the big flames over the rear wing made everyone happy. We have been invited back and the information we got from this event will make it a lot easier next time."

Motec goes to the drags.
14th February: Joint Eurodragster.com webcam sponsor Webster Race Engineering has been selected as a dealer for Motec Engine Management and Data Acquisition Systems. WRE owner Jon Webster tells us that his relationship with Motec has strenghtened since he used their products on his own Street Eliminator MG, on which he has done a lot of work recently.

"I run a turbocharged Small Block Ford in my MG SVR", says Jon. "We have been developing the combination over the past couple of seasons resulting in victory at the Ten of the Best shootout at Elvington in July last year. "The car doesn't have the usual drag racing appearance, running on 295/35-18 low profile tyres and with handling and braking which would put most track day cars to shame. The car itself was originally built as a promotional vehicle, hence its appearance and the use of the original chassis/monocoque structure. This made the car 3600 lbs and has limited its performance to some extent. As you should all be aware any car running quicker than 8.50 not only has a specific chassis requirement over and above a National spec chassis but is limited to a maximum of 3600 lbs.

"The car has gone through a few changes and now sports a 25.5 roll cage, but still incorporating the original monoque chassis and full interior as I've actually become attached to the look of the car, and externally the car appears to be the same. I've carried out extensive mods to the front of the car with less than conventional front suspension set-up resulting in a weight loss of...a lot! The new suspension is intended to open a bigger window for those "O ring tyres" on the back to work.

"We have used Motec engine management and data logging from the start of the project, and the system has proved invaluable. Along the way Motec have been instrumental in the performance and reliability of the car, enabling us to run the standing mile at 195.6 mph in twenty seven seconds during the Ten of the Best event. The relationship with Motec has now strengthened and WRE are proud to announce that we have been selected as dealers for the full Motec range.
©Eurodragster.com
"We feel that drag racing is moving on from a technical viewpoint and that racers are looking for more technical advantages. The engine management is second to none, providing user-friendly precise engine tuning for all variables of engine tuning particularly fuel injection, electronic ignition and many other engine functions such as variable cam control and turbo wastegate control. The data logging is also very impressive, allowing you to monitor virtually any function on the vehicle at rates up to 1000 samples per second while maintaining reliability in the most vigorous environments. The Motec ADL2 dash logger is already used extensively in Australian Top Fuel Dragsters.

"Further information is available from Webster Race Engineering or from the Motec web site www.motec.com.au. Needless to say I have significantly upgraded the Motec system on the MG this year, particularly on the datalogging front where we will be logging information such as tyre and track temperature all the way up the track. As usual I will be on hand at the track to offer any tech advice and to answer any questions anyone may have regarding Motec systems and products."

SPRC entry forms posted.
14th February: The Santa Pod Racers Club web site at www.eurodragster.com/sprc has a new look for the 2007 season and has been updated with the official entry forms for all of this year's Championship events at Santa Pod Raceway.
©Eurodragster.com
SPRC Club Secretary Paula Marshall has asked us to draw racers' attention to the additional fee for power in the pits, details of which are given on the entry form. SPRC and VWDRC Champions again receive free entry to events this season but should note that they will still need to pay the power fee. If you have any queries then please call Paula on 01933 313625.

Swift snippets.

14th February: Santa Pod Raceway Chief Marshal Steve Horn was presented with the SPRC Alex Brachtvogel Memorial Trophy by fellow timing crew member Andy Marrs yesterday. "I'm almost at a loss for words", said Steve. "I feel very honoured and humbled to receive the trophy. Looking at the previous recipients engraved on the shield I feel almost out of place. A massive thank you to Andy for accepting the trophy and for passing it on to me. It looks like I will be attending the Dinner Dance next year to pass on the trophy. I'd better get in some practice, just in case I'm on the same table as Lee Child."
©Eurodragster.com
Shakespeare County Raceway has become the latest distributor to sign up for the UK's largest circulating free newspaper Motor Cycle Monthly. "Riders and spectators attending any of the Raceway's Public Track Day Challenge events will be able to pick up the latest copy at signing-on, read up on all the latest happenings in the motorcycle world, catch up on all the latest road tests, racing news, products and events guide", says Jerry Cookson. Away from SCR you can find your nearest MCM distributor at www.motorcyclemonthly.co.uk.

A Special day.
14th February: Santa Pod Raceway are holding their first Saturday Night Special of 2007 this Saturday (17th). All types of vehicles, from hot rods to hot hatches, dragsters to bikes are invited to use the track for day and night racing.

Gates open at 8:00 am and the track is open from 9:00 am to 9:00 pm (weather and track conditions permitting) with additional attractions of demo runs by the 270 mph Fireforce 3 Jet Funny Car, full catering and bar facilities, and evening entertainment including free pole dance shows and DJ. There is also free camping for those wishing to stay over for Sunday's Run What Ya Brung, and all car clubs are more than welcome.

Entrance to the track is £10 for a one-day ticket and £20 for a two-day ticket, camping is free with two-day tickets. Signing on fees have changed for this season and are as follows: 9:00 am to 9:00 pm £30, 9:00 am to 4:00 pm £20, and 4:00 pm to 9:00 pm £10, all for unlimited so even if you work on Saturday morning then you've still got the opportunity to get to Santa Pod for 4:00 pm. Don't forget to bring your driving licence as you won't be allowed to sign on without it.

For more information check out www.rwyb.com or call 01234 782828.
©Eurodragster.com
Mind your head!

13th February: The UK's Never Again Drag Racing will be unleashing a new product into the unsuspecting drag world, says Andy Bennett.

"The car is an in-house built 1968 Chevrolet Nova, and a beautiful thing it is too (right)", says Andy. "The car belongs to Vicky Smith who earned her drag race pedigree at York Raceway in her Mustang - Mustang Vicky was her moniker at the time. The original car has been completely stripped and gutted, a new roll cage installed by Hauser Race Cars then another six cage points tig-welded in-house.

"Jeff Bull has built an all-fresh 454 Big Block Chevrolet on Methanol, whilst Andy Frost has built an all-fresh bulletproof 1000 hp TH400 auto box. Hauser Race Cars have also rebuilt the back axle with new shafts and ring gear.
©Eurodragster.com
"Martin Curbishley recently made some rear arch modifications. We almost gave Martin a trip to the hospital thanks to Alan and Dave. Whilst Vicky's Nova was coming off the trailer, Dave told Alan to let go of the winch handle as the car's own weight would pull it off the trailer. Yes, this was true, but the winch handle quickly reached a breakneck 2000 rpm and departed the trailer at 1000 mph. After reaching low orbit and breaking the sound barrier the winch handle returned to Earth, giving Martin a new haircut and creating an impact crater as big as a bucket! Keep your heads down and backsides up when the Never Again boys are in town.

"The Nova was returned from our paint shop this weekend wearing a resplendent 1968 Silver Beige Mist Metallic (colour code W) with a 1968 Ash Gold Metallic pearl (colour code GG). We are currently reassembling the car and have some work to complete on the rear ladder bar assembly, but hopefully she will be ready for Easter.

"We have produced many cars from the Never Again camp and every car has been magazine-featured. Dave's 65 Impala SS, a car he drag raced at York, is in fact gracing the front cover of Classic American magazine. Vicky's Nova is no different, it's a stunning, beautiful thing and will hopefully turn plenty of heads when it appears on the scene."

Feature: Carter's Motorplex photo diary.
13th February: The latest in Eurodragster.com's occasional series of features is UK Top Fuel Dragster racer Andy Carter's pitside photo diary from last week's match race trip to the United Arab Emirates. The photographs cover off-track activity from the dragsters' arrival to the preparations to warm the cars up for the first time as well as a look around the Emirates Motorplex, with captions provided by Andy.
©Eurodragster.com
You can check out Andy's photographs by clicking here, or by clicking on the Features, Interviews, Tributes link on the left-hand side of any Eurodragster.com page. Many thanks to Andy for passing the photographs to us.

Meanwhile Carbon By Design crew member Mark Bodimeade, aka The Animal, has asked us to thank KD for help and assistance, Hazel of the Emirates Motorplex for assistance, and taxi driver Ali for being at the team's disposal 24/7.

Swift snippets.
13th February: Dutch Pro Mod racer Robert Joosten says that he and the Pro Dutch team are rebuilding his six-second Corvette with an engine updated by Oddy's, new exhaust zoomies built by Andy Robinson Race Cars, rebuilt Lenco, new third member, and new rear rims. You can find out more on the team's web site at www.produtch.com which also features the 2007 race calendar and some new video clips.
©Eurodragster.com
Shakespeare County Raceway have confirmed entry fees for Junior Drag Bike in 2007. JDB entry for a two-day event is £80 and for a three-day event is £90. We have also updated Sunday's Riders' and Drivers' Meeting report to reflect this.

In response to Joe Bond's question on Sunday's news update, eighteen-year-old Aidan Smith has been in touch from Canada to tell us that if Joe is currently the world's youngest blown-alcohol altered driver, he may not stay that way for long. Aidan declared the finer details top secret but let's face it, you don't have to be Einstein to work this one out.

A very Happy Birthday to FIA European Championship Promoter and Santa Pod Raceway CEO Keith Bartlett. We understand that it's a special number today but we'd best pass (as in bus) on mentioning that in case we've got it wrong. Have a great day Keith.

SPR Stunt Night update.
13th February: Santa Pod Raceway have confirmed more stunt performers for their Stunt Night this Friday (16th).

"We have The Manchester Company of Extreme Largeness fronted by Joseph Peace, with a highly original Fire Stunt Spectacular, mixing fire stunts with comedy and audience response", says Jo Harris. "The highly skilled UK FMX Freestyle Motocross boys will be flying through the night sky with their bike tricks, not to mention the three live bands which will be playing in Fuelers Bar from 7:00 pm". All this and your News Editor commentating on the drag racing demonstrations. You can find out more including the running order at www.stuntnight.com.
©Eurodragster.com
In addition, a weekend ticket will be available on Friday evening which will be valid for camping on Friday night, the Saturday Night Special on Saturday (duh), camping on Saturday night, and Sunday's Run What You Brung. For more information check out www.rwyb.com.

Turner and Turner racing.
12th February: Multiple Championship-winning UK Top Methanol Dragster team Turner Motorsport have revealed that their 5.4-second dragster will have two drivers this season. Regular driver Rob Turner will be piloting the car at all five of this year's FIA European Championship rounds, and brother and tuner Steve Turner will take the wheel at the two UK National Top Methanol Championship rounds at the Easter Thunderball and UK National Finals, both at Santa Pod Raceway.

"At the end of last season, Rob offered to let me drive in this year's MSA Championship", Steve told Eurodragster.com. "Of course it's no longer the MSA Championship but Rob's offer still held and I will drive the car in the UK Championship."

Steve already has a licence for Top Methanol Dragster having made passes in the team's previous car some years ago, but he is planning to make the usual pattern of launch, half-pass and representative full pass at the Easter Thunderball. "We plan to start on the Friday of the Thunderball and hopefully the full pass will count as a qualifying pass", said Steve. "Strictly I only need to do a familiarisation pass but I got my licence in our old car with a 7.41/181 and this car is so different that I want to do all three runs. When I drove the car I found that it gave me Rob's perspective, and before I drive at Easter Rob and I will sit down and he will take me through it in detail."
©Eurodragster.com
We asked Steve what he thought about getting into the dragster. "I find it a little bit daunting", he said, "but I am not expecting to go mega-quick straight off the board. The main thing is not to do any damage so that we've got everything for Rob at the Main Event."

The Turner Motosport dragster, which will be in new colours this season, will be one of what is expected to be a large Top Methanol field at the Easter Thunderball, including a new customer. "Rickard Persson has bought a complete hat-to-pan engine from us and we suggested that he come to the Thunderball", said Steve. "Rickard and his team are very thorough and are prepared to put in the work. We hope that there will be six or seven cars at Easter. We were very disappointed to have lost the MSA Championship, as we have supported it since the 1990s. Hopefully there will be more cars this year and we can put on a good show, and you never know what might happen about the MSA Championship in future."

Swift snippets.
12th February: In the last few days we have had reports of E-Mails bouncing from the news@eurodragster.com address. Our ISP have not reported any problems but if you have sent us a news item and it has not appeared here then please re-send it to eurodragster.com@btinternet.com.
©Eurodragster.com
Web site updates.
12th February: As promised our colleagues at Eurodragster North have posted a report and pictures from the weekend's Åby Motorklubb Swap Meet in Norrköping. Check it out at www.eurodragsternorth.com.
©Eurodragster.com
Back to the sixties, and how.

11th February: Rumours have been rife for some time about a new fuel slingshot under construction in the UK, and now that it is nearing completion Nick Osgathorp has been in touch with Eurodragster.com to reveal all.

"The project started, as many do, with a mid-life crisis", says Nick. "Since first reading Hot Rod as a kid in 1967 and my first visit to the Pod in 1971 I'd always wanted a Hemi-powered rail and so it was, a mere thirty seven years later in 2004, that I took the plunge.

"First to be contacted was Paul Stubbings, who agreed to build the chromoly chassis for me. He made an absolutely superb job of it too, despite having to interpret my pathetically vague instructions. Paul knew what I wanted even when I didn't. So far, so good. The original concept had been to use a (relatively) low-budget, low-maintenance combo of a nearly-stock, injected, early hemi on methanol and backed up with a torqeflite trans. However, a chance meeting with Bill Felstead and Johnny Hall was about to change all that. As gullible and easily led as I am, it didn't take those two very long to convince me that nitro, and lots of it, was in my future.

"At about the same time, and by a weird coincidence, another chance encounter led to me being offered the opportunity to buy a just-freshened blown Donovan motor straight out of the Rat Trap Fuel Altered. It was a no-brainer, and as I've often been accused of having no brain the engine was soon on its way to England.

"Fast forward to July 2006 and with dreams of an early retirement dwindling as fast as the bank balance, it was time to get serious. The chassis and engine finally met each other at the premises of Bill Felstead who was the B in the now-defunct B&J Race Cars and is now the F in FRC. Bill's input has been immense: altering the chassis to accommodate the new drivetrain, crafting the bodywork, fabricating all those fiddly little bits, eating all the sausage rolls, there is no stopping this man! Thanks Bill, we wouldn't have done it without you.
©Eurodragster.com
"Which brings us to the car as you see it now: a 180" wheelbase front engine dragster which has been loosely based on AA/FD cars from the late 1960s, but with a chassis designed for today's safety requirements because this car has been built to go as good as it looks! Horsepower comes from a blown 520 ci Donovan hemi slurping 85% nitro and arrives at the Strange 9" rear end via a Titan three-disc 'glide clutch and a Lenco reverser. Look ma, no gears!

"It's nearly done and just needing fettling, paint, and the hundred and one other jobs that I know we've forgotten but will surely remember at the very last minute. If there's any justice in the world we'll be out at Easter, so stop by and say hello, we're very friendly people! Meanwhile, if you have any fuel, oil, beer, or absolutely anything else and you want to get involved in a Nostalgia dragster with true six-second potential, then please drop me a line at nick@osgathorp.demon.co.uk or call me on 07813 302413 and let's have a chat.

"As you can see, many fine people have been involved in this project so far, but special mention for their help and advice must also go to Wendy Baker, Roy Wilding, Geof Hauser, Chris Hartnell, Doug Thomas in CA, and my good friend Pete Rivers. Big thanks to one and all. Lastly, but by no means least, the biggest thanks and hugs must go to my partner Sue for her unfailing enthusiasm even when mine was low, and for sticking with me through all the ups and downs of the journey. What a long and strange trip it's been."

UK Riders' and Drivers' Meeting report.
11th February: The annual UK Riders' and Drivers' meeting took place this afternoon (Sunday) at the Diamond Centre in Irthlingborough. The official minutes of the meeting will be published in due course but these are the main points:

The dates of this year's UK Championships are listed below.

9.50 Bike will not be contested at the FIA Main Event and FIA European Finals. Instead of these two events there will be rounds of 9.50 Bike at the Big Bang and at the Extreme Performance Bike weekend, the latter of which is also a round of the ACU UK Drag Bike Championships, NAST Championships and Santa Pod Racers Club Chamiponships. It is likely that a car class will be moved from the FIA Main Event and FIA European Finals to other events in 2008.

2007 UK National Championships for Super Pro ET, Pro ET, Sportsman ET, Super Comp, Super Gas, Super Street, Junior Dragster:

6th-9th April: Easter Thunderball, Santa Pod Raceway (Closing date 16th March)
5th-7th May: Spring Speed Festival, Shakespeare County Raceway (Closing date 13th April)
25th-28th May: FIA Main Event, Santa Pod Raceway (Closing date 27th April)
16th-17th June: SPRC Summernationals, Santa Pod Raceway (Closing date 25th May)
25th-27th August: Open Sports Nationals, Shakespeare County Raceway (Closing date 3rd August)
6th-9th September: FIA European Finals, Santa Pod Raceway (Closing date 9th August)
29th-30th September: UK National Finals, Santa Pod Raceway (Closing date 7th September)

2007 UK National 9.50 Bike Championship:

6th-9th April: Easter Thunderball, Santa Pod Raceway
28th-29th April: Big Bang, Santa Pod Raceway (Closing date 6th April)
5th-7th May: Spring Speed Festival, Shakespeare County Raceway
16th-17th June: SPRC Summernationals, Santa Pod Raceway
25th-27th August: Open Sports Nationals, Shakespeare County Raceway
15th-16th September: Extreme Performance Bike Weekend, Santa Pod Raceway (Closing date 24th August)
29th-30th September: UK National Finals, Santa Pod Raceway

2007 ACU UK Drag Bike Championships for Top Fuel Bike, Pro Stock Bike, Funny Bike, Comp Bike and Super Street Bike:

6th-9th April: Easter Thunderball, Santa Pod Raceway
5th-7th May: Spring Speed Festival, Shakespeare County Raceway
16th-17th June: SPRC Summernationals, Santa Pod Raceway
25th-27th August: Open Sports Nationals, Shakespeare County Raceway
15th-16th September: Extreme Performance Bike Weekend, Santa Pod Raceway not TFB
29th-30th September: UK National Finals, Santa Pod Raceway

2007 MSA British Drag Racing Championship for Pro Modified:

6th-9th April: Easter Thunderball, Santa Pod Raceway
25th-28th May: FIA Main Event, Santa Pod Raceway
16th-17th June: SPRC Summernationals, Santa Pod Raceway
6th-9th September: FIA European Finals, Santa Pod Raceway
29th-30th September: UK National Finals, Santa Pod Raceway

2007 UK National Top Methanol Championship:

6th-9th April: Easter Thunderball, Santa Pod Raceway
29th-30th September: UK National Finals, Santa Pod Raceway

2007 UK National Super Modified Championship:

6th-9th April: Easter Thunderball, Santa Pod Raceway
28th-29th April: Big Bang, Santa Pod Raceway
5th-7th May: Spring Speed Festival, Shakespeare County Raceway
16th-17th June: SPRC Summernationals, Santa Pod Raceway
21st-22nd July: Bug Jam, Santa Pod Raceway (Closing date 29th June)
25th-27th August: Open Sports Nationals, Shakespeare County Raceway
29th-30th September: UK National Finals, Santa Pod Raceway
©Eurodragster.com
This year's Entry Fees are as follow:


| Class | One- or two-day event | Three-day event | Four-day event |
| --- | --- | --- | --- |
| MSA British Pro Modified; Fuel Funny Car; Top Methanol; Nostalgia Fuel Altered Association; Exhibition | £130 | £140 | £150 NB FIA classes pay FIA fees for FIA European Championship events |
| ET classes; Super classes; Super Modified; Comp Eliminator; Street Eliminator; VW classes; Wild Bunch; Outlaw Anglia; other Sportsman car classes | £105 | £115 | £125 |
| Junior Dragster | £85 | £95 | £105 |
| Junior Drag Bike | £80 | £90 | N/A |
| ACU Top Fuel Bike | £135 | £145 | £155 NB FIM/UEM classes pay FIM/UEM fees for FIM/UEM European Championship events |
| ACU Funny Bike; ACU Pro Stock Bike; ACU Comp Bike; ACU Super Street Bike; 9.50 Bike; 10.50 Bike; NAST Supertwin including Supertwin Fuel | £110 | £120 | £130 |

A vote was held on a proposal to add compulsory power supply in the pits to the entry fee for every permitted event at Santa Pod Raceway starting with the Easter Thunderball. This would add £25 to event entry fees for single-phase 16A and £55 to event entry fees for three-phase 16A for guaranteed power to each racer's pit. The vote was carried and so this scheme will be introduced at Santa Pod Raceway starting at Easter. The practical details will be published here on Eurodragster.com very shortly. Shakespeare County Raceway are considering a similar scheme, but in the meantime the ban on petrol generators in the pits at UK tracks is still on the cards so if you are considering a generator then you should be looking at diesel or LPG.

The official closing date for all classes, Pro and Sportsman, for the FIA Main Event and FIA European Finals is four weeks before the event. For all other events the closing date is still three weeks before the event. Because of the growth in entries, racers are encouraged to enter before the official closing date as there is no guarantee that late entries can be accepted. Racers are reminded that the late entry fee doubles the normal entry fee.

As advised at last year's Riders' and Drivers' meeting, prize funds for UK National Championship classes are to be increased by two per cent per annum from 2007. The prize fund for ACU classes up to and including Funny Bike is to be increased by ten per cent in 2007 and then by the same amount as UK National Championship classes from 2008.

In response to a query at last year's Riders' and Drivers' Meeting, the Tech Committee have clarified that in UK National Championship competition RPM or timed shifting devices are legal in ET classes but that delay devices, throttle stops and other electronic devices are forbidden.

Racers' views will be sought by MSA Drag Racing Committee Chair Phil Evans on the subject of noise reduction, which is frequently raised by the MSA. Mufflers and other noise reduction equipment is for example mandatory in the Nordic Drag Racing Series on cars up to 7.50 and the noise limits in NDRS are higher than those in circuit racing. In the current climate it would be of benefit for drag racing to be seen as proactive in this area. Drag racing currently has no noise limits, and circuit racing has had noise limits imposed. Phil will be soliciting views via Eurodragster.com News.

Junior Drag Bike will again not be run at Santa Pod Raceway this season, but Shakespeare County Raceway will shortly be announcing three additional JDB dates to bring this year's JDB Championship up to five rounds.

Outlaw Anglia will have rounds at the Big Bang and Bug Jam at Santa Pod Raceway.

It will be made clear on Final Instructions that ball games are not allowed in the pits.

2006 Santa Pod Racers Club Champions will receive free entry to this year's Championship events at Santa Pod Raceway. 2006 VWDRC Champions will receive free entry to this year's Big Bang and Bug Jam at Santa Pod Raceway. You will however still need to pay the £25 or £55 power fee.

Cheetah ready to sprint.

11th February: The Cheetah Drag Racing Team from Thessalonica is being prepared for 2007, says oru good friend Elias Vathias of Greekdragster.com:

The beautiful red BMW has achieved records of 8.533 seconds and 278.41 km/h with just 1.284 seconds over sixty feet. Driver Nikos Foskolos and engineer/tuner Aggelos Agiasmenos were unlucky last year, since during the first race of 2006 an accident deprived them from the chance to further improve the car. Now they return having upgraded the car in many ways.
©Eurodragster.com
The chasis was strengthened and Weld Racing USA sixteen-inch inches wheels are used at the rear end, as well as bigger Goodyear tyres with special rubber. The engine has been totally rebuilt with the aim of 300 hp per cylinder, making a total of 2400 hp. Nikos and Aggelos have been in touch with well-known American drag racing teams which run V6 and V8 Pro Outlaw and Pro Mod cars. Aggelos has also been in touch with Stephan Papadakis and has followed the solutions which Stephan uses in his V6 Honda. Forged parts are used for the engine, two Twin-Entry turbos which can produce 1500 hp each and a brand new bulletproof JW Powerglide gear box. Nikos and Aggelos are aiming for a 1.1 second sixty foot time. Finally two brand new Pro Mod Stroud parachutes will decelerate the V8 BMW.

We wish our friends the best and we will let you know more news about the team.

Swift snippets.
11th February: Showtime Fuel FC Crew Chief Bob Jarrett tells us that the new Mustang is due to arrive in the UK on 3rd March and that the team has a new cylinder head technician in the person of Dan Ford who recently offered his services here on Eurodragster.com News. The team's current Fuel FC is still for sale and details can be found on the Cars For Sale section of our Jeff Bull Race Engines and Performance Parts-sponsored Swap Meet.
©Eurodragster.com
UK blown-alcohol altered racer Joe Bond has been in touch to ask if he is the youngest blown altered driver in the world, having stepped into the Nuthin' Fancy car at age 19. "Leah Pruett was 26 when she started to race her blown altered", says Joe. If you know anyone younger then drop us a line at eurodragster.com@btinternet.com. Joe tells us that the altered is currently in a thousand pieces. You can find out more on Joe's web site at www.nuthinfancy.150m.com which has been updated with 2007 calendar, crew notes and new photographs.

Big Mouse ready for launch.
10th February: Real Steel Street Eliminator UK racer Ray Comer's wheelstanding Big Mouse Camaro is now up and running again and ready for competition.

"Following the disastrous engine failure we had at the 2006 Easter Thunderball, when sudden loss of crank end float caused a piston to kick out and wrecked the engine from the heads down, the car is at last ready to race again", says Ray. "The new engine fired up again straight off the key on Wednesday at Webster Race Engineering, supplier of Powerpour, where the car is undergoing a few final adjustments and where Jon is just sorting out some of my 'creative' wiring. I'd like to thank Jon Webster and staff at WRE for all of his input and advice since the car was built, and also Pete Knight at Knight Racing Services who designed and built the engine, and who similarly offered much good advice. It was their efforts and counsel which persuaded me to carry on with the project after Denise said we have to rebuild."

The 1999 model, 434 ci SBC-powered Chevy ran a best time of 9.1/149 in testing before the end of the 2005 season on a twin-plate nitrous system; with the Koehler fogger system that was fitted last year but never used the car should quite easily break into the eights. Following the ban on Mickey Thompson Street Radials brought in at the last Street Eliminator AGM, the car will initially be running on DFG Drag Radials, a tyre which has been legal in the class for years. "We'll have to test, and maybe revise, the launch setup we had in the car to take into account the differences between the two tyres", says Ray, "but I don't think there should be much change in the performance off the line so get your cameras ready!"
©Eurodragster.com
The car will also be sporting a new sponsor this season. "Being responsible for promotion and sponsorship of Street Eliminator (And doing a great job of it to boot - Ed) has made me think more about my own car this year", says Ray. "I've always believed that sponsorship should be a two-way deal, so that the sponsor gets something back from the team or the class. I've known Mark Draper at Mortgages Unlimited for several years and we often refer each other business. We were discussing the car recently and I realised that this was something that could benefit both of us in the racing world too. Mark has been sponsoring his son through his karting career and believes the step up to drag racing to be an exciting opportunity for both of us. He and his associates are able to offer mortgages from a variety of sources to suit each individual. There you go - need that project finishing? Want that twin turbo conversion straight away? Need a new motorhome? Now's the time.

"With Street Eliminator entries looking good for the season, with faces old and some new, it looks like we are in for some good street-legal racing this year."

Swift snippets.
10th February: Further to last Sunday's news, Chris Hannam tells us that he has sold the 6.6-second ex-Neil Midgley Funny Bike. "The new owner currently owns the ex-Tim Blakemore Funny Bike too", says Cannon. "As he has work commitments he has said that he would like to bring the bike out at a Test and Tune and then progress into Comp Bike until he gets a handle on things. Until now he has run the ex-Bicc Katana Super Street Bike running a best of 9.1."

There is still time to volunteer your race car to make demonstration passes at the Stunt Night at Santa Pod Raceway next Friday (16th). If you would like to run at the Stunt Night then please drop Darren Prentice an E-Mail at darren@santapod.com.

Santa Pod Raceway's next Run What You Brung takes place tomorrow (Sunday). Gates open at 8:00 am and the track is scheduled to open between 9:30 am and 5:00 pm with a lunch break at about 1:00 pm. Entry to the track is £10 and sign-on for unlimited runs is £20 on production of a valid DVLC licence. You can find more details including safety etc requirements at www.rwyb.com.
©Eurodragster.com
Please join us in congratulating SPRC marshal Steve Silvester and his partner Debbie on the birth of their as yet unnamed son, who arrived on Tuesday weighing 9 lb 2 oz. Kirstie Tramm tells us that mother and baby are just fine.

UK terrestrial channel Channel 5 has scheduled the first of this year's NHRA Powerade Championship TV broadcasts for 4:25 am - 6:00 am this Thursday (15th). Don't forget that UK satellite channel Five US is also showing NHRA drag racing at 7:00 pm on Mondays.

Re-introducing the NAST.
10th February: The National Association of Supertwins is a club for people who want to drag race bikes with one twin-cylinder motor, and who don't want (or can't afford) to go the four cylinder route, explains NAST PR Don Irvine:

We are a non-territorial, national, ACU-affiliated, competition club which started back in 1991 when some Swedish racers came to the UK. The bikes they brought with them - seven Harleys and a Triumph - were recognisable to street riders, loud, brash and fast. By the spring of 1992, Supertwins in the UK had their first race meeting, under the wing of the Streetbike Drag Club and Supertwins Ltd. Aside from the fashionable Harleys with their Evolution engines, many famous marques now had a class that they could be competitive in - there were Triumphs, BSAs, Nortons, MotoGuzzis and Ducatis alongside Yamahas and Hondas. The bikes' street heritage was clearly apparent - some of the "Street" class boys (and girls) would ride their bikes to the meetings, tape up the lights and have a go!

Throughout 1992 and 1993, the Supertwins section of SBDC grew, and by mid 1993 the riders wanted their own association - their own voice and controlling organisation. In November 1993, the ACU officially recognised the National Association of Supertwins (NAST) by granting the Club non-territorial status. Supertwins drag racing in the UK came of age, via NAST and its 150-plus membership. During 1993, two of the British Competition Class competitors ran in the FIM recognised EuroSeries of Supertwins, one of them, Adam Hewitt, not only won the European Championship, but also set new European records for both quarter- and eighth-mile ET and Terminal Speed. Adam's quarter-mile record was set at the British Championship Finals with an ET of 7.456 seconds and a Terminal Speed of 176.90 mph.

NAST has now become a recognised group within British Bike Drag Racing, and over the years, we have held our competition rounds at Santa Pod, Shakespeare County Raceway (formerly Avon Park) and York Dragway. Our series is usually five or six rounds over the summer season, including the UK National Finals meeting. For 2007, we will be running at Santa Pod and Shakespeare County Raceways - please watch our web site for the dates.

Our class structure is simple:
Street: Simple modifications and tuning only, ride it in, tape up the lights, and go racing! The record is held by a Ducati at 9.98 seconds and 139 mph.
Street Modified: Air shifters, nitrous oxide - should still be pretty much street legal but no requirement for MOT/tax. The record is held by a Cagiva Raptor at 9.302 seconds and 154.23 mph.
Top Gas: First of the competition classes - purpose built, do what you like mechanically, but must run on commercially available "petrol". The record is held by a (modified) Yamaha RD twin at 9.049 and 145.55 mph.
Top Fuel: Do what you like mechanically, and run it on pretty much whatever you want to! The record is still held by Adam Hewitt's Harley at 7.22 seconds and 186 mph.
New for 2007, the Club has decided to encourage more street riders into competition by having the Street and Street Modified classes run together under an overall ET format - in which each rider sets a time that he/she wishes to hit and the starts are effectively "handicapped" so that (1) The faster bike/rider doesn't always win and (2) Both bikes reach the finish line together to ensure an exciting end to the race.

The details are all in the ACU Handbook, and on the Club's web site at www.supertwins.co.uk and the bikes are subject to the Club's Technical Committee approval for class as well as normal race track scrutineering. We like to have bikes that look the part as well as perform, so show standard is good, but not essential.

NAST have also had club stands at a number of shows, some local, some national - Bulldog Bash, Xtreme Wheels, Rock and Blues, Stafford Classic to name a few.

Supertwinners have been known to be a bit boisterous at times - dodgem cars on the start line at Shakespeare County a few years ago, and some of the pit decorations need to be seen to be believed!

Now the question that everyone gets around to, sooner or later, how much does it cost? Well, it depends how fast you want to go! As far as bikes go, other than Top Fuel, somewhere between £2000 and £5000 would get you a competitive machine, and depending on how reliable - read if it ain't broke, don't fix it! - a few of gallons of petrol, a couple of chains and a tyre would be the running costs. Each competitor is required to have an ACU licence (currently £42). The entry fees seem steep, at £110 or so for two days, but when you realise that you get your race entry, insurance and so on, and three crew tickets it's not quite so bad. What you eat and drink is over to you.

So, if you are not into circuit racing, and you like twin cylinder bikes, here's a group and series that is available to you - the guys and girls are a friendly bunch, the racing is at national and occasionally international meetings, and it's probably the least expensive way to take part in a national level competition. And you're not likely to get T-boned at the first corner!
©Eurodragster.com
Web site updates.
10th February: In the latest entry in his exclusive Racer Blog, Dutch Top Fuel Dragster racer Lex Joon looks forward to this weekend's start of the NHRA Powerade season and gives his thoughts on fellow Top Fuel racer Andy Carter's deal with Andersen Racing. You can read Lex's Blog by clicking here or by clicking on the Racer Blog link on the left-hand side of any Eurodragster.com page.
©Eurodragster.com
Carter hooks up with Thompson.
9th February: UK Top Fuel Dragster racer Andy Carter has been in touch again from the Emirates Motorplex where he and Harlan Thompson are making demonstration passes in two of Knut Söderquist's Top Fuellers.

16:30 Andy and Harlan have made the first of today's passes and Andy was much happier with the outcome. "I got off the start line and then hit shake at 250 feet and got off it", he said. "I ran a low ten. Harlan went a bit further and then shut off, he ran an eight. But now we're going in the right direction and everyone is really pleased. I saw Harlan's run and the header flames were above the wing, my driver told me that my flames were the same. The crowd on both sides of the track clapped me as I came back to the start line, we are having a great time.
©Eurodragster.com
"Today I've done the most media I have ever done at a race. I've done something like twelve interviews with TV, newspapers and magazines. There is a lot of press here and a lot of spectators. I'm going back to the pits now to talk to Alan Jackson and hopefully we can go even further next time.

"I'm finding it a valuable exercise because I am getting my reactions back. You don't really need the seat time for full passes, you learn nothing from that, but it definitely helps get your reactions back recognising when it's smoking or shaking."

19:30 Andy took Fastest Time of the Event with his final pass, a 6.66. "We were starting to get it together", said Andy. "I got a bit further again and had to pedal for shake, but it didn't hook up after I pedalled so I got off it. Harlan's engine cut out at the hit. The crowd really enjoyed it again, everyone has been really good to us and it has been a great event."

Smallworth's heartbreak.

9th February: UK Super Modified racer Rob Smallworth has been hard at work on his beautiful Chevy during the off-season.

"Mark Norton (UK Tech Inspector - Ed) checked over my car at the very wet National Finals and highlighted a few tubes which required changing to bring the car up to the 7.50 regs", says Rob. "These were installing the kidney bar and changing the centre crossbrace. I've done it, but it's broken my heart to have had to put a grinder to it.

"As you can see from the photo, the car is up on pro jacks in its 'Winter Home' where I've been carrying out the necessary updates and other maintenance jobs. As our season finished so strongly, I would like to think that I wouldn't have to do much during the winter but with the racing so close, I know that's not the case and I'm already trying to make improvements to keep the car competitive for next year.
©Eurodragster.com
"Following the Super Mod Racers Association AGM, I'm getting excited about the racing in 2007. It was great to see everybody that morning. After hearing everyone's ideas for improvements to their cars over the winter period, I feel even more enthused about Super Modified racing.

"I hope you noticed what I have going on in the background whilst I'm hard at it on the car...my Thunderbirds and Shoebox Dreams videos. Life is good!"

The now-online Lee Kirk has updated the official Super Modified class web site at www.supermodified.co.uk with the latest SuMo news including details of why the class will be at least one strong performer down in 2007. "I've also amended the contact information so if any teams have any updates or notice anything they want changing then please get in touch", says Lee. "I'd like to say many thanks to all the drivers and teams for their patience while I've got myself sorted and settled in Bahrain, and I can't wait to see you all at the track again."

Revealing a secret in style.

9th February: Carter Motorsport PR Derek Todd says that the Lucas Oil name, unveiled on Andy Carter's Top Fuel Dragster at Autosport International, has really stirred the motorsport juices judging by the media reaction:

Wind back a few weeks: before Christmas, Andy lets us all know that our new sponsor is signed up and we are to launch on the Santa Pod stand at Autosport International. But we are not to know who it is until much later. Andy knows how to protect his sponsors, so the easiest way to keep a secret is not to tell anyone 'til nearer the day! That said, organisation is a tried and tested routine. Dan Welberry has done this before so it's him we turn to for the plan, and its pretty simple but with plenty of attention to detail. We are to unload the car on the Friday as soon as the Santa Pod stand is available, cover it so no-one can see it and then unveil on the Saturday. The commentating legend that is John Price is booked to do the build up and launch, the crew are briefed to arrive in mufti without our new crew shirts (so that's who it is!), book the PA and the promo girls and wait.

Andy and I arrive on Thursday for the trade day and see just how big this thing is. Andy immediately goes on the prowl and by lunch has signed a new sponsor (news to follow next week). We spend lunchtime in the VIP area over the main stage watching the launch of the Jaguar GP3 car and then its back to doing the rounds before an early finish.

On Friday the crew arrive to unload and get the car positioned, polished and covered from prying eyes (couldn't keep Eurodragster.com from getting in there, though - Ed). With not much more to do, everyone has an early finish as we know from previous events it's going to be a long weekend.


On Saturday we are all in place before 9:00 am, when it seems half of the West Midlands arrive at the event. The morning is a series of checks and worries getting everything into place. The launch is set up and the interviews post launch are arranged. To warm up, Ben does a standup act on the stage in Hall 11; it's comedy Jim, but not as we know it. One last check under the covers reveals that a couple of stickers have been added by another manufacturer to try to catch us out. We know who you are (No you don't, but we do - Ed) and we will visit you later! So, they are removed and we're ready. By this time a large crowd is gathering and John is doing his stuff on the Santa Pod gallery. Bang on 12:00 the other attractions in the hall quieten down and its our turn to take the limelight. On a countdown from ten, the covers come off to reveal the Lucas Oil dragster colours (courtesy of 3D/design by Dan) and on cue Andy and four Lucas girls appear on the balcony. Cue lots of flashbulbs and applause. Now the secret is out we can take off our fleeces to reveal our new crew shirts. At last!

What follows is a whirl of interviews around the car, photos are taken and then Andy is off to be interviewed on a motorised bed (seriously) by Motorsport News, follow up interviews later in the day and yet more on Sunday complete the press blitz. You can see a selection on Eurodragster.com, TopNitro and Dragsterworld, and rumour has it that there are some shaky videos of the launch on YouTube, but you'll have to find those yourself.

After two long days of meeting the public, promoting Lucas Oil, Santa Pod and Top Fuel, it's time to pack up and go home. As always the whole team are on hand to load the trailer and get everything packed away.

Our special thanks for a fantastic event go to Les Downey and Steve McQueen of Lucas Oil, Keith Bartlett and all of the staff on the Santa Pod stand, John Price, Dan, Ben, Lion, Neil, Dan, Gary, Dave, Richard, Roger, Kim, Phil, Steve, Alan and Guy of Carter Motorsport and finally everyone who joined us at the stand over the weekend. Keep an eye on the our web site at www.andycarter.net for our next sponsor updates and our first outings.

Swift snippets.
9th February: 2006 FIA European Top Methanol Dragster Champion Dave Wilson is looking for a new team member. "We are looking for someone to write press releases and deal with the media, and to look after guests at the track", says Grumpy. "You will need to have good people skills. We will take you on the European Tour as with any other team member". If you like the sound of the job then drop Grumpy an E-Mail at davewilson200@hotmail.com explaining what you could bring to the team.
©Eurodragster.com
SFI Foundation President Arnie Kuhns tells us that the usual suspects are making up the European SFI Tour in March. "The team is Tim Hyatt of Hyatt Racing Services, Murf McKinney of McKinney Race Cars, Andy Robinson of Andy Robinson Race Cars and myself", says Arnie.

Daniel Fröberg is collecting information about legendary Swedish Fuel FC racer Hazze Fromm for a special project but tells us that there is not a lot of material available because the internet did not exist in the 1970s. If you have any information, photographs, press cuttings or video clips of Hazze then please contact Daniel at daniel.froberg@soliditet.se.

Åby Motorklubb's drag and street racing Swap Meet takes place Norrköpings Mässhallar tomorrow (Saturday). Over a hundred companies and private sellers are spread across two thousand square metres of floorspace in two halls, whilst in the Meeting Hall the Top Doorslammer Association will meet between 9:30 and 11:00. At 11:00 the new united TTDS and SDC Championship will announce its new name and points structure. Door open at 9:00 and last entry is at 15:00, entry is 100 SEK for over-15s. Our colleagues at Eurodragster North will be covering the event so if you can't make it then stay tuned to www.eurodragsternorth.com.

Darren Galloway is now at home recovering from his recent heart attack. "A huge Thank You to all the racers who contacted me in hospital", says Darren. "It was heart-warming to be in contact with so many racers, sometimes I thought the phone wouldn't stop ringing. I would have been lost without the help and support from the Gleadows and the Bond family. Thank you also to Eurodragster". Don't you worry about that, Darren, just finish your recovery and get back to the track.

Web site updates.

9th February: The third page of the Roger Phillips Collection has just been posted on Alan Currans' excellent Acceleration Archive. "Compiled by Andy Barrack, it is an all-bikes affair and amounts to a veritable Who's Who of drag bikes and their riders from the early 1970s", says Alan. "If that were not enough, Andy has assembled a glittering array of contributors to provide detailed and highly informative captions. The main contributions are from Ian Messenger and Jim Reynolds but information has also kindly been provided by such luminaries as John Hobbs, Keith Lee, Martin Hagon (son of the legendary Alf Hagon), Mark Gredzinski, NHRA's Tony Thacker, Duncan Kaye, PDRC's Steve Murty and Mike Stewart. Take it from me, this page is required reading for all bike fans! I have also published a short feature article (which originally appeared in 440 Magazine) describing how I originally got into drag racing and how the web site came about. Definitely not required reading!". Check it out at www.theaccelerationarchive.co.uk.
©Eurodragster.com
Toyo Tire press release.

9th February: Tyre giant Toyo Tire have introduced the new 350 tyre for small to medium cars.

With environmental concerns at the top of everyone's agenda along with spiraling oil prices, the stage was set for the launch of this silica-enhanced Eco-warrior. Toyo 350 gives low fuel consumption and long life.

Toyo's cutting edge computer simulation technology has endowed the 350 with extremely low rolling resistance, reducing a car's fuel consumption. This reduced rolling resistance also has beneficial effects on tyre life, meaning double savings for drivers as well as reducing their car's carbon footprint.

There's no 'catch' in the performance either. The new Toyo 350 tread compound provides superb wet and dry weather performance and makes heavy braking during a sodden British 'Summer' an altogether more predictable affair. Innovative 'Silent Wall' technology uses quite literally 'baffling' technology to dissipate unwelcome sound waves from the road surface to minimise cabin noise. All this, in a tyre destined for small family hatchbacks.

Despite being designed from the outset as a mid-range tyre, Toyo 350 enjoys many design features that have trickled down from its high performance siblings. The high modulus polyester casing combined with a hardened bead filler mean that handling is well and truly sorted, whilst wide straight cut grooves in the tyre's centre literally channel gallons of water away to help improve wet weather adhesion.

So after the saving the planet and enjoying prodigious level of grip, one might expect to pay a fortune for this cutting-edge rubber. But, with the range starting at around £20, you don't need bottomless pockets to enjoy greener, cleaner and longer lasting tyres.
©Eurodragster.com
Eye-to-eye with potential sponsors.
8th February: Dutch Top Fuel Dragster team Lex Joon Racing are very proud to have been invited to the National Sponsoring Event 2007 which takes place on 9th October at the Ahoy congress and events complex in Amsterdam.

Mr van der Pluijm, CEO of Van der Pluijm Sponsoring and promoter of this congress, has made it possible for Lex Joon Racing to show co-operative Dutch companies their Top Fuel team and give them a glance of drag racing. During the 2006 season Lex Joon Racing and Van der Pluijm Sponsoring started a programme to give this extreme form of motorsport more recognition in the Netherlands.

"For me the challenge in this business is to find the companies who are looking for something new and eye-catching", said Mr van der Pluijm. "Lex Joon Racing fits perfectly in this picture especially because they are the only Top Fuel team in the Netherlands and have prooven to be one of the best in Europe, competing at the highest level in this sport. Together with their partner MPM International Oil Company they won the 2005 FIA European Championship. To have the 2007 race car 'live' at this congress, just after the they have finished the 2007 European Championship season, is unique."
©Eurodragster.com
Management and decision makers from distinguished companies will attend this congress which is why Lex Joon himself and members of his crew will be on hand to answer questions. "We have promoted the sport here in the Netherlands for a couple of years but the lack of a permanent race track is often a reason to approach international companies", said Lex Joon. "For example a company established in the USA, where drag racing was born, doesn't need an explanation about the impact of the sport compared with a company which is not familiar with all the extremes we deal with. But I am convinced that this congress will make a big change in that."

You can find more information about the National Sponsoring Event 2007 at www.sponsoringevent.nl.

2007 Street Racer Series.
8th February: Street Racer Series contestant Monkeyboy has been in touch to give us the street-legal series calendar for 2007:

Saturday 31st March, Test and Tune, Shakespeare County Raceway (non-points)
Saturday-Sunday 21st-22nd April, Run What You Brung, Shakespeare County Raceway
Saturday-Sunday 19th-20th May, Peak Performance Day*/RWYB, Santa Pod Raceway
Saturday-Sunday 2nd-3rd June, Yanks Amercian Weekend, Shakespeare County Raceway
Saturday-Sunday 28th-29th July, Mopar Nationals, Santa Pod Raceway
Friday-Saturday 17th-18th August, Peak Performance Day*/RWYB, Santa Pod Raceway
Saturday-Sunday 1st-2nd September, Peak Performance Day*/RWYB, Santa Pod Raceway
Saturday-Sunday 29-30th September, Modified Mania Weekend, Shakespeare County Raceway

*Peak Performance Days should be booked with Santa Pod Raceway on 01234 782828 or at www.santapod.com.

"We welcome any new racers to join us", says Monkeyboy. "Yanks, Hot Rods, Customs, Pro Street, whatever you have as long as it is street-legal. A year's membership is £50". You can find out more on the Series' web site at www.uk-srs.co.uk.

Swift snippets.
8th February: UK Top Fuel Dragster racer Andy Carter called in from the United Arab Emirates yesterday to let us know that the teams had dined with the Sheik and been shown his vehicle collection which included Mercedes, Cadillacs and a jet turbine-powered bike capable of 300 mph. "It was fantastic and the hospitality was something else", said Andy. Andy and Harlan Thompson have their first match race at the Emirates Motorplex today.

15:00 Both Andy's and Harlan's rear tyres went up in smoke at the hit on their first passes at the Emirates Motorplex today. "I went about half the turn of a wheel before smoking and it was the same for Harlan", Andy told Eurodragster.com. "But we have been well-received and the Sheik and Prince shook our hands on the start line before we ran."

18:45 Andy blazed the tyres again on his second pass of the day at the Emirates Motorplex. After discussions with tuner Alan Jackson, Andy squeezed the throttle off the line and made it as far as a hundred feet before opening the throttle all the way when the tyres smoked. Harlan ran with the throttle stop on and clocked a 7.4-second pass. "The conditions are difficult but everyone is doing a great job", said Andy.

A final reminder of the 2007 UK Riders' and Drivers' Meeting which takes place at 1:00 pm this Sunday (11th February) in the Kimberley Suite of the Diamonds Centre in Irthlingborough (click here for a map). You can see the minutes of last year's meeting by clicking here.
©Eurodragster.com
Due to the current severe weather conditions in the UK, APIRA/Shakespeare County Raceway officials have decided to cancel this weekend's Work Party and reschedule it for 17th-18th February, with another on 24th-25th, says Jerry Cookson. "There is still a considerable amount of work to be done before the first event in March", says Jerry, "so if you are able to lend a hand and spare some of your weekend time we would be more than happy to see you. But please call the office beforehand and speak to Richard Warburton on 01789 720180 or 01453 791818."

Eurodragster.com North sponsor Simpson is offering a crash helmet in a prize draw to racers who register with the site. More details at www.eurodragsternorth.com.


Issue 27 of Eurodragster.com News sponsor Dragracer.de magazine is now available. To order your copy, or to subscribe for a mere €45, check out www.dragracer.de or click on the logo at right.

UK Pro ET racer Phil Toppin says that gas conversion kits are available for any type of petrol generator from Edge Technology at www.edgetechnology.co.uk.

This week's issue of UK motorsport paper and Eurodragster.com News sponsor Motorsport News includes a great two-page feature explaining the ins and outs of Top Fuel Dragster. MN is available from all good newsagents for £2.10.

Chris Mats tells us that Swedish Comp Eliminator racer Christian Sagelv is headed off to stay a while at Pat Musi Performance in the USA. "What Christian is up to is still unknown", says Chris.

Web site updates.
8th February: The official Outlaw Flat Four web site at www.outlawflatfour.com has had a number of updates in the last month or so. These include a new members section, photo gallery, and the 2007 calendar. The Downloads section has been updated with the first video clip featuring in-car footage from Pete Englezos' Cog Box's Fiat 600.
©Eurodragster.com
James Hands has launched a web site at www.jhdesign.info offering web, logo and poster design.

VP Racing Fuels press release.
8th February: Citing recent dyno tests, Pat Musi has chosen to switch to Eurodragster.com Home and News Sponsor VP Racing to fuel his 2007 campaign for an ADRL championship. An eight-time NSCA and NMCA Pro Street World Champion and IHRA North American Nationals Pro Mod winner, Musi tested the fuel he used last year - Torco 118 NOS - against VP's C23 family of fuels. Results proved each of VP's C23 fuels made more power than the Torco fuel, with C23++ generating the most. "Not only did the C23 fuels make more power, but VP's C16 also performed comparably to the Torco 118 fuel up to 1500 hp", said Musi. "We intend to sell VP fuels, so C16 will offer our budget-minded customers good power and performance at a significant savings.

"Another bonus is VP's technical support - there's never a problem reaching someone at VP who is knowledgeable and who can answer all my questions. I've also found VP's distribution to be stronger and more consistent - it's just easier to get with their extensive dealer network not just in North America but around the world. For example, I'll be using C23++ for several events overseas this year including Bahrain, and VP even has a distributor there - Ameer Akhtarzadeh. Ameer takes good care of me, and in fact covers the whole Middle East."

According to Jim Kelly, VP's Regional Manager based in Delaware, Musi's experience isn't surprising. "Our C23 family of fuels was introduced several years ago to offer several options to racers with nitrous applications, large 800 cubic inch IHRA-style drag race engines and/or 10.5 series cars", he explained. "With motor octanes of 118 and higher, each of our C23 fuels offer excellent protection against detonation for engines with higher octane demands or compression ratios. Given that and the incremental power gains, racers have routinely seen better performance than our competitors' fuels."

All of VP's fuels are conveniently available from VP distributors throughout the USA and internationally. More information can be found on-line at www.vpracingfuels.com.
©Eurodragster.com
New agreement over Messini strip.

7th February: If you were tuned in to Eurodragster.com News on 7th January you will remember that a drag strip is planned on the site of the old Triodos Airport in Messini. Our good friend Elias Vathias of the Greekdragster.com web site has been in touch with an update on the project.

"We contacted the Mayor of Messini (who is an Assistant Professor in the University of Athens) and asked him some questions about the agreement between the municipality of Messini and a company named GEM", says Elias. "Our aim was to learn more details for the construction of this drag strip.
©Eurodragster.com
"Mr Spyropoulos (right) informed us that the agreement was no longer in effect because the government did not approve it. Instead, the drag strip will be built and operated by the municipality itself! Mr Spyropoulos has already organised a team which will take over the planning and construction of the drag strip. We gave the Mayor a wealth of information about drag racing in general and the organisation of the airport and the drag strip too, and promised that we will be in touch to help wherever we can.

"We are very optimistic about this project because it's only two and a half from Athens, and also because it will be administered by the municipality and government and not by a company. When we have news on the subject we will let you know."

Lazenby's continued support.
7th February: Real Steel Street Eliminator racer Colin Lazenby is readying the world's fastest pump gas street-legal car for the start of the 2007 season having re-signed every one of his 2006 sponsors.

"My sponsors are my employers, and principal sponsor, Kelvin Bedroom Systems Ltd; our long-standing friends, Dave and Lyn Swales of Lakeside Plumbers Ltd, York; and Steve Clark of Nimbus Motorsports, who supplies all our Torco Oils and Lubricants", says Colin. "Steve sees the potential in the team, and the challenge of racing in the best street-legal class in the world. There'll be no arguments from me Steve - many thanks. Thank You to Clive Bond of Ultimate Race Cars for our 707 ci powerplant - the excitement of the URC upgrades are almost impossible for me to contain, but contain I must; Andy Robinson Race Cars who are currently working on interpreting the upgrades required to keep us competitive in 2007 - in God (or Gus) we trust; and Carl Rossler, supplying the strength and reliability of the best TH400 three-speed transmission in the world, the Rossler 210.
©Eurodragster.com
"And finally thanks to our hard-working team Garry Coull, Luke Robinson and our Bri - if they ever throw in the towel, then I'll quit too. And, in truth, I wouldn't be racing the world's fastest street-legal car without the continued support of any one of the aformentioned.

"Here's to fast and safe racing in Street Eliminator competition in 2007 - let the battle commence."

Swift snippets.
7th February: Matthew Wright of Eurodragster.com Home and News sponsor Gleeson Wright Security says that he is "Overwhelmed and gobsmacked" to receive, and "Undeserving of", the Obsession Motorsports Sportsman of the Year Trophy with which he was presented at the APIRA/SPRC Dinner Dance on Saturday. "Many thanks to the Gibbs family for the lovely trophy, and to the Eurodragster.com readers for nominating me", says Matt.
©Eurodragster.com
Magazine update.
7th February: Kicking off Jerry Cookson's magazine review this month is everyone's favourite nostalgia rag Vintage Fuel.

Hot from the shelves of American Auto Mags, the January/February issue is crammed with some great features including a look at back the Outlaw Fuel Altered Association, Southern Nostalgia Shootout, and the East Coast Gassers. Features this issue centres round Leah Pruett, driver of the Dickie's Girl alky altered, the legend that is Nanook, and the man who has brought one of John Force's early seventies Funny Cars back to life, Castrol team member and Pro racer Robert Hight. Even British NFAA racer Joe Bond has a say about his methanol altered.
©Eurodragster.com
Staying with the nostalgia theme, Issue 47 of Gasser Wars magazine takes you under the skin of the Dave Cobb's Finders Keepers '33 Willys Coupe and the Foust and Lehmann racer, Wayne Selden's Old Blue '54 Dodge Coronet B/Gasser, and Hank Banas' flamed Morris Minor. The race section has reports from the Indy NHRA Gassers meet and the NSRA Hot Rod Drags at England's own Shakespeare County Raceway.

Both magazines are available now from American Auto Mags priced at £4.25 and £4.95 respectively.

For motorcycle fans the February issue of Motor Cycle Monthly takes a look at Steve Suter's record attempt on his Kawasaki Z1 drag bike. Nothing unusual about that? Wrong! This event takes place on a frozen lake in Wisconsin at 151 mph. Motor Cycle Monthly is a free news sheet distributed to over two hundred outlets. For your copy stop by www.motorcyclemonthly.co.uk.

Carter reports in.
6th February: UK Top Fuel Dragster racer Andy Carter has called in from the Emirates Motorplex in the United Arab Emirates where he and Harlan Thompson will be making demonstration passes later this week in two of Knut Söderquist's Top Fuellers.

"We got to the track this morning", said Andy. "It's a really lovely facility. The container with the two cars was waiting here for us. We've got the cars out of the containers and into the pit and we're putting on the wings and wheels and servicing them. We're also fitting a reconditioned rear axle into the car I am driving. I have already put all of my sponsor stickers on the car apart from the Eurodragster stickers which were already on it!
©Eurodragster.com
"The hospitality here is really good. We have a van and driver at our disposal, the hotel is great, and everyone is very friendly."

Some of the local racers will be testing and tuning tomorrow (Wednesday) but Andy and Harlan are not scheduled to run until Thursday and Friday. Andy has promised to keep us up to date.

Interview: Freddy Fagerström.
6th February: The latest in Eurodragster.com's occasional series of interviews is with legendary Pro Mod racer turned Top Methanol Funny Car pilot Freddy Fagerström, who recently announced the purchase of Urs Erbacher's multiple FIA Championship-winning and European record-holding TMFC.

Photo-journalist Stefan Boman spoke to Freddy on Eurodragster.com's behalf to find out what made him change classes, whether this meant the end for his wild 6.2-second blown-alcohol pick-up, his thoughts on his European Championship chances, and more.
©Eurodragster.com
You can read the interview with Freddy Fagerström, which includes several early candidates for Quote of the Year, by clicking here or by clicking on the Features, Interviews, Tributes link on the left-hand side of any Eurodragster.com page.

Enter the Hustler.

6th February: This very pretty altered (click on picture for large version) is the new ride of the UK's Mark Bishop, who will be joining the ranks of Pro ET in 2007.

"To help continue on with your new car appeal, I present the Vegas Hustler altered", says Mark. "On Saturday I picked the car up from Webster Race Engineering where it has been expertly built by the guys. The plan is to finish it off and be out and ready to make my début at Easter. The chassis has been built to SFI 10.3, which will allow me to put in a bigger motor and move up a class in future.
©Eurodragster.com
"I will be joining the ever-expanding class of Pro ET, where I have been Crew Chief for Antony Wilkins' Rat Poison '55 Chevy for the last two seasons.

"Many thanks to Webster Race Engineering and Dave Eady's American Parts Center for all their hard work, help and support."

You can find out more about the car and see more pictures at www.1320rebels.co.uk.

Swift snippets.

6th February: The Finnish Drag Bike Association was well-represented at the annual Motorcycle Exhibition at the Helsinki Fair Center over the weekend, says our good friend Hannele Höyden. Mike Nieminen, Sami Kaikkonen, Tapani Haaparanta, Mika Saroma, Timo Savolainen and Kalix Kalttonen's bikes on the FDBA stand, and drag bikes elsewhere in the show such as Jaska Salakari's Supertwin, were seen by some seventy two thousand visitors.
©Eurodragster.com
Paul Watson of Eurodragster.com Home and News sponsor DynoSpeed Developments says that he was shocked to receive the James Edgar Memorial Trophy. "After missing out last year, being nominated again was awesome but to actually win is absolutely fantastic", says Grumpy. "With such great names on there such as Rob Loaring, Jeff Bull, Alan Jackson, Ken Cooper, Luke Robinson, Marc Fossey and Rune Fjeld, I can't begin to tell you the pride I feel after being presented with the award. My thanks go to all the people who voted and I look forward to seeing everyone at the track."

PMR's busy pre-season.
6th February: Paul Marston has been in touch to give us an update on the pre-season progress at the Paul Marston Racing:

Grumpy's Dodge is nearly ready to depart the Drag Race Engineering workshops after a very comprehensive major service along with some more refinements and improvements. Next on the list will probably be Insanity Vega for upgrades in just about every department, replacement engine with a bigger more powerful unit, a completely new suspension and braking system all round, rear end gear ratio change, brand new wheels all round, the list goes on and on. DRE Proprietor Gary Springford will probably start his quest for the Pro title with this exciting little car. Gary's own mount Hulk Shogun, débuted only last year, is still under development having recently been fitted with a Big Block Chevy finished off with just the most beautiful Crower stack injection system you have ever seen on a doorslammer. This kind of system can be tricky to set up, hence after discussion between Gary Springford and myself it was decided quite wisely to elect to open Gary's campaign in a known race car as opposed to an unknown quantity.

"The Crower injection system was entirely my idea", said Gary Springford. "I've always wanted one, to me visually this also gave the car balance, it's gonna be real fast too! These systems can be notoriously difficult to set-up, I have no qualms in knowing I will get it right, when Paul Marston and I visited the States last October I spoke to Joe Hollerfeld at Bo Laws Products. Joe is their Fuel Pump specialist and very kindly went out of his way to introduce me to a number of racers at the Nostalgia meet at South Georgia Motorsports Park who run the exact same system. I am confident I can make the Crower stack system work really well, but over here in England we are in winter time, realistically I need at least two good warm testing sessions to get it how I want it. On top of running alcohol, the chances are Easter will still be pretty cold, I just don't know how the Crower will react to the cold, it's actually not that cold in Georgia surprisingly!
©Eurodragster.com
"I came so close to having a shot at the Pro ET title last year. You need to be nearly perfect to stand a chance, it is just such a competitive class with so many good teams. I want the confidence of knowing the car I am driving at the Easter Thunderball will do what I want, I need to start scoring points at the very first event. So instead of rushing and forcing the issue, I will start in a known quantity the Insanity Vega and enter Hulk Shogun when I am satisfied that it's right. I am not starting this season with one arm tied up my back. I want the title, so I will give myself the best opportunity I can. The only thing the Insanity Vega needs is more horsepower and a little less weight, that's my specialty. I have built a bracket bomber of a motor, it's a combo that Paul Marston and I have been working on for a while, now is the time to test it. All the replacement lightweight parts for the suspension and braking system are off the shelf stock items and just need fitting. I am looking forward to the Easter Thunderball and Pro ET, it is truly one of, if not the toughest class in Sportsman drag racing today and I can't wait!"

Gary incidentally is our hero at the moment along with everyone else at Drag Race Engineering as they have all collectively given up smoking. Admirable idea, just a little more lively atmosphere in the workshop than usual! Whilst Gary and the guys will work their magic on the Insanity Vega, I will be back in Florida on another parts buying trip just in time for the opening Division 2 Event at Bradenton Florida, crewing for Tony Morris and his BLP-backed Super Comp Dragster and Dave Hartman of Hartbeat Racing Engines with his Super Comp Dragster. I am also looking forward to seeing all the other drivers in Division 2, its like a home from home now! Although I am away at a crucial time in pre-season preparation, one of the advantages of having a big team is that there are plenty of hands to pitch in and help out when there is lots to do.

All the PMR drivers - Gary Springford, Mick Howling, Tethys, Dave Catton and Steve Bolton are looking to build and capitalise on last season's results, becoming more competitive. Conditions permitting, testing will begin mid March in preparation for the Easter Thunderball at Santa Pod Raceway.

Paul Marston Racing would like to take this opportunity to thank all our sponsors, Drag Race Engineering, Black Box London, London Road Tyres, Chrysler UK, Chryslercard, especially the management of Santa Pod Raceway and all the start line crew for all their support and belief in us, we could not do this without them. Shakespeare County Raceway for your cooperation and understanding. Eurodragster for a contribution that is an essential part of drag racing's past, present and future. Last but by no means least the Paul Marston Racing family who do so much and make all the drivers look so good, we could never thank you enough, Lizz McCarthy you are always in all of our thoughts we all wish you a full recovery. Gary Springford would like to personally thank everyone at BLP, Joe Hilerio, Tony Morris, Joe Hollafeld, Rob Beagle and the Nostalgia Drag Racing teams at South Georgia Motorsports Park who were all so helpful.

SDL cancelled, NDRS adds class.
5th February: Svensk Dragracing have announced that the Swedish Dragracing League will not run in 2007. The SDL was a domestic Swedish Championship made up of the Swedish events in the Nordic Drag Racing Series.

In a press release which can be viewed in full on the Svensk Dragracing web site at www.dragracing.se, Svensk Dragracing explain that the SDL has been cancelled to support the recently-announced union of the Toyo Tire Dragracing Series and the Scandinavian Dragracing Championship, and a common wish to reduce the amount of National series. The League was introduced at the request of Swedish Super-class teams to compete in a National series, a possibility now allowed by the merged TTDS/SDC.

A new class has been announced for the NDRS. Super Comp Bike will run to an 8.80 (5.70 eighth-mile) index and is being considered for eight of this year's projected eighteen NDRS dates. The rules for the new Super Comp Bike class are:
Index: 8.80 seconds/5.70 eighth-mile
Absolute break-out: 8.50 seconds/5.50 eighth-mile
Tyres: Slicks or street tyres manufactured for use on motorcycles
Wheelie bars: Allowed
Chassis and body: According to SVEMO Advanced ET
Fuel: Unleaded gasoline, methanol, ethanol
Nitrous: Not allowed in Sweden
Removable starter allowed
Free engine size
Free tuning
Turbo or supercharger allowed
Safety category in Sweden: 3
Licence class in Sweden: B
Other rules: According to SVEMO Advanced ET
This year's NDRS calendar is as follows:
©Eurodragster.com
6/4-9/4, Santa Pod: Easter Thunderball
19/5-20/5, Fröya: Islander's Speed Weekend
25/5-28/5, Santa Pod: FIA Main Event
1/6-3/6, Valle: Thunder Valle
9/6-10/6, Västerås: Bike Weekend
16/6-17/6, Santa Pod: SPRC Summernationals
16/6-17/6, Alastaro: FHRA event
22/6-24/6, Vandel: Danish Midsummer Nationals
29/6-1/7, Västerås: Aros Nationals
5/7-8/7, Alastaro: FHRA Nitro Nationals
13/7-15/7, Piteå: Midnight Sun Internationals
20/7-21/7, Borlänge: Borlänge SO
21/7-22/7, Skellefteå: Gold Town Summer Nats
26/7-29/7, Mantorp Park: Veidec Festival
11/8-12/8, Motopark: FHRA August Nationals
18/8-19/8, Lindesberg: Linde Open
30/8-2/9, Alastaro: NDRS Finals
6/9-9/9, Santa Pod: FIA European Finals

You can find the detailed racers' calendar on the Svensk Dragracing web site at www.dragracing.se.

The new gold standard.

5th February: Perry Antoniou read our invitation for racers to send us details of their new looks or new vehicles for 2007 and got in touch to show us that his Escort is going to be a real beauty when it returns later this year.

"This is the new design for the n2oxide.com race car along with the new identity logo for the diverse stable of cars that I own, race and enjoy (right, click on picture for large version)", says Perry. "A big Thank You goes to Darren West at Power Race Graphics whose expertise in this field gave me exactly the look I wanted with the logo and place it onto a computer-generated image of the car. The final finish of the car is a secret between Darren and myself for now; but those of you who are clever enough to see reflections on the car and know who C3PO is may work out what it's going to look like.
©Eurodragster.com
"A huge thanks to Rob Loaring at ICE Automotive for even further development of the ex-Tim Garlick engine which now powers the car, and Nick at ICE for getting the best components available for the car without any feeling of stress on my part. Even more thanks to Steve Green of ICE who has rebuilt the chassis to the latest SFI 25.4 specification. And did I mention anything about ICE? Is that enough of a plug? Do you all get the hint?

"I primarily love drag racing and it's been a while since the car has seen the strip, but along with work commitments, involvment with automotive R&D, fitting nitrous kits for film/tv stunts, family commitments and other racing disciplines that I also enjoy (but not as much), the new race car has been some time coming and I hope to test later in 2007. I'm heading for Super Gas and Super Comp for the first full racing year in 2008 but, no doubt, after that Super Modified is where I want to be."

You can find out more about Perry's stable of vehicles on his web site at www.n2oxide.com.

Swift snippets.
5th February: Santa Pod Raceway are seeking about a dozen race cars to make demonstration passes at their new Stunt Night on Friday 16th February. "The track will be fully prepped", says Darren Prentice. "The gates will open about 4:00 pm with the show between 6:00 pm and 8:00 pm". If you would like to volunteer to run at the Stunt Night then please drop Darren an E-Mail at darren@santapod.com.

Andy Marrs, who accepted the Alex Brachtvogel Memorial Trophy on Steve Horn's behalf on Saturday evening, tells us that Steve's reaction on being told he had won the award was "Bloody hell! " followed by "I'm not sure what I've done to deserve it but it's great to have anything with Alex's name on". Andy adds that he was as honoured to accept the award as Steve was to receive it.
©Eurodragster.com
On the subject of Perpetual Awards, an apology to the Gibbs family and to Matthew Wright that the winner of the Obsession Motorsports Sportsman of the Year trophy was absent from yesterday's news item for some hours. Your very tired (but not emotional) News Editor has learned a valuable lesson about writing news items during the small hours.

Hannah Todd has asked us to thank all of the readers who voted for Monica Harris in the Daily Star's Sexiest Woman in Britain poll. "Monica has made it into the final and thanks to Eurodragster readers is already at least the second sexiest woman in Britain!", says Hannah. "You can still vote by texting MONICA HARRIS to 82100, and the final result will be announced next week."

The Trip To America returns.

5th February: Trailfinders and Blueprints For Travel are delighted to announce that they have teamed up again to present Drag Racing USA - The Trip To America 2007, the USA sunshine holiday for drag racing enthusiasts around the world. The Trip takes place in October/November and will focus on the climax of NHRA's new, playoff-style Countdown To The Championship at Las Vegas and Pomona. Changes to NHRA's calendar now place these races on back-to-back weekends and also bring the fabled California Hot Rod Reunion into the picture.

Trailfinders, the UK's leading independent travel company, will offer guests the flights of their choice, quality hotels and car hire - all at Trailfinders' great value-for-money prices - while drag racing specialist Blueprints For Travel will provide a top-notch programme of events and attractions. The Trip's manager/host will be on hand to advise and assist guests throughout their stay. Non-UK guests may prefer to book the 'land programme' and arrange their own flights.

As in 2006, guests will enjoy the very best of NHRA Powerade drag racing - official hospitality and premium seating while the excitement unfolds on the track, plus great behind-the-scenes access to parts that ordinary race fans never reach. And again, a special Prize Draw will give lucky winners an invitation to spend a day at the races with Don Schumacher Racing, the largest Pro team in the sport.

2006's guests witnessed outstanding, 4.4-second, 330 mph racing action, with arguably the most thrilling season climax ever. 2007's new Countdown format seems guaranteed to repeat that dramatic finish.

Away from the track, guests will be treated to an inside view of John Force's mighty powerhouse HQ, plus visits to the legendary So-Cal Speed Shop and Boyd Coddington's HotRod Shop, home of TV's American Hot Rod series. Dalcorp's amazing Area51 custom/classic car 'showroom' and a private suite overlooking Las Vegas Motor Speedway will both host 'welcome' parties, and guests will receive NHRA membership and exclusive Trip To America apparel as mementos of their holiday.
©Eurodragster.com
The two-week Main Trip encompasses eight intense days of NHRA Powerade racing on consecutive weekends. Mini-Trips (Las Vegas only, Pomona only) are also available. Guests may add extra days to their Trip - Trailfinders can offer renowned expertise and a superb range of travel resources to help make the most of their time in one of the world's great holiday destinations.

New for this year is the MAXI-Trip, a mammoth twenty seven-day vacation embracing the fabled California Hot Rod Reunion as well as NHRA's Countdown finale and allowing nine free days for guests to explore the region's myriad attractions. Again, variations on the theme are possible - contact Trailfinders to discuss the options.

The official web site at www.trip2america.co.uk, or click on the logo at left, contains full details plus a gallery of spectacular NHRA racing images by top US photographers, Auto Imagery. To contact Trailfinders, phone 0845 0505 955 or +44 20 7938 3858 outside the UK or E-Mail groups@trailfinders.com.

We are very pleased indeed to welcome back the Trip to America as a Home and News sponsor here on Eurodragster.com and we would like to thank Robin Jackson of Blueprints For Travel for his continued support.

Web site updates.
5th February: The official trophy presentation pictures from Saturday's joint APIRA/SPRC Dinner Dance are already available on Sharkman's web site at www.topendtales.com.
©Eurodragster.com
The Nobby Hills Racing web site at www.nhracing.com has been updated with news of Nobby Hills' election to the British Drag Racing Hall of Fame as well as the latest news about the team and Nobby's Fuel Funny Car.

Hans Jørgen Hitz tells us that the official web site of the Allingåbro Motor Festival has been updated with the latest news about the event including the running order which you can find at www.motor-festival.dk/motorfestival/event.htm. Similarly the official web site of the Fast and Furious Car Show has been updated with the latest news about that event and you can check it out at www.streetfire.nu.

Champions, Perpetual winners honoured.
4th February: The winners and runners-up in the 2006 UK National Championships, MSA British Drag Racing Championship, APIRA and Santa Pod Racers Club Championships, and British Drag Racing Hall of Fame inductees were presented with their trophies at the joint APIRA/SPRC Dinner Dance and Trophy Presentation in Northampton last night. The winners of APIRA's Perpetual Awards and SPRC's Perpetual Awards and Obsession Motorsports Sportsman of the Year trophy, for whom Eurodragster.com readers had the chance to vote and submit nominations, were also presented with their trophies.

Congratulations to the Perpetual Award winners:

APIRA Iris Page Memorial Trophy: The Collier family
APIRA Alan Wigmore Memorial Trophy: Ray and Betty Butler
SCR Award for Outstanding Achievement: Jim Usher
Anya Yates Memorial Trophy: Christopher Schreier
©Eurodragster.com
SPRC Best-Appearing Car: Havoc (Nick Davies, Rob Loaring, Nigel King)
SPRC Best-Appearing Bike: Mister Spokehead (Ian Turburville)
SPRC Most Professional-Appearing Team: Andy Robinson (Pro Modified)
SPRC Most Promising Newcomer: Jim Usher (Fuel Altered)
SPRC Paul Giddings Memorial Trophy: Pat Ginn
SPRC James Edgar Memorial Trophy: Paul Watson
SPRC Alex Brachtvogel Memorial Trophy: Steve Horn

Obsession Motorsports Sportsman of the Year: Matthew Wright
SMRA Crew Chief of the Year: Rob Millward
Red Light Trophy: Pete Creswell

Many thanks to all of the Eurodragster.com readers who submitted votes for the SPRC Perpetual Awards and nominations for the Obsession Motorsports Sportsman of the Year.

Swift snippets.

4th February: Further to Friday's news item, Michael Malmgren has kindly sent us a couple of shots of his new Lahega-backed Grand Am Pro Stock under construction at Jerry Bickel's shop. Click on the picture to see the car from another angle.
©Eurodragster.com
Barbara Kirk has asked us to say a big Hello to Lee Kirk who is in Bahrain and who has finally got back on-line after several weeks witout internet access. We understand that Lee's first action on getting on-line was to catch up with all the news here on Eurodragster.com. Welcome back, Lee!

Midgo and Cannon's bike swap.
4th February: Chris Hannam and Neil Midgley have done a deal to swap bikes. Neil's multiple Championship- and record-holding Funny Bike is now in Cannon's hands and is up for sale, whilst Midgo now has possession of Cannon's methanol-powered bike which has huge potential.

"Over the winter I have been doing some thinking where I would like to go with racing, and was feeling a little lacklustre to say the least", says Cannon. "I came up with the deal for Neil to ride my bike which he couldn't refuse. I have been rebuilding all the motors, so he will have an arsenal of spares to go at, and I believe that this bike will go into the 6.4s at over 210 mph with Neil on. That will be a good platform to race with the Fuel Bikes now that Roel has retired, and also to chase down Rickard's mark of 6.55 which is the quickest European Funny Bike.
©Eurodragster.com
"This I feel gives us something to shoot for, as I only ever planned to race the bike for one year and did two meetings. But I can tell you it has some power and should be interesting so watch this space. I will be putting all my efforts into work for the next two years and am in talks with Larry McBride about building a new Fuel bike from scratch, which is not a five-minute job: I have been monitoring Tom Perry's build and this will be close to eighteen months minimum before it hits the track. At present there are only two bikes of interest in the world that and they are not for sale. So you have to build, which suits my plans as I will need neils help to run the new bike on completion.

"Neil's bike offers a unique opportunity for someone to step up to Funny Bike for very little money, as I have decided to sponsor the buyer. They will get the old bike with all relavant spares including a full spare motor ready to run. Both motors have run 6.7s. The sponsored price is £9000 with all the necessary tunning advice. I can be contacted on 07775 501371 or at info@cannon-engineering.co.uk or cannon@tpiz.co.uk."

New Sunoco contingency sponsorship.

3rd February: New Eurodragster sponsor, Sunoco Race Fuels, the world's largest race fuel manufacturer, have announced contingency awards for Super Pro ET and Pro ET at all seven rounds of the UK National Championships in 2007. To be eligible, racers must use any Sunoco race fuel, gasoline or methanol and carry decals on both sides of the car.

Supplier Geof Hauser said "Many drag racers seem to be unaware of Sunoco's vast range and UK stocks of race fuels, so this is a great way of introducing them into the fraternity. Sunoco is one of the few racing fuel producers that owns the manufacturing from crude to finished product, ensuring unrivaled consistency and quality. The recently introduced MaxNos fuel has been specially formulated to perform in the extreme cylinder pressures of nitrous use and we've had excellent results with turbo engines using it also. What's more, due to increasing volumes and bulk buying, we're able to reduce the price of some of the fuels from last year."

Fuel will be available at all Championship rounds from Geof Hauser of Hauser Racing.

We are very pleased to welcome Sunoco Race Fuels on board as a new Home/News sponsor and would like to thank Anglo American Oil company MD Anders Hildebrand and Geof Hauser for their support. It is a privilege for us to be sponsored by another large and prominent company and increases the benefit for our readers as this sponsorship adds to Eurodragster.com's reputation as a one-stop shop for all your racing needs.

MGT Racing joins SCR Jap Racer line up.
3rd February: Shakespeare County Raceway is pleased to announce the signing of MGT Racing as an associate sponsor to the Warwickshire race track's Jap Racer Day series, writes Marketing Manager Jerry Cookson.

"This is just what the series needs," says Jerry. "Shakespeare County is pleased to welcome MGT on board especially at this time with the continued interest shown in import racing."

Based in the Midlands and owned by Japanese car enthusiast Garth Wong, MGT Racing has at its disposal a fully equipped 300 sq ft workshop. MGT are also suppliers of new and used Japanese performance vehicle tuning parts shipped direct from Japan catering for all Nissan Skyline models and a few others in between.

"At MGT, we are enthusiastic about Skylines," says Garth. "We sell them, tune them, repair them, drive them and even drag them too, and to be involved with the Jap Racer Day series is an important step for us, we believe the import drag scene to be a fast growing and exciting direction. The US has embraced Import drag racing and I think it's vital we do the same".

In a short period of time MGT Racing has built up quite a formidable line up of customer cars including last season's Unlimited Jap Racer winner Mark Biggers with the 9 second Helena Wines-backed Nissan R32 GTR and the Front Wheel Drive Honda Civic VTi of Lisa Wood. Garth is hoping to bring out his own car this year; a road legal Nissan Skyline R32 GTST developed in house for drag, with a Skyline "pro" car build on its way soon, and a JDM Honda Civic SiR 2, extensively modified for use as a trackday evaluation vehicle for MGT Racing and its yearly Nurburgring trips organised for customers.

For further information about the services on offer from MGT Racing, check out the workshops official web site at www.mgt-racing.com or call Garth on 02476 398344.

Frosty Pours on the Power.
3rd February: As if people didn't already know, Andy Frost runs the most powerful street legal drag car in the world, and just in case anybody hadn't realised, it is all done on pump fuel.

For the 2007 season, Andy is proud to announce another new sponsor, one which has not only been monumental in maximising the performance they have now, but will also be doing the same for the coming season.

Andy explains: "Jon Webster has had a big part to play in our performance gains over the past few years with his help and advice in critical areas of the cars performance. Not least with his product which is known as Powerpour. This product was specifically designed by an fuel expert to allow the use of forecourt unleaded fuel, particularly in extreme applications. One such application is the Street Eliminator class, which has strict regulations forbidding the use of exotic racing fuels.

"Jon has recognised the potential of Andy's car and team and has kindly stepped up to the plate to support them fully with his product for the whole of 2007, but, just like any business proposition they're not expecting something for nothing."

Jon says, "I want to bring my product to a wider audience. Andy's team is an excellent platform to launch Powerpour beyond Street Eliminator. With over 850,000 hits on You Tube in just a few weeks of the infamous 7.8sec pass at the European Finals, numerous newspaper and magazine articles and national and international radio and TV coverage, I feel that Andy and his team are the perfect showcase to promote our product."

Andy says, "There are a small percentage of racers, hot rodders and general petrol heads out there that can make good use of this product. If we can make in excess of 2000hp and run 7.80's at 3300lbs on pump gas with a mere 2% of Powerpour additive, (which has none of the expected highly toxic effects of other octane boosters) then there are definitely racers, hot rodders and RWYB'ers using expensive racing fuels that could benefit from the use of this product. They certainly could reduce their fuel costs by over 50% and more whilst retaining the same performance they had, even if they are using turbos, nitrous, superchargers with high compression engines. This is where we come in".

"Jon explained to me that the most difficult hurdle is the scepticism surrounding a tin of fluid that is "the miracle cure". We were certainly sceptics to begin with, but through tireless dyno testing on Knight Racing Services Superflow dyno and countless hours track testing, we have found that this product really does "exactly what it says on the tin. Peter Knight has also carried out stringent fuel tests with Powerpour on his dyno resulting in increased performance and for his many customers."

"With this in mind, it is perfect that Powerpour, along with all our other sponsors are supporting us not only for the UK championship, but in Europe as well, where we will be at the Explosive tuning show in Holland and the King of Europe competition in Poland. We know we can give them and their products the exposure they desire and thank them for their support. Keep your eyes peeled for us in 2007."

Anyone needing any guidance or information on Powerpour can contact Jon Webster at Webster Race Engineering on 01933 315236.

Santa Pod resurfaces.

3rd February: Kjell Petterson and David Lloyd Jones say that the planned resurfacing of part of Santa Pod Raceway's strip took place this week, finishing yesterday.

"We have resurfaced the startline up to 330ft, with a specially designed "Santa Pod Mix" and have also resurfaced an area past the finish line which had previously suffered slight depressions", they say. "In conjuction with Tarmac Limited and after a number of trials on certain areas of tarmac we eventually found the correct formula consisting of a special bitumen, fibre and stone content to give the surface we required." "We now have the task of prepping the new surface next week to ensure its ready for the Run What Ya Brung on the 11th February and ultimately to ensure we have one of the fastest tracks outside of the USA in readiness for the Easter Thunderball on the 6th to 9th April."

Gredzinski's slingshot design.

3rd February: Our good friend Mark Gredzinski has sent us a picture of some recently completed artwork (right, click on picture for large version).

He says, "I had the basic shapes since around 1992 as I wanted to design some sort of ultimate slingshot. It was loosely based on the Firefly of the early seventies and I'd shown it to Roy Wilding, but very few other people. Since that time, the nostalgia slingshot craze has grown into the 5-second cars we see today in the States and they are deservedly popular. However, the rather angular bodywork of modern slingshots is not particularly to my taste and I still thought there was some mileage in my old design, which echoed more swoopy machines like the California Charger and the Syndicate twin-engined slingshot.

"I was galvanised into getting the artwork into a more finished form, by a comment by famed racecar constructor and funny car pilot Pat Foster on Draglist. He was missing the more curved lines that appeared on the cars of old, so I thought I would get the proposal into shape, stick on a simple colour scheme and give it an identity.

"There's a couple of my own ideas on there such as the fluted aerodynamic recess in the nose, the curved canard wing sponsons, centre ridge fairing up the to engine and hydroformed rear wing struts. The engine was deliberately left bereft of any ballistic bags or straps to show off some polish.

So there you have it. It belongs to no-one (yet) as it's just a paper project, but you never know.

"In the meantime, I'm donning a smock and beret and committing some classic quarter mile race machine to canvas with oil paint. Watch this space…"

Swift snippets.
3rd February: Tony Betts and the Venom Racing Fuel Altered team have purchased the Jungle.com Fuel FC back from Glen Child. "Due to work commitments Glen realised he would not be able to get the car out for at least another year so decided to sell", says Tony. "When I saw the car for sale it fitted in with other things which are happening at the Venom workshop. We did a deal and the car will be picked up this weekend along with all the spares. We are waiting for a shipment from the USA so the final build can take place and then we should be ready for Easter. We will soon be posting pictures of our new truck and trailer at www.venomracing.co.uk."
©Eurodragster.com
Lizz McCarthy has been in touch to tell us of her progress since her recent illness. "All the drips and drains are out already, but I have four more weeks off work and still have the tablet marathon to go. I have a CT scan on Monday to find out why I'm breathing like a breathless pervert and still losing weight. "I would like to say a big thanks to our Crew Chief, as always, for head scarfs, moral support, and kicking me into touch, calling me every day and and all at Paul Marston Racing: Mick and Family for giving me text grief, Dave Catton for card and calls, Rob, Tet, Ferret for traipsing down to see me, Ant for the best of moral support and, I hope, tech help as and when, as he has now given me PMR website to do, Steve French, my chemo for my baldness, and lastly, Sharkman for always being a great mate, see you at the Dinner and Dance". We're sure that all our readers will join us in wishing Lizz a rapid return to full health.

Web Site Updates.
3rd February: Luke Bennett, webmaster for the Nostalgia Fuel Altered Association website says the site now has a guestbook. The address to go to is www.nfaa.info.

Malmgren's new ride.

2nd February: Swedish Pro Stock racer Michael Malmgren has been in touch to give us a first look at the paint scheme of his new Lahega-sponsored Pontiac GTO which is currently under construction at Jerry Bickel Race Cars.

"I have had very good experiences with Bickel Race Cars so my choice was easy", Michael told Eurodragster.com. "Jerry has taken good care of our business from day one and has always delivered on time. A used car was not a option: I get many free products from different US performance parts manufacturers which cuts my costs, and I want everything to be state of the art."

The paintscheme (right, click on picture for large version) is, as always, designed by Lörs at Bilsport and will be applied at Jerry Bickel's shop by Jeff Hoskins. Michael plans to test in Florida at the beginning of March and then race at the NHRA Gatornationals.

"We don't expect to perform miracles and qualify, but we will give it a shot for sure", said Michael. "It's very tough as from Greg Anderson and Jason Line's multi-million dollar operations down to bump spot is not more than five or six hundredths. But Bob Ingles is working on my engines and we will be very excited to see the results at the Gatornationals."
©Eurodragster.com

As Michael mentioned he has worked successfully for several years with a group of about twenty US performance parts manufacturers who support the team with products and research and development. "This support has been very crucial for our success at testing and races", says Michael. "We are able to use the best possible products and to get information and R & D help with the latest technology. Some manufacturers have supported me ever since I started with Pro Stock, for example Strange Engineering and MSD, which we are very proud of, and obviously we do our homework as they continue the support us every year. You can see a full list of our US supporters on our web site at www.malmgrenracing.com. At this year's PRI Show we have also signed some new deals which will be announced shortly.

"Anders and I recently enjoyed a good dinner at Race Rock Orlando with Steve Sousley, owner of Pro Fabrication headers, and staff; Jerry Bickel and staff; representatives of Federal Mogul and Wiseco; Ron Rotunno of Fel Pro Gaskets; Scott Gabrielson of longtime sponsors Speed Pro who provide gaskets, rings and bearings for our Rocket engines."

Racers: Send your pictures of your new colours or new vehicles to us at eurodragster.com@btinternet.com and we'll post them here for your fans, sponsors and fellow racers to admire.

New deal for full-Tour Grødem.

2nd February: Arvid Grødem's Westside Racing Top Methanol Funny Car team has announced a one-year sponsorship deal with Keddell & Bommen AS, the Norwegian importer of Sunoco lubricants and race fuels. The agreement includes supply of lubricants and methanol for the race season 2007.
©Eurodragster.com
Keddell & Bommen AS is Norway's largest supplier of fuel for racing purposes and carries a comprehensive range of petrol, methanol and Nitromethane together with lubricants that stands the extreme loads experienced within racing. Lars Ruud, Department Manager at Keddell & Bommen's Oil division, says that this agreement will enlarge the brand name and that it will give them good publicity as drag racing proves the quality of their products.

Arvid and team (right, click on picture for large version) plan to start the season by testing at Amcar International Raceway Gardermoen at the NDRG Spring Nats on 12th-13th May and then plan to contest all FIA European Championship rounds in 2007.

Big guns for hire!
2nd February: Fuel tuners Ben Allum and Eddie Corr are continuing their working partnership to head up an outstanding, experienced, hand-picked Top Fuel crew who are able to offer a turn-key service to run and crew a Top Fuel Dragster for the 2007 season.
©Eurodragster.com
"We have managed to recruit everyone on our hit list", says Ben Allum. "This is a streamlined team, who can attend every event of the 2007 season, with a proven track record of winning events and Championships and setting records."

If you are interested then please drop an E-Mail to us here at eurodragster.com@btinternet.com and we will put you in touch with Eddie and Ben.

Swift snippets.
2nd February: Shakespeare County Raceway's Promotions Manager Jerry Cookson tells us that readers living in the BBC West region will be able to see a segment of the Inside Out programme, due to be screened at 7:30 pm tonight (Friday), featuring NAST Top Fuel rider Wendy Clutterbuck in action at last year's Bulldog Bash at SCR. Viewers outside the BBC West region can view the programme on Sky channel 986 also at 7.30 pm.
©Eurodragster.com
Author Brian Taylor, still collecting material for his forthcoming UK drag racing history Crazy Horses, is attending this Saturday's joint APIRA/SPRC Dinner Dance and would be pleased to meet anyone with a story to tell and/or early colour pictures. "I'm already building a collection of colours from the 1964 and 1965 Drag Fests plus some from before that time including the original Allard Chrysler (now at Beaulieu), the second Allard Chrysler slingshot, Herridge's Straight Eight, Alf Hagon and a few other early dragsters and altereds", says Brian. "My earliest black and white is from Blackpool in 1904: two stripped-down specials and a flag starter". Brian will be at table with the Eurodragster.com team.


Bennett Racing's blown-alcohol Topolino altered is included in a new hardback book named The Ultimate Guide to Hot Rods and Street Rods. "The book has 448 pages of excellent photos and history of hot rods, I would definitely recommend it!", says Luke Bennett. "There are lots of other nice cars so it is well worth a look and yet again more exposure for our sponsors."

Many thanks to Cath Napier for letting us know that Street Eliminator racer John Sleath is to be married to his fiancée Michelle tomorrow (Saturday). Our very best wishes to John and Michelle for a long and happy future.

Editor's note: We are pleased to run personal greetings on Eurodragster.com News but can readers please follow Cath Napier's example above and send birthday and other personal messages to us before the day. If a personal greeting arrives after that day's news has already been posted then it will have to wait until the next update. Hands up all those who like belated birthday cards...

2007 British Hall of Fame inductees.

1st February: The British Drag Racing Hall Of Fame continues into its second successful year with a new set of five inductees joining the initial ten in this historic and prestigious list of names. Nominees are eligible by dint of having driven/ridden owned, designed, built, maintained, prepared, promoted, officiated, supported or taken part in British drag racing in any capacity, having been involved for at least twenty years or having made a significant and recognisable contribution to the sport.

The 2007 inductees to the British Drag Racing Hall of Fame are:

Sydney Allard: Sydney Allard was a Ford dealer who in the years before the Second World War produced his own 'Allard Specials' based on the 1930s Ford V8. It was in his specially built cars that he had success in some extremely diverse motor racing events: he won the 1949 British Hillclimb Championship, was placed third at Le Mans in 1950 and won outright the 1952 Monte Carlo Rally. In the later 1950s, Sydney turned to the component business and fitted Shorrocks superchargers to a wide range of engines. At the same time, he noted drag racing fever spreading in the US in the late 1950s, and as early as 1960, he imported a Chrysler Hemi with a GMC 6-71 blower. Thus was born the UK's first Top Dragster. Initially, he could find no-one to race, so he formed the British Drag Racing Association and in 1963 Dante Duce and Mickey Thompson visited the UK to run with Sydney. In 1964 and 1965 he collaborated with Wally Parks to hold the Drag Fest events, which were the birthplace of competitive drag racing in this country. Meanwhile in 1964 he had brought out the Dragon, a four-cylinder engined dragster sold in kit form to help people get started in Drag Racing, driven by son Alan. Sadly, this founding father of British drag racing passed away only a day after Santa Pod had opened its doors for business.

John Hobbs: John Hobbs started drag racing bikes with a BSA Bantam in 1965 and first raced at Santa Pod's debut event in April 1966. He gained his first Championship in 1968 with his 500cc Triumph. At the start of the 1970s he ran nitro-fuelled Triumph power in the bikes, calling them Olympus and, later, he built the legendary double Weslake Hobbit. The Hobbit was knocking on the door of the seven-second barrier in the late 1970s - incredible when only a decade earlier the record was in the nines. Among his performance achievements are notably bettering esteemed visitors from America in ET and speed in 1975. He even tore up the hallowed tarmac at Santa Pod in the process of making a static burnout! John raced against more than one generation of bike racer and in the late 1970s ran many memorable duels with the late Henk Vink. During 2002 and 2003 he returned on several occasions to run the Hobbit once again at North Weald and City of London Airport.

Nobby Hills: Nobby Hills has been involved in drag racing since the sport started in Europe in the 1960s. He was inspired to build his first car after having witnessed match races between Sydney Allard and Dante Duce in 1963. The first in a line of Houndog cars was introduced at the 1964 Drag Fest meetings. Nobby is primarily interested in the engineering side of the sport and mainly used hired drivers, including Les Hill, Mike Hutcherson, Owen Hayward and Alan Bates. After having run six front-engined dragsters, the opportunity to buy Paula Murphy's STP-sponsored Plymouth Duster Funny Car in 1973 was grabbed and Nobby ran Nitro Funny Cars from this point onwards, following up the Duster with a Vega, Challenger and a Corvette that was the first to record a five in 1986. After a hiatus from active involvement of almost two decades, Nobby Hills Racing have constructed a nitro-burning Camaro Funny Car, which we can't wait to see go down the track.
©Eurodragster.com
Custom Car magazine: Custom Car magazine was first published in March 1970 and to the drag racing deprived fans of the era was a breath of fresh air. With its generally irreverent and rebellious early style, it quickly took the opportunity to cover the recently established drag racing scene, with full reports from both the UK and US. Regular features on cars of the era were included along with news and rumours not to mention the magazine's own cartoon superhero, Super CC. The Custom Car shows at Crystal Palace and Alexandra Palace took place, starting in 1972, for over ten years. Custom Car magazine's support for our sport over the years has remained undiminished and in recent years has expanded to sponsorship of events and class sponsorship. Under current editor Dave Biggadyke it has had a new lease of life with even more drag racing coverage and support promised for 2007. Importantly, it has been the only UK drag racing-related periodical to appear consistently on the high street for over thirty five years and for that we should be thankful.

Ton Pels: The first Overseas inductee to the British Drag Racing Hall of Fame. The Godfather Ton Pels has been racing since 1970 and started on a variety of 250cc two-stroke bikes, soon changing to a 500cc Triumph on nitro. In 1977 he brought out a double-engined Triumph and this machine received the first-ever set of Puma cylinder heads in 1980, which were designed by Ton. Rebuilt in 1982 and renamed The Double Dutch Puma, in the next six years, this bike won Ton a string of National Championships. Then, having started the Zodiac business selling aftermarket and performance parts for Harley Davidson, Ton went Pro Stock with a Harley and ran this machine until 1991, becoming the first ever Harley Pro Stock bike to run an eight. In 1992, Ton and son and Crew Chief Vincent built their first Godfather Supertwin and won the European Championship in the bike's first season. This bike also became the first European Harley (and third in the world) to break the 200 mph barrier, winning the 1996 European Championship in the process. In 2004 Ton repeated this feat with the current Zodiac bike, which will be ridden by relative youngster Roel Koedam from the start of the 2007 campaign.


Inductees to the Hall of Fame will receive a 'Bootsie', a trophy encapsulating an image of the late Allan 'Bootsie' Herridge, a man who put so much into British drag racing, will then join the élite list of inductees from previous years and will be included on a dedicated web page which you can view by clicking here or by clicking on the British Hall of Fame link on the left-hand side of any Eurodragster.com page. It is also planned that the Hall of Fame will have its own section in a racing museum. The first four trophies above will be presented at the joint APIRA/SPRC Dinner Dance this Saturday, and Ton Pels will be presented with his trophy at the Easter Thunderball at Santa Pod Raceway in April.

This year's inductees join existing Hall of Fame members Allan 'Bootsie' Herridge, the Phelps Family, Dennis Stone, Dennis Priddle, Phil Evans, John Ledster, Peter Billinton, Tony Densham, Roz Prior and Clive Skilton who were inducted last year.

The Selection Panel - made up of Club and track officials, promoters, former racers and journalists - would like to thank Darren West of Power Race Graphics for his assistance with the overall design and layout of the British Drag Racing Hall Of Fame logo, which will be used on all official correspondence. The Panel hope that everyone agrees that the design is a fitting tribute to those who have made a significant contribution to British drag racing.

Trophy picture courtesy and ©Ian Messenger

From Birmingham to Umm Al Quain.

1st February: 2007 looks set to be a very busy year for two-time FIA European Top Fuel Champion Andy Carter. Following the very successful unveiling of the team's new Lucas Oil colours at Autosport International in Birmingham, Carter Motorsport are proud to announce that Andy will next week be driving for Knut Söderquist at the Emirates Motorplex in Umm Al Quain.

Andy will be contesting a two-car Top Fuel match race against American favourite Harlan Thompson. This one-off special event will see Andy and Harlan go head to head over three days on February 8th-10th and will once again see Andy behind the wheel of the ex-Jöran Persåker car wihch he guided to a 4.8-second pass at over 300 mph in far from ideal conditions in November 2005.

It is hoped that time will allow Andy and the crew to have the car stickered up in Lucas Oil colours, and the team also hope to carry associate sponsor decals for the event.

"I love a fresh challenge!", said Andy. "The interest in Drag Racing in Arab countries is growing at a fantastic rate and it will be great to experience this first hand. I was delighted to have been approached by Knut, and for me it will be a great opportunity to sharpen up a few things before the FIA Championship gets underway."
©Eurodragster.com
"It seems the whole of Dubai is talking about the impending visit of Knut Söderqvist, Andy Carter and Harlan Thompson to the Emirates Motorplex in Umm al Quwain", says Bruce Moult of Dubai World Central. "The Motorplex publicity machine is in full swing for what is a first for the UAE. The climate in the winter is ideal for drag racing and the events take place in the evening, real night racing. Knut and the team arrive in UAQ early next week."

Swift snippets.
1st February: The Falconman tells us that the famous Zeltweg Austrian Dragrace Classic is to return to Zeltweg military airfield on 15th-17th June. "We invite every race team to come to Austria and join us for this race weekend", he says. The Falconman promises more news here on Eurodragster.com and you can also stay in touch at www.dragracing.de.

Santa Pod Raceway are sponsoring the broadcast of Reality TV series Driving Force, currently screening on The Biography Channel on UK cable and satellite. The fourteen-episode series following John Force and his family is to be shown four times in 2007 and the introduction, all advertisement breaks, and end credits are topped or tailed with a Santa Pod Raceway trailer. Driving Force screens on The Biography Channel at 10:30 pm on Monday evenings.
©Eurodragster.com

Pete Kellett of Eurodragster.com News sponsor B & B Motors has been in touch to ask us to say a big Happy 18th Birthday for yesterday, from all her family and friends, to his daughter Leah Kellett. "Leah had her birthday present at Pomona in November when she met John Force", says Pete. Hope you had a great day Leah.

Celebrating his birthday today is 2006 UK National Super Pro ET Champion Martyn Jones. Have a very Happy Birthday Syd.

A final reminder that the first presentations commence at 6:30 pm at this Saturday's joint APIRA/SPRC Dinner Dance and Trophy Presentation, so please be in your seats for that time. Please also remember that the organisers have asked that everyone refrain from holding conversations during the presentations (Shouldn't have to ask - Ed).

Calling back seat drivers...

1st February: Santa Pod Raceway's Two Seat Dragster is now available for passenger rides in 2007. New for 2007 is the opportunity to book a ride at the FIA events - the FIA Main Event (26th-28th) May and FIA European Finals (7th-9th September) - and at the Easter Thunderball (7th-9th April), enabling the public to have the experience of a lifetime in front of huge crowds.

This is a rare opportunity to experience the awesome acceleration produced in drag racing with this particular dragster capable of completing the quarter mile in around eight seconds at 170 mph.
©Eurodragster.com
To book your thrill ride at these events you are required to book a minimum of two Hospitality tickets which will enable you to book a ride at a price of £250 + VAT. The number of rides available each day is very limited so book early to ensure you don't miss out on the thrill of the Two Seater Dragster at Santa Pod Raceway.

To make your booking, call Darren Prentice at Santa Pod Raceway on 01234 782828 or E-Mail darren@santapod.com, or for more details check out the Two Seat Dragster page on Santa Pod Raceway's web site at www.santapod.co.uk/dr_2seater.php or click on the logo at right.

Web site updates.
1st February: Nigel Holland has updated his photo site with a small number of photographs from Autosport International at the NEC. You can check out Nigel's pictures at www.nigelholland.co.uk.
©Eurodragster.com

Earlier news