General
Home Page
Add a web site
Jeff Bull Swap Meet
Send a News Item
Site Search by Hauser Racing
2021 FIA/FIM Championships schedule
News, Coverage, Features
Latest News
John Woolfe Racing Event Coverage
OCS Paint Points Standings
Features, Interviews, Tributes
Racer Blogs
LA Racing Parts Links
Racers' web sites
Associations, Clubs
Race calendars
Results, Reports, Info
Pictures, Video
Performance Parts, Merchandise
Sponsors
Tracks, Shows
Information
Timing Data
European and UK Bests
Champions' Champions
Editor's Diary archive






















Statement on FIA Championship.
30th March: Keith Bartlett, Chairman of Drag Racing Europe, has issued the following statement regarding the impact of Covid-19 on the European Drag Racing Championship:

As a result of the Covid-19 virus wreaking havoc and uncertainty across the whole of Europe in recent weeks, including the huge impact on all businesses and travel, especially the outside events and motor sports business, several countries are seriously affected, and major sporting events are already being cancelled.

Following the increased restrictions that have been put in place by the UK Government to combat the Covid-19 epidemic, Motorsport UK last week took the decision to extend its suspension of all motorsport permits until at least 30th June 2020. As a result, Trakbak Racing Ltd, in agreement with the FIA and Santa Pod Racers club, have taken the decision to cancel the Main Event, which was due to be the opening round of the 2020 FIA Drag Racing Championship season scheduled to take place from the 22nd–25th May 2020. While very disappointing, these are necessary steps to control the spread of the virus and we all must do our part.

We are currently waiting to see if the second round of the FIA Championship at Tierp (the Tierp Internationals) to be held on 4th-7th June will still go ahead. The final decision on this will be taken by the Tierp Arena management no later than Friday 10th April.

So, if we assume that the Tierp Internationals (4th-7th June) will go ahead, then the calendar will be as follows:
Round 1 - Tierp Internationals (4th-7th June), Tierp Arena (Sweden)
Round 2 - Summit Racing Internationals (13th–16th August), Tierp Arena (Sweden)
Round 3 - NitrOlympX (28th-30th August), Hockenheim (Germany)
Round 4 - European Finals (10th-13th September), Santa Pod Raceway (UK)

If the first round at the Tierp Arena in June is cancelled, then the calendar will be as follows:
Round 1 - Summit Racing Internationals (13th–16th August), Tierp Arena (Sweden)
Round 2 - NitrOlympX (28th-30th August), Hockenheim (Germany)
Round 3 - European Finals (10th-13th September), Santa Pod Raceway (UK)

DRE will keep you updated on any changes that may arise out of the Covid-19 virus which may affect or bring about changes in the above calendar.

Should the FIA Championship now become a three-round Championship, then we are proposing that the FIA Championship registration fee is reduced from €800 to €500 for entry into the FIA European Drag Racing Championship.

We are all in unprecedented times across the whole of Europe with this pandemic of the coronavirus (Covid-19) and we ask for your support and patience as we seek to deal with this situation as best as we can.

Feature: Gleadow & Galloway Motor Psycho AA/FA.
30th March: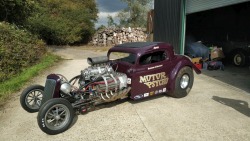 Adam Gleadow whose family have been involved in the sport for over 50 years, is ready to launch the latest incarnation of the series of Fuel Altereds he has campaigned since he joined the class in 2006.

In this feature, Adam describes how he converted his altered from the previous Rodeck Big Block Chevy to a Donovan 417 cu in Hemi, and how the chassis, body and were updated to give it a distinctive 70s look, with colours and lettering harking back to the Ford Pop the team campaigned in the 1960s.

You can see our latest feature sponsored by Lucas Oil Products by clicking here or by clicking on the Features, Interviews, Tributes link on the left-hand side of any Eurodragster.com page.

Swift snippets.
30th March: Drag racing historian Nick Pettitt has uploaded to Youtube Ken Robbins' video from the Santa Pod 1992 World Finals which were sadly curtailed by rain just before the finals, and the 1993 World Finals which includes Top Fuel racer Rico Anthes' 'blowover'.

Swinchatt online champ.
28th March: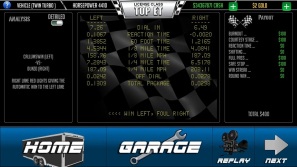 Eurodragster.com honorary member Spencer Tramm says that drag racing is happening in a virtual environment, thanks to the efforts of Billy Everitt:

Just as everyone is having to find new ways of staying in touch Drag Racers are no different and to kill some time whilst we wait for the season to begin a group of drivers, riders and crew headed by Billy Everitt are using the popular online racing game 'Doorslammers 2' to pass the time. The game allows you to buy, build and tune a series of cars. If you have a mobile device and you want something to while away the hours it's well worth looking into.

Last night the first round of the RRRC (Rip Rap Racers Club) named after the fictional race track the game is set on had 16 drivers trying to take the first championship round title. After a random draw pair first round Jack Gooding, Harley Coulsell, Lloyd Perkins, Aaron Fensome, Jordan Kenway, Marc Smith, Thomas Cook-Abbott and Billy Everitt (redlighting by 4 ten thousandths) were first to fall.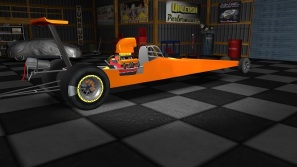 Round two saw Dan Bennett, Aaron Springford, Sam Innes and Pete Walters sidelined, Aaron losing to a perfect light by Spencer Tramm. The Semi Finals had Callum Swinchatt vs Spencer Tramm and Craig Wright vs Joe Holland-Villa. Callum grabbed 2 hundredths on the tree, Spencer ran dead on the dial but lost out to Callum by 0.01, Semi 2 was decided by a 0.007 breakout by Craig Wright sending Joe through to meet Callum.

In the final Callum went from Wild Bunch champ to online racing champ as it was over on the startline when Joe went red by 0.002 (see picture above) handing the automatic win to Callum in his dragster (see picture above) The plan is to have a few more races over the coming days and weeks, but hopefully we are all back at the real track soon!

Nitro Revival postponed.
28th March: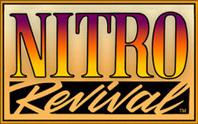 Many thanks to Eurodragster.com sponsor Geoff Stilwell for letting us know that due to the Covid-19 outbreak the Nitro Revival nostalgia event originally planned to take place at Irwindale Drag Strip, California on 15th-16th May, has been postponed to Saturday 7th November at the same venue.

In a video posted on Facebook, organiser Steve Gibbs said, "The coronavirus situation is going to make it impossible for us to conduct the event in May. We made the decision to wait until things stabilise and settle down sufficiently, and we can then have the event under good circumstances, and feel comfortable having a reunion with everyone getting together. All tickets issued will be good for the new date and we intend to conduct the event as originally planned".

Swift snippets.
28th March: Santa Pod Raceway have been adding to their video archive by uploading videos of the 2007 FIA European Finals, comprising four videos of Top Fuel Dragster and Pro Mod, Top Methanol Funny Car and Dragster, Top Fuel Bike and Super Twin, and Pro Stock and Pro Stock Bike. Videos can be seen on SPR's Youtube channel or Facebook.

Also posting to Youtube is VeeDubRacing aka Simon Letkey, who has posted his Top 15 Volkwagen Audi Group, and Top 20 non-VAG cars that he has filmed. See what they are by clicking the link.

Race fan and motorsports photographer Paul Bryan has posted to Flickr 115 photos from his visit to Don Garlits drag racing museum. Paul says 'there is so much history in one building it's unreal and the adjacent vintage car collection also a must for any petrolhead'. You can see Paul's pics here. Also due to cancellation of Gators, Paul went to Bradenton Motorsports Park on the Saturday night (14th March) for a 'Florida Street Scene' meet and posted 107 photo's of the evening's event with some cool doorslammers here.

SPRC announcement.
26th March: Santa Pod Racers Club Secretary Ian Marshall has sent us a further update as to the suspension of the UK drag racing season as a result of the coronavirus outbreak:

Following the decisions of Motorsport UK to cancel permits up until 30th June and the ACU until 31st May, it's clear that the race season is still under threat until who knows when, therefore, as mentioned in our previous update, we ask that racers don't enter any further events at present, this is purely to help us from having to return the entry fees with the associated costs that this incurs. Those racers that have entered the Springspeed Nationals and Main Event will of course be reimbursed their entry fees.

Once we have a clearer idea of what will happen in the future, we will of course be in touch to give you as much notice as is possible as to the first event at which we are able to begin racing.

Please also keep checking the Santa Pod Raceway website for details of testing or RWYB events, should they become available due to how the calendar falls, as it may well be before race events are allowed to resume.

Clearly the race season will be foreshortened in 2020 however Santa Pod Raceway and SPRC are looking at options should they become available. We will publish more news on this when we have a better idea of when the season can begin.

We say again - please stay safe, help whoever you can safely and we hope to see you all soon.

Message from the CEO.
26th March: Santa Pod Raceway CEO Keith Bartlett has posted the following statement on the same topic:

As a result of the Covid-19 virus wreaking havoc and uncertainty across the whole country in recent weeks this leading to the temporary suspension of nearly all leisure activities across the whole events industry, Santa Pod Raceway and its schedule of events for the first quarter of the season has been literally wiped out.

This is unprecedented territory for Santa Pod Raceway and all of our staff, loyal fans, spectators, race teams and partners. In the 25 years since purchasing Santa Pod Raceway we have never had to face anything like this but we know we are not alone.

We are in a virtual shutdown to at least the 30th April and more likely for a longer period taking us into the early summer.

If ever there was ever a time when Santa Pod needed your support, it is now. We are asking you help us through this crisis by accepting the full credit values that we will be offering to every single one of our customers who have purchased advance tickets to affected events.

As so many of our loyal fans know Santa Pod Raceway is the only remaining full-time Drag Strip in the UK and the most well-known drag racing facility anywhere outside of the USA. Our venue is today recognized as one of the best value entertainment facilities in the UK and we want to remain in that position. We are determined to deal with this situation in a positive manner until this virus is finally beaten!

On behalf of Santa Pod Raceway and all the staff I would like to thank you for all the support we have had over the past decades and sincerely hope we can count on your support. Help us to get through this - and in return we will continue to bring you the most exciting events in motorsport and entertainment in the UK.

Best Regards Keith Bartlett, CEO – Santa Pod Raceway.

Editor's comment: Before the season gets under way, racers can help publicise sponsors by sending your news and acknowledgements to Eurodragster.com, and fans can help keep our news pages alive by letting us know when you have posted photos and video. When the season commences, all head towards the track, because the racing will just be amazing!

RWYB gallery.
26th March: Many thanks to contributing photographer Callum Pudge for forwarding 64 photos from last Saturday's Santa Pod Raceway Run What Ya Brung. Outstanding runs came from Lee Connor's wheelstanding ten second Lotus Elise with a turbocharged Rover K series engine (running on 14psi boost as Lee is dialling it in), Chloe Wilkin's new Eye Candy dragster on her licensing passes for Pro ET, and an unfortunate Honda Civic driver whose rods decided to 'self isolate'.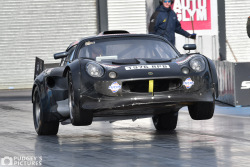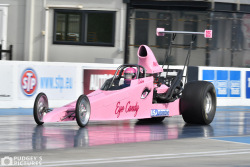 You can see Callum's excellent shots by clicking here or by clicking on the Event Coverage link at the left hand side of any Eurodragster.com page.

Swift snippets.
26th March: Many thanks to Mike Collins for sending us his usual preview of his column in the latest issue of Street Machine magazine, including bonus material exclusively for Eurodragster.com readers. You can check it out by clicking on the images below: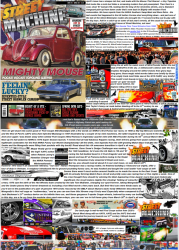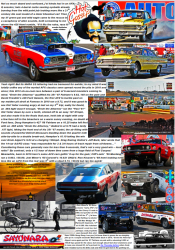 Kieran has posted another Youtube compilation video on his Mk1Kieran channel, this time consisting of a Drag Kart Racing Compilation from both Santa Pod Raceway and Shakespeare County Raceway. You can catch Kieran's video by clicking here.

Drag racing historian Nick Pettitt, to whom we wish a belated Happy Birthday for yesterday, has been busy posting footage from 1990s UK events. In the last week we have a compilation of Harlan Thompson at Santa Pod Raceway from 1993, and almost two hours of action from Avon Park Raceway's October 1994 'Night of Fire', filmed in daylight, no doubt due to the track curfew.

Race fan and motorsports photographer Paul Bryan has posted to Flickr 132 photos from the single day of the 2020 NHRA Gatornationals that spectators were allowed to attend as a result of the virus outbreak. You can see Paul's pics here.

Santa Pod update.
23rd March: Santa Pod Raceway have this morning published the following update on future events: Due to the current Coronavirus outbreak, it is with deep regret that Santa Pod Raceway announces that all events at Santa Pod up to April 30th are suspended.

We ask all our customers to be patient with us at this time and NOT to flood our Box Office with calls and emails when pressure is at its highest as this could be counterproductive. Rest assured, we will be contacting all customers with further details on arrangements regarding tickets and rescheduled event dates. We would like to thank you for your understanding during these very challenging circumstances.

We are absolutely devastated to not be running these season opening events given the far-reaching impact it will have; not forgetting the financial implications and the huge amount of preparation and work that our staff, teams and fans have put into the planning. It is only with your support that we can host the shows and race events that we all know and love.

Your enjoyment is our priority so please refer to the Essential Information/Terms and Conditions relating to the purchase of tickets and general guidance for attending our venue. For the latest news, go to this page.

HOFtalk 9 published.
23rd March: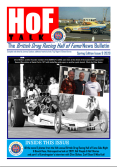 The Spring 2020 edition of HOFtalk, the magazine of the British Drag Racing Hall of Fame, has been published by compiler, UK Nostalgia enthusiast and director of the BDRHoF Jerry Cookson. In it you can read about all the news from the 14th annual BDRHoF Gala night and Bench Race, a retrospective look at the same event that occurred in 2007, and part 1 of Editor and Race Reporter Simon's interview of BDRHoF members Clive Skilton and Carl Olson with Mike Kuhl with additional pictures.

The regular features of HOFdiaries, HOFpeople and HOFtributes are joined by a new column from Hot Rod Bob Beck who we plan to see at Dragstalgia in July, all being well. To read the packed latest 31 page edition of HOFtalk (in pdf format, file size 16MB) you may download it from here, or click on the Lucas Oils-sponsored Features, Interviews, Tributes link on the left hand side of any Eurodragster.com page.

Fuelin' Around T-Shirt available.
23rd March: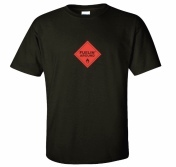 Jim Kelly, author of the biography-come-industry-survey Fuelin' Around (reviewed on 7th January 2019), has expanded his product line with sales of a very fetching t-shirt:

"Whether you fuel with nitro, race gas, diesel, alky, or just enjoyed the very popular book, wear the Fuelin' Around colors and let the world know you're a hot commodity. Based on the non-fiction novel of the same name, this Gildan high-quality t-shirt is now available starting at $19.95 in adult sizes ranging from medium through 3X online at JKKelly.com".


Shops limiting access.
23rd March: Eurodragster.com sponsor Jon Webster writes: "While the current situation is unprecedented and devastating for many, isolation is the logical thing to do. Webster Race Engineering will be following the recommended guidelines for the foreseeable future. While it is still possible to be at the workshop, we are trying to limiting access to essential visits only (customer project, pickup and collection included) and by appointment only on 01234 918301; if access is essential, sanitation facilities are available on entry. Social distancing will be respected.

Jon added: "On a positive note, there is enough work to last seven or eight months and I'm getting loads done!" Best wishes to everyone".

Stop press: our sponsors Robinson Race Cars (tel. 01256 880589) and friends Nick Davies and Rob Loaring at I.C.E. Automotive (tel 01327 858992) have issued similar notices requesting visitors to call and arrange an appointment in advance.

Video update.
23rd March: In our regular update recommending videos to view in the absence of live racing, there are two posted in the last couple of days which are of particular interest:

Our new team member Kieran has posted a Rotary Drag Racing Compilation to his Youtube channel which now boasts over 30,000 subscribers (congratulations, Kieran – Ed.). Kieran writes: Who doesn't love the sound of a rotary on two step? This compilation contains clips I've filmed over the years but mainly at Hal Far Raceway as the rotary drag scene isn't as big over here in the UK. Enjoy, more compilations coming soon!

On a nostalgic note, drag racing historian Nick Pettitt has posted a video of the 1992 World Finals from Santa Pod Raceway comprising Anglia TV coverage.

Swift snippets.
23rd March: Retired News Editor Tog has been in touch to say a Happy Birthday with hugs to his bestie Karen Brumby for today, and a special 21st Happy Birthday for tomorrow (24th March) to Pro Mod enthusiast and colour commentator Lucy Moore.

Carabott up for whole season.
21st March: Matthew Carabott will make his debut in the FIA European Drag Racing Championship as the driver of the famous Maltese Mr. Whippy Racing Top Methanol Dragster, reports Remco Scheelings. Carabott, who made his licencing runs last year at Santa Pod Raceway, will get off to a flying start of his career with a full season in competition, as the team have planned to take part in all five rounds of the FIA European Championship.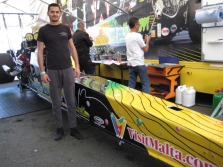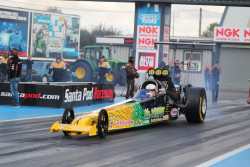 "The Mr. Whippy Racing team can confirm that we will be doing all rounds of the FIA European Championship in the Top Methanol class. We will be doing this championship for the 4th time. The previous results were as follows: runner-up in 2001, champion in 2012 and runner-up in 2014," said Matthew Carabott, son of team owner Joe Carabott. The personal bests of the Mr. Whippy Racing Top Methanol Dragster are 5.278 seconds (Santa Pod Raceway, 2014) and 271 mph (Auto Club Raceway, Pomona, California, 2016).

In all those years Monty Bugeja was the driver and tuner of the Mr. Whippy Racing car after he and his company Power House Garage teamed up with Joe Carabott back in year 1990. But in this year's championship campaign there will be some major changes in the Mr. Whippy Racing team as Matthew Carabott will be the driver and Monty Bugeja will be the tuner. Matthew Carabott is the son of team owner Joe Carabott and impressed with his driving style when he made his licencing runs at Santa Pod Raceway last year.

ARP to sponsor Rat Trap Racing.
21st March: Ron Hope, owner and driver of the legendary AA/Fuel Altered Rat Trap, has announced a new sponsorship relationship with ARP Automotive Racing Products, which will. amongst other objectives, aid Ron's plan to bring his team over to the UK to race at Dragstalgia in July.

"Rat Trap Racing has been using ARP Automotive Racing Products for years." Said Hope. "ARP has supported us in the past with product, however, we have reached an agreement whereby ARP will become even more involved with RatTrapRacing.com."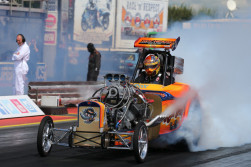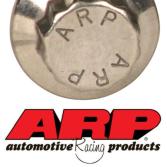 ARP, the world leader in fastener technology, was formed in 1968 by racing enthusiast Gary Holzapfel who saw that fastener failure was the cause of many of his friends' broken engines. At the time, there were no commercially available studs and bolts up to the task. Holzapfel therefore called upon his many years as a leading aerospace fastener subcontractor to form ARP (Automotive Racing Products).

"This is a hugely exciting for Rat Trap Racing." Said Hope's son Brian who is crew chief and part-time driver of both Rat Trap and Rich Guasco's Pure Hell AA/FA. "Our use of ARP fasteners has grown steadily and we shall be installing ARP equipment exclusively on Rat Trap and the four land speed cars." Bob Florine, executive vice president and director of sales and marketing at ARP said, "I've been watching the Rat Trap team for years now and with their aggressive international race schedule it seemed only natural that we work together as they travel the world and promote our products."

With acknowledgements to Dragzine.com.

Swift snippets.
21st March: There are some great videos that have been posted to social media sites if you are stuck at home or waiting for parts for your latest project. First off, Santa Pod Raceway have posted to Facebook the four episodes of the TV production of the FIA Main Event in 2006. You can see how young everybody looked 14 years ago by clicking here.

On a similar theme, Nick Pettitt who has been producing the excellent Time Travel series of DVDs documenting the history of British drag racing and hot rodding, has posted footage from the 1995 NSRA Nostalgia Nationals at Avon Park, filmed by Keith Taylor of First Image Video.

Finally, for those who like reading results of historic race meetings, we have located on the web complete final qualifying and elimination results of the NitrOlympX from Hockenheim in 2003-2009, which can be reached via this link.

Important SPRC announcement.
20th March: Santa Pod Racers Club Secretary Ian Marshall has been in touch with more information and advice about the coming season and entry for planned events: Sadly, the Festival of Power, as you know, has had to be cancelled, and we now look to the future to see when we will be in a position to begin the 2020 racing season.

As things stand, we don't have an answer to this question, but would like to pass on the following information.

SPRC are in the process of returning all entry fees for the Festival of Power, there are many card repayments already on their way, however they will take 5-7 days to reach card accounts. Some cards will take a little longer to process them and, as you can imagine, transfers of money have to go back and forth to facilitate the payments being returned. As such, refunds may take a few days more, but please rest assured they have been returned. If however you have not had your refund (card payment) by the month end please get in touch through the usual means of contact.

Those who have sent cheques, if you wish for them to be returned please get in touch, they have been effectively cancelled, but please let me know if that's a problem. BACS payments are, if not already with you, on their way, and I may well have been in contact via phone or text message.

Currently, we have no information as to when we can get the season started as stated earlier, so, we would ask that Racers not to enter the Springspeed Nationals or Main Event for the time being. The reason for this is the cost of returning your entry fees, due to card payments having a fee that we cannot pass on to UK customers. Therefore when we return the fees we our losing 2% of the overall entry fees paid.

We could retain the fees for further events, but right now the money is better off back in your accounts.

What we also intend to do is when possible open the entries for the Springspeed Nationals (assuming it is able to go ahead) and allow entries to be made up until 3 days prior to the event, this will however mean that if you do need to enter late, all tickets will be on the gate, due to time constraints around the postal service.

Santa Pod Raceway will as usual keep you updated on test and RWYB days, should they remain available. We will endeavour to keep you up to date with information when we have it, of course if you have any questions please don't hesitate to get in touch, the SPRC office will remain open for the duration. Stay Safe, keep well and we look forward to seeing you all at the track in the near future.

The Lion to roar again.
20th March: The Maltese Lion is ready to rumble again, reports Remco Scheelings:

After a one year break, Duncan Micallef will be back in action in the FIA European Top Fuel Championship this season. The 2017 FIA European champion will not be able to do the full tour, but will definitely be at The Main Event, the NitrOlympX and the European Finals. Micallef will get his first taste of nitro at the Main Event at Santa Pod Raceway. The Maltese Lion will feel comfortable, as he will run his familiar red 2017 championship winning RF Motorsport car again.

"After a year out from the drag racing scene, I felt that I cannot live without it. Especially with so many ladies without having a Lion in the field," Duncan Micallef starts the story of his comeback. Micallef claimed his first FIA European Top Fuel Championship in 2017, won three races, was crowned Maltese Sportsman of the Year for the second consecutive time and had numerous prize giving galas to attend with the official FIA Prize Giving ceremony in Versailles, Paris, as a highlight. In 2018 the Maltese Lion struggled with some bad luck and decided to take a break from drag racing. But that didn't mean he was out of motorsport competition.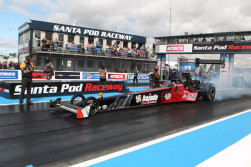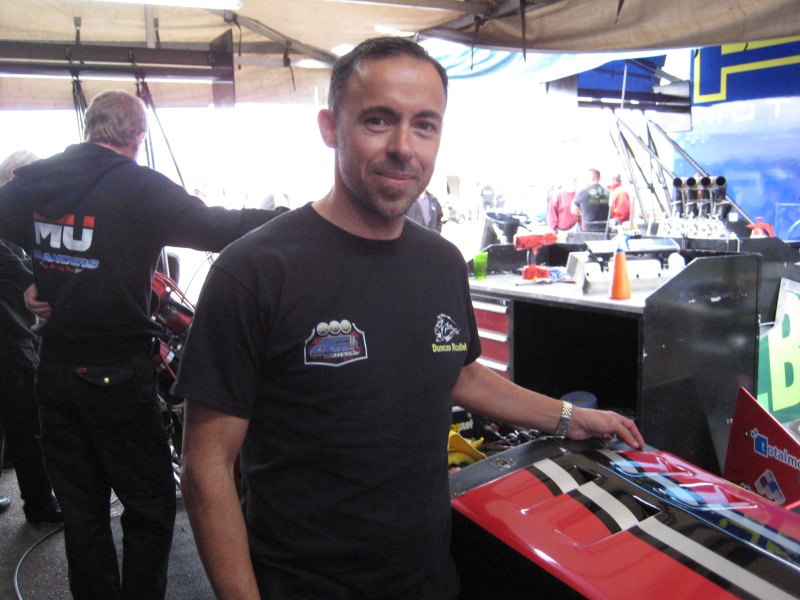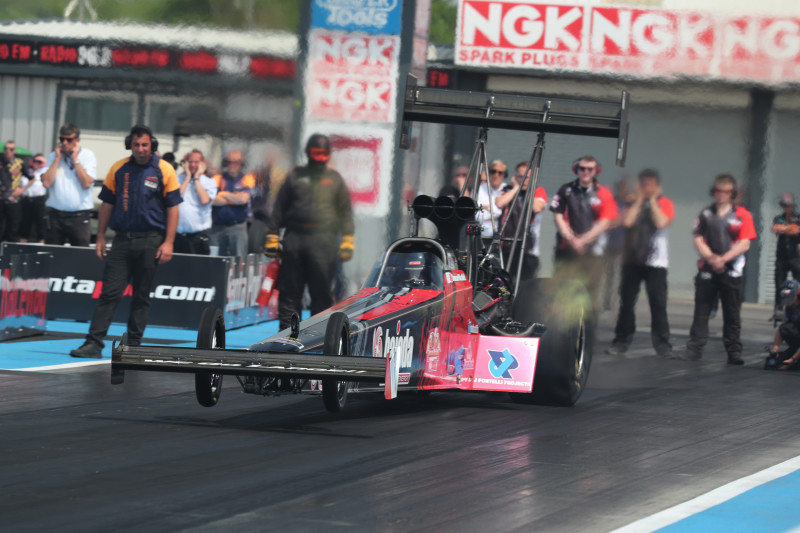 "In 2019 I competed in a different form of motorsports. I started monitoring my boys Jacob and Isaac in karting and they are doing very, very well. After a few weeks I ended up practising with them and I had a target. At my age, competing with teens at the age of 15 to 25, is not easy. I fractured my ribs four times during the year and at one point I had an accident and broke three ribs, which put me away for two months. One week to go to the World Finals and I was undecided to go or not, but finally decided to go for it. It was against the best of the best over 32 years old. I had eight days at the track and believe me, that was really painful. Doing over 400 kms at full contact in less than eight days is very hard. I ended up with painkillers and massages to keep myself there. I was placed mid-table and that was really good for me when you consider that it was my first time competing in a very professional way," said Micallef about his year in karting.

"At the back of my mind I always kept saying that drag racing is a different zoo, and Top Fuel is an animal which you cannot describe, in terms of what we are dealing with. Top Fuel gave me a lot and after a year struggling to find my fitness in one of the most brutal physical motorsports (karting), I decided that now I am more than ever ready for the Top Fuel fight. Unfortunately I will not do the full championship as I have the Sicilian kart championship with my children at the same time. I will be doing The Main Event, Hockenheim and the European Finals."

Micallef will be behind the wheel of one of the Rune Fjeld Motorsport cars. And it's a familiar one as it is his 2017 championship winning car, the red car Antti Horto drove in Kauhava 2019. "I'm sure that the young chap with the white hair will give me a car to give my competitors a good challenge!"

"I hope that this coronavirus will pass soon and we say a prayer to those who are fighting to stay with us. We have to unite in this very hard time, cause when the sun shines again, we will rock the world with some 20,000 bhp on the start line!"

VP continues supply.
20th March: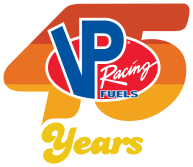 VP Racing Fuels Inc have announced it will continue to supply race fuels, coolants, lubricants and additives to race series and teams, despite the economic challenges caused by Covid-19. VP continues to maintain sufficient inventory and transportation to supply all professional and amateur race customers around the world.

"Product quality and delivery excellence are what we're known for," stated Alan Cerwick, VP's President and CEO. "Amidst this challenging business climate, we remain committed to providing our race and retail customers with product availability and on-time delivery to support their business operations. Our product demand remains stable, and we continue to sign new race series and distribution relationships in 2020."

Over the past several weeks, VP has signed new agreements with World Racing League and American Flat Track and continues to fuel high profile series and events that are recognized around the world including the Rolex 24 Hours at Daytona, IMSA, SCORE, DIRTcar, MotoAmerica, AMA Supercross, NHRA Sportsman classes, and hundreds of other series and tracks in North America as well as around the world.

"We congratulate the NHRA for their recent decision to offer competitors in the Competition Eliminator category a choice of fuel by adding VP's C-25 at their National and Divisional events," offered Bruce Hendel, VP's Vice President, North American Sales - Race Fuel and Consumer Products. "We are also excited to highlight our race lubricants and performance additives by sponsoring the VP Racing Lubricants Xtreme Pro Mod class in NMCA and the VP Racing Madditives® Street Outlaw class in NMRA."

VP's growing line of performance products include lubricants, brake fluid, additives, and appearance products. In the coming weeks, VP will also be making a series of exciting announcements expanding its relationship with IMSA and deepening its commitment to the UK race and performance market. VP produces over 70 high-quality blends of racing fuel products to serve the very diverse types of engines and competition that race in America and around the world.

In the UK you can contact VP via Darren Prentice at Santa Pod Raceway or Race Fuel Logistics on 020 7458 4219 and info@racefuel.online.

Swift snippets.
20th March: Photo-journalist Steve Moxley has posted a report and pictures of the NSRA Hot Rod Drags last September on the Eat My Ink web site.

Crew chief of Green Goblin Racing and SFI Inspector Lars-Göran "LG"Eriksson has produced an thirteen page account of the team's season with racer and car builder Mats Eriksson which you can see here (pdf format)

Ed Garlits.
20th March: The British Drag Racing Hall of Fame is sad to report that Ed Garlits, brother of BDRHoF member Don Garlits, passed away on March 18th. Don had been with Ed every day since he went into hospital. Ed was moved to a hospice on the night of the International Drag Racing Hall of Fame banquet and Don was unable attend the ceremony in order to be with Ed.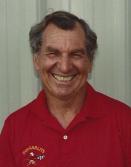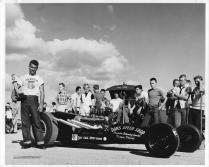 Ed Garlits was born on December 30, 1933, in Limona, Florida and entered into the sport of drag racing in 1952 after serving in the United States Marines. In his first competition he raced a 1932 Buick powered, Ford Roadster. Wanting to go faster, Ed installed the Buick engine into a C/Gas Dragster that he and Don built-in Don's Garage in Tampa. Ed christened the car "The Banana". In the car's first event in Miami, Florida, Ed won Florida State Championship event. Ed and Don would build several versions of the "Swamp Rat Too" dragster that Ed would subsequently drive. The "Swamp Rat Toos" would carry Ed to four Florida State Championships (1957,1958,1960,1961) and an AHRA National Gas Championship in 1961.

Ed then had to make the hard decision to continue racing - or get married. Ed chose to get married and retired from driving. During this time, he took over the running of Don's Garage so that Don could go racing full-time.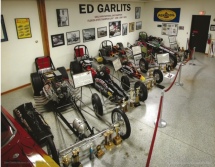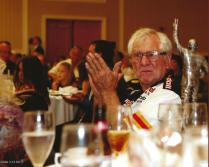 After he divorced, Ed jumped back into drag racing not as a driver, but as the Crew Chief for Don from 1974-1978. Although he missed out on Don's tours of Europe in 1976 and 1977, 1978 was a very successful season for Don, winning the Gatornationals and U.S. Nationals with Ed turning the wrenches. In 1992 Ed would again return to drag racing by again being a member of Don's crew. For the next three years, Ed was the clutch man on the Swamp Rat 32 and Swamp Rat 34 mono-wing dragsters. Ed's mechanical knowledge was an attribute to the success of his brother's racing career.

On March 12, 2009, Ed was inducted into the International Drag Racing Hall of Fame for his accomplishments as a driver, and the success he had as the Crew Chief and a Crew Member for his brother's racing team.

In the early 2000's Ed was diagnosed with Parkinson's disease. Ed fought the long and hard battle for about 20 years, but unfortunately on Wednesday, March 18, 2020, after this long fight Ed passed away. He is survived by his sons Eddie, Billy, and David Garlits; grandchildren, great-grandchildren, brother Don and nieces Gay Lyn Capitano and Donna Garlits.

Santa Pod Raceway suspend events.
19th March: Santa Pod Raceway have issued an update on future events arising from the current coronavirus (COVID-19) situation:

Due to the current coronavirus outbreak, it is with deep regret that Santa Pod Raceway announces the following events at Santa Pod are suspended:
Straightliners - Sun 22nd March
The Fast Show (inc. Sat Night Special) - Sat 28th/Sun 29th March
Mimms Honda Day – Sun 5th April
Festival of Power (inc. Test Day) - Friday 10th/Sunday 12th April
GTI Spring Festival – Sun 19th April
At the current time, all other events until 30th April remain under review.

We ask all our customers to be patient with us at this time and not to flood our Box Office with calls and emails when pressure is at its highest as this could be counterproductive. Rest assured, we will be contacting all customers with further details on arrangements regarding tickets and rescheduled event dates. We would like to thank you for your understanding during these very challenging circumstances.

We are absolutely devastated to not be running these season opening events given the far-reaching impact it will have; not forgetting the financial implications and the huge amount of preparation and work that our staff, teams and fans have put into the planning. It is only with your support that we can host the shows and race events that we all know and love.

FoP: Motorsport UK and ACU statements.
17th March: Santa Pod Racers Club have passed on statements received by governing bodies Motorsport UK and ACU which we reproduce below. The effect of these is that sadly both Motorsport UK and ACU have found it necessary as a result of the coronavirus crisis to remove the permits for the Festival of Power on 10th-12th April. Santa Pod Racers Club will issue a further statement in the next two days as to potential options, if any, are available for the Easter Weekend.

Santa Pod Raceway have released an updated statement on planned activities will be released on 18th March stating "at the present time this Saturday's RWYB Public Track Day (March 21st) is going ahead. Sunday's Straightliners event (March 22nd) is cancelled due to ACU restrictions". Updated SPR information will be posted at santapod.co.uk/coronavirus.php.

Motorsport UK statement.

It is with regret that Motorsport UK is suspending all organising permits and Certificates of Exemption until at least 30th April 2020. This suspension follows the latest guidance issued by HM UK Government in response to the outbreak of COVID-19. This position will be constantly reviewed given prevailing information.

As the National Governing Body, we would ask all Motorsport UK members to act responsibly and follow the Government's guidance during this difficult time.

We thank all of our members, organisers, officials, volunteers, staff and their families for their support during these unprecedented times. We will continue to monitor the situation and will resume sporting activity as soon as we are able. We also have a responsibility and duty of care to our staff who will be working from home, so please be patient with any queries you may have.

David Richards, chairman of Motorsport UK, explained, "Clearly we live in challenging times and exceptional measures are required. The decision to suspend Motorsport UK permits on a temporary basis is not one that was taken lightly as the industry employs many thousands of people. However we have an over-riding responsibility to our members and the friends and families of our community. Furthermore, our social responsibilities extend to the broader population and the potential drain on valuable public health resources on which we are all reliant.

"The situation is very fluid and we will continue to monitor developments over the coming weeks and hope that we can resume the annual motorsport calendar at the opportune moment. In the immediate short term our efforts need to be focused on ensuring that the industry that backs up the sport has the financial support that it requires from the Government in order that it can be sustained beyond this extraordinary scenario."

ACU statement.

It is with regret that the ACU are suspending all competition and social activity until 30th April 2020, but this will be constantly reviewed. This is in response to the emerging guidance issued by HM UK Government in response to the outbreak of COVID-19.

All permits for events during this time will be cancelled and reimbursed in full to the organising club/promoter.

As the National Governing Body would ask all ACU Members to act responsibly and follow the Government's guidance during this difficult time. We have a responsibility and duty of care to our staff who will be working from home, so please be patient with any queries you may have.

As of writing (17th March 2020) HM Government have advised:
Persons to work from home where possible.
People over the age of 70 to minimise social contact.
Emergency services will not support mass gatherings.
Stop non-essential travel.
Avoid pubs, clubs, restaurants and cinemas.
This statement is supported in its entirety by AMCA.

Full FIA tour for Susanne.
17th March: Remco Scheelings reports that Susanne Callin is aiming at racing the whole FIA Championship tour in 2020:

After a 14-year break from the FIA European Top Fuel Championship, Susanne Callin made her comeback last season to see if the feeling was still there and if driving a Top Fuel car was really what she missed so much in all those years. Everybody knew the answer in advance and as expected, after only two runs there was the confirmation. As a result, the comeback is definite and Callin will do the full FIA European Top Fuel Championship in 2020! "Testing days are over and I am all in!" said a determined Susanne Callin.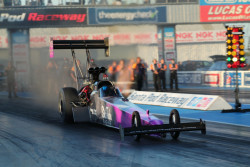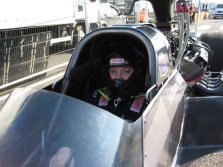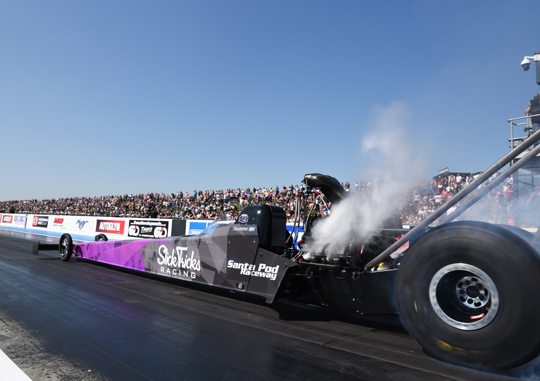 Susanne Callin made her first test runs in the Rune Fjeld Motorsport Top Fueler at last year's Festival of Power. "There is nothing that is even close to the feeling of being in one of those storming cars, which is something I definitely have missed!" Callin said after completing a few runs. As planned before the comeback, the outings in the FIA European Top Fuel Championship were limited to The Main Event and the European Finals, the two races at Santa Pod Raceway, Callin's home track as she is married to Keith Bartlett. Looking at her way of driving, the fun she had at the track and the response of the fans, it was loud and clear that there was more to come in 2020.

And that more is a lot more as Callin will do the full FIA European Top Fuel Championship this season and will also drive the Slick Tricks Racing RF Motorsport nitro car at the Festival of Power. "I will be doing the whole season this year, which is due to start at Easter, with Rune. Last year was about easing back into things and have a little go at driving, but from here on so are testing days well over and I am all in! I'm looking forward to it. We should totally be capable of fighting in the top, so the goal for the season is to win. I'm in it to win. Me and the Junior Dragster girls, our daughters Lara and Jacqueline, are sponsored by and running out of Santa Pod Raceway under the Slick Tricks Racing banner, just like last year. The whole Corona situation is very worrying, but we still hope it will be possible to make the first runs of the season at Easter."

Pictures ©Julian Hunt and ©Remco Scheelings

RWYB update.
17th March: Santa Pod Raceway's dedicated web site for Run What Ya Brung racers has been updated with a report of the successful Dial In Day on 7th March.

Also live on the site from today is an update to the 2020 RWYB Challenge for cars and bikes from Sunday 15th March's RWYB, the car section being led by Jordan Kinghorn and his Chevrolet S10 with 9.8304/133.37 and the bikes by Kevin Wright's 9.492/150.56. Points are scored on the basis of best times at each of ten events in the season.

Event entry update.
15th March: Many thanks to Santa Pod Racers Club Secretary Ian Marshall for sending us version 6 of the official entry list for the Festival of Power. You can check out the entry list by clicking here. Entry closes on Friday, 20th March, after which entry, if accepted may be subject to a late entry penalty. You can find the official on-line entry form via the Entry Forms page of the new Santa Pod Racers Club web site here.

New SPRC class sponsors.
15th March: Santa Pod Racers Club Secretary Ian Marshall says that following on from the update on class title sponsors on 7th March, SPRC are pleased to confirm Springbridge Direct Ltd as title sponsor for The Wild Bunch class in 2020.



Springbridge Direct Ltd has been supplying high quality topsoil using the finest constituents for over 25 years. As well as screened and blended topsoil, Springbridge also supplies quality turf, barks, composts and a large range of aggregates in either bulk bags or loose loads. A general bulk and grab haulage service is also always available at extremely competitive rates.

Springbridge's own fleet of low-carbon lorries can deliver to your site, anywhere in the south east, including London and to all low-emission zones. Springbridge will help you save time and money on your next outdoor project. You can call them on 0333 456 1919 for full details, or contact them via their web site www.springbridgedirect.co.uk. Thanks to Bob Hawkins for getting involved.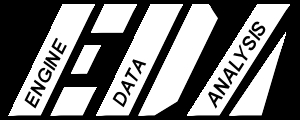 Ian would also like to say a big Thank You to Ben and Kenny of Engine Data Analysis (Unit 10, Ashley Estate, Carr Wood Rd, Castleford WF10 4SR, 01977-516622) for not only confirming their 2020 Sponsorship of the Comp Eliminator class in the UK, but also doubling their 2019 contingency payout for the 2020 race season.

Swift snippets.
14th March: A big Happy Birthday for tomorrow (Monday 16th March) to honorary Eurodragster.com member, SPR two-seater crew member and multiple bike Champion John Hackney. Have a great day Hackers!

Smeatharpe Saturday.
14th March: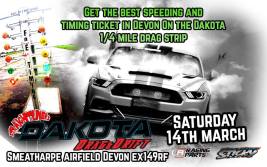 If you see this early enough on Saturday 14th March, then why not head on down to Dakota Raceway Southwest, Smeatharpe Airfield, Devon EX14 9AF where a RWYB Drag and drift event organised and promoted by Straightliners and supported by Eurodragster.com sponsor LA Racing Parts gets under way in the morning.

All vehicles are welcome to run at Dakota Raceway. There will be drag racing , drifting , show & shine , club stands and a burnout competition. You can take part and drag race your own vehicle (helmet and full driving licence required) or spectate. Admission is £10 per person, kids go free. For racers additional charges are 1 run £15, 3 runs £25, unlimited runs £45, passengers rides £25. Show & shine and club stand participants only have to pay the admission charge. Track action takes place 9.30am to 4pm.

Other planned events are on 22nd April, 20th July, 5th October and 9th November. For more information go to straightliners.events or the Dakota Raceway Southwest FB page.

For those with only Sunday free, the Run What Ya Brung at Santa Pod Raceway will taking place on 15th March, with entrance and sign on from £35.

SFI inspection in Sweden.
14th March: Many thanks to Lars-Göran "LG" Eriksson of ME Racing Service AB who has sent a report on the Swedish SFI inspection day:

As a result of coronavirus's impact in Europe, the SFI made a decision to cancel their Tour, which always had stops in the Netherlands, Finland, Sweden and England with SFI officials attending. However, ME Racing Service AB (MERS) in Sweden and Robinson Race Cars in the UK have worked with the SFI over 30 years and SFI have a lot of confidence in us. So the SFI decided to let MERS and RRC carry out the SFI recertification in Sweden and England. Andy, Luke, Mats and myself have worked together with Jennifer Faye from SFI on the SFI Tour for many years, so this was not a big change for us.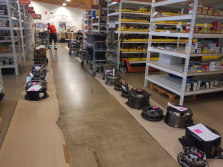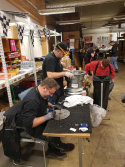 As things worked out, we did not have to travel to other countries this year. On a normal SFI Tour I have five flights, that means that I need to go through ten airports. I am not so afraid of the virus for myself. But I think about the people around us and our companies. For example, it would have been a bad scenario have been to be quarantined at the hotel in Amsterdam for two weeks. I couldn't meet my family or go to work and the SFI Tour would have been completely cancelled. So this time the other countries collected their parts and came to Sweden or the UK.

In Sweden we have been at Persåkers Speed Shop in the past, and were also there this year. We had a good amount of parts from Sweden, Denmark and Norway as we used to have, but not so much as it could be in some years. So fortunately we were able, without problems, to recertify parts from Finland and Germany as well this year during last weekend. This is due to parts having different recertification years; resulting in different numbers of parts from year to year. In some years we have the same amount of parts in Sweden as Netherlands, Finland and England together, as Sweden is big in drag racing.

If SFI had not let us recertify parts, then we would have had to send our parts to USA and even to different manufacturers. So SFI have made this SFI Tour a special service for the racers in Europe and they have told us that the Tour will continue as usual next year.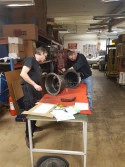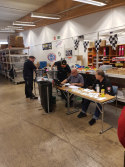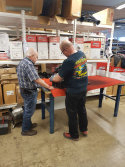 Thank you to everybody that helped us out to make the recertification successfully during these circumstances. A special thank you to Jennifer Faye and SFI to let us do this. As we had a lot of parts to recertify, we also had a bigger and experienced team to help us out in Sweden. They worked both Saturday and Sunday to make this happen. Thanks to Roland Forsberg (Svensk Dragracing), Olle Elfqvist (Svensk Dragracing), Frank Johansen (SBF), Håkan Fridholm (SBF), Lennart Holm (SBF), Jörgen Lindholm (SBF), Peter Larsson (SBF), Rolf Lundberg (SBF), Sven Klut (DHRA, Germany), Lasse Koskinen (FHRA, Finland), Liselott Hägglund (MERS), Mats Eriksson (MERS). We also had great support from Lasse Pettersson (SBF/FIA) and Frans Steilberg ( FIA, Germany).

Atomizer injectors available.
14th March: Atomizer injectors available Jason Weir of Flow X Injectors has announced that Atomizer Racing Injectors can now be ordred direct from the website www.flowxinjectors.com:

Buying from Flow X not only gives you access to the worlds best racing injectors, but also technical backup throughout all of the year. For further information or technical help you can contact Jason on 07769346964 or enquiries@flowxinjectors.co.uk.

Santa Pod issues coronavirus update.
13th March: Santa Pod Raceway have put out the following statement: "The safety and welfare of racegoers and participants is paramount".

We will continue to follow advice from the World Health Organisation (WHO) and Public Health England, as well as that of local government. We welcome their guidance that the business of the country should continue as usual, while ensuring the latest public health advice is adhered to and therefore all Santa Pod events are continuing as scheduled." A link to further essential information can be found at santapod.co.uk/coronavirus.php

Readers will be updated should there be any change to this situation.

JT crew killer reappears.
13th March: After running a super-quick Ford Probe with a Cosworth engine in Super Pro ET to world best times of 7.74/174, John Tebenham sold it in 2009 and took a nine year break from competition, but kept in touch and attended many events as a spectator. His return was one of the major stories of 2019, with his Fabulous Lightning McQueen '53 Corvette running as quick as 5.975/238.17 in his first year in it. But John has always been a devotee to bracket racing with his Pop, bought from Matt Wright and rebuilt by Eurodragster.com sponsor Robinson Race Cars with a five litre engine. JT takes up the story on the Pop's reappearance in 2020: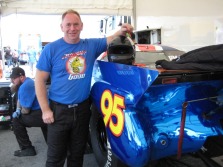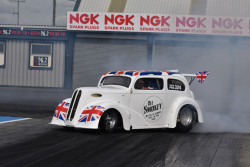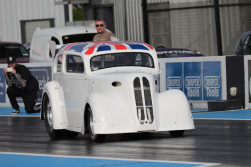 The 'crew killer' Ford Pop is coming out for the last time in white. I have a new plan (never be dull). I was all ready to sell the Pop and cancelled some great crew, then I got an offer from a secret weapon that was too good to refuse. We are going after racers like Brian and Billy (man, how can you brake in the last 10 ft?). If you ever think you can bracket race, come to a race meeting. People ask me all the time what car is more fun and the answer will always be the Pop , yeah if I had 20 seconds to live, I drive the blue car, but the Pop just makes me smile. Look out for my new secret weapon, good luck to all the racers and be safe!

Webster continues with 4 Cyl.
13th March:

Santa Pod Raceway are delighted to have Webster Race Engineering on board as the sponsor of the 4 Cylinder class at the Doorslammers 2020. The annual Doorslammers event is now in its 3rd year, with a massive prize fund of £85,000 this year's event is 15-17th May.

Jon Webster said "Webster Race Engineering have supported The Doorslammers and the 4 cylinder class since the beginning, it's an amazing event with a unique vibe. Webster Race Engineering will continue the support this year not just because it is great marketing venue for us, but it's also the type of event that is motivational to the Racer, the spectator and the industry. I can't wait!"

Eurodragster.com is pleased to have had Webster Race Engineering as a sponsor for over a decade. We will feature all our sponsor renewals later in the month.

Malta 1st Race cancelled.
12th March: The cancellation of the 1st Race of the Malta drag racing season, due to take place 13th-15th March at Hal Far, has been announced by ?Konrad D'Anastasi, secretary of Malta Drag Racing Association. Konrad said 'due to the banning of public events by the Prime Minister as a result of Coronavirus, we regret to inform you that the event of this weekend has been cancelled. We will let you know at a later date when the event will take place'.

Event entry update.
12th March: We are now up to version 5 of the official entry list for the Festival of Power, for which we thank Santa Pod Racers Club Secretary Ian Marshall. You can check out the entry list by clicking here. Entry closes on Friday, 20th March, after which entry, if accepted may be subject to a late entry penalty. You can find the official on-line entry form via the Entry Forms page of the new Santa Pod Racers Club web site here.

Motorsport UK licences reminder.
12th March: Thanks again to Ian Marshall who has informed us of National licenses having changed: 'as a result of changes at Motorsport UK, race licences have now changed, what was a Non Race National B licence is now called an RS Interclub Licence, and National A Licences are now just National, all International licences are as they were previously and have not changed'.

If there is any doubt in which licence to apply for please get in touch with Ian at Santa Pod Racers Club, at ir.marshall@btconnect.com or on the usual telephone number of 01933-313625.

Captain Dave cancels.
12th March: Best wishes for a speedy recovery to 'Captain' Dave Catton who has suffered a stroke and will unfortunately be unable to drive the team Windscreen Wizards entry at the Festival of Power. Driving duties will be taken over by team owner Nick Good. Undaunted, Dave hopes to lend support as a crew member.

Ceska moves forward.
12th March: After a low key debut in FIM Top Fuel Bike at the 2018 NitrOlympX Petr Dennis Ceska from the Czech Republic sat out the 2019 FIM season, racing in Funny Bike competition instead. But he has now regrouped and plans a full season of FIM and Hungarian Championship racing. Plus, his team MSS is promoting an exciting new race to be held at Pilsen Line Airport, near Pilsen in the Czech Republic from 12th-14th June 2020. But first we will see him at Santa Pod Raceway's Festival of Power on 10th-12th April.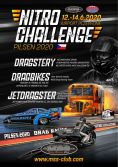 After running a home-built Hayabusa based Funny Bike in 2013 and 2014, Petr bought a bike from fellow Czech racer Roman Sixta and competed in FIM Super Twin, visiting Santa Pod Raceway twice in 2016. Since 2018, he has been in shakedown mode with a nitrous Suzuki PXM 1640 GS Funny bike, being helped at the start by compatriots Otto and Yvona Knebl. Petr said 'In 2019 I had a problem setting up my bike. We didn't have good times. My best time in 2019 at Hockenheim was 8.527/149.51mph. Although the 60 feet times were 1.1 which looked good, the bike did not have power further down the track. So we ended the season early and looked for bugs in the settings. where The bike was originally built by current FIM Top Fuel Champion Filippos Papafilippou's DragStore for Andre Bartak who sold it on to Petr. Fil said 'It is a great bike with a Timblin chassis.Vance & Hines engine and Robinson full auto gearbox that could run deep into the sixes'. Petr thanks André Barták, Amerer Air Austria, Žaneta Barbora Cešková and the rest of the MSS team.

The Nitro Challenge Pilsen looks to be a full event including Super Pro ET, Pro ET, Super Gas, Super Comp, Competition Eliminator and Junior Dragster on the car side, and Funny Bike, Super Twin Top Gas, Super Street Bike, ET Bike and Junior Drag Bike as well. There is the prospect of more racing classes being added after agreement with the race director.

Petr said 'German driver Gerd Haberman has already confirmed his participation. This means that you will see in action for the first time in the Czech Republic his Jet School bus with a jet engine of 25,000 hp and Jet Funny car Dragon Hunter II'. Race officials include Jerry Lackey as Clerk of the Course, so you can expect a well run event.

For details on the Nitro Challenge Pilsen, visit the MSS Drag Racing Club web site at www.mss-club.com or find them on Facebook here.

Full results from Dial In Day.
11th March: Many thanks to Andy Marrs for forwarding us the full results and timing data from Santa Pod Raceway's Dial In Day held on 7th March, which you can check out by clicking here or clicking on the Timing Data link on the left hand side of any Eurodragster.com page. By downloading the spreadsheet you will be able to glean the incremental times, speeds and win margin for any qualifying run or race held during the day.

Registration open for Tierp Internationals.
11th March: The registration for the Tierp Internationals, one of the major events at Tierp Arena is now open, Remco Scheelings reports on the Dragracing.Europe.eu blog. The Tierp Internationals is the second round of the FIA European Drag Racing Championship, the opening round of the EDRS Pro Nordic Motorcycle Championship and EDRS Pro Series and a round for the Summit Racing EDRS Series.

The Tierp Internationals will be held: June 4th-7th, and Eurodragster.com will be providing live reporting and photo galleries as in previous years. The link to the registration page is here.

Triple on tour.
11th March: Phil Baimbridge's 'The Rocket' PBR Top Fuel Bike, raced by Al Smith, has an expanded race itinerary for 2020 encompassing three championships. Al and the team will be competing in all rounds of both the ACU UK Championship and the FIM-European Drag Bike Championship. The team also plans to visit Tierp Arena in Sweden in June for the opening round of the EDRS Pro Championship and, if arrangements allow, go to Kauhava in Finland at the end of June for the EDRS Pro second round.

Phil said: 'Attending the EDRS Pro event at Kauhava is dependent on finding somewhere to park the trailer and turn the race bike around. If any of our Swedish or Finnish racing colleagues can help out with secure parking (the trailer is 5.5m long including "A" frame and just over 2m wide), and use of workshop facilities for 3-4 days, please contact either me at PBR Top Fuel Bike or Al Smith. Ideally the location should be en-route from Tierp to Kauhava, or not too far from the venue in Finland, but we'll consider any offers of help'.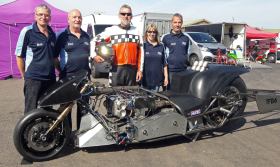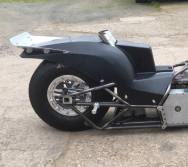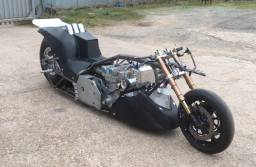 Much work on the powerful and unique three cylinder machine has been undertaken over the winter to ready it for the new season, following a great 6.275/194.70 pass and a runner-up finish at the Euro Finals at Santa Pod Raceway. After stripping the bike down to the bare chassis, and front end, everything was cleaned and corrosion inhibitor applied. The magnetos were sent to the US to be refreshed and spare parts were ordered or built by the team. Burlow Engineering have been making the parts for the spare clutch including a centre bearing carrier and pulley assembly. A lot of the components have got small modifications to improve performance, aid assembly and disassembly and/or to save weight. There's new rear bodywork fitted, thanks to Nigel Batsford, and a new fuel tank cowl up front.

If you are based between Tierp and Kauhava and can help, please do get in touch with Phil or Al via Facebook.

Pictured above from left to right are: Bob Brooks, Phil Baimbridge, Al Smith, Julie Smith and Neill Curtis, boss of Burlow Engineering.

STP renew SPR partnership.
11th March: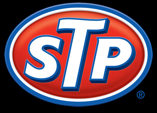 Santa Pod Raceway is pleased to announce their continued partnership with STP in 2020 for the STP Springspeed Nationals (2nd-3rd May), STP Summer Nationals (18th-19th July), STP Green Light Nationals (22nd-23rd August) and STP National Finals (26th-27th September). The well-known automotive care brand, STP will again be the main title sponsor for the 2020 National Championship 'STP Sportsman Series'.

STP has more than 60 years' experience looking after your faithful, four wheeled friend. As one of the most trusted names in automotive care, thousands of motorists, from everyday car enthusiasts to professional racers, rely on STP oil additives and fuel additives to keep their vehicles running better for longer – and count on STP automotive performance products to keep their vehicles looking great. For more information, visit www.stp.eu.

Event entry update.
10th March: Many thanks to Santa Pod Racers Club Secretary Ian Marshall for sending Version 4 of the official entry list for the Festival of Power. You can check out the entry list by clicking here. Entry closes on Friday, 20th March, after which entry, if accepted may be subject to a late entry penalty. You can find the official on-line entry form via the Entry Forms page of the new Santa Pod Racers Club web site here.

Praise for Dial In Day.
10th March: Multi-time Super Comp and Super Gas UK Champion Brian Pateman took his daughter Stephanie to Santa Pod Raceway's Dial In Day last Saturday, 7th March, and has been in touch with a review of the event, laid on for beginners in the sport:

I wanted to say how impressed my daughter Stef Pateman and I were with the Dial In day on Saturday. Ian and his team did a great job with the classroom session and with managing to get three complete sessions of qualifying and eliminations finished with the 36 cars present.

Everyone we spoke to had a great time and learnt so much about bracket racing in one day. Stef had some great races, the closest was with Max Marston, 0.88m at the stripe.

Congrats to Carl Magedera who won the day in his Tesla, we were hoping his batteries would run down but they didn't, look out for him in Sportsman ET at Easter.

Stef bagged second place after seven qualifying runs and eleven in eliminations. Overall the Dial In Day is a very worthwhile event to attract new drivers into competition.

SFI Tour UK report.
10th March: The second leg of the foreshortened 2020 European SFI recertification tour took place at Santa Pod Raceway yesterday (Monday). News editor Simon went along to talk to the inspection team and the attending racers:

Kate Robinson of Eurodragster.com sponsor Robinson Race Cars administered the recertification process in the absence of SFI Foundation President Jennifer Faye (see 3rd March news update) due to concerns surrounding the ongoing Covid-19 virus situation. The inspected parts mainly comprised transmission shields, bellhousings and flexplates, clutches and wheels.

As well as a plethora of UK racers, the inspection team comprising Andy Robinson, Luke Robinson, and Mark Norton from the UK Tech Team re-certified a large quantity of parts from Dutch, German and Swiss racers. Whilst photographing the SFI Day for our gallery, we gathered some Pit Notes which are presented below in the order in which we spoke to the interviewees, and photo gallery which you can get to by clicking on any of these images: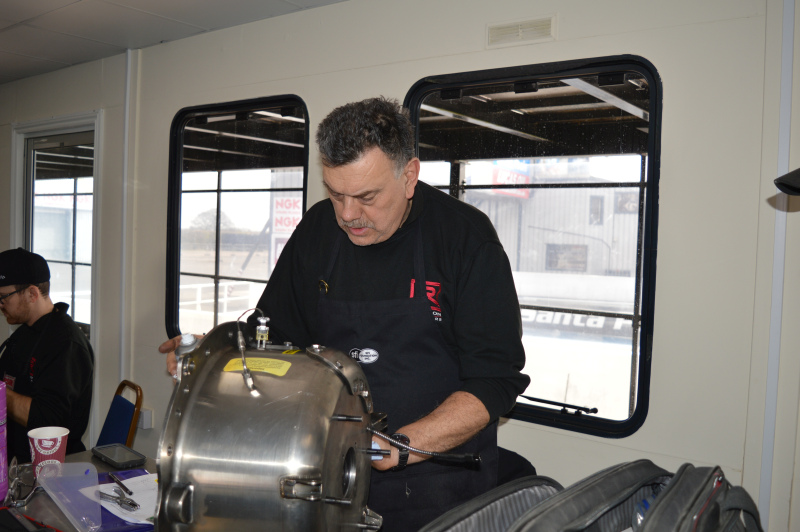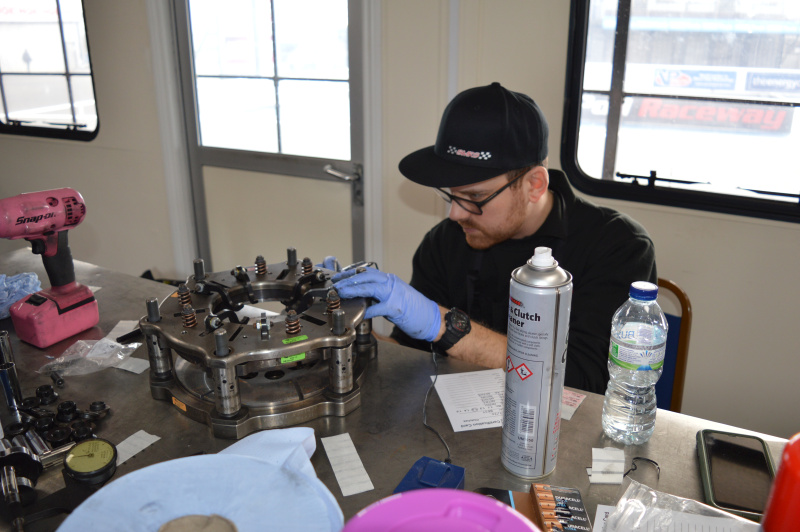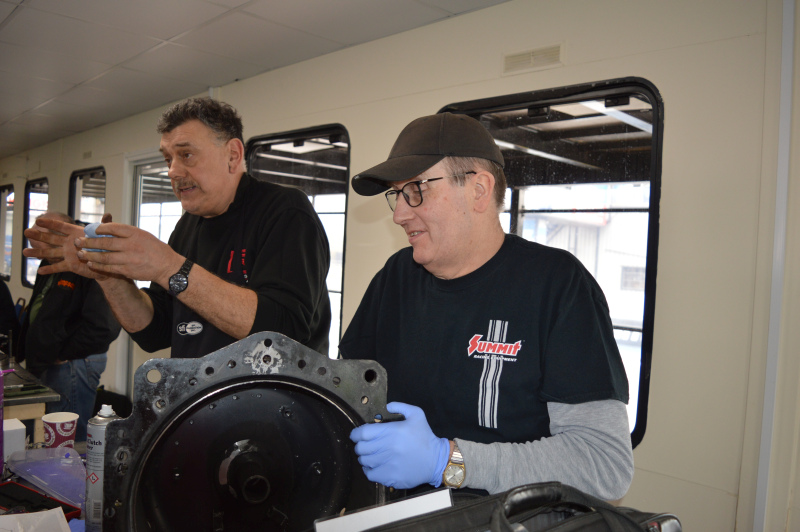 Pro Modified racer Michel Tooren from the Netherlands said the main items worked on by the Pro Dutch team over the winter comprised a new custom built inlet manifold and weight distribution work. 'We used CAD to design a new manifold based on a design we last had three years ago, but with a better fit to the ports in the cylinder heads. Although we have dynoed the engine in the past, it is an expensive process as there are very few dynos that can handle a Pro Mod's horsepower, so we will have to gauge at Easter whether the work has been successful. As well as his own transmission shield, Michel brought over those of David Vegter and Marck Harteveld.

European Funny Car Series 2019 Champion Kevin Chapman, pictured in our gallery with wife Abbie, hosted new crew chief Terry Haddock who came over from the US last week. Kevin said 'We're starting from scratch and are rebuilding the car in the way that Terry is used to. Terry has just enough time to fit in all rounds of the Championship, as he is also busy in the U.S. running a Funny Car and Top Fuel Dragster. One benefit of him being based in the U.S. is that he will be able to secure parts supply more easily, and we have already bought a lot, as the car went through a lot last year. There is an eight man crew, some from last year and a couple of new ones who have experience with Top Fuel Dragsters. The crew have all been to our workshop to meet Terry and learn his way of operating. I'm looking forward to the season, and having six cars is going to make for even greater spectacle and also be more competitive'.

Competition Eliminator racer Kevin Jenkins, pictured with wife Alison, is putting together a new 2.0litre C20LET engine after major problems last year. 'The clutch had been out of balance from the start and this caused harmonic vibration to the crankshaft and the rod bolts which became loose. So the engine put rods out of it even on my observed runs. I then reverted to a stock block and crank for the rest of the season with lower turbo boost of 34psi until the block cracked in the National Finals. So Steve Curzon of Vulcan Engineering has supplied a new race-ready block and crank and we will be putting the engine together from Wednesday. It should be strong enough to take 50-55psi of turbo boost. I would like to thank my crew chief Chris Todd and clutch and paint expert Neil Melliard who has done a great scheme for the roof of my Escort Mk1'. Kevin plans to get his license upgraded to international level to enable a possible trip to Hockenheim.

Pro Modified and Fuel Altered Nick Davies said that I.C.E. Automotive, which he runs with Rob Loaring is busy on various customer engine projects at the moment. The drag racing element includes Steve Rawling's Pro Modified engine, Rob Smallworth's engine which is being transplanted into his new car, which made its debut last August, and development work for Topspeed Automotive Street Eliminator racer Andy Bond. Nick's own Pro Mod Firebird will be worked on from Saturday, and Havoc Bantam Fuel Altered is ready for his forthcoming match race with Ron Hope's Rat Trap at Dragstalgia.

European Funny Car Series racer Jason Phelps said 'We are changing our approach to the concrete race track. As it cools down towards the end of the day, the traction available tends to go away resulting in mechanical damage, which becomes unsustainable over a season. So we will be trying new things at the Main Event to get more competitive. Other goals for this season include licensing a new-to-fuel-cars driver at the end of the year, and being included on the Best Appearing Car short list for 2020!'

European Funny Car Series racer Kevin Kent had brought parts for both his new ex-Blake Alexander Chevy Monte Carlo and partner Shelley's Santa Pod liveried Dodge Stratus, both running under the West Ten Motorsport banner. John 'Bodie' Smith will be crew chief on both cars which will have near-identical mechanical setups. Kevin said 'The new car is one that Bodie has tuned in the U.S. and so we are hoping we already will have a handle on it at the start of the season. My old car is up for sale, it's a 2012 chassis and a good car although we're not in a rush to sell'. Interestingly, although the West Ten cars have set-back superchargers, the ex Blake Alexander ran with one that was not set back and times of 4.0s that are among the best ever in that configuration.

Super Pro ET racer Mark Flavell said he has decided to change his transmission to a JW Powerglide with Neal Chance torque converter for this season. He said 'I've had my crew for 35 years and following major problems getting off the line with a Lenco and clutch transmission, I have decided to make the change. The Lenco and clutch are for sale for £5,000 with £1,000 going to the Melbourne Raceway appeal'. Mark's most memorable experience of recent years is running the car on the Isle of Man at the eighth mile Ramsey Sprint, with a slow left-hand corner in front of terraced houses, from which crowds of people were leaning out over the balcony.

Super Comp racer Nicky Frost, pictured with husband Nick, is making a welcome return to the track at the Main Event after four years away, with a new chassis tagged to 7.5s, new suspension and new steering system. Under the steel body will be a 584cu in Steve Schmidt engine with twin Holley Dominator carburettors, naturally aspirated. She said 'We've taken 300lbs weight out and have brought our ATI Powerglide and flex plate for re-certification'.

Nostalgia Funny Car racer Andy Raw, who runs the Beetle-bodied Nitro Bug, said he was pleased with the car's development over 2019. 'We got it to 500ft down the track and are in a good place in regard to damage. We have bought more spares and spent the winter taking it apart, checking it and putting it back together. My crew chief Karl Harrison was celebrating his 40th birthday at Bakersfield for the March Meet so best wishes to him, and we will be testing the car at the BMW Show and then racing at Dragstalgia, Bug Jam, STP Green Light Nationals and Hot Rod Drags.

Nostalgia Funny Car racer Jon Best has a '78 Corvette which he plans to bring out at the Nostalgia Nationals and doesn't plan to runs championship rounds this year. He said 'My plan is to license and test this year and race in 2021. We will cherry pick events according to when I can get sufficient crew to help. Thanks go to Mark Hawkins and some of his team who will help and to Karl Harrison who offered to step in whilst I build up crew'. Jon's car is based on the Chaos Fuel Altered chassis which he bought when car owner Lawrie Gatehouse retired. The engine is a 480cu in TFX block with 6-71 supercharger and 21 gallon per minute fuel pump. Jon explained the re-working of the chassis by Jason of FGR Motorsport which has been necessary to fit the Corvette body. 'The cage has been lowered by eight inches, the seat relocated, and alterations have been necessary to fit the axle and smaller 34 ½ inch tyres. Roy Phelps worked on the body which needed some re-fettling to counter some distortions created from the original mould.'

Blown alky-VW Type 2 truck racer Wayne Allman of Intergalactic Speed Shop is working on a new project for Dave Sidaway, a new Fordson Outlaw Anglia, to replace his previous one, now retired to the street. Wayne said 'It has an aluminium hand fashioned body with a slightly laid-back grille. I don't work with fibreglass and aluminium is fine with the right hammering. The chassis is based on a Pro Mod one, which will be chrome moly tubed and nice and rigid which is what you need with a 101" wheelbase. The engine will be a twin turbo BBC, compared to the old car which had a single turbo, and the car will be first seen on track in 2021'. Wayne's VW Truck didn't appear last year and he is up to the 6s/200mph challenge, and threw down the gauntlet to Andy Raw to race the Nitro Bug this year.

Nostalgia Funny Car racer Paul Harris, who was joined by crew chief Herb Andrews and Mick Sharpe, will start the season with the Dodge Omni body at the STP Springspeed Nationals and then use the Dennis Priddle tribute Monza body at Dragstalgia. The team will also race at the Euro Finals. Paul said 'We had minor problems at the start which prevented the car from running as it should but once solved, it started to run really well, with a 6.93 for me to license on our second full pass and a PB of 6.78/212 on the third one. The car was backed off for these two runs and we can hop it up any time we need to. Sadly at the Euro Finals a rod broke and damaged the block and sump. The block is being repaired by Andy Mapes and we have the spare engine in the car at the moment. We've also changed the position of the handbrake as I'm left handed. I'm new to driving so need to work on my shift points with the two speed Lenco and will try to shift early. We've also added new Racepak sensors which monitor five main functions and will be a great tuning aid.

We also spoke to Paul Stubbings, Nostalgia Funny Car crew chief to Wendy Baker who said the car is now repaired after a disintegrating clutch disc caused it to have an impact with the startline tower (since strengthened). He said 'I had to go back to working on the fibreglass only two weeks after I had finished it, and the wheelie bar needed repair too'. Super Pro ET racer Steve Saunders said he would be racing his Ford Zephyr doorslammer again this year and added 'I'll race it until I sell it'.

In association with Lucas Oil Products we are pleased to present a gallery of the SFI inspections which you can check out by clicking here or clicking on the Features, Interviews, Tributes link on the left-hand side of any Eurodragster.com page.

Many thanks to Race Track Manager at Santa Pod Raceway Darren Prentice for hospitality during our visit.

VWDRC's grand start.
10th March: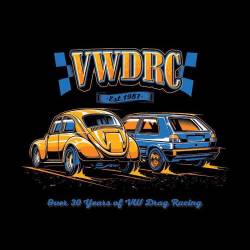 The VW Drag Racing Club have announced a grand start for the VWDRC 2020 season, as they welcome aboard more sponsors:

EST Performance - Based in Hailsham, East Sussex they offer full garage services and custom tuning on their in house dyno. They have in recent years been mapping a number of cars involved in the VWDRC and have gained a really good reputation for making reliable power.

The Car Kitchen - On the menu is cylinder head work from simple reconditioning of cylinder heads to full race porting. They also do custom fabrication (alloy, stainless and titanium) catch cans, intercoolers, inlet manifolds, exhausts and full engine builds.

32 SpeedShop - Supplier of Official supplier VMS Racing Wheels in Europe. Lightweight racing wheels aimed at the modern hatches but are now also branching out to fit classic US setups too. Also suppliers for Powerlite lithium batteries and Powerflex polyurethane bushes.

So what does this all mean? Well, the VWDRC are happy to announce that this seasons VWDRC Champions will receive £1000 each in prize money from the club, runner up £500 and 3rd place £150 and this is for both VW Pro and VW Sportsman.

The future is always bright, but we have welcomed over 30 new members into the club and look forward to seeing them entering some races soon. At the time of writing, the rookies are outnumbering our regular racers in the Sportsman class for round 1, and the so challenge is on.

Luke on the Front foot.
10th March: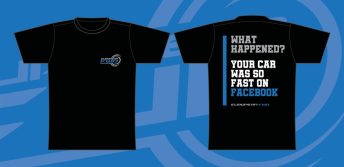 Luke Stevenson, who runs the European FWD league, as well as chairing the VWDRC, commentating at Santa Pod Raceway and Malta and providing entertaining interviews in SPR's streaming video coverage, has expanded his activities to apparel:

European FWD, a company dedicated to promoting Front Wheel Drive racing around Europe is happy to announce, after a very successful debut t-shirt, more designs added to the range, and you can visit europeanfwd.bigcartel.com to have a look.

This coming weekend is also Round 1 of the Maltese Drag Racing Association at Hal-Far Raceway where Luke will be doing the track announcing throughout the weekend, he looks forward to seeing some familiar faces in the sun with a number of UK racers already having cars there ready to race.

It will all be webcast via the MotorsMT channel on Facebook if you're not heading out yourself. Thanks to Konrad D'Anastasi of the Malta Drag Racing Association, we plan to publish results of this event.

Chloe's Eye Candy.
9th March: Chloe Wilkins, who has run her Dad Antony's big block engined Morris Minor, now has a even quicker (and former championship winning) machine to play with in this year's UK National Championship.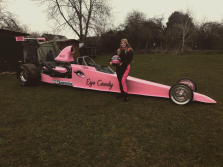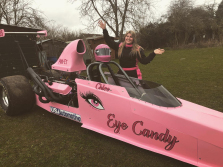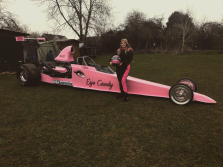 Chloe told Eurodragster.com: 'It's an ex Paul Brown championship winning car that can run in Pro ET, Super Comp or Super Pro ET. The engine is a big block Chevy, with Powerglide transmission. The car has been updated and SFI tagged. It's pink and has a new name to suit my personality. We are going to run the car in Pro ET at the start, so we can slow it down to gain some experience as it's a big step up from the Morris Minor. Big thanks go to our main sponsor USAutomotive and my Dad Antony who made all the updates. We are hoping to attend a couple of RWYBs in the next month to gain a upgraded license from Sportsman ET to Pro ET and plan to run it in anger at Main Event'.

If you have a new or new-to-you race car or bike making its debut soon, why not post the details to news@eurodragster.com and we'll publish it to our many readers.

Melbourne target reached.
9th March: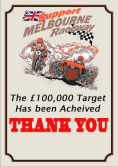 Multiple Land speed record holder and builder and racer of extreme bikes and cars Zef Eisenberg, who is also the founder of sports nutrition brand Maximuscle, has made a pledge to the Save Melbourne Raceway appeal which means the £100,000 appeal has been achieved.

Kelli Barrett of Save Melbourne Raceway said 'This is not the end guys and girls, it is just the beginning, the start, the first hurdle! Don't stop now, keep the momentum going and let's gets better pit area and spectators area. Each penny raised above the £100,000 for the new track will go to improvements to other areas of the venue. Keep going and let's make it bigger and better than ever before. Well done to everyone from them who only helped spread the word, but donations of £1 or £1000, it all made a huge difference.

Several fundraising offers for Save Melbourne Raceway are still in progress. Derek Beck has T shirts, stickers, Hoodies and Zoodies still available. Steve Neimantas has some E-Type Jaguar wire wheels and parts donated for auction. Martin 'Drakie' Drake has a Robin Read A3 poster for auction by 22nd March with an additional offer to spend a day with the team at Dragstalgia 2020. Also see below for a chance to bid on a Swamp Rat VI model donated by the British Drag Racing Hall of Fame. The auction to be the first car or bike or anything allowed, to go down the right lane of the Raceway and Outlaw Anglia racer Colin Millar with an opportunity to crew at Dragstalgia with The Flyin Fyfer Drag Racing Team ('kilt and malt whisky will be provided free of charge') have closed.

Paul Turner of Save Melbourne Raceway added: 'I would like to thank everyone that has made this possible. Everyone who has donated, given up time, shared posts. Everyone has contributed to what we have achieved. I'd like to thank the guys behind the scenes that have continually worked to keep things moving. We built momentum and it's kept going. For me this isn't the end. It's the milestone that we needed and it gets us the minimum we needed. However the bigger the pot, the more Trevor Duckworth can achieve. With what we have, 1/8th mile racing is possible, and we want to improve the pits and the inroad through the parking area.

Big donates to Melbourne.
9th March: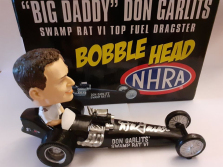 On the same theme, British Drag Racing Hall of Fame member and legend Don 'Big Daddy' Garlits has agreed to support the Melbourne Raceway appeal, writes BDRHoF chair Stu Bradbury:

Don and Donna Garlits would like to donate the exclusive limited edition 'Bobble Head' cast Dragster signed by the man himself "Big Daddy" Don Garlits to the Melbourne Raceway Appeal. Don not only signed the dragster, but also the box as well. It will come with a letter of authentication signed by Don himself as being a genuine 1/100 copies, signed by one of our most famous British Drag Racing Hall of Fame members.

This is a must-have item of drag racing memorabilia for any NHRA or Don Garlits collector. Don't miss out on the chance to own a piece of Drag Racing History. The current bid is for £150. If you are lucky enough to find another it will not come with a signed guarantee of authenticity. This has now elevated this prize to truly one of a never to be repeated opportunity to own such an item. It will ship to UK addresses only. All proceeds go to the Melbourne Raceway appeal. Drop Stu a message or email stuarbrd@aol.com or britishdrhof@aol.com with your bid. Happy bidding, best of luck everyone!

Event entry update.
7th March: Many thanks to Santa Pod Racers Club Secretary Ian Marshall for sending Version 3 of the official entry list for the Festival of Power. You can check out the entry list by clicking here. Entry closes on Friday, 20th March, after which entry, if accepted may be subject to a late entry penalty. You can find the official on-line entry form via the Entry Forms page of the new Santa Pod Racers Club web site here.

New Serck team.
7th March: High performance cooling solutions company and long time supporter of UK drag racing Serck Motorsport are delighted to announce the creation of a new Drag Racing Team, writes General Manager Graham Smith:

Serck Racing comprises of two incredibly fast cars which will be fighting for the 2020 Topspeed Automotive Street Eliminator Championship. The Championship is a heads up racing class that has recently celebrated 25 years as an MSA heads up racing organisation. Both cars are fully Street Legal and with every round will have to complete 25 to 30 miles on a street cruise on qualifying day to prove their reliability and race in the same street legal format, full exhaust systems, wipers and street legal tyres. Both of these cars have already reached 200 mph, so this year is going to be an incredible race season to follow at Santa Pod Raceway.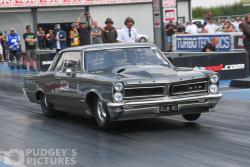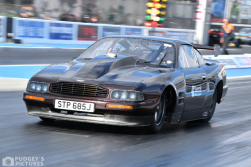 The drivers are Mark Todd, a previous two time Street Eliminator Champion, who will be joined by Steve Pateman, also a previous Champion who has won an incredible 5 titles in this class. Steve also went to the United States to compete in the World Street Race and actually won it in 2005, an amazing achievement. This talented driver line up will be a serious challenge for the Street Eliminator title with no team orders, so it's all out racing to the finish for the Serck Racing Team.

Serck Racing will be made up of two cars, the first a 1965 Pontiac GTO known as The Freight Train, pushing 2800 horsepower from its Big Block Twin Turbo V8 set up and the second an Aston Martin Vantage with a Huge Single Turbo feeding a Big Block V8 with 2800 horsepower on tap. Both cars are fitted with bespoke Serck Motorsport Cooling Systems for water, oil and transmission as well as fuel, oil, trans and water hoses and fittings.

Street Eliminator is made up of six rounds of competition and features the fastest Street Legal cars in the country. The Mark Todd and Steve Pateman line up for Serck Racing will certainly be one to watch for 2020 as the class and Serck Racing fight for the title.

Pictures ©Callum Pudge.

Class title sponsors welcomed.
7th March: Santa Pod Racers Club Secretary Ian Marshall writes: the 2020 UK drag racing season sees many of the National Championship class title sponsors being renewed and with several new ones to welcome on board. New class title sponsors to Santa Pod Racers Club and the classes they have chosen to support are: BeFastR for Super Comp, Leeks Landscapes for Funny Bike, Atlantic Fluid Tech for 9.50 Bike and Scorpion Motors for Super Twin Top Gas; we welcome you all on board for 2020 and thank you for your support.

The list of class title sponsors comprises:

Comp Eliminator - Track Worx: Track Worx have been involved in motorsports for over 10 years, and strive to be the best whilst providing a one stop workshop for all Motorsport needs. When it comes to Race cars for Circuit, Drag, Sprint and Professional Drift cars, we can offer all aspects of work, from basic service and event preparation to complete car builds, and it doesn't stop there. We offer complete tailor-made Motorsport aftercare packages from big race teams right down the owner/driver privateers in your choice of event, anywhere in the world. If you have a need for support at a Race facility anywhere on the planet, we have the facilities to accommodate you and your requirements, contact us at trackworxuk@gmail.com.

Super Comp - BeFastR: Watch this space in the next few days for further details.

Super Pro ET Another Small F: Martyn Jones, who has raced in Super Pro since the dawn of time, Races his methanol dragster in Super Pro, but also sponsors the title of the class and helps to run and administer the Super Pro ET contingency programme which continues to grow year on year.

Pro ET - Modurstang: Providers of performance parts and modifications for not just late model Mustangs but all kinds of American vehicle servicing, Mike can be contacted on 01608 678818 or Mobile 07774 712000 and please check out their website at www.modurstang.co.uk.

Sportsman ET - Hutchinson & Dibley: Hutchinson and Dibley Ltd is a Buckinghamshire based precision CNC engineering company specialising in the production of 'hard-to-manufacture' parts. They have over 50 years of experience in most industries including defence, oil, gas and marine as well as machining most common metals and plastics but also working with difficult materials such as Titanium, Magnetic Iron and Inconel. Our shop facility includes CNC turning and milling as well as welding and fabrication equipment. Our entire production is ISO9001:2008 approved and accredited.

Junior Dragster - Lucas Oil: Lucas Oil have been looking after many Riders and Drivers in Motorsport, with their second to none Oils and Oil based products, Junior Dragster has been fortunate enough to have had Lucas Oil's backing for more than 10 years, and 2020 is no different, Lucas oil products can be found at Santa Pod Raceway or on the Lucas Oil website at www.lucasoil.co.uk.

Top Fuel Bike - Banks Night Club : The Name says it all really, if you find yourself in Maidstone, Bank Street is the place to head for your nights entertainment (18's and above only of course) you never know you may bump into, a famous Funny Car driver!

Funny Bike - Leeks Landscapes: The Leeks Landscapes Group, is a group of companies catering to all aspects of Landscaping, Waterscapes, ponds, lakes, civil engineering and more delivering projects to the commercial and domestic sector throughout the UK.

Comp Bike - Suzuki Performance Spares.co.uk: Suzuki Performance Spares, are your premier source of quality guaranteed new and used parts for major motorcycle brands, they specialise in spare parts for modern, classic motorcycle, racing and Drag Race parts. Contact details: - suzukiperformancespares.co.uk or 07900 362 809.

Super Street Bike - Kathy Taylor: Kathy, a long-time supporter of all things Drag Bike, on this occasion is taking the Super Street Bike Title Sponsorship as her way of putting something back in to the sport.

8.50 Bike - NMCN: NMCN a North Midland Construction, based in Nottingham are specialists in water civil engineering projects, with offices across the UK, they can be contacted on tel: 01623515008 a big thank you to Richard Newton for staying involved in 2020.

9.50 Bike - Atlantic Fluid Tech: Atlantic Fluid Tech Ltd has been trading since 2009 and is a major supplier of hydraulic valves to OEM companies in the UK and Ireland. It is the British subsidiary of an Italian Group that is based in Modena. The company has a warehouse in Coventry from where it distributes products to a wide variety of companies, particularly those involved in the manufacture of construction machinery. The Coventry building houses a hydraulic test facility and a CAD function for the design and supply of bespoke valve assemblies. Both UK Directors of the company have a long history of involvement in Motor Sport, and are very pleased to be associated with the Santa Pod Racers Club and sponsorship of 9.50 bike. Atlantic fluid Tech can be contacted at +44 (0)2476 617143 or e-mail.

Super Twin Top Gas - Scorpion Motors Scorpion motors are a Harley Davidson specialist and can carry out everything from an oil change to a complete performance engine build. Besides that, through their many contacts around Harley Davidson, Scorpion motors can basically get everything from a kick stand to a full race bike Harley chassis. Beside this they can also buy and sell bikes on request and ship or export bikes all over Europe.

Sadly this year we have said goodbye and thank you to all of the Staff at Phoenix Personnel, for your support of Super Comp in 2019.

Swift snippets.
7th March: Good luck and stay safe to Dan Williams of Williams Bros Racing who are competing at Gainesville this weekend in the Lucas Oil Drag Racing Series Division 2 race, also known as the "Baby Gators". Yesterday Dan was in Class Eliminations, and ran a great 9.753/136.88, 1.197 below the A/S index and good for number two qualifier for Stock Eliminator, although his RT of 0.185 saw him lose the race against Joe Martens. You can follow Williams Bros Racing US exploits by going to www.dragracecentral.com.

A very Happy Birthday to our good friend, Honorary Eurodragster.com member, and crew chief extraordinaire Spencer Tramm. Have a great day Spencer.

Event entry update.
6th March: The official entry list for the Festival of Power has been updated to Version 2 courtesy of Santa Pod Racers Club Secretary Ian Marshall. Ian reports that the new online system is working well, and users will find some additional tweaks that have been going on, all of which enhance the excellent work by Pete Walters to put it in place.

You can check out the entry list by clicking here. Entry closes on Friday, 20th March, after which entry, if accepted may be subject to a late entry penalty. You can find the official on-line entry form via the Entry Forms page of the new Santa Pod Racers Club web site here.

Spanish Spinner.
6th March: Nigel Taylor writes that the Detroit Spinner has a new owner, Josep 'Pep' Xampro: The nostalgic race car is now at Pep's home town about 80 km north of Barcelona, Spain. Pep is passionate about motors in general, he has always had classic cars, especially Americans, and loves drag racing.

The plans for the Detroit Spinner are for it to be finished for Dragstalgia this year, it's close time-wise, but he will try and if not possible, he will bring it over next year. The plan is to put in a BBC 496ci engine with a 2-speed Powerglide automatic transmission with transbrake and electric shifter. This is the biggest modification that he will make; the rest of the car will remain original, as Arthur Bonner fabricated in the 70s. Right now he has a great puzzle that he has to fit and make work as best he can.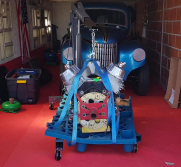 Pep will post up advances that he has made in the car, and would like any feedback from all of you, all kinds suggestions and opinions are welcome on the Return of The Detroit Spinner 2020 Facebook Group.

Pep said: 'I hope to be able to take the car to the level that it deserves and make the car as fast as I can, but above all, enjoy the car as I put it back on the track. Special thanks to Arthur Bonner for fabricating this fantastic car, thanks to Nigel Taylor and his family for saving and restoring it and putting it back in the drag racing scene back in 2013, and Jordan Kinghorn for the fantastic attention to detail in the last rebuild'.

The Package packaged.
6th March: 2015 Super Pro ET National and SPRC Champion Simon Gough has announced his 2012 Camaro SS race operation is for sale, following his retirement from racing. He said 'It's tagged to 7.50s, has had numerous no.1 qualifier positions and comes with a new Jeff Bull Race Engines spread port engine capable of 7.50s, Powerglide gearbox, Racepak with numerous sensors, and Weld beadlock wheels with ProJacks stands. The operation includes a fully fitted out 7.5 tonne lorry, 8mx4m awning, quad bike and small holding trailer. Spares include a new Pro Stock front end not yet fitted. If you are interested, contact me via Facebook'.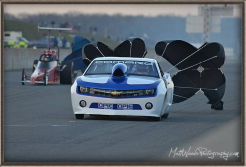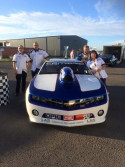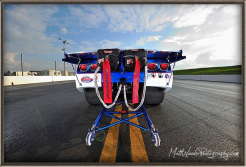 Track shots © Matt Woods.

Swift snippets.
6th March: Santa Pod and Motorsport UK Pro Mod PR Robin Jackson writes: As early evidence of Autosport magazine's burgeoning new interest in drag racing, this week's issue (5 March) includes a short article outlining the planned return of racing at Melbourne Raceway in Yorkshire, written by Jerry Cookson. Autosport is the UK's principal motor racing weekly publication, on sale from all good newsstands, and further drag racing coverage is expected to develop as the season progresses.

Bryntesson returns.
5th March: Tony Bryntesson is a name which will be familiar to readers who followed European Drag Racing in the 1980s and early 90s. In that pre-internet era, Top Fuel Dragsters were racing in the European Top Fuel Association Challenge, promoted by Keith Bartlett, and Tony was a key player. Hailing from Norrahammar, near Jönköping in southern Sweden, Tony started his career in a Pro Comp in the mid 80s and then ran Top Methanol Dragster in a innovative supercharged streamliner car from 1986 to 1989. He then switched to Top Fuel and raced to 1994, winning the 1991 Main Event and becoming runner-up in the ETFA Challenge in 1991 and 1994, with a best ET of 5.221 at 274mph.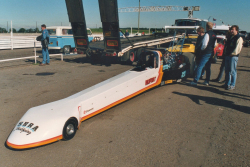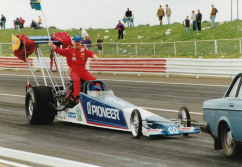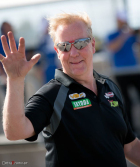 After 1994 Tony ran in circuit racing, creating Bryntesson Motorsport Engineering and running a team in the V8 Thunder Cars series in Sweden, Finland and Germany. But the attraction of nitro drag racing persisted and, after 25 years away from drag racing, he has now acquired a Hadman chassis from friend Jonny Lagg, and plans to compete in Top Methanol in 2020. Tony told Eurodragster.com "I will try my best to do the whole series but this is our first year back so will see about the season opener at Santa Pod. We are three cars from Sweden we call A-Fuel Team Sweden with Krister Johansson putting his magic tune on all three. We will also have help from US with Jerry Darien".

Photos at Santa Pod ©Alan Hawkins and ©Jon Spoard.

Swift snippets.
5th March: Other returnees to Top Methanol, former champions Habermann brothers competing in all FIA rounds, and Super Street Bike star Ida Zetterström running two championship series are covered in the latest update to the Drag Racing Europe Blog by Remco Scheelings which you can check out at www.dragracingeurope.eu.

Festival of Power entry update.
4th March: Many thanks to Santa Pod Racers Club Secretary Ian Marshall for forwarding us Version 1 of the official entry list for the Festival of Power, which takes place at Santa Pod Raceway on 10th-12th April and which is the first round of the UK National Drag Racing, ACU UK Drag Bike and SPRC Club Championships. You can check out the entry list by clicking here.

Entry closes on Friday, 20th March, after which entry, if accepted may be subject to a Late entry penalty. You can find the official on-line entry form via the Entry Forms page of the new Santa Pod Racers Club web site here.

Fredlund retires.
4th March: Multiple European Pro Stock Bike champion Fredrik Fredlund has announced he is retiring from racing and has put his 2019 Championship winning race operation up for sale. Fredlund won the championship in 2008, 2012, 2013, 2014, 2015, 2017 and 2019, each time using Suzuki bikes. He has won 81 rounds of racing, more than any rider in the FIM European series and has scored more points than any. Starting in Pro Stock Bike in 2007, Fredrik's first FIM European win came at Mantorp Park in 2008, and he has won 20 events in his Pro Stock Bike career, including clean sweeps in 2014 and 2017, and four wins in 2019.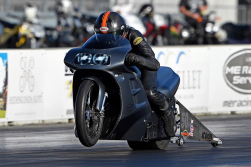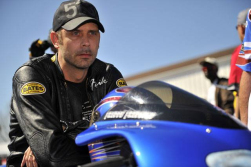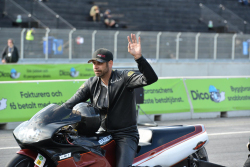 Based in Lemland in the Åland Islands, part of Finland, Fredrik raced in the US at Gainesville in 2010, 2011, 2014 and 2015 and at the Pomona Finals in 2011. He said 'Thank you to all who have help us over the years with tuning and engines and support'.

If you are interested in acquiring a championship-winning Pro Stock Bike operation, send a message to Fredrik via Facebook.

Introducing Sports Compact Shootout.
4th March: Making its debut at the Fast Show on 29th March, Sports Compact is a new, experimental class giving those with "Compact" engine combinations an opportunity to race heads up at a number of events this season.

Organiser Jake Wray said: Aimed largely at vehicles from the JDS and FWD series, the emphasis is largely on track time, and close, fun racing. There will be an award of £400 for the winner and £200 for the runner-up, with trophies. The class welcomes FWD, RWD and 4WD cars with 4, 5 or 6 cylinder engines and rotaries.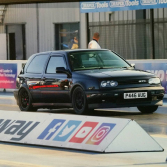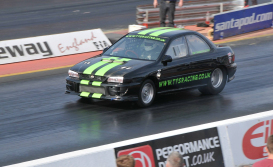 The event is limited to the first twenty entries with times of less than 12.00, with qualifying for a 16 car ladder. Two tickets for race entries at a charge of £50 can be obtained using the entry form at racers.santapodtickets.com. For full rules see The Fast Show web site. Already eight cars are entered with more to come, so don't miss out.

Pictures: Chris Todd ©Julian Hunt, Joe Bristow © Luke Stevenson, Stewart Taylor ©Mark Skinner

VP Racing Fuels supports Doorslammers.

4th March: Santa Pod Raceway have announced that VP Racing Fuels will be the Official Fuel Supplier and Title Sponsor of the premier class Pro Doorslammer at this year's Doorslammers to be held on 15th-17th May.

Peter Coleman of VP Racing Fuels said, "It's a real pleasure to be supporting The Doorslammers event once more. VP Racing Fuels is moving from strength to strength internationally with the appointment of a new International Sales Manager, Eric Bishop." Commenting from the USA, Eric said, "Santa Pod Raceway's reputation is well known on both sides of the Atlantic. We're keenly anticipating another season working closely as their fuel partner."

To mark the sponsorship renewal, Santa Pod Raceway have placed a video of 2019 Pro Doorslammer action on its Facebook page.

Swift snippets.
4th March: Super Pro and Super Comp team owner Pete Kellett has been in touch to announce his firm Mobile Leisure Vehicle Services is open for carrying out mobile caravan & motorhome servicing and repairs in the Lancashire, Cumbria and the Lakes area. Full details of work done are at the firm's web site here. The number to call is 0800 180 4482.

Classic Ford exponent Nigel Taylor says 'The season is nearly upon us , if you're looking for that hot rod, dragster, 100e, pop, yank ,custom , to join in the fun , check out Unusual Cars Sales UK on Facebook - we are here to help you get that certain car you been looking for. Give us a try'.

SFI stops in Amsterdam and Helsinki cancelled.
3rd March: SFI CEO Jennifer Faye has announced the cancellation of the stops of the European SFI Tour 2020 in Amsterdam and Helsinki, whilst the stops in Sweden and the U.K. will continue on 7th and 9th March respectively per the original schedule:

Due to the ongoing expansion of the COVID-19/coronavirus outbreak throughout the world, the SFI Inspections Tour schedule has been modified.

We have unfortunately cancelled the stops in Amsterdam (March 5th) and Helsinki (March 6th). The stops in Sweden and the U.K. will go on per the original schedule: Saturday, March 7th at Persåkers Speed Shop and on Monday, March 9th at Santa Pod Raceway. If you were planning to attend the Amsterdam or Helsinki inspections, we are working on organizing your parts to go to Santa Pod and Persakers respectively.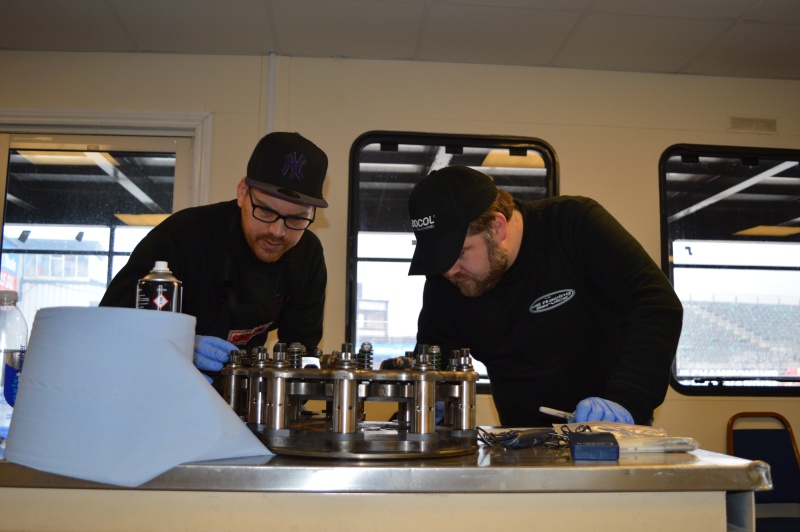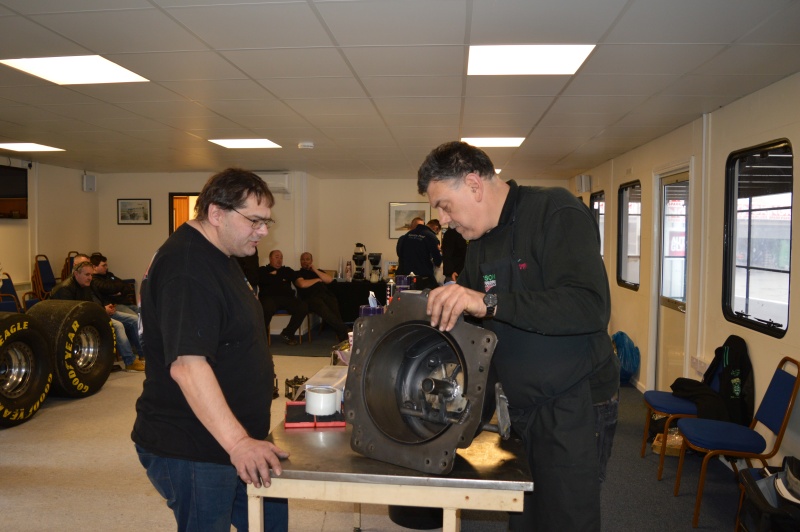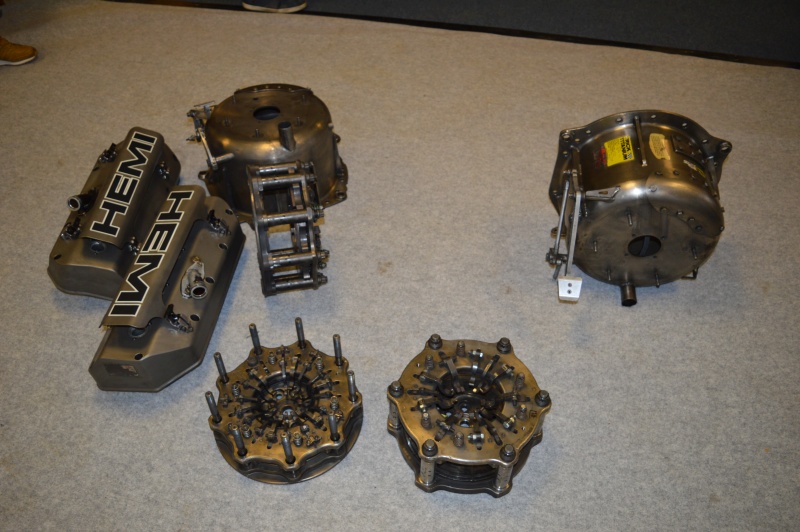 The health and safety of our SFI Team and those we visit during the SFI Tour are of the utmost importance to us and weighed heavily on this decision. By modifying the schedule as described, we can still provide these important inspection services to racers, without exposing our Team to the risk of traveling through international airports at this time.

This decision was not made easily, but we feel it is the right thing to do during this unprecedented global health situation. We appreciate everyone's understanding and cooperation. It's important to note that this is a Contingency Plan for this year only. The SFI Tour 2021 will be scheduled per usual.

New Eurodragster.com editor Simon will be at the Santa Pod Raceway stop to report on the work of the inspectors and news from the teams attending.

Dial In Day sold out.
3rd March: Santa Pod Raceway have announced that the Dial In Day to be held on 7th March is sold out. Those lucky enough to have secured tickets are directed to the RWYB rules and regulations.

Speedgroup issue 2020 EDRS calendar.
3rd March: Speedgroup have issued their calendar of events for 2020 in the Summit European Drag Racing Series, EDRS Pro Series for cars and bikes and the Summit Racing Super Series for Super Pro ET and Pro ET cars. The calendar can be located at the Drag Racing Europe web site.

Malta season starting soon.
3rd March: The first event of the 2020 season in Malta gets under way 13th-15th March, a pre-event RWYB having been held last weekend. The second race is a new FWD International Challenge to be held 3rd-5th April and we will provide more details of this event in due course.

You can see a copy of the Malta Drag Racing calendar here.

UK Riders' and Drivers' Meeting report.
1st March: The 2020 UK Riders' and Drivers' meeting took place this afternoon (Sunday) at the Hilton Hotel in Northampton. The official minutes of the meeting will be published in due course but these are the main points.

TECH CHANGES

With effect from this season, Hans-type devices are mandatory in cars capable of 150 mph and faster. From 2021 Hans-type devices will be mandatory in all cars with a full harness including Juniors.

With effect from this season, positive locking devices are mandatory for dipsticks on all vehicles running 10.99 or quicker. Where used, transmission dipsticks must also have a positive locking device.

Electric OEM cars are permitted in ET classes but Motorsport UK eligibility rules apply; please apply to SPRC for details.

There are also updates on the rules to two-way communication, parachute mountings and Pro Modified shut-off devices which are highlighted in the rule book.

Noise limits are to be reduced for Pro ET, Sportsman ET and Junior Dragster from 2021, however most vehicles will already meet the new limits.

This year's rule book is again available on the new SPRC web site. This year's USB sticks for members have been delayed because of the situation in China but when available they will be sent out and will contain the rule book and entry forms in Word and PDF format.

UK CHAMPIONSHIPS

The dates and classes of this year's ACU UK and UK National Drag Racing Championship rounds are listed below, together with a table of other non-National classes running at Championship events.

Following a suggestion from the floor, the Super Pro ET and Pro ET brackets will overlap in 2020. Super Pro ET will still cut off at 8.99, but the Pro ET minimum dial-in will be reduced to 8.50 (from 9.00).

On-line entry for all Championship events is now available on the new SPRC web site, designed by Eurodragster.com sponsor Pete Walters, at www.santapodracersclub.com. Paper entry forms will still be available from SPRC.

Closing dates are listed on the web site and on entry forms, and reminders will of course be posted here on Eurodragster.com.

All teams intending to field more than one driver or rider for the same vehicle must send a list of the season's drivers to Ian Marshall or Yvonne Tramm at SPRC before the Festival of Power.

Bug Jam will again be a non-points round for Junior Dragster.

Racers wishing to enter Sportsman ET at Bug Jam must have contested the class at a previous event or pre-entered a later event. VWDRC Sportsman racers who wish to double-enter and run in Sportsman ET at Bug Jam will not be subject to this restriction.

The two-day Greenlight Nationals will consist of two full one-day events (qualifying, eliminations, points and prize money each day) for Pro Stock Bike, Funny Bike, Super Street Bike, Comp Bike, 8.50 Bike, 9.50 Bike, ET Bike, Supertwin Top Gas and Junior Drag Bike. One entry fee covers both days; it will not be possible to enter for one of the two days.

On day two of the Greenlight Nationals, bike classes will still run qualifying and eliminations even if there are, strictly, not enough bikes to fulfil the minimum numbers requirement due to breakage on day one.

SPRC's fax is no longer available.


Cars
Motorsport UK
Pro Modified
Comp
Eliminator
Super Pro
ET
Pro ET
Sportsman
ET
Super
Comp
Super
Gas
Junior
Dragster
Street
Eliminator
Festival of Power
Santa Pod Raceway
10th-12th April
✔
✔
✔
✔
✔
✔
✔
✔
✔
Springspeed Nationals
Santa Pod Raceway
2nd-3rd May
✔
✔
✔
✔
✔
✔
✔
FIA/FIM Main Event
Santa Pod Raceway
22nd-25th May
✔
FIA & MS-UK
✔
✔
✔
✔
✔
✔
✔
SPRC Summernationals
Santa Pod Raceway
18th-19th July
✔
✔
✔
✔
✔
✔
✔
✔
✔
Bug Jam
Santa Pod Raceway
24th-26th July
✔
✔
Non-
Championship
✔
Mopar Euronationals
Santa Pod Raceway
1st-2nd August
✔
Green Light Nationals
Santa Pod Raceway
22nd-23rd August
✔
FIA/FIM European Finals
Santa Pod Raceway
10th-13th September
✔
FIA & MS-UK
✔
✔
✔
✔
✔
✔
✔
UK National Finals
Santa Pod Raceway
26th-27th September
✔
✔
✔
✔
✔
✔
✔
✔
✔
Bikes
Top Fuel
Bike
Pro Stock
Bike
Funny
Bike
Super Street
Bike
Comp
Bike
8.50
Bike
9.50
Bike
Supertwin
Top Gas
ET Bike
Junior Drag
Bike
Festival of Power
Santa Pod Raceway
10th-12th April
✔
✔
✔
✔
✔
✔
✔
✔
✔
✔
Springspeed Nationals
Santa Pod Raceway
2nd-3rd May
✔
✔
✔
✔
✔
✔
✔
✔
✔
✔
FIA/FIM Main Event
Santa Pod Raceway
22nd-25th May
✔
FIM
✔
FIM
✔
FIM
✔
FIM
SPRC Summernationals
Santa Pod Raceway
18th-19th July
✔
✔
✔
✔
✔
✔
✔
✔
✔
✔
Green Light Nationals
Santa Pod Raceway
22nd-23rd August
✔
Double
header
✔
Double
header
✔
Double
header
✔
Double
header
✔
Double
header
✔
Double
header
✔
Double
header
✔
Double
header
✔
Double
header
FIA/FIM European Finals
Santa Pod Raceway
10th-13th September
✔
FIM
✔
FIM
✔
FIM
✔
FIM
UK National Finals
Santa Pod Raceway
26th-27th September
✔
✔
✔
✔
✔
✔
✔
✔
✔
✔
Other classes at
Championship events
Fuel
Funny Car
Nostalgia
Funny Car
Wild
Bunch
Outlaw
Anglia
Outlaw
Flat Four
VW Pro
VW
Sportsman
Nostalgia
Super Stock
Supercharged
Outlaws
Stock/Super
Stock
Festival of Power
Santa Pod Raceway
10th-12th April
✔
✔
✔
✔
Springspeed Nationals
Santa Pod Raceway
2nd-3rd May
✔
✔
✔
✔
✔
✔
FIA/FIM Main Event
Santa Pod Raceway
22nd-25th May
✔
✔
SPRC Summernationals
Santa Pod Raceway
18th-19th July
✔
✔
✔
✔
Bug Jam
Santa Pod Raceway
24th-26th July
✔
✔
✔
✔
✔
Green Light Nationals
Santa Pod Raceway
22nd-23rd August
✔
✔
✔
✔
✔
✔
✔
FIA/FIM European Finals
Santa Pod Raceway
10th-13th September
✔
✔
✔
UK National Finals
Santa Pod Raceway
26th-27th September
✔
✔
✔
✔
✔
✔
---

EVENT ENTRY

Entry fees have risen by £5 per event (not per day) for car classes only.

Racers not entering on-line are still encouraged to pay entry fees by Bacs, Faster Payment or other electronic means as cheques are subject to a processing fee.

Prize money has again been increased by 2% for this season. The prize structure has been revised to increase money for early rounds of eliminations.

2019 UK National and ACU Champions will again receive free entry to rounds at Santa Pod Raceway in 2020 with the exception of Top Fuel Bike, Pro Stock Bike and Supertwin Top Gas. Free entry applies even if you change classes. Current arrangements continue for VWDRC Champions. At FIA/FIM events SPRC will cover the equivalent of the National Championship entry fee for Pro Modified and Super Street Bike. In the case of teams with more than one driver, one team driver per event will receive the free entry. Pitside power must still be paid for. The free entry must be used during 2020.

For this year's UK and ACU Champions to receive free entry in 2021 there must have been an average of four bikes contesting events in Top Fuel Bike and an average of six vehicles in each other class.


Class
Two-day event
Three-day event
Four-day event
Motorsport UK British Pro Modified; Top Fuel Dragster; Fuel Funny Car; Nostalgia Funny Car
£170
£180
£205

NB FIA classes pay FIA fees for FIA European Championship events
ET classes; Super classes; Junior Dragster; Comp Eliminator; Street Eliminator; VW classes; Outlaw Flat Four; Wild Bunch; Outlaw Anglia; Nostalgia Super Stock; Stock/Super Stock; Supercharged Outlaws; other Sportsman car classes
£140
£155
£180
ACU Top Fuel Bike
£170
£175
n/a

NB FIM classes pay FIM fees for FIM European Championship events
ACU Funny Bike; ACU Pro Stock Bike; ACU Comp Bike; ACU Super Street Bike; 9.50 Bike; 8.50 Bike; ACU Supertwin Gas; NAST Supertwin Gas; ET Bike; Junior Drag Bike
£140
£155
n/a

NB FIM classes pay FIM fees for FIM European Championship events
Jet Car
£165
£180
TBC
Exhibition
£175
£180
TBC
---

PITSIDE POWER AT SANTA POD RACEWAY

Fees for pitside power remain as they were.


| Event duration | Single phase | Three phase |
| --- | --- | --- |
| 2 days | £50 | £155 |
| 3 days | £60 | £165 |
| 4 days | £75 | £180 |
---

OTHER BUSINESS

SPRC International Race Director Carole Ismail has retired and has resigned her Club and official posts. The SPRC Committee thanked Carole for thirty-plus years of service to the sport and wish her the best of luck for the future.

The Williams brothers have organised additional prize money for Stock/Super Stock both from their own funds and from US companies. The response to Stock/Super Stock will be gauged before any decision is made for 2021.

As well as on-line entry and rules, the new SPRC web site continues to host calendar, class and other information, and now offers on-line SPRC membership application.

Santa Pod Racers Club has a new logo which has been launched with the new web site.


Earlier news