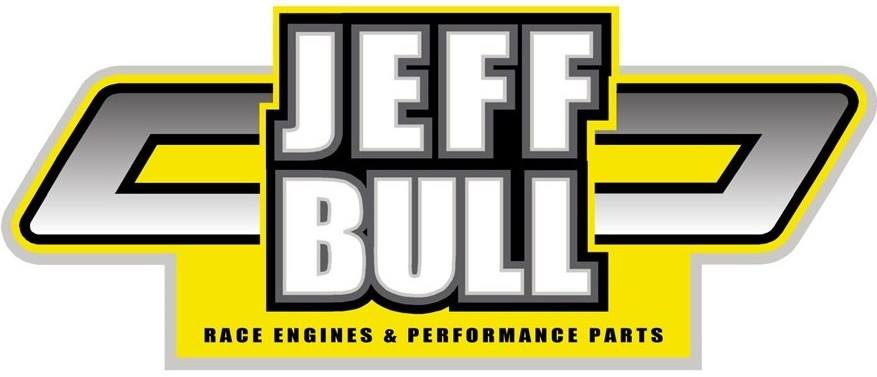 VWDRC celebrates 2021, plans 2022.
29th November: The annual VW Drag Racing Club AGM and prizegiving gathering took place this weekend. Starting with a karting race at Formula Fast Karting in Bletchley, appropriately divided into Pro and Sportsman categories, the event moved to Wetherspoons in Midsummers Place Milton Keynes where prizes were given out; the AGM was held on Sunday at Jury's Inn nearby.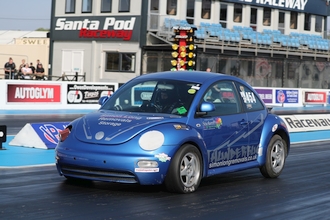 The trophies presented, with congratulations to all racers, crew and others involved in the club for another successful year, were:

VW Pro Championship winner: James Hodson
VW Pro Championship runner-up: Adrian Solly
VW Sportsman Championship winner: Rob Creswell
VW Sportsman Championship runner-up: Jon Crawford
VW Heads Up Championship winner: Jacob Bailey
VW Heads Up Championship runner-up: Paul Jordan
Dennis Cox memorial trophy (for highest consistent qualifier): Laurence Clark (pictured top)
Brian Burrows Rookie of the Year trophy: Jack Gooding (pictured middle)
Wagenmaster Driver of the Year: Paul Jackson (pictured bottom)
RNJ Motorsport Car of the Year: Paul Jackson
Becky Sutton Memorial trophy (for services above and beyond to the Club and the Club spirit): Luke Stevenson

Also at the event announcements were made about 2022, all events taking place at Santa Pod Raceway. The VWDRC are going BIG for 35th year, and have pulled together a huge prize fund of £20,000 for the club which is for the championship and its club days.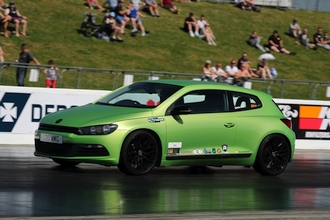 The VW Pro and VW Sportsman championships will take place at UK Motorsport governed events as follows:
Festival of Power 15th-17th April
Springspeed Nationals 30th April–2nd May
Summer Nationals 2nd-3rd July
Bug Jam 23rd-24th July
Greenlight Nationals 20th-21st August
National Finals 24th-25th September
The prize fund for VW Pro and VW Sportsman is set at £4000 each, with the champion winning £2000 and prize money paid down to 5th place. Thanks to sponsors:

R-Tech Performance
CG Motorsport
White Label Business Consulting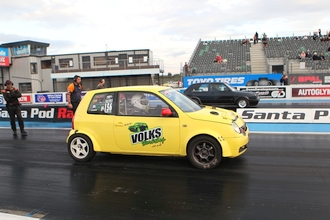 Darkside Developments Performance Diesel Tuning
GP Turbos
Hangar 30 race car preparation
The Car Kitchen
Pro-Race Engineering

Thanks also go to associate sponsors:

EST Performance
BJ Bates Electrical
European Front Wheel Drive
Harvey Property Services
Renegade Fuel
Track Ready
WRP Paint and Restoration
32 Speed Shop

The VW Heads Up championship, with £500 to the Champion, will take place at the following lifestyle events:
GTI Spring Festival 10th April
Das Auto Show 14th August
GTI Festival 2nd October
Test days have been set for 18th March (Pre-season testing) and 9th-10th June (Drag Days). The Drag Days event, open to all VAG bodied or engined cars, will incorporate an all-in Bracket Class a heads-up 12s index class and a heads up competition, with big prize money. Entry for each of these competitions or as a run what ya brung participant is now available at vwdrc.bigcartel.com.

There will be a trial for the 2022 season of the lower index of VW Sportsman moving to 11.99 from 12.99. This will bring it inline with other national classes whilst having no change on VW Pro. It means that there will be an overlap, so that racers who run in the 12's have a choice as to which class they wish to enter and what they are legal for.

A VWDRC Hall of Fame will be established, incorporating Honorary Lifetime Membership as well as new nominees proposed by members and decided by the Committee.

Those wishing to join the VWDRC can do so, before rates increase from 1st January 2022, by going to vwdrc.bigcartel.com.

Tina Hambidge's Funeral.
29th November: Many thanks to Ian Marshall for letting us know that the funeral of Tina Hambidge will take place at Kingsdown Cemetery Swindon SN25 6SG on Friday 17th December 2021 at 2.15pm, anyone wishing to attend will be made welcome.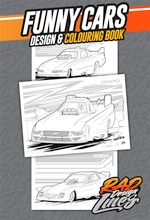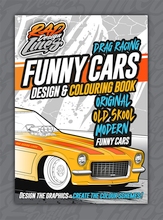 Funny Cars Colouring Book launched.
29th November: Thanks to Darren West of Power Race Graphics and RAD Design Lines for telling us about the latest in his series of colouring books, designed for artists of all ages. Darren writes:

I am very excited to announce our brand new RAD Design Lines 'Funny Cars' colouring book is out today and available now to purchase from our website. 'Funny Cars' is the second in the series of Drag Racing design and colouring books and features some of the most popular funny car body styles in the history of the class. Printed on heavyweight high quality paper, we managed to squeeze a few more pages in this time of our own exclusive design and colouring blank template outlines. Expect to see some very cool funny cars to design the graphics and create the colour schemes for! This is a great Christmas gift for the colouring kids and the funny car fans!

Huge thanks to all who pre-ordered the book - those orders ship today - Monday 29th November. 'Funny Cars' ships internationally - just head over to our website to order your copy! Shop now at www.raddesignlines.com.

The RAD Design Lines mission continues to inspire and encourage young people to unleash their creativity!

Monica Öberg Racing TF operation for sale.
29th November: "Every fairy tale has an ending... also this one." After a 35 year Top Fuel career, Monica Öberg has announced that her whole Top Fuel operation is for sale and those interested should contact Dan Soderberg for further information on +46 706975788 or by e-mail at Dan@monicaoberg.se.

Monica's team was founded in 1979 and was co-owned by her and chief mechanic Dan Söderberg. Based in Piteå, Northern Sweden, the team started competing in Top Fuel class in 1982, becoming successful mainly at home but also internationally. Monica is a three-time Swedish champion (1986, 1989 and 1992) and in 1992 won the prestigious European Top Fuel Association championship, held in the five years before the FIA Championship came into being.

In 1997 and for several years after, she competed in the FIA Championship, on a limited basis always being budget-conscious and her final FIA race as a driver was the Scandinavian Internationals in 2016. The team returned with Jöran Persåker as driver at the 2018 Tierp Internationals.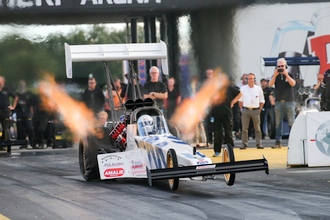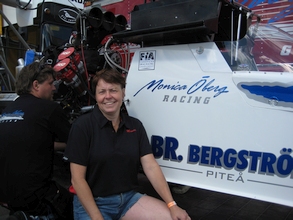 Monica had a special affinity with the Midnight Sun Internationals race which was held annually at Piteå Raceway near her home and many of her quickest runs in the low 5s at 280mph+ were set there.

The car that is for sale, with all spare parts, was built by Lars-Goran Eriksson of ME Racing Service in 2010. You can see video of it being started up in 2016 at this Youtube link.

We wish Monica and Dan a long and happy retirement, and thanks to them for providing us with thrills and spectacle at the track over so many years.

Malta Drag Racing Association announces 2022 schedule.
27th November: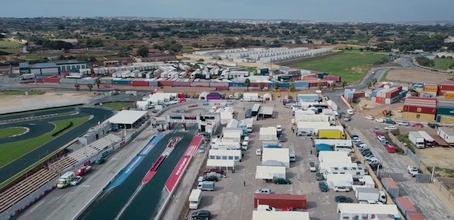 The calendar for events held by the Malta Drag Racing Association has been released. The dates for your diary are:
12th February: Test Day
26th February: Run What Ya Brung
11th-13th March: QTM Event Round 1
31st March: MDRA for Charity
7th May: Run What Ya Brung
20th-22nd May: QTM Event Round 2
1st July: Run What Ya Brung (night event)
14th-16th July: QTM Event Round 3 (night event)
3rd September: Run What Ya Brung
16th-18th September: QTM Event Round 4
5th November: Run What Ya Brung
17th-20th November: QTM Event Round 5 - The Finals
The MDRA said: "We are posting next year's events calendar on our MDRA site. As you know enough, next year is a particular year with great challenges for our track (redevelopment is planned to take place - editor), but we will promise to do our best to stick to this calendar and not miss any rounds. This is surely the wish of all of us."

A meeting of the association including trophy presentation for the last event will take place on 17th December 2021 at 19:30.

Whilst we are looking at Malta, the latest video posting by Kieran to his Mk1Kieran Youtube channel of the 2021 Malta Finals held on 11th-14th November. Kieran says "Big thank you to Konrad D'Anastasi for letting me use his footage again this year! Konrad is the resident videographer at Hal Far Raceway and films every single run! Check out his YouTube channel at here."

Picture credit: Shawn Mifsud

Pelle's speech restored.
27th November: It was great to see Pelle Lindelöw at the British Drag Racing Hall of Fame gala last weekend for his induction alongside long time friend and co-owner Gunnar Elmqvist. Pelle has been in touch to tell us that his acceptance speech was not the full story:

"Gunnar and I had an idea how to conduct and express our feelings and thankfulness for the induction. I should start, Gunnar should then take over and I should finish. But our strategy didn't work out as planned and all of a sudden I found myself back at our dinner table, but with the very exciting part II of my speech unspoken. Thanks so much for a fantastic evening with great company from all my friends in the British drag racing family that we now feel part of.

We, P&G Racing, have had a fantastic career no doubt about that.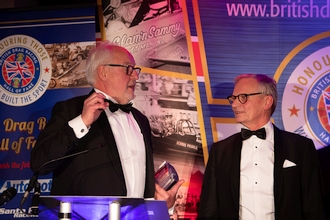 It all started after our first visit at Santa Pod in July 1972 (click here for Pelle's video), and I was totally blown away. Skilton, Priddle and all the others including a bunch of teams from Sweden, Lantz/Jönsson's Plymouth, Gunne Back's Corvette, Ryman/Larsson's Mustang f/c among others. We were travelling to the UK in our three Renault 4CV's. First impression of the facility and all the cars and crowd, it was all mind boggling. If someone had said that Gunnar and I should be owning and racing a Top Fuel dragster 10 years later, I would never have believed that. Not in my wildest dreams.

Back at home after the UK trip we planned to build a motor for a Renault and put it in one of our Renaults. After some consideration we realized that using a street car wouldn't work, so we bought another 4CV and a R16 TS (hemi) motor. First year with the car we went to as many races as we possibly could, best E/T was 15.2 sec. Not a real threat to anyone but good learning for the future for Gunnar and myself. In September we took a very quick decision to load the car and travel to UK to join the other swedes and go to the Snetterton season finale (click here for Pelle's video). Our Renault was placed in the Competition Altered class where we among others had Barry Sheavills in his "Stagecoach" and several other Jag and small block motorized cars. But our 1.6-liter Renault engined car without handicap couldn't match any of them and we fell short in the first round of elimination. At the distribution of price money after the race we received £3 for our efforts but were given a fiver as the treasurer thought our car was sweet. I would have preferred another judgement, but we were happy for the two extra pounds. Could make a fortune out of this if we'd continued a couple of hundred years more.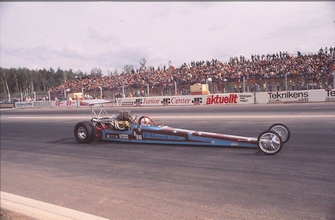 We realized that we reached the end of the possibilities with the little Renault, so we built a dragster with the Revell model of Tony Nancy's car as the role model. We looked at the picture on the box and found out how the frame was constructed and where the brackets should be fitted. First year with a Chev 402" BB, no success but a steeper and steeper learning curve. We bought a Chev 454" from Anders Lantz and suddenly we could actually beat some our competitors for the first time ever. Best E/T that year was 9.003 and quite close to our target to run an 8 second run. We had by then realized that our gas dragster needed to be replaced and we were planning to build a Pro Comp dragster. Our host in the shop we spent our Tuesdays in, Lee Anders Hasselström convinced us it was much better to go nitro. He said: "if you are chasing sponsor money you can't say you're competing in the next fastest class, that wouldn't convince anyone". So, we ordered a chassis from famous racecar builders Kjellin Brothers, bought Kent Person's Chev 454 from his top fuel dragster. First year with that car ended with a 6.97 run and a visit in the fields after the end of the Mantorp strip. The car was a wreck and as the Kjellins were at the track we used the opportunity to order a new car from them before going home that day.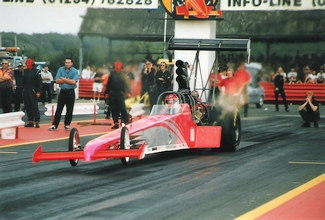 This has been our story all the years Gunnar and I have worked together. Never give up, there is sunshine after the rain and so on. We have always been blessed with good and loyal friends/team members. Janne Carlsson joined us in '81, Ulf "Hot Dog" Schill and Leif Hamberg after they sold their T/F dragster in '83, my cousin Bo Söderkvist from day one. Benjamin Wahlström (best chef in the pits) and Sören Isaksson from early '90's till the end in 2001. Thank you all so very much!

Last years we've lost some people that has been instrumental in our career: our supplier extra ordinaire, crew chief and very good friend Gary Burgin, "Benji" and "Hot Dog". All sadly missed.

At my return from the US in February 2020 I was waiting to depart at LAX when I received a mail from Stu Bradbury asking if we could accept an induction to BDRHoF in November that year. I couldn't believe what I was reading and had to discuss with Gunnar if this was a kind of joke or not. We realized that it wasn't a joke and of course we accepted the invitation and now, 49 years after the first visit to Santa Pod we are the proud members in this exclusive "club". Something that we both are extremely proud of. Thank you.

Finally, what Gunnar and I have achieved had never been possible without the support and patience of our respective wives; Pia and Suzanne, allowing us to work with the cars and go racing all these years. Heaps of thanks for everything.

Tony Morris Carburettors sponsor Super Gas.
27th November: Tony Morris and Dave Gibbons are delighted to announce that Tony Morris Carburetors will be the headline sponsor of the 2022 UK Super Gas series!

In addition to the usual Santa Pod Racers Club award, there will be an additional £250.00 for the overall Super Gas champion, and £50.00 awarded to the winner of each round of the championship series.

As the sole UK agent for Tony Morris Carburetors, Dave Gibbons' TMC with RDR Performance Carburetors operation will also offer a 10% discount on parts and labour on servicing, as well as keen pricing on new carburetors for Super Gas race car requirements – Tim Moore (pictured below right) has already taken advantage of this offer!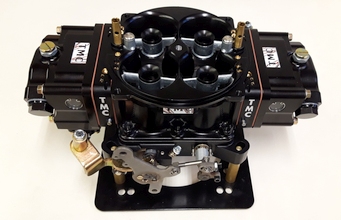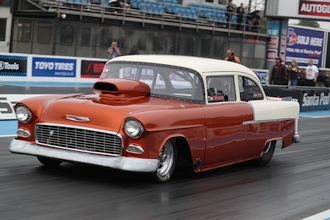 Tony Morris Carburetors specialize in performance carbs on the 4150 and 4500 Holley platform, and each carburetor is hand built for its application. Not only do TMC supply traditional four barrel racing carbs, they also supply twin blade carburetors featuring the patented upper jets, which provide superior tunability and offer the advantage of a wider range of flow rating to optimise your combination.

Contact Dave via Facebook messenger on TMC with RDR Performance Carburetors Facebook page, on Instagram at #thecarbfellas or by e-mail on TMC@roughdiamondracing.com with your requirements.

Stilwell's speed plans for 2022.
27th November: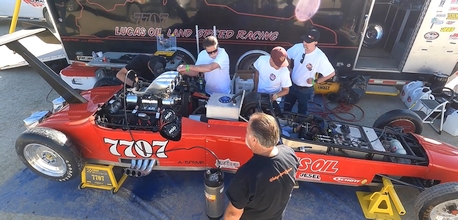 Eurodragster.com sponsor Geoff Stilwell has revealed his plans for 2022 with his Lucas Oil 7707 Blown Fuel roadster, also sponsored by Mick's Paint, and BUA Motorsport, with which he plans to run a new class record of over 300mph.

"My team and I will be displaying the LSR car and my '34 Ford roadster hot rod at the Grand National Roadster Show in Oakland in January, then we will be back at El Mirage in May and November, with visits to Bonneville in August for Speed Week and September/October."

Our good friends at the Torq Talk blog have posted on their Youtube channel a video of the Lucas Oil 7707 at Lake El Mirage two weeks ago, including a fire up and on board footage from Geoff's runs. Well worth reading is an article in Torq Talk about Geoff's Brad Andersen engine.

Swift snippets.
27th November: Happy Birthday from all of us at Eurodragster.com to former Junior, and currently, VW Sportsman team boss Rachel Wilson. Have a lovely day Rachel.

The organisers of Nitro Revival, Steve and Cindy Gibbs, have had posted on their web site a photo gallery of shots taken by accredited photographers at the event which took place at Irwindale Raceway on 6th-7th November. Don Ewald said "Presenting, in segments, what will go down as possibly the most epic event in nostalgia/historical is challenging to say the least. As media director I issued an unprecedented 32 credential requests, 30 of which showed up cameras in hand (it would have been 32, barring pesky travel restrictions from the UK - editor). With that fact in mind we feel obliged to offer just the beginning of an extensive review of Nitro Revival 4 starting with images submitted to nitrorevival.com as requested and not to Facebook which is one and done."

Santa Pod Raceway announces 2022 schedule.
25th November: Santa Pod Raceway has unveiled a full 2022 calendar of events running from March to November and embracing its usual array of championship drag races, modified car shows, specialist and family events. Public track days (Run What Ya Brung and Drift What Ya Brung) will extend throughout the year from January to December.

In a normal year, 400,000 people pass through Santa Pod's gates to attend more than 75 events. 2020's planned programme was halted abruptly by the pandemic's arrival before a reduced, socially-distanced schedule was completed. 2021's programme was also significantly truncated early in the season. A full, unrestricted schedule is anticipated in 2022.

Booking for the season will open on Wednesday 1st December.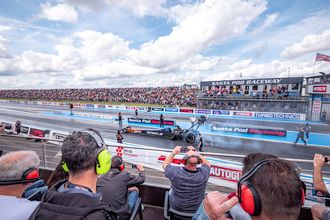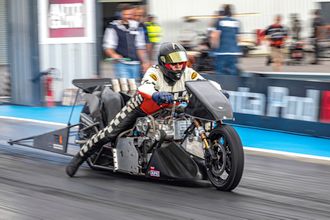 Calendar highlights include the first and last rounds of the FIA/FIM European Drag Racing Championships, returning after Covid cancellations in 2020 and 2021. The first round – The Main Event – retains its usual late-May weekend, Thursday 26th to Sunday 29th, rather than switching to the Platinum Jubilee bank holiday a week later. The European Finals, 8th-11th September, brings the international racing season to a close.

UK national drag racing championships on two and four wheels begin with the annual Festival of Power over Easter weekend (Friday 15 th to Sunday 17th April) and conclude with the National Finals on the 24th and 25th September. The Motorsport UK British Drag Racing Championship (the Pro Mods) will be contested over six rounds, beginning and ending on those dates.

Historic drag racing takes centre stage over three weekends, with the Nostalgia Nationals (3rd to 5th June) and the Hot Rod Drags (16th to 18th September) book-ending the 11 th annual Dragstalgia summer fiesta, 8th-10th July.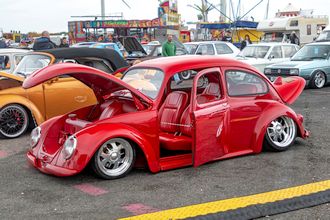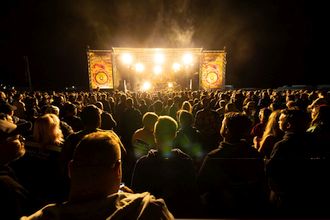 July is also the month for the season's biggest festival event, Bug Jam (22nd-24th July), the largest of several popular Volkswagen celebrations. Other marques featured with their own dedicated events throughout the year include Vauxhall, BMW and Ford, while enthusiasts for French, Japanese, American and German car cultures are also well served. Another major festival, USC (Ultimate Street Car), takes place over the 5th-7th August weekend.

Dial-In Day, the occasion for interested newcomers to learn about, and try their hand at, entry-level bracket racing, takes place on Saturday 5th March.

The complete calendar of events, including Run and Drift What Ya Brung public track days, can be found at this link.

Booking opens on Wednesday 1st December. Tickets may be booked online at www.santapodtickets.com or by telephoning the Box Office at 01234 782828.

Mike's Thanksgiving message.
25th November: A Happy Thanksgiving to all our U.S. readers. To mark the occasion, regular contributor Mike Collins has sent his latest production in an audio visual format. He writes:

Happy Thanksgiving folks. Being a tad behind schedule with a couple features it was decided to put up pair of pre-publication, authorised bootleg, audio visual mixes which you'll hopefully find entertaining, especially as they feature the late drag racing legend Dennis Priddle on form and having a ball; being able to put them together has made me feel more than a little thankful for having had such a lengthy and rewarding friendship with a true giant of our sport; his humour providing a wealth of laughter for many that were lucky enough to share time with him over the years.

For me personally, knowing Dennis was a full tilt blast all the way down track from our first meeting w-a-y back in the day, with many, many memorable get-togethers before our last time meeting at the 2018 BDRHoF gala, and that was a hoot and half! As a special Thanksgiving Day treat, we've a couple fine examples of PriddlePower, dedicate to his family, fans and friends; neither have been published this way before. From the 2018 Bench Racing session we've Dennis on full throttle with his crystal clear description of the "the most phenomenal buzz…"

A stand-alone PDF has wall-to-wall, NitroPower packed images with a few words from yours truly, but Dennis is the super-star, so enjoy! T'other offering's packed with GroundPoundin NitroPower at my first encounter with FuelCoupeThunder when Dennis unleashed his awesome Avenger on Easter Sunday 1976, up close and personal, with in y'face SuperStickyStereo that fans old and new could enjoy.

Either way, we're still working hard on a celebration of Dennis's time spent walking amongst us that's a full-of-fun tales spread between a pair of stunning smiles; the first from 1966 when his eyes sparkled with the knowledge that his dream of unleashing some NitroPower was far closer than any of us ever knew; including the photographer, my ol' boss John Bennett, who Eurodragster told me celebrated his 91st birthday a couple days ago, so a belated Happy Birthday to you sir.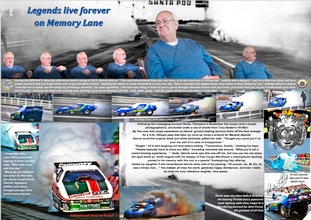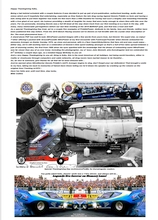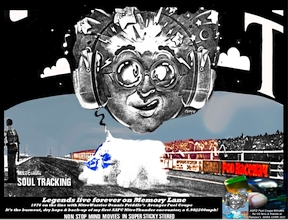 And a very Happy Thanksgiving to you all; thing is, folks, this is the most American of all holidays, but being world travellers, either in reality or vicariously through computers and cable networks, all drag racers have myriad reasons to be thankful.

So, be nice to someone, give thanks for all that we've been blessed with.

And be warned when NitroWarrior Dennis Priddle's AAFC Avenger begins to sing, don't forget your ear defenders! That brought a smile to my face, taking me back to memories of famed Dave Stone telling me he'd blown his speaker by cranking up the volume on the original Soul Tracking in 1976!

Have fun folks and, until next time, stay lucky - Mike Collins

Drag Seen 2 special offer.
25th November: Thanks to publisher of Drag Seen 2 Paul Martin, who has let us know that he is making a special offer for the photo book, which we first showed on 18th November and has almost sold out:

"The last eleven copies of Drag-Seen 2 are now listed exclusively for Eurodragster.com readers on eBay 24 hours before the link goes live.

Our long-time supporter and sponsor Bob Roberts gave us this endorsement: "Drag Seen 2 is a welcome reminder of things past. The centre page spread of Oklahoma Willy is worth the cover price on its own. Certainly helps to dispel the winter blues on a frosty morning, better than a SAD lamp I think."

Also as a early Black Friday offer to Eurodragster.com readers, I'll include a Drag Seen Logo sticker with any purchases of last 11 x copies of Drag Seen 1 available on eBay at this link.

All profits from the production of Drag Seen 2 go to Cancer Research and Paul has promised to let us know the amount raised early next week.

Spitfire Raceway times and gallery.
23rd November: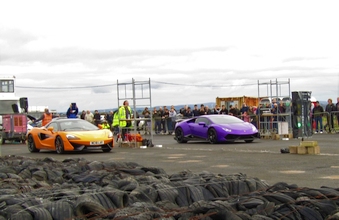 Thanks to Spitfire Raceway promoter Lee Child for sending results from the run what ya brung event held last Saturday at the Cornwall track, and to photographer James Webber for providing a gallery of photos which you can see at our coverage page, supported by John Woolfe Racing.

The run what ya brung, held in damp conditions but still attracting 71 cars, had the incentive of a £500 prize for the quickest time recorded which was won by David Lea in his VW Golf R. The quickest times, with VP Racing Fuels goody bags and fuel jugs going to the winners were:
David Lea (VW Golf R) 9.636/145.58
Paul Beattie (VW Golf R) 9.909/143.58
Richard Milton (VW Golf R) 10.409/139.27
Lee said "Massive thanks to everyone visiting Spitfire Raceway today, we really appreciate it. Big shout to all the motorcycle riders for supporting the event and understanding the situation wasn't perfect for fast motorcycles, we will try again in January, hopefully dry."

The 2022 dates for Spitfire Raceway have been published:
29th January
29th January
9th April
2nd July
24th September
10th December
Drag and drift racers may enter at spitfireraceway.com which includes all the required information in an easy-to-complete form.

Swift snippets.
23rd November: A very Happy Birthday to Gasser Circus and Outlaw Anglia racer Tom Margesson, and to Pro ET and Nostalgia Superstock racer James Oliver. Have a great day guys.

If you're looking for free, high definition remastered, historic NHRA drag racing footage, streamed 24/7, then go no further than the Sportstribal page. Included in the NHRA channel are many Diamond P productions and races going back to the 1960s.

Warpspeed Racing win at Man Cup Finals.
22nd November: Congratulations to Stuart Crane, Dale Leeks and Andrew Leeks of Warpspeed Racing who, with rider Terry Schweigert and tuner Dan Wagner, won the the Pro Open class at the Man Cup Finals at South Georgia Motorsports Park. Running consistently in the 3.9s at 180+mph, the bike had the legs on its competitors and ran reliably.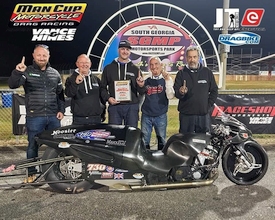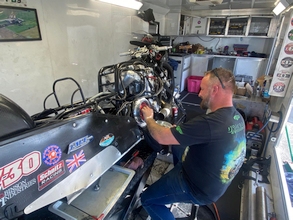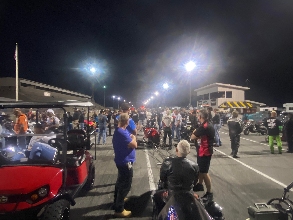 Thanks to Dale for providing photos from the event. He said "Well, we did it with a British built Warpspeed Racing motor, and British-built new billet Hurricane head by me and Andy Lock. We went and won the World Finals."

The event which was streamed free on the Youtube channel of MotorMania TV with an on-the-spot video from Jack Korpela available to watch on the CycleDrag Youtube channel.

BDRHoF Gala returns.
22nd November: The British Drag Racing Hall of Fame Gala dinner took place on Saturday at Oatlands Park Hotel, Weybridge, Surrey and was another star-studded occasion with acceptance speeches that were well considered, humorous and at times emotional.

We thank Julian for supplying a gallery of pictures from the evening which you can see by clicking here or going to our Features Index sponsored by Lucas Oil.

Honorary Chair Lesley Wright commenced the formal part of the evening by reflecting on events since the last Gala dinner in November 2019. "It's been a tough 2 years for all, however thanks to the amazing efforts by our tracks, I am pleased to say that Drag Racing is alive and kicking!

"The dogged determination of Keith and the staff at Santa Pod Raceway to re-open the track last year, despite all the authorities' objections, was amazing. Also, the generosity of people and the efforts of volunteers in establishing a great series of events at Melbourne Raceway was outstanding.

"Sadly, we've lost a lot of people from the Drag Racing community since our last Gala and their loss is heartfelt. In particular, we miss our members Lawrie Gatehouse, Dennis Priddle and Stuart Bradbury. I always appreciated how hard Stuart worked for the Hall of Fame, but never more so since taking over the reins last year. I'm proud to say that Stuart's name will be forever associated with the Hall of Fame through the naming of the Junior Awards after him. A fitting tribute to ensure that his legacy will continue."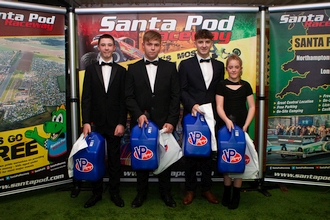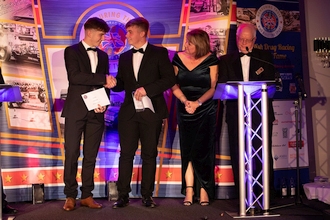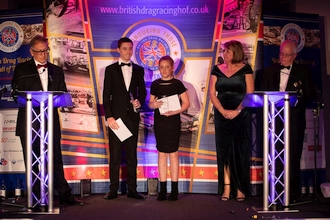 Compere Tony Thacker continued by announcing the inaugural Stuart Bradbury Junior Drag Racing Awards which were presented by his wife Bev Bradbury. The awards went to the Junior Covid Cup winners of 2020 Liam Holgate (Junior Dragbike) and Luke Fulton (Junior Dragster) alongside 2021 champions Hollie King (Junior Dragbike) and Harry Redshaw (Junior Dragster).

Earlier, Tom Davis of BDRHoF and Eurodragster.com sponsor VP Racing Fuels made presentations to the 2020 and 2021 Junior Drag Racing champions in the drinks reception sponsored by Santa Pod Raceway.

The inductees at the Gala have had to wait patiently for 21 whole months for their moment in the limelight, but were all present and keen to be formally inducted. Each inductee received the Bootsie trophy in memory of the late, great Allan 'Bootsie' Herridge, the trophies sponsored by the Santa Pod Racers Club, the Hall of Fame being indebted to Ian Marshall, Philip Evans, Kathy Taylor and the SPRC committee for this continued support.

You can see the full citations in our news update on 10th July 2020. Here are the acceptance speeches for each inductee and their presenters, following the reading of the citations by SPR announcer Colin Theobald:

Jeff Byne: Land Speed Racer and former Pro Stock Bike racer Geoff Stilwell presented the trophy to Jeff, who said: I'm a man of small words all I can say is Thank You to the Hall of Fame team just to put on tonight after what we've been through, and inducting me. It's an honour and a privilege.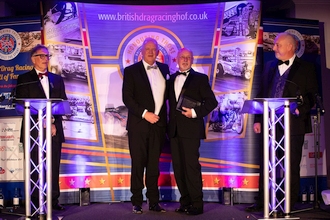 Dave Wilson: Former Editor of Eurodragster.com Tog presented Dave Wilson's trophy and said: Dave was very supportive of Eurodragster.com from day one and as the site's popularity snowballed he always credited me with more foresight than I had actually exercised. In the late 1990s, when I first knew the cheerful chap always laughing and joking with me in his pit, I couldn't understand his handle so I asked a fellow journalist "Why do they call him Grumpy?". "Because "You could hear him at the other end of the pits" was too long for a nickname" was the reply.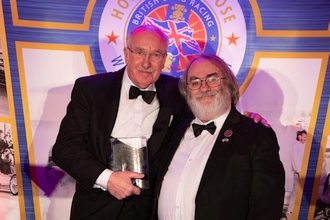 The citation has told you about the record of Dave and his team but I would like to share one story with you, from the days when I did as much photography as writing. Dave asked for a copy of a particular launch shot of the Top Alcohol Dragster. Now, I'm sure that Julian and Willsheer and all the photographers in the room will agree with me that it doesn't matter how many requests you get for pictures, it always feels good. I took the print to Grumpy's pit and he called David to take a look. "Look at that", he said and I started to preen. "Those butterflies aren't all the way open". So I unpreened.

I have to say that it is an honour and a privilege to present you. Hopefully you and your family and team realise just how popular you all were and are with the fans and just how fitting we consider your induction.

Dave said: I would like to thank Tog for making this presentation, he is a man who has contributed an enormous amount to European Drag Racing. For me it's been a long journey. On my table tonight there are people who were with me at the beginning of that journey and remarkably still with me at the end. Rod George got me involved, taught me many things at the beginning, mostly to open my mind and find answers to problems.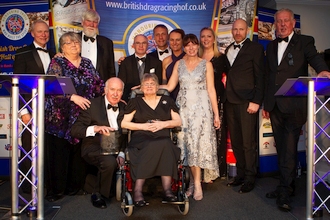 It was a very big learning experience. Raymond White was there as crew in the beginning and back again after 20 years, bringing support in from Playstation, and I also got great support from Anthony Cohen from American Car imports who unfortunately can't be here tonight. My first experience of drag racing along with many people was the Drag Fests at Blackbushe. I actually came across Allan and his straight eight Buick at that meeting and little did I imagine that years later I'd be collecting an award with his name on it.

There have been many people who have helped and taken part in this journey and I'm going to name a few. Steve Martyn and Dave Fletcher, helped build the Krypton car after we made a mess of the Stormbringer, Charlie Jarrett and Bob Vaughan who crewed on it for many years – invaluable. Later Ricky Packham, Harry Palmer, Mike Nichols, Fred Willbanks, Andy and Jennifer Bissett, all involved with the Amrican Car Imports car and the FIA Championships.

Andy and Jennifer actually took a whole year off to chase after the first FIA Championship with me and then faithfully followed our truck for many miles and hours and hours on our tour across the USA. They must have got really bored at the sight of the back door of that trailer. Andy of course shared the crew chief duties with my son David during that period and the one thing that has enabled me to complete this journey is the unwavering support of my family. Anne and David have been trucked around Europe to different races from when they were little children David worked on the car from a young age and Anne was always cleaning and polishing and helping Mum. Which brings me to my biggest asset – Linda, team mum. Without any doubt my greatest support without which none of this would have been possible. So I want to share this honour with all of them. I also want to pay tribute to Stu Bradbury for what he started and to the people who carry it on today. Thank you all.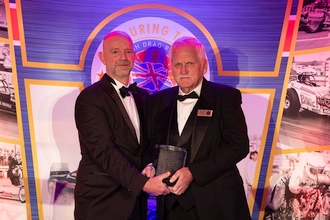 Nick Davies: Fuel Altered racer Ron Hope presented Nick with his trophy and said: For the last thirteen sessions of this meeting, I've been honoured to attend so I feel as if I know each and every one of you and I consider you all to be great friends. You're always welcome in Tennessee, anywhere in the US actually. As was pointed out, Rob and Nick came to the US a few years ago and beat us all up everywhere we went, so I've reluctantly invited them back as we'd like another shot at them. I had the great honour some years ago of inducting Rob into the Hall of Fame and now it is truly an honour to introduce Nick Davies into the Hall of Fame.

Nick said: About thirty years ago I parachuted way into a purple patch in British Drag Racing in the 1990s in Super Gas with the era of such luminaries as Al O'Connor, Brian Pateman, Terry Gibbs, Terry Gransden, Timmy Adam and Ray White. It was a real blessing and cemented my love for the sport. Five years later I gave up work in what some considered to be a fairly promising career, certainly a lucrative one, in the City and made the jump. From a financial perspective it wasn't the wisest move in the world but there is more to life, as the older generation here will probably tell you, than purely financial stuff – it's about family, friends and making memories, and I've made a lot of memories along the way, some of which were the first six, the first five which was this year, first 200mph run, first 250mph – almost, we ran 400kph but not quite 250mph but I'm sure that's coming.

The first Pro Mod championship, the first time into the field at the end of the track, that became pretty dull by the fourth or fifth time. Also with customers, the Ugly Sister's first six, the Apache's first five, all huge.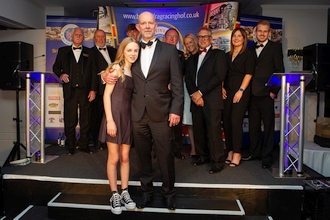 Then taking the car out to America, it was an amazing experience pulling round to the start line at Bakersfield strapped into your own car, it was an emotional moment and winning the Hot Rod Reunion, it was just the icing on the cake. To cap it all to celebrate it with the people that were there that came out to support us and watch the racing was truly memorable.

It is about friends and people, there's a few people I'd like to thank, firstly all the people at Santa Pod on and off the track who have given me the platform and opportunity to make these memories. Stuart Bradbury, he did a lot of things behind the scenes before we went to the US in 2017, to my great friend Lawrie Gatehouse who backed and helped me unwaveringly through the time and gave me the opportunity to drive a nitro car for the first time, to Geoff Stilwell of BUA Motorsports, thank you for giving us the opportunity to go out to Bonneville, to go out to El Mirage this last weekend, I think the memories have not quite finished in that book yet, to Stewart and US Automotive thanks very much indeed, to Ron for the US Tour which wouldn't have happened if it wasn't for the logistics and support that Ron gave us in 2017 and not just that, I suspect the Bantam would still be sitting in my garage with an alcohol Chevy in it with mothballs and covered in dust.

To my family, Jo and the kids, I couldn't have done it without the patience and support you've given, amazing. And lastly to my racing and business partners - Scott where would we have been without you? You provide the engineering when Rob and I have been lagging and does so much behind the scenes that everything seems to run smoothly at the track largely because of you. And Rob thank you very much, 20 years and counting, I think we've got a few more to go, it hasn't been the easiest times recently but we work towards a common goal. Everyone, thanks very much indeed.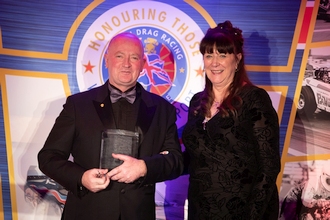 Ian King was presented with his trophy by SPRC director and race secretary Kathy Taylor. Ian said: I'm still kind of embarrassed because a few years ago when Stu Bradbury contacted me and asked if I was willing to be inducted I was embarrassed to say I was racing in the US the same weekend all the time and it was unfortunate I couldn't do it, he said could it be presented from the outside but I really wanted to be here because doing the remote thing doesn't work. I was lucky that two years ago I was able to accept it and I was really looking forward to meeting Stu and it's such a sad and poignant moment for me that Stu isn't here now, but I'd just love to say Bev, thank you for continuing the work that Stu did and to the BDRHoF guys and girls who work hard behind the scenes to make sure that this all works.

When I first started going to Santa Pod at their Run What Ya Brungs and seeing all the guys going up and down in their bikes and cars I thought maybe I'd like to do that sort of thing in the future but I never believed I could actually do it. It's turned out to be the best thing I ever did.

I've made so many lifelong friends, all my guys on the two tables we have, of course my family supports me, my long suffering wife Debbie who's sacrificed so much and she's been the person who's enabled me to do what I want to do so thank you Debbie. My two girls Alex and Georgina, who've grown up in drag racing, I have to say they've turned out to be such wonderful people and part of that is the drag racing family, they've been brought up within this fantastic family of people and learned so much from everyone , how people should be with each other how people should treat each other, nicely and fairly, so that's the main thing I got from drag racing, thank you for making my family what it is now.

Us racers, we're always in the front getting accolades but we can't be here without our team, and I have such a fantastic team behind me that have been with me for so many years now, over 20 years, they've stuck with me through thick and thin actually it's been their input that made me race, my part of this has been very small, because you can't do anything without your team.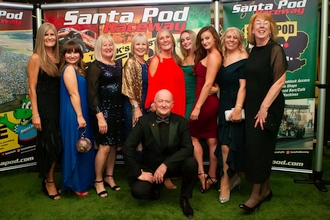 It's a genuine thing that I'm the guy whose sitting on the bike and it's all about them, not about me, especially my crew chief for 20 years Michael Beaumont, it was a bit of an accident that he became my crew chief, he was meant to be Jon Morton's crew chief, actually I stole him, I was going to train him but it didn't work out that way. The people behind the scenes are the main people, the backroom staff at Santa Pod, the guys and girls who do the tickets, the entries and everything else, I'm so honoured that Kathy Taylor who's such a wonderful person is the person who is presenting me as she is for me Santa Pod, when I turn up she is the first person I see, Kathy, please don't ever give in.

I want to reflect on absent friends at this point, there's been a number of friends of ours in the motorcycle community who've tragically left us for various reasons. Unfortunately we have family ties between our team and those that have gone.

Can I start with Paul Giddings, some of us used to race with Paul and I'm very sad he's not here with us tonight, he used to come to the Santa Pod Dinner Dance to take the mick out of me, dropping his ash into my cups when I won. We tragically lost Brian Johnson and then Anne which is such a sad story. Then Chris Hampson, I hope no-one ever forgets Chris when I was running against him when he tragically lost his life at SP in one of my early Top Fuel Bike rides. And then more recently Paul Willis who was obviously very connected with our team with Jemma and Julie, he'll never be forgotten, and then more recently Barry Eastman who was a great friend to all of us.

Finally thank you to the BDRHoF for running this fantastic event and remembering all the people that may be forgotten sometimes like myself, I'm very blessed to be remembered in this way and I just hope your work continues and what a great event you put on for us. Thank you everyone.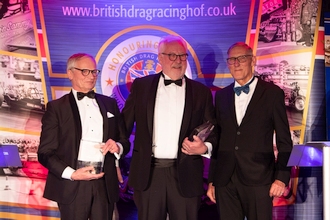 Pelle Lindelöw and Gunnar Elmqvist: Santa Pod CEO Keith Bartlett presented Pelle and Gunnar with their trophies and said: I've known Pelle for a very long time, I knew of Pelle's exploits before I met Pelle and Gunnar and I really got to know Pelle very well from 1991 when he had the Budweiser car but was also Vice President behind me as President of the European Top Fuel Association. They were a very dedicated team, they became quite infamous and won lots of races and were quite feared.

But what none of you know about Pelle is for all their professionalism they were quite a family unit to the point of they were quite stubborn, most would come to the race track, would put their awning up, would get the car ready and service it. Not P&G! The first thing that happened was out came the barbecue, out came the coffee pots and they had coffee. You could chase them up, you've got to be ready but coffee always came first. Between rounds – coffee. If the engine was blown to pieces – let's have a cup of coffee. It was a Swedish tradition – and that was P&G.

The other thing that none of you know is they were dedicated not just at the race track but in the week. Every single Tuesday from 1981 until they retired, they met at the workshop, they always looked at the car and decided what they think should be done on it. What do you think was the first thing they did when they arrived? They put the coffee on! Sometimes they worked a lot, sometimes they drunk a lot of coffee.

I travelled a lot with Pelle in the ETFA Championship I ran from 1991 to 1996. One round was in the North of Sweden at Pitea and it was called the Midnight Sun Nationals. It doesn't get dark until midnight which is why they called it that. Again P&G Racing turned up, they were very serious - coffee. On Sunday nights when the racing finished the Swedes became Swedes. We had others there, German drivers, British racers, but there were Swedes, Danny Soderberg, Monica, Pelle, Gunnar the whole team. What would happen is that the race would finish at 10 or 11pm and then they would go back to their hotel and the Swedes would come into their own. So when you realise that those guys over there are dedicated serious racers when you see them at 6am on Monday morning laying on the floor of their hotel reception all drunk, you would not call them professional.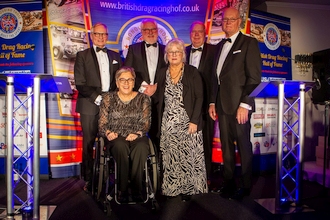 However, they are very professional and I'm delighted that Pelle and Gunnar's wives are here. Gunnar's wife Suzanne had quite a serious accident in 1991 and I'm delighted she's been able to come tonight, she's been handicapped ever since and I don't think she minds me saying the Tuesday after the accident, Gunnar was very worried about Susanne but they still made the coffee!

They've been part of drag racing since 1972, they've stepped up and stepped up and supported drag racing, Pelle went on to work for Speedgroup, he's now helping out in nostalgia racing in Sweden, and P&G are thoroughly deserved of this award.

Pelle said: (starts acceptance speech in Swedish) I didn't prepare something to say but next time could you give us some more notice? People say that bumblebees couldn't fly and that's what we say to each other sometimes but in 1972 when we were at Santa Pod for the first time, if anyone had told us that some years later we would be here with all our friends we should have never believed it because we have had so much fun and so many friends in Eurpe also in the States, it's been fantastic.

Gunnar said: I'm the G in P&G Racing. For 20 years Pelle is the guy in the front line – I'm not. I've been in the background. Pelle is the talker, I'm not. Today I must thank you, this is a great moment for me, Pelle and P&G Racing. I'm glad, I'm proud and I'm humbled to be a member of the British Drag Racing Hall of Fame. I want to thank the members of the jury for connecting us. In racing we have made a lot of friendships on the strip over the years. It's 20 years since we ended our racing career and yet we are still remembered. Once again, thank you very much.


John Price: Keith Bartlett presented John with his trophy and said: We all know John very well, he's been seen as the voice of Santa Pod and I'm sure one day Colin will also be seen as the voice of Santa Pod.

What a lot of you don't know is how much he promotes drag racing when is was away from the sport. You know John is involved in a lot of Hot Rod shows and airplane shows, throughout all of those shows John is always promoting and pushing Santa Pod which I'm very proud of. He was, and is still, infatuated with the sport of drag racing to the point at which I started to use John as a voice over on all the TV shows we produced.

John is also very good on television, we started on the FIA shows and one round I developed was in Hungary where we did some exhibition races. I said to John why don't we go into Budapest and interview the ordinary public and ask them have you heard of drag racing and do you know there's a big drag racing event on this weekend? And we thought that was a good idea.

We chose a big tourist area and started interviewing with a cameraman there, most said no, we haven't heard about drag racing. John is very professional, he's got to get it right, he wants a script and if he knows what he wants to do, he does it very well. But this was outside his comfort zone, I was flipping backwards and forwards, and these two American girls came up, they answered my question 'It's not as exciting as what we're going to do', I said 'What's that?' and they said 'We're not going to tell you, we're going now' and I said 'no, I'm coming with you' and they jumped on to a tram, I followed and John said 'What's going on?' I said 'I'm going with them', John said 'Where's the car?' I said 'I've got the keys and I'm going with them'. We climbed on the tram and John was quite mortified. But on the other hand that same event John was the ultimate professional with his commentary and interviews.

Here tonight from John's day job in Flint Insurance is David Taylor, one of the co-owners with his brother is here tonight. John would always like to prepare and he would take Thursday and Friday off and want to recover on Monday, so every meeting he would have three days off, this went on for thirty years. I want to thank you David and if John had stayed with us I'm sure that I'll be coming to you and saying 'We've given you three days off!' It's well deserved.


John said: I'm only a little bit excited! It's easier being on that side, I'm quite good at dishing stuff out not quite so clever at receiving it. Thank you for all your kind words guys, I just wanted to check a few things with you (brings out huge list). There's some people of my age here, you may remember lots of things happened when I came to drag racing.

It was 1981, the place was, no matter what people say to me Santa Pod is exactly the same as it was 40 years ago, it isn't, it's nothing like the place that I first went to when there were tufts of grass growing through the track - totally different now. I was interviewed by Roy Phelps at Fibreglass Repairs. Roy was on his milling machine, and he didn't stop. He just turned to me and said 'Son you want to be a commentator?'

I got the job and I really thought I'd made the big time. I was going to be the voice of Santa Pod. When I got there - whole different ball game, this is what led to most of my early commentaries being 'Red car, blue car, going 100mph on the circuit.' Two of my teachers were John and Liz Ledster. Well, Liz was more virulent than John, he was the strong silent type and Liz was the mouthy one, she gave me a hard time for calling the track a circuit.

It would have been natural for everyone there to have got fed up with me and to kick me out. But for some unknown reason, here was a South London boy who knew nothing about drag racing so we'll teach him, and so everyone took me under their wing and I learned. This was the days when I started to say we had a playpen where Bootsie would always try to break the chains on a jet car when it was chained up in the playpen, we had the VIP area - two London Transport buses joined back to back with a sponsor's name on the side (B.F. Goodrich - Editor). Bob had gone across them with a blowtorch welding them, people used to go up them and had soup!

It was just a few of them running Santa Pod, Bob Phelps, Roy Phelps, Eileen, Bootsie and a few others. Do you remember Whack on the gate? You paid him money I remember. When I first went to Santa Pod a bit before 1981 I was DJ at Gary's Picnic. So I turned up there in my Transit with the aircraft seats in it and all the kit in the back and this old man threw us out of the truck, climbed all over it, looked behind the seats went in the back – Bob Phelps.

Quite extraordinary - but that was my introduction to Santa Pod, then I met Roy and got used to him, and then we had Bo and Don, then we got this guy and from then on, it all changed. Life is so much better. The racing – I was explaining the other day to someone who hadn't been to Santa Pod for years, 'It's unbelievable now, we've got Top Fuel Motorcycles running fives', I remember being with Ian in Ultimate Street Bike going all over the country at crazy old airfields. We've got Top Fuel cars running three seconds, your wife Susanne is here, Keith, she's done three second runs. And then we have street cars and Ford Pops running sixes. What a sport we're in, I'm so lucky I'm part of it.

I want to say thank you to my family it's quite true, the families back you up the whole time, without them we'd be lost. You've heard about my mate Dave who I've worked for for thirty years, really it's only about twenty days I've worked for him. Most of all my mate Mike Knowles who's here to night, he's not been to a Hall of Fame thing before but we started DJing together in 1968.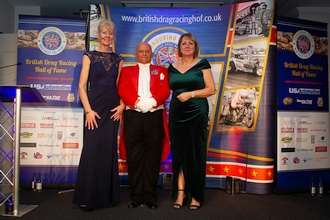 Thanks very much to Stu and Bev, I went out to lunch with them just about two years ago, Stuart very quietly passed me an envelope under the table, I thought, Christ, he's passing me a writ or something. It actually said 'You are invited to join the Hall of Fame'. It was delightful but I'm sorry he's not here. I used to enjoy his company so much, especially when it was raining at the track. In those days we'd all go in the control tower and all the crew would be in there smoking fags and talking about who had the biggest…well you know the story, but I'd like to say thank you to the BDRHoF it was totally unexpected thank you to all the people who I worked with and who I've worked for. I can honestly say 'I've had a great life!' Thank you very much!

Lesley concluded this year's formalities with thanks to everyone who has made this possible – sponsors US Automotive, Santa Pod Raceway, Santa Pod Racers Club and National Street Rod Association with sponsors Atlantic Fluid Tech, BUA Motorsport, Chair Office, Custom Car, Don Garlits Museum of Drag Racing, Eurodragster.com, Jeff Bull Performance Engines, 55+Equity Release, Institute of Professional Drivers, IRH Assessors Ltd, Julian Hunt Drag Racing Photography, Paul Whitehouse Art, Shakespeare Relics, Straightliners, VP Racing Fuels, AMH Air Conditioning and Matthew Dowdy Racing.

Lesley also thanked the Directors, Advisers and Selectors of the BDRHoF for all their hard work, in particular Robin Jackson and Bev Bradbury for their guidance and support. Also mentioned were Master of Ceremonies Paul 'Oz' Wright, Jordan Payne, Andy Wheeler and AMP Audio for their help with the event.

The tombola in aid of raising funds for the BDRHOF Benevolent fund raised £1200 and thanks go to Eurodragster.com editor Simon Groves and his wife Ros, assisted by Phil Cottingham and his wife Angie with Graham Beckwith and his wife Carolynne.

Hal Far Christmas Run What Ya Brung.
20th November: The Malta Drag Racing Association has announced that on 11th-12th December a Christmas Run What Ya Brung will be held from 10am Central European Time onwards at Hal Far Raceway.

MDRA chairman Juan Wolf said "Let's get back to the track for the last time this year to score better ETs".

Swift snippets.
20th November: Birthday wishes today for Santa Pod Raceway co-founder John Bennett (91 years young), noted car painter Jeff Glasser, retired nostalgia funny car and comp bike crewman Denis Bulford, and Top Alcohol Funny Car racer Ulf Leanders, last spotted racing at the recent NHRA Finals at Pomona. Have a great day all from Simon and all at Eurodragster.com.

Good luck to Diane Bowe, wife of Super Street Bike racer Garry Bowe, this afternoon at 15:00 Di will be having her head shaved in support of raising money for breast cancer awareness and you can give by clicking on this Cancer Research UK link.

Well done to Warpspeed Racing's Stuart Crane and Dale Leeks who have supported Canadian racer Terry Schweigert to an eighth mile qualifying time of 3.962/183.84 (1.038 60ft) in the Pro Open class. A dearth of qualifying lists has deprived us of knowing where Terry is in the field, but you can bet he is near the top.

Jonny Young.
19th November: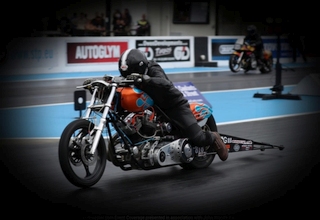 We are shocked and saddened to learn of the passing of Super Twin Top Gas and ET Bike racer Jonny Young. ET Bike co-ordinator Suze Morris writes:

Johnny raced with us in ET Bike at Festival of Power, Euro Finals Shootout and National Finals this year and was a great addition to the class, finishing the 2021 season in 12th spot.

Please join us in sending our condolences and thoughts to Johnny's family and friends at this heartbreaking time. Sleep Well Johnny... the Heavenly Drag Strip has gained a great competitor. RIP 818.


Inaugural Stuart Bradbury Junior Drag Racing Awards.
19th November: Past achievement is the British Drag Racing Hall of Fame's cornerstone, yet it has an eye to the present and future too and has long celebrated success in the Junior ranks. This Saturday sees the presentation of the inaugural Stuart Bradbury Junior Drag Racing Awards when the Hall of Fame's 2021 Gala Awards Dinner takes place at Oatlands Park Hotel in Weybridge, Surrey.

Named in memory of the Hall of Fame's founding chairman, the late Stu Bradbury, the awards recognise the winning Junior Dragster and Dragbike racers of the past two seasons, who will each receive a personal trophy and a cheque for £100.

Thanks to Covid, national championships were cancelled in 2020. Instead, Santa Pod Raceway conducted its Covid Cup competition. The Hall of Fame's directors did not want the winning Junior Covid Cup racers to miss out on the celebration, so have invited them and their families to join 2021's national champions at the Gala.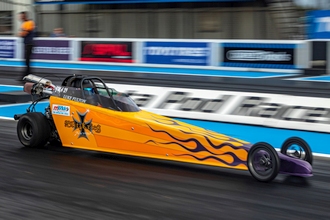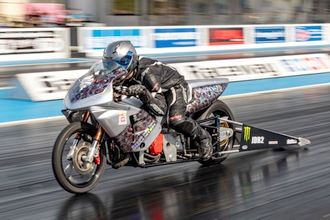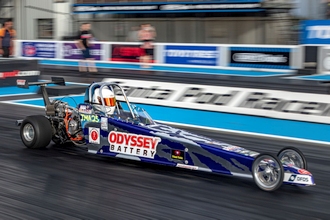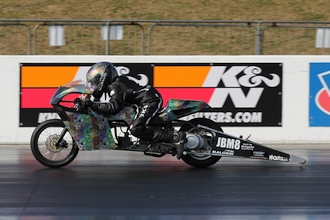 The 2020 Covid Cup winners, pictured above, are Luke Fulton (Junior Dragster) and Liam Holgate (Junior Dragbike), who has since graduated to the Senior ranks in ET Bike. 2021's national champions are Harry Redshaw (Junior Dragster) and Hollie King (Junior Dragbike).

The Junior Awards depend upon the support of sponsors who recognise and understand the value that Junior Drag Racers bring to the future of the sport. The Hall of Fame's directors are grateful to the Santa Pod Racers Club, VP Racing Fuels, Donna Garlits and the Don Garlits Museum of Drag Racing, Philip Evans' company Atlantic Fluid Tech, Jeff Bull Racing Engines, Matthew Dowdy Racing, Andy Hadfield's Team Twister and his company AMH Airconditioning, and an eighth, anonymous supporter who have jointly sponsored two corporate tables for the Junior racers and their families.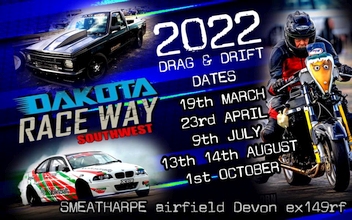 Dakota Raceway announces 2022 dates.
19th November: Smeatharpe Airfield, Devon, known to the drag racing community as Dakota Raceway, have released their dates for 2022. Comprising five races, the dates for your diary are:
19th March
23rd April
9th July
13th-14th August
1st October
Promoter and Eurodragster.com sponsor Lee Child says "There will be more information to follow soon, racers should note that 13th August is a static display day, and the racing will take place on Sunday 14th August."

Swift snippets.
19th November: We've several birthdays to celebrate today. A very Happy Birthday to Pro ET racer Geoff Cowley, Comp Eliminator and FWD racer Simon Crowley, Santa Pod Raceway marshal Bob Day, former Top Fuel and current Gasser Circus racer Tony Pearson who reaches 65, former Super Twin crew chief Vincent Pels and Pro ET racer and former Hot Rod Drag Week competitor Tim Stanbury. We wish you all a great day and many happy returns.

Congratulations to Dániel Donát Lencsés who on his new build Super Street Bike from DME Racing recorded an new PB of 6.883/215.34 pass in qualifying at the Man Cup Finals at South Georgia Motorsports Park yesterday, only his fifth pass on his new bike. A reminder that you can see a free live feed to action from SGMP on Motormania TV from Friday at 10pm GMT.

BDRHoF Benevolent Fund tombola at Gala.
18th November: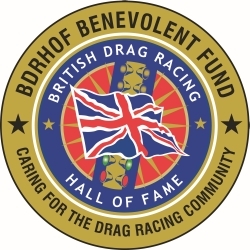 The BDRHoF Benevolent Fund will be holding a Tombola in the drinks reception for the British Drag Racing Hall of Fame Gala on Saturday. A wide range of prizes will be on offer.

To enter, you need to have bought a ticket for the Gala and attend the drinks reception which will commence at 5:30pm at the Oatlands Park Hotel, Weybridge. Tickets for the Tombola will be £10 each payable by cash or card.

The prizes will be located on the long tables by the doors of the Terrazza where the reception will be taking place. Just buy a ticket and see if you have a winning number for the prizes, and pick your prize up on the spot!

The BDRHoF Benevolent Fund is grateful to all those who have supplied prizes for the tombola. The star prize is a Paul Whitehouse Gladiator limited edition print. Other prizes include a model kit from the late Kevin Cerasale's collection donated to us by Richard and Jazmine Tunstall, four posters originally offered at the Dragstalgia auction, Peter Walters Race Design (£100 voucher), Hauser Racing (£75 voucher), Santa Pod Raceway - £50 voucher, Custom Car (1 Free subscription) and Funny Car pistons (used) courtesy Tony Betts, 20 envelopes containing 15 assorted historical Hero Cards from European racers (donated by Eurodragster.com) and drag racing DVDs (donated by Eurodragster.com).

Note the vouchers will be non-transferable, if you win a voucher can you give us your name for including on the voucher.


Drag Seen 2 launches this Friday.
18th November: The newly published Drag Seen 2 sees photographers Paul Martin and Eurodragster.com's Julian Hunt collaborate to produce a magazine featuring 58 images taken at nostalgia drag racing events during 2021, plus a few favourites hand picked by Julian from his archives.

Printed on high quality silk paper in an A5 landscape format Drag Seen 2 features smokin' burnouts, wild wheel stands, track and pit action featuring Gassers, Superstockers, Outlaws, the Wild Bunch and more.

With an introduction written by Niamh Frances Smith (@racewayhussy), the first 100 sold will include a Drag Seen logo sticker designed by official Rat Fink artist and pinstriper extraordinaire Eyeball Mike. It's the ideal Christmas gift for the drag racing addict in your life. Or buy it for yourself to fill the gap till the 2022 season begins.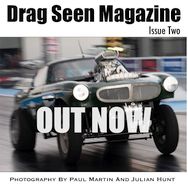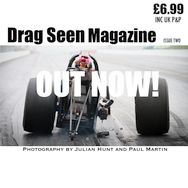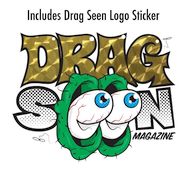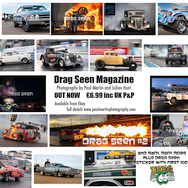 All profits will be donated to Cancer Research UK, and if you missed Drag Seen 1 a limited number are currently for sale - details available on paulmartinphotography.com

The photographers are: Julian Hunt - After his first visit to Santa Pod Raceway in 1990 Julian was hooked on Drag Racing and has attended race meetings regularly ever since. Living close to London in the South East of England Julian enjoyed a long career in the Vintage VW and Porsche parts business and then, in 2007, he decided to learn how a camera worked and has never looked back. His award winning work is published on specialist websites and in many magazines as well as his own website julianhunt.net.

Paul Martin Having spent years living by the sea in the South of England and photographing live music and bands both for magazines and venues, a move to the North re-introduced Paul to his teenage passion of hot rods and drag racing. Applying the same techniques he had employed for photographing live music, using film cameras and vintage lenses on digital cameras, he looks to capture some of the atmosphere of the events he photographs as well as documenting those attending and racing. Paul's website is at paulmartinphotography.com.

£500 up for grabs at Spitfire Raceway.
18th November: We announced a month back that Spitfire Raceway, Perranporth, Cornwall has its last event of the year on 20th November, this coming Saturday. Organiser Lee Child has added a bonus of £500 for the quickest car on the quarter mile drag strip, with VP Racing Fuels goodies for runners up.

Drag and drift racers may enter at this link which includes all the required information in an easy-to-complete form. You can buy a spectator admission ticket for £10 (under 16s go free), and, if you have a crash helmet and full driving licence you can then go drifting or Run What You Brung drag racing once registered. £10 buys you one dragstrip run, £20 three runs and £35 unlimited runs. £60 buys you unlimited drifting.

Gates open at 8am, with track action 11am to 3pm. All vehicles have a safety check for drag racing and drifting, and drag strip riders and drivers meeting at race control 10.45am.

Lee reminds us "Please leave the racing and speeding for the race track . Devon and Cornwall police will attending the event and monitoring the local area. Get a speeding ticket for drag strip not from the police." Perranporth Airfield is located at TR5 0XS.

2022 Melbourne Raceway calendar published.
18th November: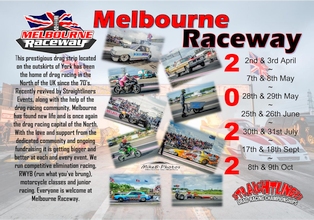 Melbourne Raceway, Straightliners and Duck All promoter Lee Child have announced dates for Melbourne Raceway in 2022. The seven dates in the calendar are:

2nd-3rd April
7th-8th May
28th-29th May
25th-26th June
30th-31st July
17th-18th September
8th-9th October


Each date includes RWYB, Motorcycles & Duck all prep drag race competition Melbourne Raceway. Following planned track improvements in the run-off area, more cars are expected to attend and it's likely there will be a whiff of nitro in the air during 2022. If you wish to add to the appeal for funds which has now raised £10,000 out of the £45,000 needed to complete the next phase of improvements, go to this link on the Straightliners website.

The UK Nostalgia Superstock Association have announced they will be running the final round of their lifestyle championship at the 8th-9th October event.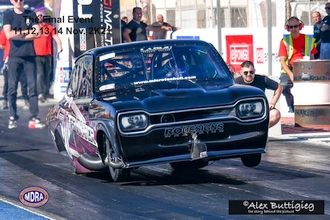 Terminator Escort clutches for low seven.
18th November: Justin Muscat, known as Justin Ladmu to his many fans in Malta is a drag racer who has faced many mechanical challenges. Last weekend at Hal Far Raceway, he demonstrated he had solved all of them - apart from a pesky clutch which failed just as he was approaching his first six second timeslip at the Enemed Malta Drag Racing Association Finals:

Justin told us "I've been running with a rotary since 2014, I've done my PB in 2017 and been struggling to do a pass since then. I was on a storming pass. But we had issues with the RAM clutch in the last run and it kept us from doing a full 6 sec pass. The clutch failed after 5.5 seconds in the run, it was a PB up to that point and that 6 second pass is still teasing us."

Justin's Terminator Mk1 Escort was featured in a 15 page feature in RPM Magazine in 2018 after a photoshoot at Santa Pod Raceway's Doorslammers that year. He acquired his Mark 1 Escort at the age of 12, and by the time he was 15, he had fitted a Pinto engine in it (de rigeur for the Malta Escort classes) and in 2009, won 14 out of 17 events that he entered. After that he acquired another Escort and in 2013-14 built it for quick strip action, including a Mazda 13B twin rotor engine and a 98mm Garrett turbo that sits in front of the 1100hp engine. The car's chassis work and engineering were all done locally in Malta, by Ladmu Chassis Builders. Tuned by Wilbert Performance.

Justin's PB of 7.188/192.6 was recorded in 2017. The gearbox has been a Jerico 5 speed, popular with "sports compact" doorslammers around the world, and rear axle and brake components are from Strange Engineering in the US.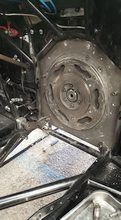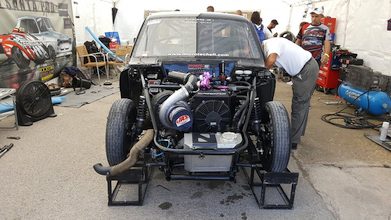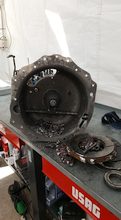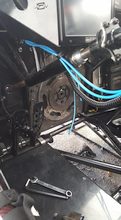 The car's runs in the sevens have been European records with a rotary engine. So expectations were high when Justin hit the track at the weekend. A 7.366 at a slowing 151.85 was the result, with the clutch giving up the ghost at 1000ft. Thanks to Andrew Green for providing photos of the sad result.

We hope Justin, aged just 30, will be able to repair the damage and come back stronger for his first six. He is supported by his team, including dad Eddie Muscat, Christian 'Burbinu' who does the electrical work on the car,Colum Chadwick from Garage Reg, friends, family, sponsors, Ro designs, Vella Brown Garage, Cumina, LMS Transport, Electech, Joe's garage, Fanal Restaurant, Goliath coatings, Pro-S, Forch, Lucas Oil and GarageReg.

Photo credits: launch: Alex Buttigieg, workshop: Andrew Green.

Swift snippets.
18th November: All of us at Eurodragster.com would like to wish Pro Modified racer Annie Wallace a very Happy Birthday for today, have a great day Annie!

Good luck and stay safe to the two teams from Europe who will be competing at the Man Cup Finals motorcycle drag race at South Georgia Motorsports Park 18th-21st November. Warpspeed Racing's Stuart Crane and Dale Leeks will be supporting Canadian racer Terry Schweigert who is riding a bike with a Warpspeed turbo motor and a new billet head combo, built by Warpspeed Racing. Stuart, Dale and Andy Leeks have been working on the new setup with US builder and tuner Dan Wagner; initial results yesterday were impressive with an early shutoff 6.75. From Hungary, Dániel Donát Lencsés is on a new build Super Street Bike from DME Racing, and has recorded an initial 6.99/205mph pass in testing yesterday. Dániel will be bringing this bike back to Europe for 2022 competition. You can see a live feed to action from SGMP on Motormania TV from Friday at 10pm GMT.

Ray Cross.
16th November: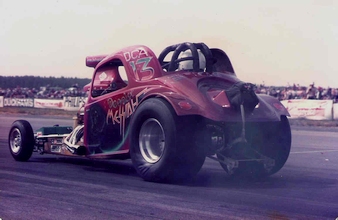 We were very sorry to hear from Robin Read that former Comp Altered racer Ray Cross had passed away last Saturday morning. Robin writes:

"Ray was partnered with brother Brian in the Deadly Messiah Competition Altered. Don Cross has asked me to tell you that everyone is welcome to attend Ray's funeral . It will be at Nene Valley Crematorium on Wednesday 24th November at 1.00 pm.

"Should you wish to make a donation , it is in aid of the Air Ambulance Service . Please contact A L & G Abbott Funeral Directors.

"Brian and Ray crewed on Little Car (Robin's Daimler powered and nitro fuelled rear engined dragster) between 1992 and 1999 , we had some great times and memorable adventures."

Our deepest condolences go to Ray's family and friends.

Photo of Deadly Messiah courtesy Jerry Cookson.

Tina Hambidge.
16th November: Santa Pod Racers Club and Eurodragster.com are deeply saddened to learn of the passing of Tina Hambidge, wife of Comp Bike racer Paul Hambidge. We send our condolences to Paul and Tina's family and friends at this heartbreaking time.

EDRS 2022 dates announced.
16th November: The 2022 Summit Racing EDRS Series preliminary calendar has been announced by Speedgroup in Sweden. Also posted was a photo of the meeting at which plans were decided.

Lena Perés wrote "Organizers from all Scandinavia is making big plans for 2022 drag racing season and Summit Racing EDRS Series calendar was drawn up last weekend. Speedgroup and Scandinavian organizers had a conference in Stockholm discussing plans for the 2022 season."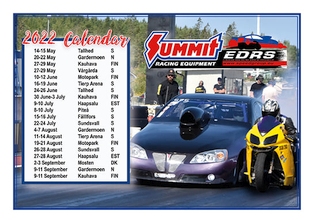 Chairman Michael Gullquist said "The meeting is creating a great foundation for an exciting season in 2022".

The Tierp dates of 16-19 June and 11-14 August will no doubt interest teams wishing to compete at an international event, although no announcement has yet been made by FIA or FIM-E as to the structure of their drag racing championship for next year.

Photo credit: Michael Gullqvist/Janne Sjöberg

Malta results, racer quotes.
16th November: Congratulations to the winners at the Enemed Malta Drag Racing Association Finals which concluded on Sunday:

Top Fuel Dragster: Duncan Micallef, unopposed (event best times: 4.056/295.37 over 1000ft)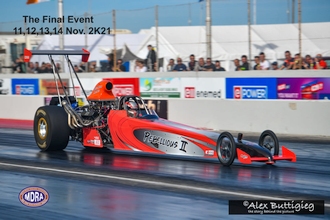 D 6 Class: Mario Borg (pictured right) , unopposed
Open 6 Class: Mario Borg def. Lewis Vella
CA6 Class: Mark Mallia def. Gary Camilleri
DTA 1 / 6 Class: Alan Muscat, unopposed
D 5 Class: Nathan Bartolo (pictured right) def. Alan Zammit
D 4 Class: Nathan Bartolo def. Patrick Cassar
PS4 Class: Rosello Cassar, unopposed
Extreme 3 Class: George Zarb, unopposed
SM3 Class: James Aquilina def. George Cutajar
Escort Class 3: Ronnie Busuttil def. Martin Scerri
Escort Class 2: Martin Scerri
Extreme 2 Class: Clint Fenech def. Mark Farrugia
Open 2 Class: Clint Fenech def. George Zarb
Open 1 Class: John Martin def. Charlie Camilleri
FWD Outlaw Class: Miguel Montebello, unopposed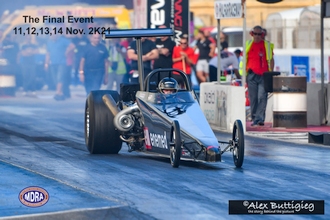 FWD Open Class: Marvic Galea def. Miguel Montebello
Junior Dragster Class: Luca Mangion def. Issac Mula Debono

Index class 3: Neil Caruana def. Neil Gauci
Index class 2: Joe Ashton def. Steve Jennerway
Index class 1: Kevin Gauci def. Wayne Scicluna
Bracket 8.00-8.49: Dennis Desira, unopposed
Bracket 9.00-9.49: Charlie Camilleri def. Wayne Muscat
Bracket 9.50-9.99: Wayne Scicluna, unopposed
Bracket 10.00-10.49: Dunstin Mangion def. Malcolm Parnis
Bracket 10.50-10.99: Gordon Cassar def. Nigel Muscat
Bracket 11.00-11.49: Joe Ashton def. Semira Galea
Bracket 11.50-11.99: Dillon Lanzon def. Steve Jennerway
Bracket 12.00-12.49: Mario Scerri def. Terry Gilam
Bracket 12.50-12.99: Reuben Micallef, unopposed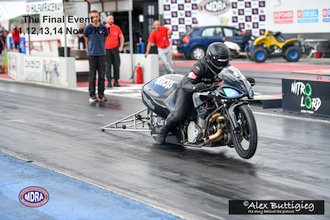 Bracket 13.00-13.49: Neil Gauci, unopposed
Bracket 13.50-13.99: Maria Degiorgio, unopposed

Top Fuel M/Cycle: Franklyn Borg, unopposed
M/Cycle Open Class: Franklyn Borg def. Joseph Grima
Outlaw M/C: Shawn Buttigieg, unopposed
M/Cycle Index 8.5: Steve Bezzina def. Briegel Micallef
M/Cycle Index 9.5 and Bracket M/C 9.50-9.99: Brian Seychell, unopposed
Bracket M/C 8.50-8.99: Briegel Micallef, unopposed

Bracket M/C 8.00-8.49: Chris Vella, unopposed

We obtained some comments from racers who posted to social media and notes on quick runs:

Dennis Desira who won the Bracket 8.00-8.49 class ran a seven 7.926/177.18 in his street legal Cosworth Sierra Sapphire 4x4.


Rosello Cassar (pictured left), the unopposed winner of PS4 class, said "The race weekend is over and it was not one of the best weekends, but we still managed to get some positive feedback. With my race car in the Escort Classes, we had a good start in practice with one full pass hitting 11.02s. In qualifying we were modifying the car setup to solve an issue with the 60ft times but unfortunately after the 3rd run we had an issue in the car and we had to stop.

"On the other hand, I was given the opportunity to drive The Fireball Escort, Bjorn Xuereb's race car. It was the first time for me racing with nitrous, and I must say that I enjoyed it so much. The car has a new setup, and from three passes with no issues we logged 9.4, 9.4 and a 9.25. I would like to say big thanks to Bjorn Xuereb and his Team Sandro Mamo, Luke Mamo, Ludwig Camilleri for their trust in me and all their help during the weekend.

"A big thank you goes to my team Francesco Desira, Marco Magri, Joseph Desira and Stephen Borg that had to work harder as I increased their job now. "A bigger thanks goes to the Engine builder Monty Joseph Bugeja for his dedication and perfection at Powerhouse Garage, and special thanks to Eddie Muscat & his son Justin Muscat at Ladmu Chassis Builder for all their help. Last but not least, a special thanks go to my family especially my wife Priscilla Cassar for all her patience & support, and all the fans locally and abroad for your support."

Jurgen Caruana (Escort Mk5) said: After a long break from driving feels good to be back. After all the issues during the weekend we made only 4 full passes and managed to get the car running low 10.s with a PB 1.6 60 ft to 10.2sec and 138mph. Special thanks to Mark Farrugia my mechanic and tuner, my team Horatius Caruana, Matthew Grech and Timothy Caruana and all the people involved.

In Motorcycle classes, Franklyn Borg (pictured above right) won Top Fuel M/Cycle and M/Cycle Open Class running a new 6.88 PB after going 6.92 193MPH in qualifying. He acknowledged the support of Tony Engineering, Power House Garage, Bilom Service Station and Joseph Caruana Chassis as well as his team.

Shawn Buttigieg ran the Outlaw M/C class and ran a 7.084/204.62 in qualifying on Friday, with a 6.824/209.36 in round two against M Agius.

Steve Bezzina said "I was very happy winning Index class and managed to make new personal best 8.45 with 1:25 60ft. Big thanks go to my great helper Richard Schembri, to my tuner Shawn Buttigieg, my family and friends for all the help and support."

Thanks also to Justin Ladmu (rotary engined Escort) who ran a best-ever 7.366/151mph but suffered a clutch explosion. We will be posting Justin's story in tomorrow's update.
.
We have posted galleries from both Friday's and Saturday's action at our event coverage page sponsored by John Woolfe Racing.

You can see media from the Enemed Malta Drag Racing finals at the following links: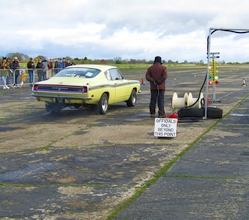 Dakota Raceway results, gallery.
16th November: Congratulations to the winners at the Dakota Raceway No Prep cash race on Saturday, information courtesy race organiser and promoter Lee Child:

Pro rear wheel drive: Pete Lane (Plymouth Barracuda) def. Nick Barnett (Ford Falcon)
Pro all wheel drive: Nick Martin (AMG Mercedes) def. Sam Jones (Tesla)
Pro front wheel drive: Richard Penfold (Ford Escort) def. James Penfold (Ford Escort)

Thanks to James Webber there is a gallery of photos around the track and in the pits which you can see at our gallery sponsored by John Woolfe Racing.


Stilwell achieves objectives.
16th November: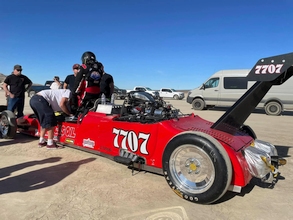 Land speed racer and Eurodragster.com sponsor Geoff Stilwell sent us another update from Lake El Mirage following his runs on Sunday in the the 7707 Lucas Oil Landspeed '27 Ford roadster:

"Saturday was quite a difficult day and the organisers decided to close the course at 2pm as it was a bit like a ploughed field. Two cars had spun out. Whilst the organisers worked on the course my team serviced the engine. We looked at the data and found that going 148mph I was only using 17% throttle, almost on tickover!

The fuel consumption was something else, three gallons of methanol in one minute before switching it over to nitro and then 14 gallons of nitro on the run. John Beck and Nick are doing a great job. The supercharger is only on 17% overdrive with minimal boost as a result, and on 69% nitro."

There are some amazing cars here, twin engined machines, blown flatheads in streamliners. Crew chief Nick Davies commented "Fascinating weekend of insight and education at the El Mirage dry lake, the birthplace of the SCTA. The free-thinking innovation behind some of the race cars is extraordinary."

On Sunday Geoff ran two passes of 126.749mph and 174.816mph to obtain his C and D licenses for El Mirage, for which many congratulations to him. He said "Huge thanks first of all to the following people, Lucas Oil, Mick Jenkins at Micks Paint, Tony Thacker, Donny Cummins, John Beck, Nick Davies, Paul Bowman, Paul Rivera, and Nathan. We went to El Mirage to get comfortable with the car and test it out. It was mission accomplished. The 7707 performed flawlessly. I need to also thank everyone at the SCTA for all their help and advice, and keeping us safe. The 7707 team will be back at El Mirage in May 2022."

You can see a video of Geoff's licensing runs taken by land speeed videographer extraordinaire John Wylie by clicking here. John's apposite comment at the end was "That's how you do it!"

Eurodragster.com Christmas Mart.
15th November: Thanks to all contributors to this year's Christmas Mart, for the person in your life who has a love of European drag racing, supporting those who invest their lives into our sport:

If calendars are your choice, Chris Eyre has come up with a whole range. Chris says "For this year I am doing 4 different calendars, Top Fuel, Funny Car, Pro Mod and Nitro Bikes. I am also doing 40x60cm canvas prints which can feature any of my photos. I have many photos not on my site too, so please message on my contact page to discuss your needs. All this can be found at Chris's online shop." The photos below shows all calendar covers and the canvas.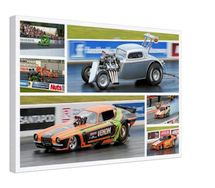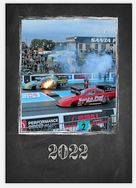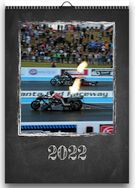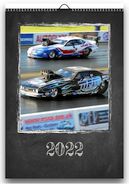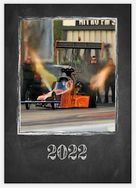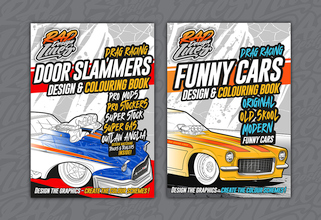 Youngsters and the young at heart love colouring books. Darren West of Power Race Graphics writes: Our RAD Design Lines brand has great colouring book stocking fillers for the drags mad artist and designer! We are excited to announce we have a brand new book coming for Christmas 2021. Our 'Funny Cars' book is the second in the series of design and colouring books featuring some of the most popular funny car body styles in the history of the class - this is a cool gift for the funny car fans! The new book is available now to pre-order and ships from Monday 29th November .. just head over to our website to order your copy!

Our very popular 'Door Slammers' design and colouring book is still available on our website, but there's just a limited number of these left now so move quickly as we won't be reprinting this book before Christmas.

The RAD Design Lines mission continues to inspire young people to get creative, get into design and motorsport graphics and let their imaginations run wild! Shop now for both books at - www.raddesignlines.com.

Longtime Eurodragster.com sponsor and race car builder Robinson Race Cars has a new on-line store selling Anger Management 2.0 t-shirts, depicting Andy's new Pro Mod '69 Camaro, at www.robinsonracecars.com/merch. Many sizes are available.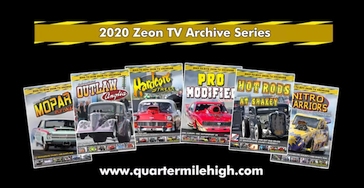 Our good friends at Zeon video are selling DVDs of previous years at Santa Pod Raceway, with great quality pictures and commentary from the finest in the sport. UK shipping is now free and generous multi buy discounts are available - if you buy 5 or more there is a 30% discount.

Illustrated are the 6 exciting DVDs from the archives of Zeon TV, with some of the best drag racing action from the last 20 years at Shakespeare County Raceway and, of course, Santa Pod. The titles comprise Street Eliminator, Outlaw Anglia, Pro Modified, NFAA Fuel Altereds, Hot Rods at Shakey and Mopar Euronationals.

Helen Todd of Zeon said "We have put some of the old titles back to 2006 on there that we haven't had listed for a few years, on the basis that when they're gone they're gone." So if you want these DVDs the message is to order sooner rather than later. Zeon's web site is at www.quartermilehigh.com.

Eurodragster.com sponsor and Super Pro ET racer Peter Walters has an offer from his Peter Walters Race Design online shop POWERED Co: 'Tree' Air Fresheners are the perfect stocking filler! Forget those other trees. This is the only 'tree' air freshener you need! Give your daily driver, hot rod, trailer, RV or even race car that fresh lemon scent! Guaranteed to please and makes any enclosed space smell fresh and clean. They're Lemon scented, Easy to hang and Long lasting. Just £3.00 from powered.shop.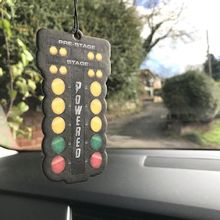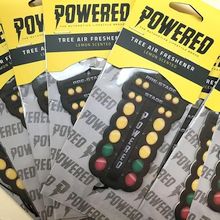 Event coverage sponsor John Woolfe Racing has an extensive stock of automotive books focusing on US marques, including several drag racing related titles, all available to buy on its on-line shop. Prices include free shipping. Titles that caught our eye are the Warren "The Professor" Johnson and Don "The Snake" Prudhomme autobiographies.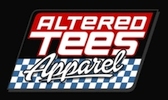 Craig Dixon of Altered Tees Apparel offers a wide range of clothing for drag racing and hot rod enthusiasts including work from 27 listed artists as well as custom designs. A number of British drag racing teams' apparel is featured which you can see at the race teams page - for any of these you can buy a t-shirt, hoodie, zoodie or vest. Craig said "Quality using the latest technology production is stunning with great ease of washability. In a few days Christmas special money-saving offers will appear on the web site, keep a watch out for these".

Last but definitely not least Santa Pod Raceway has a range of gift cards, gifts and branded championship apparel which you can buy online from the Santa Pod shop.

Perpetual trophy return appeal.
15th November: Thanks to to Santa Pod Racers Club Secretary Ian Marshall for requesting the return of the Perpetual trophies from the current holders.

Ian says "Can current trophy holders please return them to either the SPRC address or to Santa Pod Raceway if that's easier. The P.O. Box address is Santa Pod Racers Club, P.O. Box 12, Rushden, Northants, NN100ZU or send to Santa Pod Raceway, Airfield Road, Podington, Nr Wellingborough, Northants, NN29 7XA for the attention of Darren Prentice."

Highs and lows at Hal Far.
14th November: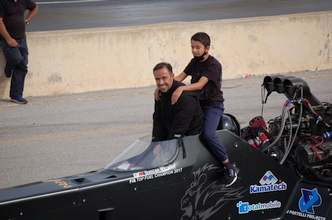 The Enemed Malta Drag Racing Association Finals continued on Saturday with final qualifying and eliminations. Several cars ran quick times which we will list in a separate news item. One of the highs was Duncan Micallef in a Top Fuel exhibition run going 4.05/295 on the 1000ft, which you can see at this link, Duncan slowing down and stopping with his chutes out.

Later, Duncan in his role as Malta Motorsport Federation President announced in conjunction with FIA Drag Racing Commission member Keith Bartlett that the drag racing part of the €20 million project to transform Hal-Far into a motorsports complex will come to fruition over the next 12 months.

The plan is to licence the track at next November's MDRA Finals with the addition of Top Fuel, Pro Mod and other classes from the FIA/FIM tour doing exhibition competition, then for Malta to be the opener for the full FIA European Championships in April 2023.

The day was marred only a couple of hours later when Open 6/CA6 class racer Nicholas Ferrugia's parachutes failed to open on his small block Chevy powered Escort Mk1, after a 7.6s/170mph run, and, despite a huge effort to get the car stopped using its brakes, it went through the sand trap and tyre wall, as well as the track's main outer wall. A 14 year old girl who was the other side of the main outer wall was hit by debris from the incident and was hospitalised with injuries, where we understand she is currently recovering. Nick Ferrugia was also taken to hospital for observation and released. We wish all parties involved a speedy recovery from the incident. As it is under police investigation, we will not comment further.

The race continued at 09:00 CET (08:00 GMT) today. You can see a gallery of photos from Andrew Green as well as updated information about the racers' vehicles at our Event Coverage page sponsored by John Woolfe Racing.

Streaming video of today's action is available at Motors MT Facebook page, and Malta Drag Racing Association secretary Konrad D'Anastasi will be posting videos to his Youtube channel after the event. Photographer Alex Buttigieg has posted a gallery from the track today on his Facebook page.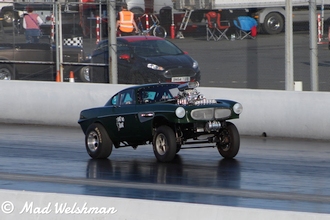 Ain't No Saint wins Hot Wheels Legends Tour.
14th November: Congratulations to the Ain't No Saint team, headed by Lee Johnstone with car constructor Steve Wright, Lee's wife Sue and daughters Eleanor, Sarah and Victoria, for becoming the global winner of the Hot Wheels Legends Tour. As winners, Hot Wheels will be producing a die cast model of the Ain't No Saint Volvo P1800 gasser.

The award presentation show was hosted live at Jay Leno's Garage, which you can see on Youtube by clicking here, the judges (including 2019 Santa Pod visitor Elena Scherr) paid compliments to both the car and Santa Pod Raceway as its home track. "It's so nicely done he kept the shape so clean with the giant engine in the front, he didn't overdo anything which is so nice, I would just like it to cruise down Sunset Boulevard in it, it's classy."

The video around the construction of the car which was shown in the entertaining presentation.

Lee commented: "I would just like to thank everyone for all the likes, thumbs up, and congratulations that you have posted. It's rather overwhelming, but a very nice accolade, thank you to all the judges at Hotwheels Legends 2021 it will be a great legacy for my daughters and grandchildren."

Photo credit: Mad Welshman.

Update from 7707.
14th November: Geoff Stilwell made his first Landspeed run since 2018 in the the 7707 Lucas Oil Landspeed '27 Ford roadster, following the team setting up and the car being scrutineered. He told us:

"On the first run, the plan was a shakedown run just so I could get used to the car. However, at 148mph it started to spin the rear tires really hard so I backed out out of it, pulled the chutes and we are now just making sure everything is ok. We are currently servicing the car, and hoping to get out for another run this afternoon.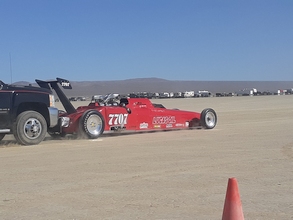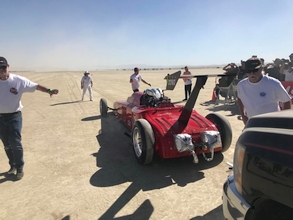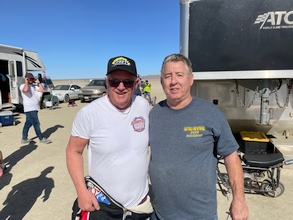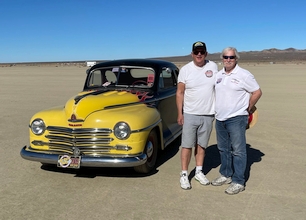 "They have had to put everything on hold so I doubt we will run again today, so after we have serviced the car we will fire it up ready for either today or Sunday morning."

Geoff was greeted by some well-wishers who visited El Mirage, landspeed legend Al Teague (pictured left) and Irwindale Raceway and nostalgia events announcer Bob Beck (pictured right). Despite outages caused by poor local internet bandwidth, we hope the live streaming coverage from lsrlive.com will continue.

Swift snippets.
14th November: Happy Birthday today to Barney Campbell, head of Box Lane Video Productions who produces streaming video for Santa Pod Raceway, have a great day Barney!

Photojournalist Steve Moxley has had his report on 2021's Dragstalgia posted at Tim Hailey's US site Eat My Ink, which you can see by clicking here. Steve's report as usual includes superb photography and notes on the racers.

King Racing, Cannon Motorsports announce collaboration.
13th November: Some great news for European Top Fuel Bike racing today with a record holding machine now planned to remain in the UK:

The twelve-time FIM European Championship winning King Racing team and Cannon Motorsports have announced they are to join forces for the 2022 season.

The collaboration between the UK based teams will see Neil Midgley take the seat of the Puma Engineering constructed multiple FIM Championship and world record holding machine in European competition whilst continuing the development of his impressive supercharged DOHC V Twin machine in the ACU British Championship.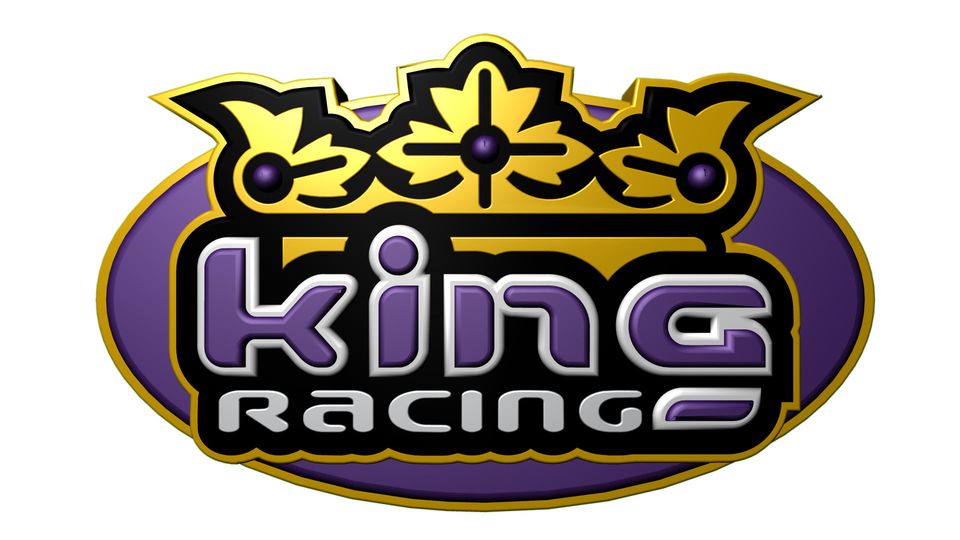 Chris Hannam, Team Principal for the Cannon Motorsports team said "this is another exciting evolution of our team activities, as a previous owner and rider of a six second supercharged 4 cylinder Top Fuel Motorcycle I regret I did not spend more time in the class, but with Neil's investment in this program we have another opportunity to show what we can do and compete at the very pinnacle of motorcycle drag racing alongside the ongoing development of our Nitro Supertwin".

Ian King, Team Principal of the King Racing team and co-owner of Puma Engineering said "with our current rider Filippos `Fast Fil' Papafilippou announcing his intention to concentrate on family and business priorities I am delighted that Neil and Chris have decided to take the opportunity to join forces with our team and take advantage of the continuing development program we have for our world class machine. Neil has shown his riding talents over the last decades in Super Street, Funnybike and Nitro Supertwin and we have no doubt that he will be more than able to exploit the continuing developments we have been working on over the last decade and maintain performance at the very top in the world.

For more information contact Ian King or Chris Hannam.

Cosworth doorslammer six second barrier broken.
13th November:
The Mk1 Ford Escort driven by Clint Fenech, run by Lixxu Racing and powered by a Cosworth YB, yesterday broke the six second barrier at Hal Far Raceway, confirming its title as the quickest 4cyl Mk1 Escort in the world. The car's previous best was 7.053/193 and the new mark, yet to be backed up was set in qualifying for the Malta Drag Racing Association finals at Hal Far Raceway.

Congratulations to Clint and Lixxu Racing on the 6.998/194.05 run which had incremental times of 1.086 to 60ft, 2.923 to 330ft and 4.479/157.39 to half track. Whilst running the Escort, the team has been building a 2JZ-powered Pro Mod Mustang.

Clint and the team told us about how the record-setting car came about: "The Escort was built originally in 2014, however after two years running mid 8s passes and eventually going into the 7 sec zone, we needed to upgrade a lot of parts for the car to be consistent and reliable. We put the car under the knife in 2017 in our own workshop and with help from Grampun chassis works we reinforced the 3/4 chassis frame.

"We rebuilt the car from scratch, revising the Cosworth YB, fitting a new Garrett G42 turbo along with a Precision PT2000 air to water cooler. Also we converted it to run on methanol fuel. The engine is all designed and built in our own workshop. Electronics-wise, the car is fitted with a Link G4 ECU, all wired in-house and tuned with help from Vince Auto Mechanic.

"Transmission is a Liberty 5 speed, air shifted, and power is transferred through a Ram adjustable clutch. We would like to thank all the team for all the effort and hard work. Also big thanks for our sponsors John's Diesel Service, Vince Auto Mechanic, Grampun Chassis works, Prospeed Parts, Quttu Garage, Fuch Lubricants by RTK Dimech, Balsons Silencers, K&O Detailing, Venom Concepts and AMC Towing."

Many thanks to Andrew Green for sending a gallery of 65 photos from Friday which we have posted on our Event Coverage page for the Enemed Malta Finals sponsored by John Woolfe Racing. Andrew will be sending photos for each day of the event. Today's include several familiar faces from the UK which you can see in the gallery at pic 5, 19, 28, 29, 33, 37, 40, 41 and 60.

7707 arrives.
13th November: Land Speed Racer and Eurodragster.com sponsor Geoff Stilwell arrived at El Mirage lake with the 7707 Lucas Oil Landspeed '27 Ford roadster and team, and he reported that the landscape there is 'surreal':

"We towed up Friday morning, left at 08:10 and arrived at the track at 10:10. The landscape is like being on another world, and it's amazing that it was actually a lake once.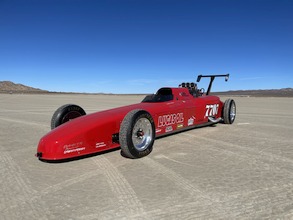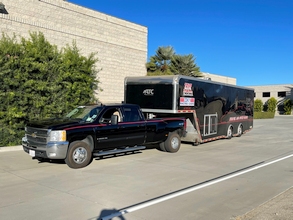 "We plan to get the car through tech and then will fire the engine up two or three times in order to tune it up and check the procedure. On Saturday there will be a 7am start with first runs about half an hour later showing on the live feed. "Weather conditions are looking good, with a slight breeze characteristic of El Mirage and temperatures in the mid seventies. Crew chief Nick Davies will be working with engine builder John Beck and Donny Cummins on running the car. The pits are filling up nicely and we're looking forward to running the car." You can see action from El Mirage in the live streaming coverage from lsrlive.com starting 15:30 GMT on Saturday.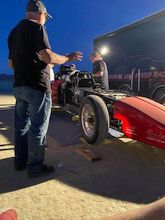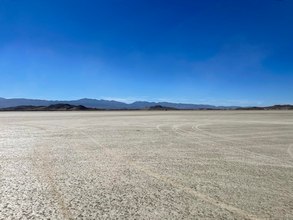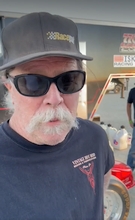 Update 12:00: Geoff said early today "We have the drivers meeting at 7.15am. Then the top ranked 25 vehicles go down the track. While they are doing that we will be warming the motor, so I think we will be running around 09:30 (around 17:30 GMT). We are looking to run between 175 and 190 on the first pass. Then we look at the data. We currently have the blower set to 17% overdrive."

John Beck commented "We got the engine in meow mode, it's only got 69% nitro in it, we got the blower backed up a little bit, so it's a little timid, but it's going to propel you, my friend, and any time if you come back and say "can we put a little more in it", that will be no problem, you know."

NSRA at Classic Motor Show.
13th November: Many thanks to Alan Martin who spent Thursday setting up the NSRA stand at the Classic Car Show at the NEC and will be in attendance every day until Sunday. Alan said "The NSRA stand has a 34 Ford Coupe with a blown Hemi as part of their display and as always, Outlaw Anglia are in attendance. All in all, it looks to be a very promising show, with an eclectic mix of road and race machinery to appeal to any petrolhead."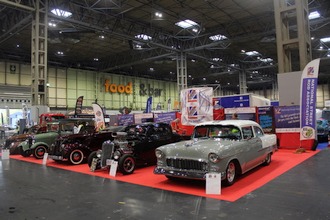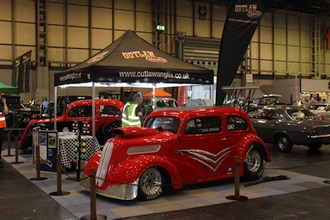 The NSRA will be celebrating its 50th anniversary in 2022 and special events are planned to celebrate pre-1972 hot rods, street rods and customs, with the two nostalgia drag racing weekends at the Nostalgia Drags 3rd-5th June and Hot Rod Drags 16th-18th September.

Details of the show which continues Saturday 9am - 6.30pm and Sunday 9am - 5.00pm are available at www.necclassicmotorshow.com. Features include the Discovery+ Live Stage, a plethora of marque exhibitors, Old Skool Ford, and Classic American magazine.

Happy 50th Mark Coulsell!
13th November: Thanks to Lynne Coulsell who has sent a 50th Birthday greeting for husband Mark:

Limited Funz Racing want to wish Mark 'Marra Senior' Coulsell a MARRAHOOSIVE Happy 50th Birthday. Looking forward to a fabulous weekend in Wales with our Racing Family. 8.07 @ 161.94mph - not bad for an old man.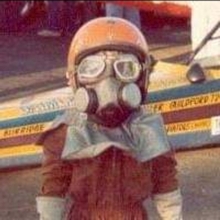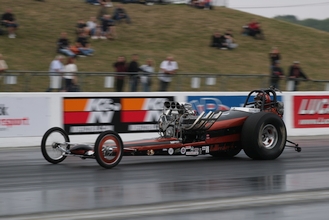 Eurodragster.com wishes Mark a splendid birthday, have a great day!

Destination: El Mirage.
11th November: Land Speed Racer and Eurodragster.com sponsor Geoff Stilwell has a tight schedule to prepare his 7707 Lucas Oil Landspeed team's '27 Ford roadster for test runs at El Mirage dry lake in Californiaat this weekend's meeting organised by Southern California Timing Association:

"We arrived yesterday and have a day to check everything is right before setting off for the lake tomorrow. Nick Davies and engine builder John Beck will be going through the 494ci Brad Anderson nitro motor and I will have a seat belt fitting. We've so much equipment that we've had to rent a truck to put everything in as we have a lot more parts than we had when we ran at Bonneville in 2018. That includes engine components such as rods, pistons, bearings, valves and spare heads.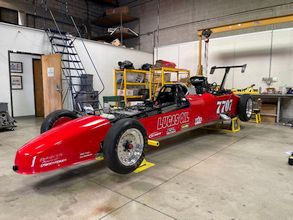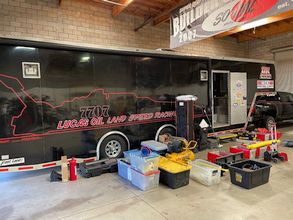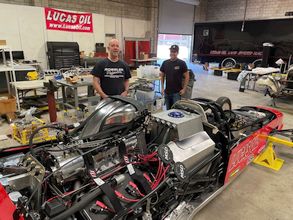 "Space will be taken up by the 60 gallons of Lucas oil that we change after each run, but not by nitro as we are not permitted to carry that in our rig and it is transported separately to the lake.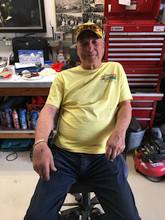 "The team going will be six of us, myself, Nick Davies, Mick Jenkins, Tony Thacker, John Beck, Dony Cummins, Paul Bowman and Nick who I thank in advance for their help and support. There will be other friends at the lake and I am thrilled that legendary fuel tuner Bill Schultz who came over to Europe some years ago, will be joining us for the weekend.

"We will arrive at El Mirage tomorrow after a 70 mile drive, set up and get through tech inspections. El Mirage is different from Bonneville in many ways. We can stay overnight at the lake, unlike Bonneville, and the surface is hardened mud on a dried out lake bed rather than salt. This means we have to seal the car completely otherwise a lot of dust and mud particles can get in the car. Fortunately the weather forecast is good but if a wind gets up or twister arrives, the surface can get blown about.

"The course is shorter than Bonneville, one mile, a timed course of 0.3 miles and just a mile to stop. That's not a lot of distance to slow down a 5000lb car from high speed with chutes and powerful brakes. So our target for our testing this weekend is to set a time, see how the car handles, make sure all the tricks and gadgets on it work, and then see if we can go for a decent run over 200mph.

"As it is a two day event and will be well attended (the entry list shows 123 vehicles - Editor) we want to aim for 4-5 runs over the weekend with the possibility of a sixth if things go well.

"The procedure of starting the car takes four people and that will be what Nick will be looking at although it is different from that for his fuel altered, let alone the Pro Mod. There will be plenty of footage with onboard cameras and we'll get some media up as soon as we can." So good luck and stay safe to the Geoff and his team. In the meantime you can see live streaming coverage from lsrlive.com starting 15:30 GMT on Saturday.

Pictures © Geoff Stilwell: 7707, everything ready to load, Nick with Donny Cummins, special guest Bill Schultz.

Final call for 2021 Dakota.
11th November: Lee Child has announced it's still possible for racers to enter the season-ending race this weekend at Dakota Raceway Southwest, Smeatharpe Airfield - and both racers and spectators must now enter pay on the gate:

Spectators are welcome this Saturday for the drag and drift on 13th November with track action 9am to 4pm. Racers can enter on the day for quarter mile run what ya brung for £60 including a driver's admission ticket. Quarter mile passenger rides will be accepted in RWYB. The 1/8 mile heads up drag race cash day includes run what you brung driver entry and two admission tickets for £120 which should also now be entered on the day. Full details of the competition were announced on 23rd October and classes and other arrangements remain unchanged.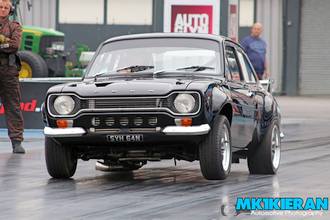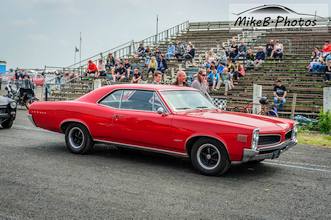 The 1/8 mile drag race for cash competition is Street Outlaw style and Dakota is an excellent place to meet up, with coffee, cars, bikes and bacon butties all on the menu. Spectator admission is £10 each, kids go free.

The entry includes several quick cars, the Ford Escort Mk1 of Paul Margetts, Pontiac GTO of Kevin Headon, and several other full-on doorslammers. Drifting for the weekend is sold out, a drivers meeting for drifting is at 08:30.

The post code for Smeatharpe Airfield is EX14 9RF.

Photos by Kieran and Mike Burrowes

Malta spotter's guide.
11th November: Greetings to all those that have made it to Hal Far Raceway, Malta for the 2021 Finals which runs from today to 14th November. Fans of drag racing at Hal Far, Malta that cannot attend may have at least a day more to wait for streaming video online, however everyone can see what race cars will be in store by downloading our exclusive, and completely unofficial, spotter's guide. We've gathered such information we could find from a trawl of our sources, sorting it both by race number and by vehicle type.

Malta Drag Racing Association secretary Konrad D'Anastasi will be taking videos of practice and qualifying tomorrow and posting them to his Youtube channel. Photographer Alex Buttigieg has posted a gallery from the track today on his Facebook page.

Video producer Christian Bordieri has announced rewards for racers who have entered this weekend and commission him produce videos on their cars for publicity after the event. The cost of Christian's video production is reduced to €100 per entrant and there are a number of other incentives sponsored by MDRA, Hal Far Raceway bar, Visage Sound Ltd and CarXify Malta.

Action starts tomorrow at 10am with dial in runs. Drivers and crew can collect wrist bands at the gate from 8am.

Malta entry list, D5 debuts.
9th November: You can see the current entry list for this weekend's Enemed Malta Drag Race Finals at this link.

Looking at the entry list, there are several observed runs for drivers in new classes. In the Dragster D5 class, populated by turbocharged four and six cylinder engines that often run startlingly quick times, Clifton Abdilla has a new car (pictured left), with the aid of Jonathan Galea, Tony's Engineering and Grampun Chassis works; Melvin Vella (pictured right) is also debuting, aided by Mark Farrugia. Both have done limited tests at the end of October and hope to be up to speed for their observed runs.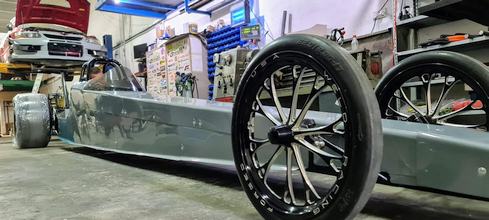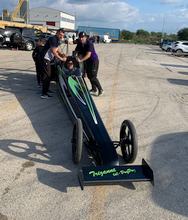 Clifton told us "Our dragster aptly named anonymous is a 247" long dragster chassis originally purchased from the UK and brought down to Malta for assembly. We started off with a 94mm Precision Pro Mod turbo-powered Toyota 2JZ engine which was expertly built by co-owner and tuner Jonathan Galea and all engineering was done by Tony's Engineering. The engine is mated to an airshifted Liberty 5-speed transmission which drives the wheels through a custom Chrisman differential setup. All of this is orchestrated through Fueltech's flagship FT600 ECU. The dragster features several custom fabricated pieces which were all crafted by Matthew Camilleri from Grampun Chassis works."

Melvin's dragster has a Mark Williams chassis with a Toyota 3-S GTE 2.0ltr engine with Precision turbo, Fueltech FT600 ECU and Liberty gearbox with air shift. Engineering work was done by Tony's Engineering and the crew chief and tuner is Mark 'Gladiator' Farrugia who helped Melvin with the build.

Thanks to Clifton and Melvin for supply information on their dragsters. With a full 8 car field in prospect the D5 class will provide spectacular action, and good luck and stay safe to all.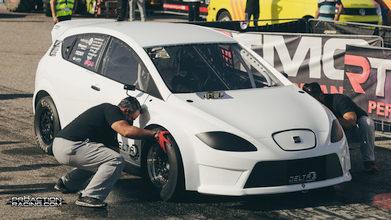 Agrinio media, snippets.
9th November: Thanks to officials at Proaction Racing in Greece for posting photos from the 3rd race of the Panhellenic Drag Racing championship at their Facebook page. More photos will be posted at the same link in due course.

Well done to Dimitris Zachos for winning the 9s bracket class in his Seat Leon 2.5ltr turbo, you can see a well produced in-car video by clicking on this Facebook link. Dimitris's time of 9.795/244.89kph was only just short of his PB of 9.699/250.87 set back in May.

We have also heard that Agrinio Raceway announced the 4th race of the Greek Championship on 3-4-5/12 under the auspices of rule-setting body OMAE. This is a positive message about the future of the sport in Greece, along with the FIA safety upgrades we mention below.

Safety in Panhellenic Championship to be addressed further.
9th November: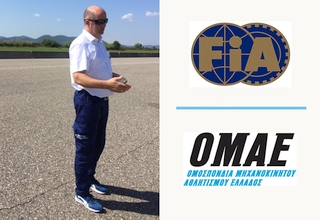 As part of the close cooperation that is taking place between the FIA ​​and OMAE-EPA to upgrade safety in Drag Racing in Greece, the Race Committee of OMAE hosted Frans Steilberg, FIA Technical Delegate for Drag Racing, (pictured right)at the third race of this year's Greek Championship, held in Agrinio on 5-7 November 2021.

During his previous visit at the beginning of September 2021, Frans has presented the possibilities offered by the FIA in order to upgrade the safety standards to the Committee (EPA) of OMAE.

Noting that the area needing improvement in the majority of European countries is the technical inspection of cars as well as complying to current safety standards, Frans made a detailed presentation to members of the OMAE Safety and Drag Racing Committees, concerning the critical parameters that must be checked along with the provision of safety equipment for both cars and drivers as well as the procedures to be followed to ensure compliance with the regulations.

He also pointed out ways in which further training of drivers, engineers and officials as well as the members of the emergency rescue teams, should take place.

Frans made his first visit to the airport of Agrinio in September to review the preparations for this particular facility to host Drag Racing. He noted that the condition of the track and the concrete barriers alongside the track are positive features and to be encouraged throughout European drag racing.

Last weekend Frans attended Agrinio Raceway to observe the 3rd round of the Panhellenic Drag Racing Championship.

Based on Frans's observations which were addressed to the executives of Greek Drag Racing, the OMAE-EPA will adopt a detailed plan to upgrade the safety of each racetrack and every aspect of dragster racing used in the Greek Drag Racing Championship. The main priority of OMAE-EPA is to make the most of the opportunities generously offered by the FIA ​​to upgrade the level of safety in drag racing, as well as in all other forms of car racing.

Swift snippets.
7th November: Diana, Kirstie, Julian, Kieran and Simon would like to wish retired Eurodragster.com News Editor, Race Reporter and not-yet-retired Photographer Tog a very Happy Birthday for today. Have a great day buddy and many happy returns.

For those following the Haltech World Cup Finals for Import vs Domestic which are taking place at Maryland International Raceway, Budds Creek, US, qualifying sheets and ladders can be seen at the event's Facebook page. The diversity of entries and unpredictability of performance in the cool conditions, despite the track announcer's plea of "Heat in the motors!", makes for intruiging viewing.

Also from over the Pond, you can see media from Nitro Revival at the event's Facebook Group including a number of videos, with apologies to those who had planned to attend but travel arrangements got stymied by the travel restrictions ending tomorrow.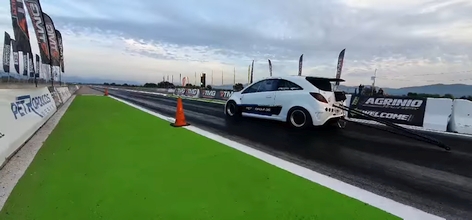 Agrinio ladders.
7th November: Thanks to track officials at Agrinio Raceway in Greece for posting ladders following qualifying at the 3rd race of the Greek Drag Racing championship. You can see ladders for classes AT1, BT1 and BT2, index classes 8/9/10/12s, and index class 11.

Pictured is Savvas Petropoulos in his qualifying run yesterday, going 5.8/212kph to the eighth. We plan to publish results and media from the event over the next few days.



Drag Racing Into the 80s.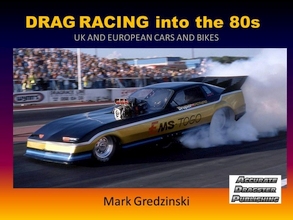 6th November: Many thanks to photojournalist Mark Gredzinski for updating us on progress on his book Drag Racing Into the 80s, following the publishing of his well received truck book Midnight Movers produced by his publishing company Accurate Dragster Publishing:

"The whole thing is similar to the truck book in that it will have taken around 1000 hours to produce. That's unpaid hours incidentally (are there any other sort of hours? - Editor).

"I have scanned some 5000 images of which I have earmarked around 300 for the book. The final total will depend on the design. No point in putting lots of postage size pics when many deserve enlargement. Ninety nine percent of the shots have never been seen before. Right now I'm at the individual picture editing stage. This is variable. Some films like Kodachrome slide film have just small dust removal to contend with. Other key shots like one of Tom Hoover, has negative damage (happens on 40 year old film sometimes) so took about 90 minutes of careful work to get up to scratch. I never use Photoshop as I like a naturalistic look with just colour correction etc.

"The envisaged book is 144 pages long with ten chapters. Written work and composition is ongoing. The images cover the period 1980 to 1989. The title of the book is very obvious deliberately to prevent ambiguity. My title of Accurate Dragster Publishing promoted a few sniggers down at the post office since they are unaware of my interest in motorsport/ trucks and not pictures of men dressing up in garish clothes and makeup. Such is the influence of the general media.

"Anyway, chapters include one on Jaguar powered altereds, then there is nitro Funny Cars (natch!) with around 60 shots of those, Pro Comp, Top Fuel though the prism of my time with the Frontline team, the rise of Pro Mod and doorslammers in general, Fuel Atlereds, something on the bikes that were around etc....and many others cars, classes and anecdotes.

"The book does not go into the history of the sport from day one or cover the political angle since that has been covered before. Its basically my take on the sport during that specific era, while highlighting the cars and races that took place. There will be a couple of intriguing shots for everyone to enjoy and lots of Scandinavian cars and our American visitors in print too.

"There's some juicy pit shots to go with the action stuff and all photos are in colour. Enclosed is a mockup of the cover. Note that this is only a preview and not the final design as such. Its been devised to give a flavour of the contents. Though I confess both I and the printer like it.

"The book is entirely my production and while it will be completed by Christmas from a written point of view, I cannot assure anyone that it will be actually printed by then. This takes time to do right." As soon as we know any more about publication date we will let readers know.

Greek championship at Agrinio.
6th November: The 3rd race of the Greek Drag Racing championship takes place this weekend at Agrinio Raceway, Asiraklion (now improved with concrete barriers installed for the full track length) this weekend. Friday was limited to sign on and scrutineering and qualifying takes place today for all classes with eliminations tomorrow.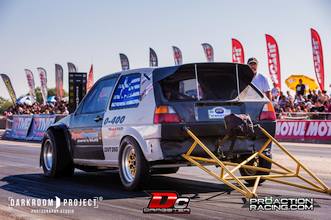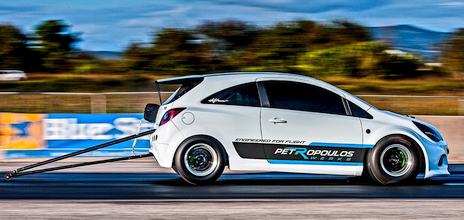 Out of the entry list of 67 vehicles, the quickest cars are in Category A, which is subdivided into sub-classes according to power adders, engine size or cylinders. Dimitrios Panitsas runs a VW Golf Mk2 DSG 20vt turbo (above left) and has a PB of 8.403/269.66kph which places him fifth in the European FWD league. Savvas Petropoulos has a Opel Corsa (above right) which ran a best of 8.959/257.87 in 2020. Thomas Stefanakos has a Citroen AX 1600cc that has recorded a best of 9.262/243.90 back in 2017.

Running in Category A and in the index racing classes is Giannis Apergis who has a best of 9.312/203,38 in his Opel Corsa (below left) which he runs in a team with Savvas Petropoulos. One of the quickest in the Open (i.e. unlimited capacity) is Petros Taxopoulos of main sponsors RTMG Performance who has a new Audi RS5 (below right).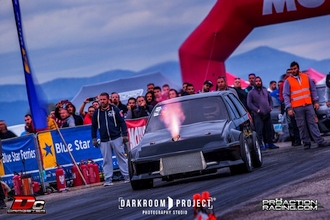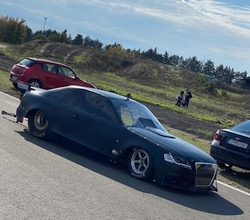 Promoters Proaction Racing are highlighting the 11s index class is the most competitive, with 19 diverse entries including Audi, Fiat, Honda, Mazda, Peugeot, Seat, Toyota and VW.

Swift snippets.
6th November: Today is the 38th anniversary of the passing of British drag racing pioneer and stalwart Allan Herridge whose competitiveness, bravery and engineering skill set a standard for all racers to follow.

We also celebrate ten years of VW Pro racer and announcer Luke Stevenson taking on the chairmanship of the VW Drag Racing Club. Luke does a fantastic job of promoting the sport and will be at Hal Far Raceway Malta next weekend to commentate on the racing, which we hopefully will hear on the live stream. Luke commented "In 3 weeks time we are gonna announce one of the largest prize funds I've seen in UK Drag Racing by a club. We are planning the biggest VW/VAG Drag Race ever seen in 2022 with Drag Days, quite simply if you have a Bracket or a Heads Up car you are gonna want to be involved wether you are a club member or not."

Our longtime supporter and sponsor Bob Roberts aka West End Racers has created a Flickr page where you can see a wide variety of drag racing photography from the 2021 National Finals test day all the way back to the 1978 Yesteryear Drags at Orange County International Raceway, surely one of the first drag racing nostalgia events ever held.

Fans of compact racing are recommended to check out the Haltech World Cup Finals which are taking place at Maryland International Raceway, Budds Creek, US and will include wild action from a variety of heads up classes (a subscription is necessary).

Swift snippets.
5th November: Happy Birthday wishes for today to Top Fuel Bike racer Filippos Papafilippou, Street Eliminator racer Tony Higgs, Wild Bunch racer Danny Jones, Super Street Bike racer Ross Morrison and photographer and VW Pro crew Alice Fairhead. We hope you all have had a great day.

De'ath debuts Super Street Bike.
4th November: Long time Pro Mod and drag bike crewman Dan De'ath has built a new Super Street Bike which he brought out for the first time at Flame & Thunder for three initial passes down the Santa Pod Raceway track.

Dan's drag racing bug first bit after he sat in grandad Roy Cockerill's 'Wolf In Jeep's Clothing' Wild Bunch hot rod as a youngster. He got into motorbikes as a teenager and competed in motocross "without too much serious injury but having a blast over the years". Dan's first step into working around drag racing was with Danny Cockerill in the Pro Mod '57 Chevy he ran between 2005 and 2008 of which Dan says "What an experience , a lot of hard work and great payoffs when it all goes right; highs and lows balance up over time and great times, friendships and memories were made".

After Danny stopped racing in Pro Mod, Dan crewed for Ray White on his quest to the 6's with Lethal Zephyr. "We had ups and downs literally , but in the end the car gave up the fight and we won the battle running a 6.78@208!"

In 2011 Dan was back crewing for Danny Cockerill in his five year Super Street Bike stint. Danny ran down to 7.3s with a couple of bikes, the second of which was the NLR Hayabusa which is now in the hands of Alex Hope. After Danny sold the bike and retired from racing, Dan crewed for Sam Sykes in Comp Bike. Away from drag racing, Dan has done a bare metal restoration on a Nissan Skyline.

Dan takes up the story on the bike's build: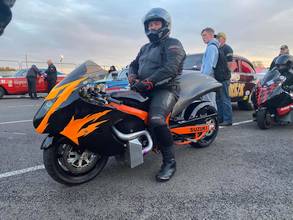 Basically the bike was bought as a project which was going to be sold, but after a little thought, curiosity got the better of me, after assisting a few bikes I was interested to see what changes felt like to these bikes, and while I had the opportunity of a relatively cheap bike it was the prime time to do so!

The project then became way more than I ever expected when a good selection of parts became available from Alex Hope (who bought and raced Danny's bike). I purchased the body work from Adam Burns who had bought it from Alex, the turbo kit and clutch was bought from Alex, a donor engine was sourced and a full NLR spec engine was assembled.

To look at the bike would be almost identical to Danny's bike, but actually the rolling bike was bought from Sweden with a good selection of parts already on it. The body was Danny's as was the turbo kit, the dash was also bought from Alex which was Danny's too, besides that, there is nothing else of Danny's on there.

All the work was completed by myself including all fabrication of front rack including mounting the body , rear subframe and various brackets around the bike.

Throughout the whole process I have had a pretty good idea where I wanted the bike to be after working on these bikes for nearly 10 years on and off finding what people had and didn't have , what worked and didn't work I compiled my brain child.

Along the way, I have had a massive amount of guidance and assistance from Garry Bowe, Brad O'Connor, Alex and Mark Hope and Danny as well as various other people whom I'm probably forgetting!

The whole bike took around 15 months to complete.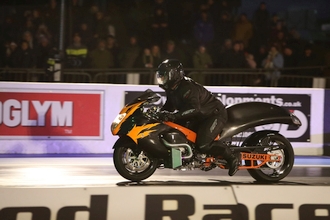 I am very grateful to have the likes of Garry Bowe, multi time European SSB champion and tuner likewise of Brad O'Connor to help guide me not only through the build but also to assist in teaching me how to ride this absolute animal of a bike!

These bikes are more than capable of well over 600hp on a street legal tyre with no wheelie bars and are truly a handful but with Brad getting the setup spot on for me to make my first passes last weekend the intention was to be safe and steady which it was! Not one wheelie or spin, except for my own fault on pass 1 where the wheel spun, but was easily rectified.

On my 3rd pass ever down the track , I had some issues on the launch and had to back off getting it into second gear , shut off at 1000 foot and still went 10.0/122 even with the throttle being closed for well over 2 seconds of the run! It's kind of a relief to get the ride over and done with as that marks the end of a long road getting here, now the next long road is looming quickly.

The plan for the bike is to compete amongst Comp Bike if possible with a view to move up to SSB if the numbers work out. SSB has moved on majorly in recent times and having to run low 7.1's to even qualify will soon be a regular thing!

I'm exceptionally happy with being the NLR air clutch which has been developed and tuned by Brad O'Connor. Without this piece we would have had multiple issues with setup. These ranged from when we dyno'd the bike using the air clutch to going to a cold track late in October. This was never going to be easy yet the bike worked flawlessly without any spin or wheelie issues that weren't caused my myself drifting in the first pass getting out of the groove. This clutch was key to being able to go and do exactly what we wanted and needed, and went a lot faster to 60' than I could have ever imagined for the first 3 passes.

I would also like to thank every single person that has assisted in the build , assisted in guidance helping me to learn the riding of these animals, the offering of crew duties and people's help has been truly humbling and has blown me away the amount of people offering help.

Just some of the people who have assisted along the way and not limited to would be the whole Bowe family , Brad O'Connor , the whole hope family , Danny Cockerill , Steve 'Splinter' Nash , Ashley Parker for Awsome Powder Coating , Darren Scannell for outstanding paintwork as usual, and mostly my family for putting up with the months of weekends and evenings working away in the workshop making this happen.

Swift snippets.
4th November: We wish a Happy Birthday today to British drag racing pioneer Bob Gleadow, Supercharged Outlaw racer Adam Clayton, Comp Bike racer Chris Neary and former Wild Bunch and drag bike racer Martin Holgate. Have a great day all.

If you have received an e-mail about a post in our Jeff Bull Race Engines supported Swap Meet which resembles a scam, including lines about "paying via the fastest and secure way which is cheque", a "liable shipping agency that will come over to your home to pick up the item" and "an excess fund which will be included in the payment so you can give it to my shippers", then it would be appreciated if such e-mails are forwarded to report@phishing.gov.uk.

Outlaw Anglia season review.
3rd November: Many thanks to Renegade Outlaw Anglia co-ordinator Colin Millar for sending a review of the class's season and looking forward to 2022 with great anticipation:

The 2021 Outlaw Anglia season is at an end, it has made history and gave a lot of people enjoyment from both drivers, crew and fans, every year the class grows from strength to strength with its simple format of heads up racing and only a few simple rules which have been in place for all of its 29 year history.

We were all apprehensive at the early days of the season and very unsure how the calendar would shape up, but in the end we had a full 6 round championship which was probably much better than what we thought at the start of the year.

The calendar ended up with VW Breakout in May, Festival of Power in June and both Dragstalgia and Summer Nationals in July with Green Light Nationals in August and our final event of the year Hot Rod Drags in September.

After some Covid shuffling, we found ourselves running at VW Breakout with not a lot of notice but the guys stepped up and we still managed to field 19 cars, some great racing with confidence being built as a lot of the drivers had been out of the seat for quite a while, but early signs of great potential right across the board whether you were in the 11, 10, 9, 8 or 7 second club with Mick Taylor taking the number 1 spot with myself getting way to close to the wall and lifted to live another day.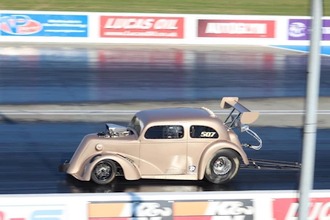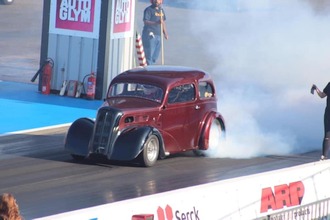 The next event was a very quiet Festival of Power Unlocked, well certainly for Outlaw Anglia with only 4 cars entered, but still some great numbers getting run in qualifying with three cars in the sevens and Ben Kennedy (above right) coming up the rear with a good 10 second run, Jedd Guy this time taking the honours with a nice 7.2 run and again myself having to lift as the car wanted to join Jedd in his lane.

After this event there were a number of discussions and a plan put in place to get the more of the class MSA certified to allow a better number of cars to be able to run in the licenced events, with the help of Mark Norton and Clive McCready (thanks very much guys) we managed to get a lot of cars inspected at the Hot Rod Drags and each car was given a list of activities they could undertake during the off season, so fingers crossed in 2022 we will see much better numbers for the MSA events.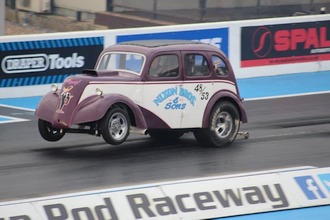 The most anticipated event of the year for Outlaw Anglia and many other classes and individuals is the now very famous Dragstalgia with Outlaw Anglia fielding a record breaking 31 cars and the world famous Ginner (below left) coming out to play, about time! Another family wedding for me kept me away, Lynn said come to the wedding or get divorced and go to Dragstalgia, tough call! I tried really hard to organise logistics with a plan in place to have my rig there Friday to run one qualifier Friday night, fly home, do the wedding and head back through the night to get there Sunday morning to run in the eliminations but in the end we couldn't make it all happen and as it turns out it rained Friday night and no qualifying was achieved, so it would have been all in vain lol!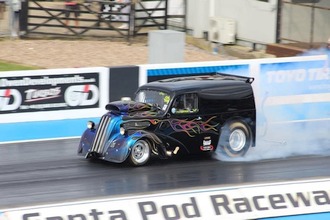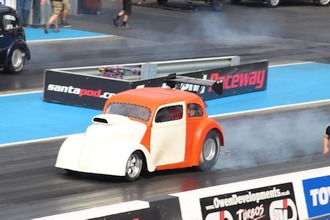 In the end we had a few casualties with 26 cars qualifying with some great races and some great numbers and it was sign of things to come with Jedd running a 7.01 on the final qualifier, it was great to see Al O' Connor back out doing what he does best, with Jedd taking the silverware, closely followed by the runner up Mick Taylor. I did manage to watch nearly all of it from a wee castle in Scotland, but did have to get pulled away when they carried out the ceremony!

Unfortunately a bit of a tumble top end for Rob Brindle put him back on the trailer but with a massive push and a new body and lots of help the guys rebuilt the car and reappeared in full race trim for the Hot Rod Drags (above right), great effort and well done boys. Into the semi finals and it was great to see Ben Rushforth up against Jedd Guy and it was a real close race with Mick Taylor in the other semi against Spencer Tidswell who unfortunately was a no show, yet again Jedd take the win with Mick Taylor following up the year.

Two weeks later and still in July we again go into an MSA event for Summer Nationals but again we've dropped back to four cars, not what we want nor what the fans want to see but our plan was well in place to change this for the better, making a change I lifted the silverware but not how I like to win as Jedd was unable to run his car in the final.

August came quick and we had slightly better numbers of a 6 car entry or Greenlight Nationals with some seriously quick numbers with four sevens one eight, unfortunately we didn't get finished and never got to run a final.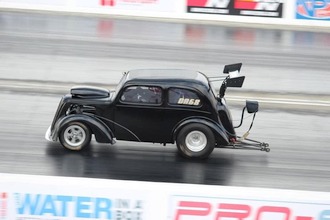 Onto the famous Hot Rod Drags where we are all aware this is the last event of the year where it's time to turn it up, as what have you got to lose and you've got the whole winter to fix it if you do blow it all up, a great 29 car field with Paul Hensher (above left) racing for the first time this season (great to see him back), we also had a new driver Wayne Power running the ex-Barry Crookston car (well done Wayne) (above right). Qualifying was fun and the atmosphere was electric in the Outlaw Anglia pits with what we remember it used to be when things were "normal", the usual characters kept us entertained and by close of play Saturday we had only one casualty with 28 cars qualified and we managed 6 cars taking part in the cracklefest with Kim Harrison so excited to take her car and be part of the show and at the same time celebrate her and Rob's anniversary. During the day history was made and I'm so made up for Jedd to run the fist ever 6 in OA, I said to him on the second qualifier come on, let's get down there first and put on a show, we certainly did that and also set up the fastest ever side by side Outlaw Anglia run.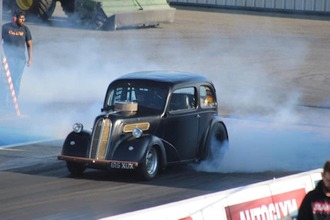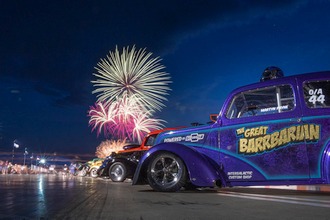 I didn't see anyone all weekend without a smile on their face its was just the best event ever, with some great results with both Ronnie Mercer and Phil Drewitt (above left) both making it into the semi finals on a 32 car ladder, pretty good going for a street car even if I do say so myself (well done lads).

Into the final and I would say it was the best race of my life alongside Jedd, that elusive 6 still awaits my time but upgrades for next season will get it in the bag (you have to believe that!)

A huge thanks to all the drivers crews and supporters without them there is no Outlaw Anglia and a huge shout out to Santa Pod and all the marshals who keep us safe.

Sometimes in life it's your time and this year it was Jedd Guy's time, taking the Outlaw Anglia Championship, taking the SPRC OA championship, setting both the new ET and MPH record for the class, not a bad achievement I have to say.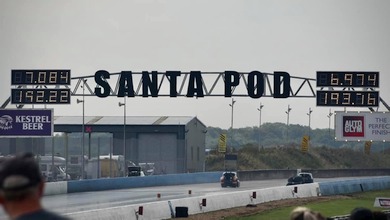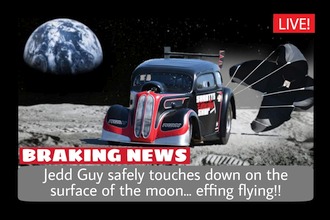 We're all looking forward to next season with Outlaw Anglia being 30 years young, we still have new cars being built and await final confirmation from Santa Pod on our calendar for 2022, but as soon as we have this you will be able to see this on our web site www.outlawanglia.co.uk as well on our Outlaw Anglia Drag Racing UK Facebook page; look out soon for our 30 year anniversary apparel and other tasty goods which will help Outlaw Anglia funds in helping the class progress. look after yourselves and have a great Christmas and New Years and fingers crossed we will see you soon at the track for lots more fun!

Media from the weekend.
3rd November: Our Kieran has posted to his Mk1Kieran Youtube channel video footage of the Flame & Thunder show from Santa Pod Raceway.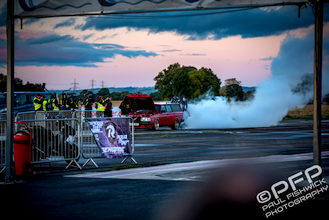 Kieran says: "Flame & Thunder marked the end of the 2021 Drag Racing season here in the UK with many racers putting on a show for a packed out Santa Pod Raceway. We were treated to a great variety of drag cars & bikes, jet cars and even the Slick Tricks Top Fueler made an appearance! Commiserations go to Andy and Team Twister who made contact with the wall early on in the day, I know they'll be back bigger and better than ever before!

"I was also testing out my new camera this event, big improvement in quality over my old one so enjoy the video! How long until Easter?" The video is now shown in 2160p resolution and both the picture and sound are awesome on a suitably large screen with broadband internet.

Also posting media, this time from the Melbourne Raceway Richard Smith has posted a gallery of photos from the Melbourne "Rock Up and Race" event to his Zenfolio site which incidentally has galleries of action going back more than a decade.

The Straightliners Facebook page has a number of photos posted by Paul Fishwick including the sad demise (pictured above) of the head gasket of one of the BBC crew's Volvo estate during filming for a reality TV show All Gassed Up which will be aired on BBC3 in the new year.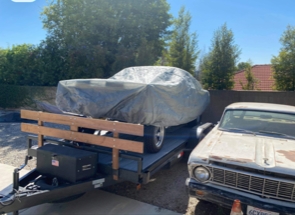 Spy picture.
3rd November: The picture shown came with the message "I thought it the right time to send a photo showing my car, on it's way from California to join the Gasser Circus in 2022. More news to follow when it finally lands, which could be around February as it's heading to Felixstowe."

We can only hope it will be unloaded on time. If you know more, or have a spy picture of your own to send, please contact us at editor@eurodragster.com.

Swift snippets.
3rd November: We've several birthdays to celebrate today. First is former Shakespeare County promoter and Obsession Motorsport head, now Super Gas crew and wife Tina Moore. Then a special birthday for longtime Super Gas racer Bob Molden who reaches 65 today. National Street Car Championship/Outlaw Street racer and lover of corn Ian Walley also celebrates, and from the Junior Dragster ranks, budding Junior Funny Car racer Kai Cooper has his birthday today. Have a great day all from Eurodragster.com.

Dual Fuel Racing's F&T.
1st November: Many thanks to Hutchinson & Dibley Sportsman ET racer Steve Mellors for sending his thoughts on Dual Fuel Racing's Flame & Thunder at Santa Pod Raceway last Saturday with a very brief Sunday before the track was closed due to bad weather:

What a weekend! Well, that was certianly the way to end a season - the mini tornado. A huge huge thankyou to Santa Pod Raceway for smashing this season out of the ball park, the character cars got HUGE attention and we could not have been happier.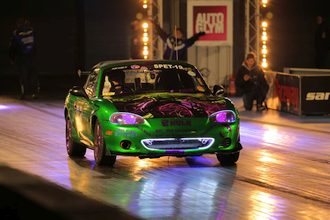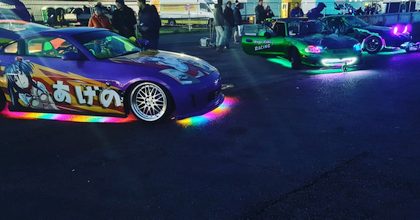 Carl got some blinding runs with Kuki the Tesla despite not the best conditions, then darkness fell, the fireworks went off and Hulk MX5 headed for the pairing lanes, into the burnout box we went, lighting up the car, followed by lighting up the tyres and a bit of a sideways launch and the starting beam being triggered by a cable tie under the car. We ran a 16.8.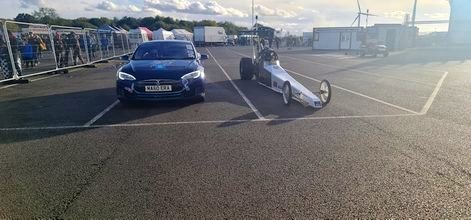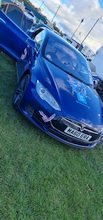 Dual Fuel Racing will return next year, we will be bringing Hulk MX5 back and we will be out to entertain to the best of our ability. Photos of the car are available from Blackett Photography, why not get a framed photo for that number one fan. Also don't forget to get yourself Dual Fuel and Hulk MX5 merch simply inbox us to order yours today. Check out our sponsors over at Printz4u, the number one place for customised clothing stickers & more, and if you want digital copies of Hulk MX5 to print yourselves at home, contact our team photographer Miss P Photography.

Flame & Thunder racer notes, media.
1st November: Thanks to those who have posted media and write-ups to social media from the Flame & Thunder at Santa Pod Raceway last Saturday:

Our good friend Callum Pudge was busy at work with his camera and posted 215 pictures to an album at Pudgeys Pictures Facebook page. Also posting were Santa Pod's own photographers Dave 'DJ' Jones and Scott Gay whose Flame & Thunder 21 gallery covers all of the diverse action of the event.

Some racers who have posted comments had some good stories to tell:

Modurstang Pro ET racer John Bean, whose Mustang was on nitrous for the first time, posted a picture from Blackett photography and said "I got my PB run on Saturday night, even got flames coming out of the exhaust. 9.333/148 with a soft launch and early gear change, roll on next year, a lot still to come from Shotgun."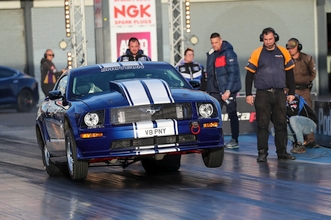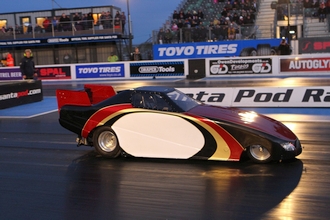 There were several Lucas Oil Junior Dragster racers present taking part in the RWYB and putting on match races. Harry Redshaw (wearing the no.1 number as 2021 Champion), Damion Redshaw, Jessica Bishop, Jacqueline Bartlett, Lola-Belle Kent, Mackenzie Love, and Freddie Taylor were joined by Thomas Cook Abbott, and Kai Cooper racing the Junior Funny Car, gaining a perfect 0.0004 RT in the process. Charlotte Cook Abbott took over the wheel from brother and championship runner-up Thomas who wrote "That was an amazing Flame and Thunder for the team. Charlotte drives The Tominator for the first time and smashes it! (Not literally - Editor).

Thomas Cook Abbott got to drive the Lil Hemi Hustler of Mike Couch. "Thank you so much for the opportunity. I ran it through to a 9.92 @ 136. Not bad for my first time, and a couple of moments where I sh*t myself, like just after I hit the throttle! I did make a rookie error by opening my visor when I thought the car was slow enough, to then get showered by fuel." We're sure we'll be seeing Thomas back on track soon in a quick car.

Third in the championship Freddie Taylor in the Outlaw Angria car lost a front wheel on his run in early afternoon however the car appeared undamaged and action resumed in a couple of minutes, but we suspect his team members will be playing "Three Wheels on my Wagon" on loop...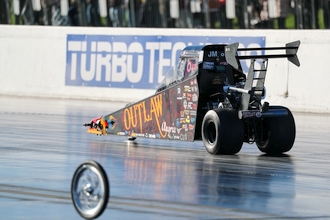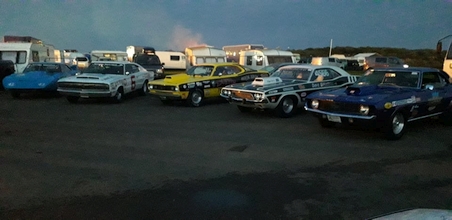 UK Nostalgia Superstock were represented by nine racers. Class organiser Don Scott said "A lovely Superstock showing at Flame and Thunder this year, thanks to all that made the journey and put on such a stunning display of classic US muscle. I'm sure the crowds and the Pod staff were suitably impressed. It was pretty much an all Mopar show in the Superstock pits this year, bar one." For the record, the group included Don, Adrian Portelli, Stuart Kiwi Thompson, Dave Billadeau, Chris Goodale (all in the above photo), also Jake Cawthorne, James Sweeney, John Davison, Guy King and Dan Williams.

FWD racer Sean Prout brought out his Papa Smurf K20 turbo Civic EP for a couple of test passes and on the second had a terminal of 144mph in 11 seconds, much more to come there, and a stunning wrap designed by 4Race Custom . Sean said "Thanks to Gordon Darby, Rich Hockley, and Wendell Brand for pulling a late one and getting the tracking finally sorted on the car."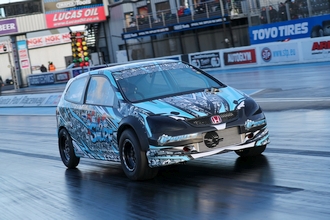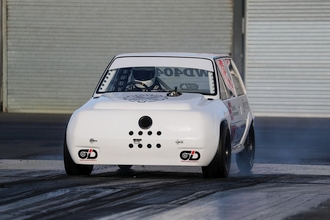 Fellow FWD racer Brad Morgan brought his 11s 1400cc Renault 5 BABS for its final outing of the year but experienced problems. He said "As expected, the gear box exploded. I managed to make it in to 3rd this time before it completely lost drive. I nursed the car off the line so as to at least try to run it out the back. 2nd gear felt awesome. Then it just felt like I had missed 3rd. Two more attempts at trying to select a gear that wasn't there was the end of the weekend / season for the car. Over the winter period we will be going to a VW gear box. This should more than cover any amount of power we could ever make with this engine and finally allow us to drive it as hard as we like with out fear of it breaking."

Straight To The Point vacancy.
1st November: Pro Mod racer in waiting Benito Chiarella has announced that a vacancy has arisen at his company:

Here at Straight To The Point Racing another position has become available. We are a small but growing business with currently 5 members of staff.

At Straight To The Point Racing we specialise in V8's, American and historic race cars. We cover a wide range of services: General race car maintenance and preparation, engine building, gearbox building, chassis building, axle building, bespoke exhaust, intercooler and radiator systems, trackside support, motorsport parts sales, restoration and much more.

Applicants do not need to have all knowledge on everything listed, as some duties can be taught in house, most importantly passion for what we do and everything motorsport related is key.

Main Job Role Duties:
Steel fabrication: Mig and steel Tig welding (alloy not required but would be good)
Body panel work and fabrication
Bespoke exhaust fabrication
Race car and american car maintenance work
Opportunity to come to race meetings and give track support and race preparation
The ideal candidate should:
Have experience with some of the duties listed
Have attention to detail
Be self motivated and organised
Have good communication skills
Most importantly must have a love for American and classic cars
If you would like to join our small but expanding enthusiastic team please email all your information and CV to tech@sttpr.com.

Swift snippets.
1st November: A very Happy Birthday to former Top Fuel racer and author Elizabeth Rowland, known during her racing career as Liz Burn. Have a great day Liz.

Trakbytes update.
1st November: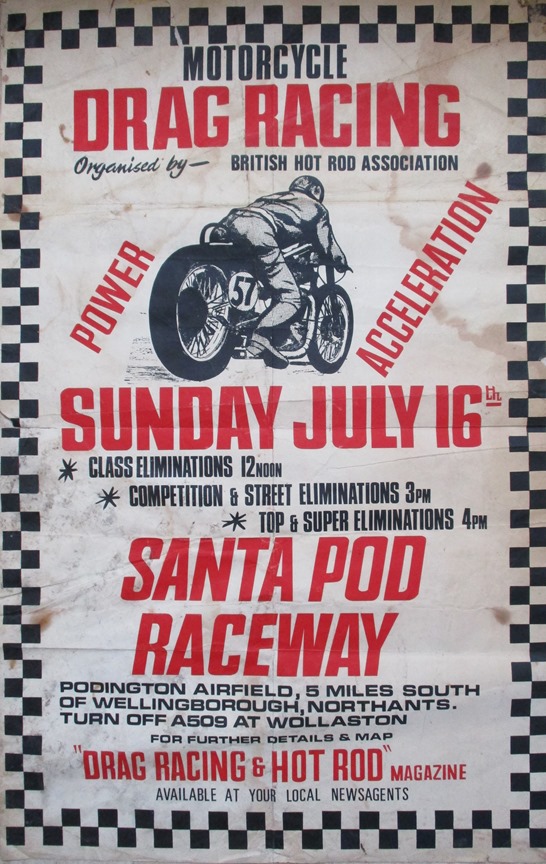 Webmaster Chris Dossett has announced that his excellent Trakbytes website has just been updated.He says:

"This time we have 30 new or updated entries. Among the names featured in the updates, which span the years 1963 to 1985, are; Allan Herridge, Dennis Priddle, Alf Hagon, Harold Bull, Doug Harler, Alan Blount, Mick Tickner, plus many more. Dave Dibley has supplied a wealth of NDRC information from 1978 and there are 73 new programme scans from the vast collection of Clive Rooms, plus the beginning of a series of posters supplied by Jerry Cookson (see right).

The unofficial Santa Pod strip records list has been updated with a couple of runs that slipped past me during the initial compilation (something I confidently predicted would happen...)

There's also a request for help on the "Help Us Find.." page from anyone who remembers a Dave Woodhead from Derby, who advertised the Jaguar Altered previously known as "De Judge" for sale in 1978. As always I encourage readers to submit any details or race reports that are missing, or provide corrections for anything contained in the archive that they feel may be wrong."


Earlier news