As told exclusively to

Thursday 26th February 2015: Winter work.
Below is an extensive update on the 'goings on' of Bennett Racing. We've been busy.....very busy. It's a long one, so go and grab a cuppa and have a read.
First off, sponsorship news...
A big thank you to K&N who have once again back Bennett Racing for their 10th Year! Thank you guys, this is something we're very proud of - getting sponsors is one thing but to retain them is another entirely.
Another sponsor entering into their 10th Year supporting us are the ever professional http://www.autoglym.com/">Autoglym - if you've used their products then you know how good they are, if you haven't...what are you using?! These products are ALL we use on our race cars and transporter - this is why they're the official and exclusive polish & cleaning products of Bennett Racing.
New Century recently joined Bennett Racing with some absolutely vital help, thanks again to Lowell, obviously this is a bespoke product and a limited market in terms of public, but what a product it is...beautiful (more on this below) and frankly Top Gear should replace the block they use on their table!
Another thank you (there are many) to King Engine Bearings who have once again pledged their support for 2015 - they make an absolute first class product and anyone with any engineering prowess should have a read up on how they're made. Stunning attention to detail and rightly so for such a vital part. Again these will be our exclusive engine bearing for 2015 (for both cars). Thanks once again to King for the continued support.
Talking of engines, this leads me nicely onto to Ravenol Oils - again we exclusively use only Ravenol products on our cars, this includes, straight 50 weight in our engines, specialised Dexron oil for our gearboxes, and very stable 140/75 weight oil for the diff's - as you can imagine every component in a drag racing car is under an enormous amount of stress and as such the right oil is critical, Ravenol made this process and breeze and we really appreciate their help.
Bossdog Wraps have agreed to wrap our cars (the side panels for the '32 Bantam already completed) and the cars will look awesome, no doubts about that, Bossdog have a very nice facility with everything required for an ultra professional job.
Another sponsor to thank is RPM Performance, they have supplied us with a data logger (we're getting modern) - this will be a massive help, not only to go quicker (the main aim) but to stop the guess work. Not to blow our own trumpet but we're good (modest too), we know these cars very well, we know what they need and how to alter settings right...but, the data logger will give us engine RPM vs driveshaft RPM, this is something that will aid me as the tuner a huge amount, I will now know exactly when the clutch is locking up rather than observing and listening the car, hard when it's accelerating from a standstill to 180mph in 4 seconds...thanks once again Randy for your trust and faith. Very much appreciated.
Roll on summer too, thanks to Dan at Slick Attire who furnished us with not 1 but 4 different t-shirts for 2014/15! we just didn't have the weather for it sadly for better sales, hopefully with a great deal more race events and shows we can get some more shifted and raise the profile of Bennett Racing and Slick Attire even higher!
The Builds
First off, the '32 NFAA Topolino:
Below is the New Century block (still think it could be an ornament) - we're really taking our time with this build, we have a great deal of £££ invested in this car and we can't rush it, we have to make sure that it is built 100% correct, it's just how we race...but that said, when it is finished my word it will be an animal, we ran a 6.42 at only 191mph (off the power at 1000 feet) and I'd say with the changes to the car (200lbs taken out the car via lots of titanium and many hours machining).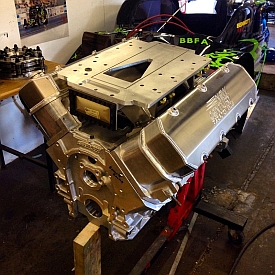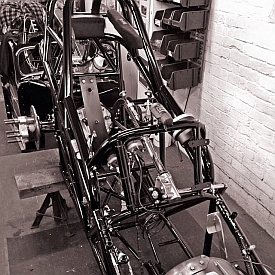 I would hazard a guess that we're adding an additional 500-700 horsepower this season and with this in mind, our aims are high. We want the European record. Simple as. It stands at 6.26 @ 220mph. Our aim is a 6.0.
We've also matched the horsepower increases with untold hours of chassis work and development, these cars are not just a chassis with a big engine and as such we've invested a huge amount adding extra support to the chassis.
A nice shot of the body 'all stickered up' - looks sharper than ever and move importantly promotes our loyal sponsors!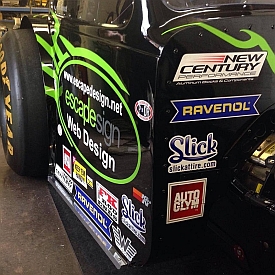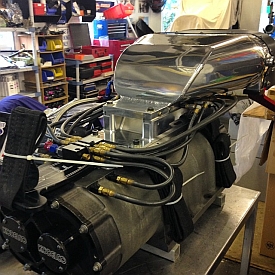 A shot of our very bespoke supercharger (read a huge amount of $$$) fully rebuilt and 'set to kill'.
Also our Lenco gearbox totally rebuilt and oiled up with the finest Ravenol products. And then a nice shot of our Bryant billet crankshaft getting a balance, this is critical with big supercharged engines, the bob weight can be anywhere up to 2350 grams and as such it's vital, especially when you think the crank alone weighs 69lbs! Now picture it spinning at 9,200rpm...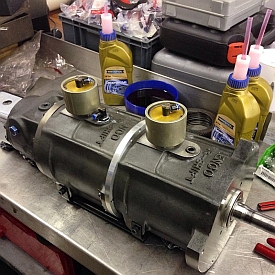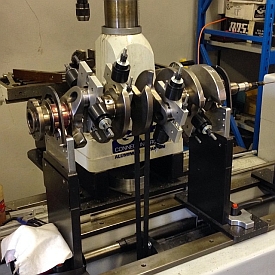 The engine shot is us meticulously checking and checking again, everything is measured to within half a thousandths of an inch. The last photo is of one of our heads, we're adding a few bits to these this year, giving them a much needed update. Ideally for 2016 we need a new set. There old girls have been going since 1986! We just 'nurse' them into health every season.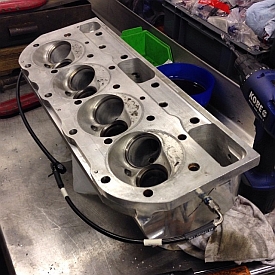 Now for the '32 Supercharged Outlaw Bantam altered.
I have owned this car since 2007, now somehow 8 years has gone by...in that time I have dealt with some real crap, the low point being stage 4 bowel cancer, everything was put up for sale. Though it (thankfully) didn't sell I am edging closer to completion, I just need a few more parts and ££ to get the car completed.
The below shows my new crankshaft, I pretty much have saved for 2 years for this bad boy, having kids seems to sap every last penny haha. Next shot are the stunning pistons supplied to us by CP Pistons when they sponsored us.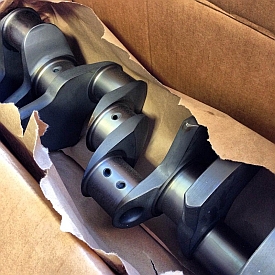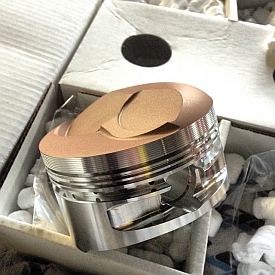 Next up is a shot of the supercharger and the belt guard I made, I couldn't afford one (these are $200). Also a very nice photo of the powder coated chassis - thanks once again to Vulcan Powder Coaters for a fantastic job.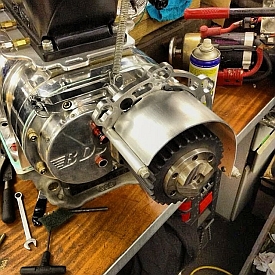 The Donovan block in (and out) the chassis for I think the 24395th time... A great photo of the Fuel Injection Enterprises serviced magneto, 5 amps to burn the methanol very well, fully tested to 10,000rpm. Then a 'selfie' of my in the drivers seat looking happy as a pig in..well you know.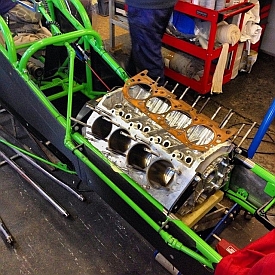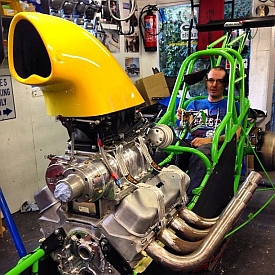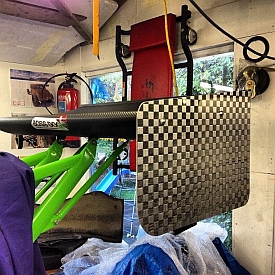 Last shot is my rear wing spill plate, big thank you to Tillet Seats for sending me the carbon fibre for me to cut and fit these, the end result is first class!
50 Shades of Grey*
*May not contain 50 shades.
Our take on 50 Shades that seems to be taking over the world!
Fu*k the release of the 50 Shades of Grey film. Here's our '50 shades of grey':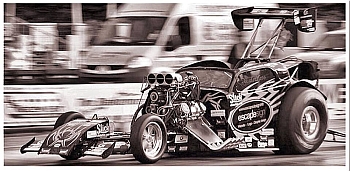 Feature ©Eurodragster.com


---
2010-14 Blog
2008-9 Blog
Bennett Racing web site
Back to News page
---