General
Home Page
Add a web site
Jeff Bull Swap Meet
Send a News Item
Site Search by Hauser Racing
2019 FIA/FIM Championships schedule
News, Coverage, Features
Latest News
John Woolfe Racing Event Coverage
OCS Paint Points Standings
Features, Interviews, Tributes
Racer Blogs Lex 01/03
WRE/Nimbus Webcam
LA Racing Parts Links
Racers' web sites
Associations, Clubs
Race calendars
Results, Reports, Info
Pictures, Video
Performance Parts, Merchandise
Sponsors
Tracks, Shows
Information
Timing Data
European and UK Bests
Champions' Champions
Editor's Diary archive
























SPR seek racers for Junior Fun Day.
30th July: Hot on the heels of Saturday's call for vehicles to make demonstration passes at this weekend's Ultimate Street Car at Santa Pod Raceway, Donna Finnegan writes that sub twelve-second vehicles are invited to make demonstration passes at the 6th Annual Junior Drag Racing Fun Day which takes place on Thursday 23rd August.

If you would like to make demonstration passes at the Fun Day and your car or bike runs 11.99 or quicker then please contact Donna at donna@santapod.com by Wednesday 15th August. Donations to the event's chosen charity For Zachary DayZaway would be appreciated.

Junior Dragster, Junior Drag Bike and Junior Funny Car entry is still open for the Fun Day. You can download the entry form by clicking here (PDF format). Entry to the facility is free, but Juniors wishing to take part on track will need to telephone the Santa Pod office to book their race voucher on 01234 782828 (outside the UK +44 1234 782828). The race entry fee of £20 will go towards For Zachary DayZaway. For more information on the Junior Fun Day, visit the event page on Santa Pod Raceway's web site at www.santapod.co.uk/juniorday.php.

Redline Rumble final entry list.
30th July: Many thanks to Santa Pod Racers Club Secretary Ian Marshall for forwarding us the final entry list for the Redline Rumble, which takes place at Santa Pod Raceway on 18th-19th August and which is a double-header ACU and UK National Championship round for Funny Bike, Comp Bike, 8.50 Bike, 9.50 Bike, ET Bike and Supertwin Top Gas, and a non-Championship Shootout for Super Street Bike.

You can check out the final version of the official Redline Rumble entry list by clicking here. If you have any queries about Redline Rumble entry then please get in touch with Ian on 01933 313625 (outside the UK +44 1933 313625) or E-Mail ir.marshall@btconnect.com.

Swift snippets.
30th July: We have a birthday in the extended family today: a big hyvää syntymäpäivää to longtime Eurodragster.com reader and Event Coverage fan Kai Plathan. Have a great day Kai.

Mopar EuroNationals rained out.
29th July: Today's eliminations were rained out at the Mopar EuroNationals at Santa Pod Raceway. Rain came in overnight last night and never really cleared leaving race officials with no choice but to call a halt. The only rounds of eliminations to be run were E1s of Nostalgia Super Stock and the Gasser Circus last night.

Number one qualifiers were:

MSA Pro Modified: Andy Robinson 5.9150/242.75
Nostalgia Super Stock: Vic Parsons +0.0021 10.4421/128.79
Gasser Circus: Sean Milsom +0.0060 10.1960/127.30

The Eurodragster.com/Bad Habit Racing Perfect Light Award was not claimed and so has been increased to £75 for August's Redline Rumble at Santa Pod Raceway.

You can check out our John Woolfe Racing-sponsored reports, results and galleries - including Cruise, Show and Shine, camping field and burnout contest pictures - by clicking here or by clicking on the John Woolfe Racing Event Coverage link on the left-hand side of any Eurodragster.com page. Please join Tog in thanking photographers Kirstie, Julian and Diana Macrae for their hard work in difficult conditions.

Swift snippets.
29th July: Best wishes to Super Street Bike racer Kim Hilander who suffered a badly broken leg in a high-speed crash at the NDRG Drag Challenge at Gardermoen. Take your time and get the leg strong again Kim and we'll all still be here when you are ready.

SPR seek cars for USC.
28th July: Santa Pod Raceway are recruiting sub-twelve second cars to make demonstration passes at next weekend's Ultimate Street Car, Friday-Sunday 3rd-5th August.

If you would like to come along and make a few runs then please contact James Forster at james@santapod.com or call 01234 782828. For further information about USC please see the event's web site at www.ultimatestreetcar.co.uk.

Swift snippets.

28th July: Best wishes for a long and happy future to Jon Evans of the UK's Tokyo Toy team who finally married Diana after twenty years. On behalf of himself and all of Jon and Diana's friends Jon's racing partner Steve Dunn asked us to say "Congratulations" which we are very pleased to do.

We have a birthday on the Eurodragster.com team today (Saturday). Please join Kirstie, Tog and Julian in wishing Pit Reporter, Blog Editor, Links Editor and Photographer Simon a very Happy Birthday. Have a great day buddy.

UK Comp Eliminator racer Robin Orthodoxou tells us that he is renaming his Chevy-powered altered Mickey Mouse for the FIA/FIM European Finals in honour of the hard work and dedication of his crew.

FIA/FIM European Finals entry update.
26th July: Many thanks to Santa Pod Racers Club Secretary Ian Marshall for forwarding us Version 1 of the official entry list for the FIA/FIM European Finals, which takes place at Santa Pod Raceway on 6th-9th September and which is the final round of the FIA and FIM European Championships and a round of the UK National Drag Racing Championships for some classes.

You can check out the FIA/FIM European Finals entry list by clicking here. Entry closes on Friday 10th August after which entry, if accepted, may be subject to a penalty fee. You can find the official entry form on the Information link of the SPRC web site at www.eurodragster.com/sprc, and if you have any queries about FIA/FIM European Finals entry then please get in touch with Ian on 01933 313625 (outside the UK +44 1933 313625) or E-Mail ir.marshall@btconnect.com.

Swift snippets.

26th July: Lizz and Jake Charman asked us to say a big Happy Birthday to Team Principal, fab husband and all round good egg Kev Charman. Our pleasure, have a great day Kev.

Redline Rumble entry closing.
25th July: Ian Marshall of Santa Pod Racers Club has asked us to remind bike racers that this Friday (27th) is the official closing date for entry to the Redline Rumble, which takes place at Santa Pod Raceway on 18th-19th August and which is a double-header ACU and UK National Championship round for Funny Bike, Comp Bike, 8.50 Bike, 9.50 Bike, ET Bike and Supertwin Top Gas, and a non-Championship Shootout for Super Street Bike.

Ian asks that racers enter this event on or by Friday as he will have to close out all of the official paperwork before he departs for Hockenheim to start work on track prep there.

You can check out Version 2 of the official Redline Rumble entry list by clicking here.

You can find the official entry form on the Information link of the SPRC web site at www.eurodragster.com/sprc, and if you have any queries about Redline Rumble entry then please get in touch with Ian on 01933 313625 (outside the UK +44 1933 313625) or E-Mail ir.marshall@btconnect.com.

UK Championships points update.
25th July: Many thanks to Yvonne Tramm and our own Simon for posting the post-Bug Jam points standings in the UK National Drag Racing and Santa Pod Racers Club Championships. You can check out the UK and SPRC points on our OCS Paint-sponsored Points Standings page which you can reach by clicking here or by clicking on the OCS Paint Points Standings link on the left-hand side of any Eurodragster.com page.

The post-SPRC Summernationals points standings in the ACU UK Drag Bike Championships are now available on the King Racing web site at www.kingracing.com.

Lightning strikes the Summernationals.
25th July: Warpspeed Racing Funny Bike racer Dale "Lightning" Leeks went to the SPRC Summernationals with no intention of racing. The plan was purely to test, but that soon changed as he hit top form:


The sole reason for going to the Summernationals was to test a fault with the bike. I've been having electrical issues for a long while and they have got progressively worse. So we decided to enter the ACU Championship round to test the bike and to try to sort the problem. Not only did we sort the problem but I set a Personal Best of 6.974 backed up with consistent 7.0-second runs and as a bonus we took the win in Funny Bike.

This said, the logger was confirming what I was telling the crew in the pits that, even with PB performance, the bike still had its fault and that on one of the 7.0 passes the bike actually misfired, losing power, nine separate times. The 6.947 was not without its faults. But we are confident that we are now where we want to be and that we can improve on these numbers in Germany in a few weeks' time.

I would like to take this opportunity to thank my team Andrew Leeks and Brin Tourle, of course the big boss Stuart Crane, Andy Lock for finding the fault, and of course the whole Warpspeed Racing team. A big thanks to our sponsors who make it all possible, Warpspeed Racing and MPM Oil.

Stu Crane's weekend didn't quite go to plan. After picking up damage at the Main Event Stu decided to test a new combination away from the European Championship. So he tuart entered the Summernationals and tested at the Peak Performance Day on Friday. Testing didn't go to plan so another engine was loaded into the chassis overnight. Stu and the team then worked on a tune-up which would work for a completely different set-up. This was a small setback but pass by pass it was showing to be heading in the right direction. We are confident that if all the ducks are in a row then in Germany we could see side-by-side six-second passes from the Warpspeed duo.

Mark Smith sat out the Summernationals due to a low entry in Pro Stock Bike but will be ready to compete with the rest of the team at round two of the European Championship in Hockenheim.

The Ratcatcher catches Dragstalgia.

25th July: Andrew Clifford writes that Dragstalgia Wild Bunch winners, the UK's Ratcatcher Resurrection slingshot team have had a really positive year so far with some consistency returning:

We are running better sixty foot times than ever thanks to a couple of factors, the new surface at the Pod and also running very slightly different rear tyre pressures due to slightly different circumferences. Having run a new PB of 8.899 at the Nostalgia Nationals we had high hopes for the Summernationals a few weeks ago. Alas, we lost the eight-seconds passes somewhere along the way and ran consistent nines all weekend; something to do with Dad removing the mesh from the air scoop in a bid to get more air into the system, we think.

So, after a slightly disappointing performance it was back to the previous set-up. My son and apprentice crewman James re-checked the valve spacing and re-attached the mesh to the scoop. We were set for Europe's premier Nostalgia drag racing weekend.

Friday rolled around and with a skeleton crew of just Mum and Dad, I watched from the office (read: kitchen) at home with fingers crossed we could find the missing eights. The performance had returned with a fantastic 8.909. I sensed a "Told you so" moment coming on when we arrived the next morning.


Saturday was another scorcher. It's always a worry with the heat as we know that the old Ford can be temperamental when it's roasting hot. Our first run against our French friend Didier Canicave went smoothly with a steady 8.98. The second run was somewhat delayed due to bit of track cleaning but it gave us time to sit under the tower with our good friend and race buddy Darryl Howells whom we were running alongside. It was also great to chat to Mr Bradford and politely set him straight after he accused us of running a Chevy engine - how everyone in the Wild Bunch will enjoy that as we all know how much Terry loves his Ford! In the end Dad couldn't select second gear and cruised through the top end as the Chemical Reaction powered ahead of us. So, back to the pit, wheel off and tighten the linkage. It was a shame to have our third run cut due to another track clean-up but as usual we can't praise Ian and the Santa Pod team enough for working their hardest to get things up and running again quickly.

We decided to stick to our dial-in given to Wild Bunch coordinator Clare the night before. We'd stuck it somewhere in the middle with an 8.95 and hoped that we would get reasonably close - due to the class being decided on closest average. Our first run proved positive with an 8.99 putting us in fourth after the first session. Something to build on. The second run later in the day yielded an improved 8.96 which we thought would put us in with a chance of staying in the top three or four cars. What a surprise to find out that we had actually won the event!

A fantastic weekend capped off by a win in a huge Wild Bunch class really put a smile on our faces. I'm so proud of mum and dad for achieving top honours as I know how hard they've both worked to get to this point. I don't think we ever thought we'd end up with a consistent eight-second slingshot when we started out in 2005!

Shout outs to all the Wild Bunch, Santa Pod track crew, timing crew, Colin and Darryl, Eurodragster.com team (Thanks, you're welcome - Ed) and all the race teams who made Dragstalgia a great event once again.

Swift snippets.
25th July: Billy Gane writes that his annual drag racing summer party returns for its sixth year on Saturday 4th August in Chelmsford, Essex. "Every year the aim is for everyone to get together, catch up and have a great time", says Billy. "There will be a live band, disco, BBQ, fully stocked bar, clay pigeon shooting and the famous late night kebab van. Tickets are £10 each and include admission, meal from the BBQ and entry into the raffle to win a car! We have plenty of space for motorhomes, caravans and tents so you're welcome to stay the night - I don't think many people will be in a fit state to be driving home after! For any questions please contact me on 07407 216305."

Many thanks to our good buddy and timing guru Andy Marrs for passing us the official Bug Jam timing data, which you can check out by clicking here or by clicking on the Timing Data link on the left-hand side of any Eurodragster.com page.

Pants mandatory.
25th July: Paul Marston writes with a particular invitation to No Prep 3 which takes place at Rockingham Drag Strip on Bank Holiday Monday, 27th August, and which features heads-up, no-prep eighth-mile racing Street Outlaws style with a flashlight start and no times or speeds:


For the first time in the UK, there will be Big Tyre and Small Tyre classes competing, "small" being a 10.5" maximum tyre width. Other than safety there are no rules in either class. Entry for both of these classes is filling up very nicely, but so far there is a gap that needs filling in both classes. In Big Tyre we are allowing 4WD and in Small Tyre we are allowing FWD with no tyre restrictions on width, but so far we have no 4WD or FWD entries despite alot of protests about their not being allowed at No Prep 2.

So who is going to be the first to enter? The eighth-mile No Prep track at Rockingham Drag Strip makes this a real leveller, lighter means quicker so a rapid FWD car has as good a chance as any V8. In fact a VW Beetle would be an excellent weapon of choice in Small Tyre, weight at the back and very light, an Outlaw Flat Four could be a real player. As for 4WD, well the traction is not an issue. In Big Tyre for the first time they should be competitive, a fast start and a V8 is in chase mode with only a short distance to catch up. A lot of people have been asking over the years for a heads-up class in which they can be competitive with FWD, Outlaw Beetles, turbo four cylinder or six cylinders. Remember there are no rules other than safety, no weight minimum, any engine size or power adders, bring everything you can and have at it.

The challenge is now out there... drag racing has always embraced new technology, let's see who is up for the challenge to come race with their Big Boy pants on!

There is a lot of money up for grabs, £1500 for the winners sixteen plus car fields in Big and Small Tyre. For entry forms and more details either Like our Facebook page Rockingham Dragstrip and message us, E-Mail pmdragracing@gmail.com, or call me on 07831 650230.

Don't forget we will run a full programme of RWYB for cars, Juniors and Karts, plus the Monster High Roller Bracket Race, again with £1500 up for grabs for the winner of a thirty two-car field. Then there is the Big Oolite Custom and Rod Show and a huge Drift event (Look out for my niece's partner, the other Andy Frost - Ed), so plenty of entertainment.

For spectators, advance entry is £10 from Rockingham Motor Speedway web site, or £12 at the gate. Gates open at 08:00, the track opens at 09:00, racing between 10:00 and 17:00.

Mopar EuroNats Perfect Awards.

25th July: This weekend's Mopar EuroNationals at Santa Pod Raceway is the latest event in the 2018 Eurodragster.com Perfect Awards Scheme. £50 will be on offer for perfect performance in three classes.

The Eurodragster.com / Bad Habit Racing Perfect Light Award has been reset to £50 after it was won by VW Sportsman racer Aaron Beales at Bug Jam. The money will be paid in cash to the first racer in MSA Pro Modified, Nostalgia Superstock or the Gasser Circus to record a Reaction Time of 0.000 seconds during qualifying or eliminations. If not won then the Award will be increased to £75 for the Redline Rumble; if it is won then it will be reset to £50 for the Redline Rumble. The Perfect Light Award is presented in association with Cath and Tig Napier of Modurstang Pro ET team Bad Habit Racing.

Decals are not mandatory for the Perfect Light Award but we would appreciate it if Eurodragster.com decals are carried. Eurodragster.com decals will be available in the Signing On office or from the Eurodragster.com office in Race Control (entry via Spectator Bank side stairs only).

The next Eurodragster.com/Vitesse Labelling Products Perfect ET Award will be posted at the Redline Rumble in August.

Web site updates.
25th July: The EDRS Pro Nordic Motorcycle Championship is at its halfway point and the racers are ready to rock at Gardermoen Raceway this weekend. Our good friend Remco Scheelings writes after two exciting races Marcus Christiansen, Rikard Gustafsson, Mathias Bohlin, and home favourite Thomas Lysebraate Olsen are the leaders in their respective categories but, just as at Tierp Arena and Alastaro, they will meet tough competition. You can read more on the Drag Racing Europe Blog by clicking here.

The Mad Welshman has updated his Flickr site with pictures from the recent Retro Show at Santa Pod Raceway. You can take a look at www.flickr.com/photos/the_madwelshman.

Priddle book launches at HoF Bench Race.

23rd July: The British Drag Racing Hall of Fame Gala, to be held on Saturday 17th November at the Oatlands Park Hotel, Weybridge, Surrey, will again be preceded by the popular Bench Racing session sponsored by US Automotive and Kelsey Media, publisher of Custom Car magazine. In the three previous years, a varied panel of US and European legends entertained a packed audience with their stories and views on the sport for two hours in the afternoon prior to the main Gala dinner and presentations in the evening.

This year, the Bench Racing session marks the launch of Mister Six: The Story of Drag Racing Legend Dennis Priddle by Keith Lee. The book, which is the product of almost two years' work by Keith, includes many anecdotes from the book's subject Dennis Priddle, members of his team, and others from the sport. The book will include many images not previously published.

The Bench Racing session, to be hosted by Graham Beckwith, brings together Dennis and some of his competitors, prominent personalities connected with him, and team members over the years. The panel currently comprises:
Dennis Priddle, former Top Fuel Dragster and Funny Car Champion;
Barry Sheavills, Top Methanol and Top Fuel Dragster Champion;
Roy Phelps, former owner and promoter of Santa Pod Raceway;
Stuart Bradbury, former Santa Pod Chief Starter and Chair of the BDRHoF;
Andy Craddock, former Top Fuel Dragster racer and Dennis' competitor from the 1980s;
Geof Hauser, crewman for Dennis' main 1970s competitor Clive Skilton;
Pelle Lindelöw, former Top Fuel Dragster Champion and regular visitor to the UK from 1982-2001;
Gary Page, former Pro Comp Champion and Top Fuel Dragster and Funny Car racer from the 1970s to 2010s;
Steve Read, Top Methanol Champion and, following emigration to Australia, Top Fuel Champion; and
Brian 'Star' Savidge, long time crew member with Dennis.
Other stars from Dennis' era will be present and the Bench Race will be the very first opportunity to buy the limited-edition book and have it signed by Dennis and other racers.


Keith Lee (pictured at Dragstalgia 2018) said "I have covered a lot of ground, helped by my wife Annie with research and proof reading. It has been a joy to work with Dennis, who has a great capacity for coming out with stories from the old days and who has been very open with me­. I have seen many of Dennis' team, and also spoken to a lot of those involved with him over the years. The large format hardback book runs to more than 90,000 words, with over 250 pictures, so it will be a great read."

For more information about Keith's book, visit www.keithleeimages.co.uk, the book's Facebook page, or the book's Blog on the Acceleration Archive.

The BDRHoF will be taking reservations for the 2018 Gala Awards Dinner by E-Mail at stuart@britishdragracinghof.co.uk or by telephone on 01933 279102. This year the dinner tickets, which include table wine, are competitively priced at £70, £5 more than 2017 due to price increases. The BDRHoF have managed to keep the same rates for hotel rooms of £115 for double rooms and £94 for single rooms which includes breakfast and VAT as well as parking. The event always sells out well in advance, so if you would like to join us for the occasion we suggest that you make your reservation sooner rather than later. On receiving your reservation you will be given the procedure to book rooms.

On-going news about the Gala, sponsors and other events in which the BDRHoF is involved is regularly published on the British Drag Racing Hall of Fame web site at www.britishdragracinghof.co.uk, here on Eurodragster.com, and on Facebook and Twitter.

Mopar EuroNats RWYB opened up.
23rd July: Santa Pod Raceway have announced a relaxation of the Run What You Brung rules at the Mopar EuroNationals which takes place on Friday-Sunday of this week (27th-29th). James Forster writes:

The Mopar EuroNats is celebrating its twenty fifth anniversary and it's looking like another incredible weekend. The MSA Pro Mods are back along with the growing Nostalgia Superstock class and the ever-popular Gasser Circus.



As a result of more track time than ever before this year, we can confirm that the RWYB rules have been relaxed a little, opening up the weekend to even more racers than ever before. Historically, the Mopar weekend has always been reserved for American-powered and American bodied-vehicles but this year we're pleased to report that any V8- and American-engined vehicles are welcome including doorslammers, dragsters, Funny Cars, altereds, and anything else powered by a good old US V8.

You can see the full line-up, ticket prices and track fees at www.mopareuronats.co.uk.

Bug Jam results.
22nd July: Congratulations to the winners at this weekend's Bug Jam at Santa Pod Raceway:

Hutchinson & Dibley Sportsman ET: Felicity Gibbs (17.10) 17.2168/81.08 def. Kirstie Tramm (14.92) 14.9180/87.84 DQ b/o
Lucas Oil Junior Dragster: Holley Marshall (7.99) 7.9655/80.77 def. Freddie Taylor (9.21) 9.1670/70.71 DQ b/o
Topspeed Automotive Street Eliminator: Andy Bond 7.9069/178.55 def. Joe Stevens 8.3798/167.92
VW Pro: Sam Chisholm-Brown (11.00) 11.1754/107/66 def. Paul Bargate (12.05) 12.1584/108.55
VW Sportsman: Paul Day (13.10) 13.1873/104.07 def. Jon Crawford (16.95) 16.7924/77.34 DQ b/o
Outlaw Anglia: Colin Millar 7.6299/178.54 def. Scott Crooktson 7.7952/174.38
Outlaw Flat Four: Udo Becker 10.5990/119.19 def. Peter Shattock 11.4402/119.00

Congratulations also to VW Sportsman racer Aaron Beales and to Hutchinson & Dibley Sportsman ET racer Adam Charnley who won the Eurodragster.com/Bad Habit Racing Perfect Light Award and the Eurodragster.com/Vitesse Labelling Products Perfect ET Award respectively. Both Awards have been reset to £50 for their next outings, the Perfect Light Award at the Mopar EuroNats and a single Perfect ET Award covering both days at the Redline Rumble.

You can check out our John Woolfe Racing-sponsored Bug Jam reports, results and galleries by clicking here or by clicking on the John Woolfe Racing Event Coverage link on the left-hand side of any Eurodragster.com page.

A big Thank You to photographers Julian and Diana for their continued hard work in very difficult conditions.

Swift snippets.
21st July: We would like to say a big Happy Birthday to our good buddy, His Worshipful Protuberance The Very Reverend Sir Neville Mottershead ODE. Have a great day Nev.

Liam takes it all.

21st July: Graham McDonald writes that Irish Junior Dragster racer Liam McDonald took number one qualifying spot and the event win on his first trip to Germany's Jade Raceway:

Liam and family flew to the UK and on to Holland where we were met at the airport by fellow Junior Dragster racer Cheyenne Visser and family with whom we travelled on to Jade, pronounced ja-da, Raceway which took about three hours driving from Groningen airport.We arrived in the dark but thankfully some of Cheyenne's team had arrived earlier with Liam's car and had set up our tent which saved us having to do it in the dark. A big thanks to Remco and Al for their help.

Next day (Friday) we were up early and brought the car to scrutineering and had a quick look at the track. All the teams were pitted on concrete and with lots of room, good toilets and spotless showers, a really nice professionally-run event with timing by the Dutch timing crew and really good track PA call outs. Benny the track announcer did a great job all weekend.


So Friday we had six or seven qualifying runs and on Saturday we had another seven, giving lots of time to set up the car. Jade is almost at sea level and this did cause us some trouble as with the good air we broke out of the 12.90 index (I think they are changing to the 11.90 index in the near future). We ran a 12.70 so we had to reduce our top end speed, we were running at least 0.75 seconds quicker at Jade than anywhere else we have run in Europe so far. So after settling on an ET that would keep us out of trouble the whole weekend, as with running until eight o'clock each night the car was getting quicker with changing temperatures, we stabilised our ETs somewhat within a ball park setting and watched air pressure and the air temperature.


Liam qualified number one with a 0.008 which we believed would hold, but we knew someone could have beaten us at the last minute. However it held and Liam actually pulled a perfect light in Sunday's Test and Tune before the eliminations, but at that stage we didn't need it.

Into Sunday's eliminations with a seven-car field, Liam had a bye run for number one qualifier then fought through to the final and won by breaking out less on a double breakout.

One funny thing that happened was that we were bringing Liam's car to the start line and were being helped by Cheyenne Visser's granddad Al who wears clogs, we were showing Al how to set up the revs on Liam's car and stage it. At one point we had Al's clog in stage with Liam's car nowhere near the start line.

Final words on Jade as a place to race would be that at close to sea level with temps in the 16° to 28° C range and cold air blowing off the water you are bound to see your Personal Bests fall at this track, well worth the journey.

Smax's roll of honour.
21st July: Having come down, inasmuch as he ever comes down, from son Aidan's first five-second passes in the Ant Hill Mob Top Alcohol FC ex-pat UK Top Fuel Dragster racer Smax Smith has been looking at his qualifying stats since his first race in NHRA competition:

2015, Epping: Out-qualified JR Todd, Antron Brown, Dave Connolly and Terry McMillen.

2016, Charlotte: Out-qualified Pat Dakin, Chris Karamesines and Terry Haddock.

2016, Topeka: Out-qualfied Rob Passey.

2016, Reading: Out-qualified JR Todd, Shawn Reed, Terry McMillen and Terry Haddock.

2017, Charlotte: Out-qualified Luigi Novelli.

2017, Atlanta: Out-qualified Brittany Force.

2017, Epping: Out-qualified Steve Chrisman.

2017, Englishtown: Out-qualified Blake Alexander.

Along the way in qualifying I also beat Ritchie Crampton at Epping in 2016. in Reading in 2017 I beat Shawn Reed then won the first round beating Tony Schumacher and in New Jersey I beat Shawn Langdon. I'm dad proud of the fact that I'm the first Englishman to win a round of Top Fuel over here in forty years!

A huge thank you to the Leverichs and all our crew! We have run 4.11/285 to 1000 feet and 4.84/297 to the quarter with the belt off at 1200 feet. Hopefully I will see my first 3.9 and 300 mph 1000-foot soon.


Swift snippets.
20th July: Nigel Taylor asked us to wish a big Happy 77th Birthday to long-serving drag racer, engineer, fabricator and top man Arthur Bonner of Detroit Spinner Racing. "We all thank Arthur for all the years of entertainment that he has given to the sport and the encouragement that he gave us all to rebuild the car and get a great group of people together at the strip", says Nigel. And so say all of us, Happy Birthday Arthur.

Are these your caravans?

19th July: Santa Pod Raceway are seeking the owners of three caravans which are placed amongst the marshals' caravans at the top end of the track.

If any of these caravans belong to you then please get in touch with Darren Prentice at Santa Pod either at darren@santapod.com or call 01234 782828.

If the owners do not come forward shortly then the caravans will be removed.

A season's aims.
19th July: Carla Pittau has been in touch with an update on the Heaven & Hell team's weekend at the FHRA Nitro Nationals:

This season started with the firm intention of going after the EDRS Pro crown again after Rick's success with that Championship last year, and so far the chances seem pretty fair, at least for him.


My own aim is to get seat time and squeeze all the power that can be squeezed out of the excellent Brian Tilburg-built small block and to try to avoid red lights, possibly even go a few rounds, and so far... not quite there! At the FHRA Nitro Nationals, sadly the last to take place at the lovely Finnish venue, I qualified number five and won my very first heads-up race against Vilma Palasmaa, daughter of experienced and much respected racer Hannu Palasmaa, although I must confess that as I knew I had more power I made sure I wouldn't pull a red light and sat on it a little on the start line. Maybe this made me want to get a sharper reaction in the second round against Jarmo Grönman, where I threw it all away pulling a cherry. It was all over for me, but the beauty of a two-car team is that we still had one more chance, which Rick grabbed with both hands.

The field at Alastaro was quite intimidating, the usual Swedish suspects there, all excellent racers whose reactions certainly push you to sharpen your pencil on the start line, plus the usual and unusual Finnish suspects including Rickn nemesis Jarmo Markkanen, an experienced and refined racer against whom he still has to score a victory. However fate wanted, for a change, that Rick should not meet Jarmo in competition, but he still had to face serious contenders like Lars Nyberg, Sari Kainulainen, Iiro Mikkola and Kai Suilo.


Although our long-suffering but fantastic permanent crew was unable to attend, we had the good fortune of having our very own Finnish crew at Alastaro, composed of our good friend Mira Sultanen with her children Tuomas and Suvi, her partner Tomppa Ahonen and his friend Janne. What the brand-new crew lacked in experience they certainly made up for in enthusiasm and helpfulness, as they were extremely reliable throughout the four days, turning up early and even bringing supplies of anything they thought might be useful, were great fun to be with, and made the whole experience even more enjoyable: we were thoroughly spoilt and are really grateful to them.

Rick's car was doing her duty cheerfully and enthusiastically, and if she wasn't qualifying any higher than twelfth she certainly still had a few aces up her sleeve, as she never missed a beat, consistently and diligently getting her wheels up on the start line and turning on the win light at the finish. The driver was also very consistent, dishing up a bunch of respectable RTs including a 0.004 during eliminations.


Repeating the wonderful success of the Tierp Internationals seemed like asking too much of fate, but obviously the gods of drag racing felt that Rick's little brush with the wall at Söderhamn should be compensated with the good fortune of an incredible second win in a row, and this arrived with a dead-on in the final against Kai Suilo, with a 9.987 on a 9.98 dial in, for which the Crew Chief shall take credit...

When Rick came back from the final we were overwhelmed by the sincere congratulations we received from the other racers. It was humbling to see such a level of sportsmanship and we feel honoured to be part of this community.

So far the main aim of the 2018 season seems to be on track, as Rick McCann the Wheelie Man has increased his lead in the EDRS Pro Championship and we very much look forward to the next round at Gardemoen where we will compete in the Drag Challenge, a race which we very much enjoyed last year and which also ended in a win. We will try to encourage Lady Luck again, and even if the entry list is unfortunately small we will have to contend with some of the best competitors in the class to bring home a trophy. We'll do our best!

We would like to thank Mira, Tomppa, Janne, Tuomas and Suvi for their help and good humour as well as the videos and photos they took, the track crew for being attentive and professional, and all of the Stock/Super Stock racers for being the best bunch in the world.

Swift snippets.
19th July: Andy Frost's racing visits to the Bahrain International Circuit to attempt to get into the fives with a street-legal race car are the subject of an excellent documentary now available on YouTube. Five Seconds or Bust - Bahrain Edition can be checked out at www.youtube.com/watch?v=wBfmmDz587A or click on the picture at right.

Eurodragster.com reader Michael McDonald has been in touch seeking experience working with a Fuel team. "I'm nineteen years old and want to pursue a career in a Top Fuel team, therefore I want to get experience", says Michael. If you have room for a new crew member on your Fuel team then please drop us a line at editor@eurodragster.com and we'll put you in touch.

Many thanks to our good buddy and timing guru Andy Marrs for passing us the official Dragstalgia timing data, which you can check out by clicking here or by clicking on the Timing Data link on the left-hand side of any Eurodragster.com page.

Jay, Michelle, Mum, Dad and everyone at Orange Pop Racing asked us to say a big Happy 50th Birthday for today (Thursday) to UK Outlaw Anglia racer Simon Barlow. Our pleasure, have a great day Simon.

Paul Bryan tells us that he is suffering problems posting to his usual Flickr gallery so his Dragstalgia pictures are currently available on his Facebook page by clicking here.

Dragstalgia bike review.
19th July: Photo-journalist Keith Lee says that Dragstalgia was a brilliant event, even if it left him totally shattered:


First I would like to say a big thank you for the Spirit of '76 award, which was very special for me. When Pete Crane presented the the perpetual shield, he did comment that the little version was for Annie, who enjoyed the excellent coverage as she watched from home!

The twenty four-strong NSA bike group put on a great show as always, and produced some outstanding performances. It was obvious that John Hobbs was up for it, as he pulled out the stops to run both bikes in a couple of sessions. From fighting a dancing front end on Olympus, he moved on to the heavyweight double-Weslake and laid down some truly impressive times on the Hobbit, hitting a best of 8.57/160. These are numbers which would have been competitive forty years ago in his prime, and gives an indication of just how much he enjoyed the new Santa Pod track surface.

It was a shame that Martin Willmott had to shut off prior to the final run-off against John, after earlier recording one of his best ever times on his 500 Triumph, at 9.37/148. A throttle return spring had slipped, and he was left with no option but to let John solo to another strong eight second pass for the class win.

Not sure of my favourite bike moment of the event, but Terry Homan turning 11.57/127 on the unforgettable Drag Waye after just a few runs on this unique machine was pretty special indeed. Jeff Byne also improved his times, and hit 10.46/134 on his double Triumph, which left him thinking in terms of nine-second runs being possible next time out. There was a fair amount of attrition in the fearsome heat, which included Jan Honee holing a piston, and damaging the conrod after a 9.00 opener on his fearsome 500 Jawa. A major casualty were the start rollers, kindly provided by Neil and Ray Baskerville. The strain of starting the twin-engined bikes actually caused it to throw a rod! Using his road bike on a spare set of rollers, Anthony Billinton stepped up to start the bikes for the remaining sessions, which was much appreciated.

The new pit area worked well, and our foreign visitors all had a great time at the event, as they found out what Dragstalgia is all about. So many people came up to say hello over the three days, which makes this meet so enjoyable, as old racers make a point of coming along to enjoy reliving old times.

Finally, bike-wise, I would like to add my congratulations to the Pegasus team on being inducted into the British Drag Racing Hall of Fame. All of them were there for the weekend, with Derek Chinn fielding his Pegasus Reborn Vincent for Graham Martin to ride. Well-earned guys!

For all those who asked about the Dennis Priddle book progress, please check back here on Eurodragster.com this coming Monday when the launch plans will be announced.

The iconic car continues.

19th July: Blown-nitro Daimler dragster racer Robin Read says that he and the team were disappointed not to do better at Dragstalgia:

There was a lot of anticipation to run well but it was not to be.

For our first run we had settings in the car which should have run a high six-second pass, as we thought that the weather conditions were similar to last year's meeting. But we recorded a 7.15. The car felt lazy, indicative of being too rich. When we did the engine turnaround we were surprised to see that we had burned seven of the eight new type of plugs which we had hoped would increase speed and lower our Elapsed Time. This conflicted with how the car had felt on the track, a burned plug usually indicating a lean mixture. We decided to ignore the burned plugs and revert to our usual brand - the new plugs did not suit our tune-up nor the engine configuration. The clutch setting was also the same as at our last meeting, the 2017 Flame and Thunder Show. We hadn't gone more aggressive as we didn't know how the new track would be. It was OK, so we adjusted it and left the finger weights the same.

The tuning decision was to put more air into the engine to compensate for the hot conditions, this was as opposed to removing fuel to correct the rich condition. This is done by turning the supercharger faster by changing the sizes of the pulleys driving it. The least amount of overdrive we could have with the pulleys we had was 15%, a bit more than we wanted, but we needed the extra air. We also added another 2% fuel to our mixture and richened the system overall. The warm-up for the next run went well, lots of positive comments about how good the engine sounded.

Down for the next run. We made a mistake here by rolling too far through the water box before starting the burnout, the tyres were too dry and instead of getting up on the tyres and burning out the car tried to hook up and launch but in high gear this couldn't happen. But then we were shut down by the ever-vigilant start line team as something was amiss - fluid on the track. Back at the pit we discovered that an engine water jacket bung had been displaced. We thought that a head gasket had gone to cause this but all our checks indicated that this was not the case. We interpreted the signs that maybe, due to the poor burnout, as the car hooked up it had suffered a bit of tyre shake and that this may have dislodged the bung.

The necessary repairs were done, adjustments made, down for the afternoon run. All went reasonably well. Burnout OK, run OK, this time the engine was responsive and lively, I thought it would be good! But the run was a 7.0/192, still not what we were hoping for. On the turnaround for the next pass we found two bent exhaust push rods, an indication that we had over-revved the engine, and a lot of clutch wear. We had mis-read the grip of the new track and also hadn't compensated in the clutch for the additional engine power.


On to Sunday and the first run. All adjustments made, more finger weight on the clutch, car warmed up, full of promise! The burnout was perfect, but then shut down again for another dislodged engine water jacket bung letting water onto the track. Back in the pit the checks now showed that a head gasket was leaking pressure from number eight cylinder into the water jacket. This time though we worked out why it was happening: with the extra air being put in from the overdriven supercharger, the cylinder pressures when running were great enough to overcome the head studs' ability to hold the cylinder head down which then allowed the pressure to pass into the water jacket and push the bung out.

We then made the decision to not run again. We had been lucky, both times the bung had dislodged on the burnout; had this happened on the run, under full power, wetting just one rear tyre, the results could have been catastrophic! I was downhearted for a short while, but on the positive side, we still have a complete race car. We had also found the next limiting factor with a Daimler, we would have to find and work out how to fit larger, stronger cylinder head studs. There were other positives too: our new rocker geometry was perfect; we had checked the crankshaft bearings on the Saturday evening and they too were perfect; we had found a tune-up which would work with the new track; and the new rear end gears had survived.

As most people are aware we are constructing a new car, which has been happening alongside the running of the current car. We had wanted to run the first 200 mph pass by a British engine with our current car, it would be the final endorsement of greatness for this iconic and historic dragster, but it is eating the budget and time to finish the new car. Prior to Dragstalgia there has been a discussion that it should be parked up whatever happened, to allow the new car to be finished and débuted this season . But I am excited and pleased to let you know that our whole team voted to effect the necessary upgrades to the current car and try again for the 200 later this year whenever we can find a suitable event.

My thanks go to my all-important sponsors ACL Bearings, ARP Fasteners, Arrow Precision, Kent Cams, Venolia Pistons, Engine Parts UK, Tamworth Heat Treatment, Thames Cryogenics, Thomas Fabrications, Kershaw Engineering, Impel Engineering, Hopkinson Engineering, G Max, Nimbus Motorsport and Yukon Gear and Axle. Thanks also to all at Santa Pod Raceway for the superb facility, to the track crew for keeping me safe, and finally to my loyal and hardworking team Mark Evans, Bertie Hopkinson, Bill Mears and Ella Chapman.

Running on all seven.

19th July: Dragstalgia Slingshot Showdown runner-up Bob Hawkins was 12.5% down on cylinders by the end of the weekend but still managed an impressive performance:

The Slingshot Showdown started off on a real high for us with a Q2 in the first qualifier! It was a big boost for the team after all the engine damage from the Retro Show. We went on to run pretty consistent sixes at over two hundred in the eliminations on Sunday.

We started to ramp up the power a little on each run, trying to resist the temptation to just tip the can in, and it was looking like we were in with a fair shout for the final as the gap was closing. Unfortunately shortly before the final we discovered we had some detonation issues in number two cylinder. The exhaust valve had burnt and we now had zero compression in that cylinder!

Now what? Well, we came up with a plan to push up the blower boost and try to pump out the same HP on just the seven good cylinders and let number two just burn off the excess fuel despite having no compression. It worked! So we gave it our best shot but trying to beat the newly-crowned fastest slingshot in Europe was a lot to ask. Huge congratulations must go to Joe Bond and his team who did a stunning job, and it was their day with a  thoroughly well-deserved win.

My own crew worked their pants off in the heat to get our car turned round each run and also to deal with our problems, thank you so much guys! Lastly but not least, it came a huge surprise when I was presented with the Spirit of Dragstalgia award for our efforts! A massive Thank You to all, especially to James Forster who still seems extremely  keen to set us on fire on Saturday evenings, and also to all at the Pod for a very fast and safe track - it had the best grip I've experienced to date!

T break.
19th July: The UK's Paul Watson débuted his blown-alcohol altered at Dragstalgia in 2017 and attended a couple of test days after that, but then things started to go up and down, mainly down:

2018 started badly when we found that our Kobelco blower had broken. Also I had three months off due to an accident at work. We finally brought the car out at the SPRC Summernationals where we still had to complete a licencing run. We ran a 7.50 followed by 7.45 and we really thought we had finished with all the problems.



Dragstalgia was the one I looked forward to the most, we had a few issues just before the event but was all done just in time. We warmed the car a couple of times in the pits but the next time we had ten-foot flames. We knew it must be ignition-related, and on inspection we found that the roll pin in the mag drive was broken. After that all seemed good but then disaster on the first run as it threw number two rod on deceleration. We don't know why, but we will investigate.

I started a Facebook page for the car where I could show the story of my last race car called Grumpy's T but unfortunately now we have a sad ending as the damage is extensive and beyond my budget, I would like to thank everyone for the support shown and to thank all those who have helped me along the way.

Redline Rumble entry update.
18th July: Many thanks to Santa Pod Racers Club Secretary Ian Marshall for forwarding Version 1 of the official entry list for Redline Rumble, which takes place at Santa Pod Raceway on 18th-19th August and which is a double-header ACU and UK National Championship round for Funny Bike, Comp Bike, 8.50 Bike, 9.50 Bike, ET Bike and Supertwin Top Gas, and a non-Championship Shootout for Super Street Bike.

You can check out the Redline Rumble entry list by clicking here.

Entry closes on Friday of next week, 27th July, after which date a late entry penalty may be applied. You can find the official entry form on the Information link of the SPRC web site at www.eurodragster.com/sprc, and if you have any queries about Redline Rumble entry then please get in touch with Ian on 01933 313625 (outside the UK +44 1933 313625) or E-Mail ir.marshall@btconnect.com.

Important NitrOlympX entry update.
17th July: Yasin Özer has been in touch with an important update for racers entering next month's NitrOlympX at Hockenheim:

Entry closes on Friday of next week, 27th July, except for Junior Dragster which is full so we cannot accept any more entries for that class.

Please remember that under privacy law it is absolutely necessary to sign the Declaration of Consent, please see the entry form. Without your signature we can't accept your entry. Some of the FIA racers have not signed their Declaration of Consent.

You can see the current entry list and status (PDF format) by clicking here.

Bug Jam Perfect Awards.
17th July: This weekend's Bug Jam at Santa Pod Raceway is the latest event in the 2018 Eurodragster.com Perfect Awards Scheme. £100 will be on offer for perfect performance.


The Eurodragster.com / Bad Habit Racing Perfect Light Award remains at £50 after the special additional award was not won at Dragstalgia. The money will be paid in cash to the first racer to record a Reaction Time of 0.000 seconds. The Perfect Light Award will be available to racers in all classes during qualifying and eliminations, but will only be awarded for the first Perfect Light of the event. If not won then the Award will be increased to £75 for the Mopar EuroNationals; if it is won then it will be reset to £50 for the Mopar EuroNationals. The Perfect Light Award is presented in association with Cath and Tig Napier of Modurstang Pro ET team Bad Habit Racing.

Decals are not mandatory for the Perfect Light Award but we would appreciate it if Eurodragster.com decals are carried. Eurodragster.com decals will be available in the Signing On office or from the Eurodragster.com office in Race Control (entry via Spectator Bank side stairs only).



The Eurodragster.com / Vitesse Labelling Products Perfect ET Award has been reset to £50 after it was won by Pro ET racer and Award sponsor Al Platt at the SPRC Summernationals. The money will be paid in cash to the first racer to run +0.000 on index or dial-in during qualifying or eliminations. The Perfect ET Award will be available this weekend in VW Pro, VW Sportsman, Hutchinson & Dibley Sportsman ET and Lucas Oil Junior Dragster (eliminations only), but will only be awarded for the first Perfect ET of the event. If not won then the Award will be increased to £100 for the Redline Rumble; if it is won then it will be reset to £50 for the Redline Rumble.

To be eligible to win the Award, decals (right) must be carried, clearly visible, one on each side of the vehicle. If a Perfect ET is recorded without decals then there will be no argument, we will not pay out and the money will be awarded to the next racer to record a Perfect ET. Decals will be available in Signing On from this Friday.

For more information about the services which Vitesse Labelling Products can provide please see Al Platt in the Modurstang Pro ET pits or visit www.vitesse-labelling.co.uk.

Dragstalgia results.
16th July: Congratulations to the winners at Dragstalgia at Santa Pod Raceway:

Nostalgia Cannonball: Nick Davies 6.2135/231.70 def. Ramon van der Weurf 6.4113/215.93
Slingshot Showdown: Joe Bond 6.5779/221.12 def. Bob Hawkins 6.8621/193.06
Outlaw Anglia: Colin Millar 7.5100/179.96 def. Scott Crookston 7.8496/169.81
Nostalgia Super Stock: Tom Watkins (9.59) 9.5921/139.00 def. Lee Chiles (11.07) 11.1074/122.51
Gasser Circus: John Grant (11.83) 11.9359/101.47 def. Kjell Andersson (9.55) 9.5946/139.44 DQ red
Willys Wars: Philip Moules 10.5953/130.14 def. Simon Daniels 13.1123/112.74
Wild Bunch: Terry Clifford 0.0295 average against dial-in
Supercharged Outlaws: Glenn Pallant

Nostalgia Pro Stock Bike: Andy Lambert 9.0736/143.84 def. Tyne Blight no time broke

Congratulations also to the winners of the Special Awards:

Best Burnout: Stefan Flodell (Gasser Circus)
Best Wheelie: Ian Merryweather (Supercharged Outlaws)
Moment of the Weekend: The homecoming of Havoc
Best Appearing Vehicle: The Villain (Chris Manning, Slingshot Showdown)
Best Appearing Team: Stiff Shifter (Joel Kerr, Supercharged Outlaws)
Spirit of Dragstalgia: Bob Hawkins (Slingshot Showdown)
Driving Job of the Weekend: Mick Taylor (Outlaw Anglia)
Best Back-Up Girl: Lynne Coulsell and Anna Cassisi (Wild Bunch)
Low ET: Nick Davies, 6.2157 seconds (Nostalgia Cannonball)

You can check out our John Woolfe Racing-sponsored Dragstalgia reports, pit notes and galleries by clicking here or by clicking on the John Woolfe Racing Event Coverage link on the left-hand side of any Eurodragster.com page.

British Drag Racing Hall of Fame 2018.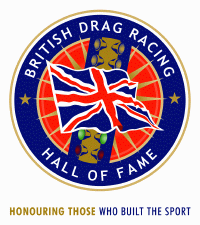 13th July: The British Drag Racing Hall Of Fame continues into its thirteenth successful year and is pleased to announce the 2018 intake. Nominees are eligible by dint of having raced, owned, designed, built, maintained, prepared, promoted, officiated, supported or taken part in British drag racing in any capacity, having been involved for at least twenty years, or having made a significant and recognisable contribution to the sport.

The 2018 inductees are:


THE COOKSON FAMILY Profile by Simon Groves

Gerry Cookson first became aware of drag racing when his brother-in-law David bought Hot Rod magazine and showed it to him in the early 1960s. They, and Gerry's wife Joan and son Jeremy, travelled together from their home in Sutton Coldfield to the 1965 Dragfest.

Enthused by the spectacle they saw, Gerry decided to build a slingshot dragster powered by a Morris Minor engine. The car was almost ready for the track at the same time that Santa Pod opened in 1966. Tuition in welding the chassis came from Ken Cooper, and Gerry did all his own work on the car. The slingshot, first known as Minor Leaguer, evolved into Trouble Shooter after new bodywork, engine and chassis changes to enhance performance.

In 1969 when Joan was pushing the car down the fire up road, the dragster's push bar collapsed, resulting in the car going into the guardrail and rolling. Undeterred, Gerry built a new chassis as he had previously done. By 1973, using a 1071 cc Mini Cooper engine with a Godfrey cabin blower on methanol, the car was recording times in the mid ten second zone and had many wins in the Junior Dragster class. Gerry then built a Berkeley Sports and entered it in the Modified Street division. By the early 1990s he was racing an MG Midget with which he won the Four Pot challenge, and, in the early 2000s, ran at RWYBs at Shakespeare County Raceway forty years after his track début.

Whilst Jeremy helped his dad prepare his car for racing, he soon joined the Junior section of the Midlands Drag Racing Association and helped Gerry edit the Club magazine, the original Fire-Up. Jeremy was soon writing race reports for various motorsport and drag racing publications. A job at a local printer helped him gain the printing work for the club. At the end of the 1980s, he started editing a new version of Fire-Up magazine published by Avon Park manager John Wright and, after that closed, he embarked on editing European Dragster with promoter and publisher Keith Bartlett. These magazines got Jerry known to other journalists and racers.

Jeremy started commentating at Avon Park in the early 1990s, and his comprehensive knowledge soon resulted in him being widely engaged within the sport. He also publicised Avon Park and its associated track safety operators FAST. In 2006 when the then external promoter of Avon Park departed, Long Marston airfield owner Anthony Hodges decided to bring the function in-house and employed Jeremy as head of marketing and promotions. With Anthony's goodwill, Jeremy relied mainly on voluntary work for help with the various functions around the track until it was sold for development and closed early in 2018.

For over forty years, Gerry Cookson was an active and winning participant in UK drag racing, and for nearly as long, Jeremy Cookson has been closely involved in media and marketing of the sport, and for these reasons we are delighted to induct the Cookson family into the British Drag Racing Hall of Fame.


STEVE HORN Profile by Lesley Wright

Steve Horn first entered Santa Pod Raceway courtesy of his Dad's friendship with one of the gate staff back in the early 1970s. He'd just started an apprenticeship in Electronic Engineering at RAE Bedford and soon became known for helping to fix various track equipment, which he saw as payback for the free entry he'd gained.

At RAE Bedford Steve was involved in Research and Development of the Harrier Jump Jet and at Santa Pod joined the Jet Set, as the bunch of young lads who hung out with the Scorpion Jet Car began to be known. By the Blue Thunder Jet Nationals, held at Santa Pod in August 1983, Steve was driving Hellbender and won the Cannonball style shootout against four other jets with consistent 7.20s at 220 mph, the eventual winner being indicated by the arrow win light manually lighting up in the lane in which he stood after the race was over.

When the Midnight Cowboy Jet Funny Car was being developed, Steve would drive the few miles to Santa Pod in his lunch hour so that he could sit in the pilot's seat, whilst Allan Herridge was trying to sort out the afterburner, then he would go back to work for the afternoon! The sad events later that year made Steve hang up his helmet and fire suit for good but he continued to crew for the jet cars.

Steve had a lot of interest in the original timing system (DRAGS Mk2) developed by Peter Billinton, but the most significant development was the purchase of the TSI system from the USA in 1991. Since then he has overseen the track re-wiring four times. With the TSI system, drag racing had reaction times, 60 foot, 330 foot, eighth mile ET and speed, as well as 1000 foot and the full quarter along with the finish line scoreboards. Lots of study and dummy runs of the system were needed to get used to the new choice of Sportsman and Pro Trees and now drag racing also had the Progressive ladder system. Bracket racing was born and with it the need to train staff, often in his living room in the evenings.

When drag racing achieved FIA status, Steve Horn was one of the first in the sport to be recognised as an MSA International Speed Timekeeper and travelled to many events across Europe and Worldwide.

It has to be remembered that the work of the timing team starts long before the race meeting starts and ends long after it finishes. Steve said that it always makes him smile when records are set although his focus has always been the equipment on track, keeping watch to see if any damage has been done or bulbs need replacing to get the action moving again.

It is for his long-standing dedication and hard work in helping to develop the systems and people required at Santa Pod and beyond for races to be won and records to be set, that Steve Horn is being inducted into the British Drag Racing Hall of Fame.


TEAM PEGASUS Profile by Keith Lee

Of all the iconic machines in the history of drag bike racing in Europe, one that is truly legendary is Pegasus. The name is synonymous with the show and go aspect of the sport, as one of the first show quality machines to grace the strips.

Team Pegasus came about as three friends from the Bedford area, Derek Chinn, Mick Butler and Ian Messenger, decided to have a go at sprinting and drag racing in 1967. They started with an old 600 cc single cylinder Panther-powered bike, aptly named Long Rod, which still survives today, and they soon acquired an appetite to challenge the top racers of the day who mainly used vee-twin motors.

The first incarnation of Pegasus was an unblown 998cc Vincent in 1968. Taking it in turns to ride the bike, the elapsed times quickly improved. A Shorrock supercharger was fitted for 1969, and the bike started to fly. That year, Pegasus was the first drag bike to race in Sweden, and Mick Butler rode the bike to its first British Drag Bike Championship win, defeating John Hobbs in the final.

In 1970, the beautifully-prepared Vincent was one of two British bikes on the first trip from the UK to race at the NHRA US Nationals at Indy. Despite transportation delays, the experience of competing at the sport's number one drag race was a brilliant adventure for the young team. The bike joined the nine-second elite, recording best times of 9.83/150.

In many smoky side by side charges, Pegasus notched up a good number of wins. It took the 1971 BDR&HRA and NDRC Championships. Derek tried to extract more power for 1972, by upping the capacity to 1458 cc, after which the original Pegasus was retired.

Mick Butler decided to strike out on his own after 1972, previously running a Norton-powered bike alongside Pegasus, as he wanted to race more often. He built Super Cyclops, a 1000 cc double Norton, which dipped down into the low nines, followed by a Weslake vee-twin, which Mick rode into the low eights.

In 1974, Derek and Ian unveiled the double-engined 1656 cc Pegasus Norton - a true work of art. Early times were fraught due to an overworked motorcycle gearbox and clutch. Once the bike was fitted with a Lenco two-speed and slipper clutch, the wins started coming again. Eddie Keightley joined them as a team crewman.

The Norton was a big hit on the show circuit, and won numerous Best Appearing and Best Engineered awards at the races, with several different airbrushed murals applied over the years.

Best times achieved by Pegasus were 8.39/170. The bike was retired at the start of the 1980s but happily it was sold to the National Motorcycle Museum where for many years it was the main attraction in the entrance foyer.

Derek built a replica of the original unblown Pegasus in the late 1980s in order to have some fun racing at sprints, and it still runs at Dragstalgia. Amazingly, in 2016, after the double Norton had spent some thorty three years in the museum, Derek and Ian got the bike running again. It was quite something to see and hear the iconic Norton out on track, with Derek riding it for one last time.

The three original team members all shared the same values regarding quality and will always be linked together, after their time spent in establishing the Pegasus name.


ANDY ROBINSON Profile by Robin Jackson

Andy Robinson is the MSA British Drag Racing Champion six times over. That distinction alone might warrant his induction into the British Drag Racing Hall of Fame, but it is only part of the story of the UK's long-serving Mr Pro Mod.

The MSA Championship class since 2007, Pro Modified had emerged in Britain in the late 1980s. By then, Andy Robinson had already been involved in drag racing for over a decade. In 1974, during an engineering apprenticeship, a college lecturer had suggested he try marshalling circuit races as a pastime. Marshalling at nearby Blackbushe, he found himself attracted to the Run What You Brung activities of local Hot Rod and Custom Car clubs, something not available in the circuit racing world. A home-built, high-riding Ford Zephyr was his first serious racing machine and won him his first title, the NDRC Allcomers Street Championship at Long Marston in 1981.

A Chevy Monza followed, and then a Ford Sierra Sapphire, Andy's first venture into the burgeoning Pro Mod scene to take on leading contenders of the day such as Tim Cook, Dave Mingay, Dave Warne and Dave Pollen. In 1991, a new house with space for a custom-built workshop launched Andy's career as a professional racing car constructor. On the track, an innovative Rover 800 coupe dominated the Pro Mod scene, winning national championships in 1997 and 1998, and was replaced by Andy's best-known car, the purple, flamed Studebaker Commander, first in unblown nitrous form, then adopting the supercharged methanol power the team employs to this day. The Studebaker won three MSA Championships. Its replacement, a 1969 Chevrolet Camaro debuted in 2013, has notched three more and is chasing its fourth in 2018.

Racing cars are a full-time, Robinson family occupation. The company, Andy Robinson Race Cars, finds Andy and son Luke busy in the workshop while Kate, Andy's wife, manages the business. At the track, daughter Stefani is part of the large team preparing the Camaro for action. Moreover, the company's products are a constant feature of any European Pro Mod field. For example, The Main Event's entry list this year included four other ARRC vehicles competing against the Camaro. The Robinson pit is renowned as a source of practical help and advice for racers throughout the paddock, whether company customers or not, a significant factor in the minds of the Hall of Fame's selectors as they deliberated their choices. Andy and Luke also serve as inspectors on the SFI Foundation's annual European racing equipment recertification tour, and Andy sits on the MSA Drag Racing Sub-Committee too. Drag racing forms only part of ARRC's product portfolio. The company's reputation is second to none in Historic and Classic circuit racing, where it specialises in building roll cages and provides all manner of other fabrication work.

It is for his abundant contributions to the practice and spirit of British drag racing over so many years that Andy Robinson is inducted into membership of the British Drag Racing Hall of Fame.


PETER LANTZ Profile by Tog

Peter Lantz Racing fired a shot heard around Europe on 16th August 1997 when Kent Persson drove the PLR Top Fuel Dragster to Europe's first-ever four-second pass, a 4.987/472.87 kmh (293.83 mph) at the NitrOlympX at Hockenheim. Although rightly remembered as a crowning moment, it was one of many achievements in Peter's career.

Peter Lantz's first race car was a Volvo-powered Competition Eliminator dragster built with two friends in 1979. The rail gave way to a Keith Black-powered dragster which was campaigned for two years before Peter ordered a Pro Comp dragster from the Kjellin brothers. Whilst that car was being built some of Peter's running gear was placed in Jonny Nilsson's Pro Comp Funny Car, which was driven by Kent Persson and which came out on top of a sixteen-car combined Pro Fuel and Pro Comp eliminator at Pite Dragway. The car won the Swedish Championship and set a European record before being campaigned in the USA. During this time Peter also crewed with Bjorn Ardin and Torsten Dahl to learn about alcohol tuning.

Peter drove the Pro Comp dragster from 1986 until 1989 and then built his own dragster which he campaigned until 1991, when he also took the seat of the ABC Top Fuel Dragster and started to work with tuner Morgan Svensson who became a firm friend and with whom Peter credits all of his subsequent performances and successes. Peter took over the ABC Top Fuel Dragster in 1992 and then built his own Top Fueller in 1994. With backing from Optima Batteries Peter won the ETFA Championship in 1994, running Europe's quickest ET of 5.11 seconds. After a successful weekend at Mantorp Park in July 1997 Peter was invited by promoter Rico Anthes to the NitrOlympX where history was made.

The PLR dragster was equipped with a revolutionary injector hat known as the Sharkfin, which was designed by Morgan. The injector sat in clean air high above the roll cage and blower pulley. The blower design was also changed to front-load the air pressure since at that time 90% of the air went towards the back of the blower. Now standard practice worldwide, the idea was way ahead of its time in the 1990s.

Anita Mäkelä drove the PLR Top Fuel Dragster in 1998, finishing third in the FIA European Championships, then Peter climbed back into the car and won the first two Swedish Top Fuel Tour Championships in 1999 and 2000 before selling the dragster.

Although nominally retired Peter was asked to drive Pelle Lindelöw's Top Fuel Dragster in 2002 to sort out problems with the car. Peter hung up his firesuit for good after the 2002 FIA European Finals at Santa Pod Raceway.

After Peter retired from driving he and Morgan supported and consulted for other racers including Jens Nybo, Tommy Möller, Jöran Persåker, Jonny Lagg and Björn Mårtensson. Most recently Peter has been working with Top Fuel Dragster racer Stefan Gunnarsson alongside the US's Mike Domagala, who he says has taken his knowledge into another dimension. With support from Peter and Mike, Stefan was the first Swedish racer to run a three-second 1000-foot time.

For his Championships and achievements, and for conferring success upon those racers whom he has supported, Peter Lantz is inducted into the British Drag Racing Hall of Fame.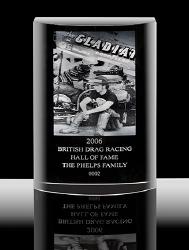 Members of the Hall of Fame receive a 'Bootsie', a trophy encapsulating an image of the late Allan 'Bootsie' Herridge, a man who put so much into British drag racing, together with an exclusive commemorative pin. They join the élite list of inductees from previous years and will be listed on the official British Drag Racing Hall of Fame web site which you can view by clicking here or by clicking on the British Hall of Fame link on the left-hand side of any Eurodragster.com page.

The 2018 inductees will be presented at the Gala Awards Dinner to be held on 17th November at the Oatlands Park Hotel, Weybridge, Surrey. The BDRHoF are taking reservations for the 2018 Gala Awards Dinner by E-Mail at stuart@britishdragracinghof.co.uk or by telephone on 01933 279102. This year the dinner tickets, which include table wine, are competitively priced at £70, £5 more than 2017 due to price increases. The BDRHoF have managed to keep the same rates for hotel rooms of £115 for double rooms and £94 for single rooms which includes breakfast and VAT as well as parking. The event always sells out well in advance, so if you would like to join us for the occasion we suggest that you make your reservation sooner rather than later. On receiving your reservation you will be given the procedure to book rooms.

On-going news about the Gala, sponsors and other events in which the BDRHoF is involved is regularly published on the British Drag Racing Hall of Fame web site at www.britishdragracinghof.co.uk, here on Eurodragster.com, and on Facebook and Twitter.

Millar, on the record.
13th July: New Outlaw Anglia ET record holder Colin Millar and the Flyin' Fyfer team are over the moon about setting the new record of 7.372 seconds and a new PB speed of 184.37 mph:

I had to make some difficult decisions last year. I decided to part with the Top Methanol Funny Car; the main reason was that I wanted to have a crew based in Scotland who could grow together and work as a team building on experience on and off the track, but in the end this was not something that was achievable. My good friend Tony Betts now has the car and I can't wait to see it out running real soon, good luck Tony and team.

Once I had the cash in my hand I did have some ideas and one goal I wanted to try and achieve was the OA record which has been held by Paul 'The Guv' Wright for around eleven years. The numbers speak for themselves at 7.400/190.57, pretty impressive to say the least especially if you have managed to see some of Paul's in-car footage, it's no picnic! A lot of people watch the awesome show the Outlaw Anglias put on as they are always a huge handful and a pleasure to watch but you should be inside driving... it can be challenging, let's just say that.

So we had the cash and it had to be spent. It was decided to upgrade the motor to a Shafiroff 632 Top Sportsman Nitrous motor with a potential of 1900 horse power. We had numerous issues fitting it as it's just massive, but we got there and the first outing was The Doorslammers. No gas as I wanted to ease the motor and myself in with the new combination. On both days we managed to get to the semi-finals with a pot of £500 at least paying for our fuel up and down to Scotland. Then out to the Main Event with good results, sitting in fifth position in Super Pro ET I thought "Nothing to lose" on Saturday night - the air was good, the track still had temperature, let's give it a hit with gas. We did and it exploded the yoke on the prop and chewed the end of the casing on the Powerglide. That's when I realized the potential of the new motor.

I hectic thrash as we were heading to France in less than nine days and everything had been booked and paid for. I was going and nothing was stopping me! Big thanks to Geof Hauser for the new prop, Andy Frost at Penn Autos for sorting a new tailshaft and making sure the box was good to go, Al Mac who runs in Street Eliminator for parts, Kevin Cerasale for a spare billet yoke, Scotty Crookston for helping, and my Lynn for putting up with me never being at home.

France has been talked about and it was fantastic, so onto the Summernationals and my first Outlaw Anglia event of the year - that Ed Sheeran has a lot to make up for (Why, was he driving it at the first OA round then - Ed). I was going to run the tune I had put in when I broke the prop but was persuaded to turn it down to a sensible 200 shot on the gas. Off we went down the fire-up road full of anticipation. Gas on, purged and launched and I thought "That was a bit tame" but I had forgotten to press the gas button, d'oh!


Back down late afternoon and the conditions were good but unfortunately Jedd Guy had a problem and we needed a clean-up, eventually getting to run at a cool 8.30 at night. The run was perfect and straight as you like with Paul Hensher beside me all the way to around 1100 feet then he disappeared, later telling me it got out of shape. I thought it was a nice run and hoped for a 7.7 or maybe even a 7.6 but never in my wildest dreams did I think it had a run a 7.37. Emotion, jubilation and jumping around like a nutter were just a few things which happened top of the track and getting back to the pits with so many people taking the time to congratulate me. It was brilliant and much appreciated, thank you.

Sunday, and getting to the final was icing on the cake and backing the record up with a 7.41 and Jedd Guy and myself on the podium, it doesn't get much better than that. A big shout out for Paul Hensher running a 7.5 new PB on the Sunday, well done Paul.

The Flyin' Fyfer and the Flyin' Scottsman will of course be pushing the boundaries at Dragstalgia. Scott suffered some engine damage at the Summernationals and we've yet again been hard at it in the garage to make sure Scott was ready to rock and roll.

You have the opportunity this weekend of watching a twenty three-car field and I can guarantee you will not be disappointed.

A big Thank You to Callum Pudge for all the fantastic photos he captures of my car and of all the Outlaw Anglias as well as for everything he does behind the scenes. Please have a look at the updated Outlaw Anglia web site at www.outlawanglia.co.uk, and Happy Birthday for the other day Callum, I wish I was twenty one again!

Swift snippets.

13th July: Bob's Photo Finish Award sponsor Bob Roberts and Pro Modified racer and Eurodragster.com sponsor Andy Robinson took a break from straight lines and visited Le Mans where Bob found Derek Drinkwater's recreation of Le Monstre. "I think that it is a classic hot rod, following the ethos of many of the cars at Dragstalgia", says Bob. "The original was raced in 1950 and was a rebodied Cadillac saloon which proved to be slower than the saloon. Its idiosyncratic styling and size earned the name of Le Monstre and ensured its reputation as a Le Mans legend."

Thanks to MSA British Championship PR Robin Jackson for letting us know that the official Pro Mod race report and accompanying data from the SPRC Summernationals are now available on the MSA British Drag Racing Championship web site at  www.msadragracing.co.uk.

Another five-second Smith.
13th July: With his Top Fuel career on hold, ex-pat Brit Smax Smith is channeling all of his energies into the Top Alcohol Funny Car career of son Aidan. Smax writes:

I was to be driving the Leverich car at the Canadian Nitro Nationals but the weekend before at Norwalk they broke the input shaft necessitating major surgery to get same input as everyone else is running, all sorted out in time for Epping the following weekend. I was gutted! Meanwhile this has given me more time to concentrate on getting Aidan down track with our real nice screw blower alky Funny Car.


We organised a mini Funny Car series at Cayuga with four cars for three events. The first outing was 24th May, Victoria Day national holiday (I find it really amusing that the Brits don't celebrate it). First pass was a planned shut-off and Aidan ran 2.64 to 330 feet which is a reasonable number for a 5.80 run. Car checked, no damage ready for run two. Perfect burnout from Aidan who now is really getting a handle on this 3000 hp machine, then it quit. It turned out after much CSI that the plug for the killswitch wires grounded out so I took that off the car and Aidan now controls the kill switch.

On run three a massive burnout then screamed a 6500 launch but it shook, so short shifted then shook again so pedalled and plugged high gear and it laboured down to a 6.70. Hmm, too much wheel speed but it ran another 2.6 to 330 feet! We broke our titanium wheelie bar so crew guys Josh and Gilby used their stock car tactics to effect a reasonably safe repair, then back out for run four.

Our buddy Vince Rastelli had blown the engine in our lane but we didn't have lane choice to swap. Track OK'd us to run and again Aidans burnout was amazing. We raced Chris Zygoda, Aidan launched hard and got a great lite but the one chute shook out then he hit oil from Vince's last run which wasn't cleaned up properly and that turned  the car sideways and hit a reflector so we were done. But a great driving job again by Aidan and again 2.60 to 330 feet dragging a chute.

We were then invited by a car club to demo back at Cayuga couple of weeks later so our good buddies at Clearshot Customs fixed up the damaged body just in time so we were hoping for our first five.

A massive burnout from Aidan, nice and straight, and a strong 6500 rpm launch then disaster - it broke a rod and windowed the block. We run eighteen litres of oil but never oiled the track, weird! Back in the pits a huge crowd gathered to watch us strip everything to bare block but we haven't got a spare so we were done, shame as we had been sponsored by CP Carillo and we were putting new rods and pistons in for the next race. They showed up on Monday at our sponsor and good friends Engine Technology. I took the block there and got a bar machined to clamp in the mains so that they could weld the block (and pan) and line hone ready for the next race at the Cayuga Nitro Nationals on Canada Day, 1st July.

All the crew were complete stars as we all thrashed weekend before to get everything ready with all the new parts so that Aidan could take everything to the track Thursday for Press Day. He met with the morning show host of Y108 Breakfast Radio and sat him in the car and fired it up for him - he was blown away!

I finally arrived and met up with Dave Bryant, Lee Webb and the Shockwave crew who flew over to help Terry Haddock with his Funny Car, who was now supposed to bring his dragster to substitute for me not bringing the Leverich Top Fueller. A massive screw-up at the border meant that Terry couldn't cross into Canada so the Nitro Nationals was down to one Top Fuel car, Barry Paton, and the Funny Cars of of good friend Jeff Diehl, Dale Creasy Jr and Jack Wyatt.

Meanwhile I was figuring out how to get our first five. I switched first gear in the Lenco from a 1.68 to a 1.64 and tuned the fuel as best I could to compensate for the ridiculous heat, track temp and lack of air. Aidan was against prior NHRA winner buddy Paul Noakes. Completed perfect burnout and waited for Paul before pre-stage. He went in and revved up to 6500 rpm but the car started dragging forward so he had to lift out of it then the lights came on so he flat stabbed it and chased after Paul who ran a 5.91 Aidan lifted in 5.2 seconds and still ran 6.20 - we were buzzing! In the pits a big thrash revealed no damage so we were ready for the night run in front of the sold out crowd.


Aidan was on a solo and the nitro cars had not run that great in the heat so a lot of focus on us doing a great run. Aidan did an eighth mile burnout then took his time to get perfect startline rpm. He rocketed away and ran nice and straight then the scoreboard lit up 5.96/238! Yahoo - I lost my shit and did a roll on the ground! The crowd went ecstatic and everyone on the start line congratulated us. It was a huge moment for us! Everyone was screaming at us as we drove the golf cart to collect a beaming Aidan and when we towed back in front of the stands Aidan got a standing ovation, amazing! We just partied till 5:00 am as our great friends band Dog House Roses played in the bar that's built on the start line.

We got up early to service the car and found no damage thankfully. Ready for semis on a bye, a perfect burnout from Aidan so I said to wind it out to 9000 rpm in first gear but after a perfect launch it shook really bad and broke away the battery and shut the car off (as the msd kill switch has battery power). We towed back to the pits and checked the car over but we had shaken the circlip off the Lenco output so a big thrash to fix for the final. I made it just in time but no time to fire up.

Aidan was again against Paul Noakes and cut a 0.055 light but Paul was 4 mph ahead at the eighth and won with a 5.88/245 but Aidan almost had him with a 5.97/241 so another Personal Best and only 4 mph behind at the stripe. Great final!

Once I can control the wheel speed he won't need to short shift and will be in the 5.80s. Watch this space - I'm still buzzing.

Bug Jam racer update.
11th July: Many thanks to Ian Marshall for forwarding us details of the arrangements for next week's Bug Jam at Santa Pod Raceway:

Thursday 19th July
10:00 Gates open
21:00 Gates close

Friday 20th June
09:00 Gates open for the duration of the event
12:00 Track opens for Run What You Brung NB DVLC licences only
14:00 Scrutineering commences, no specific order (Sign-on / scrutineering instructions)
19:00 Track closes

Saturday 21st July
07:00 Signing On office opens NB Competition licences required for racing, DVLC licences for RWYB
07:00 Scrutineering commences, no specific order (Sign-on / scrutineering instructions)
09:30 Track opens for Run What You Brung
15:00 Run What You Brung ends
16:00 Track opens for qualifying

Sunday 22nd July
08:00 Signing On office opens
08:00 Scrutineering commences
09:30 Track opens for qualifying and eliminations

The provisional running orders are now available and can be checked out by clicking here or by clicking on the John Woolfe Racing Event Coverage link on the left-hand side of any Eurodragster.com page. Please note as ever that running orders are subject to change due to weather or track conditions or for any other reason deemed necessary by race officials.

No race vehicle motors are to be fired up before 09:00 or after 20:00 on any day of the event including Friday's Run What You Brung. Before 09:00 vehicles should be pushed or towed to Scrutineering, not driven or ridden. Non-observation of curfew will result in exclusion from the event.

Junior racers please remember the rule about pushing vehicles back to the pits once through the arch beside Scrutineering.

Colour commentators are requested to come to Commentary only when their class is at the head of the lanes, to vacate Commentary as soon as their class has run, and not to bring guests to Commentary with them.

At the request of SPR management the Eurodragster.com office at the Bankside end of Race Control is out of bounds during racing except to race officials, Eurodragster.com staff, Zeon TV crew and racers or crew collecting Eurodragster.com Perfect Award money.

Dragstalgia NSA preview.

11th July: Keith Lee has been in touch with details of the National Sprint Association;s bike field at Dragstalgia:

For me, this is my favourite event of the year, which will entail a three-day break from working on my book about Mister Six, Dennis Priddle, whose company I will again be enjoying for the long drive up to Santa Pod.

This weekend we expect to see six double-engined bikes out on the strip, all of which were regular entrants in the 1970s. John Hobbs was the biggest name on two wheels, over a fifteen-year period, and will top the entry list, as he has at every Dragstalgia, with his supercharged twin-engined Weslake, as well as riding his faithful replica of his record-holding 500cc Triumph, Olympus.

The sixties and seventies were a time of innovation, which is summed up when you look at the amazing Drag Waye. Originally built by Clive Waye, it has been restored by Terry Homan who has only made a few test runs himself on this unique projectile. One of the most unusual bikes ever built, it is a tribute to British ingenuity, from the days when anything was possible.

There are likely to be a couple of extra bikes running, not listed in the programme, which were stars of their day. More information to come on these during the weekend. Do take a close look at the bikes in the pits, and have a chat to the riders. Racers from mainland Europe often came over to compete, and it is very pleasing this year that we have accepted entries from riders based in Holland, France, Italy and Belgium, who want to be a part of this unique event.

If you are wondering what the National Sprint Association is about, this club was formed in 1958, and this year celebrates its 60th anniversary. The legendary Allan 'Bootsie' Herridge was an early member, and pioneer car drag racers were allowed to run at club events in the early part of the sixties. The NSA were involved in the original Drag Festivals, which kicked off the sport in the UK. This club, which is strictly non-commercial, still exists, running bike sprint events. Although not officially involved with Dragstalgia, this class recognises the part the NSA played in drag racing history.

A swansong for Havoc.
11th July: Nick Davies says that Dragstalgia has always been kind to the Havoc Fuel Altered team:


A breakage to the Rat Trap AA/FA in 2014 gave us the opportunity to run against the enigma that is Pure Hell - now the fastest classic Fuel Altered on the planet. It was the run which started an extraordinary chain of events for us. It is fair to say that with the alcohol Chevy in the car it was less than entirely predictable and, though Pure Hell ran faster that day, it was a run for Havoc that was pretty memorable to those involved. It also started dialogue between the Havoc and Rat Trap Racing teams which would culminate in a huge tick on the bucket list.

In 2016 we returned to Dragstalgia with the newly-installed nitro Hemi and, though much time was spent finding our feet with the new combination, we held our own against the travelling Americans, and the plan was hatched to ship the car to the US for 2017. The last time running at Santa Pod was the 2016 European Finals where everyone was surprised to see a 6.29 on the boards on the final pass (Those of us who know you were not remotely surprised - Ed).

The 2017 US tour has been well-documented and ended with the fairy tale of the little green altered from the UK winning the coveted California Hot Rod Reunion with a PB against the legendary Nanook.


The support which we received during the entire 2017 tour, but especially at the Reunion, was remarkable. Not only from our extraordinary sponsors, Beech Underwriting Agencies, US Automotive, Rat Trap Racing, Lucas Oil, Goodyear Tyres, ARP Fasteners, Motorstate Distributing, the NFAA, VP Race Fuels, Thacker & Friends and the Sherratt family, but also from all the UK-based fans both travelling and at home.

We promised to run the car again in the UK as a thanks to everyone for their support, so this weekend we are returning to our home track, Santa Pod, for Dragstalgia. We will be racing against almost the entire pride of European Nostalgia Funny Cars as well as other altereds and are aware that we are by no means the fastest in the field. But we weren't in California either...

As has been mentioned, the car will be mothballed after this meeting as we have other projects which require a deal of focus and attention. We completed the car with the Chevy towards the end of 2005 as a bit of fun from a heap of parts which we had kicking around and we never anticipated it to generate the interest that it has over the last decade. It was completed with the hope that eventually it might run a six-second quarter mile at a speed of 200 mph. In America we ran bests of 6.11 seconds and 234.99 mph. No-one is more surprised than us, I can assure you.

Thanks very much to everyone for all the support over the last few years. It's a reminder of just how proud we are to be British. It has made a huge difference. For now it's the end of the road, but we'll never say "Never"!

Awesome pictures by the late Stuart Mitchell

Dragstalgia snippets.
11th July: This beauty is Matthew Wright's All or Nothing Nostalgia Funny Car which will be on display at Santa Pod Raceway this weekend. Simon is sharpening his pencil as we type.



Paul Watson says that his Grumpy's T blown-alcohol altered will be at Dragstalgia one way or another. "After a great début at the Summernationals we unfortunately found debris had been through number one main and end possibly due to damage from a rocker", says Paul. "We have also fitted an Accusump to aid oil pressure when the chute is deployed. We also looked at the Lenco which had reversing issues, Martyn Jones kindly came to the rescue but there were more bits than I liked so on Sunday we pulled out the Lencodrive and found a damaged washer. As no-one has one over here and time was against us we are getting one made which I should have today."

Dragstalgia ever-presents 2018.
10th July: Simon has been consulting his notes, entry lists, record books and everything else he can find about this weekend's event and has compiled a list of racers who have contested every Dragstalgia since 2011:
Joe Bond
Mark Bracking
Keith Crampton
Andy Hadfield 
Bob Hawkins 
John Hobbs
Nervous Nick
Ray Turner
Rob Tyrrell
Paul Watts
Many others have participated in every Cacklefest or have crewed at every event. Simon adds that there are no less than forty five racers making their Dragstalgia début this year.

Finally Simon has compiled a Spotters' Guide to this weekend's Dragstalgia contestants which includes race number, type of vehicle, motor, identifying marks and more. You can take a look at the PDF-format Guide by clicking here.

Swift snippets.
11th July: Simon Barlow and the UK's Orange Pop Drag Racing are pleased to announce a new and exciting sponsorship with Omni-Tech Corporation. Omni-Tech, a leader in the technical metrology industry, are excited to carry forward their technologies in performance engineering with Orange Pop to help achieve their goal. Brian Curtis says "Orange Pop Racing is a direct fit to promote and enhance our products."



Photo-journalist Mike Kraaij has been in touch with this great picture of the EDRS Pro Nordic MC Super Street Bike racers lined up waiting to run at the recent FHRA Nitro Nationals at Alastaro. Left to right are Kimmo Pulakka, Micke Öén, Ida Zetterström, Anders Blanck, Mogens Lund, Alex Hope, Vesa Ruhanen, Mark Hope,  Kim Hilander, Matte Bohlin, Robert Häggblom, Bianca Nilsson and Robban Nilsson.



We have a birthday on the Eurodragster.com team today (Wednesday): please join Tog, Simon and Julian in wishing a very Happy Birthday to our Photographer and Sportsman ET racer Kirstie. Have a lovely day Kirstie and see you on Friday. Happy Birthday also to Track Announcer and all-round top bloke Graham Beckwith. Have a great day Graham and see you in two Fridays. Finally, too late for yesterday's update for which apologies but a Happy Birthday for yesterday to Pat Salt. Hope you had a good day Pat.

Half time analysis.

11th July: After securing a Super Comp drive with Panther Racing last winter, signing Sales-i as main backer and VP Racing Fuels as fuel supplier, the UK's Craig Wright felt that the team had something good with which to go into the 2018 season:

Easter soon came round but as we all know weather hampered any preparation which the first class Santa Pod track crew could throw at the fantastic all-new race surface. Nerves were certainly high and in honesty after seeing many other drivers struggle in the freezing conditions I really wasn't comfortable making my first few passes that Easter weekend and as a blessing in disguise, the event was called for us. We left there a little subdued, relieved but gutted for the SPR staff and crew who were throwing all they could at the track but to no avail. Also thoughts to Jack Brewster and Nigel Green who lost their cars that weekend. 

The weather then changed and in May we were at the hot and dry FIA Main Event where we were certain to make it happen. We made our first pass in the dragster, going 0.06 on the tree and 8.82 on my very first pass. We were all happy and it was now time to dial in the stop. This is where the head-scratching came in. The more stop we put in the car ran around the same numbers, so we finished qualifying without even running the right side of 8.90. In E1 we faced Billy Gane, no stranger to going rounds in this class but yet again we went too quick with an 8.88. Damn.

Onto the SPRC Summernationals and the boys were pretty sure why the car acted how it did at the Main Event. They put it down to the new track literally being so much better than last season. We had no spin, just 100% grip. As we slowed the car down the track got better and that was it.

So Q1 came round we set the stop and 8.93 came up on the board, which put us top of the shop after the first session. Now we were getting somewhere and very happy. Throughout qualifying we tried a number of different things and all came back as expected and we ended up fouth with a 8.933. In E1 we were due to face Phil Bennett but he was a no show so we took the bye and tried another setting which gave us a 8.89, we now knew our limit in the blistering hot heat. Straight into the semis where we met Paul Letchford. I've watched Paul win numerous times in Gas and Comp whilst growing up, and he actually won the Main Event in May so we just gave it all we could. My 0.07 R to his 0.06 RT meant that it was close and he pulled out on me at the finish but went 8.87 to my 8.93 giving us the win light. Wow, what a change from the Main Event!


The final paired us with Stuart Doignie, quite literally The Man in this class and also in Super Gas. No games, straight in and out with my 0.07 having nothing on his 0.01 and he just nosed me at the stripe and his 8.91 to my 8.92 lit up his lane. This put us up on the podium for the first time, we were collecting silverware for the first time outside Sportsman ET, and it was certainly up there with the wins in the old Civic. Well Done Stu and team though, a stellar effort.

We currently sit fourth in the Championship and we're over the moon with how things are going with such a small amount of track time. We're still learning but we'll get there.

A huge thanks to Conrad Stanley, Trevor Graves, Rob Stanley and Wayne Graves for trusting me in their dragster also being part of the great team morale we have and then of course taking my team in and teaching us what's what. I've got to say a Thank You as well to my good friend Collin Morrice for all the support and tips up to this point. Also a huge thanks to my team: my biggest fan, my son Harrison,  Chris Hardinges, Kat Rudd, Dave Rudd, Holley Marshall, Katie Weller and my parents who all play a part in this.

Then of course thanks to our sponsors Sales-i, VP Racing Fuels, Straightline Installations, RD Motorsport, No11 Barber Company, Nitro FM 96.2 and Pudgey's Pictures. They have all made this season possible and we hope to have a good strong back half this year to put their names out there some more.

See you all in September.

Field set for the Showdown.

10th July: The Slingshot Showdown at this year's Dragstalgia has ten entries, six from the UK and four from Sweden. Mark Bishop, one of the competitors and part-time lumberjack, has been in touch with a preview of one of this weekend's signature attractions:

Will either previous winner Joe Bond or Bob Hawkins be able to take the crown again, or will we have a third different winner since the Showdown began? Here we catch up with some of the teams' upgrades since last year's event.

Bob Hawkins in Time Traveller 2, in a nutshell: "We've only managed three passes so far this year since going over to nitro! We ran 211 mph on our first checkout at the Nostalgia Nats but blazed the tyres off the line, bent six valves! Then at the June Shootout we ran a 6.9 on the Saturday despite a lot of wheel spin. On our next pass (Sunday morning) we'd changed the tune and the track had just been freshly glued. The grip was really great but unfortunately massive tyre shake broke the gear shifter, the resulting over-revving broke both heads and holed two pistons! We will definitely be ready to try again at Dragstalgia. I'm hoping we've finally put our teething problems behind us now and we are fully intending to go all out again this year. Good luck to all the teams, see you at the track!"


Chris Manning says of The Villain "We have new slicks, going to connect up the high-speed on the second run if first run is a solid pass. We have learnt with The Villain that if the track is not good we start sliding about at the top end. On the Sunday at the Retro Show we ran a new PB of 7.89."

Steve Johnson in Motormouse says "A lot has changed, it is a completely new short motor, better cam, higher comp, all-new valve train, refurbished blower by Kenny Gomez, change of gears in the axle, larger diameter and wider tyres, injection is still work in progress by Derek Flynn and myself, we just need to get all this new-found power down the track. 7.7 best so far on six and a half cylinders."

Mark Bishop in Grey Vegas says "We have made the switch over from blower carbs running on E85 to an injected alcohol set-up as we aim to put our trusty Big Block Ford into the sevens. We finally got the car fired up on Sunday and can't wait to hit the track and have some fun."

The rest of this year's line-up consists of Joe Bond, Mick Hannah, Rolf Nilsson in Hocus Pocus, Leif Andersson, Caj Carlsson in Strip Teaser and Magnus Larsson in Fools Gold.

The only question left is who will come out on top this year?

Another plug for Dragstalgia.

10th July: UK blown-nitro Daimler dragster racer Robin Read says that he is very happy and excited to be running a new type of spark plug in his six-second car:

I normally scrounge plugs from the Alcohol cars, but these are Fuel plugs. The Alcohol plugs generally complete one run before being discarded as they are difficult to read for a second time. I tend to run them until the earth strap or centre electrode has burned away or they get dirty from warm-ups .

The new plugs are supposed to bring about a better, cleaner burn and were designed to work with the Pro Mag 44. They are quite different! Cars which have run these plugs have benefitted with lower ETs and increased speed. We can hardly wait to try them.

Many thanks to Mark Evans for procuring and supplying the new plugs for Dragstalgia.

Swift snippets.
10th July: Dragstalgia has long been the traditional weekend for the announcement of the year's inductees to the British Drag Racing Hall of Fame and it will again be the case this year. The 2018 Hall of Fame inductees will be announced here on Eurodragster.com News at 12:00 midday this Friday (13th).

SPRC Summernationals Bob's Photo Finish Award joint winner, UK Junior Drag Bike racer Meggie Talbot, has donated her £50 to two worthy causes. Kerryanne van den Berg says "The first donation is to make Christmas gift bags for the homeless, which we as a family distribute each year. The second is in memory of Anita Board who sadly died driving her Junior Dragster in Australia. Anita's organs live on in three people today and Meggie wanted to support the bravery shown by Anita's family and to help to raise awareness for organ donation."

Our very best wishes to photographer and all-round good guy Colin Donisthorpe who suffered a stroke in late June. "Twenty minutes later and I would have been travelling to work on my motorbike, so somebody was looking out for me", says Colin. "I spent a week in hospital but I am now home and making slow progress, but a long way to go yet. I was gutted to miss the Summernationals, the first event I have missed in several years (We were gutted you weren't there - Ed), and I do not think I will make Dragstalgia". You take your time and get properly better Colin, we will all still be there when you are ready to return.

It came too late to make yesterday's news, for which apologies, but we would like to say a big Happy Birthday for yesterday (Monday) to photographer and occasional Eurodragster.com Event Coverage contributor Callum Pudge. Hope you had a great day Callum. Happy Birthday for today to one of Your News Editor's longest-standing friends outside racing, Malcolm Pellett. Have an excellent day Malcolm.

Dragstalgia Perfect Light bonus.
10th July: We are pleased to confirm that a bonus Eurodragster.com / Bad Habit Racing Perfect Light Award will be available at this week's Dragstalgia at Santa Pod Raceway.


The Eurodragster.com Perfect Awards are usually posted at UK National Championship events but sponsors Cath and Tig Napier of UK Modurstang Pro ET team Bad Habit Racing have kindly offered to post £50 for the first 0.000 Reaction Time at Dragstalgia.

The Perfect Light Award will become available at the start of qualifying, currently Willys Wars Q1 which is scheduled for 17:00 on Friday, and from that point will be available to all racers in all classes. As ever, the money will only be awarded for the first Perfect Light of the event. As this is a bonus event, if the Perfect Light Award is not won at Dragstalgia then it will remain at £50 for next week's Bug Jam at Santa Pod Raceway.

Eurodragster.com decals are not mandatory to collect the Perfect Light Award but we would appreciate if it they are carried, although we do of course understand about decals on period-correct cars and bikes. If you would like to carry Eurodragster.com decals then they are available in Signing On.

The next Eurodragster.com / Vitesse Labelling Products Perfect ET Award will be posted at Bug Jam.

British Hall of Fame Dragstalgia plans.

9th July: The British Drag Racing Hall of Fame will be attending the Saturday and Sunday of next week's Dragstalgia at Santa Pod Raceway and will have its own marquee courtesy of its title sponsor Lucas Oil Products and Santa Pod Raceway.

The marquee will be located in the traders' area near Janne Johansson's Swedish historic Funny Car display and will be manned all day both Saturday and Sunday. There will be an opportunity to meet British drag racing legends including Nobby Hills, Dennis Norman, Gary Page, Dennis Priddle and Barry Sheavills, all of whom who will be attending a signing session from 13:00 to 14:00 on both days. To mark the start of the signing sessions, the Yesterday's Dreams AA/FD of Bill Sherratt (pictured) and the True Blood dragster of Ian Turburville will be cackled at 12:45 pm.


Memorabilia will be available to raise money for the BDRHoF Benevolent Fund, and the BDRHoF have struck a deal with sponsors Kelsey Publishing for a special giveaway of current editions of Custom Car in order to promote subscriptions to the magazine, itself a member of the BDRHoF. You will also be able to sign up for the Gala Dinner to be held on 17th November at the Oatlands Park Hotel, Weybridge, Surrey which is near Brooklands and Mercedes Benz World.

BDRHoF Chair Stu Bradbury said "Dragstalgia is looking to be another fantastic event and fans will have an opportunity to meet and to talk to some of the most iconic names and pioneers of our sport, as well as experiencing cars cackling up close and personal. We look forward to seeing race fans at our marquee on both days."

The 2018 inductees to the British Drag Racing Hall of Fame will be announced here on Eurodragster.com at 12:00 noon on Friday 13th July.

Gulf Oil team kick off with a bang.

9th July: After their foray in the USA Manufacturers Cup series in 2017 the Gulf Oil Dragracing Top Fuel Bike team returned to the opening round of the FIM European Championship with a new rider and significant changes to their traditional tune.

Greek nitrous Pro Mod Bike rider Filippos Papafilippou aka Fast Fil steps into the seat traditionally filled by ten-time European Champion Ian King, whilst Ian continues to run the team with his experienced crew formed over almost two decades. With Filippos fulfilling riding duties in the European Championship Ian will still be seen in the seat for some of additional events including the 115th Anniversary Harley Davidson event in Prague, the Goodwood Festival of Speed, and the Manufacturers Cup Finals in Georgia, USA in November.

However, any illusions that the team had for Filippos to spend a few events getting the feel for riding the 1500 HP machine (and prescribed first half pass) were quickly dispersed when he ran an outstanding 6.099/214.08 on his very first pass on a Top Fuel Bike to put him immediately number one qualifier, a position he did not relinquish for the entire event.

But the best was yet to come when he ran a fantastic 5.783/236.16 on only his second ever run on the bike. The changes the team had made to the bike over the winter were clearly working and Filippos a 'rookie' but competent rider able to handle the new tune.


Day two featured further quick qualifying runs of 6.16 and 6.041, and the team looked forward to eliminations and a first round against Swedish Funny Bike rider Thomas Petersson. A timing malfunction meant that no times were recorded for their match up but Filippos was a clear winner and progressed through to a semi-final against UK 'New Age' Funny Bike rider Lorcan Parnell on his unique Puma-powered twin-turbo machine. Despite a fine 6.74/218 for Lorcan it was no match for the supercharged nitro Puma which ran 6.25/195.55 which advanced Filippos through to the final against Swedish rider Rikard Gustafsson (who had earlier set a new European Speed record).

The final was a nail-biting affair for the Gulf Oil team, but Filippos took the event in his stride with a 6.017/227, despite the chute being deployed just after the eighth mile, to see off the current FIM European Champion on a similarly-powered nitro Puma

Filippos takes his lead in the Championship to the next round, the NitrOlympX in Hockenheim, Germany, but the next outing for the bike and team will be at the Harley Davidson 115th Anniversary event in Prague, Czech Republic in conjunction with Lubrand followed by the Goodwood Festival of Speed the very next weekend, with Ian King assuming his regular riding duties at both events.

For more information on the Gulf Oil Dragracing team please visit their web site at www.gulfoildragracing.com, their Facebook page, and their YouTube Channel at www.youtube.com/kingracingpuma. For more information about Gulf Oil International please visit their web site at www.gulfoilltd.com.

The Gulf Oil Dragracing team uses and endorses exclusively Gulf Oil greases and lubricants in their history making machine. The team is extremely proud to be supported by many leaders in their chosen markets in their participation in the 2018 FIM European Championship:

APE - The world's most innovative manufacturer of aftermarket parts for drag bikes
Barnsdale Leisure - The UK's Premier Knaus Caravan dealer
Cometic Gaskets - The premier manufacturer of racing gaskets
Gates - The world's most trusted name in drive belts, hoses and hydraulics
Goodridge - The original and the best in fluid transfer systems
Grand Prix Originals - The brand for drive and lifestyle, past and present
Graphite Additive Manufacturing - A leader in 3D printed technologies and rapid prototyping
Gulf Oil International - The world's most iconic brand in automotive fuels and lubricants
H Craft Customs - Race car preparation, roll cages, fabrication and custom projects
Hotrod Hangar- Home of the world renowned custom artist Knud Tiroch
Hyperpro - The leading producer of progressive suspension products for motor bikes
JE Pistons - The world's premier manufacturer of high performance forged pistons
John and Dea Morgan Racing - The creators of the world's most advanced New Age Funny Bike
Kibblewhite Precision Machining, Inc -The highest quality valve train components on the market
Mickey Thompson Tyres - Simply the best drag race tyres in the world
MRE - Leaders in trackside support for drag race components and air shifting systems
MTC Engineering - Manufacturer of clutches for the fastest motorcycles in the world
NitroShutter - Europe's leading drag racing photo-journalists
NCT Engineering - Manufacturer of the world's leading non contact torque sensors for motorsport
NGK Spark Plugs UK - The world's number one spark plug manufacturer
Pär Willen - Master webmeister and proprietor of HarleyDrags.com
Scott Perri Trucking - Logistics solutions par excellence
Portable Shade - The best custom branded collapsible canopies available
Pro Alloy Motorsport - UK's leader in fabrication of alloy racing tanks, intercoolers and radiators
The UK's largest importer and stockist of Thule RV products -
Trim-Tex - The premier manufacturer of vinyl drywall beads and accessories
Tryka LED - The UK's cutting edge LED lighting manufacturer
Van Es mobility - The leading manufacturer of telematic products for management of moving objects
Vanson Leathers - The most iconic brand in motorsport leather goods
Web Camshafts Inc - Simply the company for Top Fuel Bike camshafts
Worldwide Bearings - The world's leading supplier of ceramic bearings for racing
Zodiac - Europe's largest supplier of performance and aftermarket HD parts

Santa Pod weekend galleries.

8th July: It was a warm and busy weekend at Santa Pod Raceway with a Saturday Night Special yesterday and then a rammed BMW Show today, both in very hot weather.

Racer involvement was minimal although Martin Hill provided 5.8- and 5.9-second highlights in the Fireforce 3 Jet FC despite the heat and Jason Phelps made three passes in Mark and Jackie Hawkins' Fuel Funny Car. A launch with 0.9638 sixty foot time yesterday was followed this morning by a 5.0882/179.26 shut off just before the eighth then in the afternoon a 3.7110/219.19 eighth, shut off just before the thousand with a cylinder out but still 4.7245/225.76.

You can check out our Saturday Night Special and BMW Show galleries, which are presented in association with John Woolfe Racing, by clicking here or by clicking on the John Woolfe Racing Event Coverage link on the left-hand side of any Eurodragster.com page.

Many thanks to Diana Macrae, aka DD, whose first experience of trackside photography was in very uncomfortable conditions this weekend, but who still worked tirelessly and managed to produce a large number of high-quality pictures.

Here comes Crazy Tak.
8th July: Job Heezen writes that this year's NitrOlympX, at Hockenheim in August, will welcome a special guest in the person of Japan's Tak Shigematsu who will be racing in FIM Europe Supertwin:


Tak is currently the quickest guy in the world on a Harley Nitro bike, setting the record at last year's ManCup event at Valdosta, Georgia, USA with a 6.021 run. This run at Valdosta could easily have been the first five-second Harley pass in the world if Tak's handlebars had stayed in one piece: at the top end of his handlebars broke and he hit the wall at over 200 mph. Nevertheless he managed to get the bike to the finish line, setting the new record. It wasn't the first time that this has happened to Tak: at a race in Bristol, Tennessee in 2008 he rode his bike to a win after breaking his handlebars at the start and making his whole pass with only half of the handlebars left.

Whilst Tak lives in Japan, making his money as a Harley Davidson dealer, he has crossed the Pacific on a regular basis since 1999 to compete successfully in various US series with several Eastern Championships and even a National runner-up title, setting ET and speed records many times. With all these performances, combined with a special style of riding, he deserves his nickname Crazy Tak by which he is widely known amongst US race fans.

In Hockenheim Tak will campaign a bike owned by Finland's Juha Hintukainen, and he will most likely bring his Crew Chief from the US - a guy equally famous among drag racing fanatics, Donald Johnson aka DJ, also aka the Nitro Santa. DJ has constructed numerous drag bikes with great success. With his entry in the 2018 NitrOlympX one of Tak's long-standing dreams is coming true and we are very happy to have him racing with us. It will be a joy for the spectators and an interesting addition to the Series for all of his competitors.

Robinson's Bests weekend.

8th July: Six-time and reigning MSA British Pro Modified Champion Andy Robinson made his presence known at the SPRC Summernationals at Santa Pod Raceway when he made history as the first British Pro Mod driver to record a 5.8-second pass.

The SPRC Summernationals, held at Santa Pod Raceway on 30th June-1st July, was the third MSA Pro Modified meeting of the year. Andy's performance so far this year has been good, dipping back into the fives twice at two events in May. It was no suprise in the first session of qualifying that the team were able to lay down a 5.95 at 243 mph securing the number one spot. In the second qualifying session there was no improvement for the Anger Management team when the burst panel popped and caused an aborted run. With the root of the problem found and fixed the team were back out for the third session which took place in the early evening of what had been an exceptionally hot day. With the track cooling slightly the conditions were favourable which allowed Andy to jump well into the 5.8 bracket with a 5.867 and to lower his Personal Best by five hundredths of a second. The run was also a new Santa Pod Raceway track record.


Andy backed up his 5.867 pass in the first round of eliminations with a 5.889 which secured him MSA record, which along with the track record were previously held by long-term rival, Micke Gullqvist. Although Andy was the clear favourite for the gold, it was not meant to be this weekend as another popped burst panel put an end to the team's hopes in the semi-finals. However Andy and the rest of the crew were still smiling.

"It's hard to be sad when you've run a 5.86", said Andy. "We tested on the Friday before this meeting, and after two planned shut off passes the short incrementals told us we were on to a really good pass. Obviously we didn't want to count our chickens too early, but we knew it was possible."

The next meeting for the team is the Mopar EuroNationals, back at Santa Pod Raceway at the end of July. Andy and the team will be aiming to continue with the consistent performance which they found at the Summernationals and to increase the lead which they have over the rest of the Championship contenders.

Andy was sure to thank his sponsors and performance partners NGK Spark Plugs UK, Torco Oils, Nimbus Motorsport, PAC Racing Springs, Aurora Rod Ends, Weld Racing, Brown and Miller Racing Solutions, Victory 1 Valves, Mike Janis Superchargers, Hoosier Tyre UK, PRS and Manton Rocker Arms. Also a huge thanks to the dedicated and hard-working Anger Management crew!

For more information on the Anger Management Pro Mod Drag Racing Team, please visit our Facebook page.

Nicholson enjoys 2018.

8th July: UK Pro Modified racer Wayne Nicholson and the Lucky Devil team have had a great first few events on Santa Pod Raceway's new surface:

Congratulations to Santa Pod'a management for going ahead with the investment and coming up with the goods. The whole crew there deserve a a very big pat on the back for the continued hard work in keeping the racing schedule where it should be, track prep and looking out for our safety too. Thank you!

Of course our own performance has improved this year too. From the lessons we learnt last year and the investment and changes over the winter we have enjoyed some reasonable strides forward so far this year, with more to come I am sure.

The whole team have stepped up, thank you to you all. Gareth is doing a sterling job as Crew Chief with tuning, Joe, Richard and Tim keep the car in shape and well maintained and Amy has joined us this season with enthusiasm. Belinda (The Boss) keeps us all in shape and of course none of what we do would be possible without her involvement I am sure about that.

The team have always enjoyed fantastic support from our sponsors: "Uncle" Ken at EDA has been there for years and I have learnt so much from him, thanks Ken. Lucas Oil have again been a strong supporter of ours for many years now, they genuinely have the best products going. NGK Spark Plugs, thank you for giving us the best availableand igniting our power.

We all know racing isn't cheap and in order to keep moving forward we are always keen to talk to any company or individual who would like to get some great exposure for their company and services. We are here waiting, feel free to contact me at waynenicholson@btinternet.com.

I know for sure that we are looking forward to the rest of the season. See you all at the track and come by to say Hi.

Liam's European tour.
8th July: Eire's Junior Dragster racer Liam McDonald has already contested six events this season including two in Germany and one in France, with the intention being to attend as many of this year's British, German and French rounds as he is able:



After Liam's Summernationals outing we managed to secure quite a few points in the UK series qualifying in number one spot with a 0.0000 light and going to the third round. Not bad in a hired car, but a well-prepared SPRC Club hire car. Thanks to Ian Marshall for all his help, and a special Thanks for their help to John Everitt and Kevin Wray and to Joe Holland-Villa for behind the scenes help.

The first German event we attended was at Bad Söbernheim which is not too far from Frankfurt Main airport, about the same distance as to hockenheim. Liam's car was taken out there by Junior dragster driver Frankie Fordham's team. Frankie and Liam ended up finishing up first and second at that event. Bad Söbernheim is a beautiful track and, as people commented, would remind you of Shakespeare County Raceway, relaxed and professional at the same time.



Next up in Germany was Alkersleben which was an eight-hour drive from Drachten. We flew into Groningen Airport where we were picked up another Junior Dragster driver's family namely that of Cheyenne Visser with whom we traveled to the track. Liam qualified in second position but went out first round, but not bad as we are winning points in the German series, with up to three rounds still to attend - at this moment we are getting ready to attend Jade Raceway.

Finally our trip to Clastres in France was fairly successful. Liam qualified number one with a 0.001 light and went all the way to the final, finishing runner-up. We would like to thank the French Association Trophée Dragster club for a truly fantastic event. As others have said on here before, it's well worth the trip. Also a big thanks to Milwaukee Power Tools France for a beautiful gift to Liam of a power drill and batteries in a hard case. What beautiful people.



So next it's off to Jade in Germany, then back to Clastres in France then hopefully the NitrOlympX in Germany then Tierp in Sweden, the European and National Finals and Nationals in the UK, and then back to Bad Söbernheim. And hopefully Malta in November.

Ålund's historic twofer.
8th July: Jimmy Ålund entered the third race of the FIA drag racing season in two classes again last weekend. The venue was Alastaro Motopark in Finland and the race and the event was concluded under good weather and good track conditions.


FIA Pro Modified: Due to rain delay on the Friday, there were only three qualifying runs. Jimmy drove Magnus Petersson's The Old 51 Chevrolet Business Coupe to the #1 spot but it wasn't pretty. The Old 51 only made it to the finish line twice and only once under full power. Jimmy says "We had issues with the shut-off box and tyre shake but got that one 6.86-second run in and it was enough for the top spot."

Sunday's eliminations turned out a lot better. Jimmy won round #1 with the second quickest ET of the round and continued to the semi-finals courtesy of a bye run. The semi-final was won with the quickest ET of that round, and in the bottom half of the ladder, reigning FIA Pro Mod champion Micke Gullqvist did his job to get to the final against Jimmy.

In the final Jimmy left hard whilst Micke ran into problems, The Old 51 winning with a 5.92 against Micke's 6.55 seconds. "This is great, the team overcame some less than perfect qualifying rounds and we took it all the way and won the last event here at Alastaro" says Jimmy.

The win at Alastaro means that Jimmy extends his points lead in the 2018 FIA Pro Modified Championship.


FIA Pro Stock, history in the making: Jimmy suffered the worst qualifying rounds of his career. The Summit Racing Camaro never made it to the finish line under full power, not once, and Jimmy qualified last with the slowest ET ever for an FIA Pro Stock car, a somewhat less than stellar 19.08 seconds. "There are firsts for everything", says Jimmy, "at least we came in under twenty seconds but, to add insult to injury, the hopped-up exhibition combine harvester had us covered by more than three seconds in its exhibition runs.

"We went through the whole car, everything, and concluded that the problem was in the tyres. We had tested all the pairs of tyres we brought along but no go. Then fellow racer Michael Malmgren stepped up and let us have one of his sets of tyres for Sunday's eliminations. We can't thank Michael enough for his generosity, it paid off well".

It was a slightly worried Jimmy in the pits before Sunday morning's eliminations. "Sure, we wouldn't know if the problem was solved until we got to the sixty footer in the quarter finals."

Eliminations turned out totally different to qualifying. The car and tyres worked perfectly. Jimmy won the quarters and semi-finals running the quickest ETs and fastest speeds in both rounds. And just as in Pro Mod, Jimmy went up against the reigning class Champion in the finals, Bengt Ljungdahl. Jimmy did his job one last time this weekend and won the FIA Pro Stock class at Alastaro.

Historic, of course: this is the first time ever that one driver has won both FIA Pro Mod and FIA Pro Stock on the same afternoon. "Unbelievable", says Jimmy, "to say that we struggled in qualifying would be the understatement of the century. But like the saying goes "It ain't over 'til it's over" and Sunday turned out just perfect for both The Old 51 Pro Mod Car and the Summit Racing Pro Stock Camaro."

The next event for Jimmy Ålund is FIA Pro Mod at the NitrOlympX at the Hockenheimring, Hockenheim, Germany. Jimmy leaves the Pro Stock car at home for that race and will fire up The Old 51 for the first round of qualifying on Friday morning, 17th August. Jimmy says "As always, we can't wait to get there and put more rounds in the car in front of the record crowd that is the trademark of the NitrOlympx."

Summit Racing Equipment, Viking Industrimålning and Exclusive Cars are sponsoring both the Old 51 Pro Mod car and Jimmy's Pro Stock Camaro this year. This is in addition to Sverigedemokraterna, KB Racing, Camaroskroten, POs Harley Davidson, All American AB, Vadstena Klosterhotel, Stigs Axle and Parts, Hydraulakuten, VP Racing Fuel. Jimmy Ålund Racing is very grateful for the continuing support from such great companies.

Swift snippets.

8th July: UK blown-nitro Daimler dragster racer Robin Read has started a Facebook page which you can apply to join by searching Robin Read Drag Racing. "Many thanks to Neil Dilkes for proposing the idea and setting it up", says Robin. "We have a competition with a prize in relation to Dragstalgia, so please get involved. This is in addition to the latest news and developments from the Shed including photos and information regarding our new car shortly. Many thanks to Tony Kershaw at Kershaw Engineering for devising and carrying out the engraving on our latest generation rocker covers which are required to clearance the revised rocker geometry. Thanks also to Bertie Hopkinson for his hard work mapping and then manufacturing the parts to optimise the correct geometry."

Denny Hummel.
6th July: Brian Taylor writes to mark the debt of gratitude which UK drag racing owes to Denny Hummel, who died a few days ago:


Denny was the man who recreated the 354 Chrysler Hemi engine for Europe's first dragster, Sydney Allard's 1961 Allard Chrysler. The original engine was used in the 1965 Mark II Allard Chrysler which eventually ended up with Clive Skilton. Hence we needed a replacement that would be based on magazine reports, notes from the car's designer David Hooper and lots of photos.

After some research and advice, in 2010 the Allard Chrysler Action Group chose Michigan-based engine builders and nostalgia specialists Booth-Arons Racing Enterprises Inc of Berkley in Michigan to recreate the engine. Wally Booth was a very successful Super Stock and Pro Stock driver from the late 1960s through to the mid-1970s. He and engine builder Dick Arons started Booth-Arons in 1971, but neither man was associated with the business by 2010. Denny Hummel worked for the founders and became the co-owner of the business overseeing the shop operations.

Lots of racers and knowledgeable performance street enthusiasts relied upon Booth-Arons to build and maintain their engines. It was not uncommon to see seven or eight engines in various stages of disassembly / reassembly, and the resurgence of the nostalgia (or vintage) drag racing cars for competition, cackling or restoration had brought many engines into the Booth-Arons shops. Chrysler power plants, particularly the Hemi and Wedge head engines had become a speciality for Denny's touch.

The Allard Chrysler 354 project became an obsession for Denny and it took twelve months to complete. But his dedication continued once the restored dragster was able to cackle and then eventually parade under its own power. He sourced replacement parts and gave much advice on servicing and operating the vehicle. I doubt whether the restoration of the dragster would have been completed without his dedication and skill.

RIP Denny. It has been a privilege to know you. You have made your mark on both sides of the Atlantic. Not many can say that.

Swift snippets.

6th July: Many thanks to Santa Pod Racers Club Secretary Ian Marshall for forwarding us Version 1 of the MSA Pro Modified entry list for the Mopar EuroNationals, which takes place at Santa Pod Raceway on Friday-Sunday 27th-29th July (racing 28th-29th). You can check out the entry list by clicking here or by clicking on the John Woolfe Racing Event Coverage link on the left-hand side of any Eurodragster.com page. You can find the official Mopar EuroNationals entry form on the Information link of the SPRC web site at www.eurodragster.com/sprc, and if you have any queries about Mopar EuroNationals entry then please get in touch with Ian on 01933 313625 (outside the UK +44 1933 313625) or E-Mail ir.marshall@btconnect.com.

Many thanks to Yvonne Tramm and our own Simon for posting the post-SPRC Summernationals points standings in the UK National Drag Racing and Santa Pod Racers Club Championships. You can check out the UK and SPRC points on our OCS Paint-sponsored Points Standings page which you can reach by clicking here or by clicking on the OCS Paint Points Standings link on the left-hand side of any Eurodragster.com page.

The latest spy picture to arrive at the offices of Eurodragster.com (right) came with no words. If you know more, or if you would like to send your own spy picture, then drop us a line at eurodragster.com@btinternet.com.

Colin does Clastres.
5th July: Outlaw Anglia racer and new ET record holder Colin Millar writes that the Outlaws' recent trip to Clastres in France was an all-round excellent experience:



Six Outlaw Anglias - Mick Taylor, Ronnie Mercer, Rob Stone, Scotty Crookston, Garry Hill and I, as well as Frankie Taylor in her Junior Dragster - set off for sunny France and arrived safe and sound on the Friday. Clastres is just one hour and fifty minutes when you come off the boat or out of the tunnel; a trouble-free run up the empty A26 and then five minutes and you're there.

None of us had been before so we had no real idea of what to expect. What we found was warmth kindness and enthusiasm. A lot of people had put a lot of work into delivering a quality facility, lots of space and the gentleman who was pitting was kind enough to allow us all to form a circle which was great for a good social evenings after the racing (and in case of Cherokee attack - Ed).


The facility is large with a circuit with lots of track cars giving it some, a full dirt bike track, and a lot of learning going on with bikes and cars. It seemed to me a very well used-facility. Small but clean shower block, water on tap and clean toilets and food vendors on site as well as some sideshows, we loved the air rifles and even won a huge big snake to the dismay of Annette Mercer who was definitely not keen for it to be sitting in the back window of Ronnie's Pop, but you have to agree Annette the colour did match well!

Saturday loomed and we were quickly called. All of us took it really easy as we didn't know what it would be like but after finishing and watching others it was evident that we could give it some, and being Outlaw Anglias we did!


My first real pass was an 8.07 and that was the slowest I went all weekend. I could have had eight or more runs on the Saturday as it opens at 09:00 and closes at 21:00. Sunday was the same, finished at 17:00, but due eliminations less cars were running and we had the opportunity in RWYB to do a good few passes. The track is narrow but nobody was wandering around too much. I finished the weekend with a new PB on the motor of 7.999 and out of the six Outlaws who went four came back with new PBs. No breakdowns, no dramas, no stress all helped to make the memory better. The last bit of icing on the cake was that the class won a trophy... actually I still don't know what it said on the wee plaque but it's a trophy and that's good enough for me.

We were woken up each morning by a wee wifey tooting her horn providing us with fresh bread, croissants and coffee which were very much appreciated. The nearby village is minutes away and can also be walked to with small shops a place for refreshments and a fish restaurant run by an ex-SAS man, lovely fellow and lovely food, my new Facebook pal. St Quentin is fifteen minutes away and again a fabulous place to visit either for the history or just the square with cafés and pubs for sitting out in the sun. We found an electric karting track and wasted a few hours being very competitive as you do ! Four teams decided to stay on and we moved on to the camp site in Seraucourt-le-Grand about a mile from the track. We didn't do a lot but it was so nice to chill and relax until we all went off on Friday to catch the ferry back to Dover and onto the Summernationals.

A fantastic experience and also a great holiday. Would I go back? For sure I would. Next year it would be fabulous to try to get at least twelve Outlaw Anglias over and run as a class.

To top it all off I could not have had a better time at the Summernationals with cracking weather, cracking racing with the usual great people and all the Santa Pod crew who look after us so well. Thanks to everybody and hope to see you all at Dragstalgia.

Alfie Embraces the Nitro Bug.
5th July: Owner and driver Andy Raw and racing partner Karl Harrison are supporting Embrace CVoC, who support young victims of crime and their families, on the début of their brand new Volkswagen Beetle Funny Car the Nitro Bug next week.


Andy Raw, owner of AMR Motors and TSR Engine Conversions located in Exning, Newmarket, has been working extremely hard building the one-of-a-kind Funny Car for the last four years. Andy and Karl have put blood, sweat and tears into the build and are thrilled to announce that the car will be making its début appearance at Dragstalgia at Santa Pod Raceway next Friday-Sunday (13th-15th).

Andy, a keen supporter of Embrace, is delighted that he can help support Embrace cause with the launch of his new Funny Car. "I'm hoping that we can raise lots of money for this incredible charity", he says. "The work they carry out is a true blessing. We will be at events with the car throughout the summer where I will be doing my best to help spread awareness of Embrace CVoC."  

Andy and Karl have very kindly offered to brand the Nitro Bug with the Embrace CVoC logo and to have Alfie the Embrace Bear riding shotgun as it goes down the track. As the Funny Car is one of a kind, and expected to reach up to 260 mph and 0-60 mph in under a second, there will be plenty of publicity over the weekend and at future events. Embrace will be at Santa Pod Raceway on the day supporting Andy and his dedicated crew. They will have a stand in the pits selling branded items and helping to spread awareness of their cause.

Fundraising Support Officer Chloe Raw stated "We're all very excited for the launch of Nitro Bug and to be working closely with Andy and his crew. Its a great opportunity to help spread awareness of Embrace and we are very grateful to Andy and his team for choosing to support our cause."

Follow TSRengineconversions on Facebook for regular updates.

Turbo's two birthday candles.
5th July: Ian Turburville and daughter and Super Pro ET racer Laura enjoyed the glorious sunshine and laid-back atmosphere of the SPRC Summernationals, and Turbo enjoyed his surprise birthday present at Friday's All Torque Test Day:

Laura was competing in the Nottingham College-sponsored Bad Blood dragster. She did really well and made it to round three of eliminations where she met her constant nemesis the Pryzm dragster. Unfortunately the heat and quick turn-round had a bad effect on her car and the performance dropped away leaving John the winner in an exciting close race.

It had come came to Derek Flynn's attention that it my 66th birthday so he offered me a couple of runs on his Top Gas bike on Friday. I had not raced a bike since I quit racing my Supertwin in 2010 but I jumped at the chance. To everyone's great surprise my leathers still fit me and there were some puzzled looks from the start line staff when I roared around from the pairing lanes.

I had also never raced a bike with gears as Mr Spokehead was a single-speed bike; that bike is doing very well in the EDRS Pro Series and Lasse rode it to a stunning 6.62 at Tierp in June. However I quickly got to grips with the gears and had great fun. Could this be my return to two wheels? Well, Derek's fabulous TL drag bike came runner up with a stout 9.8 run at the meeting and is up for grabs cheap, so if you are interested contact him at Gold RV.

D2BD a hit with D2BD.
5th July: Following the highly-successful Dare To Be Different events at Santa Pod Raceway, which introduced Key Stage 2 schoolgirls to the world of motorsport, two weeks ago Dare's Senior Account Manager and event organiser Jenny Morse has thanked the racers and drag racing ambassadors who took part.

Jenny writes "I truly believe that it is so important for the young and impressionable girls who attended our events to see, meet and learn from inspirational women such as yourselves. To see girls and women who are actually competing within the sport will have hopefully inspired them to see that it really is possible - even from as young as eight years old."

For Dare To Be Different, previously focused on circuit racing, these events provided a first encounter with drag racing, and were warmly embraced by all parties. Should any female members of the drag racing community - racers, crew members, marshals, officials, administrators, media - wish to learn more about the Dare To Be Different project or to support its mission, the organisation's web site address is www.daretobedifferent.org and its E-Mail address is info@daretobedifferent.org.

Web site updates.
5th July: Our good buddy and photo-journalist Steve Moxley's FIA/FIM Main Event report and pictures are now showing on the Eat My Ink web site at www.eatmyink.com.

Another good buddy Remco Scheelings has posted two FHRA Nitro Nationals reports on the Autosport.nl web site. There is a race report which you can check out by clicking here and a report of "Other things I saw" which you can check out by clicking here.

Bianca Booij of SPRC Summernationals winners Pro Dutch Racing has forwarded an account of Michel Tooren and team's successful weekend at Santa Pod Raceway. The Dutch-language PDF can be checked out by clicking here.

Swift snippets.
4th July: We have two birthdays today. First up, a Happy Birthday and hugs to Santa Pod Racers Club official Kathy Taylor. Have a lovely day Kathy. Happy Birthday also to six-second street-legal racer Andy Frost. Have a great day Frosty.

Also on the subject of birthdays we would like to wish all of our friends and readers in the USA a Happy 4th July. Have a great day guys.

More SPRC Summernationals winners.
3rd July: Having received the SPRC Summernationals timing data courtesy of Andy Marrs we are pleased to confirm that Junior Drag Bike racers Meggie Talbot and Blade Dummer are the winners of the first Bob's Photo Finish Award for their semi-final race which was decided in Meggie's favour by 0.26 inches (0.0002 seconds).



Meggie and Blade will each receive £50 very shortly courtesy of longtime Eurodragster.com supporter Bob Roberts to whom a big Thank You. Bob tells us that there will be a repeat performance at the UK National Finals at Santa Pod Raceway in October.

As well as the UK National records listed yesterday, Marrs confirms that the following track records were set at the SPRC Summernationals. Track records do not require a back-up:

Pro Modified ET: 5.8673 seconds, Andy Robinson (also a National record)
Outlaw Anglia ET: 7.3728 seconds, Colin Millar (also a National record)
Outlaw Anglia speed: 184.39 mph, Colin Millar
Funny Bike speed: 218.24 mph, Lorcan Parnell
Super Street Bike speed: 215.12 mph, Steve Venables
Comp Bike speed: 198.91 mph, Sean Mills

Marrs has also updated our table of European and UK Bests which you can check out by clicking here or by clicking on the European and UK Bests link on the left-hand side of any Eurodragster.com page.

You can check out the SPRC Summernationals timing data by clicking here or by clicking on the Timing Data link on the left-hand side of any Eurodragster.com page.

We would also like to say a big Thank You to photo-journalist Steve Moxley for his assistance in identifying records and pit note hints over the weekend.

Paul Bryan has updated his Flickr site with some great shots from the Sunday of the SPRC Summernationals. You can check out Paul's pictures at www.flickr.com/photos/paulbryan_photopedia.

One tick left on the Bucket List.

3rd July: UK blown-alcohol altered racer Paul Watson says that the d&ecute;but of his car at the SPRC Summernationals was intense:

We had a blower failuire which delayed us this season but a big thank you to Tony Betts who came to the rescue with a similar blower, still a Kobelco 1471 but a Superman which is longer, rotors set back a few inches which in itself caused some issues. We also had starter issues and again Tony Betts came to the rescue and let us borrow his blower starter. We had a rough ride with this build but fingers crossed we were at the end.

In testing on Friday we had a few fire-up issues in the morning but finally made a pass in the afternoon, rolled through stage with a 1.5 sixty foot and an early shut-off due to oil from the rear inlet manifold covering me during the run. It was a 9.2 but from the ticket I could see it was on a decent pass. We took off the blower and manifold, sealed the leak and went for a fire up but then disaster: a pushrod had jumped out and damaged the rocker. I made a few calls and Pixie was on her way with the parts. Gary Springford had come on board again for this event and worked till 11:00 that night putting it back together. It turned out that the rocker post had loosened very slightly but enough to allow it to jump.

Saturday the pressure was on. I still had to do my final licencing pass and pull the chute. We had also kept having Lencodrive issues, very hard to select forward and reverse hence my erratic backing up. Launching off idle we ran a 1.10 to sixty, 4.7/147 at the eighth and 7.50/172 clicking off at 1000 feet. Absolutely amazing and a credit to all those that have played a part of this build (and to you Paul - Ed). We came out again and ran a new PB 7.45/178.

Home and back to reality, we have gone through the car and have some damage in the reverser at which I am looking right now, but nothing will stop us being at Dragstalgia. I have just one more box to tick in my drag racing career, which started in 1977 at Blackbushe racing Street against Dave Mingay. That is to run a six-second pass, then the car is for sale and it will be time to hang up my boots for good.

I can't thank these people enough for their help and advice, I couldn't have done it without them; my team Pixie, Muffins, Gary, Andy and John Atkinson; Jon Golding at Home Grown Hot Rods; Spud Miller at FIE; Kenny Gomez at Superpower Unlimited; Tony Betts; Luke Robinson at Andy Robinson Race Cars; Jeff Bull at Jeff Bull Race Engines; Matt Couter at Image Worx; Mick Snyder at Snyder Motorsort; Martyn Jones and Crunch; and all my mates who pop round when I need a little help. Thank you everyone.

See you at Dragstalgia.

Swift snippets.
3rd July: Many thanks to Santa Pod Racers Club Secretary Ian Marshall for forwarding us the final version 3 of the official entry list for Bug Jam, which takes place at Santa Pod Raceway on Friday-Sunday 20th-22nd July (racing Saturday and Sunday). You can check out the entry list by clicking here or by clicking on the John Woolfe Racing Event Coverage link on the left-hand side of any Eurodragster.com page. If you have any queries about Bug Jam entry then please get in touch with Ian on 01933 313625 (outside the UK +44 1933 313625) or E-Mail ir.marshall@btconnect.com.

Many thanks to Andy Marrs for passing us post-FHRA Nitro Nationals tables of round wins and qualifying standings, Low ET and High Speed, winners and runners-up in the FIA European Drag Racing Championships. "Notable at Alastaro was Jimmy Ålund becoming the first to win in two FIA classes at the same event, the first person to score seven round wins at a single event, and beating the reigning Champions in each class", says Marrs. Click here for the table of FIA Championship round wins and click here for the table of FIA Championship qualifying and results.

Thanks to Åsa Kinnemar for passing us the post-FHRA Nitro Nationals points standings in the FIA European Drag Racing Championships. You can check out the European points on our OCS Paint-sponsored Points Standings page which you can reach by clicking here or by clicking on the OCS Paint Points Standings link on the left-hand side of any Eurodragster.com page.

Marcus Christiansen raced to victory in Super Twin Motorcycle at the FHRA Nitro Nationals at Alastaro, round two of the EDRS Pro Nordic Motorcycle Championship. Our good buddy Remco Scheelings writes that the young Danish rider was the quickest in all elimination rounds and defeated home favourite Samu Kemppainen in the final. In Super Street Bike Mathias Bohlin remained undefeated and still has a 100% score this season after doubling up his Tierp win with a victory at Alastaro. In Top Fuel Motorcycle Rikard Gustafsson took the win, while Timo Savolainen gave the home crowd something to cheer about by winning the Pro Stock Motorcycle category. You can read more on the Drag Racing Europe Blog by clicking here.



Many thanks to Mike Collins for sending us the usual preview of his column in the latest issue of Street Machine magazine, available if you are quick, plus bonus material exclusively for Eurodragster.com readers. Click on the images above for the PDF downloads.

Eagle-eyed Eurodragster.com readers will have noticed a couple of amendments to our John Woofe Racing-sponsored Event Coverage schedule, namely the addition of end-day galleries and Webster Race Engineering / Nimbus Motorsport webcam from this weekend's Saturday Night Special and BMW Show at Santa Pod Raceway, and the addition of a webcast on the Friday of next week's Dragstalgia. You can check out our full Event Coverage schedule by clicking here or by clicking on the John Woolfe Racing Event Coverage link on the left-hand side of any Eurodragster.com page.

More Go, more Show.
3rd July: Paul Marston has been in touch with an update about No Prep Nationals 3 at Rockingham Drag Strip on August Bank Holiday Monday, 27th August:


The strip features no prep, no time, no speed Big Tyre (4WD allowed), Small Tyre (FWD allowed any size tyre), Monster High Roller Big Bracket (all run, with buybacks) and RWYB (anything goes except bikes, lawnmowers welcome!). All eighth mile, flashlight start for Big and Small Tyre, Christmas Tree for everyone else.

The entries are coming in thick and fast. Some of the garages are still available for rent during the event, but please get your entry in soon if you want one. E-Mail pmdragracing@gmail.com, Facebook Rockingham Dragstrip or call or text me on 07831 650230.

Adding to the event is a brand new Rod and Car Show, which will feature some of the very, very best rods and customs. There is a huge four-acre hard standing exhibit area and also opening up for the first time the Rockingham Exhibition Hall which will house the cream of the eodding scene. This first annual show is called The Big Oolite and will become a regular feature of the August meeting. For more details Like their Facebook page or call Keith or Bill on 07793 035729.

Adding to this is the Rockingham Drift Track Day which will attract around one hundred Drifters (including my niece's partner - Ed). This is a very popular event with at least two drift tracks being featured. They are situated on the National Circuit and at the back of the Super Speedway oval.

So all in all a pretty action-packed day awaits you with alot going on. For more details check out the Rockingham Dragstrip Facebook page or check the Rockingham Motor Speedway web site.

Spectators have access to all areas on the day; admission is £10 in advance or £12 on the gate, under-16s free. Gates open at 08:00 and the track opens for RWYB / qualifying at 10:00.

European Top Gas Round 3 review.

3rd July: Herman Jolink writes that th third round of this year's European Top Gas Series took place at Hoskovice in the Czech Republic where qualifying was over the quarter mile but eliminations took place over the eighth:

On Friday we made some test runs to get a feeling for the track. We had some rain and wind but the sun dried the concrete track. On Saturday and Sunday we had three qualifying sessions planned but we had two because of the conditions. Final qualifying:
Jorg Lymant DE on 2622 Pro Stock V-Twin 7.708
Jan Malmberg SE on 2600 two blower V-Twin 7.793/279 kmh. 7.793 was a new PB.
Anders Jensen DK on 2000 home-made mechanical turbo V-Twin 8.257, new PB but the engine broke and it was not possible to repair it.
Herman Jolink NL on Ducati 1198 RS (1266) 9.054/239. I made some modifikations to the Ducati 1198 RS but it did not get me a quicker time.
Martin Buhler CH on 1600 home made mechanical blower V-Twin 9.210
Peter Niklas DE on Turbo Honda 1000 SP 9.634
Sven Ole Schleichert DE on 1300 V-Rod Destroyer 9.800
Janek Severa CR on 1000 Suzuki V-Twin 10.259. Some problems with the ignition cutting when shifting gears.
Jorg Braune's new 2000 Turbo V-Twin was not ready so he competed in Modified Harley. In the third qualifying pass I blew a cylinder head gasket. I got help from two Czechs to put the spare Ducati 999 RS (1214) engine in the frame but time ran out for the first round of eliminations. We needed the help of more people but didn't get it; some years ago at Drachten we put the spare Ducati in the frame in an hour and a half with the help of six people.

Because of a crosswind Top Gas decided to race over the eighth mile. Comp Bike and Super Street Bike ran over the quarter.

E1: Lymant 5.144/224 def. Severa 13.383/50 again with problems shifting; Buhler 6.188/152 bye run, Jolink broke; Malberg 5.023/227 def. Schleichert 6.296/181; Niklas 5.922/201 bye run, Jensen broke.

E2: Lymant 4.988/229 def. Buhler 5.695/203; Malmberg 5.708/148 def. Niklas 5.716/203. Malmberg's bike was not running well.

Final: Jorg Lymant DE (0.144) 4.971/233 def. Jan Malmberg SE (0.255) 6.237/153. Again Malmberg's bike was not running well.

European Super Twin Top Gas Championship:
Lymant DE 1850 points
Buhler CH 1000
Malmberg SE 775
Menzi CH 750
Niklas DE 750
Jolink NL 670
Jensen DK 630
Schleichert DE 520
Waterschoot BE 480
Caspari DE 440
Foit DE 360
Petersen DE 310
Larsson SE 300
Brodbeck CH 300
Severa CR 260
Thank you Yvonna Kneblova and team.

The next Top Gas event is at Drachten in The Netherlands on 27th-29th July.

You could develop a healthy Obsession.
3rd July: Craig Gibbs says that the family's seven-second Camaro is still for sale:


We've had to call time on our racing endeavours with Obsession for personal reasons. Everything is for sale, and we are open to offers on it all. Obsession has been in our family since the early 1990s, having been imported from Florida in 1990 where she was a big bracket money winner, running 9.40s. Tony Gransden initially drove Obsession and then in 1993 Dad Terry took over before turning his attentions towards promoting, and I took over the driving seat in late 1997 I took over the driving seat.

In 2000 it was decided that Super Modified and the seven-second zone were what we wanted, maybe with a step up to Pro Mod in mind at a later date, so we needed a car built to enable us to do that with cost in mind if we wanted. So Obsession was stripped, the original chassis removed and apart from the body which received some fairly major modifiations, a new car was constructed.

A 25.1E twin rail moly Pro Mod chassis was built to take the car ultimately into the sixes, and the body was modified to take the larger Pro Mod wheels and tyres so that upgrades later would be minimal.


Having run a best of 7.55/182 with a 489 ci chevy in Super Modified trim (0.600 lift cam and restricted on valve sizes) the car still has a lot of potential. The car itself can and will run sixes, everything is there to do it, if you've got a six-second motor this car will take everything you can throw at her. Or run her as she is and slot into Super Pro ET, Super Comp or Comp Eliminator, go run sevens and have loads of fun. 

Obsession has always run straight and true, and I have always trusted her 100% to get me to the other end of the track.

So I guess this is a fantastic opportunity to own a piece of modern British drag racing history, or stamp your own identity on her and begin a new chapter. We will be sad to see her go, but she needs to be on the track racing where she belongs and we can no longer do that.

Please get in touch at craiggibbs2@aol.com for more information and pictures.

Obsession can be found under Cars For Sale on our Jeff Bull Race Engines-sponsored Swap Meet.

SPRC Summernationals results.
2nd July: Congratulations to the winners at the weekend's SPRC Summernationals at Santa Pod Raceway:

MSA Pro Modified: Michel Tooren 6.1093/237.76 def. Bobby Wallace 6.2260/227.76
Comp Eliminator: Andy Hone (7.93) 13.3399/62.55 def. Tim Mugridge (7.99) 7.5651/182.77 DQ red
Gearhead Garage Super Pro ET: Scott Hauser (7.55) 7.5611/176.38 def. Brad Jackson (7.63) 7.6049/176.35 DQ b/o
Modurstang Pro ET: Simon Innes (10.55) 10.5723/126.14 def. Bob Molden (9.63) 9.6854/138.61
Hutchinson & Dibley Sportsman ET: Ricky Hale (15.40) 15.4447/87.34 def. Holly Sanders (15.01) 15.0357/88.04
Super Comp: Stu Doignie 8.9140/153.10 def. Craig Wright 8.9223/147.19
Terry Gibbs Super Gas Shootout: Simon Gough 9.9219/153.68 def. Tayler Letchford 9.8958/142.47 DQ b/o
Super Street: Dave Cherrett 10.9550/81.10 def. Leigh Morris 10.8955/120.12 DQ b/o
TopSpeed Automotive Street Eliminator: Joe Stevens 8.3436/169.82 def. Martin Smith 8.0501/183.63
Lucas Oil Junior Dragster: Charlotte Bradford (7.96) 8.0243/81.52 bye, Bonnie Wallace (7.90) broke
Outlaw Anglia: Colin Millar 7.4127/184.39 def. Jedd Guy 8.0956/167.91
Wild Bunch: Phil James (9.35) 9.3663/141.14 def. Darryl Howells (8.93) 8.8684/143.91 DQ b/o
VW Pro: Paul Bargate (12.01) 12.4318/111.80 def. Adrian Solly (12.00) 11.9857/118.04 DQ b/o
VW Sportsman: Aaron Beales (13.90) 13.9339/94.68 def. Polly Judge (15.62) 15.8440/79.51
Nostalgia Super Stock: Amy Watkins (9.83) 9.8657/136.02 def. Guy King (9.75) 9.7912/138.62 DQ red

ACU Top Fuel Bike: Steve Woollatt 6.3734/215.16 def. Allan Davies 7.7555/166.68
ACU Funny Bike: Dale Leeks 7.0130/188.92 def. Len Paget 7.5294/175.75 DQ red
ACU Comp Bike: Jeroen van den Belt 7.5185/187.42 def. Scott Collier 9.9534/111.93 DQ red
ACU Super Street Bike: Graham Balchin 7.2812/204.16 def. Steve Venables 10.4307/111.79 DQ red
8.50 Bike: Ian Chrichlow 8.5193/159.16 def. Jake Mechaell 8.5372/160.19
9.50 Bike: Dave Bowe 9.5252/123.10 def. Brett Cordelle 9.4707/144.43
Junior Drag Bike: Liam Holgate (7.90) 8.0277/85.87 def. Meggie Talbot (9.25) 9.2411/71.28 DQ b/o
ET Bike: Phil Pratt (9.03) 9.2689/126.59 def. Dave Grundy (11.37) 12.3224/112.64
Supertwin Top Gas: Michael Gooding 9.5101/144.81 def. Derek Flynn 10.1231/130.64

Congratulations to the following who set new National and class records (subject to ratification):

MSA Pro Modified ET: 5.867 seconds, Andy Robinson
ACU Funny Bike ET: 6.676 seconds, Lorcan Parnell
ACU Funny Bike speed: 206.93 mph, Lorcan Parnell
ACU Comp Bike speed: 196.39 mph, Sean Mills
ACU Super Street Bike ET: 6.925 seconds, Steve Venables
ACU Super Street Bike: 211.10 mph, Steve Venables
Outlaw Anglia ET: 7.372 seconds, Colin Millar

Congratulations also to Lucas Oil Junior Dragster racer Liam McDonald who took the Eurodragster.com / Bad Habit Racing Perfect Light Award with a more than perfect 0.0000 Reaction Time, and to and Modurstang Pro ET racer and Vitesse Labelling Products Perfect ET Award sponsor Al Platt who won his own Award with a more than perfect +0.0000 on dial-in. Both Awards have been reset to £50, for Dragstalgia and Bug Jam respectively. Junior Drag Bike racers Meggie Talbot and Blade Dummer are the leading candidates for the Bob's Photo Finish Award posted by longtime Eurodragster.com supporter Bob Roberts with a finish line margin of 0.26 inches (0.0002 seconds) in their semi-final race. We will confirm the winners when we receive the official timing data.

You can check out our SPRC Summernationals reports, results, pit notes and galleries, which are presented in association with John Woolfe Racing, by clicking here or by clicking on the John Woolfe Racing Event Coverage link on the left-hand side of any Eurodragster.com page.

Please join Tog in a big Thank You to Simon, Julian and Diana Macrae who worked hard in sometimes uncomfortable conditions to bring you the weekend's coverage.

Swift snippets.
2nd July: Yesterday's results at the FHRA Nitro Nationals at Alastaro included an FIA Pro Modified and FIA Pro Stock double for Jimmy Ålund, a Top Fuel Dragster win for Home Boy Timo Lehtimäki, and another victory for Timo Harbermann in FIA Top Methanol. You can read all about it on the Drag Racing Europe Blog by clicking here

We would like to wish a big Happy Birthday for today (Monday) to Podington Pea and Eurodragster.com Off-Track Photographer Diana Macrae. Have a lovely day DD. René Martin asked us to say big Happy Birthday to photographer David Beitler, which we are very happy to do. Have a great day David.

The impending Nitrocalypse.
2nd July: Sweden's Tobba Jansson tells us that he has completed the conversion of his Nostalgia Funny Car to Nitro and that its first outing is due at the end of this month.



Tobba crewed on the Rimfrost and Tre Kronor Nostalgia FCs before deciding that it was time to have his own Nitro. Tobba owns the former Apocalypse FC, which was originally campaigned by Anders Lian in the 1980s, and ran it in Pro Comp as an alcohol FC before deciding upon the conversion in 2017.

The FC now sports a 496 ci TFX with BAE fuel heads, Littlefield 6-71 blower, 21-gallon fuel pump, single mag and Lenco two-shift gearbox. Nitro load will be 85%-93%.

The car's first outing in its fire-breathing configuration will be the Mantorp Revival on 27th-29th July. "I am looking forward to burning some Nitro", says Tobba.

You can find out more by searching Nitrocalypse or Apocalypse Drag Racing Team on Facebook.


Earlier news