As told to

Saturday 4th October 2014: Final blog in Pro Mod.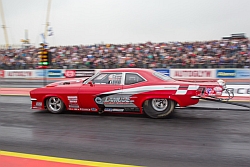 It's been nearly a year since the last blog. How things can change in 12 months! In the last blog I hinted that the funding for racing in Pro Mod in 2014 wasn't looking very good. Unfortunately I was 100% correct on that. 2014 will go down as perhaps the worst racing season we have ever had. It started at the Main Event, and carried through to the Euro finals.
We had in total three full 1/4 mile runs in a whole year. Yes, that is three runs!
That is no way to move forward by any stretch of the imagination. Compound that with Deb not feeling well throughout the year and you have a disastrous year for sure. To be honest 1st January 2015 can't come around fast enough!
So, what does the future have in store for the Red Victor Racing team?
Well, for starters, the team have made the decision not to run in the Pro Mod class for the forseeable future. The reasons are twofold:
1/ The shut off rule, which i have never agreed with the way it is written, is hurting the car. Even though there might be a chance of a rule revision, it will not happen until the end of next year. I'm not prepared to keep damaging the transmission and turbos (at my expense) to comply with a rule that in my opinion isn't correctly set up.
2/ The ci/turbo rules in Pro Mod are holding the performance of the car back. As everyone knows who follows the car it weighs 350lbs more than any other car in the class. To have to run with "small" turbos and engine doesn't help us towards our goals. Our goals have never been to win the championship, just to do well in them. They (goals) have always been to run fast with a street legal car, and Pro Mod happened to be the right class (at the time) for us to do that. As a team we feel that we didn't do to badly in the class. Breakage at the wrong time, and ultimately funding hampered our championship aspirations, not our performance.
But, it's always been the street legal aspect of the racing that has fired up our team, and now our "goals" have been moved a little. As we are now the 2nd quickest street legal car (still the fastest currently) there is a new target to attain. All of our team feel that our car and chassis are perfectly capable of challenging for the new mark (which will be in the 5 second zone shortly), but we fall a little short in the power department.
We all feel that moving into a less restrictive area (rules wise) of drag racing will help our cause for performance. We also think that taking the time to do all this properly is paramount if we are to challenge for the worlds quickest and fastest street legal car title again. If to do this we have to run as "Outlaws" then so be it!
We will also be changing a couple of personnel and sponsors in the team for the future. A new broom and all that...
Already some of our current sponsors have pledged their support for the future. These include Precision Turbo and Engine, Turbowerx, Race Flow Developments, Lamude Racing Engines, Fast Motorsports, Zircotec, Chris Tullett Exhausts, Red Line Oil, VP Fuels, Diamond Pistons, Magnecor and Total Seal Rings. We thank them very much for their continued support! As always we are in negotiation with current and new sponsors to help us in our new quest.
We're all (team, supporters and sponsors) looking forward to a new era of street legal racing antics at RV1 HQ. Maybe some of you will be following us for the ride.
As always I'd like to thank everyone who has contributed to our year, however bad it was! Here's to better times ahead for them and us:
2014 Crew:
Tony Grayston
Jake Grayston
Debbie Frost
Gary Frost
Rob Kearns
Shane Tecklenberg (and super tuner)
Marc Lamude (Engine builder)
Pete Welsh
Rob Inglis
Jay Davies ( film and video)
2014 Sponsors, who have stuck by us even in the lean times:
And of course all of our supporters here, and around the world, and finally all the folks at Eurodragster.com who give us the space to ramble on (you're welcome - blog ed).
If you want to follow what we do on a regular basis then for our very latest updates you can follow the team on www.facebook.com/redvictor
It's been a blast, thanks for following us!
Monday 30th September 2013: A great year for the team!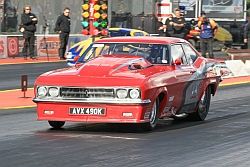 It certainly has been a great year. Although we were late starting the season and unfortunately didn't make the National Finals, we made up for all of that by resetting the 1/4 mile street legal record four times, and qualifying well at every meeting we went to!
We now have a reliable combination of car to go forward into 2014, although a fly in the ointment might be funding. Followers of the team will know that our partnership with VXR ends this year, and with no major sponsorship on the horizon it might mean we have to cut our program of races for next year. Sad for us yes, but just reality unfortunately. After all this is still a hobby for me, and most others in our sport. Of course this might change before the start of next season. Rest assured I will be working hard to get the required funding for next years campaign. As it stands though it's not looking promising......
Enough of that though. I must thank everyone who helped and supported us throughout 2013. Without these people we could never do what we do. So take a bow...
2013 Crew:
Tony Grayston
Jake Grayston
Debbie Frost
Gary Frost
Wil Perry ( and video)
Arthur Stuffins
Rob Kearns
Rob Kimber
Shane Tecklenberg (and super tuner)
Marc Lamude (Engine builder)
Rob Inglis
Jay Davies ( film and video)
Sponsors, who without their support we wouldn't have set records in 2013:
VXR
Precision turbo and Engine
Kustom Konsulting
Tuned by Shane T
Mick Gould Commercials
Cam Auto Developments
Turbowerx
Webster Race Engineering
Topspeed Automotive
Hoosier Tire
Injector Dynamics
Turbosmart USA
Zircotec
Red Line Oil
VP Racing Fuels
Lamude Racing Engines
Goodridge fluid transfer systems
Total Seal rings
Neal Chance Racing Converters
Hutch Transmissions
Diamond Pistons
Owen Developments
Radtec Racing radiators
Magnecor
Activ8
REP air services
Chris Tullett Exhausts
Race Engine Technology
Pistonheads
Nimbus Motorsport
A special thank you to all of our supporters on FB, Twitter, forums, and in the real world, and Eurodragster for giving us the space to write my ramblings (you're welcome - Blog Editor).
On a final note I'm wishing for a speedy recovery to Graham Ellis and Adam Flamholc. As a fellow driver it is shocking to see what can happen when it goes wrong in a Pro Mod, but at the same time satisfying to see the safety measures and quality of chassis building doing its intended job.
So that's it for now. Hopefully we can bring you, our followers and supporters so good news soon. I'll leave you with a video review of our racing season. Enjoy......
Sunday 30th June 2013: Into the swing of the season.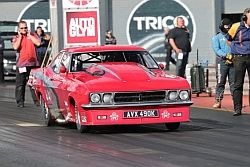 Firstly apologies for the long gap between blogs from me. Being busy in every aspect of my life is the problem!
The season is now fully underway, with two meetings done and dusted. Firstly the Main Event. As explained in the last blog we were too late to get to the Easter meet, which turned out to be a blessing. Racing in zero degree temps is neither mine or the crews thing! Hats off to all the folks who braved that!
We were all looking forward to getting the car on the newly laid track. All the reports coming back were very positive. So we made plans to test at the peak performance weekend. Shane Tecklenburg was here to test all the new systems,and tune for the new Precision GEN2 turbos and final checks on the baseline were being done at Webster Race Engineering.
As usually happens, things didn't go to plan, with a problem with the CO2 system completely ruining the Bruno band and drum. This was a major problem as it was too close to the Main Event to get parts,and rebuild the unit. Luckily for us fellow pro mod racer Spencer Tramm offered us his new unit to take parts out of, which we were extremely grateful for. This involved Shane travelling to Essex to pick up the unit, and bring it back to Wolves for me to rebuild ours.The rebuilt unit was then taken by crew chief Tony and crew man Jake to be refitted to the car before Thursday's Main Event test. Phew!
Along with a few other little problems solved we were ready for the test day, but unfortunately only got one hit for one reason or another. But, it all came good in the end, with us running a new PB and world record 6.50 at 226mph. Qualifying 7th in an FIA field and reaching the 2nd round of FIA competition! If your interested, Jay from Search for Speed documented the whole two weeks run up to the Main Event which is available to watch at Youtube.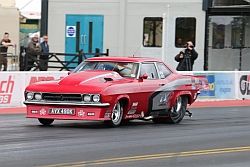 So with the car in good shape, apart from a driveline vibration (which turned out to be an out of round tyre) we moved on to the Summer Nationals. After a best (for us) test launch of 1.06 we reverted back to our trusty 2nd gear launch for our 2nd qualy. How about no.2 qualifier with a PB/record of 6.49 at 224mph! Spencer did say to us we had to run 6.4's with his parts in our Bruno, so that run was for him! The MPH was a little slower as there was a very stiff headwind,but all the crew were very happy indeed with that pass. The third qualy showed us what tyre shake does when it hits the car! We still ran a 6.88 even with the drivers door open! Our first round match up netted us a 6.56 single when Steve Hall had bad luck in the beautiful 55 Chevy, when he couldn't get any forward gears. The semi pitted us against Mr Consistency, Roger Moore, which could have been a great race, but the rains came and that was that. A huge thanks to all my crew, Shane T for remote tuning, Lee Childs at VP fuel for the speedy delivery of my fuel, and Bill and Vinnie at Topspeed Automotive for rushing me a new set of Hoosier tyres at the eleventh hour.
The whole team are very happy with our performances so far. The Marc Lamude built engine with all our new components is flawless, the Precision GEN2 turbos are awesome, and everything is (now) working as it should. 4th in the MSA championship is a good effort so far we think. We'll see what transpires at the end of the season. Unfortunately we won't get the 100 point bonus for doing all the rounds, which will affect us badly (like it did last season) come the end of the season. That rule is being changed for next season, but we'll just have to deal with that this year.
On a final note as always a very big thanks to all of our sponsors, who without their continual support we could do what we do, and of course all of our followers for their unwavering support!
Till the next time.....
Sunday 17th February 2013: The new season is nearly upon us...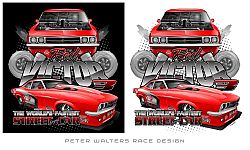 And I'm afraid we're late to the party. Too late for the start of it anyway! Due to a number of factors we won't make the start of the MSA Pro Mod season at Easter. It's unfortunate, but it is how it's turned out for us.
So, we will be concentrating on getting out to test a week before the Main Event. The great news is our world class tuner Shane Tecklenburg will be in the house for the testing and the Main Event!
We have an almost brand new upgraded engine, which was kindly bought in thanks to Topspeed Automotive/CM Frost, plus the latest Precision turbos, and Turbosmart wastegates and BOV.
The engine is again in the very capable hands of Marc Lamude of Lamude Racing engines. We have everything but the Diamond pistons, and Victory valves. Once they get here It's all systems go, with the New Century block going up to Dave Powell at Performance Unlimited to bore/hone the block, and balance the rotating assembly so Marc can carry on with the build. The heads have been repaired once again at Cylinder Head Services in Northants and they will be ready as soon as the valves arrive.
We also have upgrades to the trans/bruno and converter after research and talks with Hutch and Marty at Neal Chance racing converters. You hopefully see the fruits of this at the track!
Once the engine is back in the car it will be shipped down to our chassis man Jon Webster for turbo fitting and various other jobs.
Unfortunately the turbos are dimensionally different than the old ones, which means new ex manifolds, intake piping etc. A lot of the fluid transfer piping is different too which means that Cam Auto Developments will be supplying more of the quality lightweight Goodridge hosing and fittings we've trusted in so far.
That's all on the car for the moment, but on another note we have newly designed RV1 racing t-shirts for sale this year. Designed by Pete Walters, they will be available in white or black, with sizes ranging from S to 3XL, so we should be able to cater for almost everyone! Price will be £12 each, or 2 for £20. These will be available track side at all the race meetings we attend this year, or by mailing me on redvictor1@hotmail.com.
Lastly, a huge thank you to all the companies who have renewed, or joined the team for 2013. We couldn't race without their tremendous support!
More news soon.......
Sunday 10th December 2012: 2012 done, now on to 2013 and beyond...
As the last blog said, it's been a great year for the team, and everyone involved with us. PB's and records came our way, and we got back into the swing of class racing after a 3 year lay off.
I'd like to thank all my crew, sponsors and supporters for our success in 2012. Without them we wouldn't exist like we do now.
So it's on to 2013. We have signed up with VXR for another year, and my PRI visit has secured Precision Turbo & Engine, Injector Dynamics, Total Seal and Shane T. I am currently in negotiation with a number of other companies in the USA and the rest of the World, and I'll bring news of those on here when they're confirmed. We also met a lot of very good people at PRI, which was really good for myself and the team!
On the home front i've confirmed with Cam Auto Developments, Kustom Konsulting, Zircotec, and VP Fuels. I have plenty of meetings to go to at Autosport in January, and again I will confirm any deals when they happen.
Our planned upgrades are well under way, with the engine currently at Marc Lamude's engine shop being evaluated. We are still in the R+D stage, so everything has to be looked at for abnormal wear and tear until we're happy with what we see...
Our upgraded parts are all ordered and awaiting shipment. News of what those parts are will become apparent when they arrive. As with all racers we plan to move forward every time we hit the track. Obviously it doesn't happen that way all the time!
That leaves me just to wish everyone involved with the team, and all you people out there involved with drag racing a merry Xmas, and a prosperous 2013. See you at the track!
Saturday 8th September 2012: FIA European Finals, Qualifying Part 2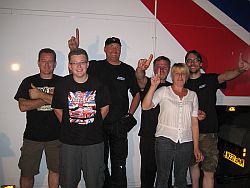 In this morning's session the plates burnt in the transmission making it impossible to engage third gear. The subsequent overrevving of the engine to more than 9000rpm caused a valve to drop. We can't fix the engine here because unlike the Hemi runners, we can't exchange parts and noone else has the same combination as us. The broken valve caused damage to the piston and cylinder liner which will require more work. So we are out for the rest of the season as pressure of work will not allow us the time to fix it.
A monster thanks to my Euro Finals crew:
Tony Grayston
Jake Grayston
Rob Inglis
Debbie Frost
Wil Perry
Arthur Stuffins; and
Shane Tecklenburg
They have worked on the car all year outside race meetings and Rob has stood in at this event.
It's been a fantastic year. We achieved everthing we set out to, the 6.59/220 at the Main Event for quickest and fastest street legal car, qualifying at both FIA events at Santa Pod Raceway, doing well at MSA rounds. It doesn't matter that we have gone out on a bit of a low because the highs of the year overcome the lows.
Thanks also to the Speed Gang TV company. They have made a film about this event that will be broadcast in Germany, Austria and Switzerland. I will put a link on Facebook and our Youtube channel to the online version of the broadcast which is a fully professional production.
Thanks also to my fans and supporters for their year long support.
Friday 7th September 2012: FIA European Finals, Qualifying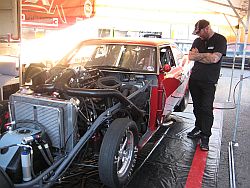 This is the first UK FIA meeting in years with no threat of rain. You can't applaud or blame that. But you can plan for four rather than one qualifying runs. We have done that and started doing the best number possible to get good data.
The track is awesome and not only has the weather helped, the crew have worked like Trojans to get it good for everyone. It is certainly some payback for the disappointments in the past.
The team have worked hard and I am lucky to have my usual crew with the addition of 'Scotch' Rob Inglis who is a good friend and keeping an eye on things.
We have made changes to the Bruno transmission as we were having heat problems and subsequent oil loss. The car has been to Webster Race Engineering to be baselined so we could be certain the chassis remains square after running the car on the street for some miles.
The plan has been to go to first gear launches after doing them in second gear up until now. We want to use first gear properly rather than baby it. It's a good car with a great chassis. Our plan involves liaising with Jon with the chassis and Shane Teckenberg who is helping tuning the car remotely from California by collecting data on-line.
The first pass was a launch in second gear to get a number on the sheets. That gave us three runs to try changes. The second run was a first gear launch which have a good number to the eigth then the engine hit the rev limiter. A launch in first changes the dynamics of the convertor and it makes the rpm pick up quicker. We need to change the way I shift to accomodate the revs and are pretty certain to run quicker than we did at the Main Event in tomorrow's sessions.
Thursday 30th August 2012: Is it that time of the year already?
Apparently so.... Yep, the Euros are here,and to our team's best track of the year. All we need is sunshine, because I know the Santa Pod staff will do their utmost to produce a good track!
So, on from the Summernats, we put the car into street mode. Firstly a trip from our sponsor's shop Topspeed Automotive to the Mclaren F1 factory to show the uninitiated a "proper" car! Not really, but we did impress the locals. Video of the trip is here.
Then last week we did some local street driving for Speedgang TV based in Austria. This is set up via Red Bull F1 team, with Speedgang members including Sebastian Vettel, David Coulthard etc. Another way for us to raise drag racing's profile in different areas and demonstrate motor sport disiplines. That will be screened on Austrian, German and Swiss TV next Monday. Unfortunately the UK won't get the programme, but I'm sure the drag racing fans in those countries will watch it and let us know how it went. Maybe I'll become an elite Speedgang member? That will be up to the presenter.....
On a press note it was good to see that Simon Arron's (F1 reporter) visit to Santa Pod left an impression on him,enough to write a nice piece in the MSA mag this month. We even got a pic and a mention! Thanks to him and the MSA mag editor for getting drag racing the press it deserves.
So,on to the job in hand. The car is at Webster Race Engineering for a baseline, new Hoosier tyres, New Hyperco springs from Nimbus Motorsport and some little jobs prior to the Euro finals. We have also upgraded the trans cooling system with a more efficient cooler from www.radtec.co.uk and some hard line to connect that to the Bruno unit courtesy of Cam Auto.
We will have Shane T online with us to start giving the old girl a hard time. Yes,launching in 1st gear is the order of the day here,as now we're happy with the engine tune up.
We're hoping that we'll be doing a daily blog from Santa Pod, all subject to Simon having time to visit our pit (happy to oblige - blog editor). We aim to lower that street legal record a little before the winter,and this will be our best track to do that. Come and visit us in the pits and say hello, or follow Eurodragster's excellent coverage if you can't make it.
Fingers crossed the weather is kind to us,and we get a fantastic finish to what's been a trying season so far.
Tuesday 26th June 2012: Still on a high.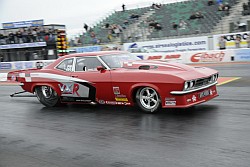 We're now into the summer break, and not before time! It's been very busy behind the scenes since we set the world record at the Main Event and i could honestly do with the rest from the all consuming car. There is probably no chance of that happening, but I can only dream..........
Of course, since the record, the publicity mill hasn't stopped. In fact it's growing on a daily basis! I'm not complaining though, as it's great exposure for our sponsors and team.
So, after the Main Event, we left the car at the track (thank you Santa Pod) and went back on the Friday to do a couple of tweaks with Shane, who was still here on his tuning mission. The weather was challenging to say the least (30mph wind right up the track!) and with the forecast not very good at all we were not hopeful of doing anything on Sunday. So we planned on doing everything we could track wise on Saturday with the 5th Gear cameras on board.
In usual race car fashion, it didn't go to plan. Firstly a mysterious misfire that kept blowing the intake pipe off kept us (and Jonny Smith) off the track until late in the day, then when we did get out there, a blown-out rocker cover gasket put oil on the tyres, nearly losing the car at mid track in the process! Sorry to Santa Pod track crew for the oil on the track at this point..
The one good thing from Saturday was that we met with the CEO of Autoglym, and tied up a deal for this year with them. We thank them very much for considering our team to promote their excellent products.
Sunday was forecast to be a wash-out, but when we woke up we were greeted with blue skies! And it stayed that way all day. This gave us a chance to try a couple of things out of competition, and with Shane with us that really helped us learn a lot. Ultimately we ran a 6.89 @ 218mph, which wasn't too bad on a RWYB track. A big thanks to Slinky, Cuckoo, Henchman and Marc for their efforts over the weekend.
So on to the Summer nats.... Tony and myself had spent the weekend previous checking the car over,and everything seemed to be fine. We arrived at Santa Pod on Friday and got everything done ready for qualifying on Saturday. Again the forecast wasn't good (no change there then!} but as was at the Performance Vauxhall Show, it surprised us all! We knew what we were going to do for the 1st qualy, and that was the same as the ME 6.59 run. A clicked off early 6.69 did the job for us, then allowed us to play around with different things for the other 2 sessions. This left us in an amazing (for us) no.2 spot! Surprised wasn't the word........
I was also very surprised when we discovered that oil was leaking from the Bruno pipes, and gave me zero vision in the shut down area. Lucky for me the very professional safety crew and ambulance staff were there on hand to see if I was ok. A huge thanks to them for their efforts...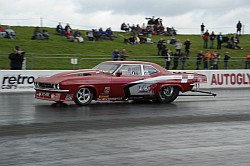 Anyway, all this drama left us on the other side of the ladder to Graham, who was out of the ballpark performance-wise. We dodged a bullet on the first round. Marcus lost fire on his burnout, leaving us on a single. A 7.3 shaking the tyres wouldn't have cut the mustard... We now had picked up a problem with the oil feed pipes and cooler. They were coming loose,even though they were all checked in the pits. The tyre shake we experienced had also cracked the trans cooler.
We got back and double checked every pipe on the Bruno. Then we blanked the cooler off to make sure it didn't leak. Job done we thought.. The semi was us against Bert, who has vast experience of Pro Mod racing. It was going to be tough! Ultimately we got down the track, and Bert didn't quite make it. So we were in the final!
Well,not quite. The semi run ended with another pipe coming loose, and the oil getting very hot without the cooler plumbed in. The pipes that came loose were right by the turbo, and caused a small fire under the car. Again the safety guys were right on the case, putting the fire out immediately. The crew got the car back to the pits to try and make the final, but the heat soak that comes from running without a cooler damaged the front seal, putting us out of the running to run against Roger.
I've already been on the case to cure this problem,and the parts are already on their way to fix it up thanks to Cam Auto Developments. This will ensure that the car will be oil-free come the Euro Finals (sighs of relief from the track crew). It's hard to imagine such a new car can have so many problems to overcome, but as everything is R+D we have to expect to replace things that don't work as well as hoped.
The hard working award has to go to my crew of Tony Grayston, Art Stuffins, Wil Perry, Jake Grayston and Deb, because without them this weekend would have finished on Saturday morning, never mind ending up on Sunday 3rd in the MSA Pro Mod championship! A couple of shout outs go to Dave Rowe of EPS motorsport, and Roger Moore for the use of some fittings.
So In between now and the Euros we have a couple of events to go to. Hopefully we might see some of you there.
Saturday 2nd June 2012: Both records are ours.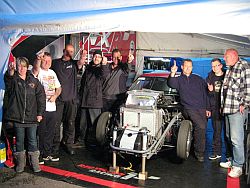 We had a very constructive day. We broke the world's quickest street legal car record with a 6.714. After the problems at the Main Event last year it has taken us a year to get back to what we have been striving for. The car could go so much quicker, but on the second pass when I shifted gear nothing happened and we think it is the convertor blowing through. We will take it out as the crew need something to do.
After the runs we checked the valve train which was in perfect condition thanks to the work that Mark Lamude did over the last month and Shane Tecklenburg who has done an awesome job on the tune-up.
Shane is over from California and it's his second trip to Santa Pod - he was here last year. We have known each other for two and a half years and have worked for for a year and a half on the electronics hardware, programming and calibration.
Shane said last year when we were ramping up and the engine broke, it felt like a missed opportunity and we didn't want the car to beat us. It was unfinished business. Shane has me being his ears and eyes for much of the time and uses remote connection to my laptop to analyse the data and change the settings. There are other things at the track that may change and influence you rightly or wrongly, but if it is just data you are looking at you get a clearer picture and there is not the pressure away from the track.
At the Thunderball Shane looked at the driveshaft speed and the position of the sensor on the chassis. Here we used a setup very similar to the one at the Thunderball and seeing the track I am glad we used what we did rather than something softer which the data implied we should have. Shane deals with Motec engine management systems and data systems having worked with them for five years and been a consultant using those systems for the last six years. Motec is the only EMS which will allow remote working and Shane tells clients where to mount sensors on the car and to match the engine.
I first met Shane at Heathrow where he was passing through and was thinking about who I should use for a turbo V8 methanol application. I bought equipment direct from him so that he knew I was serious about working with him and the relationship has gone from doing business to friendship. Shane advised exactly what he wanted done and he calibrated them remotely a week before the race.
I have a dream team - all of those who work on the car I regard as the best in their field. With those, despite the small number of runs we have made, it is not too hard to be successful. After the problems last year we put our best foot forward and went beyond what I thought we could afford to meet our goal for the event.
The car was designed to run five second quarters but the street equipment adds 400lb to the weight above the minimum weight of 2650lb. It is street legal and British, its own entity and has a degree of identification that is very high due to the exposure it has had in the media. Companies like Vauxhall want to be associated with it. By being street legal, we think it is seen as an underdog. It is more recognisable than other cars in the class and seen as a development of the old car. A retro production version would be awesome.
Sunday 15th April 2012: What a weekend!
One week on and the team are just recovering from an epic weekend at Santa Pod raceway. At last the car has shown some of the pace that we all knew was in it. The winter upgrades and fixes have worked very well, particularly the Owen Developments -supplied Precision turbos, and at last the cylinder heads! Unbelievably we were ready a week before the Thunderball. That's the first time that happened for a long time. Big thanks to Crew Chief Tony Grayston for spending 2 weekends on the trot helping to put the car back together.
Coming to the meeting our goal was just to get down the track to gain some invaluable data, particularly as we'd only managed one full throttle all the way down the track pass up to then! Shane T's instructions on the Friday were to launch easy and just make a full pass. Unfortunately the car span and shook the tyres, which kicked the car over towards the centreline and it was on and off the throttle to the end. That meant no full data, but enough for Shane and Jon Webster to look and adjust for the next run.
The good thing was that the car had indicated to me that it had very decent pace now,and that when we'd figured out the startline it would go down the track fairly swiftly.
Saturday's runs were more of the same. Data on this car is our friend. Because we have a myriad of sensors it means that everything on the run can be checked over, and tuning becomes less of a guess, and more of a good judgement. The couple of qualifiers on Saturday gave us a very good indication of what we could achieve for the weekend. 219mph isn't shabby for a 3012 lb car, even more so as it's not massively aerodynamic either!
This run had set us up for Sunday's runs. Unfortunately we only got one because of the inclement weather. But what a run for us. Our first 6 sec run,at 218mph to boot! That equates to 2980hp so far, with plenty more to come. So two full throttle passes in, we're in the 6's,and almost to our goal mph of 220mph for the season. That run, along with the mph we did, made the car the first street legal car in the 6's in Europe and fastest and quickest street legal car in Europe, and the world's fastest street legal car. All that is left is the world's quickest and we have the full set! Did I mention we qualified third in MSA Pro Mod? That is truly the stuff of dreams for our team...What a shame the weather curtailed the elims on Monday.
As usual we couldn't have done any of this without our crew, consisting of Deb, Tony and Jake Grayston, Art Stuffins, Rob Kearns and Will Perry. On tech duties this weekend were the legendary Shane Tecklenburg, Jon Webster and Marc Lamude, as well as Al Cook and Mark Harrison from Owens who popped in on a few occasions to make sure everything was good with the turbos. Of course, all of our sponsors, who you see on our site, had a hand to play in our continuing good performance. They can be found on the left hand side of our home page. Special mention must go to Mark and the boys at Abbey Motorsports, who not only got us out of the mire with a turbo fitting, but lent us their dongle so we could keep in contact with Shane all weekend. Thanks to Dave Rowe at EPS motorsport, for getting to my pit at 8am to fit our new exhaust sensors. And also Graham Ellis who lent us some Redline oil when our supplies ran out. Thank you guys.... Lastly thanks to our supporters, who were there on the historic day for the team. I'm glad we gave them something to cheer about at long last!
So it's on to The Main Event next. Can we qualify for elims? Can we set that world record? We're quietly confident, particularly as Shane T will be here in the flesh, Jon Webster will be on hand, and companies like Precision Turbo and Motec are on our side. We need to cast the ghost away of the last Main Event, when things went very badly for us. We're hopefully doing a blog on the weekend,so you can follow our exploits here,or on our FB and Twitter pages. See you all there...
Wednesday 21st March 2012: Almost there!
And we're almost there with the car too! I collected the car from Owen Developments last week after they'd supplied and installed the new Precision turbos, Tial wastegates and BOV,and their own turbo speed sensors for me. This involved changing everything but the carbon intake ducts,which took a little longer than planned. Thanks to everyone involved in the job at Owens, they've done a superb job of everything!
Crew chief Tony Grayston and I set about the A4 list of jobs we needed to do on the car on Saturday, finishing up on Sunday with just a couple of jobs left to do this weekend coming. One of those is refit the turbo exhaust housings and wastegate exit pipes back on the car after they've been ceramic coated at Zircotec. Because of the close proximity of fibreglass panels to the turbos this is an absolute must job. Having run their coatings for a number of years with a 100% success rate I wouldn't run the car without the coating.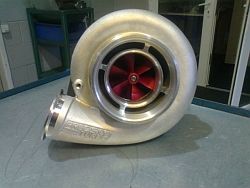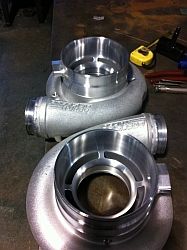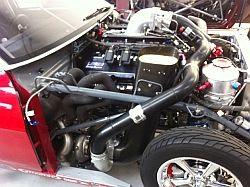 Once they're back on the plan is to get the engine fired up and make sure everything works as intended, check for leaks, then hot lash it. If all is good in that dept then it's back to Webster Race Engineering for baselining, new tyres all round,and a couple of bits and pieces. Then we should be good to go for Easter!
As reported by ED we've been steadily renewing with,and gaining sponsors over the past few weeks. We have welcomed Europa Consultants and Topspeed Automotive/Hoosier race tire to the team, as well as recently renewing with Cam Auto Developments. We really do appreciate their support, particularly in these troubled economic times.
So I'd say the team will be at the ball. The Thunder ball that is....
More soon.
Sunday 12th February 2012: Only 7 weeks to the start of the new season!
Yep, the new season is heading towards us with ever increasing pace and there's a lot going on behind the scenes at RV1 team headquarters. As you've read in the main Eurodragster site, we've been renewing and picking up new partners and sponsors at a good rate. We have had to say goodbye to one or two companies due to the economic climate, which was to be expected. But in the main all of our big players are with us again for 2012. For that we thank them all for their coming support..
The main job to do in the winter was the cylinder heads (again). These have been the most troublesome aspect of the car so far,and we were determined to get them fixed once and for all. The winter strip-down revealed one of the ports had blown through, due to us having to grind the intake port walls for pushrod clearance, to the point of the wall being paper thin. So we took the heads to Cylinder Head services in Northampton,who were recommended by Jon Webster. They have done a superb job of the heads, putting tapered inserts between the ports so we have enough clearance, and enough port wall! That, along with inserting new seats where they were leaking, and fitting new valves with the right clearances. After they were finished, the heads were taken down to Marc Lamude's racing engine emporium, where every clearance and tolerance was measured meticulously by Marc. They passed the check with flying colours!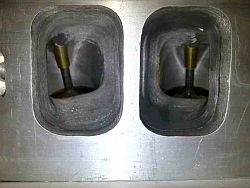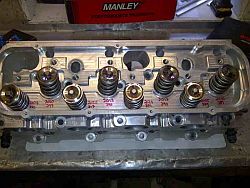 At last, we now have a set of heads that will now work as intended, as along with the head work the valves, retainers and locks have been replaced with Victory Valves' finest titanium and inconel pieces. Finally, to finish off the service Marc came to our shop and fitted the heads himself. Now that is service folks...
The car is now at Owen Developments for the turbo upgrade and fitment of them on to the car. Owens will be supplying a pair of Precision turbos to Precision's latest spec, and these will be built and balanced by Owens themselves! They've also supplied us with two Tial 60mm wastegates and the latest Tial Q High Flow blow off valve, and two of their own turbo speed sensors, so we can know exactly what is going on inside the turbo. That will be a huge asset to have,and we thank them both for choosing us to showcase their talents and products in the European drag racing market!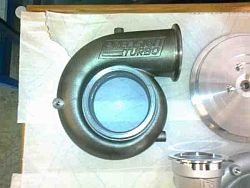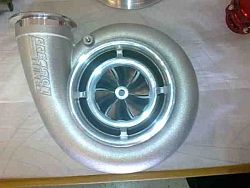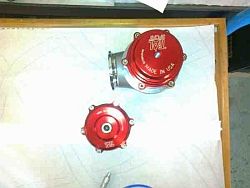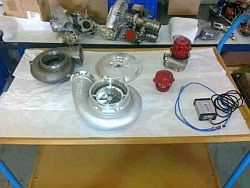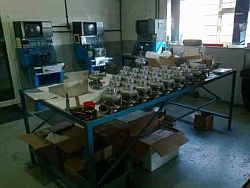 On another note, thank you to all the good folk that voted the car the SPRC best appearing car in 2011. A big congrats to Wayne Allman of the Intergalactic Custom Shop, Dale at DRE glassfibre, Geoff and Dean at G&D Autos, Jon Webster at Webster Race Engineering, Darren at Power Race graphics and Daz at DC Customs for turning the vision in my head into a reality.
So that's the news for now. No doubt there will be more in the coming weeks in the lead up to the Easter Thunderball, and our first MSA Pro Mod meeting.
Sunday 27th November 2011: Looking forward to 2012.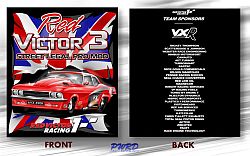 2011 is almost over and the teams thoughts are already thinking ahead to the new season, and what it will bring! As always things are very busy behind the scenes as we look for new partners for the new season.
As for the car, there is very little that needs to be done for next year. One thing that is being done is the final fix for the troublesome cylinder heads that plagued us this season. The temporary fix during the year was just that, and they're now off the engine and at Cylinder Head services in Northampton for that "final" fix. No stone is being left unturned as there are new valves,retainers and lock from Victory valves, new exhaust pushrods and new exhaust valve springs. Everything else has checked out fine and is ready to go for Easter, where hopefully we can move on from this years performance. Having had only one full pass under power this year was very disappointing to say the least, but 2012 should be a different story.!
On a different note we're having some team t-shirts done,courtesy of Pete Walters at www.pwrd.co.uk. They will be available around xmas time and will be available in all sizes,from xxxxl to small. They are priced at a very reasonable £13.50 each plus p+p and will be available either by e-mailing me with your name,sizes wanted and address, or at the track from Easter onwards.
This just leaves me to wish all of our supporters, friends, sponsors, followers and our readers here a very good xmas and all the best for 2012. See you at the track!
Monday 26th September 2011: Where did the year go?
It's a good question, and for us the season has ended before it began. Obviously we were put on the back foot straight away,and it was always going to be difficult to even get started properly.
As I said in the last blog at least I have gained my pro mod licence, I have a car that isn't broken, and we've not started the tune up in any way yet! Having watched the National finals from my computer it was a bit sad that we couldn't be there, but my crew have taken up all their holiday for this year, and without my crew it would be impossible to run the car at an MSA round. What we are happy with is what we've seen in the little data we've gained. From that we know that next year we should have no trouble reaching the goals we've set ourselves.
So, over the winter we will be doing the little jobs that need doing in readiness for a full season next year, and also doing a bit of street driving! We will be at the Classic Car show at the NEC in Birmingham in November, and the Autosport show at the same venue in January so hopefully some of you can come along and say hello.
One of my main aims over the winter is to renew with all of the sponsors we have for 2012, and push for new sponsors as well. As you've seen on the news pages we've tied up with Redline Oil for next season, which i'm sure will be very worthwhile for both of us. I am also in talks with a lot of others that will hopefully come to fruition over the next few months.
Which leaves me to thank all of my crew of Tony Grayston, Debbie Frost, Wil Perry, Rob Kearns, Rob Kimber and Arthur Stuffins for their hard work and dedication to the cause in 2011, car builder extraordinaire Jon Webster for his advice and assistance, Marc Lamude for his dedication and valuable time,and Shane Tecklenburg for his tuning and advice. Of course thanks to all of my sponsors who have supported us through this testing year,and lastly everyone who helped us getting back on track when we had problems in May.
I'll update over the winter with news of how the team is progressing with work and sponsors.
Thank you all for your support.
Saturday 10th September 2011: Andy Frost - licensed Pro Mod racer!
I am delighted to say I received my license on my first pass of today and we achieved our main objective of the meeting. It is an awesome feeling and a massive relief for me.
We only needed to warm the engine this morning as we had prepared the car yesterday and it was ready. We knew it was going to be reliable and it is low maintenance, which will be a bonus when we race. If we wanted to we could turn the car round in 20 minutes if needed.
We ran the licensing pass in second gear in order not to get tyre shake. Whilst we knew it wouldn't give us a spectacular timeslip, it was a lot more likely to get our license signed off than risking a first gear launch and potentially getting into problems on the launch or going all over the track. When I parked on the return road and saw the team coming towards me I could tell from the flashing lights on the tow vehicle that I had got the license. Race Director Robin Shone was happy to sign it off because the car had launched fine and run so straight at high speeds.
During the day I realised how stressful it had been to get licensed. The pass we needed to do was only a hundredth quicker than the best the old car had run, yet seemed so difficult to achieve. We had one more run and, although we thought qualifying would be a remote possibility since we have no data on passes with a first gear launch, we tried nevertheless. Having suceeded in getting down the track by launching in second in the morning session, we tried the same in the afternoon session, the only one that would have counted for me for qualifying. So we put more power in it, launched in second gear - and it shook the tyres.
It was a one-shot effort, but the good thing was that we got to stage and run alongside Bert Englefield. I hadn't run against another car in some time and I really enjoyed doing that. With a turbo car you need to build up the revs on the startline. There was a little burndown between us which gave me just enough time to do that. The staging procedure went well and the car was fine after the pass which was another bonus. It will be good to get back into racing.
I'm not sure when our next race will be as we really need to test first gear launches before we can be competitive. We also have a business to run and things at Penn Autos are busy.
I would like to thank my crew again for all their hard work before and at the event and Jon Webster who has done such a great job with the car and engine.
Friday 9th September 2011: Licensing: the crucial passes
Having arrived at the track our main objective has been to license and then to qualify. Our biggest issues are that we don't have enough data to enable us to make comparisons for tuning to the conditions. So we are feeling our way forward.
To license, we have to do two passes of 7.40 or better and have terminal speed of greater than 180mph. We had achieved the speed target some time ago, but the ET target has proved elusive. Our best was a 7.42 at the test session on Wednesday.
You will have read that because of our Main Event engine problems, this is our first time out to license because of the time and expense required to make repairs. It has been difficult getting our head around tuning the car even though we have good brains, because we need data. So tomorrow will be a shot in the dark. We will either go or blow the tyres off.
Everything about the car is good, the power is there and the engine is running great. We have the latest Motec data logging software to record the data and Jon Webster has been helping us. The engine runs very quiet - we lost fire on the start line and no-one noticed or rushed towards me with fire extinguishers. It will be odd racing against noisy cars.
The engineering is there and the car drives dead straight. The first pass was a gentle launch and then on it for a 7.53. I just had massive tyre shake in my second and only ran 8.02. I haven't had the car long enough to drive it through shake and didn't want to risk any bolts loosening.
We have a launch boost controller that will help us stage with boost but I am not using it yet, I am just building the boost up. There is no two step as it is not a clutch car. I do want to concentrate on driving the car away from the line.
I must come away from this event with my license. The team needs a break and won't be able to make the National Finals. I don't want to still be licensing next year.
We have two attempts tomorrow. The first is critical as we need to run two. But it is also important as the second run will be allowed as a qualifying pass if I license with it. To be honest, we came here with no hope of of qualifying and certainly the runs done so far won't count. But the others are having their own troubles so my chances are better than I thought.
So with a new car we still have a real issue. But the rules need to be followed and when all 3000hp are on tap, and tamed, the car will be very quick.
Big Thank Yous go to Jon Webster who has been overseeing the entire project this weekend, and to my crew Slinky, Tony, Debbie, Arthur and Rob.
Monday 5th September 2011: We're back!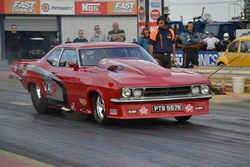 Finally we got back on track after the unfortunate engine damage at the Main Event. This is due to many people's help, not least the Pistonheads fraternity along with a lot of others.
As you can imagine there was a huge amount of work prior to coming out this weekend to test, but the team were confident from the initial data we saw that once we had a reasonable tune in the car there would be no problem achieving the goals that we've set ourselves for this year.
Saturday dawned and we set about checking the car one last time and warming it up prior to the first run. Jon Webster and I went to check the track to see what we had to do. Unfortunately the startline had been resurfaced due to a groove appearing from the FWD cars which frequent the RWYB meetings. The lack of rubber on the surface meant that it was going to be tricky to launch the car without blazing the tyres.
On the hit that is exactly what it did,meaning we could only get a minimum amount of data from the run. Fortunately we did learn quite a bit, but the lack of traction meant we'd have to curtail the runs for Saturday. The weather forecast didn't look good for Sunday, but we woke to bright-ish conditions. The team readied the car and we towed up to the startline. Five minutes to go before we ran the heavens opened and that was that for us.
Hopefully the weather will be kind to us on Wednesday for the Pro Peak Performance Day,and we can move forward with the car's development.
We should be doing a blog from our pit over the duration of the European Final, to keep you in touch with what is happening from our perspective. Stay tuned for news of that. See you at the Finals...
Wednesday 6th July 2011: Getting back into gear.
After the disaster (for the team) that was the Main Event, things seem to be getting back to normal again. The engine is in pieces, and the block and heads are at ARE in Huddesfield for repair. I have new GRP rods, Ferrea pistons, Morel lifters, T+D rocker parts, all new Jesel belt parts and Total Seal rings sitting here waiting.The Diamond pistons will be here shortly to join the rest of the parts in readiness for the rebuild.
I'm also getting through the list of parts that didn't work as well as we'd hoped, one of which is the Bruno unit which needed some more oil capacity. Part of this is being handled by Wayne Allman of the Intergalactic custom shop, who is making the oil pan bigger to our spec, and i'm doing some pump mods to help the situation too.
We've also done some mods to the intake pipework to make the air flow that little bit better at low speed, as we didn't get a chance to do them before the car debuted. The car is finally going in for it's final polish at DC Customs this weekend,then on to Webster Race Engineering to do a couple of cosmetic changes.
While that is going on the plan is that the engine should be built and ready for the dyno at the end of July, and the engine back in and running for the middle of August. If this happens then it's testing a week before the Euro finals with a view to having another stab at Pro Mod at the Finals themselves.
One thing is for sure.There'll be no rushing this time as my wallet won't be able to cope with another breakage this year.
A very big thanks have to go to everyone who has shown their support for the team these past few weeks, particularly the good folk on Pistonheads, who have really rallied around to save the day, and to some of my sponsors who have helped in a big way! It is very much appreciated... More news soon.
Monday 6th June 2011: We came, we saw, we broke...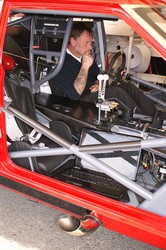 As most of you know we made it to the VXR sprint night and test weekend before the Main Event. Things went very well for a first test session, although invariably as it's a brand new car (and concept) there were a few issues that needed to be resolved before the race weekend. No biggie, we'll just take it to Webster Race Engineering to fix.
We were supposed to be running on the Wednesday at the Private Test but had to cancel due to parts not arriving beforehand. Again, no biggie, we'll just run on Thursday. Typically Thursday was a wash-out, meaning that hadn't gained my licence to be able to run in Pro Modified for the weekend.
So we opted to run in Super Pro ET to gain more track time for my tuner Shane Tecklenburg to be able to get the car baselined and going down the track at reasonable speed. In fairness to Santa Pod Racers Club they did everything in their power to allow us to run in Pro Modified, finally telling us we could run in the class, but we'd already made the decision to run in Super Pro. Thank you to them for their time and effort on our behalf.
Not that it mattered one way or the other, as first run out in qualifying the engine backfired at 600 feet and made a mess inside the engine. We're still not sure what has caused it, but will find out this weekend the extent of the damage.
The worst part was we had let down our loyal band of followers who'd made their way to Santa Pod in numbers to support us. It was the reason we stayed 'til Sunday to show them the car,even though it wasn't running.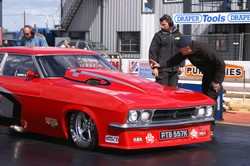 This week we have again found out how many people are following and supporting the team, as already we have help to fix the car coming from many places! A huge thanks to everyone who is supporting and helping us to get back to the track in a reasonable time frame. Also a huge thanks to Jon Webster who was at the track for us at both weekends and working in the week between, Shane Tecklenburg for his superb tuning and diagnostic work, Dave Rowe of EPS Motorsport for his efforts, my crew man Tony Grayston, who was working on the car (and awning) for a week and a half, and the rest of my crew for the hard work for two weekends.
We'll try to get back out as soon as possible, but firstly we need to find out what went wrong with the engine, fix, and dyno it to make sure it doesn't happen again, and test the car prior to an event before racing in anger once again.
The good thing is that the car shows great promise, and looks decent to showcase everyone who worked on it. Next time out hopefully we'll show a bit more pace and give our followers something to shout about. I'll let you all know when we'll be back again...

Tuesday 24th May 2011: The first runs.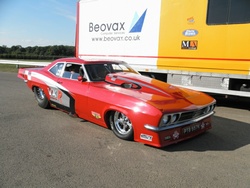 Well, we finally finished the project build and got the car to the track for the pre-Main Event test weekend. The plan was for Webster Race Engineering main man Jon Webster to finish the commissioning process on the car. This is usually done in the workshop, but we had a date on the Friday night at the VXR Sprint night at Santa Pod. This meant Jon was checking everything on the Saturday. All the checks went well, with the usual parts to adjust. With such a complicated build it's essential no stone is left unturned in this process.
In the meantime ace US tuner Shane Tecklenburg was running through the system and sensor checks prior to fire up and my trusty crew were learning the process of servicing and maintaining a Pro Mod car, albeit a street-legal one! By midday the car became real, firing up on the first turn of the key after cranking for oil pressure. It lives!
By late afternoon we all decided it was time to "Take 'er for a spin", so off we trundled around the pits and the main road in to the facility. On the way back ED's main woman and man caught the car in film for the record.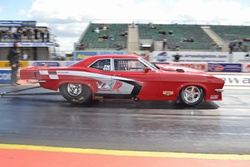 On the Sunday the plan was to start the licensing process,and at the same time the tuning process. The burnout, 60 foot and eighth mile with chutes out were dispatched in two runs. With five minutes to spare we got in the fire up road to attempt the licencing mark of 7.4/180 mph. Unfortunately the car developed a slight misfire just at the eighth so I came off the throttle so not to damage anything. We just missed the target by a tenth and a few mph.
So we'll try again in the Thursday test session. We did plan to do Wednesday's private session but we need to change some things,and have had to order them from the US. This means Wednesday will be confined to doing the little changes that are necessary to move forward.
Hopefully we'll be licensed at the test day and will be able to join the big boys of Pro Mod in qualifying. Come and say hello if you're passing...

Saturday 30th April 2011: The last stretch.
We're on the final run to finish the car now. The paintwork is finished and just requires a final polish after the refitting of the parts on the car, along with the VXR and other decals to be applied. Daz and Chris at DC Customs have done a fabulous job on the car. It looks identical to the Power Race Graphics rendering, which is very pleasing for me,and as with 99% of the jobs so far it was a pleasure working with those guys.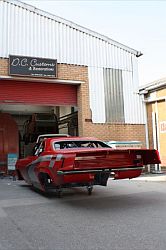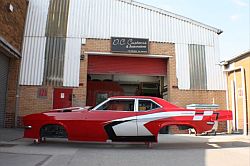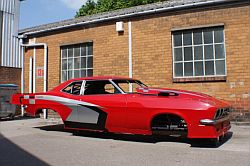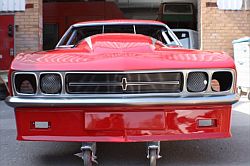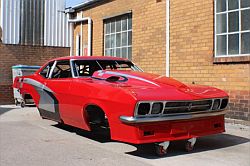 The car is now back at its spiritual home. Yes, it's at Webster Race Engineering, where Jon will fit everything back on and finish the jobs that couldn't get done before the paint. This includes plumbing 8 (eight!) fluid transfer systems with the Goodridge hosing supplied by Cam Auto Developments, and all the wiring that needs finishing,including wiring all the sensors by Scattergood and Johnson. At the moment Dave at EPS Motorsport is very busy and might not have time to do the loom himself, meaning that Jon will have to run all the wires to their various points in the car ready for termination by Dave.
The engine is still causing me headaches. Most of the measuring work has been done by Knight Racing Services but they are now not able to finish it in time for our debut, due to them being oversubscribed with work. So Marc at Lamude Racing Engines has kindly stepped into help getting the team to the ball! The engine is now in his capable hands and he's assured me it will be ready by next weekend, barring any disasters. A potential fly in the ointment is that I'm waiting for some valve springs and big end bearings,and I have to trust some shipping companies to deliver on time!
Also the planned dyno run has gone out of the window. Time constraints mean we cannot spare the engine to the dyno even for a few hours. The dyno will be a mobile one,that is red in colour...
Apart from that we're well on course for the May 20th debut at the VXR sprint night at Santa Pod raceway, followed by a weekend of testing. Then the big one at the Main Event, again at Santa Pod. I'd like to thank everyone who's been following the build so far. Pretty much every comment is positive,which is great for me and the team behind the build. It'll be a sigh of relief from all the camp when it's finished, that's for sure.
More soon...
Thursday 31st March 2011: Debut delayed.
It's three weeks to Easter,and the bad news is we're not going to make the Thunderball. Everyone involved is very disappointed with decision I've had to make, but in reality, waiting three months for the heads to arrive made it incredibly difficult to finish the car in time for its slated debut. Not having time to test before the Thunderball was the main reason for delaying the debut, as we all felt it would not be the best idea to go to a championship meeting with a brand new, untried car!
We're now aiming for the Peak performance weekend on the 21st/22nd of May, a week before the Main Event. Fast Motorsports' Shane Tecklenburg's flight is booked from LA, so we have to make that date.
Work continues at a pace with the car. It is currently at DC Customs to finish the bodywork and lay on the paint and graphics. The body and chassis are due back at the Webster Race Engineering workshop just before Easter. When that happens Jon will be putting the whole car back together again, along with Dave Rowe of EPS Motorsport who will be completing the wiring of the car. The engine is in the safe hands of Knight Racing Services who are collecting the final parts required for trial assembly as we speak.
We did have a minor disaster when a miscommunication between myself and Pete resulted in a set of pistons that were too short in compression height. This was resolved very quickly with the help of Dakota Parts warehouse and GRP in the USA. They had a longer set of rods made and shipped in three days. This was a blessing in disguise as our rods where a tad too short anyway, due to the Pro mod rule change making us change the crank stroke to comply with the new cubic inch limit.
So, sorry to disappoint everyone who was looking forward to the debut at Easter but the car has so much time and money in the project that no-one wants to rush the job at this critical stage in the build. Besides, it's only three weeks away from our initial date so not long to wait. We will be posting video of the first fire up of the enigne on the Knight racing dyno to whet your appetites in approx two weeks time.
More news soon.
Sunday 6th March 2011: Ready for paint.
It's been seven weeks since my last blog and the car is a last ready for paint! Obviously because everything is a one off you inevitably get delays with some items.
The team at Webster Race Engineering have been superb in the way they've tackled the problems that have confronted them. Over the past seven weeks Jon and the crew have had to get around things that just haven't gone the way it was planned.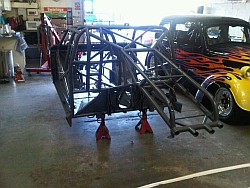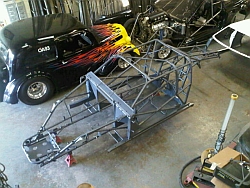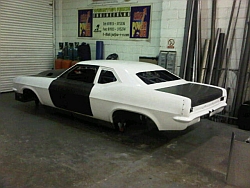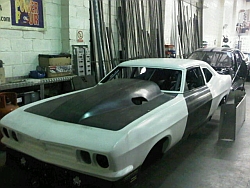 The upshot is that Jon is very happy with the way it's turned out so far. And because he is, I am... Anyway,the latest is that the body is mounted on the painted chassis, and the engine is at Knight Racing Services for the build up.
Again already we're having issues with the cylinder heads,something that wasn't anticipated. This will put us back about a week on that side of things. I have the Lenco trans stripped to modify and rebuild, and all the little items on the car that are to be plated/painted/anodised are split between Jon and myself.
The car will be taken to DC Customs on Monday for them to start the task of getting the car to look exactly the same as the Power Race Graphics Power Race Graphics rendering. They have a lot to live up to as all the previous companies who have worked on the car have made a unbelievably good job of everything.
On other fronts I made it through my medical for the international licence with flying colours. That took me by surprise! Things are quiet on the sponsorship front, although to be fair I'm so wrapped up in other things I haven't been able to dedicate any time to widen my search. There are one or two companies we're hoping to renew with for 2011 but they are yet to be confirmed.
We have seven weeks left to the Easter Thunderball. Things are going to get manic....
Wednesday 12th January 2011: Suited and booted.
Sorry for the lack of blog updates recently. Things are incredibly hectic at the moment with work and other items. The Autosport show went very well for all of us, with hundreds of people coming to look at the car. It actually took me by surprise how many times I couldn't see the car amongst the sea of people......
Work on the car at Webster Race Engineering is going to plan, apart from being two months behind with the build! This is totally out of mine and Jon's control. It is all due to the delay in the cylinder heads arrival and not being able to co-ordinate everything that goes on after the heads and intake are fitted.
Jon is hopeful that by the end of next week the car should be ready to come apart for the chassis to be painted. When the chassis comes back the body goes on for the last time (hopefully) and it's all hands to the pump as the body goes for paint at DC Customs in the West Midlands, and all the ancillaries get either painted/chromed/plated etc...
On a different note, but still related to the car is another part of the "pro" racing process - getting an international drag race licence. As it's been a few years since I raced in FIA competition, I have to go through all the drama of medicals, letters to say I am competent etc, but now with the added bonus of having a stress related ECG test because I'm over 45..uugh. This is scheduled for Tuesday so wish me luck! Exercise isn't part of my work programme because I'm always working!
Also part of this "pro" racing is a complete change of race wear. Unluckily (for my wallet) I have nothing race wear wise that is compatible with the Pro-Mod class safety rules. In a way it's a blessing though, as 10 years ago when I bought my last SFI suit it was like wearing a cardboard box! Nowadays with modern materials things are completely different.
Last year I took a trip to see Andy Boakes at the Stand 21 shop,which is located at the Brands Hatch circuit. I'd seen the Stand 21 race suit Andy Carter had been wearing and I was very impressed with the way he could move around in it. The service I received (and still am receiving) from Andy B was second to none. So much so that I ordered a 20++ suit (with my logos and colour scheme), carbon Ivos helmet (sponsored by the HSV forum) with sock and their new gloves and boots which don't require over boots or over gloves! I'm hoping they get their new helmet removal device approved before the start of the season as I'm not impressed with the ISP "bag" that will IMO do more damage than good in an accident situation..
It's a little quiet on the sponsorship front at the moment,apart from the renewal of long time partners VP Racing Fuels, whose M1 methanol and VP100 unleaded (for the street) will be used exclusively in Red Victor 3 in 2011. There are still things happening in the background (as always) that we should be able to announce soon.
That's it for now. Hopefully you are all following the build on Pistonheads or Rods n' Sods and are looking forward to seeing the car in the flesh like I am.
Wednesday 12th January 2011: Show Time.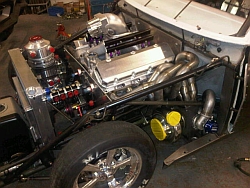 Happy new year everyone!
It's 2011 already and not long before the first race of the year at Santa Pod. Hang on, aren't we supposed to have a car there? Yes,the usual thoughts of any drag racer at the turn of the New Year and the realisation that there are only a few weeks to go to the "Big Go".
Things are very positive throughout the whole team as things now seem to be coming together. The RFD billet heads that we've waiting for so long for are now due next week. This will allow Jon to finish off the turbo pipes and co-ordinate everything around the front area of the engine. Ian Goldie of Cam Auto Developments will be able to start measuring up for the Goodridge plumbing that must be done before the dismantling of the car starts and the real work begins...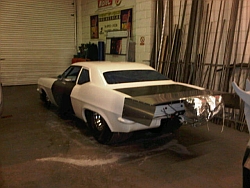 I said in the previous blog that we'd nearly secured a new partner for the team,and just before Xmas it was confirmed that Wolverhampton City Council are supporting the team in 2011. Great news for us and the city that I live in! I also appeared on our local radio station The Wolf on Tuesday to promote the new car, drag racing and the Autosport International show.
The team at Webster Race Engineering have been working flat out on the car to get it ready for Autosport at the NEC and as usual they have made a great job of everything. As Tog has already reported we will be on the WRE stand at the entrance/exit to the Pistonheads Show. Please come and say hello if you are going. You can even take a look at the car if you want!
While we are there we will be visiting a few companies at their stands and hopefully there will be some good news (for us) to tell you in our next blog.
Till next time, toodle pip...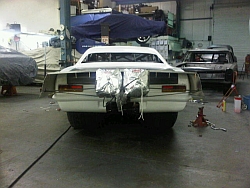 Monday 20th December 2010: Frustration and anticipation.
It's been a very frustrating week. Promises of parts arriving have disappeared into nothing. It's very frustrating for me, as I keep saying to Jon that the parts are going to be at his shop, and then look like an idiot when they're not!
We had some bad news on one sponsorship front, but better news on three others. Again, they will be announced in due course. Obviously, all of this sponsorship chasing needs to be done after work hours. This is a bit of a strain, but has to be done to further the team's prospects for 2011.
It looks like everything is going to begin at the end of January, as all the engine parts will be here, along with the car being ready for paint at the same time. The co-ordination needed between myself and WRE will be tricky, but it has to be this way. The hope is that it all goes smoothly, but knowing this game it'll be full of missed deadlines, heated phone calls and broken promises. I guess we'll have to take it all as it comes.
Hopefully some of you have been following the build thread and understand what we are trying to achieve. I think it's in my nature to make everything incredibly difficult at all times!
Anyway, as this is my last blog before Xmas, I'd like to wish all our friends, sponsors and fans a very Merry Xmas. Hopefully everyone gets what they want for next year at the end of the bed on Xmas morning...
Saturday 11th December 2010: A little help from my friends.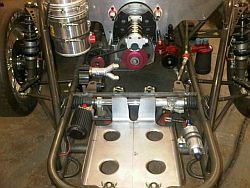 It's been a good week.I've had a meeting with a potential sponsor and that went very well. The call I had from them wanting to meet me came from another piece on a website via my bank. Amazing what comes when you're not expecting it...
Progress on the car is good. Jon at Webster Race Engineering has been chipping away at the small items that are numerous, but very time consuming. We've also had the data logging sensors (pictured below) arrive from Scattergood and Johnson, so we'll be able to start arranging where they go on the car. The Motec items turned up from Shane at Fast Motorsports in California via Steve Clark at Nimbus motorsports and Jon has been trial fitting those items in place. Jon has decided that the car is going to go to the Autosport show at the NEC. It was a chance decision based on the fact that we've have been waiting for the heads and intake to arrive for months now and we're not going to lose any time by going.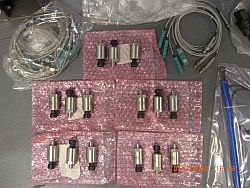 Jon says that we have the time to go and promote the build to a big audience, and as we are the Pistonheads race team for 2011, we will be taking pride of place near the entrance to the Pistonheads show. Jon and Ian at WRE will be on hand to answer any questions along with myself on various days. I have a few meetings to go to whilst at the show so I won't be on hand all of the time.
The build thread has been updated one or two times this week, hopefully you've been following what's been happening at WRE Towers. Hopefully there will be news soon on more sponsors for the team and the arrival of the heads.
Lastly, I see the NHRA have been playing transmission games again with the rules. The "it's in, no it isn't, yes it is" game isn't that impressive, particularly as when I asked the question the answer I got was a resounding "No" to ever allowing an auto trans in the Pro Mod class. Call me cynical if you wish,but the latest "NHRA approved auto trans only" rule doesn't sound like they've allowed it just as a option to help racers' budgets!
Unfortunately (for me) I'm now too far down the road with the Lenco/Bruno combo to change it all around. Ah well, must grumble! More news soon.
Monday 6th December 2010: My name's Frosty, and I'm a street-legal Pro Mod racer.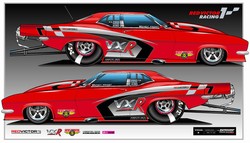 Hello everyone, I'm Andy Frost and welcome to my first Eurodragster.com Blog. For the uninitiated we are the official VXR drag race team that will be racing in the MSA Pro Modified class in 2011 with Red Victor 3, a modified version of Red Victor 2 that set world records for a pump gas-powered street-legal car, and still holds some records now!
I'm not new to drag racing having been through the ranks and raced for twenty years in various classes including Street/ Super / Modified ET, Street Eliminator, Super Pro ET, Comp Eliminator and Top Methanol Dragster. Apart from Top Methanol Dragster I've raced in all the other classes with the modified Vauxhall VX4/90 that has become quite well known throughout the world.
Red Victor 3 is a realisation of a long time dream of mine to race in the ultimate doorslammer class. Firstly to "cut our teeth" in MSA Pro Mod and then to move on to FIA European Pro Mod.
Of course there is a difference with this car, although no different from before. Anyone who knows me knows that street-legal racing is in my bone marrow, so it's no surprise to them that this new car will be street-legal.
What!!! Street-legal? Yes, unfortunately (or fortunately depending on your point of view) I can't get that out of my system, so along with people like Wayne Allman of Intergalatic Custom Shop, Dale at DRE Fibreglass and Jon at Webster Race Engineering we've hatched a cunning plan to build the first NHRA-legal Pro Modified car in the world that can pass an MoT and drive on the street, and still be a car that will qualify in the race series.
The street part is the easy bit, qualifying will a bit of a challenge to begin with no doubt! In saying that all our team including the crew and all who are involved with building and supplying parts are confident we'll be in the mix when the car is tuned and set up.
In the forthcoming Blogs I'll be giving you the latest news on how the car is coming along, and an insight into what it takes to do this kind of thing. I'll also update as new sponsors come along,which has been quite often recently!
This will all lead up to the Easter Thunderball and the unveiling of the new car there. Once we are up and running there'll be regular updates on our racing exploits, whether they are good or bad. I've been around drag racing long enough to know there are incredible ups followed by incredible downs so maybe you can ride with the rollercoaster that is Pro Modified drag racing.
We'll also be able to take you along to places like the Goodwood festival of speed and the VXR Power Festival at Silverstone as we will be doing other events outside drag racing for our title sponsor VXR.
I hope you will enjoy the blogs and as always let us know what you think of them. Be sure to take a look at our build thread on the Rods'n'Sods Forum at www.rodsnsods.co.uk.


Feature ©Eurodragster.com


---
Red Victor 1 Racing web site
Red Victor 3 build thread on the Rods'n'Sods forum
Back to Racer Blog index
---