Eurodragster.com for the latest European drag racing news
General
Home Page
Add a web site
Jeff Bull Swap Meet
Send a News Item
Site Search by Hauser Racing
2019 FIA/FIM Championships schedule
News, Coverage, Features
Latest News
John Woolfe Racing Event Coverage
OCS Paint Points Standings
Features, Interviews, Tributes
Racer Blogs Lex 01/03
WRE/Nimbus Webcam
LA Racing Parts Links
Racers' web sites
Associations, Clubs
Race calendars
Results, Reports, Info
Pictures, Video
Performance Parts, Merchandise
Sponsors
Tracks, Shows
Information
Timing Data
European and UK Bests
Champions' Champions
Editor's Diary archive


Brentwood International Racing Car Show 2001
Report by Tog; additional reporting by Spencer Tramm
Pictures by Brian Fawcus and Tog; digital camera courtesy Brian Fawcus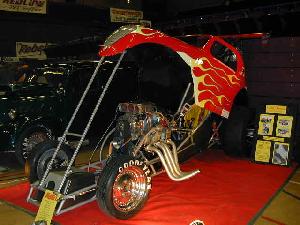 The Brentwood International Racing Car Show was attended by a large number of visitors who took a great deal of interest in the several drag racing entries. The drag racing contingent formed a focal point in the middle of the hall.

Dave Grabham and family put in a lot of work polishing the car before the show began. The Topolino altered is currently out of action after a rod (on display in front of the altered) let go at the Hot Rod Drags. "We're desperate to get back on the track", said Dave. "We've got everything we need except the cylinder block, but we don't want to put all the new pieces in the old block - the engine is only as good as the weakest part. We've got every intention of coming back, we're not ready to give up yet!". In the meantime the chassis has been shotblasted and painted, and Dave said that the Austin A35 body would be back. "We're planning to get a new chassis, but if something breaks then the chassis gets put back."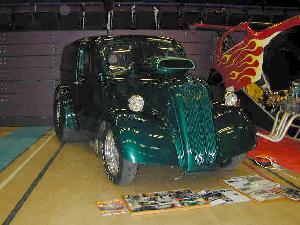 Outlaw Anglia racer Pete Moore also had a cleaning job to do after bringing his Fordson to the show on an open trailer. "I can't afford a closed trailer!" he said, adding "I hate cleaning cars!". Pete's car was fixed quickly after its trip off the end of the Shakespeare County Raceway strip last season. "I fixed it the week after that happened", he said. Pete only recently started to use a transbrake. "It frightens me!", he said, "Even with the neck brace I got thrown around, it's quite a shock going from a street car to a proper race car". He could end up getting thrown around even more this season as he is considering stepping up to Super Gas. "I've been 10.20 so far and there's loads more to come", he said, "I'll creep up on it. The chassis is tagged up for Super Gas."

Pete's car was featured in last month's Street Machine, which he said was an honour after twenty years of street rodding. He was quick to credit JW Automotive for its appearance. "Richard Waters and Lee Johnstone did a brilliant job on it", he said, "especially considering how it looked when they started on it!".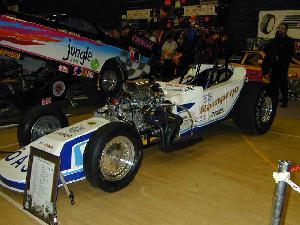 Dave Ward and his Rampage team had a bad journey to Brentwood. The car is based in Banbury but what should have been a brief journey took five hours after a short circuit on what was already a replacement trailer blew out all of the lights on both trailer and tow vehicle. "We've done a few things on the car so far, but we have more to do", one of Dave's crew told us. "The headers have been coated and there are new wheelie bars on the back". No-one was owning up to it, but someone had forgotten the blue and white wigs which the crew sported at the October Meet at Santa Pod. The team were however very well turned out in their uniforms and did a great PR job answering questions and putting children in the car for photographs.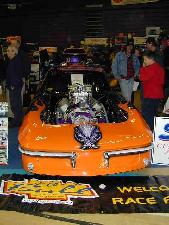 Super Series Best Looking Car, Jon and Sharon Hogarth's Super Comp Corvette, was attracting a lot of interest. The Hogarths' many fans will be pleased to hear that Jon is quite OK after his health problems a little while ago, and some pretty firm plans have already been made for 2001. "Plan A is to run seven seconds - anything else is a bonus!", said Sharon. "We want to see how fast it will go, and to do that we will have to run Super Pro. We built the car to what we liked, and then we found a class for it". Sharon added that the team is planning to race in Sweden and st Hockenheim this season.

Jon has started his own business fabricating both race and custom cars, and designing and painting bodywork. "It's called S.I.D. for 'Specialist in design', although we also say it stands for 'sprayed in the dark'!", joked Sharon. "Our race car is a rolling advert for Jon's skills."

Jon is very pleased with his new race car. "It's never misbehaved - it's so stable", he said. "On one run I had a flat rear tyre and I didn't know!"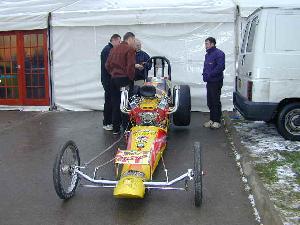 Wild Bunch racer Mark Coulsell had his slinsgshot dragster outside, and towards the end of Saturday afternoon fired the car up and pulled three burnouts along a very damp service road. He took it very sensibly, keeping the car straight and not succumbing to the temptation to turn it up a bit for the audience. "I would have stayed on it longer if the road hadn't narrowed down!", he said. "I really enjoy doing burnouts".

A major disappointment was the cancellation of the live show by Roger Goring in his Firestorm Jet Funny Car. A suitable tethering point could not be found to keep the 13,000 horsepower car tied down, and there were additional safety concerns about the proximity of the crowd, trailers and marquees. It was decided to move the car into the exhibition hall on Sunday so that fans would have the chance to look over the stunning Firebird. Disappointment turned to despair for the team and their fans on Sunday morning when the logistical problems in getting the car into the hall turned out to be too great, and Firestorm stayed in its trailer all weekend.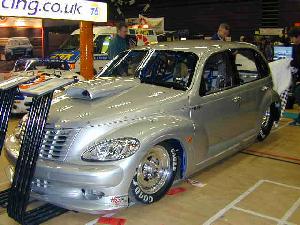 Paul Marston's PT Bruiser repeated last week's Autosport show-stealing act with an unveiling late on Saturday afternoon. A large admiring crowd surrounded the car as soon as the wraps came off. "I want one!" was a comment heard more than once. The amount of interest generated by this car is quite extraordinary, and goes way beyond the world of drag racing. It has already had a huge amount of coverage which in turn has raised the profile of drag racing in the UK.

Paul made an interesting and encouraging comment. "You can burn out across the start line in Super Comp!", he said.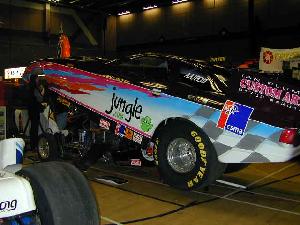 Tony Betts' Jungle.com, Teng Tool and CSMA-sponsored Fuel Funny Car was another Autosport star on show at Brentwood. Frank of TFC promotions told us that the car is due to be fired up at Gatwick on 24th January, in a promition for travel company Touchdown. An honoured guest at Autosport last week was Teng Tools head honcho Henry Teng. "There were seventeen displays featuring Teng Tools, but ours was the only one which Henry photographed", said Frank. "Then he said 'I want to see this car race!'. Teng Tools have been very good to us, Colin and Daniel at Teng are very helpful and do everything we ask of them".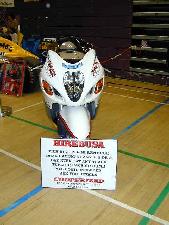 Another display attracting attention was Team Cooperised's Hirebusa. The all-in deal to hire the bike for two- or three-day races had a lot of fans reaching for pen and paper to make a note of the details. Not far away was Paul 'Grumpy' Watson's very neat drag bike; Paul spent a lot of the afternoon chatting to visitors.

Just across the way were Holley Glassup and Jack Hewitt's J and W-sponsored Junior Dragsters. As usual the cars were a great draw for the many children at the show.

VW Dragster owner Keith Jackson was at Brentwood with the 76 Racing Fuels stand, but he was very excited about the dragster's new engine, just arrived form the USA. "It's an Autocraft 2.8 engine running on methanol", he said. "It's great to smell methanol again, especially at this time of year!". Keith was another exhibitor who had problems getting to Brentwood. "The van blew up yesterday", he said.

Anders of 76 told us that the company's aim this season is to break into the drag racing market. "We supply all types of fuel from 100 Octane up to Nitro", he said. "We can deliver next-day anywhere in the UK".

We took several more photographs at Brentwood, click here to see the complete set.


---
Eurodragster.com aims to bring you links to all the best European Drag Racing web sites. To add your site to Eurodragster's listings, simply email links@eurodragster.com with your URL and a little information about your site and we'll do the rest. When you update your site, drop us a line at news@eurodragster.com and we'll feature your site in our "What's New" section.
Eurodragster.com is a non-profit-making organisation run by a small group of Drag Racing enthusiasts for the sole purpose of promoting European Drag Racing. If you can help us to meet the modest cost of hosting this web site by advertising here, please email webmaster@eurodragster.com. We're sure you'll find our rates extremely competitive.